Update 10/31/16: *This recipe now has been refinished and can be found here. It now has a much better free printable recipe card AND more/better pictures. Enjoy!*
Oh my gosh! My grandma makes THE BEST Soft Molasses cookies!
There is just the right amount of spice and the texture is to die for! They even freeze really well and still taste really fresh when you thaw them out. Anyway, These heavenly cookies are only a couple of short hours away (if you have all the ingredients). Enjoy! 
¾ C shortening (melted)
1 C sugar
¼ C molasses
1 egg (well beaten)



2 C flour
½ tsp cloves
½ tsp ginger
½ tsp salt
1 tsp cinnamon
2 tsp baking soda



+ Additional Sugar to roll the cookies in
Mix the first four ingredients together. Then add the remaining ingredients and mix well. Cover and chill for 3-4 hours (though I usually only chill about 1 and 1/2 hrs).   Form into balls, roll in sugar and the place on a greased pan. Bake at 350°F for 8-10 minutes. Grandma says she usually doubles the recipe.


To make them a bit healthier I usually use half butter and half Organic Virgin Coconut Oil
 instead of shortening. I also use Blackstrap Molasses (see the links below to explain why), and organic sugar which i just buy at Costco.  Also, I use whole wheat white flour (which Walmart now carries) so that you are still getting your whole grains, but it tastes almost the same and has a very similar texture as regular white flour (I know it's not frugal to buy it in 5lb bags at a time, but we have to buy it that way until I can afford a grain mill).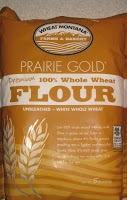 This is the whole wheat white flour we buy at Walmart. Just so you know what to look for.
What everyone should know about blackstrap molasses
Health Benefits of Coconut Oil
Try not to eat them all in one sitting.