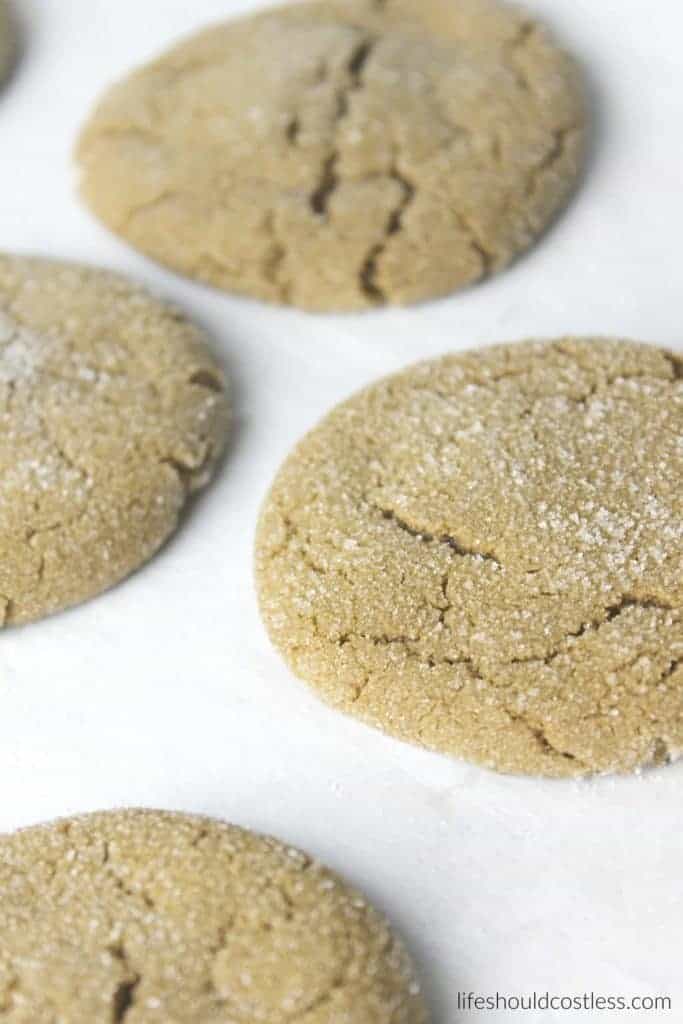 Grandma Utahna's Molasses Cookies
Author: LifeShouldCostLess.com
Prep time: 10 mins
Cook time: 10 mins
Total time: 20 mins
¾ C shortening (melted)
1 C sugar
¼ C molasses (mild flavor)
1 egg (well beaten)
2 C flour
½ tsp cloves
½ tsp ginger
½ tsp salt
1 tsp cinnamon
2 tsp baking soda
+ Additional Sugar (to roll the cookies in)
Mix the first four ingredients together. Then add the remaining ingredients and mix well. Cover and chill for 3-4 hours (though I usually only chill about 1 and ½ hrs). Form into balls and flatten them. Cover in sugar and the place on a greased pan. Bake at 350°F for 8-10 minutes.
Grandma says she usually doubles the recipe.

The cookies freeze very well so if you want to have lots on hand without baking them fresh, do what Grandma does and freeze a bunch, in an airtight container, and set them out a couple of hours before you need them.

I have noticed that the harder you pack down the cookie ball and if you pat them down flat before you add the sugar coating, the less crinkles that you get in your cookie. Which is what Grandma's look like. I however just do it the lazy way and plop it into the sugar directly from the cookie scoop and then press it flat with my spatula once it is already on the pan. I don't mind crinkles.
Recipe by
Life Should Cost Less
at https://lifeshouldcostless.com/grandma-utahnas-molasses-cookies-2/