If funds are limited, it may be difficult to find room in your spending to decorate your home. However, decorating on a budget is actually pretty easy if you know a few simple tips. So, if you love farmhouse décor, you're in an even better position! There are tons of easy ways to find beautiful farmhouse-style home items when decorating on a budget.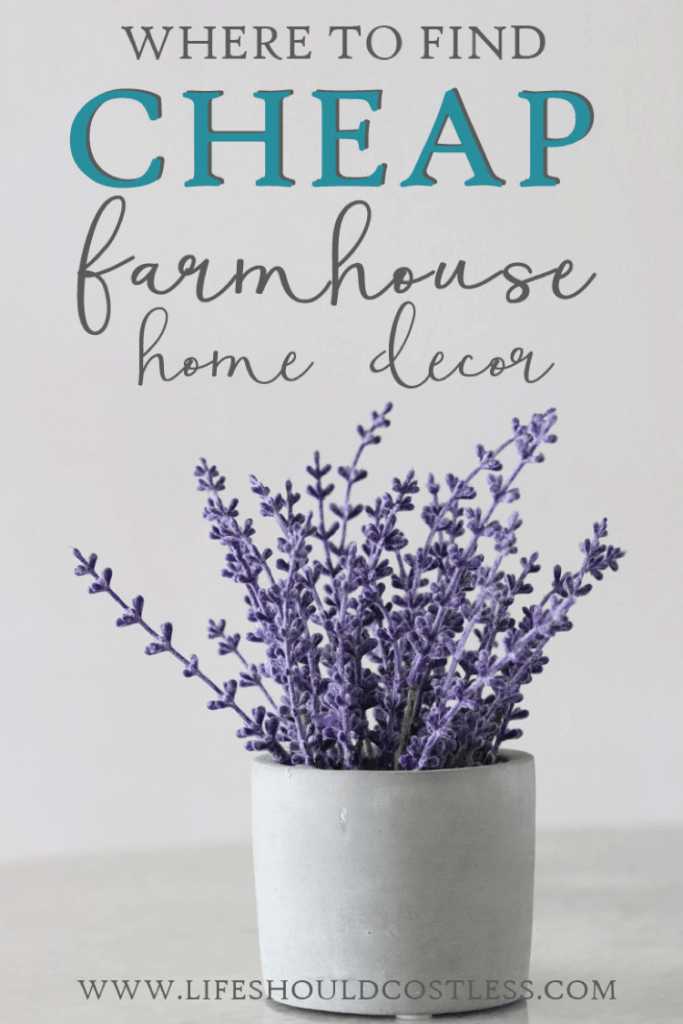 What is Farmhouse Style Decorating?
Farmhouse style is typically a mix of modern industrial with a touch of antique charm that was again popularized by the television show Fixer Upper.
The beauty of this style is that it seamlessly blends the old and new with charm and character. While decorating in farmhouse style can get expensive, the characteristics of this decorating style actually lend itself to decorating on a budget.
Here are a few budget-friendly characteristics of farmhouse style:
It evolves over time. To create a true farmhouse feel in your home, there's no way you could decorate a room in a day, without hiring a team and spending a fortune anyway. Instead, you should take your time decorating the space and allow the design to evolve over time. That's good news for your wallet! Instead of spending a ton of money decorating your home at one time, you can buy pieces here and there, getting items that you really love, until the room is complete.
It incorporates vintage items. Purchasing second-hand items is one of the easiest ways to save money when decorating on a budget. That's good news for farmhouse lovers! You can find a variety of amazing second-hand pieces for your farmhouse home without being forced to pay retail prices on your home décor.
It features natural elements. Items from nature are free, making this another great budget-friendly feature of farmhouse decorating. Incorporating florals, greenery, and wood elements into your decorating is a great way to add farmhouse charm. Plus, you won't need to spend a ton of money to decorate your home.
It's practical. A lot of farmhouse style home décor also serves another practical purpose. That means you'll get a bigger bang for your buck when decorating in farmhouse style. Wooden boxes and wire baskets add a rustic look to the room and also serve as storage for the space, for example. When you add these multi-purpose items to your home, you're ensuring that your money is very well spent.
Farmhouse Style Decorating on the cheap, Shop Second-Hand
All of those previously mentioned factors make decorating on a budget in farmhouse style so simple/easy – especially when you know where to find the best farmhouse pieces. Luckily, there are several places to find farmhouse style décor when you're decorating on a budget.
**Before I forget to tell you, make sure to check out my entire Decor section when you're done reading this post!**
Flea Markets. If you're looking for vintage items to add to your home, there really is no better place to look than a flea market. At these big antique sales, you can find a variety of rustic and vintage pieces at bargain prices. The best part about shopping at a flea market is that you're allowed to haggle. So, if you find a great piece for your home, don't forget to ask for a better price than what's on the tag. Sellers are ready to negotiate their prices, allowing you to score some great deals on farmhouse décor…and don't be too shy to haggle…they expect it at a Flea Market.
Yard sales. Another great place to find cheap farmhouse décor is at yard sales. The popularity of farmhouse style means it's likely that you'll find farmhouse décor or vintage pieces at yard sales throughout your town. Shopping for a certain type of décor at yard sales requires a little bit of strategy. Before you head out on Saturday morning, make a shopping plan. Check your newspaper's classifieds, Craigslist listings for your town, and even Facebook Marketplace to view all the yard sales that are taking place that day. Then, scan the ads for words that might indicate that the sale has farmhouse style items. Words like the words antiques, vintage, farmhouse, rustic, industrial, and collectibles may indicate farmhouse decor is at that sale. Then, make a list of all the homes with those items to help narrow your search for farmhouse décor.
Thrift stores. While the selection of farmhouse décor available at thrift stores may be limited, it's still a great place to check when you're shopping on a budget. You never know what you will find at your local thrift store, making it a great place for home decorating on a budget. From vintage items to pieces you can upcycle into farmhouse style décor, the possibilities are endless when shopping at thrift stores.
Antique stores. Although the prices at antique stores are often higher than those at flea markets, you can still find great deals on farmhouse style pieces. Antique stores are often filled with a huge selection of vintage items, allowing you to find amazing accent pieces for your home at more budget-friendly prices than purchasing items in a retail store.
eBay. Since eBay is similar to an online flea market, you can often find some great deals on farmhouse style items. You'll need to spend a little time searching the site to find the best prices. But the hunt is often part of the fun of decorating on a budget, right? I don't know about you, but when I get an awesome deal on something that I have been wanting I kind of get a natural high from it and am happy as can be.
Etsy. On top of finding great deals on antique and vintage items on Etsy, you can also browse a variety of beautiful handmade farmhouse style decorations. Most of these items are also budget-friendly, making Etsy a great place to search when decorating on a budget. My favorite Etsy shop for vintage finds is called RiverHouseDesigns. The prices have gone up a little bit over the years, but I have found some of the most interesting pieces ever in that shop.
Farm supply stores. If you're decorating your home in farmhouse style, why not go directly to the source? Stores like Rural King or Tractor Supply offer a huge selection of farm implements and farmhouse décor that would look amazing in your home. And the price tags on these items are often much lower than the price of similar items in retail stores.
Amazon. This shopping site has the biggest selection of items on the internet, so a quick search for farmhouse style décor won't disappoint. The best part about shopping for home décor on Amazon is that you can find some great deals on farmhouse décor. Searching through the list of farmhouse options on Amazon may take a little time. But it's time well spent when you score a great deal on some new decorations for your home. Plus, being able to read other customer reviews of the item purchased always gives me more peace of mind.
Wal-Mart. Shopping at Wal-Mart might be a good way to save money on household items, but it's also a great place for decorating on a budget. The budget superstore has a variety of beautiful farmhouse style decorations, from industrial metal baskets to rustic lighting, all at bargain prices.
Target. This popular superstore is another great place to check out when decorating on a budget. On top of the store's already low home décor prices, you can also score additional savings at Target by using the store's app on your phone and signing up for the Red Card. That card saves you an additional 5% each time you shop (I only recommend doing this if you have the self-control to pay the card off right after each time you use it). The best place about shopping for farmhouse style home décor at target is browsing the Hearth & Hand line of products, which are designed by Chip and Joanna Gaines from Fixer Upper.
Do it yourself. When all else fails, making your own farmhouse décor is one of the simplest ways to decorate on a budget. Whether you make your own decorations from scratch or use a little paint to upcycle a piece you already have at home, DIYing your farmhouse décor can help you save a ton of money on decorations.
Well, there you have it… my thoughts on how to save money when farmhouse decorating on a budget.
Most of these ideas will also work for finding other styles of decor too…if Farmhouse isn't your thing.
Thanks so much for stopping by my site! If you liked what you saw, please make sure to share it via social media!
Other ways to show your support are to follow and/or interact with me on Pinterest, Instagram, Facebook, YouTube, or by Subscribing To My Emails List.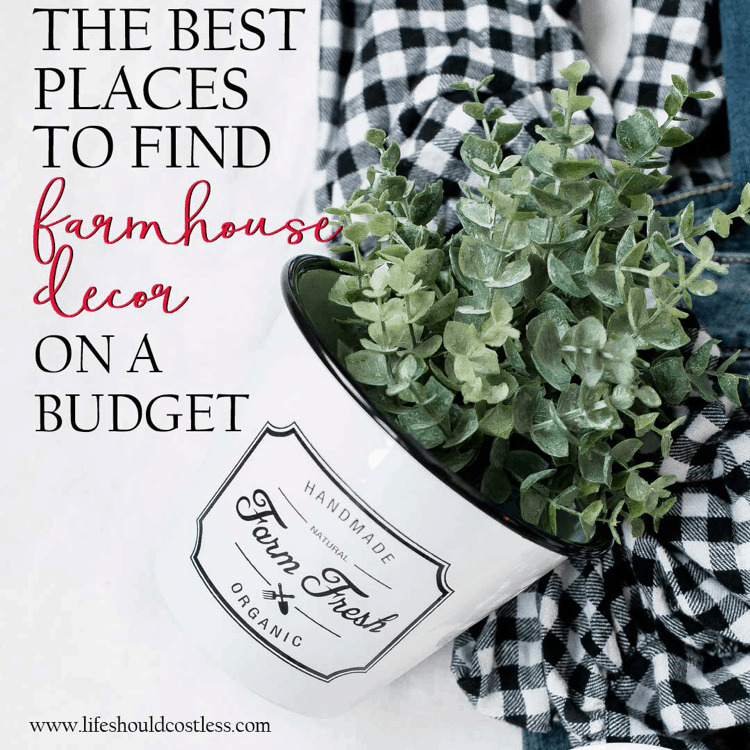 If you purchase suggested products through Amazon, the cost to you remains the same, but I make a small commission on everything in your cart. Also, if you ever need to buy it again, you can always come back to my site for the link…just sayin';).
If something was particularly helpful and you would like to donate directly to my site, you can do so via PayPal, here. I'm a single mom of four, so every little bit helps. Thanks again!~Sarah
Here are links to five of my other posts that you're also going to love: