I'm all about food being healthier, but I don't want it to taste healthy. That's why, when I read about
Whole Grain White Flour
, I decided that I needed to try it. It sounded like it would fit both my requirements of being healthier AND not tasting like it's healthy. I must say that Whole Grain White Flour is delicious! It actually more than fits my requirements. I've been using it exclusively for over a year now, and the only thing that I don't like it in is brownies

(as the texture is a little off).
I had to buy a bag of all-purpose flour to make salt dough ornaments with last Christmas, otherwise I don't keep it in the house. I'm glad that I had it or I couldn't have shown you the nutritional differences. Anyway, please don't mind the scans that I took, I hope that you can read everything clearly.
(You may have to click on the photo to see it enlarged)

As you can see, Whole Grain White has over six times the Dietary Fiber, twice as much protein, and has Calcium (which the all-purpose does not have at all). Whole Grain White is naturally sweeter, but that just means that you can get away with using less Sugar when you're baking with it. I've found that when making cookies or bread and the recipe calls for a cup of flour, I must use a scant cup when using Whole Grain White.
I feel like making this teeny change, without sacrificing taste or texture, is one of the smallest things we could do towards our family's good health. As soon as I finish using up what pre-ground Whole Grain White Flour I have, I'm going to start
grinding my own flour for even more nutrition
. Just thought I'd share this so that maybe you might want to make the switch too. It's more than worth the few bucks to buy a bag and see what you think.
* I've tried two or three brands of pre-ground Whole Grain White Flour and my favorite is called Wheat Montana (it comes in a gold bag, Wal-mart carries it, or you can find where they sell it
here
) They grind it much better than the other brands, plus it comes in an air-tight bag which also seals in freshness.
*If you're going to buy the Wheat berries and grind it yourself, I've found that it's the cheapest at Costco (when compared to Wal-mart and Winco), they sell it in a 45lb pail.
*If you're interested in purchasing your own grain mill, make sure to go
here
and read reviews and compare products before you buy so that you don't regret the purchase.
Just in case you thought that pic was too blurry, here they are separated:
Here's the Whole Grain White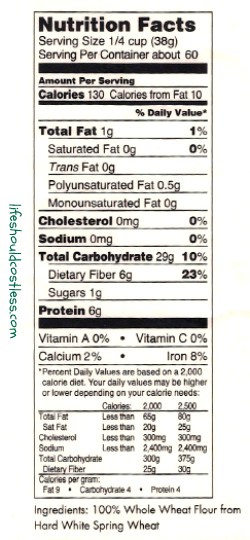 And the All-Purpose Flour