*DISCLAIMER-My sewing skills are mediocre at best, so keep that in mind as you view this post ;)!*
A while back I saw
the idea to make a quilt out of old sheets
and I found it rather intriguing. What an awesome way to make something new out of something that is no longer being used! So, between the sheets that my in-laws gave me when they were downsizing their linen closet (a big thanks to them) and the ones I had on hand, there was plenty of material to make my girls matching bedding. Like I said in my disclaimer, I'm not the best at sewing, but I sure do give it a good try. Because of my limited sewing skills and the fact that I have to be able to stop working on it at any given moment (3 small kids = not much time or energy to sew), I decided that I would just go with a simple strip rag quilt. The best part about rag quilts is that as they fray more and more with each wash, they look better and better AND hide many of your sewing mistakes.
I wanted to make the girls matching quilts for their beds because the plan is to make them a triple bunk bed some time in the next few months. That's about how long it will take for these quilts to fray really well and look their best, so "yay me" for planning ahead so they look better for the triple bunk post.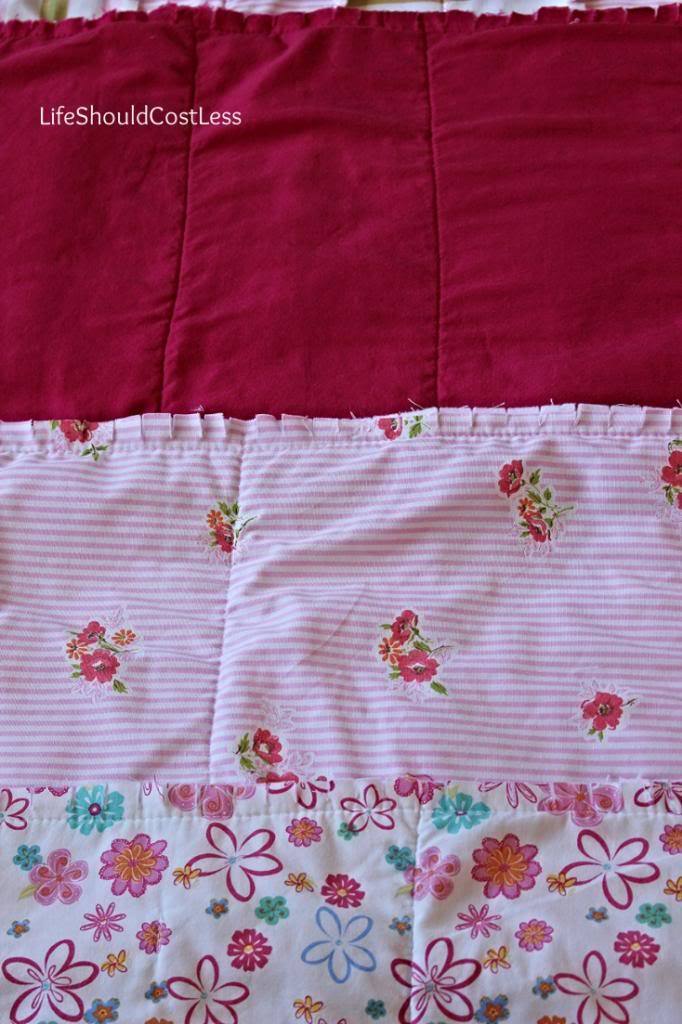 I let the older two girls pick which sheet they wanted for the backing of their own quilts and it got them really excited about it. I don't care if the bottom doesn't match, it's hidden when their beds are made and it'll make it so that we never confuse which quilt is whose. The lining was the only out of pocket cost that I had since I had thread and the outer portion of the quilts consists of 6 flat sheets. The plan for the quilts thickness was to make them fairly thin so that they can be used in the summer too. It's not hard to add a blanket underneath them for the cold winter months. Quilt lining can be pretty pricey, even when you get it by the yard and use a coupon. Rather than using regular lining, I discovered some felt that was 72″ wide and about 60% cheaper than the lining that was the same thickness. I was able to use a 50% off coupon so the felt lining only cost about $20. I made sure to buy one length of felt since the Joann's coupon was only good for one cut of fabric and I know how to cut it into thirds.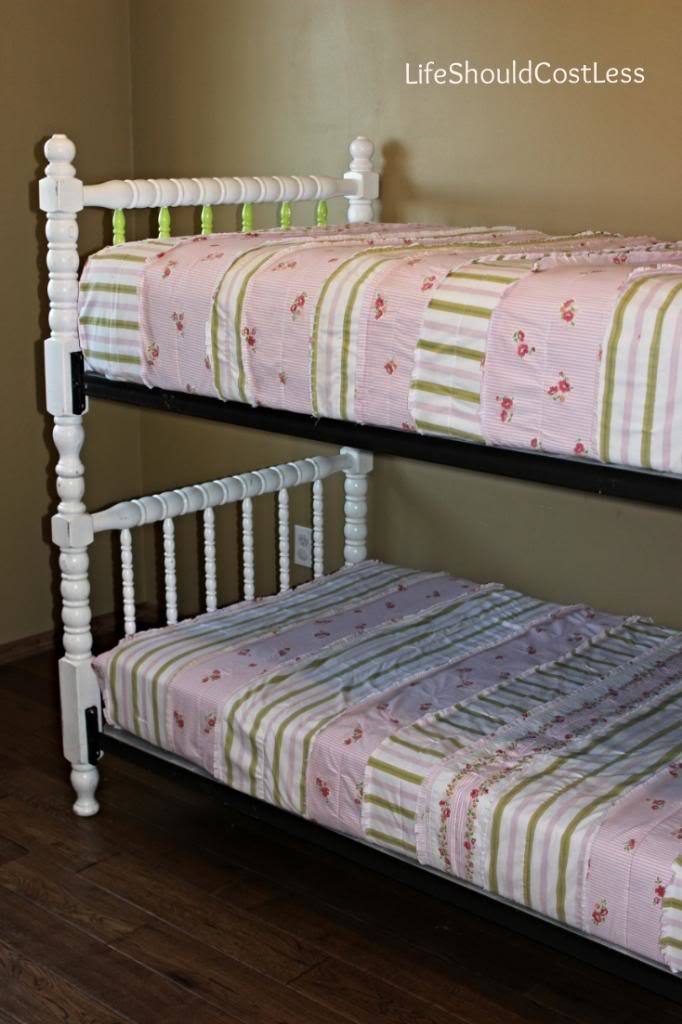 The baby is still in our room, so her quilt is in the closet while the other two get to use theirs. I guess I'll just have to remember to throw the third quilt in the wash when i wash the other two so that they are all fraying at the same pace. This looks about a million times better than having random blankets on each bed.
Yeah, I could have just bought them matching bedding, and I guarantee it would look better. However, you can't put a price tag on something that your child is going to hold dear. A quilt made especially for them, by their mama.
I'm so glad to have this project done. I'm awful and don't even answer my phone when I'm in the midst of a big project…I answered it once for my mom, told her I needed to call her back, and now 4 days later still need to call her back…I know, I suck!
*Another idea to make quilts on the cheap would be to raid your husband/dads closet for any old shirts that could be used to make quilt blocks out of. Or of course, there is always good 'ol denim!