I have wanted a car seat canopy for as long as I can remember…however, I'm super cheap so I've just been using a blanket thrown over the car seat. Well, I recently decided that I didn't want to deal with the blanket this time around because the older kids are always pulling it off the car seat and it gets dirty so it ends up being a rather large headache having to wash it over and over.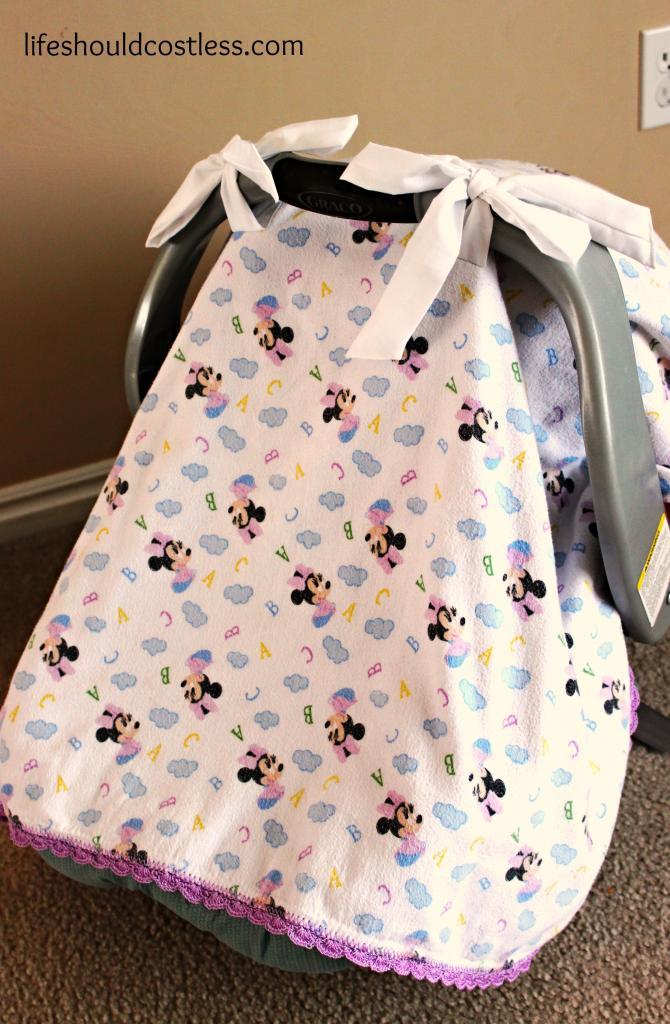 Back to that part about me being a cheapo…well, I knew they were easy enough to make, but with a newborn in the house I don't really have that much time or energy so I thought I'd see if I could make one of our receiving blankets work. The good thing about having all girls is that we have girly blankets galore. So many, in fact, that any that aren't hand-made have had to be donated to others in need because I haven't had the space to store them. I was very happy to find that one that was made by my sister-in-law for my first baby was just the right size for my Graco car seat which is 38″X35″.
I didn't want to ruin the blanket so I decided that if I made straps for it and used a large stitch when sewing them on, it would take less than five minutes with a stitch-ripper and it would be back to normal when we are done with using it for the car seat. Win/win, we get more use out of an older but favorite blanket and what I'm doing is completely reversible so my oldest will still have it as a keep-sake from her Aunt.
This project is definitely a beginner level sewing project and should only take around thirty minutes…unless you have little helpers, in which case just do your best but it may take an hour if you have to keep re-doing certain things. On to the basic tutorial:
If you want to see if a particular blanket will work, just drape it over the top of the car seat while the handle is up and spread it as evenly as you can. If it is two or three inches off the ground, then it'll work. Remember that the canopy part attaches to the bottom of the handle so it will be hanging a bit lower than when it is just draped over…which means that if you don't want it touching the ground, then you need to make sure to allow for that difference. *Remember above I had mentioned that the blanket that I used is 38″X34″. Once you've decided on which blanket will work. Iron it and go to the next step.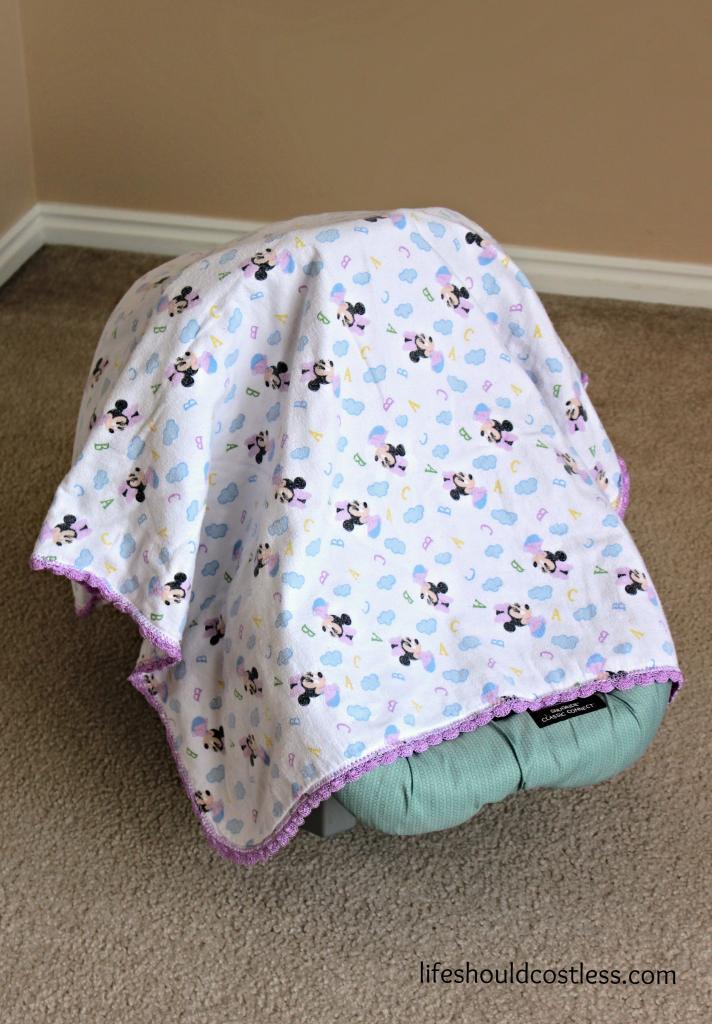 Drape the ironed blanket back over the carseat with the handle up and feel under the top of the blanket for the part on the handle that has the rubber gripper, decide where you want the straps, and place a pin on each side. As seen below.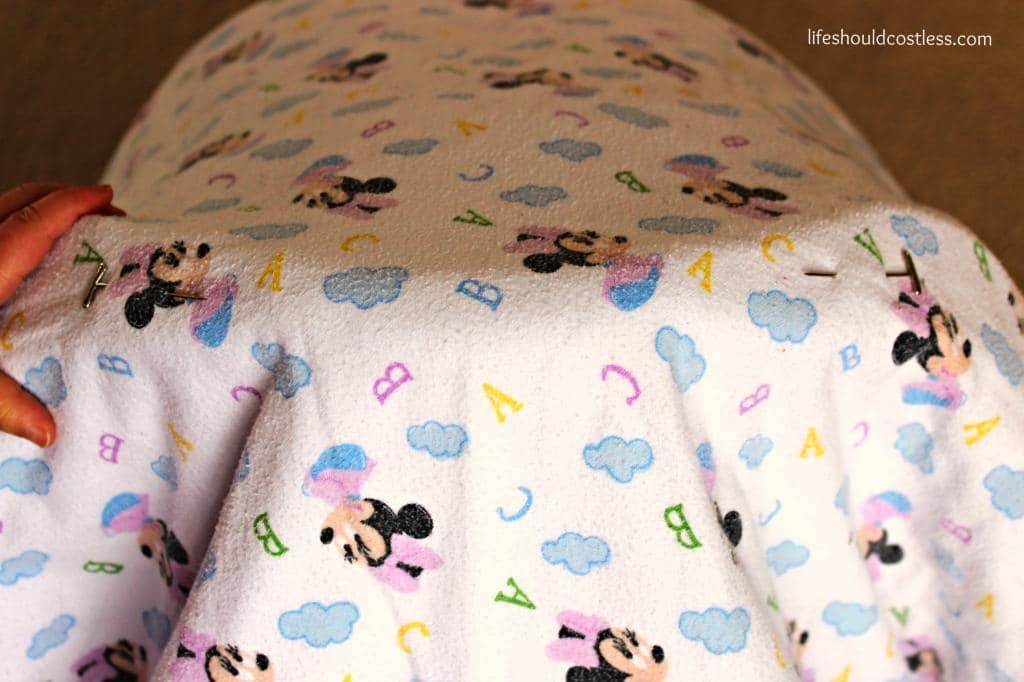 Next, get two strips of ironed/pressed fabric that are your desired color and length. I wanted to make fairly large bows when they are tied, so I cut mine to 3.5″ X 35″.
Fold them in half hot dog style (yes, an elementary school reference 😉 which refers to folding it length-wise, making sure that the inside is the side you want on the outside of your project as you will be turning them inside out after you sew them, and iron/press again. Then you just sew the two raw edges together. As pictured below.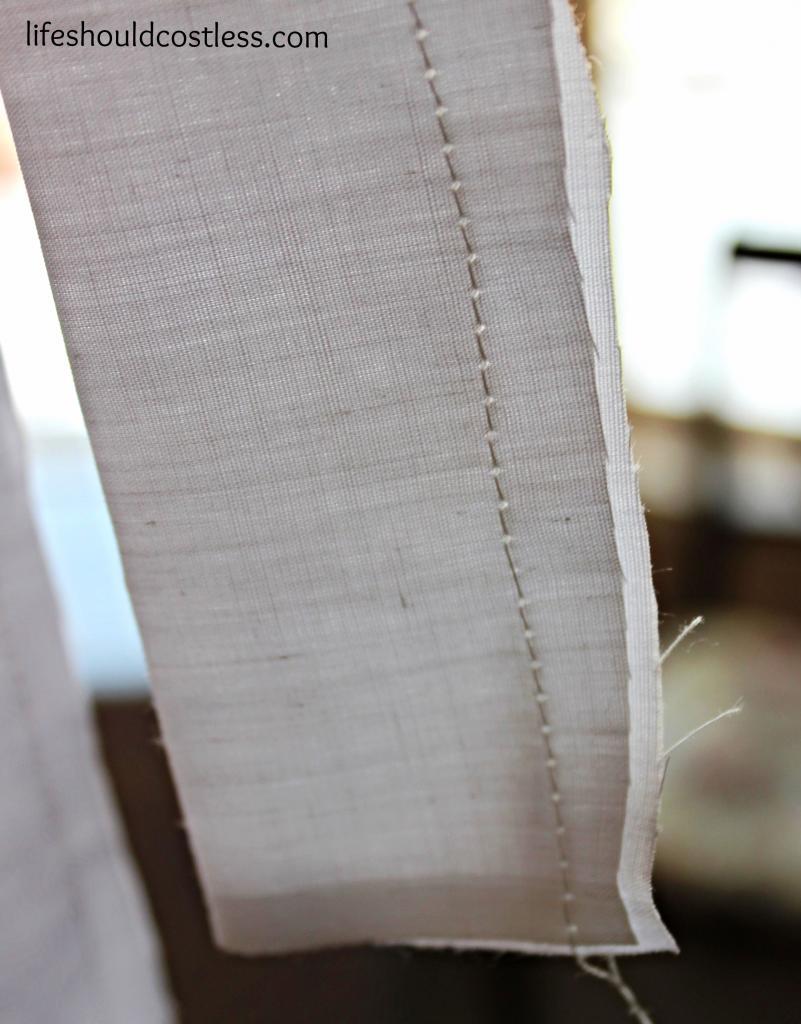 If you want smaller bows than I did, at this point you can check the length by tying one in a bow onto the car seat handle. If you decide you want it shorter, now is the time to cut them to the length you want.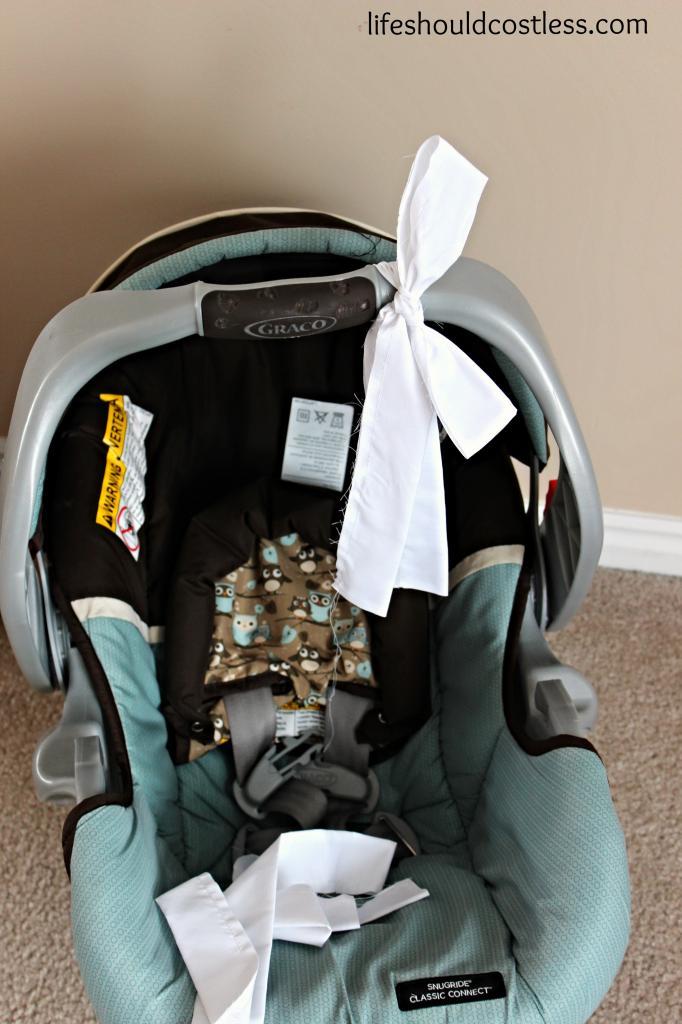 Take both of the strap pieces and turn them right-side out. I used a
loop turner
for this…it only takes about a minute when you have the proper tool. It creates two pieces that look kind of like tubes.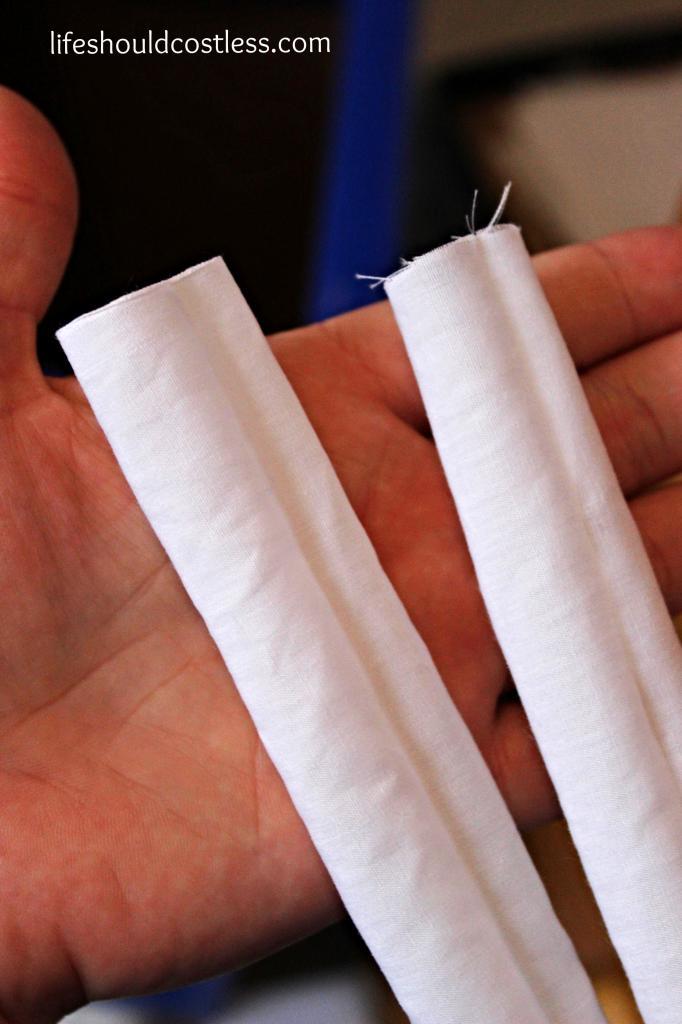 Next, you do your best to put the seem in the center and press/iron them.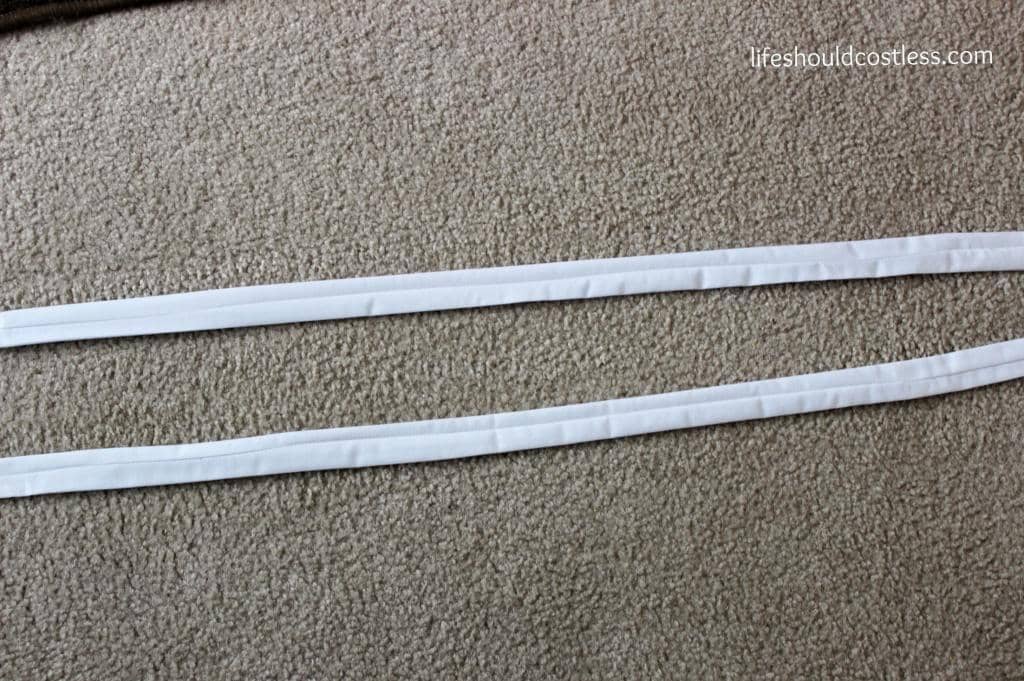 Next, tuck in one side of the ends and sew it shut. This creates a point on each end so it'll look like a ribbon that is tied and not just a strip of fabric.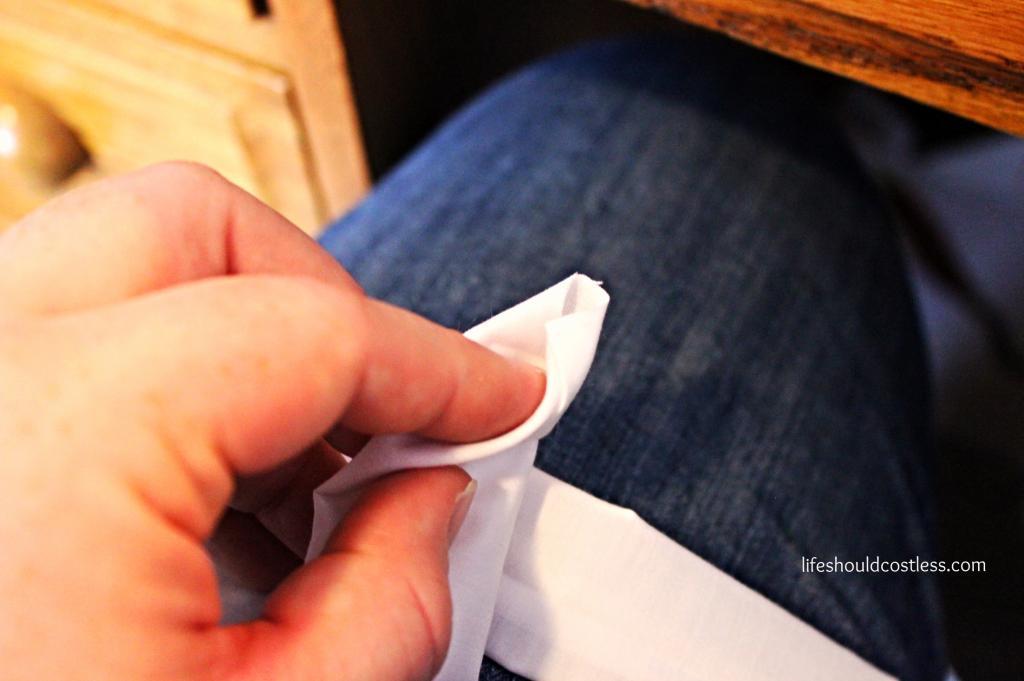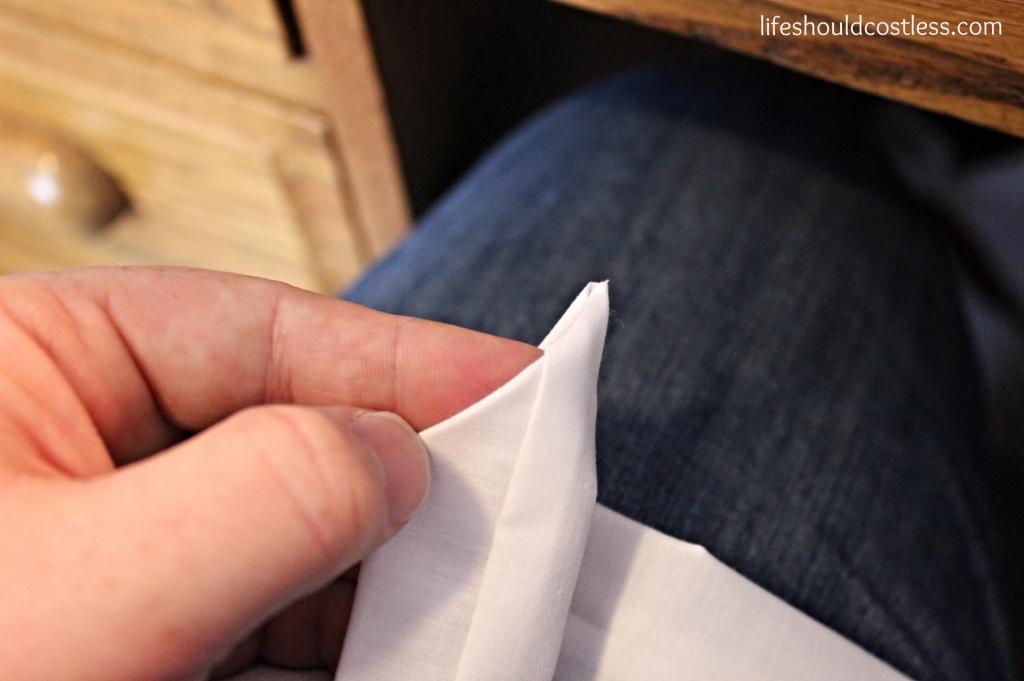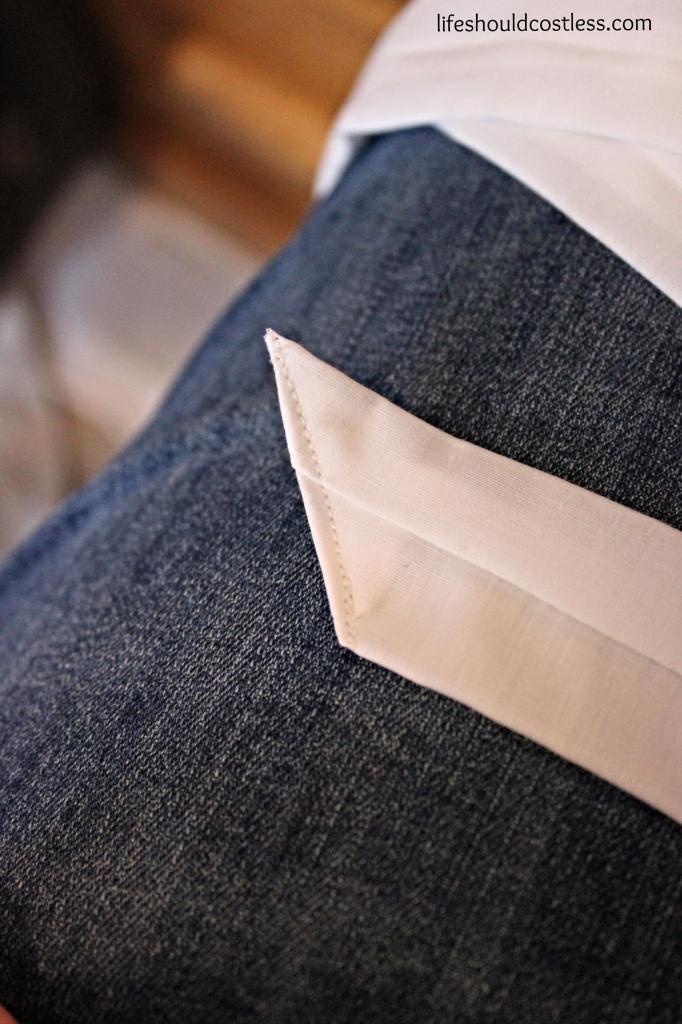 Spread out the blanket, find the center of each strap, and add the strap where the pin is already in the blanket (make sure that the seem of the strap is facing away from the blanket). Now you're ready to sew them on. I decided to do a square pattern with a line down the middle of the square to make it sturdy even with the stitches being on the bigger side. *Remember before when I mentioned using large stitches to attach the straps to the blanket so that it won't damage the blanket and will be easy to remove when we are done with the car seat.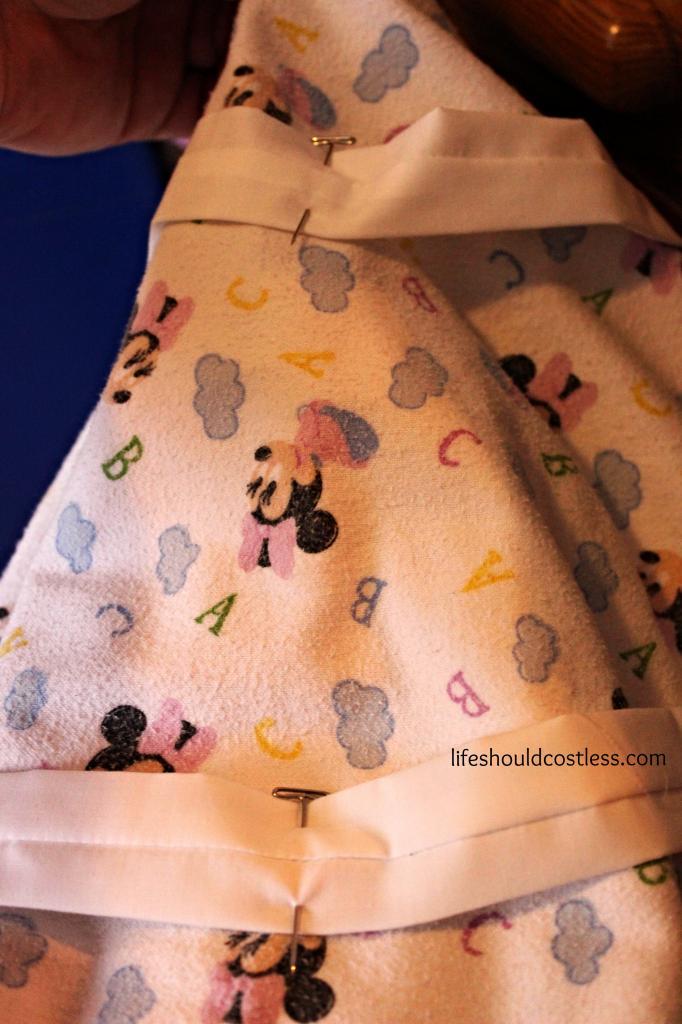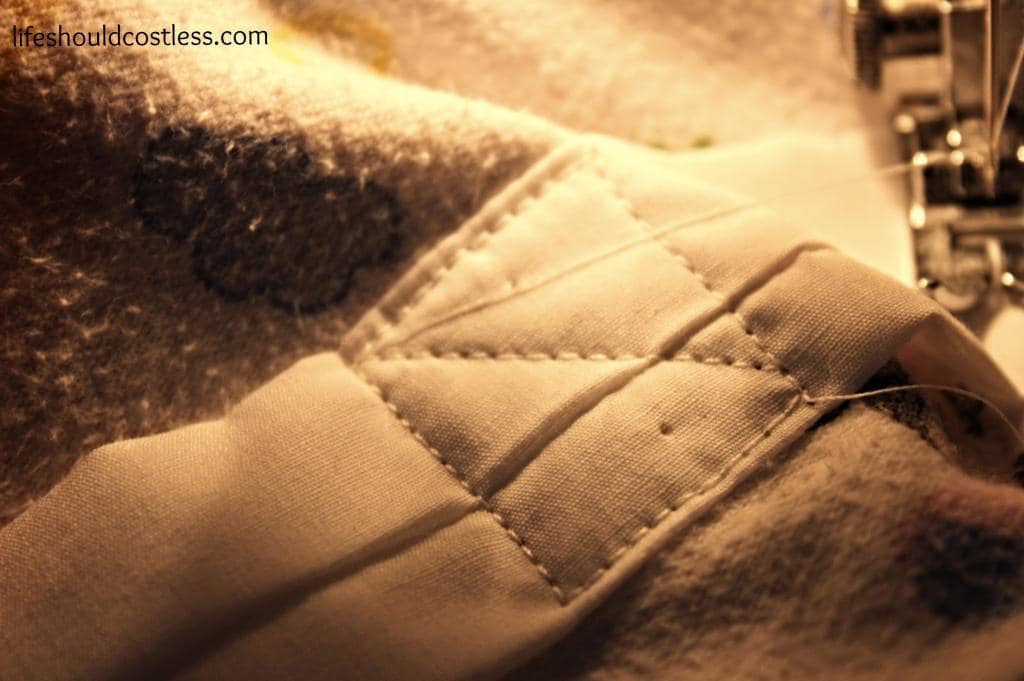 I had put my straps at a little bit of an angle because the car seat handle is a bit angled, but that isn't entirely necessary. Just thought I'd show you though.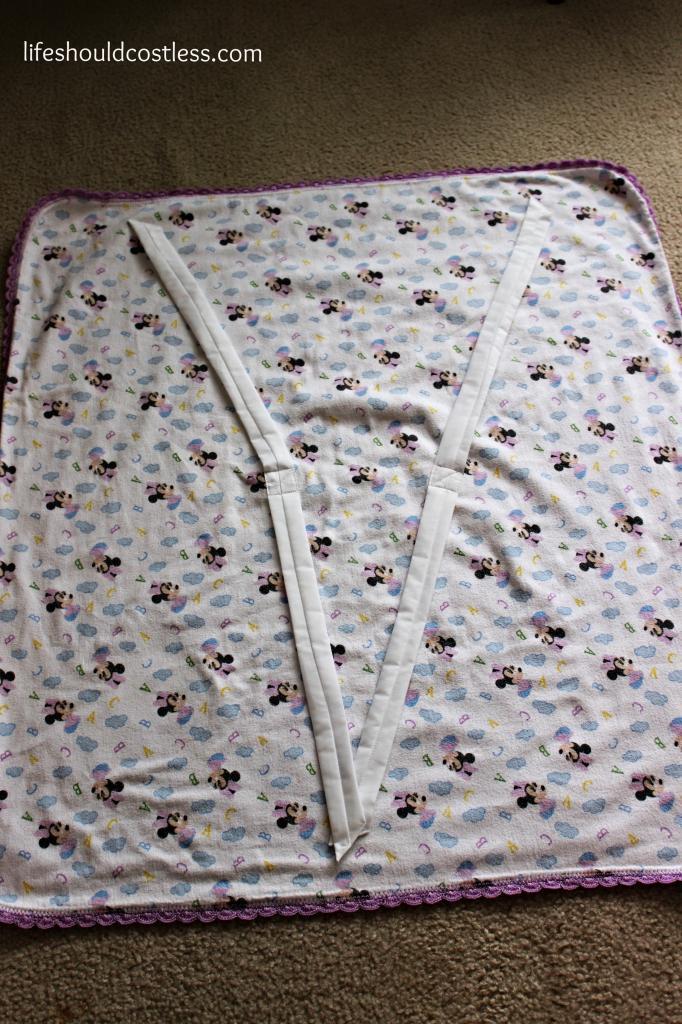 It's done! Now you just add it to your car seat. I just tied bows and it worked out just fine.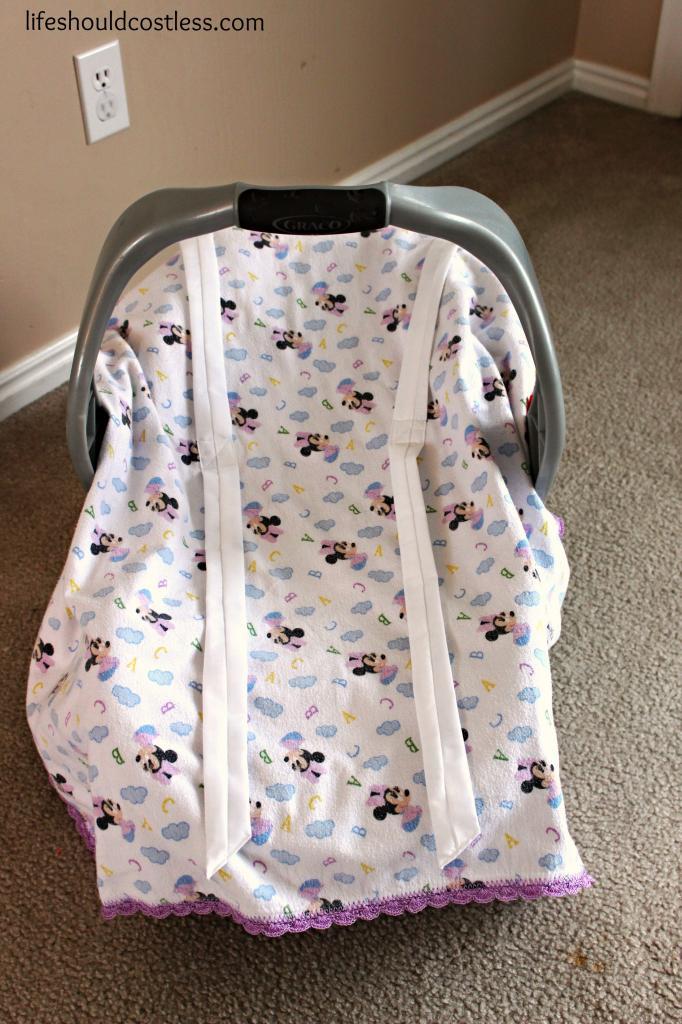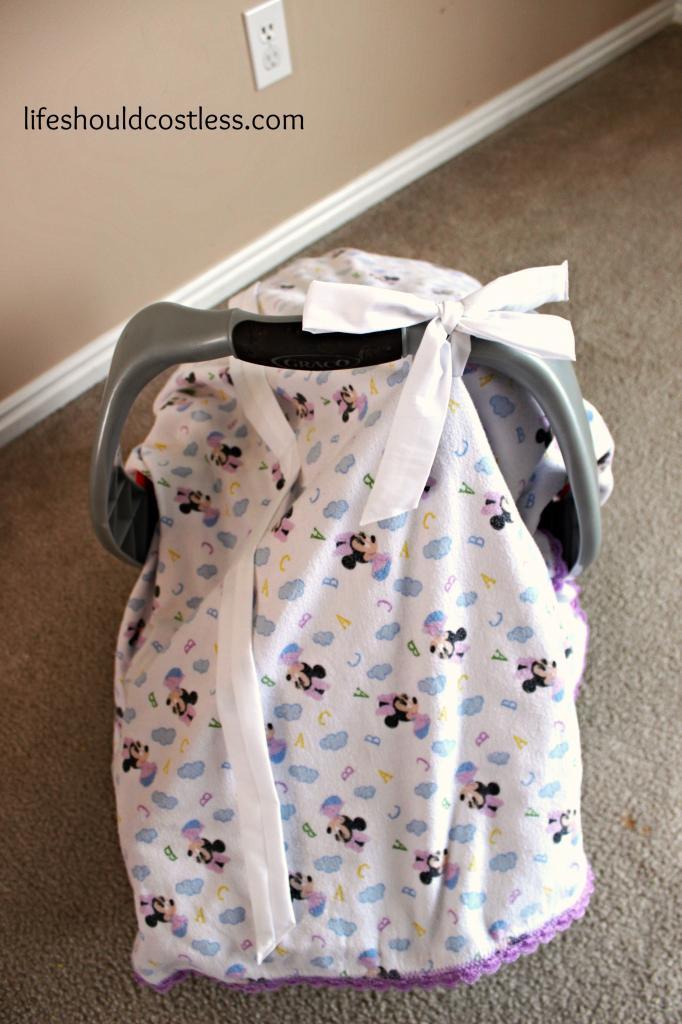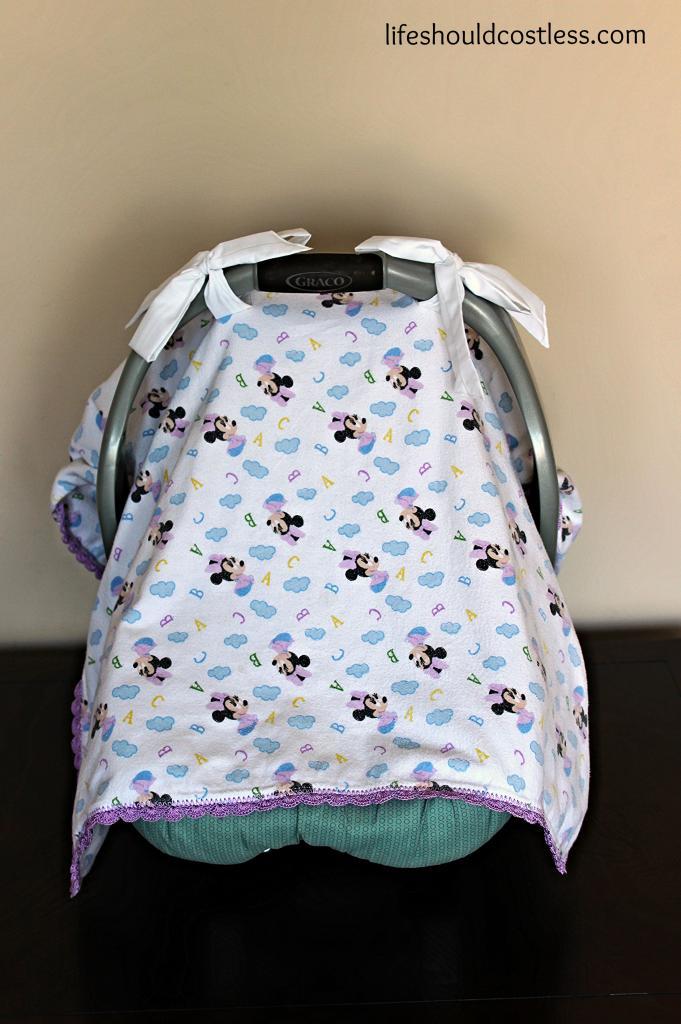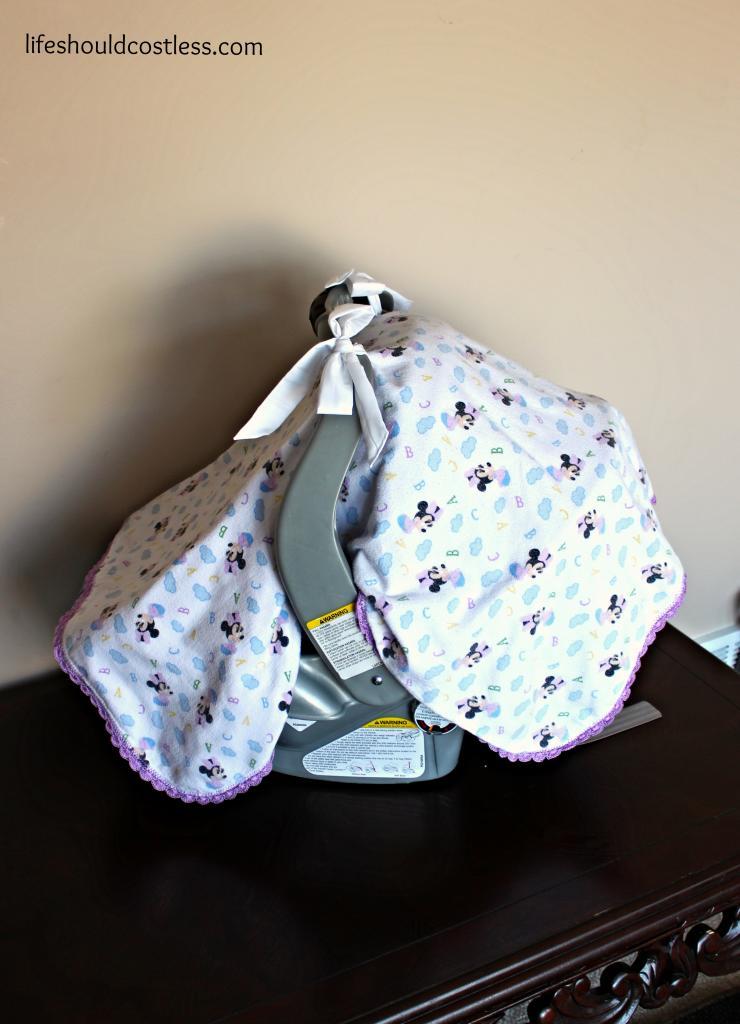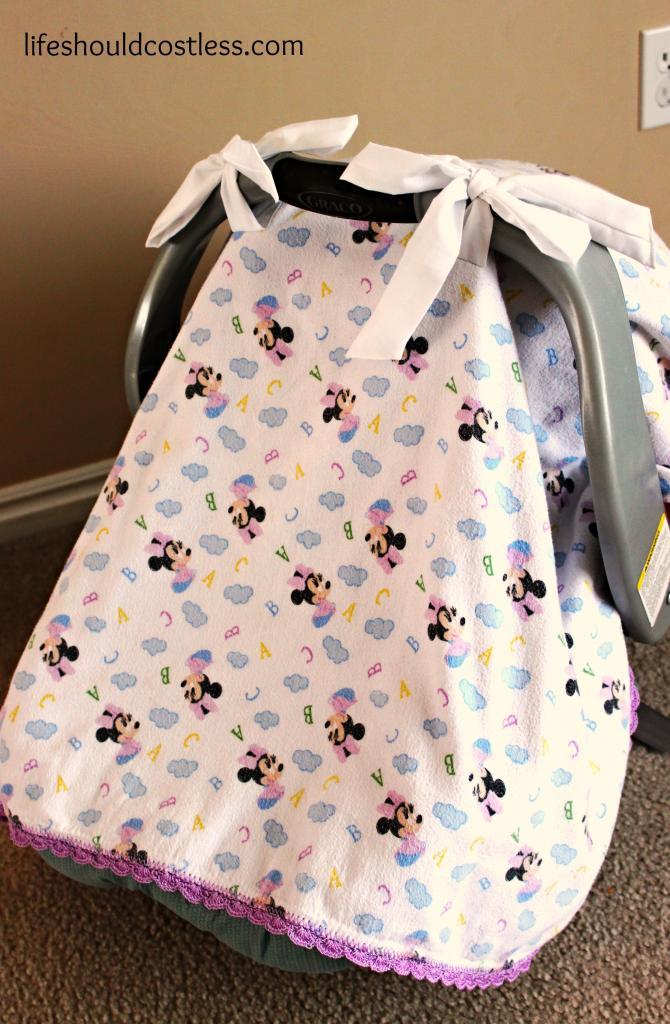 It's all for this darling little girl! She has been such a fun baby…even with the 5 day NICU stay she's been so sweet. She looks pretty dark complected in this pic…I promise she's not the milkman's ;).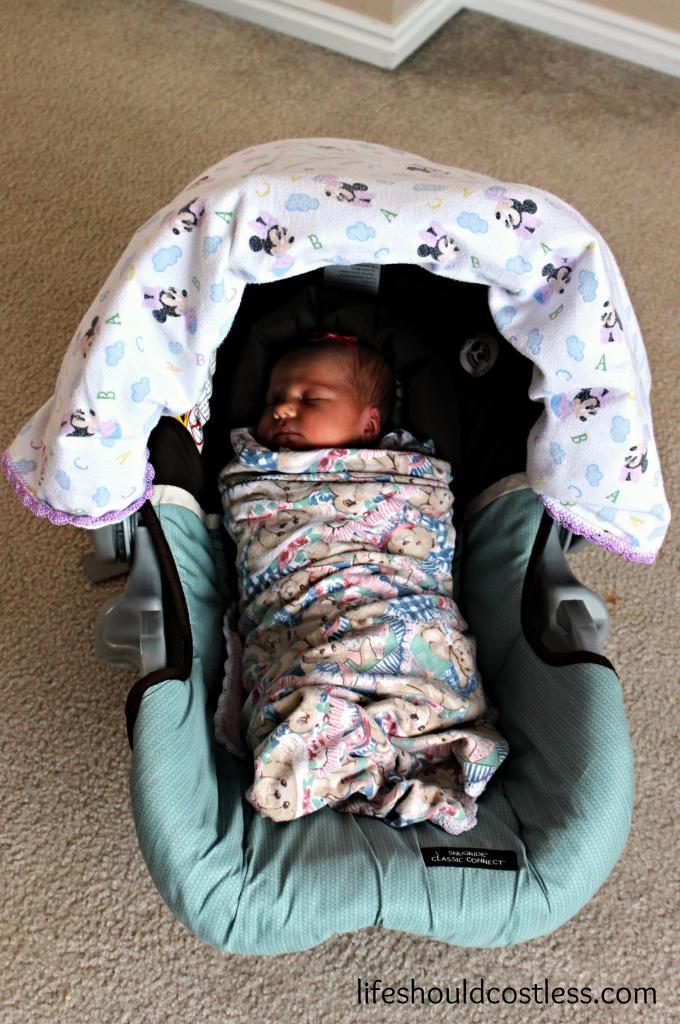 She was just my canopy model…obviously she gets strapped in whenever we go somewhere.
My work is far from perfect, but it'll do.
By using both a blanket that I had on hand and some fabric that I had on hand, this project was free
. I would have preferred to use purple straps to match the blankets edging and Minnie's bow, but I didn't have that color and decided that it wouldn't matter enough to go spend the money to buy the right color.
I hope this all made sense…I do always worry that I'm not explaining it right…. plus, I have a lovely head-cold so I hope I was able to explain everything well enough to understand.