Now that it's been a while since I've been making a concerted effort to be all domestic and stuff, I recently discovered that I needed to figure out a storage solution for my wreaths. This discovery happened when I asked my husband if he would get down the heart wreath form (which just happened to be at the bottom of the pile of wreaths on a high shelf in the garage) so I could make my Burlap Rosette Valentine's Day Heart Wreath. Soon after asking, I found myself running to the garage at the sound of a profanity because they all fell off of the shelf. We both realized that we needed a much better solution than just stacking them (one that would cause less cursing ;). Not only that, but stacking them damages/squishes them so they aren't going to look as good or last nearly as long as they would if they were stored in a better way. Wreaths can be expensive, so protecting that investment is important and I thought I'd share what I came up with to organize mine.
A while back I had pinned this awesome idea for wreath storage using a coat rack. I really wanted to do the same thing, but I don't have any spare floor space in our garage. When they said our garage was "two car", I'm pretty sure they were referring to clown cars…hee hee! We have never been able to fit two cars + our stuff in there…sorry for the side-note, I just thought I'd share why we don't have any extra floor space in the garage.

I still wanted to see if I could make something work with a similar idea as storing the wreaths with a coat rack and by using the same concept as our in cupboard pot rack, that is how this post was born. I love that this solution is fairly easy to put up, but that it will also only take minutes to take down. Which will be handy if I decide I need to move it when we gut and re-do the garage in a couple of years. This idea could also be easily adapted to add another row below if any of you ever need more storage than this. I only have my four wreaths right now, but I estimate that I'll be able to fit at least twelve to fifteen on there as I make them in the future. I shouldn't ever need any more space than that since there are only twelve months in the year and having one wreath per month is PLENTY!!! I'm a minimalist…within reason ;).
I'm starting off by showing you where I decided to put my wreath organizer. With the (very inefficient) way that the shelving is set up in our garage, there is lots of dead or wasted space above the hood of my car. I decided that this would be the perfect place for the wreaths. Still high enough the kids can't mess with them, but low enough I don't have to stand on anything to get to them.
and some elbow grease, I cut and bent the hangers so that they would hold the wreaths just right.
They're far from perfect, but it really doesn't matter considering that they will be inside a bag in the garage.
This picture shows you how the hangers hold the wreath now.
How I made sure it was going to fit.
I love that there is a little window so you can see which wreath is in there. No digging around or having to label anything!
Now for constructing the actual organizing bar. It was pretty simple. I used a 6′ pipe found in the plumbing aisle at Home Depot. All my pieces are 1/2 inch fittings.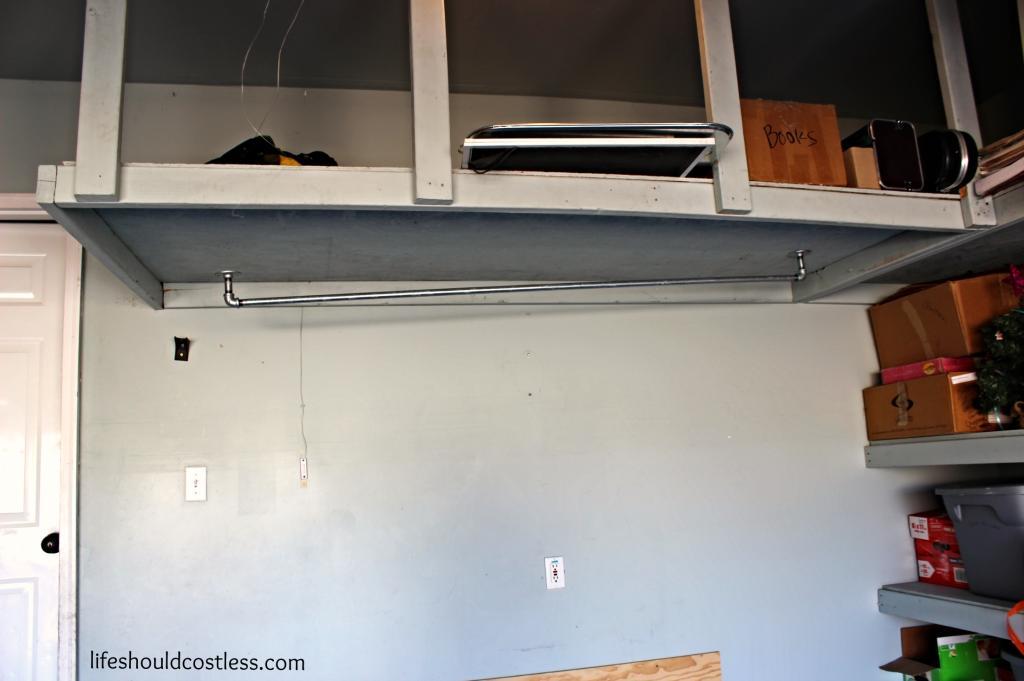 The only struggle that I had in putting it together was that I was doing it alone, still weak from being very ill for a few days prior, and the pipe was pretty heavy. Though, by piecing it together little by little, it supported its own weight so I was able to do it without having to wait for my husband to get home from work.
It took me about twenty minutes or so to install it. I bet it would have taken about five if I had had help.
Now it's done and I get to enjoy it! WAHOO!
Don't mind my messy shelves that I haven't spring cleaned yet, or the funny board on the wall that is covering a big hole. I just wanted to show you that I left a fair amount of space between the current wreath sizes and the wall in case I decide that I want to make larger wreaths in the future.
I hope you like it! It was one project that I was able to complete both without my husbands help and while two of the kids were napping. Boy does nap time help me get a few things done around here! Anyway, please make sure to share this post with any other wreath lovers out there that could use a smart solution for storing their wreaths too!
You may also like: