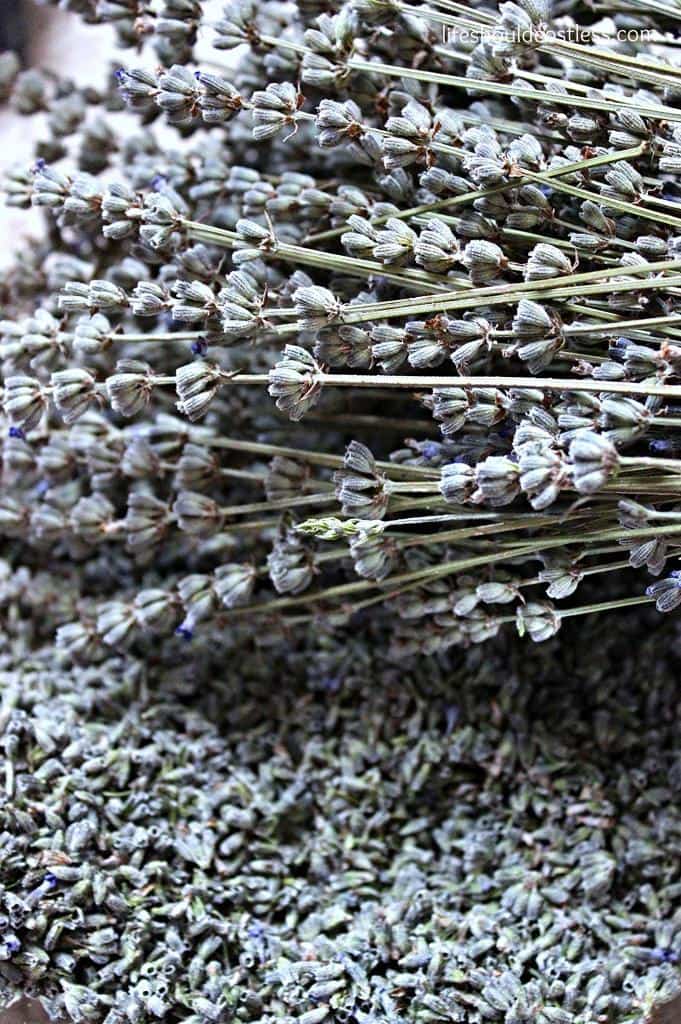 Our Lavender bush at our house produced like crazy this year and I've been wondering what to do with all the beautifully smelling buds since I harvested it at the end of the summer. I have enjoyed the room smelling like Lavender every time I walked into my office, since harvest, but I finally got around to doing something productive with it today.
I really wanted to make some home-made linen spray with it, but between the pretty glass spray bottles and the vodka, that would actually be a little more expensive than I can manage for Christmas gifts this year (the new baby's medical bills are piling up already…oh joy). When I harvested, I asked my Facebook friends if they had suggestions of what to do with it and given my current budget, the free option of Lavender Sachets won. It's free because I have tons of fabric on hand already and I harvested the Lavender myself. Win/Win!
Like I always do, if I don't know how to do something I research it online and I found that Martha Stewart actually has a really helpful video tutorial out there that shows you how to make them. That tutorial can be found
here
.
Now that I knew what I was doing, I got to work making them. I just have a few tips on easier ways that I found to do certain parts of the project.
The part that takes the longest is the removal of all of the buds from the stems. It gets REALLY tedious, and it made me thankful that I only have one Lavender bush. Don't worry, I'll show you the best way I found to do this. Too bad I was already 2/3rds of the way done when I figured it out though… oh well.
I ironed the fabric so that it's ready for a pattern.
Then I realized I'm way too lazy to use a pattern for a shape this basic, so I doubled up the fabric and free-handed some hearts with my fabric scissors. Next time I make these I plan on just doing squares and then buy some prettier ribbon for the bows.
I sewed the hearts leaving an opening at the top. Martha Stewart's tutorial says to do it on the side, but I figured that if the bow is going to be sewn to the top, I'm just going to leave the opening there so I can get away without sewing any of it by hand because I can cover the opening with the bow.
Turned them inside out.
Pressed them with the iron.
Made myself a simple funnel with an opening to match the size of the heart opening. A piece of paper and tape did the trick.
I was very grateful for two extra sets of hands for this part. I had my oldest hold the sachet bag open and the 2nd child scooped the Lavender into the funnel for me. I had to hold the funnel in place and I found it easiest to use something to shove the Lavender down the funnel, I just used the blunt end of a small paint brush. Otherwise the Lavender gets caught in the funnel and you have to try to shake it down and takes forever.
Next, I sewed up the opening with my machine…the lazy way.
I pinched the two ugly edges, that I had just sewn, together.
Sewed them together.
This made it so that there is only one side that is showing that I didn't sew it shut by hand and hide the stitching. That is right where I sewed the bow in so it covers it right up.
I sewed in a piece of ribbon, over the ugly edge.
Linen closests, lingerie drawers, sock drawers, and anywhere that needs freshening or moth balls are where you should put these. I think this is my favorite free home-made gift I've made yet.
Now who wants to grow a Lavender bush so that you can do this some time? This is one plant I'm really glad that my home's previous owners planted. Now to finish cleaning it all up so that the hubs will stop complaining about the whole house smelling like Lavender. He said that when he walked in the door he was "slapped in the face by the smell". Oh, well…it's much better than the house smelling of something stinky. I hope you enjoyed today's post. -Sarah
A couple of my other sewing projects that you may like too:
Resources you may find helpful:
How to make Lavender Sachets, Martha Stewart's Video as mentioned above.
How to harvest and dry Lavender.