Hi there! Join Sarah on Facebook ,Pinterest , and/or Subscribe to keep up with what's new at lifeshouldcostless.
I plan on hanging it above her bed after we move, but until then it's hanging out in my oldest child's room. As per my usual advice (like from my "the ornately framed, yet inexpensive formal family portrait" post), start out with finding an inexpensive frame. I found mine by asking on Facebook if anyone in my Relief Society (the ladies at my church) had a large ornate frame they'd be willing to sell me and what do you know, my friend Courtney had this one. I bought it from her for $20. Considering that the area for the canvas inside it is 16″x20″ it was a really good deal. Plus, it doesn't hurt that the daisies are super sweet and perfect for a baby girl nursery.
Once I had the frame, I measured out the size of canvas I would need and started designing(so that I could get it ordered and on its way while I got to painting and letting the frame cure properly while I waited). *In case you don't know the trick about pixels vs. inches, all you do is add two zero's to how many inches you need something to be and that tells you how many pixels you need to make your design. For example, for this picture I needed something that is 16″x20″ so I designed a picture that was 1600 x 2000 pixels.* I used picmonkey.com to design mine for free. First I went in and individually edited and filtered each photo, saved them, and then went back in the "collage" setting and got my pictures where I wanted them . I left a blank spot open for the text then saved it and then opened that collage in the "design" setting and added the text. The font that I chose is called "Lavanderia" I think it's super classy. If you're wondering about the words I chose, it's from this movie
and I'm a bit of a sucker for Alison Krauss's version of the main song
. Man, being a mommy has sure made me a sap!
I guess I saved even more money on this post than I originally thought because I did all the baby's photography myself and even drafted the pattern and made her blessing dress. I just love her chunky cheeks and those darling shoes (which were second hand). The filter I used when editing the photos came out a little darker than I wanted, but I'm still happy with it. For the paint color, I did two coats of this, followed by one coat of this
(neither color took a full can so one of each is plenty for a similar project, if the price is too high on Amazon, just check your local hardware store. I wanted you to see what the bottles looked like). It was a little too chilly in my garage, so it marbled and rippled a bit, but the texture it gave looks kinda cool…gotta be positive about a mess-up right? I let it cure for several days before messing with it. Now to show you how I put them together.
The frame got prepped by pulling out all of the hardware that had held in the previous picture. It ended up being a really tight fit, otherwise I probably would have just left them in there.
Next, I used a damp cloth to clean the area that the canvas would be touching, and around the canvas to remove any dust, and let both dry.
I've had great success using these particular heavy duty glue dots
to hold canvases to frames and I used them again this time. They bond super tight and are strong enough to hold the frame. I placed them on both edges of each corner and then every four to six inches apart around the entire canvas (photo side up). It may be a good idea to place your canvas into the frame first so that you can see where you will need to attach your glue dots.
When I put the glue-dotted canvas into the frame I pressed down pretty firmly. As an extra precaution I weighted it down along the edge for about 20 minutes. Didn't you know that's what your food storage is for?
Here it is again. I forgot to mention that I ordered my canvas print through Photobucket.com. At the time they had an 80% off coupon code being offered…but they usually have a discount code listed along the top of their page. Just take a moment and look before you go to order. This was my second canvas I have ordered through them and I'm pretty happy with the quality of print they do.
That sweet little girl melts my heart! I'm just glad she still lets me cuddle her. Anyway, I hope you enjoyed this post. It's been hard to find time to post these last couple of months. I'll be able to post more regularly hopefully once we get moved and settled. Have a great day! I always feel like such a dork at the end of my posts…~Sarah
Follow along:



You may also like (the pictures are links):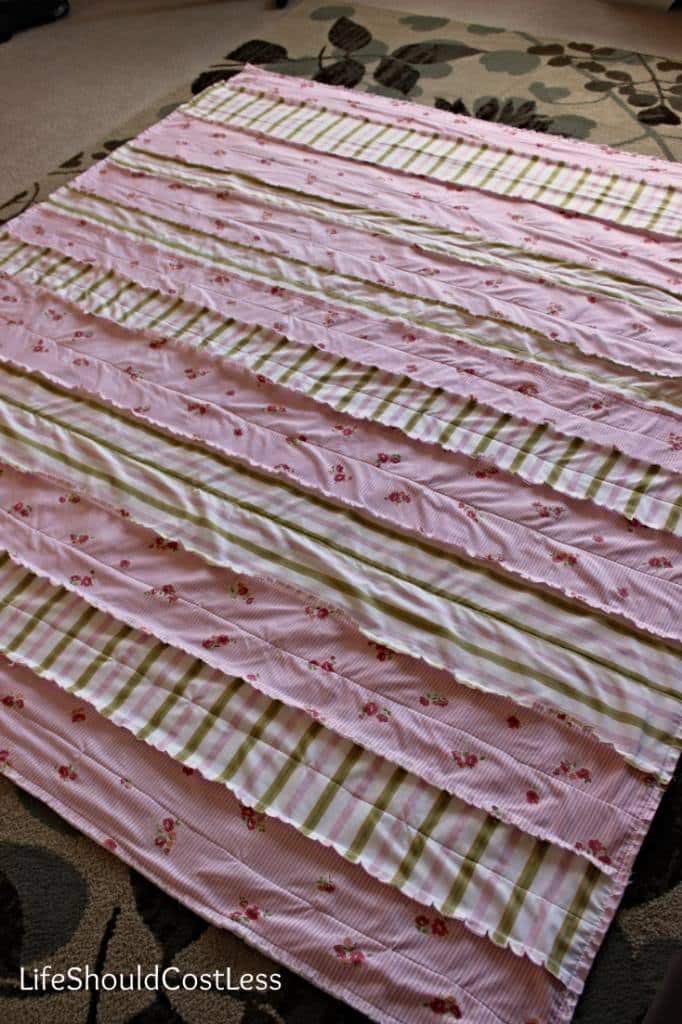 Upcycling Sheets To Make Kids Matching Bedding On The Cheap