Happy Fall Y'all…or at least in a couple of weeks anyway. I'm so excited to share my Autumn porch with you all today! Decorating can get pretty expensive and when you move into a new home it is really tempting to go all out and decorate the tar out of it, but I know that with time and budgeting a bit of it here and there, eventually my decor throughout the whole house will start to look the way I want it to. Without putting my family's financial well-being at stake I mean.
My solution to not go too crazy or overboard was to just pick one area of my home that I want to look great and that will be my focus for this year. Next year, I'll focus more heavily on another area of the house and hopefully will be able to re-use some of this decor. Though outdoor decorations take a beating so fingers crossed that at least some of it holds up.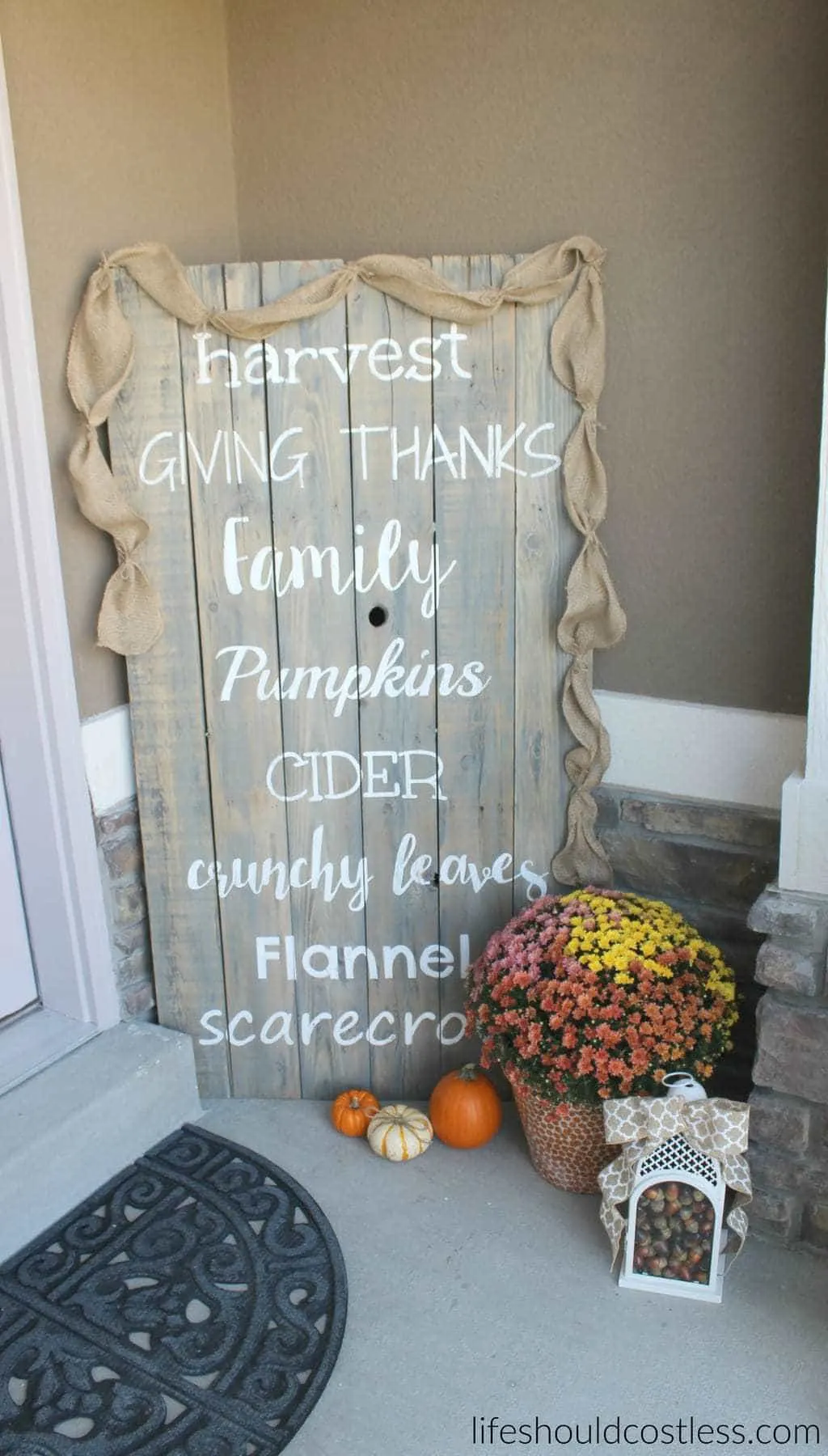 The porch is the window to the home so it felt like it was the area that I should concentrate on for our first fall in this house. Yes, I decked out the porch and even used some of the leftover stuff I bought for the porch to decorate my banister just inside the front door, but if anyone goes further into the house the decor is going to look pretty sparse…for this year. Like I said, I'll build on it and it's ok to not have every square inch of the house decorated to a T. Sometimes I just have to remind myself that if people only like you for your decorating, it's probably time to find some new friends ;).
I knew I wasn't going to have the time to make a sign myself, so I hired my awesome cousin Bobbi to make me a custom one and she did a great job! I'm trying to talk her into opening an Etsy shop or at least having an online store somewhere, so if you know her, make sure to tell her that she needs to listen to Sarah and open one up.
To make the garland on the sign I bought some five inch wide burlap ribbon and tied a little twine bow every 8-10 inches or so.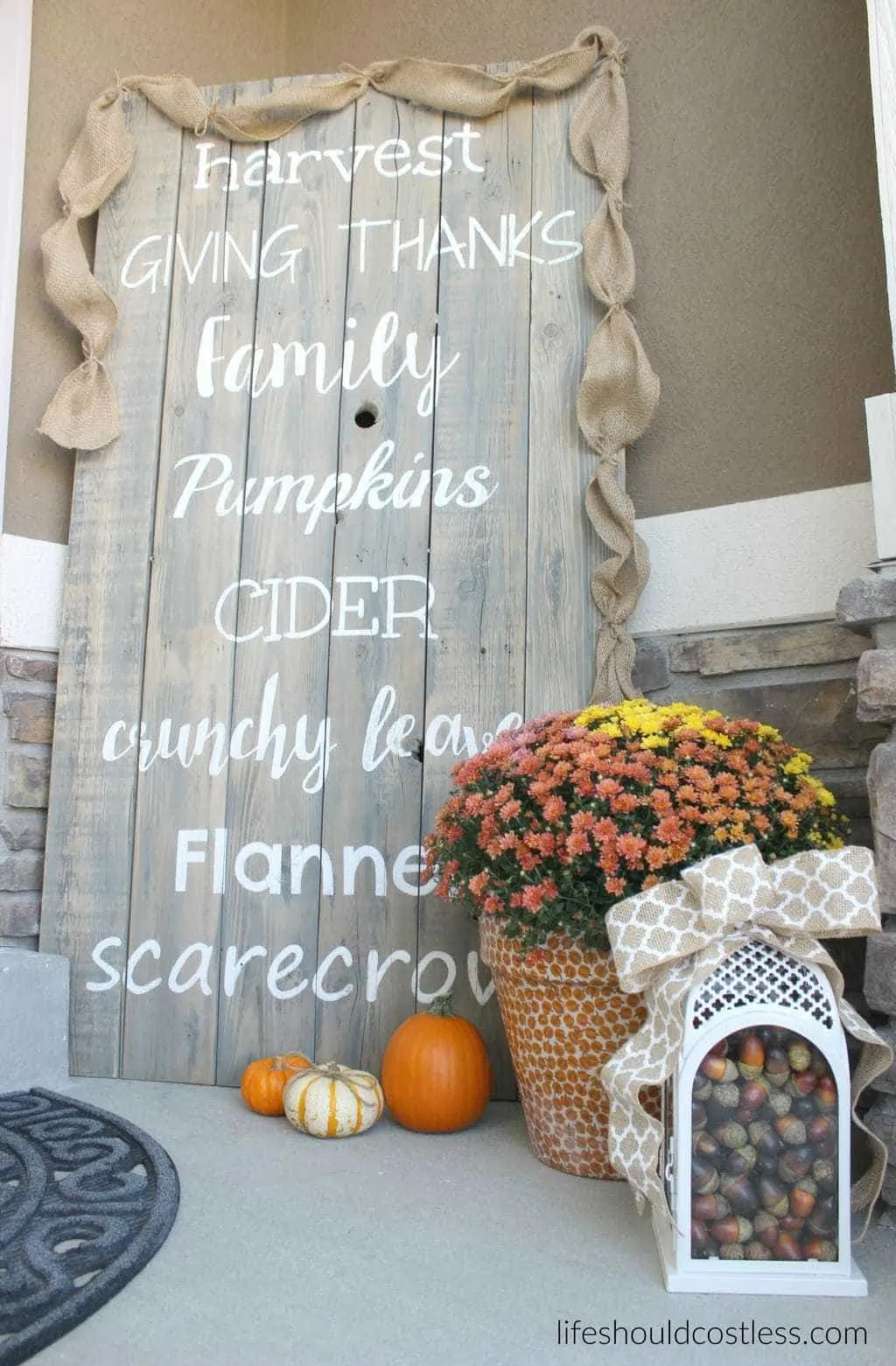 My porch is really shallow so I couldn't get a shot of all the decor together. I hope you're not too bummed.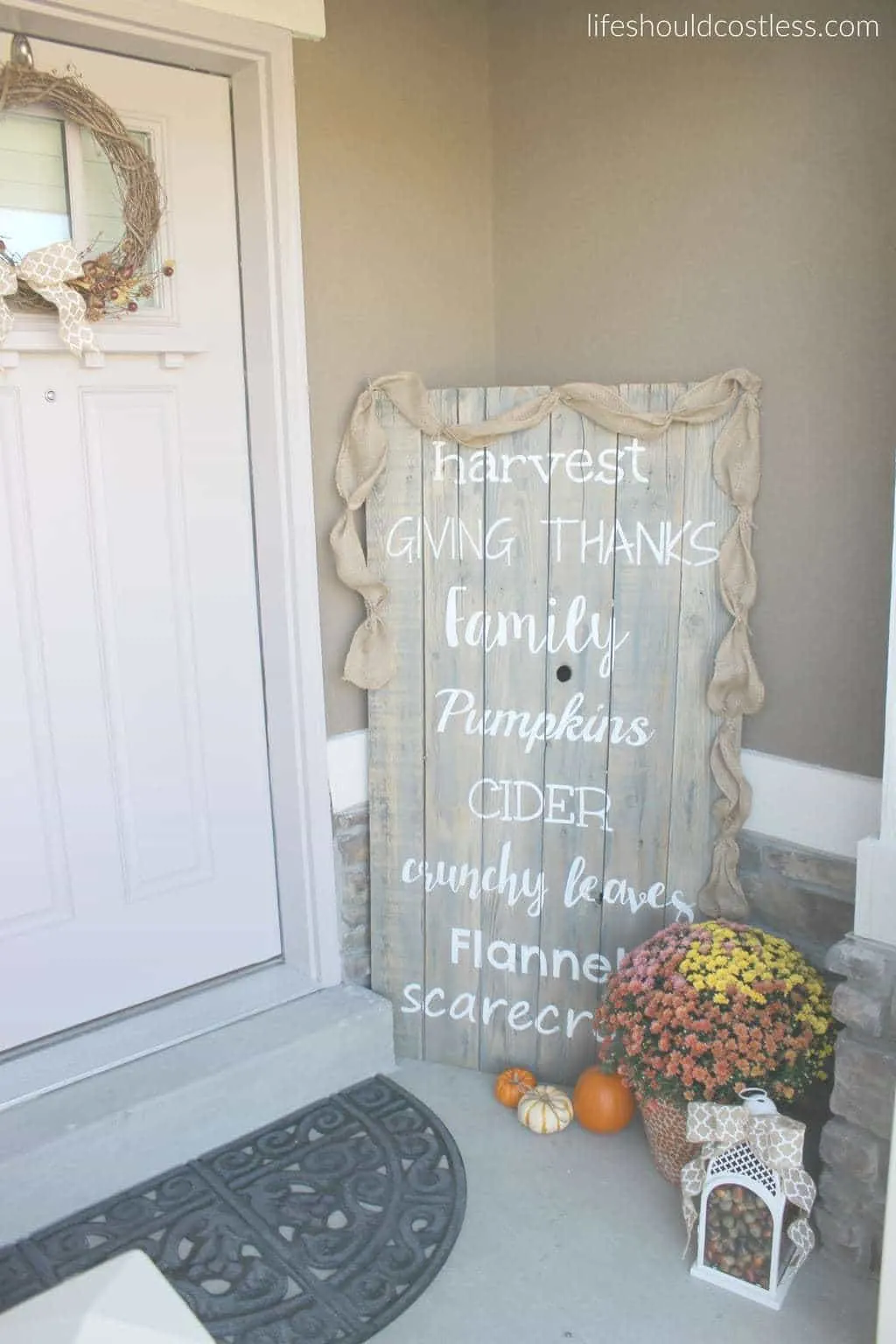 I thought it would be a cute touch to even add a little twine bow to one of the pumpkins on each side of the door. I think I got a little too outdoor mod podge crazy when I did my Autumn Print Potted Mums because the heat outside has caused the fabric to get a little white in a couple of places…oh well, live and learn, do thinner coats next time. That is part of the beating that I was talking about that outdoor decorations go through. It shouldn't be too hard to remove the fabric, clean up the pots, and reuse them for another project though. If you want to know more about the acorn filled lantern, I went over that in the Autum Print Potted Mums post too.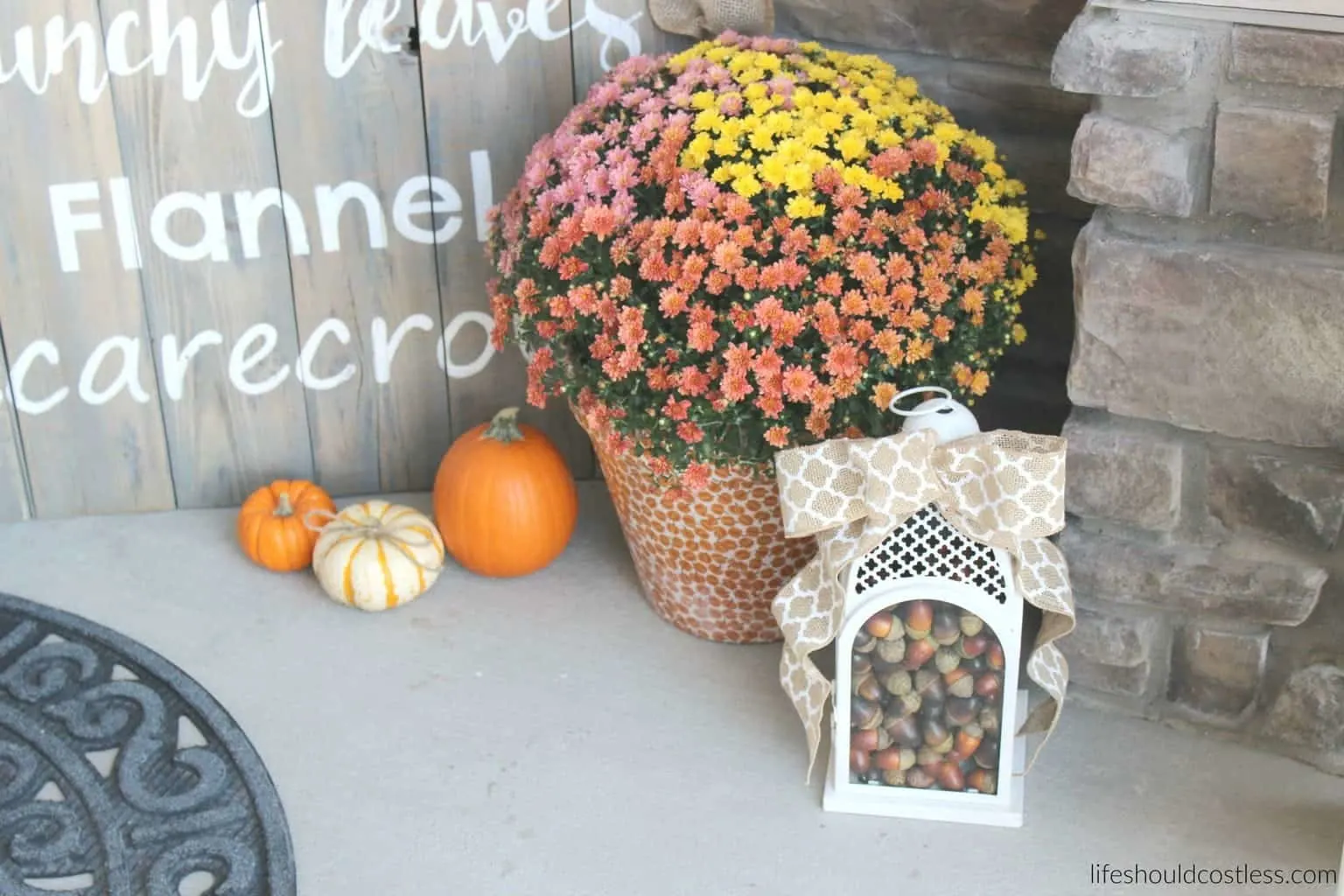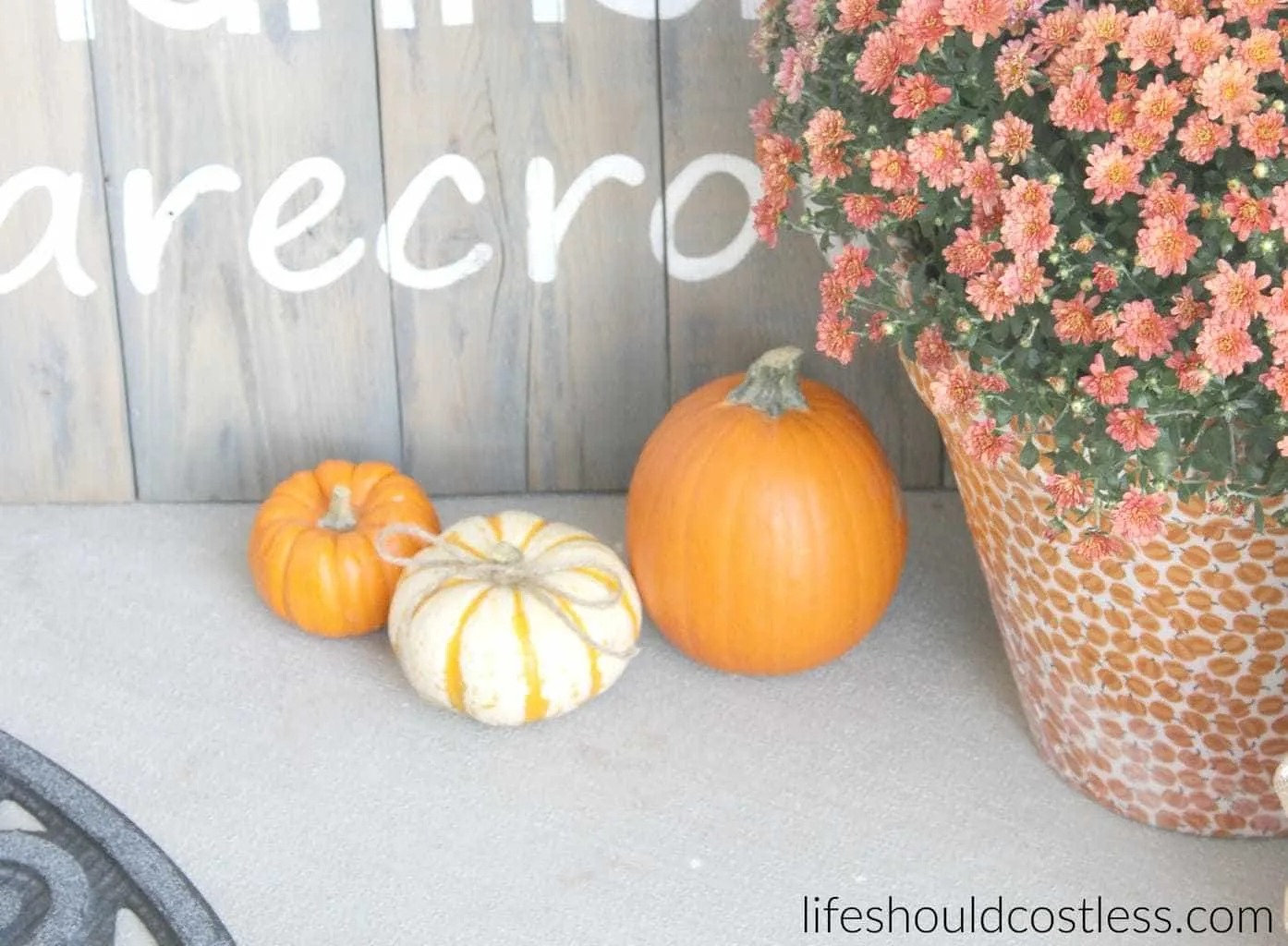 Here is the decor to the left of the door. I fell in love with those lanterns filled with fall decor, that I saw on Pinterest a while ago, so that wasn't my idea but I did do mine a little differently adding the bow to the top and doing a bird cage full of decor too. I got this lantern and the bird cage (along with their contents) on sale at Hobby Lobby. I was really impressed with just how much selection there was with the lanterns. Many different sizes and styles. I went with metal so that it would hopefully last longer being outside and all.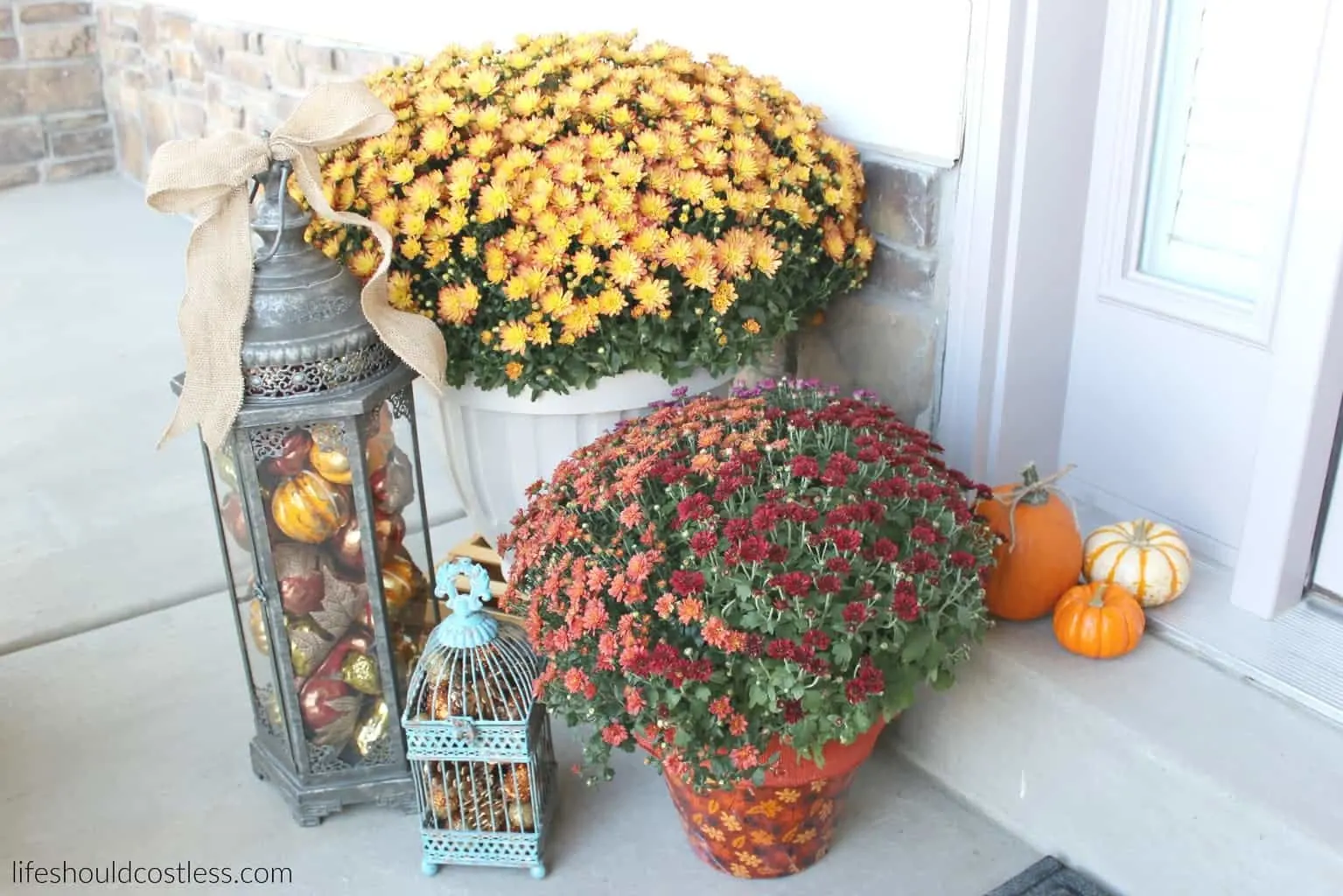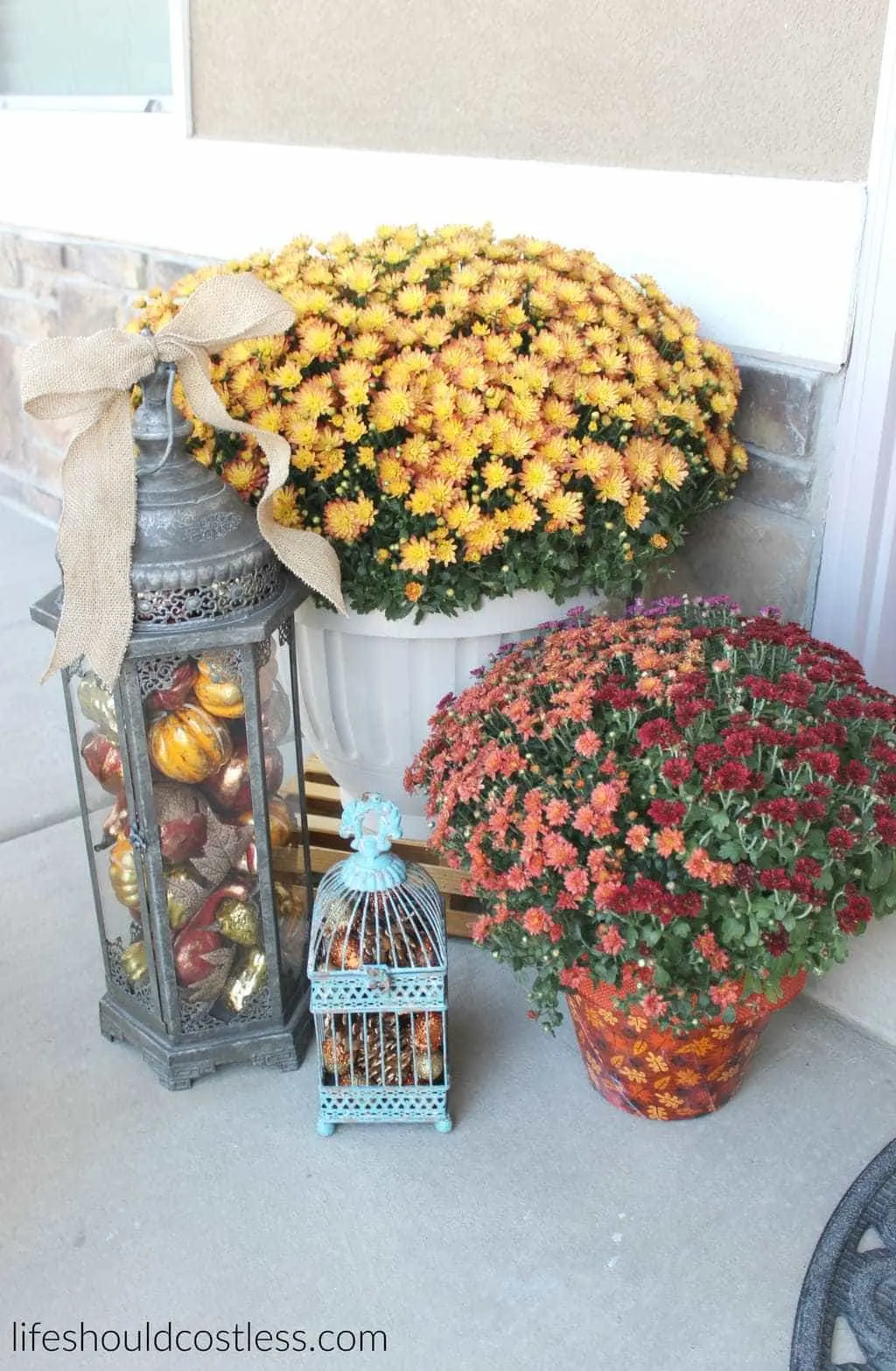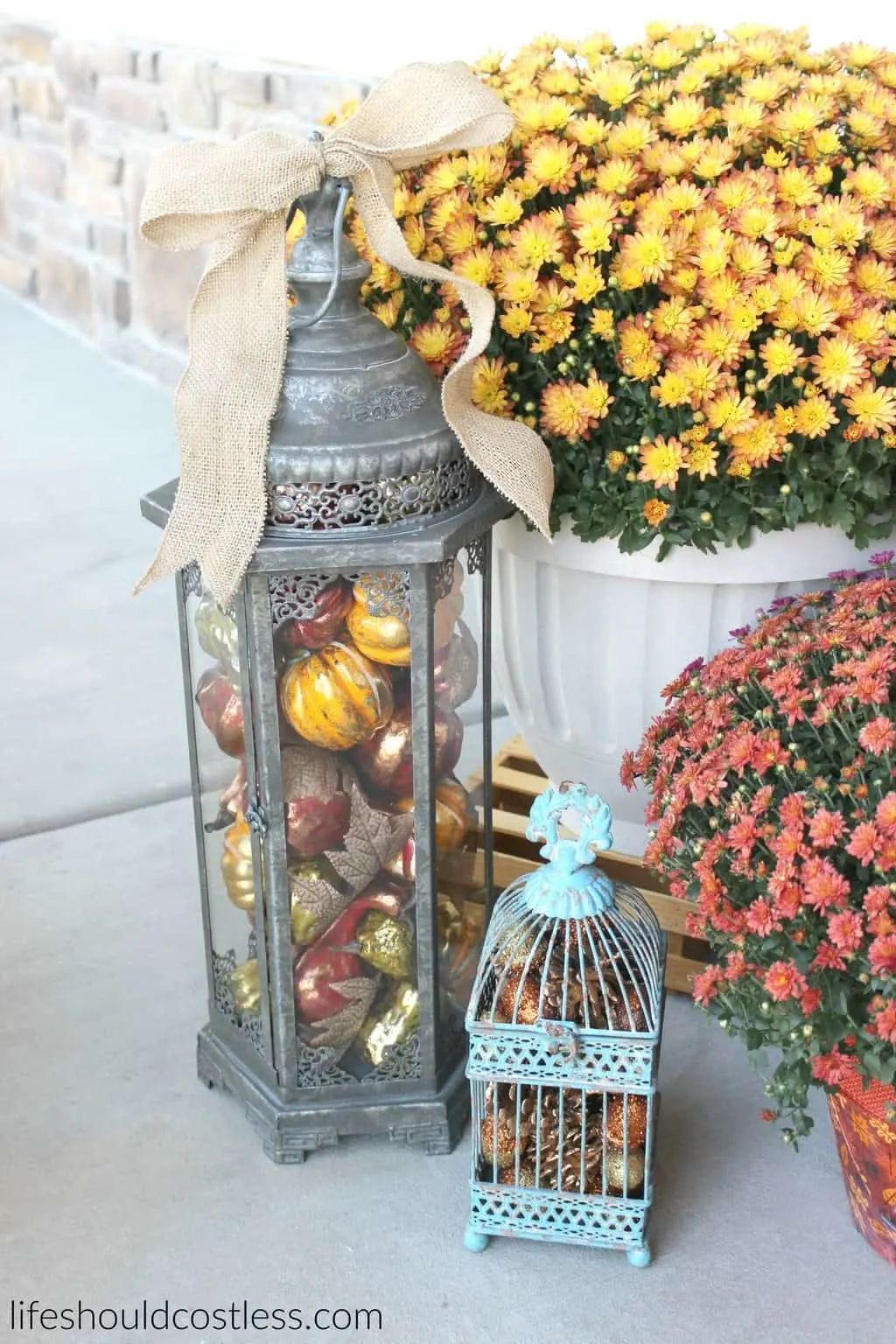 Mums are one of my favorite flowers! This huge one was purchased at Costco for around $14…I have never seen a deal that good anywhere else so Costco is where you need to go to get the best deal on huge mums(they have other colors but not other sizes). I even have some on either side of my garage door in huge pots. I can't forget that they are perennials so if I don't plant them in my yard when I'm done with my fall decor, I'm going to be seeing if any of my neighbors might want them. Oh, and btw, the multi-colored mums were purchased at Wal-Mart.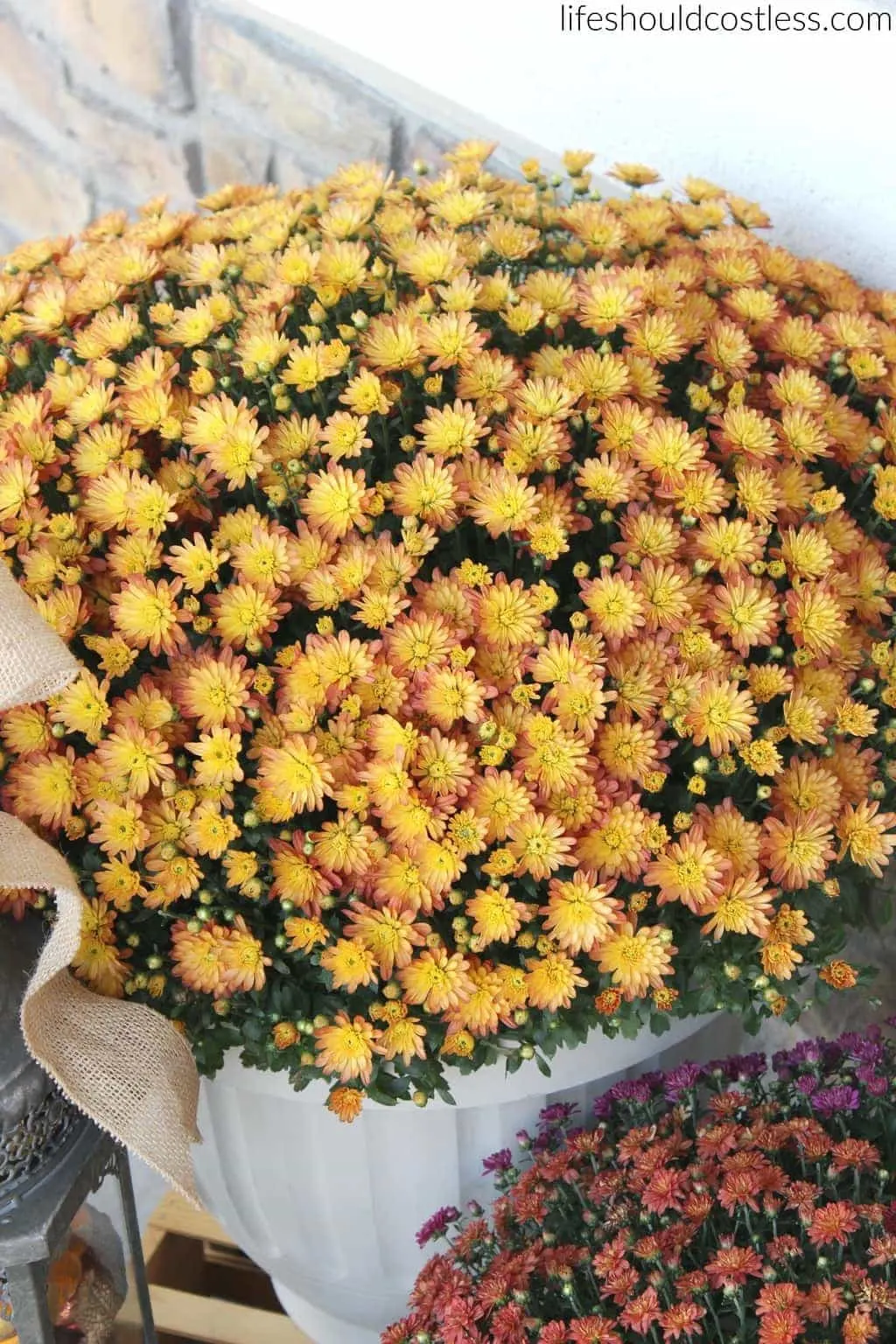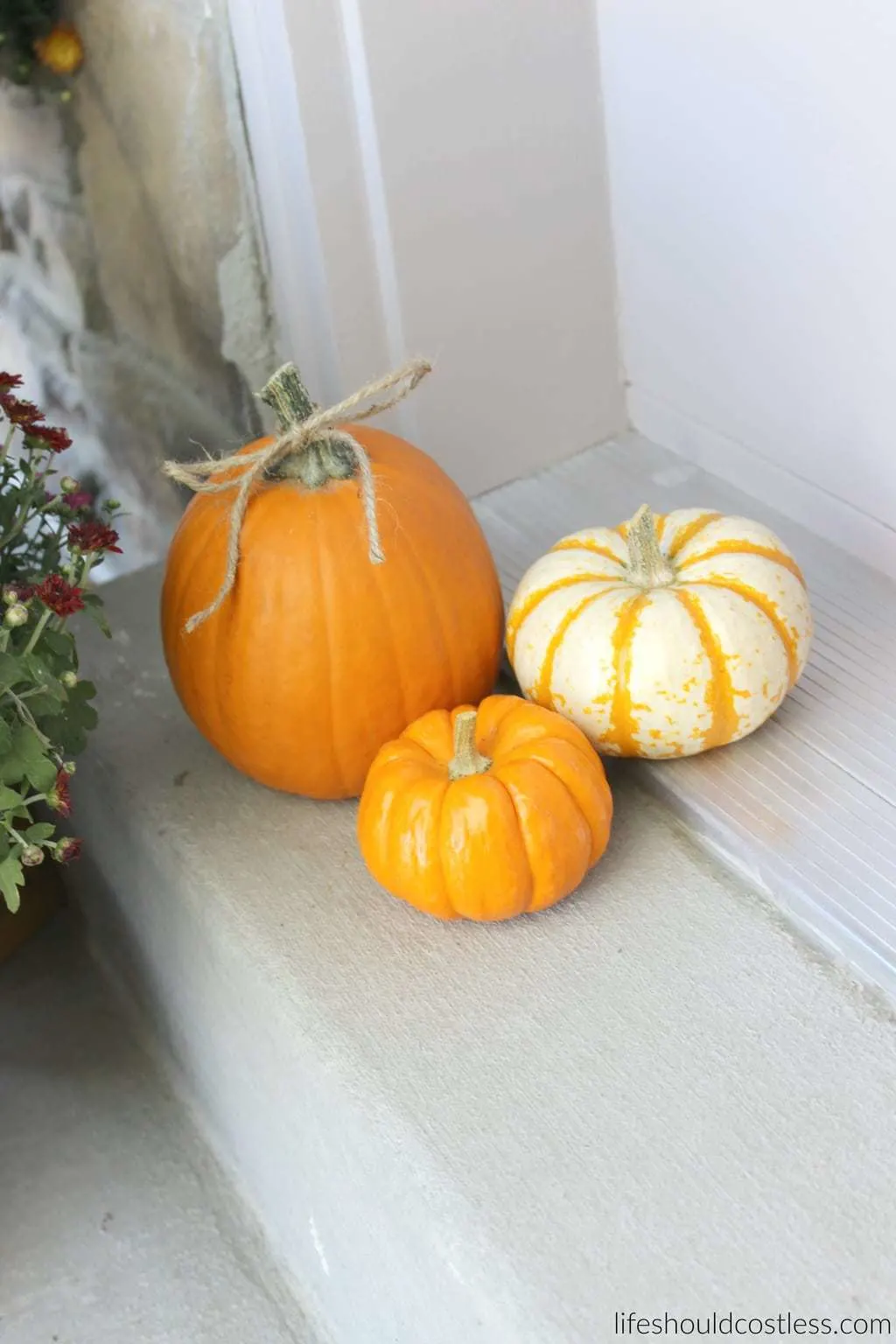 When it came time to worry about a wreath for the door. I just couldn't stand the thought of buying a pre-made one because they are so expensive, even on sale, so I dug through my decor and found an old wreath that I wouldn't be heartbroken about recycling and re-used the 18″ grapevine wreath form. I got the sprigs of decor and ribbon at Hobby Lobby and it took me maybe 20 minutes to put it together. I think it cost me between $15-$20 to do…not too bad and it saved a lot of money.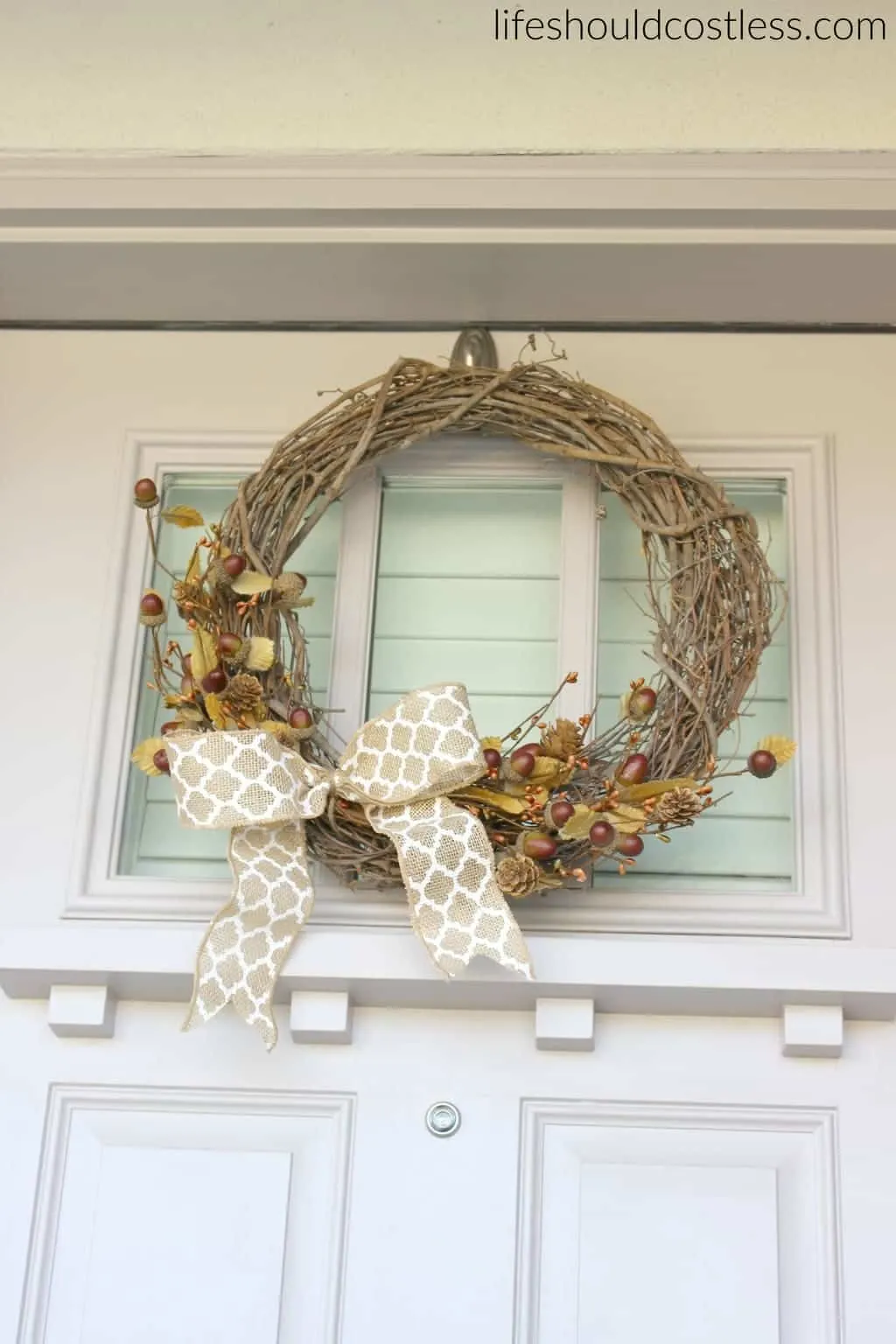 I wanted to keep it simple since the rest of the decor is pretty busy… I lean more on the minimalist side for most things. Here are some close-ups.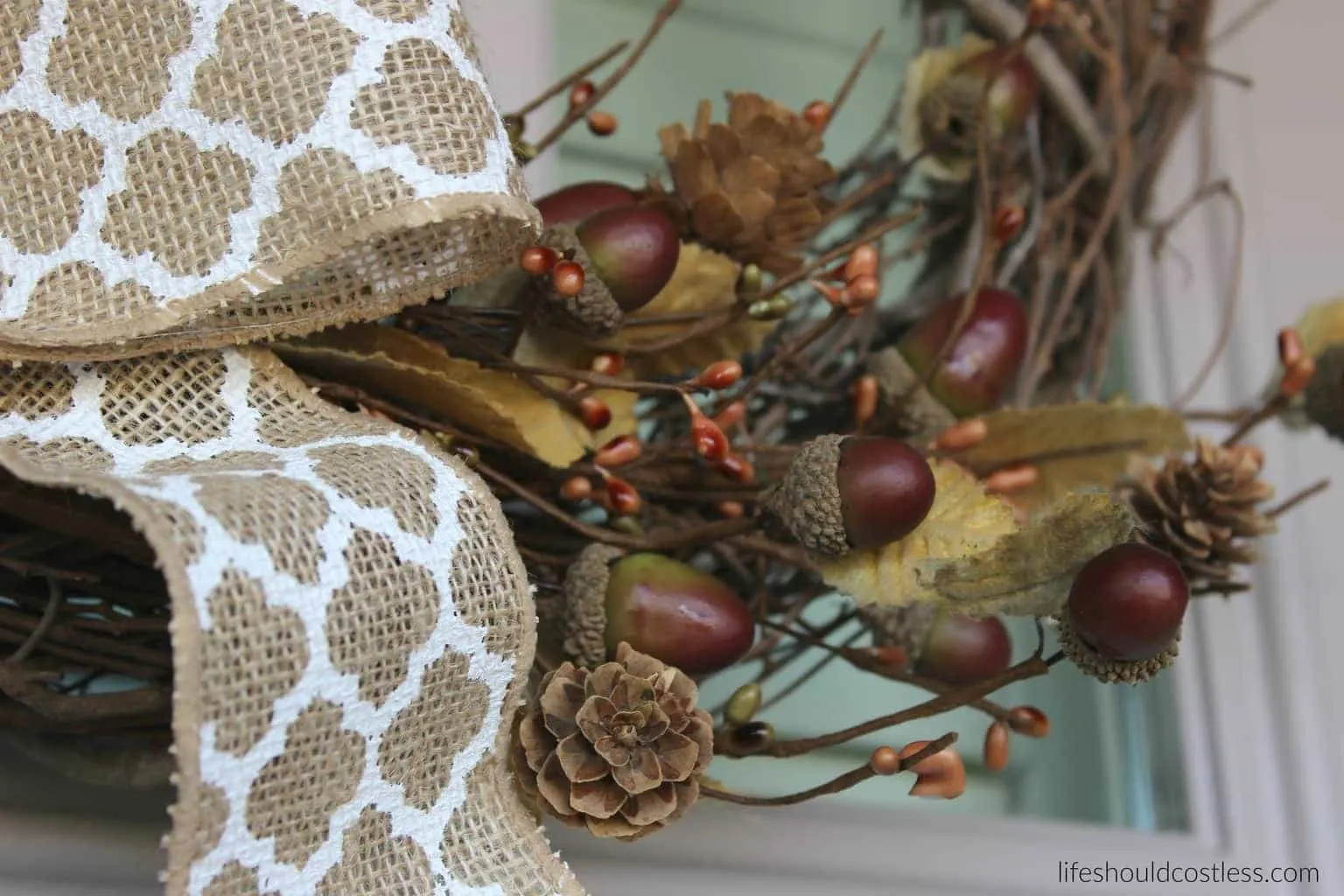 All in all, it turned out almost exactly the way I had the decor pictured in my head. I would have preferred finding mums in different colors for the printed pots, but I made due with what was available.
Please note: I recently opened up the comments section down below so you can drop me a line. I normally just get frustrated by all the spammy comments foreign website owners leave so I had them turned off, but I don't want to discourage those of you that want to (kindly) discuss the post…so I opened it back up. I just get to spend lots of time bulk deleting the spam now ;).
Please make sure to share this post with any friends or on social media, if you loved it I mean. Have a great fall everyone!~Sarah
You may also like (the pictures are links):