I have always been a bit of a snob when it comes to using the cleaning products I find at Dollar Tree… like I wouldn't even attempt to use them because "they're only a buck-ish, how could they possibly work" has always been my mentality… but I have changed my thinking, and I go over why, as well as share my Dollar Tree Laundry Detergent Routine.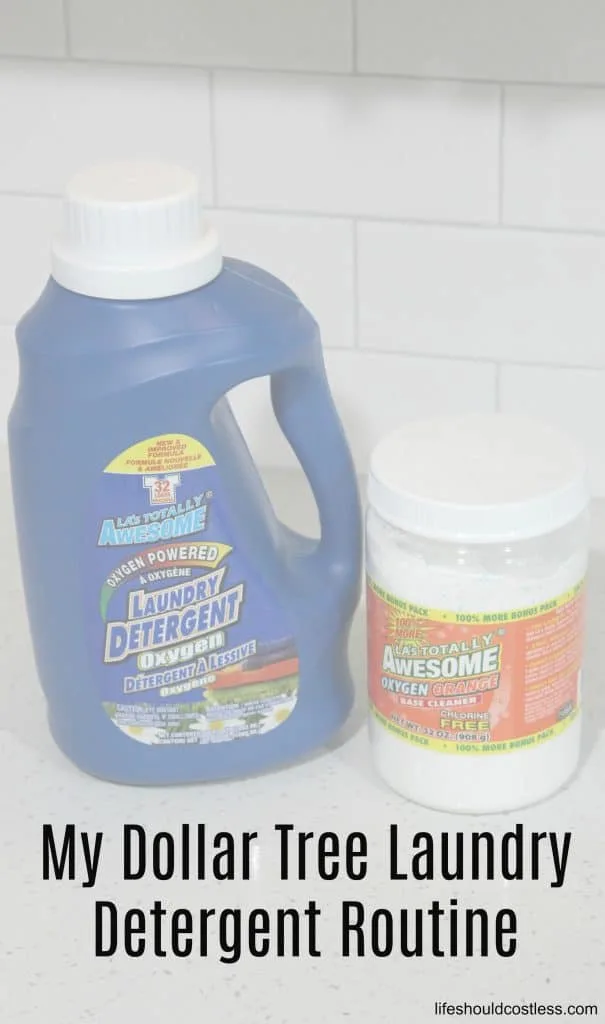 Luckily, my sister is far less of a snob than I am, AND a lot more adventurous when it comes to trying new things. Now that I copied her laundry routine.
(Yes, the products are all from Dollar Tree, GASP)
I have been saving more money than ever on my laundry washing products and that speaks volumes in and of itself because I have been making my own detergent for years.
By the way, I am going to tell you right up front that this IS NOT a sponsored post by Dollar Tree.
I literally just love these products so much, and they're saving me money, so I just have to share so that they could possibly save you money too.
I don't have the luxury of getting to try all of the different detergents there are on the market these days because I have been blessed with some pretty sensitive skin…
Like sensitive enough that as a child, any time my mom would use a detergent with a fragrance I would break out in a rash… and I have never tried to use fabric softener because I know it would not be pretty
Well, you better believe that I was shocked to not break out like crazy when my washing machine broke so I had to do laundry at my parents, and I had forgotten my detergent…
But here I am six months later writing about this great discovery so clearly being forced out of my comfort zone ended up being serendipitous.
Before I reveal my Dollar Tree Laundry Detergent routine, I wanted to share with you links to five of my other posts that you're going to also love:
Now back to my Dollar Tree Laundry Detergent routine:
There are only two products that I use from Dollar Tree to get my laundry looking both clean and stain-free and that is the LA's Totally Awesome Laundry Detergent, this one,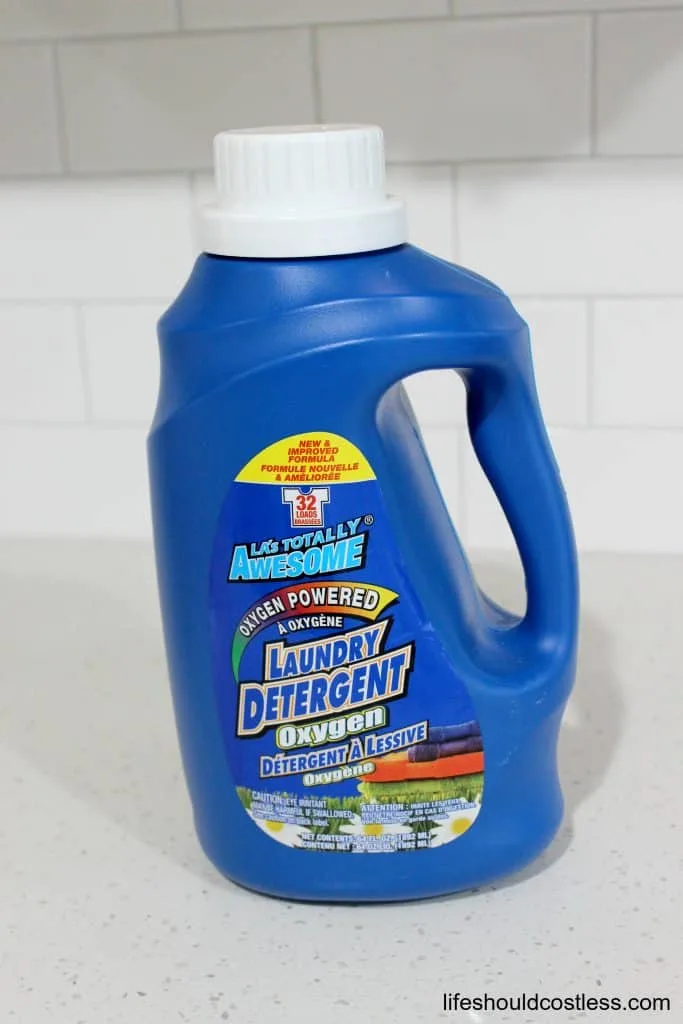 My only complaint about this detergent is actually the container that it comes in because it has a built in measuring cup in the lid, and something about the way that it's designed means that it slops right down the side of the container when you go to screw the lid back on.
Not a big deal, but it's messy and super annoying so swapping the container is a must in my eyes.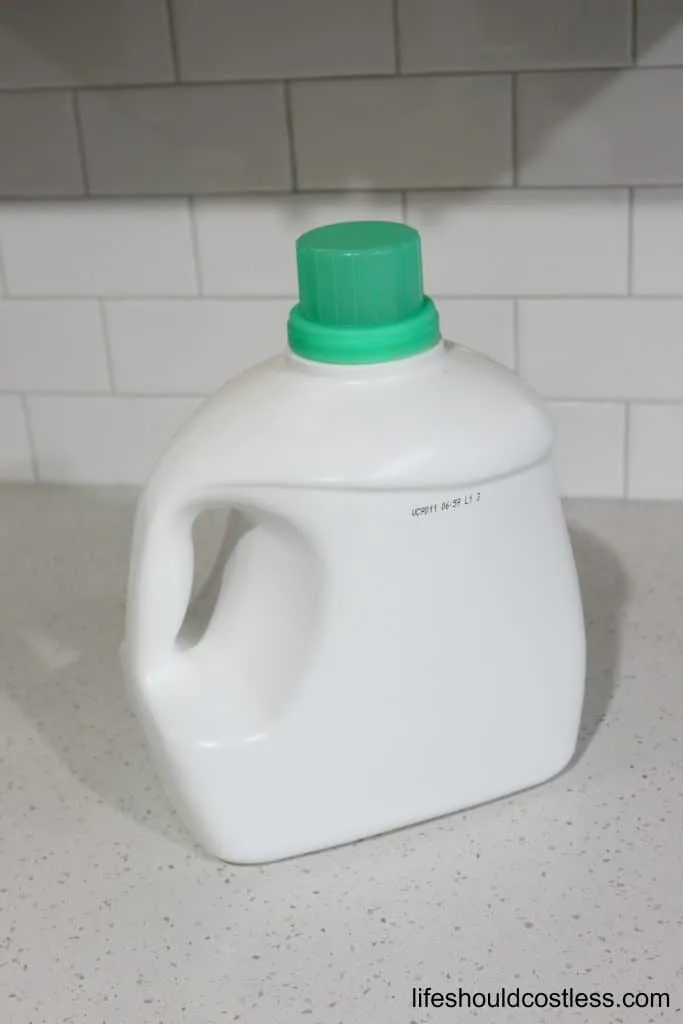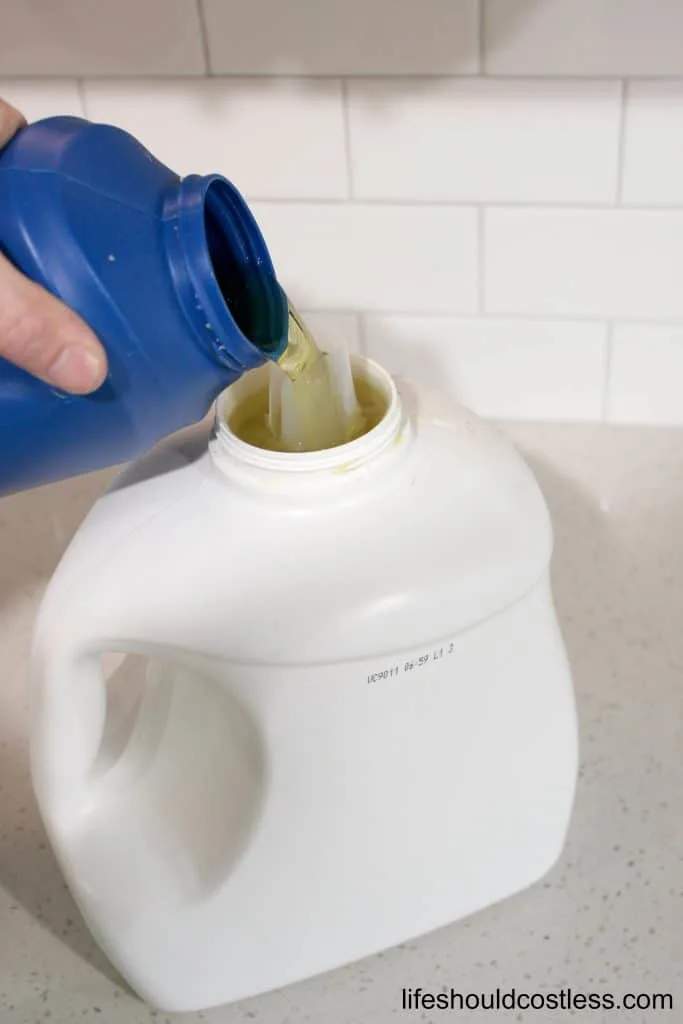 My solution for this was just to reuse the old container from my old favorite detergent, so I just refill the bottle with the Dollar Store detergent.
I found it incredibly interesting that it only takes two of the Dollar Tree detergent bottles to fill the old container, and the old container cost me four times as much to buy each month.
It's a good detergent and it doesn't have an overly powerful smell…which is a plus for me because not only would excessive perfumes be what would make my skin break out.
I wouldn't want my detergent to overpower or clash whenever I wear perfume… maybe that's weird, but that's how I feel about it.
For whitening, brightening, & stain removal I use LA's Totally Awesome Oxygen Cleaner, and I just add it in with the detergent as a booster.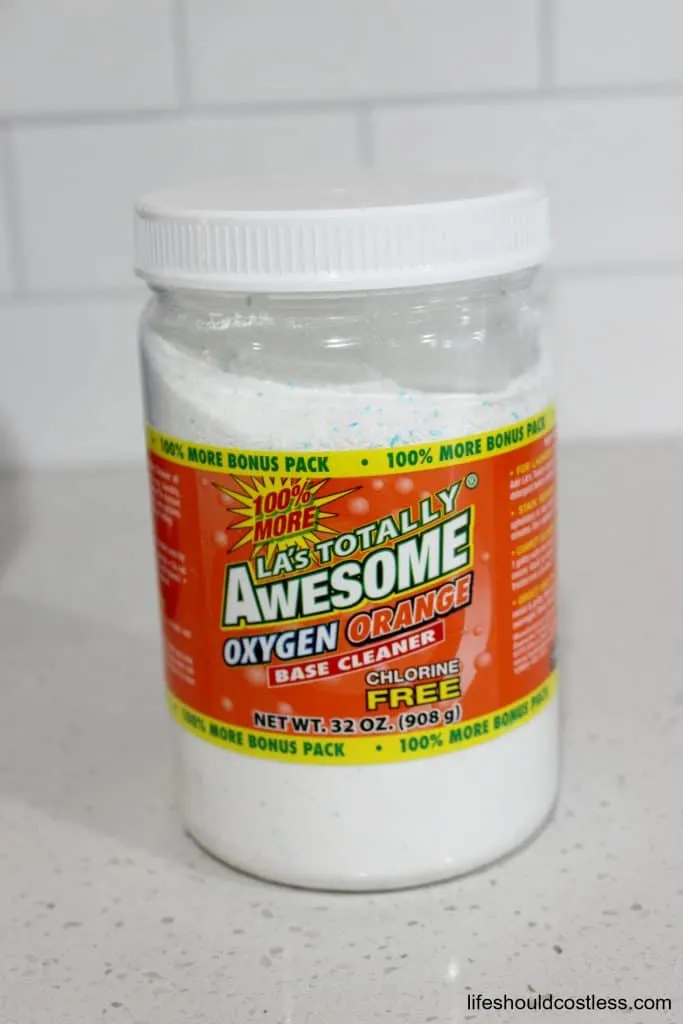 You guys, their oxygen cleaner is just as good as Oxyclean, but I feel like it is even more concentrated so the most I have ever had to use on a load is two or three of the little scoops that it comes with it.
It seems to stretch much further than I ever could with Oxyclean. Don't believe me, well I'm sure that you can risk one dollar and give it a shot to find out.
For a typical load of laundry, not super stained, I use one little scoop (the scoop is included in the package when you buy it).
If I have a load that is particularly bad I use two or three scoops and I have only had to ever rewash something once to get a really tough stain out… that in itself speaks volumes to me.
*Just remember that when you are using an Oxy product that you need to use WARM water in order for it to activate and do its thing.
Which to me makes it seem a bit like what you do when using yeast in baking.*
Can you believe that switching to those two products is all that I do now and it took my detergent and oxygen cleaner budget from $15-20/month down to less than $4.
That's even including me finding the detergents on sale as often as possible… you just can't beat these Dollar Tree products for both quality and cost effectiveness.
Trust me, it's more than worth spending a couple of bucks to see if you like these products too.
Thanks so much for stopping by my blog! If you liked what you saw, please make sure to share it via social media!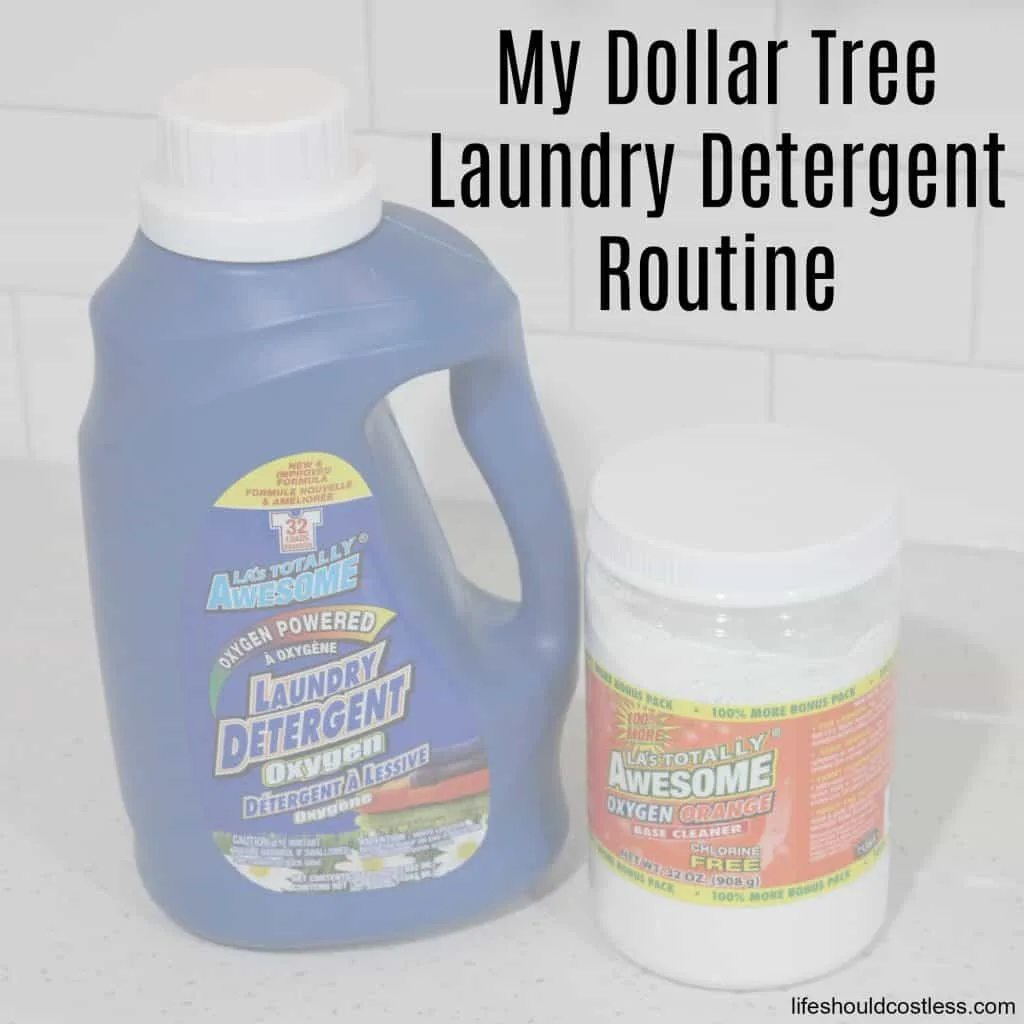 Other ways to show your support are to follow and/or interact with me on Pinterest, Instagram, Facebook, YouTube, or by Subscribing To My Email List. If you purchase suggested products through Amazon, the cost to you remains the same, but I make a small commission on everything in your cart.
If something was particularly helpful and you would like to donate directly to the blog, you can do so via PayPal, here. I'm a single mom of four, so every little bit helps. Thanks so much! ~Sarah
P.S. You may also like my entire Cleaning section as well as my DIY section.
Here are five of my other posts that you may also like(the pics are links):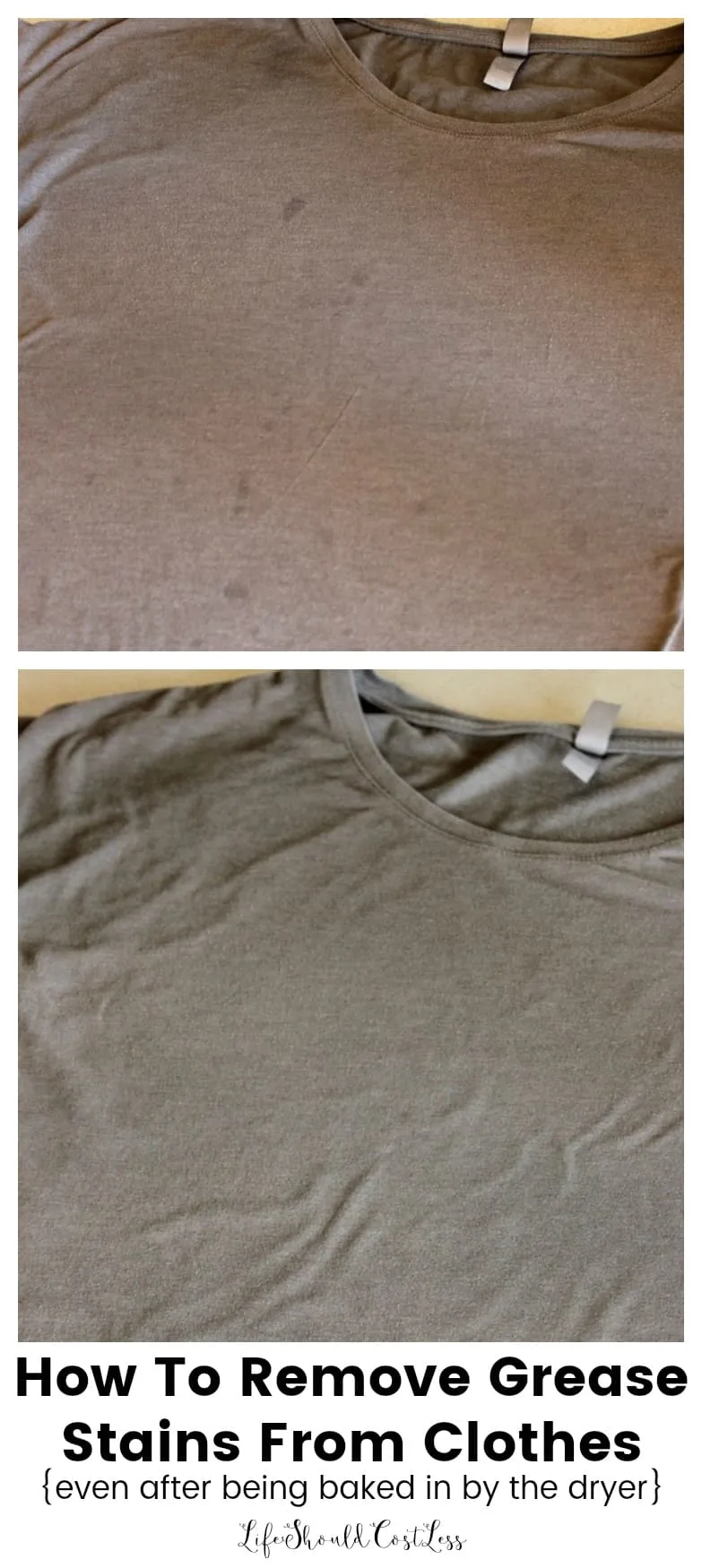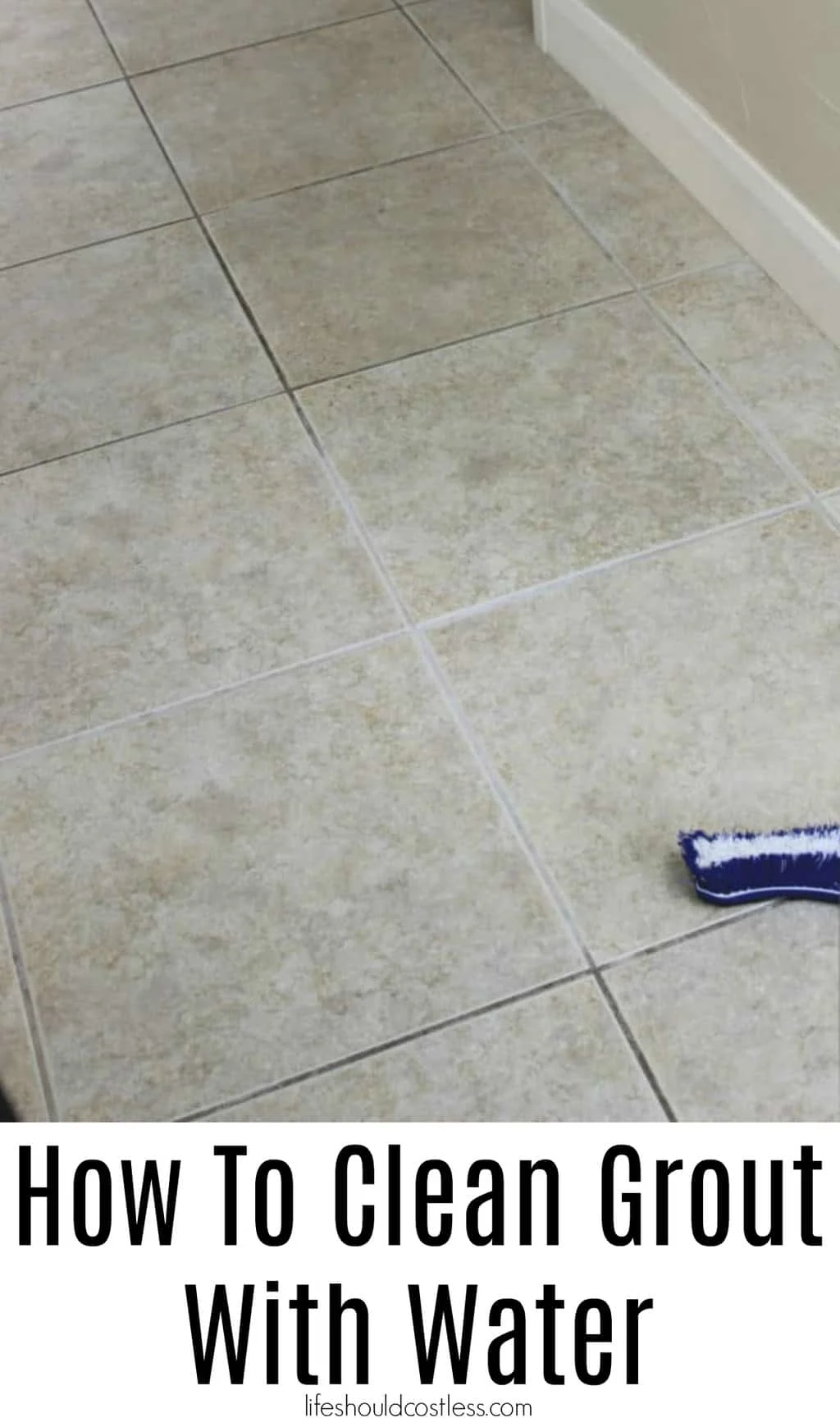 *Hey there, thanks for stopping by my website. This article is super old, so it has been archived as I no longer update it…so proceed if you wish…but it is definitely not my best work. Please stop by my home page, here, and see some of my better content. Thanks! ~Sarah*