This is probably going to be one of the most off the wall posts that you guys have seen me do thus far. The past year has been the hardest of my life and I decided that I need to try my hardest to be positive and allow myself to laugh as much as possible…which sometimes means that it's ok to be downright silly. So, my choice in Halloween costume this year did just the trick to make me laugh, and I'm sure that some of you could use a giggle too ( I don't care if it's at my expense) so that is why I'm sharing.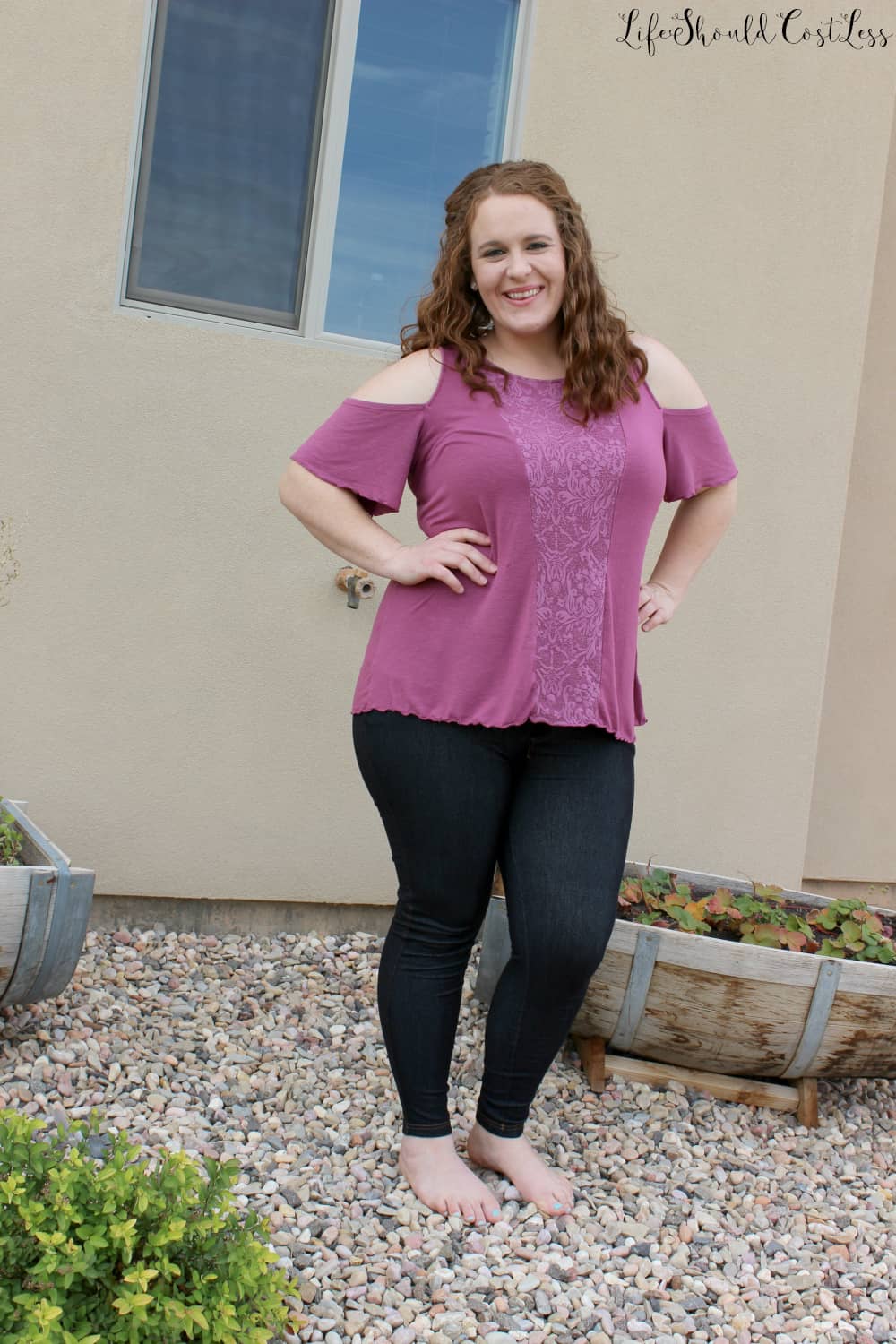 I thought I'd show you guys what I looked like moments before the transformation process… you need to see how I normally look to fully appreciate the end result. What you need to know about Leslie Hall is that she is hilarious and is known for having a doughy body, 80's style, and she even has a massive Gem Sweater collection with a museum. If that doesn't ring a bell, I attempted to embed one of her Youtube Videos so that you guys can get a taste of her humor, but it wasn't allowed, so here is a link to her tight pants/body roles video.
Anyway, once you know what I'm talking about, let's get down to the fantastic costume. I knew that I could pull off this particular costume because I have the full figure (heck, I've never had a hard time finishing a brownie or filling out a pair of jeans from stitch to stitch 😉 and even though I was not comfortable enough with my "body rolls" to wear Leslie's signature tight gold pants, I think that it came together pretty well.
Here is everything that went on my face. All I did to prepare my face for the 80's make-up was use toilet paper to remove my lipstick and eye shadow.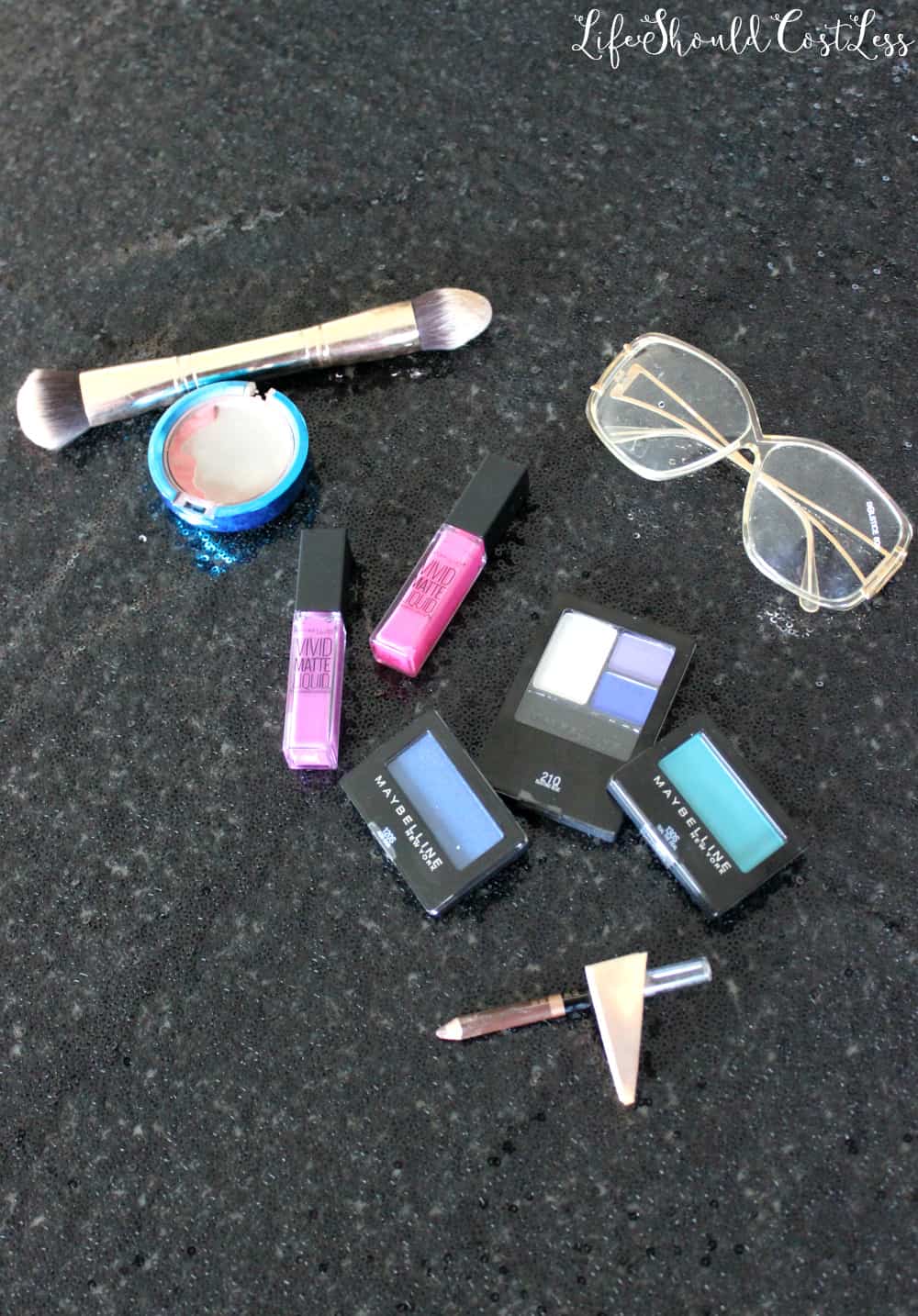 The only make up section at Wal Mart that seemed to have the crazy colors was Maybelline. When we were putting things together my assistant asked me why I didn't check the dollar store for my makeup first and that was one of those "duh" moments…they always have whacky colors at the dollar store, so if you want to do this costume too, check the dollar store first to save yourself some cash. I found my 80's glasses on Etsy. I think I just did a search for 80's vintage glasses…
Leslie has a bit of a widows peek so we drew one on and then did the rest of the crazy make up.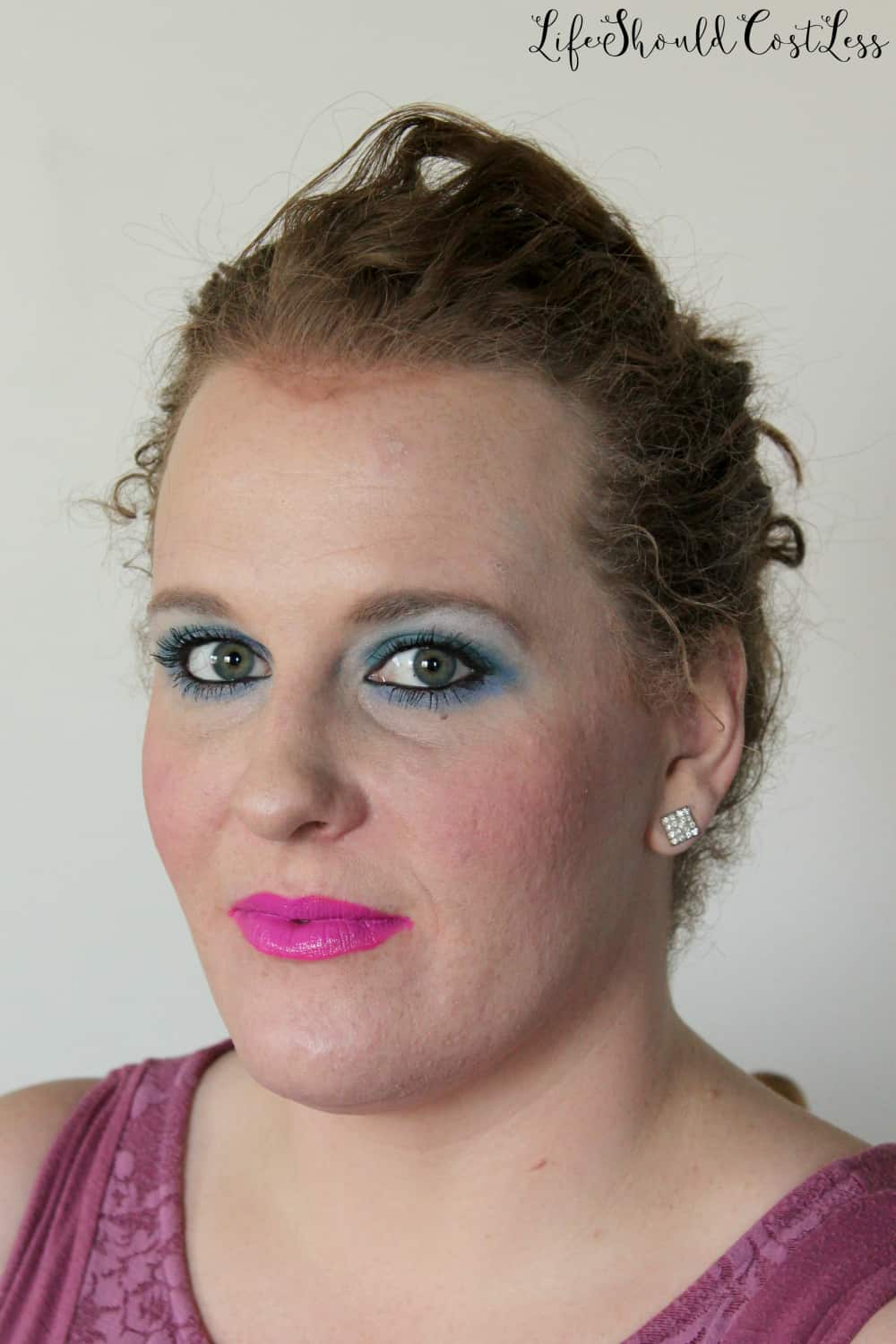 Then of course I had to look to see what it was going to look like with the glasses on…before we could start on the hair. Keep in mind that Leslie hams it up trying to look as chubby as possible so that is what all the unflattering posing is about…I was getting into character. We were already laughing pretty hard at this point in the make over.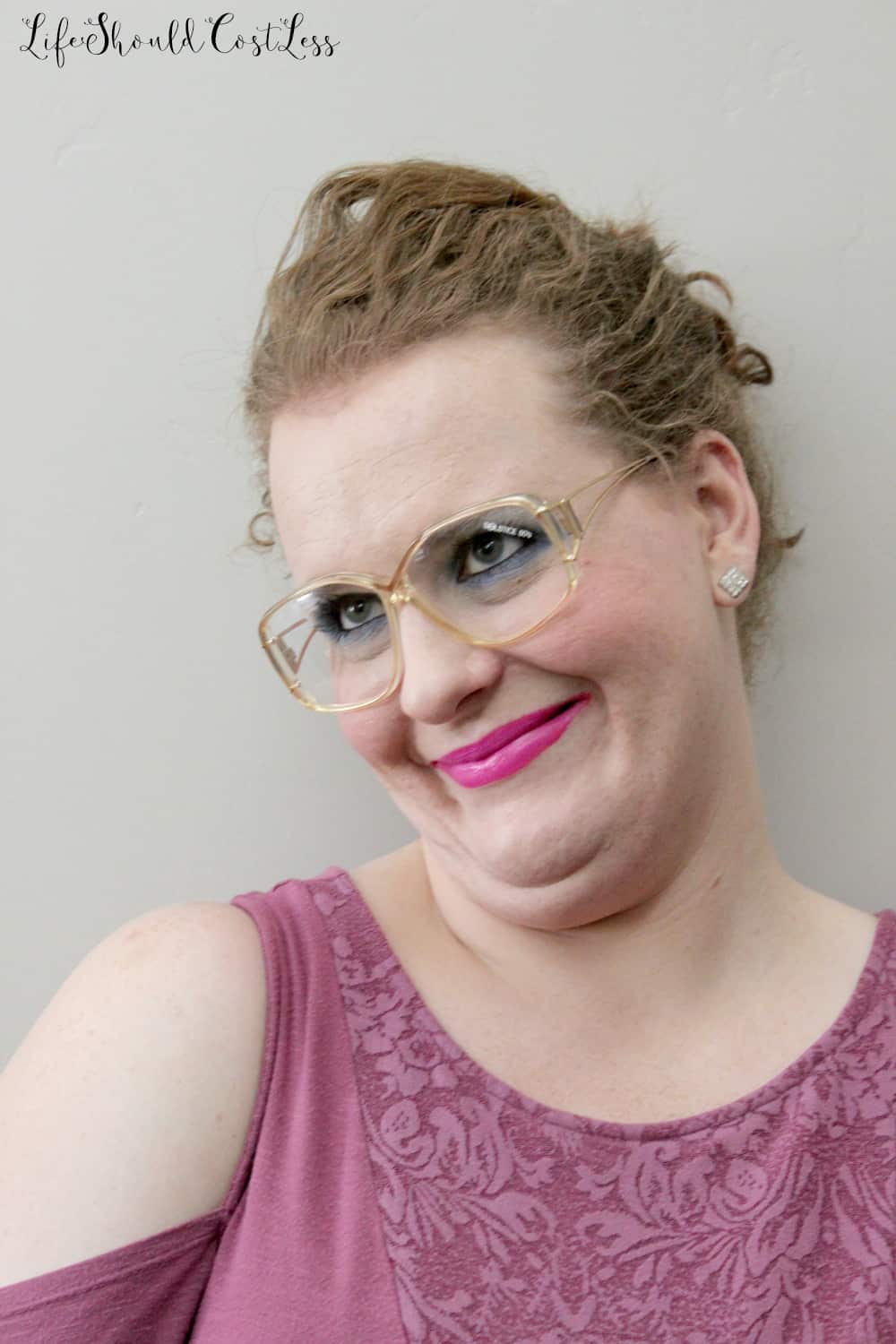 Next was the hair. I actually recommend putting on your costume after the make-up but before doing your hair. We had to fix my hair a bit after putting on my sweater the last thing so that will be prevented the next time I wear this for a Halloween dance.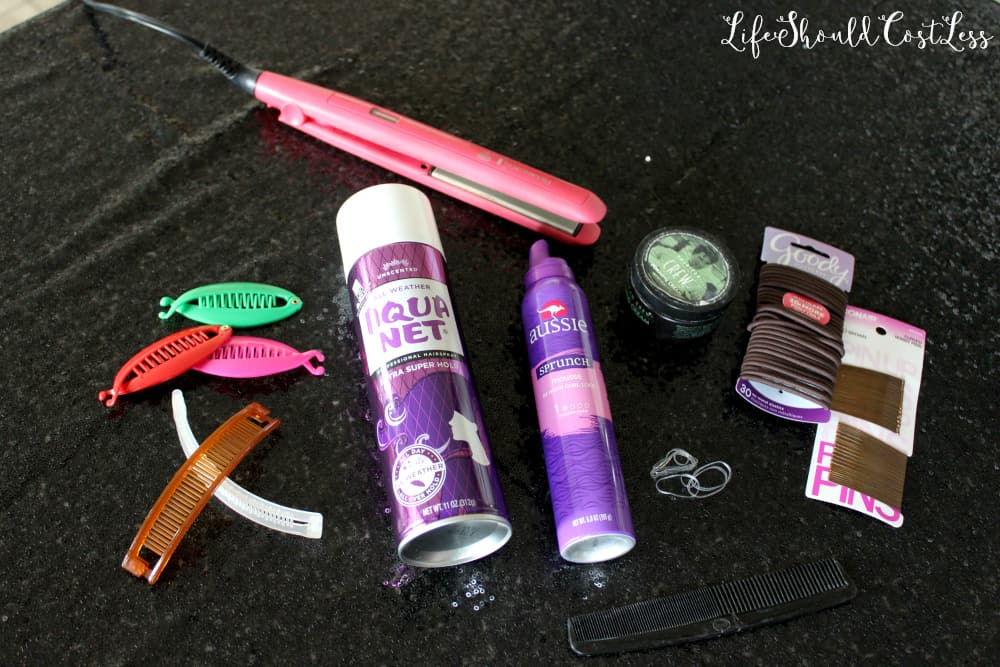 I don't know about you, but I think that the hair and make up alone with a normal outfit really don't look that bad… like not 100% make-fun-able.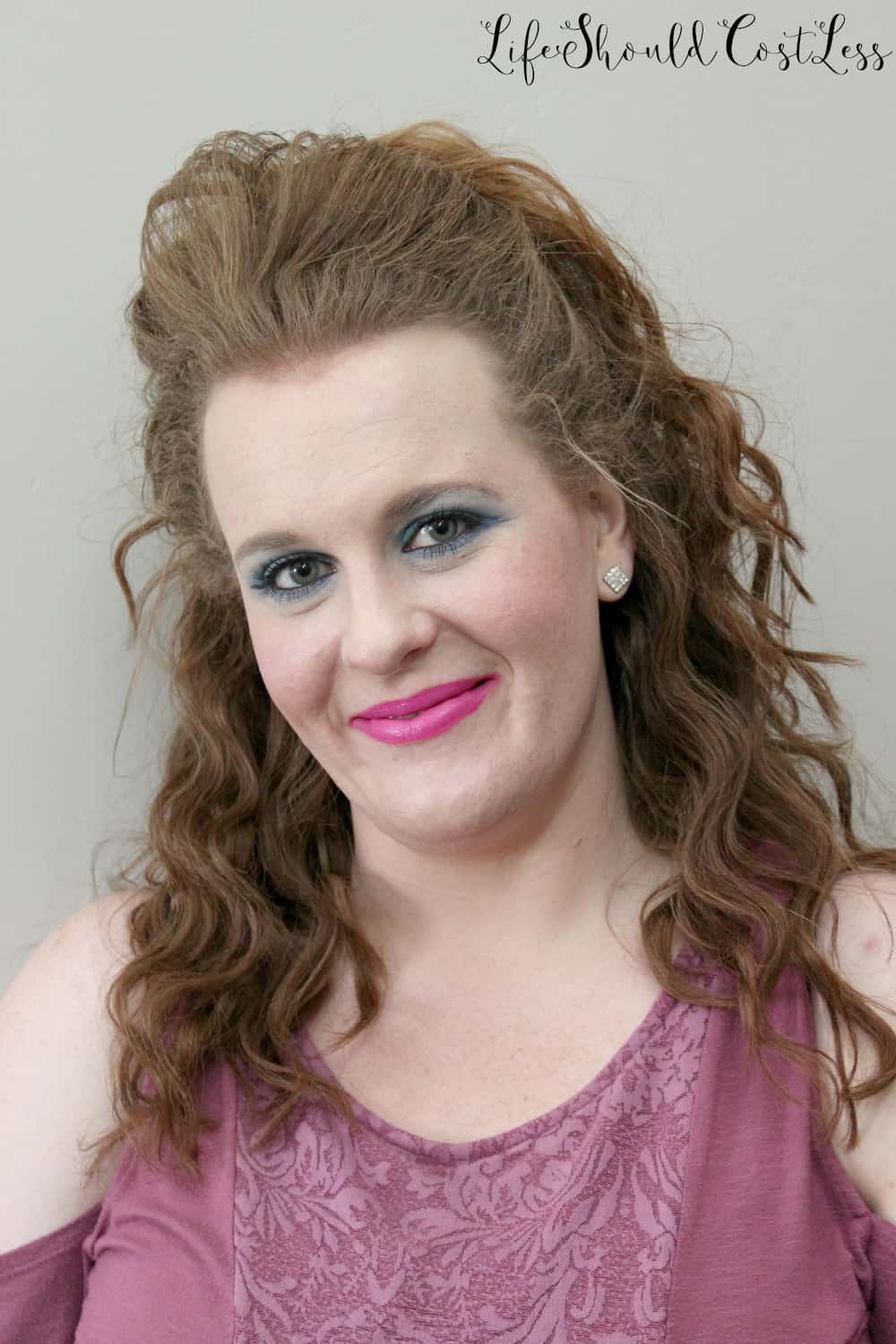 Now it was time to put it all together and get dressed. I got my gem sweater for cheap on etsy. Leslie Hall has an extensive gem sweater collection so I decided that is what I wanted to wear rather than one of her crazy body suits. I got my leggings from a friend that sells Lula Roe.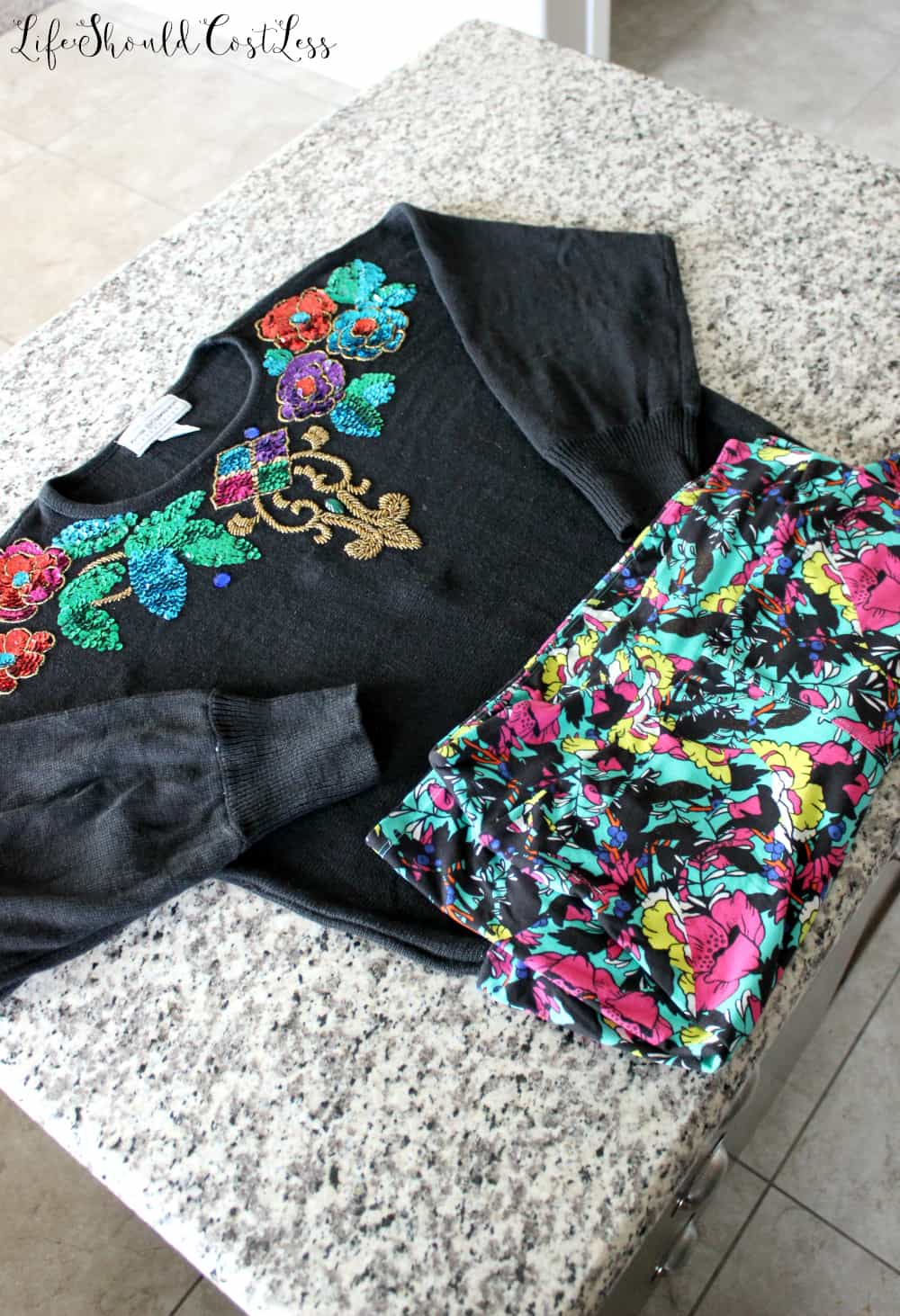 Here is a close-up of the bead work on the sweater… just 'cause.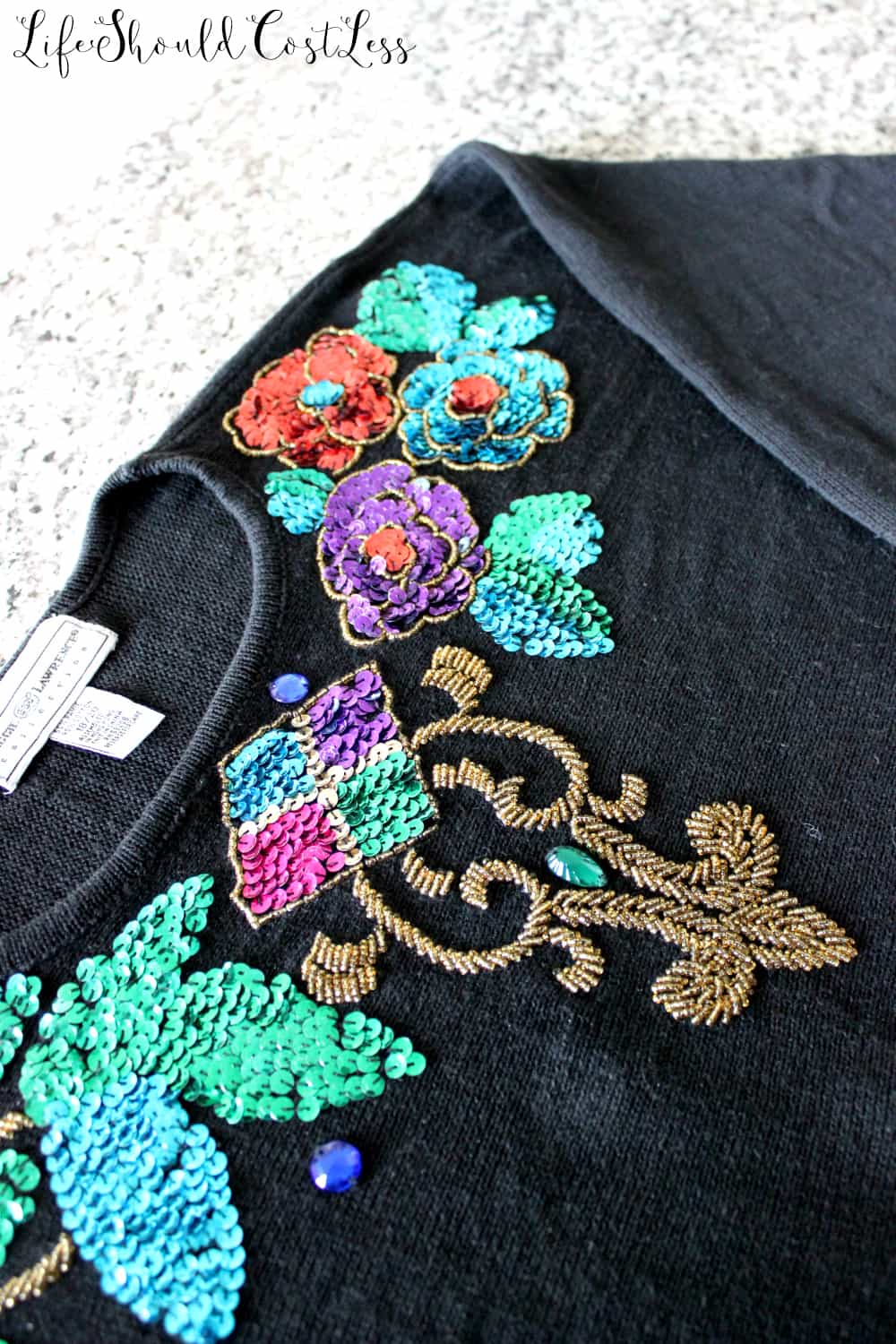 And here is the costume in all its glory…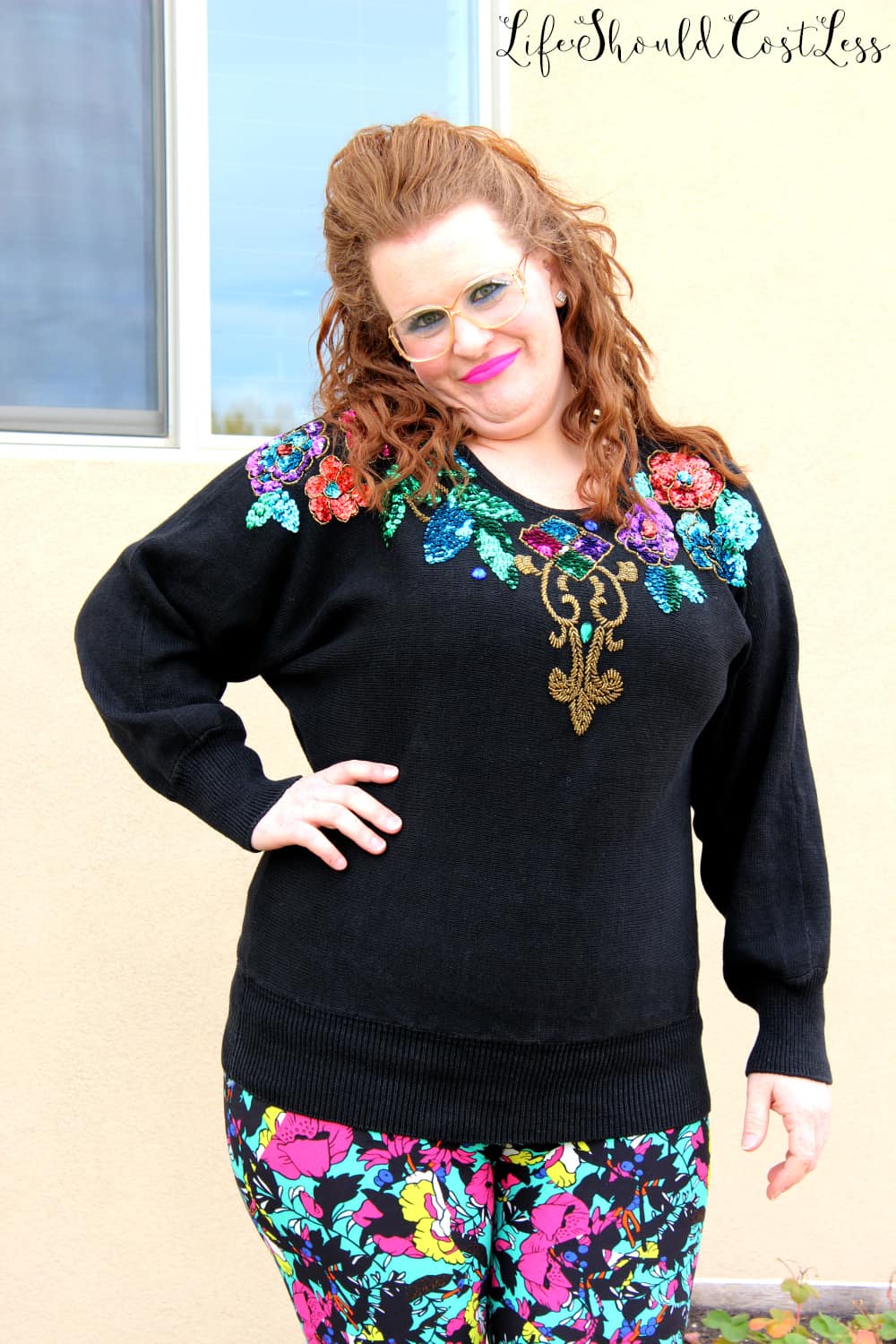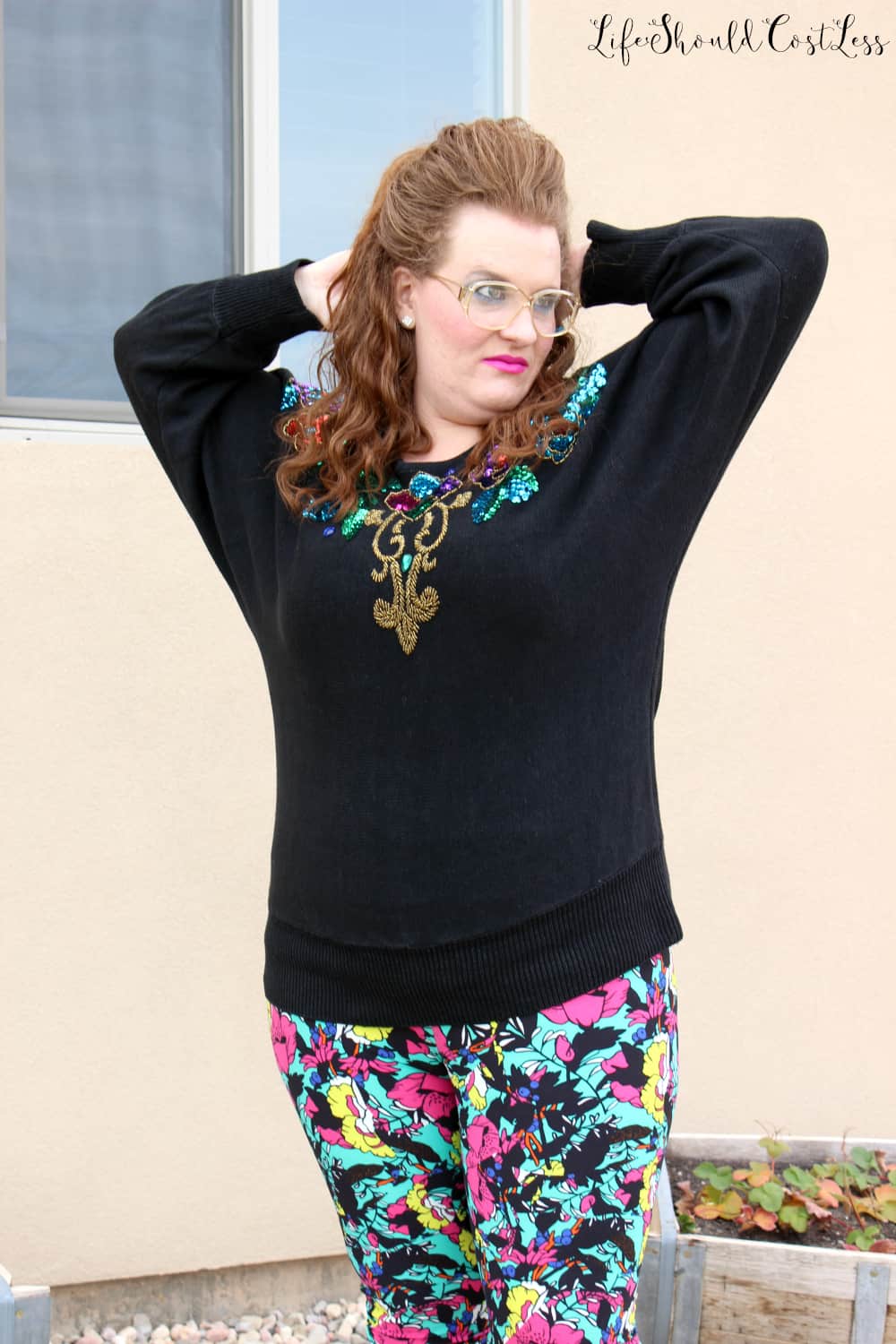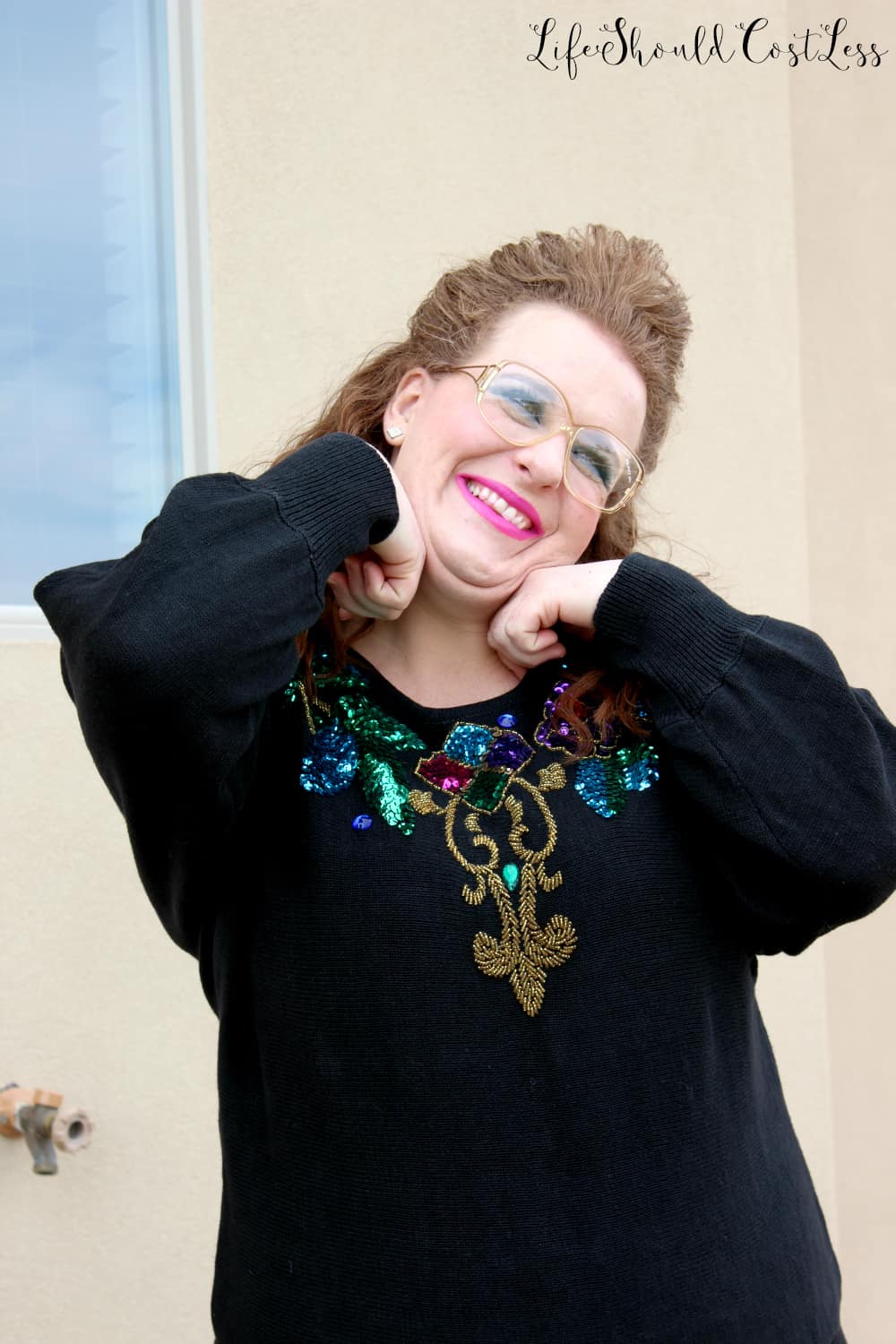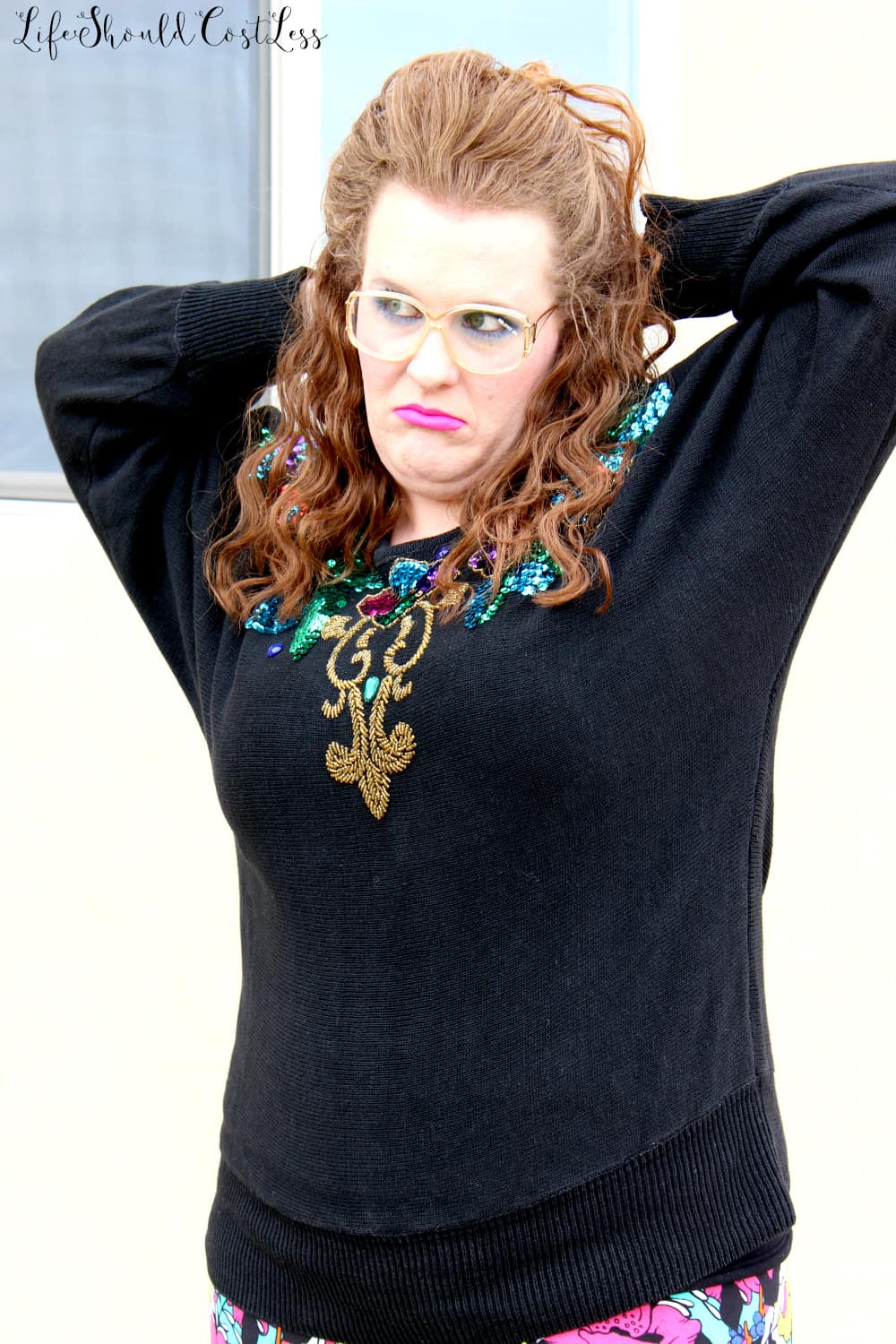 This next pic is by far my favorite, the most silly picture that we took for the costume. It kills me!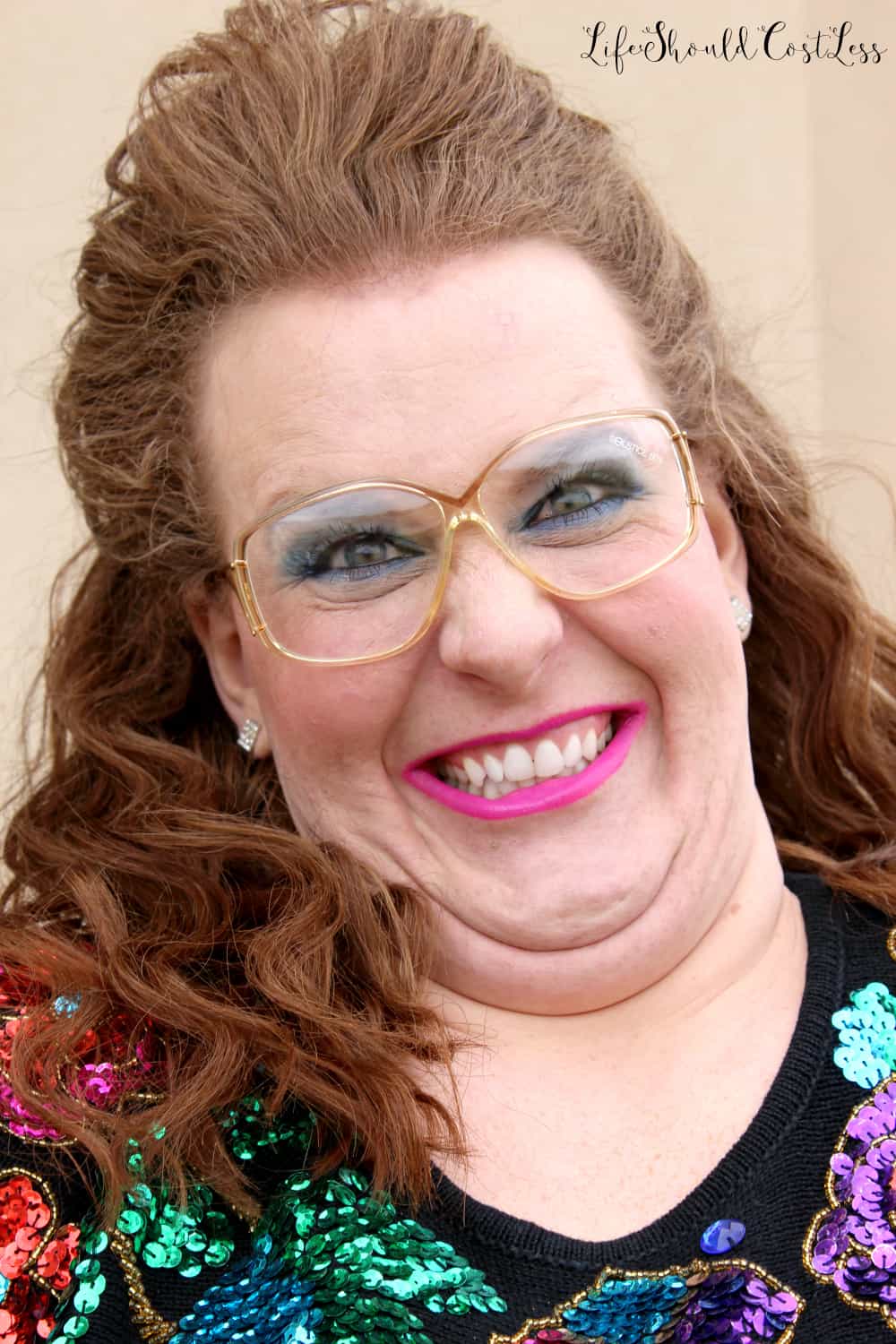 And of course I had to pose in it the way that Leslie does for her gem sweater museum. You can check out her museum here.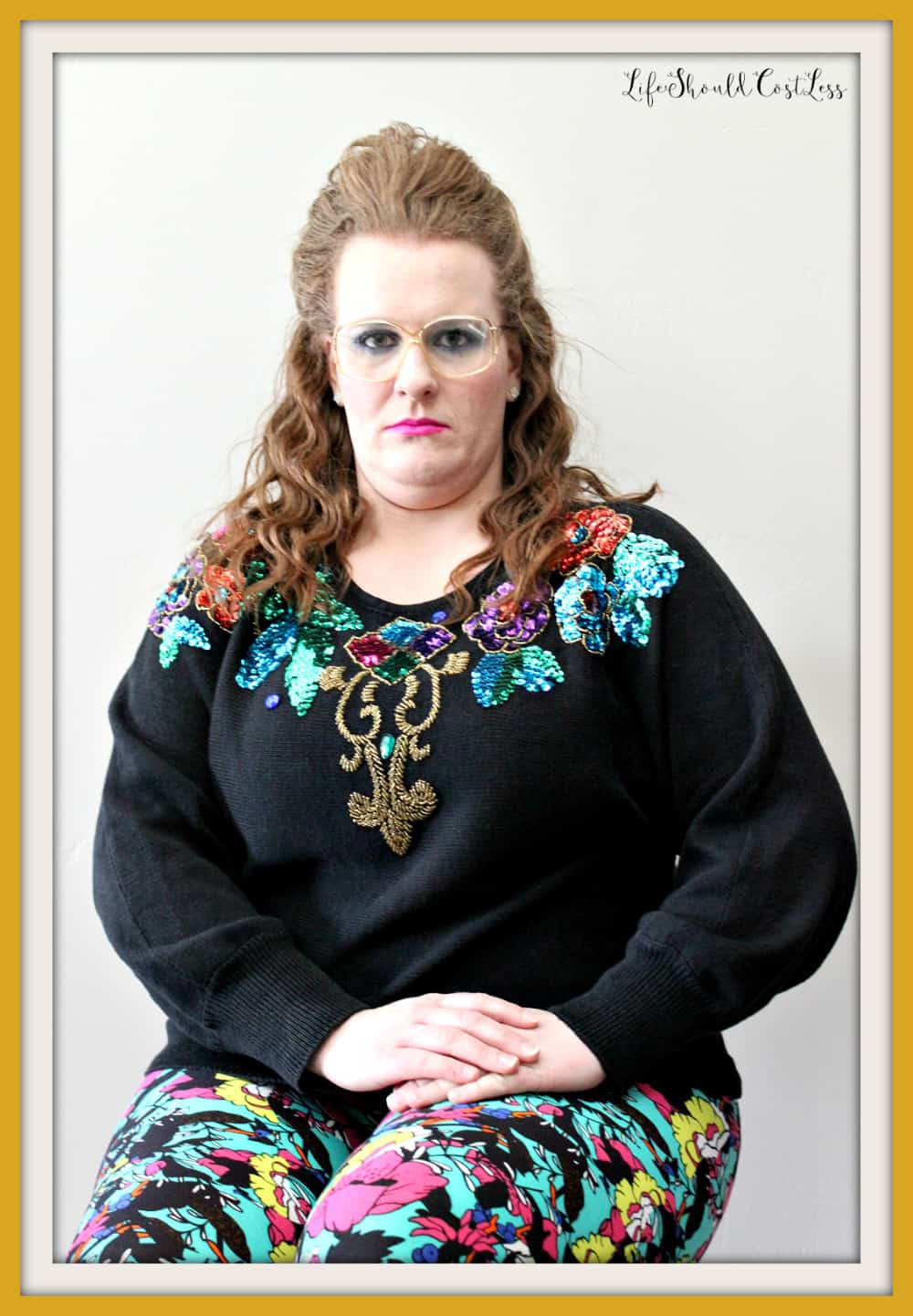 She names all of her sweaters but I have yet to come up with a Leslie-ish name for this one… you all are welcome to leave suggestions in the comments section.
The final step in my Leslie Hall Costume was to go out in public and gauge people's reactions… so Angie (my assistant) and I took my two younger daughters and we went to Cafe Rio and Wal Mart. People would outright stare at Cafe Rio and I would just stare right back at them…I only laughed at a few of the gawkers. Surprisingly enough there was hardly any reaction at Wal-Mart… beyond a few odd looks people must have just thought I was one of those "people of Wal Mart". Either way, it was really funny and I was really impressed that Angie was brave enough to be seen with me in public this far away from Halloween.
What do you guys think? I hope that you got a good laugh…I can only imagine the reaction I'm going to get at the singles Halloween dance… #singleforlife… lol, but in all actuality I need to be with someone that gets and appreciates my humor so it will be a good way to weed out some of the men that won't truly make me happy.
Anyway, have a great day and please make sure to share this post on social media if you liked it. ~Sarah
P.S. This post is going to be listed under my new Giggle and Pics of Sarah sections on the blog… so check both sections for future entertainment.