My house is about 16 years old and has double pane vinyl windows. The windows are energy efficient enough that it really does not make much financial sense to replace them any time soon when we know we are going to sell and build within the next few years. However, because of a combination of dried on (sloshed on is more like it) paint in several colors AND soot that will not  wash off as hard as I have tried (I HATE candles, they make a home filthy…unless they are wickless/flameless) our window frames look TERRIBLE! I have scrubbed them several times and they just cannot stay in their current state…not if I have anything to do with it.

*If you like this tip, make sure to keep on scrolling. I have several other links to posts at the bottom.*
As much as I hate to use chemicals, sometimes it is necessary. I just make sure to store them in the garage, so there isn't any chemical leaching going on inside the main part of the house (also use gloves and ventilate/use a respirator if necessary). Anyway, I decided that I would see if using
straight acetone
on the window frame would do the trick and
it worked like a charm!
Even better than I had anticipated.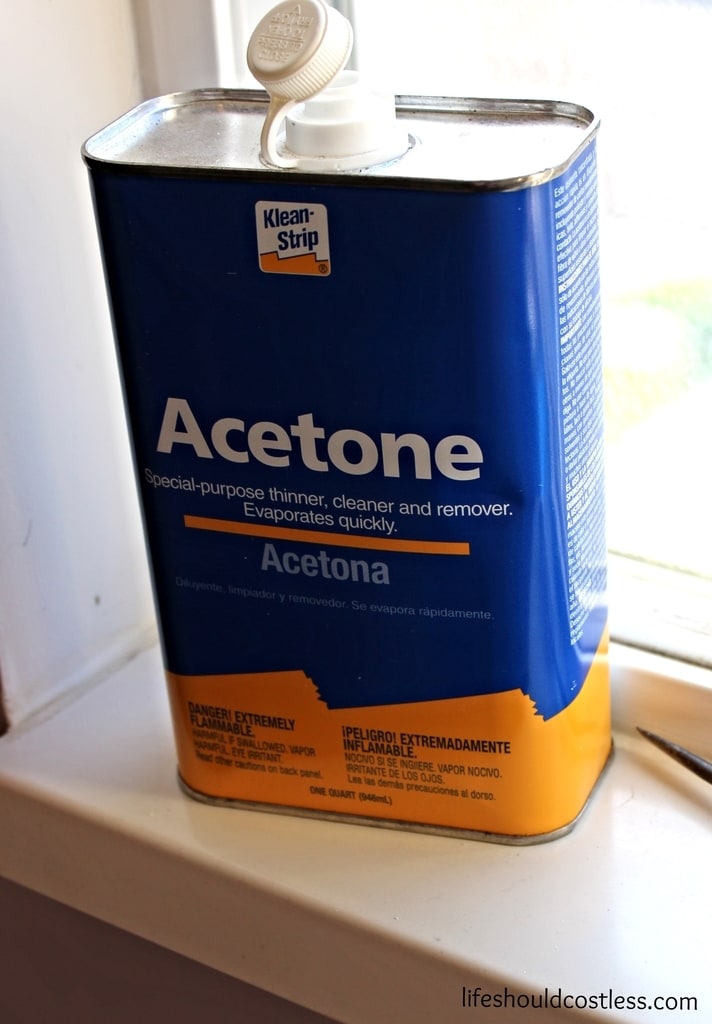 It does evaporate quite quickly though, so I had to use quite a bit (half the container and several rags) just to clean this one window frame. I'm going to do it in every room in this house as I take the house apart room by room and make them look as close to new construction as I possibly can. This is WAY cheaper than replacing all the windows. Plus they look about a million times better!


I would feel comfortable doing this on both vinyl and metal window frames, but just use your best judgement/ or try it out on an inconspicuous area first. It is hard to not wipe off the paint on the edge of the wall too though, so I just made sure to do it right before I repainted the room. Or you could always just use some of this
 around the window to protect your current paint job.
That's all for today! Please make sure to share this post with anyone that could use the tip! Thanks~Sarah
P.S. If your window frames are not nearly as bad as mine were, you may be able to get by just using rubbing alcohol. The acetone is definitely necessary if the windows are really bad though.
You may also like (the pictures are links):