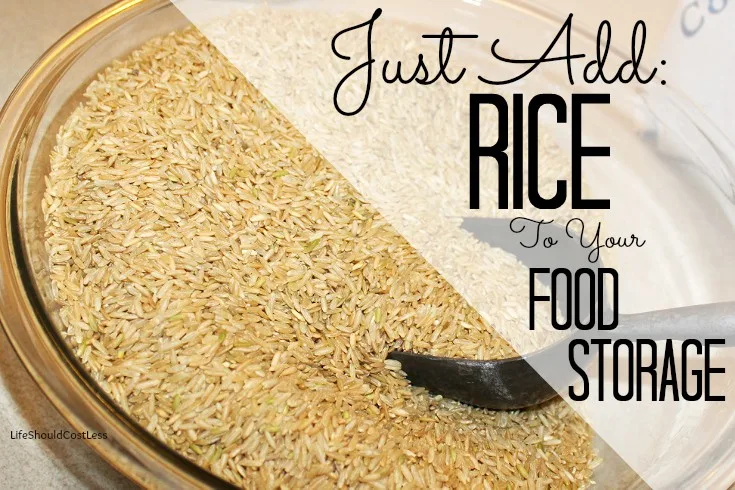 *Hey there, thanks for stopping by my website. This article is super old, so it has been archived as I no longer update it…so proceed if you wish…but it is definitely not my best work. Please stop by my home page, here, and see some of my better content. Thanks! ~Sarah*
I am sorry to be doing so many food storage posts lately, but we have lived on our food storage for a bit while we were getting our condo ready to sale (the extra money for improvements had to come from somewhere, plus I didn't want to move lots of food), so I've been trying pretty hard to get a surplus built back up. Anyway, this week I worked on our long term food storage supply of Brown Rice so I thought that I would share what I did.
I started out by pricing rice in bulk. I was going to buy some from Costco, but all they had in bulk was white rice or organic brown rice. I prefer brown rice because it is more nutritional ( the protein and dietary fiber content is much higher than what white rice has), but the organic option was a little too expensive for my current budget, so I decided to check Winco. Winco's bulk food section had just what I needed and at a fairly reasonable price. It was around $15 for a 25 lb bag of Long Grain Brown Rice there. Compared to the Organic Brown Rice at Costco which was about $13 for 12 lbs.
After I bought the rice, I gathered the needed supplies to work on this project:
This was a quick, easy project and now I have a little more peace of mind.
Maybe I'm a nerd, but if we don't have much "extra" food, I sometimes can get feeling a little panicky thinking that if something happened (job loss, major inflation, food shortage, or worse) we wouldn't be able to feed our kids.
At our current rate of consumption, this 25 lbs of rice should last us about 18+ months which makes me feel a lot better.