My main goal, in cooking for my family, is to provide nutritious foods that rarely come out of a can or a box. I try to the majority of the time at least. Sometimes that creates a challenge since many of the "already healthified" crock pot recipes seem to lack flavor, or are just plain nasty…some have even literally made me gag. I'm not joking, during my last pregnancy I threw a couple of meals in the trash because I couldn't stomach them and that is NOT like me. I feel bad if we don't eat our left-overs because it is wasteful… so for me to throw them in the trash (pregnant or not), that was a BIG (NASTY) deal!
*Hey there, thanks for stopping by my website. This article is super old, so it has been archived as I no longer update it…so proceed if you wish…but it is definitely not my best work. Please stop by my home page, here, and see some of my better content. Thanks! ~Sarah*
I found a very tasty recipe, a while back, and did what I always do and played with it/tweaked it until it reached the level of healthy that I am comfortable with feeding my family. Anyway, I could go on and on trying to talk you into trying it, but frankly, I'm mostly just posting it so that I can access it online so you're welcome to try it…or don't. I say, try it once and see what you think. It could very well become a regular on your dinner rotation like it is on ours. Well, here goes:

Printable Recipe
Ingredients:
1-2 T Extra Virgin Olive Oil
½ C Dried Chopped Onion or 1 Whole Large Onion Chopped
2 T Ranch Dressing Mix
2 C Frozen Corn
½ Recipe of Cream of Chicken Soup (equal to one small can)
2 C Brown Rice, rinsed and drained a few times
6 C Water
2 Large Boneless Chicken Breasts (I use frozen)
1 C Shredded Cheddar Cheese
Directions:
Add the Oil to the bottom of your slow cooker, I used a 3 quart slow cooker this time, but prefer a 6 quart slow cooker for this recipe. Then layer the Onion, Ranch Dressing Mix, Frozen Corn, Cream of Chicken Soup, Water, & rinsed Rice. Stir well, then add the Chicken to the top. Cover and set on Low for 7-8 hours or High for 4 hours. When the time is up, remove the Chicken Breasts and chunk or shred them (I prefer chunks of chicken) and then mix them back into the mixture in the slow cooker. Then add the Cheese and quickly mix it in as well. Salt and Pepper to taste. It's ready to serve. This is even yummy the next day. I just re-heat it in the Slow Cooker for about an hour or so on Low.
Keep reading for a photo guide to the directions.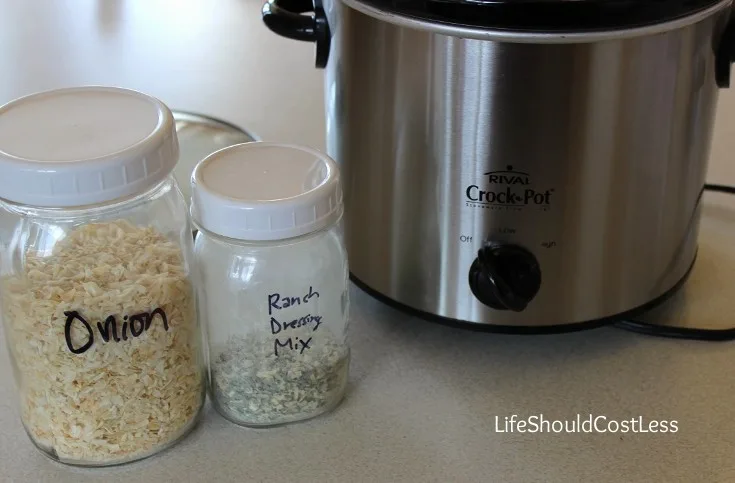 I thought I'd show you what I meant by Dried Onion and Ranch Dressing Mix.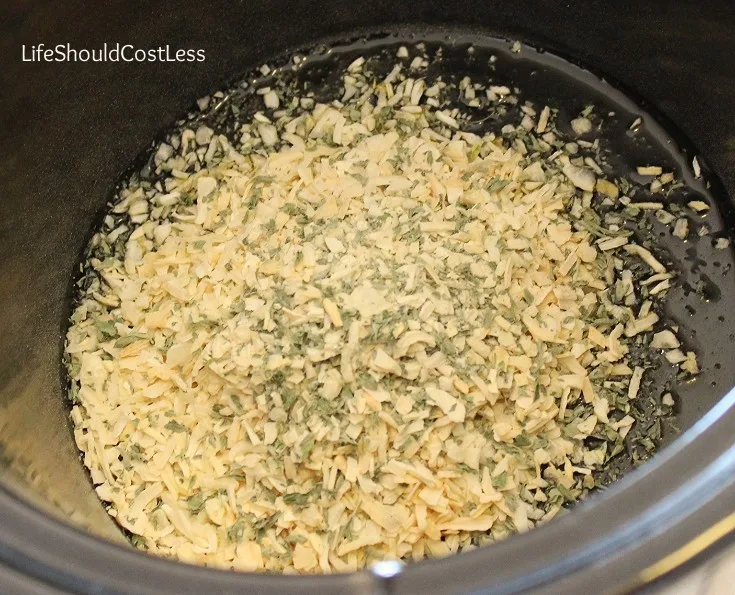 This is the Oil, Onion, & Ranch Dressing Mix.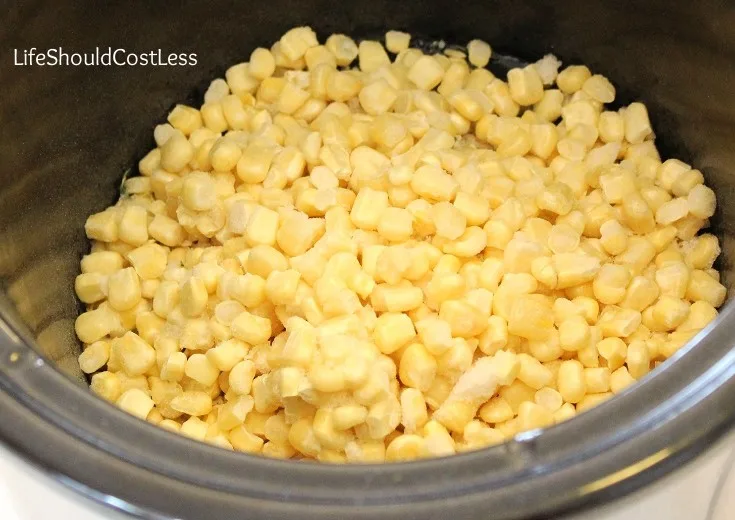 What it looks like when you add the Frozen Corn.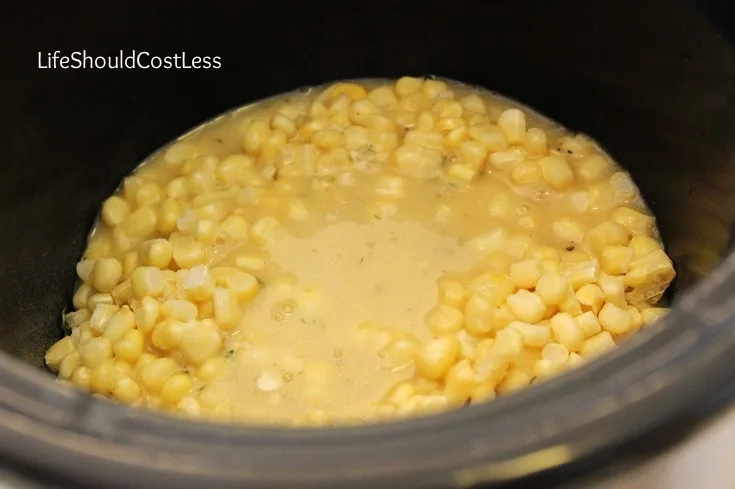 Now how it looks with the fresh/from scratch Cream of Chicken Soup added.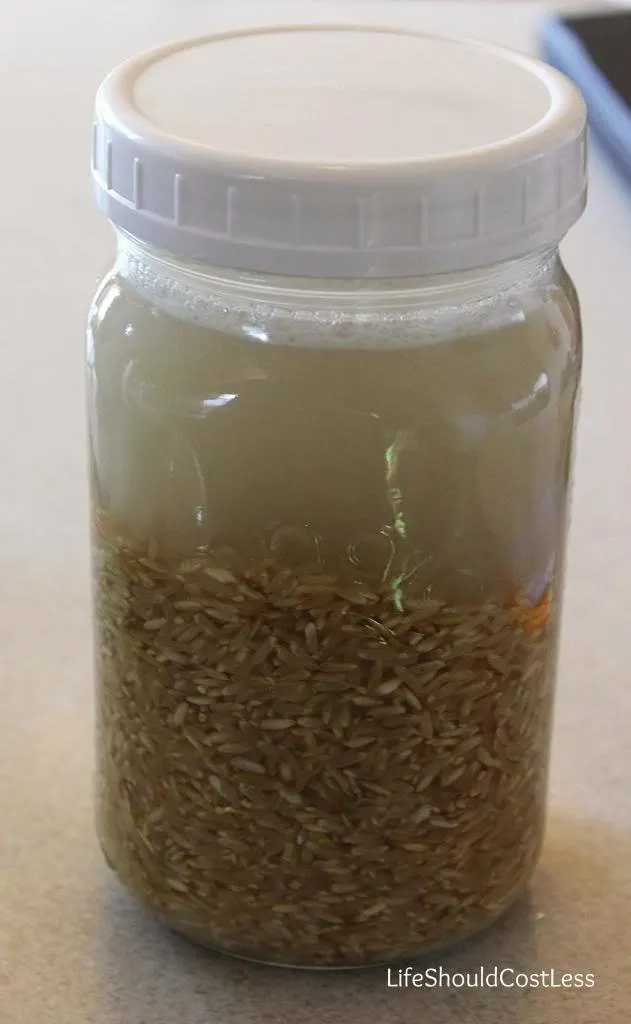 This is how I wash my rice. I place it in a mason jar, add a
plastic jar lid
, and shake for a few seconds. Then I pour out the murky water and repeat until the water is mostly clear. This step is very important to make sure that your rice turns nice and fluffy.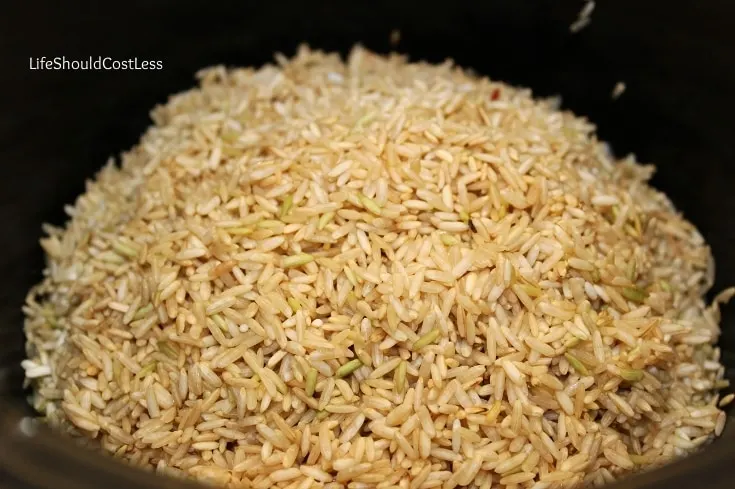 I had to show you how pretty a close-up of the brown rice is… I think it's pretty anyway. This is just before adding the water.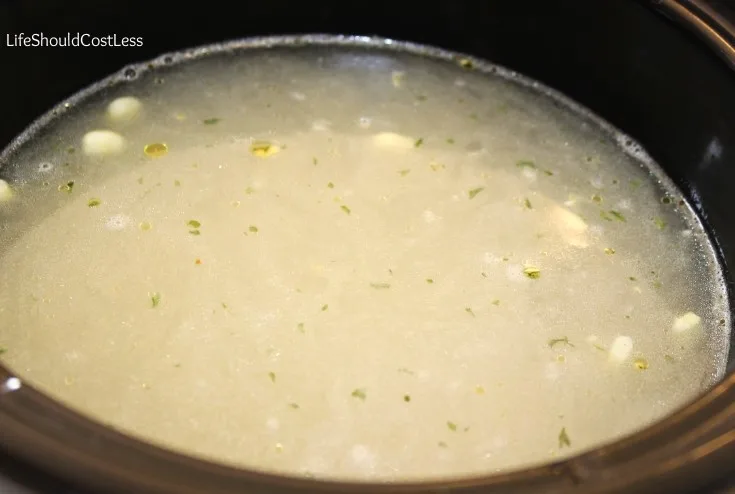 Now with the water added.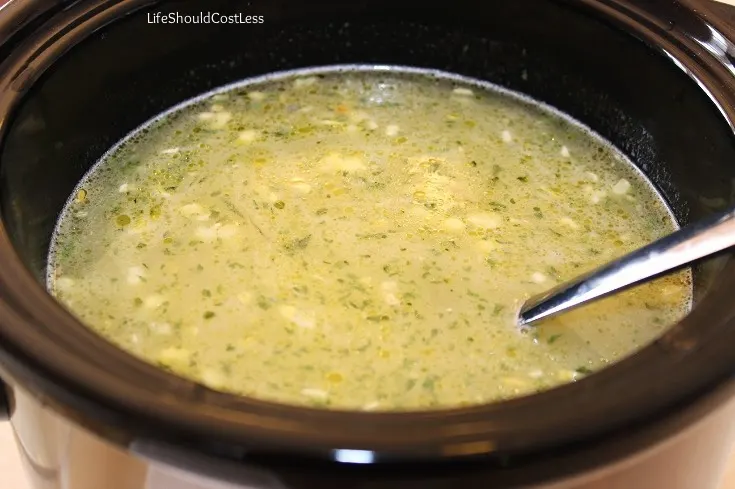 What it looks like all mixed up.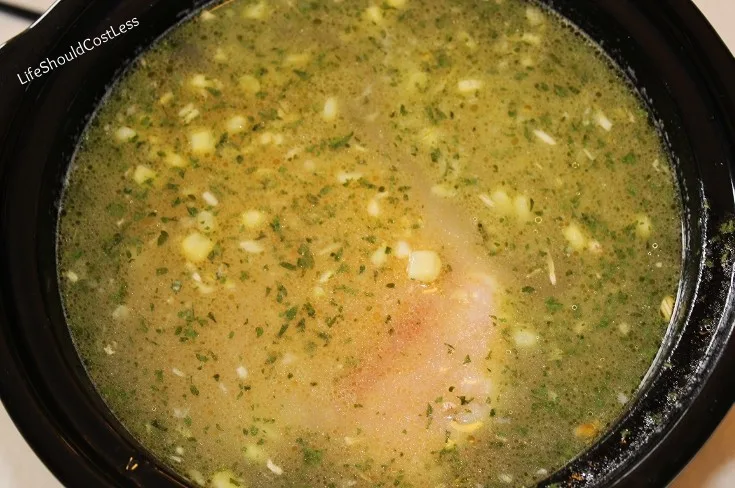 Now with the Chicken Breasts added on top. At this point you add the lid and cook according to the above directions.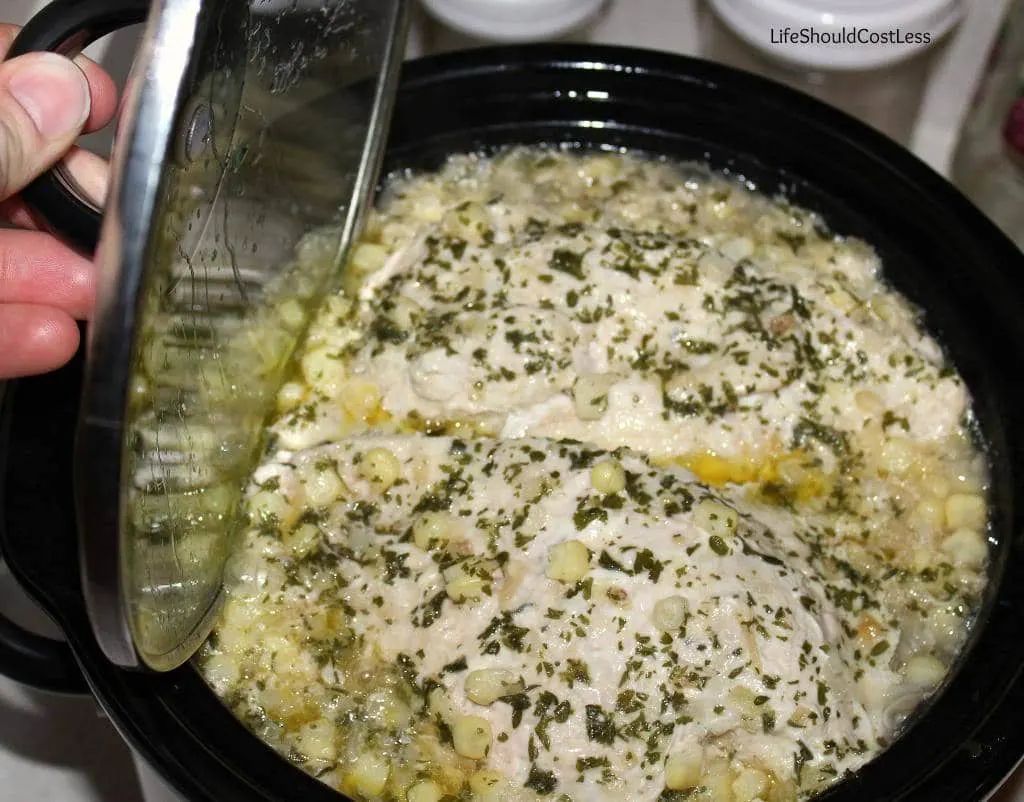 Here's how it looks when it's done cooking. See the yummy looking Chicken Breasts sitting on top of the rice.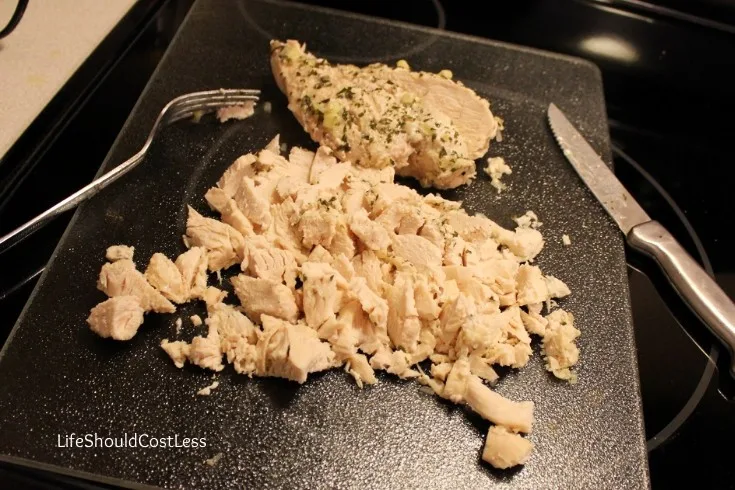 Here is me chunking up the chicken. Don't mind my not so fancy steak knife… I really need a good set of knives.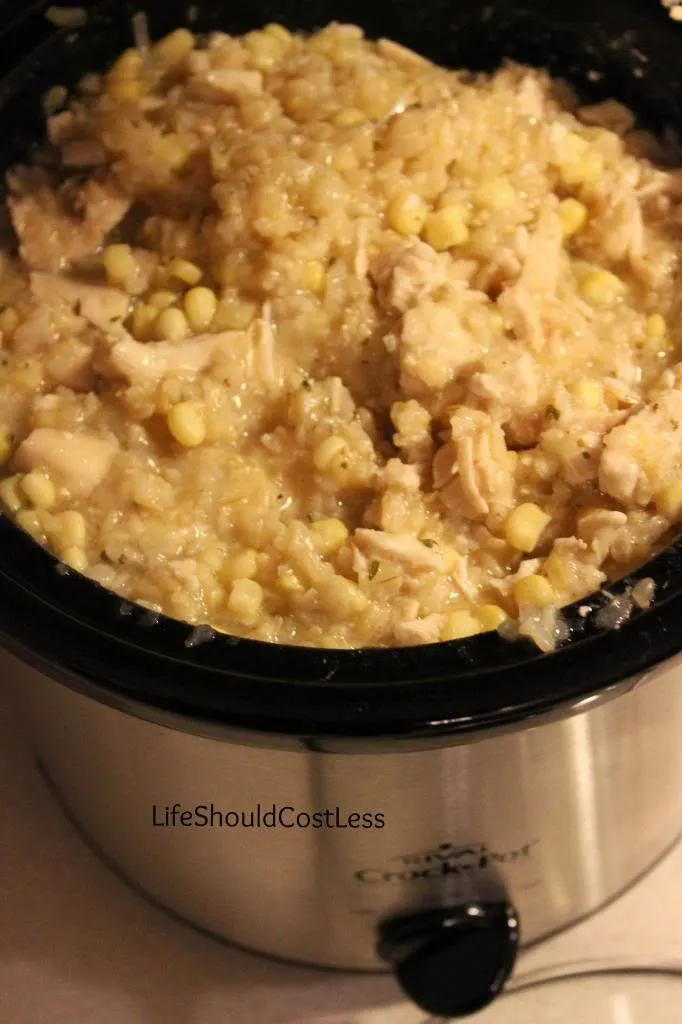 The Chicken is all mixed in. It's getting quite full here, which is why I suggest using a slow cooker that is larger (3 quart) than I did here. *At this point, if it's looking too dry, add some water, as much as needed to get it to your desired consistency, just make sure you do it and mix well BEFORE you add the cheese*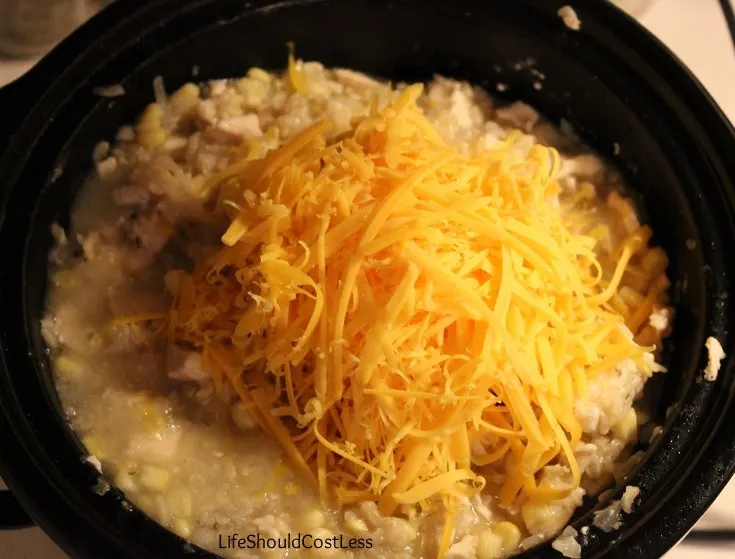 Add the cheese to the top and mix it in with a large spoon.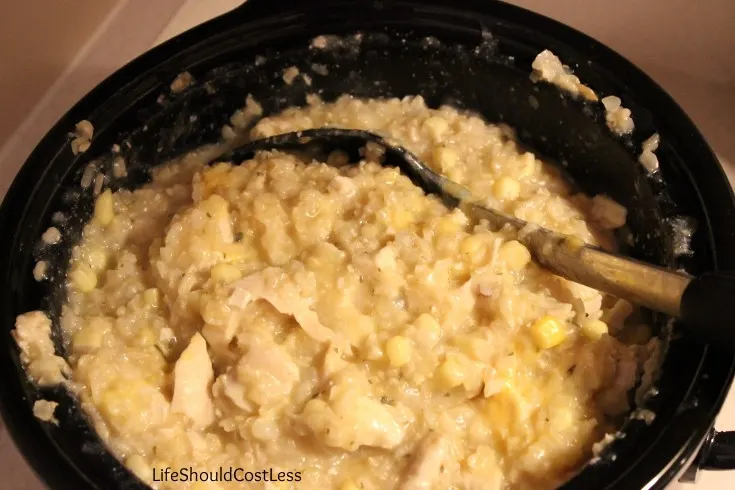 MMM… Look at that cheesy chickeny goodness!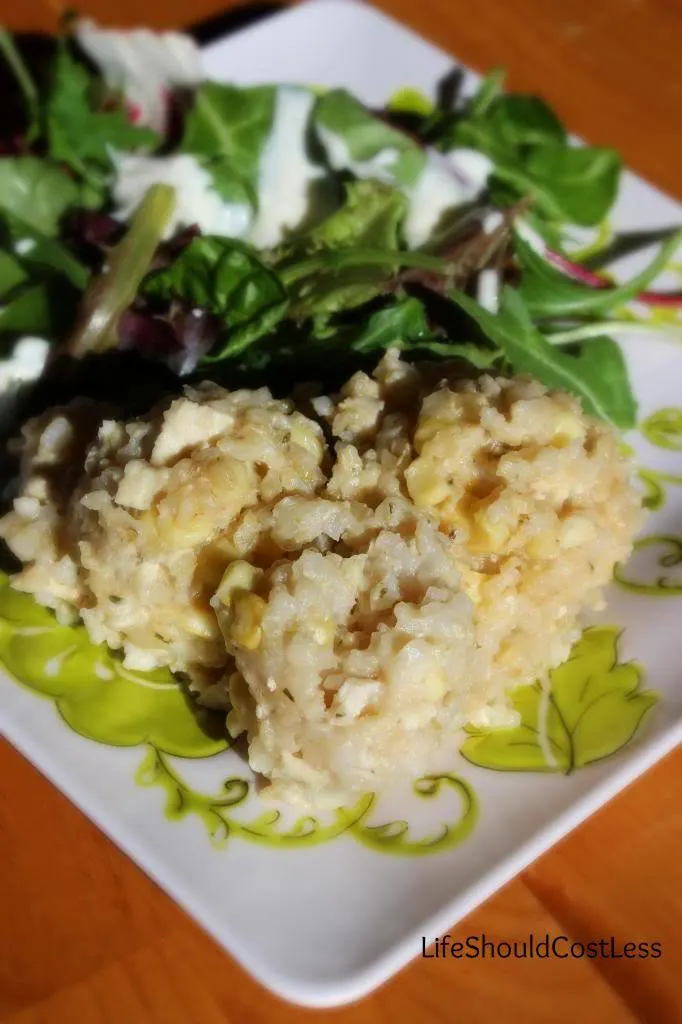 This shot and the next are actually what the left-overs looked like re-heated the next day. The daylight was long gone the night before and I couldn't get any appetizing shots in a very dark house. Anyway, I paired it with a nice green salad and it definitely rounded out the meal.