The piano refinishing is finally finished and I am so excited to show you how my shabby chic transformation turned out! I thought I would finish off by showing you all the final steps of the refinishing process and then show the after shots as well as tell you about how I decided to decorate/stage it, frugally, to fit in with the direction that I want to take my cottage (Noor Cottage, for those of you new to this blog).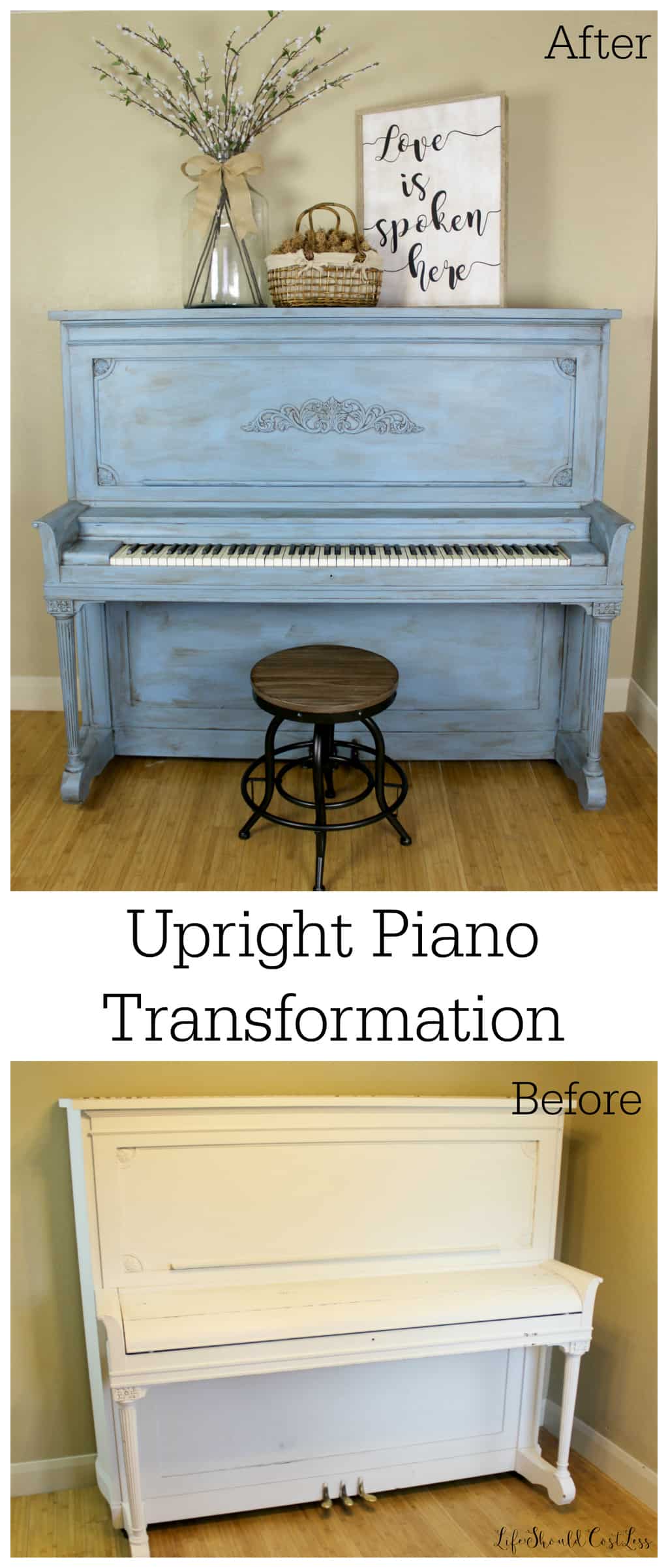 As you can see, it started out as a white piano, but I decided to paint it a nice Colonial Blue and finish it off with a glaze. Below I will tell you where I got everything and what colors I used…but first I wanted to show you the time-lapse video that I took of the entire process. I learned so much during the making of the video…mostly what not to wear in front of the camera and that I probably got a little too carried away with the Holiday sweets…lol… but all in all it was a very fun project.
I am hoping that by showing you all how I did mine, you will have the courage to do the same if, like me, you've always wanted a nice piano in your home but thought that you could never afford one…guess what guys? This entire transformation, including purchasing the piano, had a total cost of just under $400… You could easily spend ten times that by buying a new piano.
Alright, I'm just going to jump right in with the rest so hang on tight. Also, if you are wondering something about this project, that maybe I forget to mention, please make sure to comment and I will try to get back to you about it.
So for the paint color I went with this beautiful Colonial Blue by Americana Decor Chalky Finish Paints. I spent my Christmas money from my parents on paint…and it was totally worth it! It took two coats of paint to do the whole piano and that was about one and one half 8 oz pots of paint. If you are wondering what those triangles are holding up the lid, they are called painters pyramids and they are awesome for any painting project that I have ever done!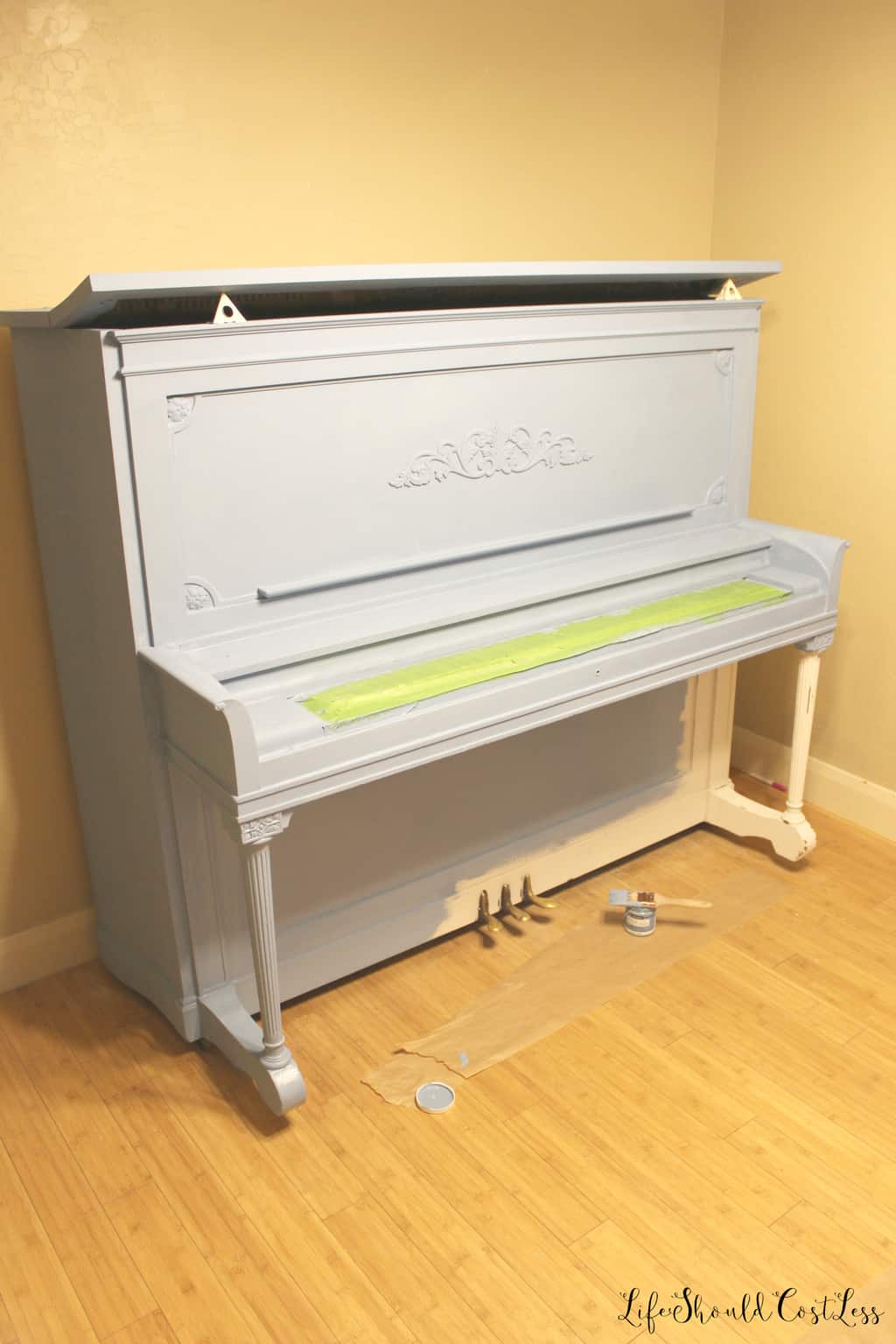 I had previously taped off the keys with frog tape…my favorite of all painters tapes. I used the 36 mm thickness if you're wondering.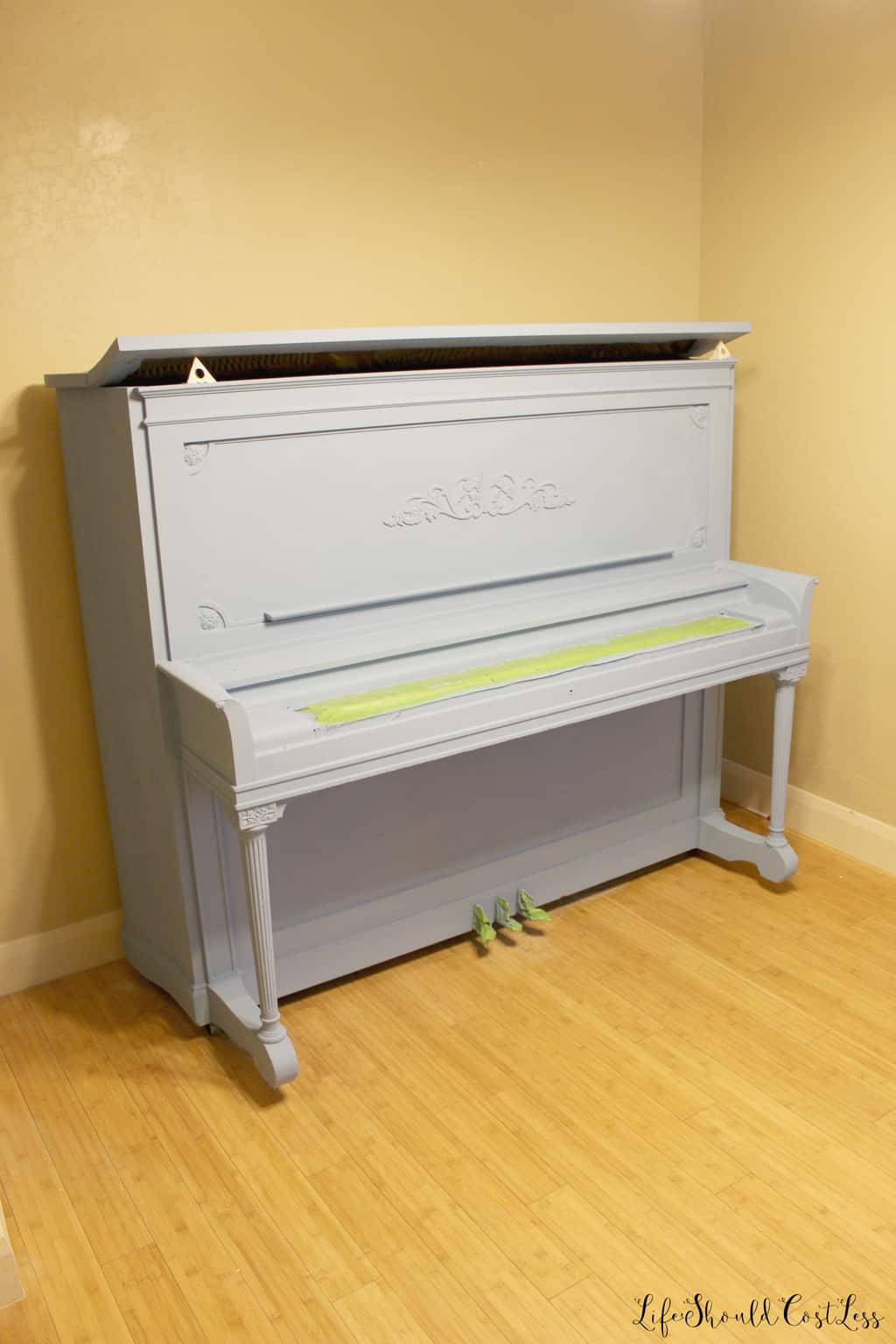 When you glaze a chalk painted piece of furniture you are typically supposed to do a coat of clear wax first, so that the paint doesn't soak as much up of the glaze color…but I have found that by mixing two parts brown wax and one part clear wax I am able to skip that clear coat step… it saves me lots of time and even a bit of product/money so I thought that I would share that tip with you. My brown wax was found here, and my clear wax found here. I used about 1/3rd a pot of brown and 1 full pot of clear for the whole piano.
To glaze something basically just means that you use a darker color and intentionally do a sloppy paint job, getting in all the nooks and crannies, and you use a clean rag to wipe the majority of it off… I am quite certain that whoever invented this technique just had a ton of messy kids and wanted to hide their smudges…because if it already looks a little dirty it is going to hide the real dirt… just my silly theory (probably because this is why I did it…lol….shhhh don't tell anyone).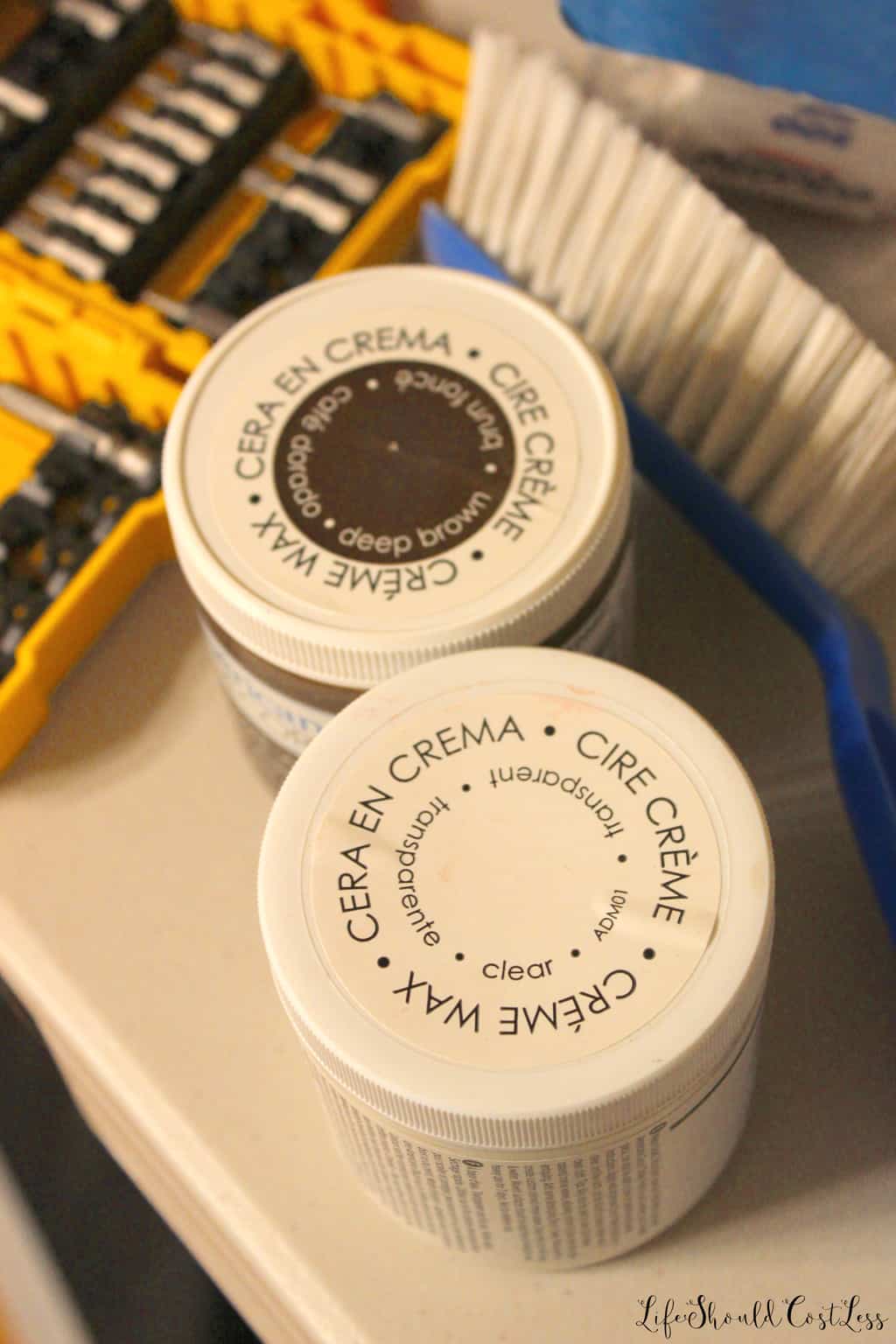 Please note that between coats I gave it several hours to two days to dry just depending on how much time I had. After the glaze coat I gave the entire piano a coat of clear wax, making sure to go a little thicker on the areas that I knew the kids would be touching more… for instance all along the side of the piano that they walk by… it's more likely to get banged up so it needed more protection than the side that will remain in the corner.
I taped off the area around the pedals and just used some satin brown spray paint that I had in my shop to paint the pedals.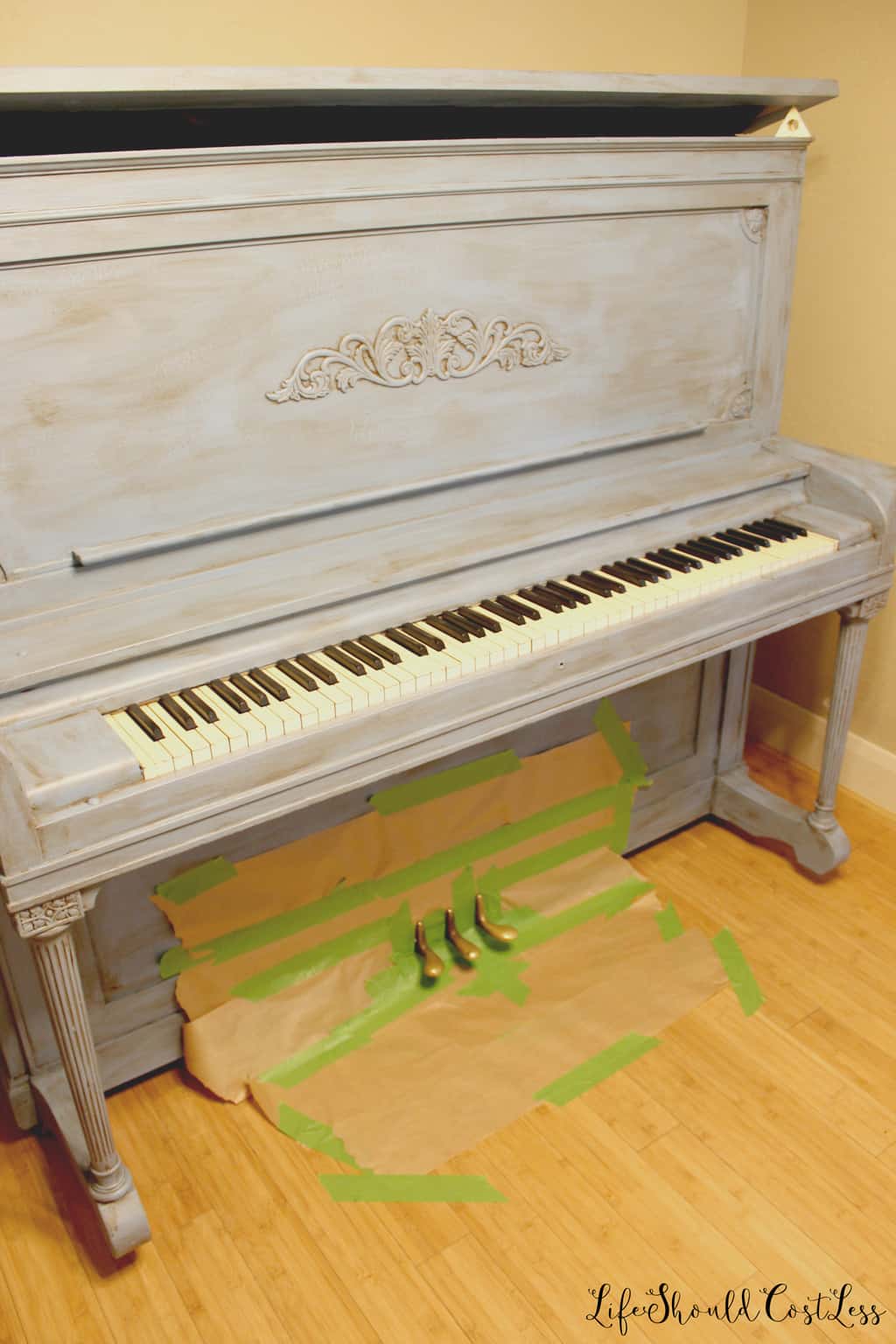 It was called Espresso, by Rustoleum, and you can get that here.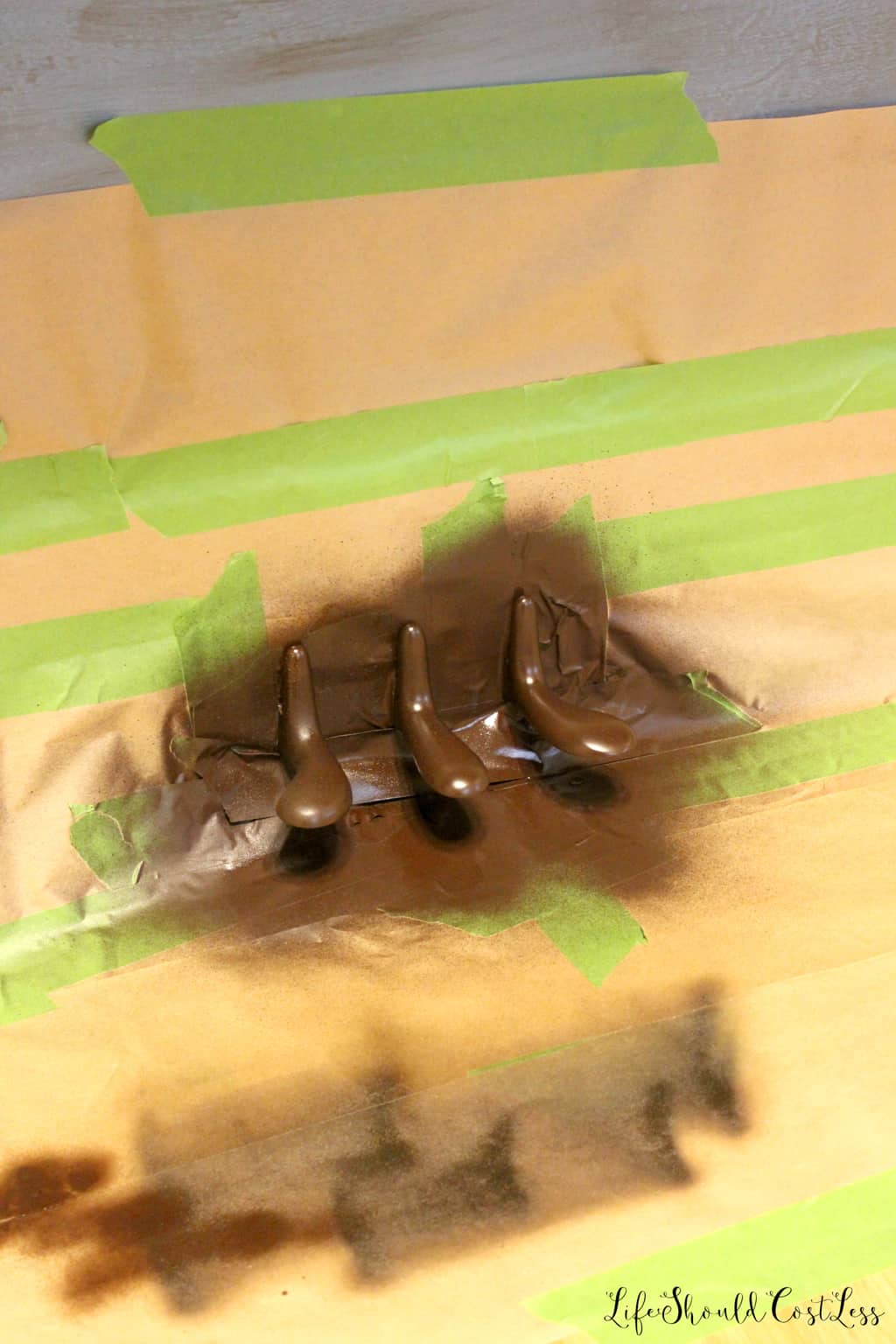 I let that paint dry for about an hour and then gave it a second coat going at a different direction. After a few hours I removed all the tape and brown paper and they looked great!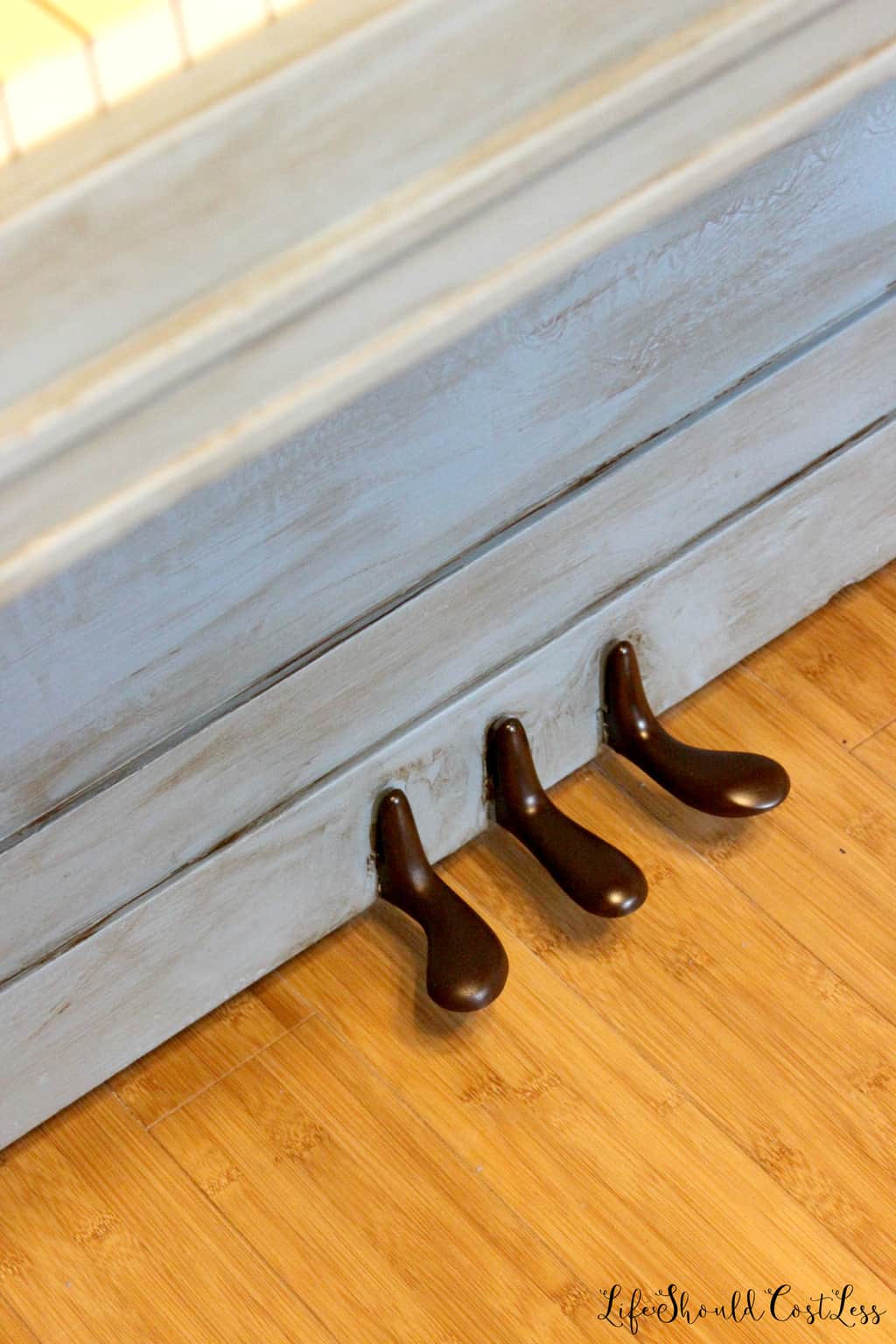 Here is what the piano looked like when I was done painting, glazing, and waxing.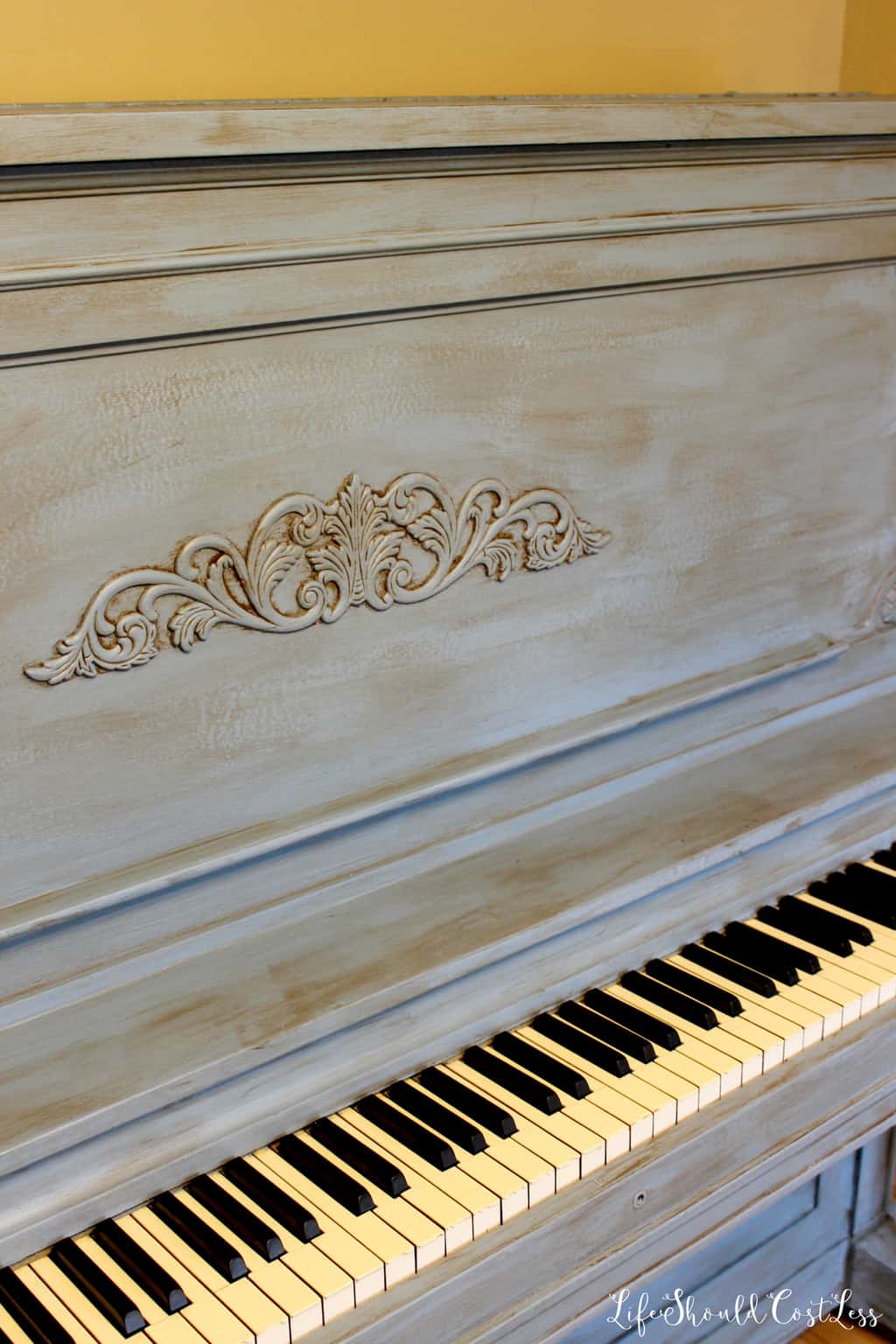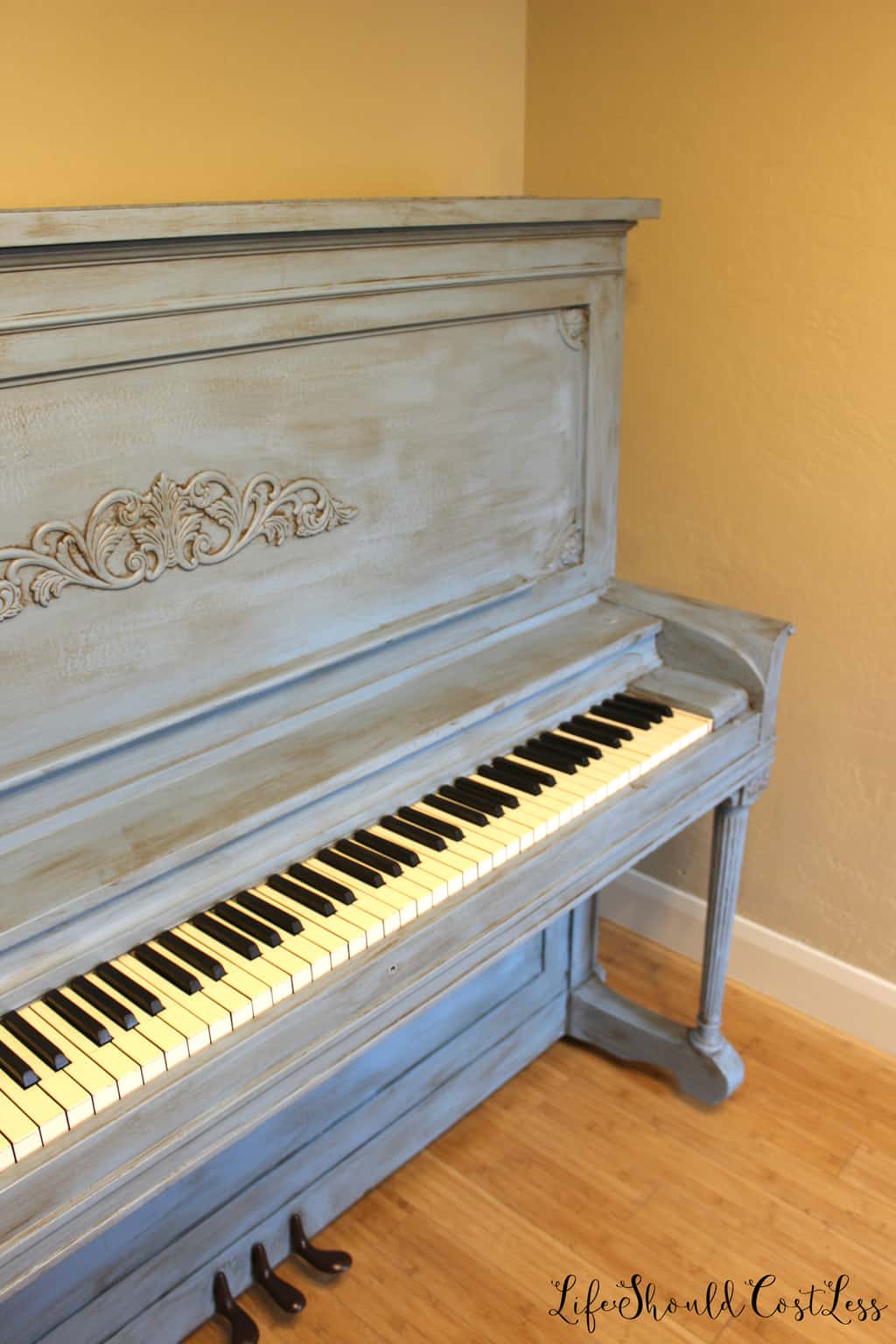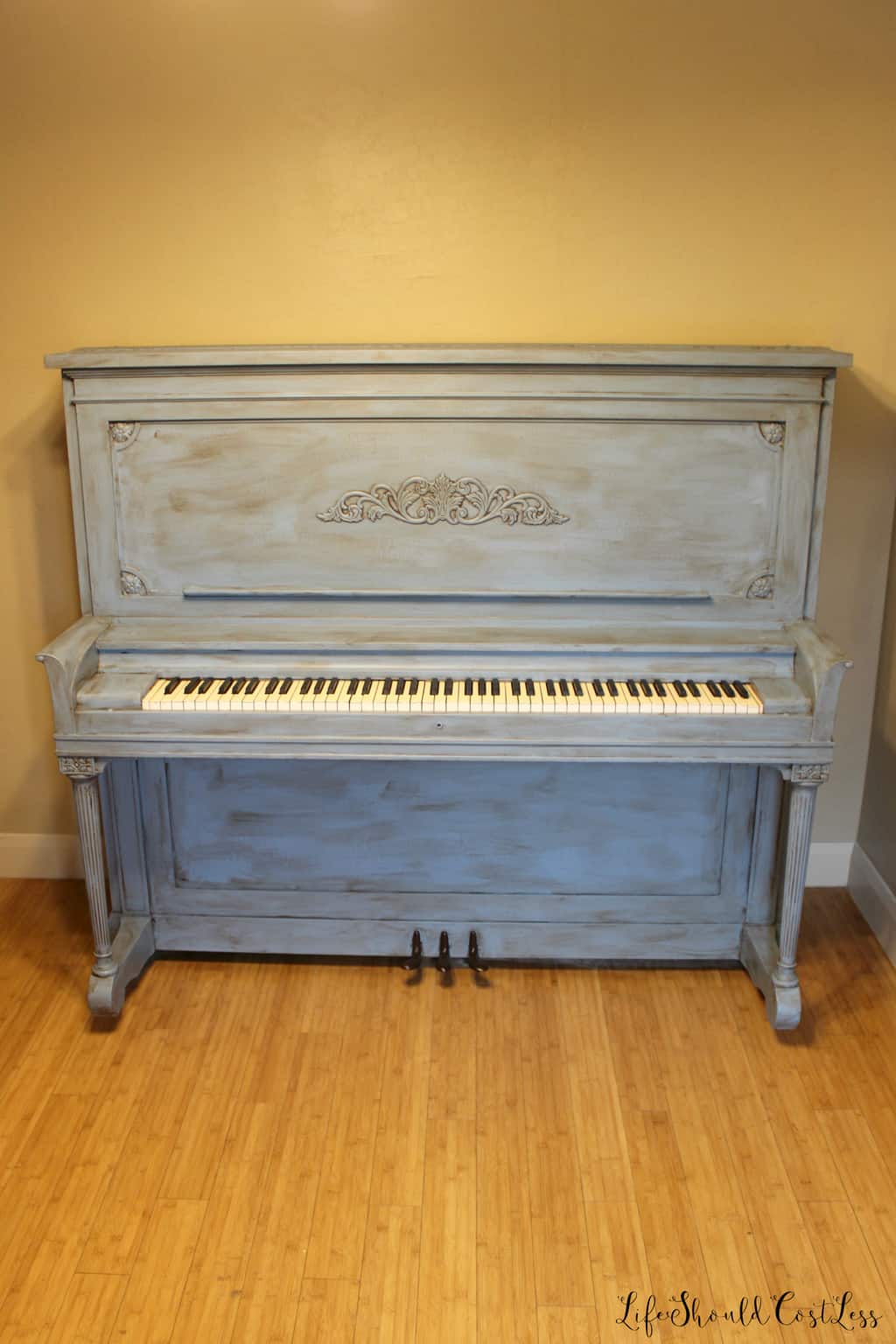 All it was lacking was a stool and some farmhouse style decor so I spent a good long while tracking down what I wanted at a price that I was willing/able to spend.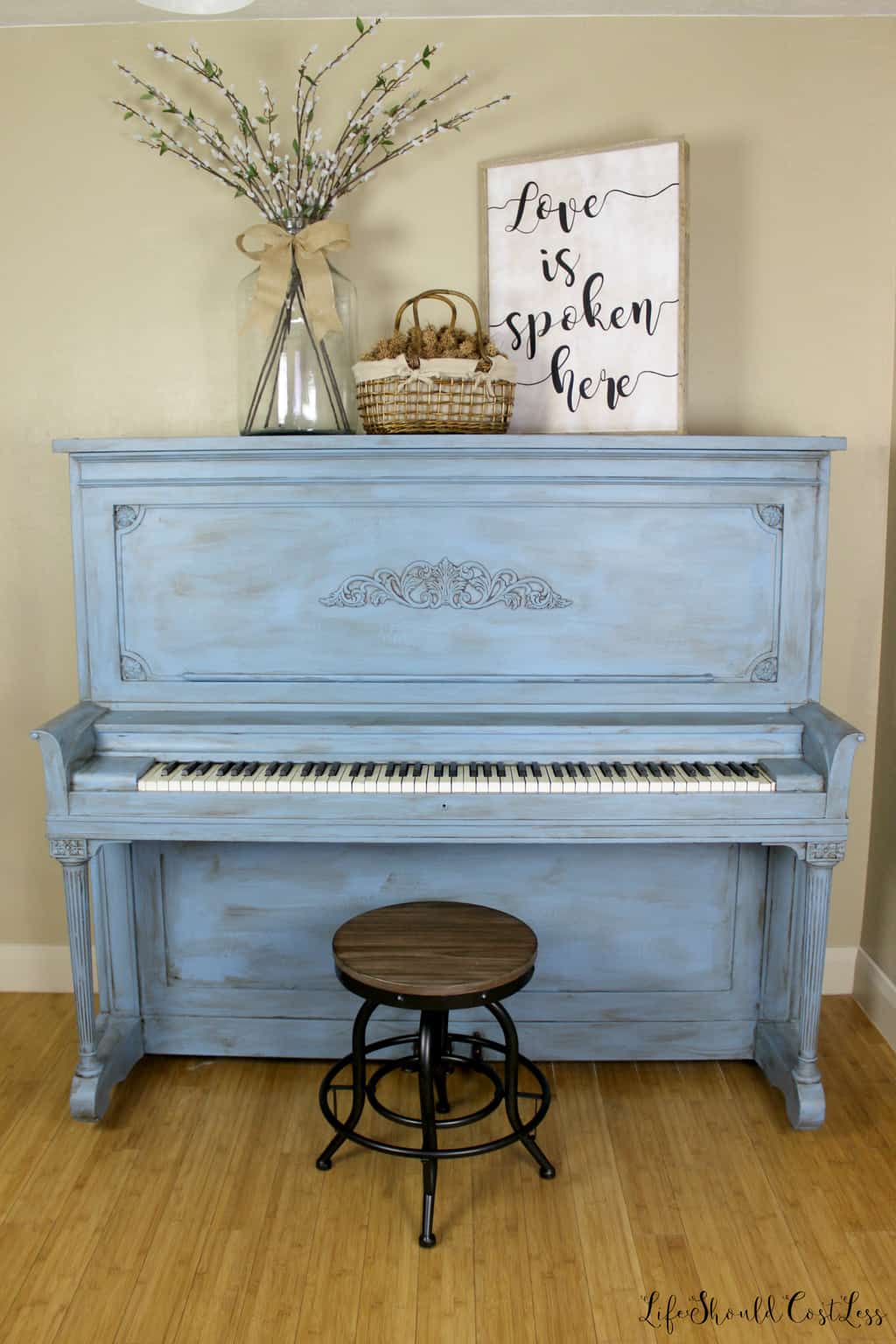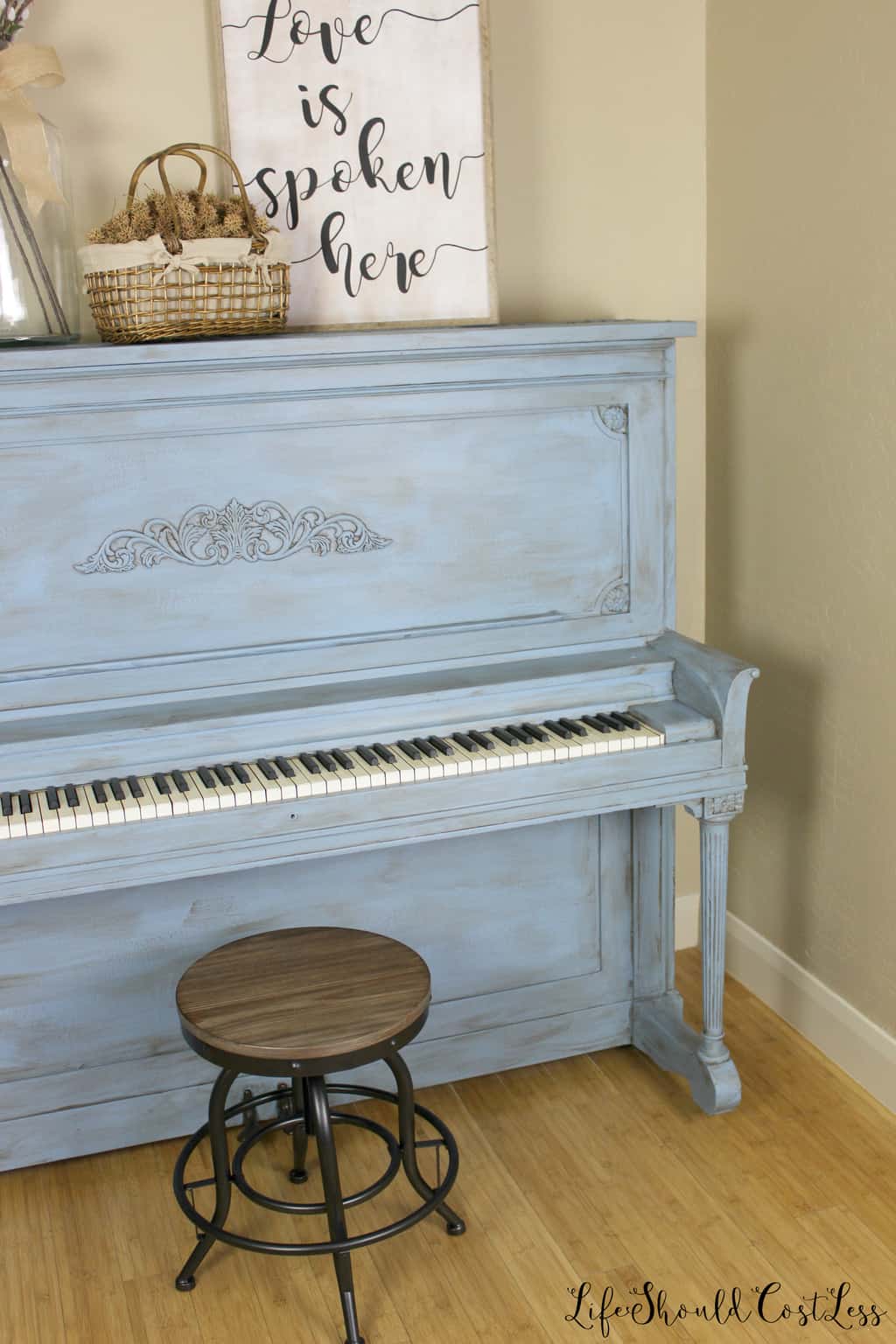 I got this giant jug at an antique shop that I love, it's also available for much more than I spent, here…if you just HAVE to have it I thought I would share the link. The floral stuff I got at Michaels…I wanted to use cotton but it just wasn't long enough…this jug is HUGE (five gallons), and I just used some wired burlap ribbon I had on hand and some twine to tie it on.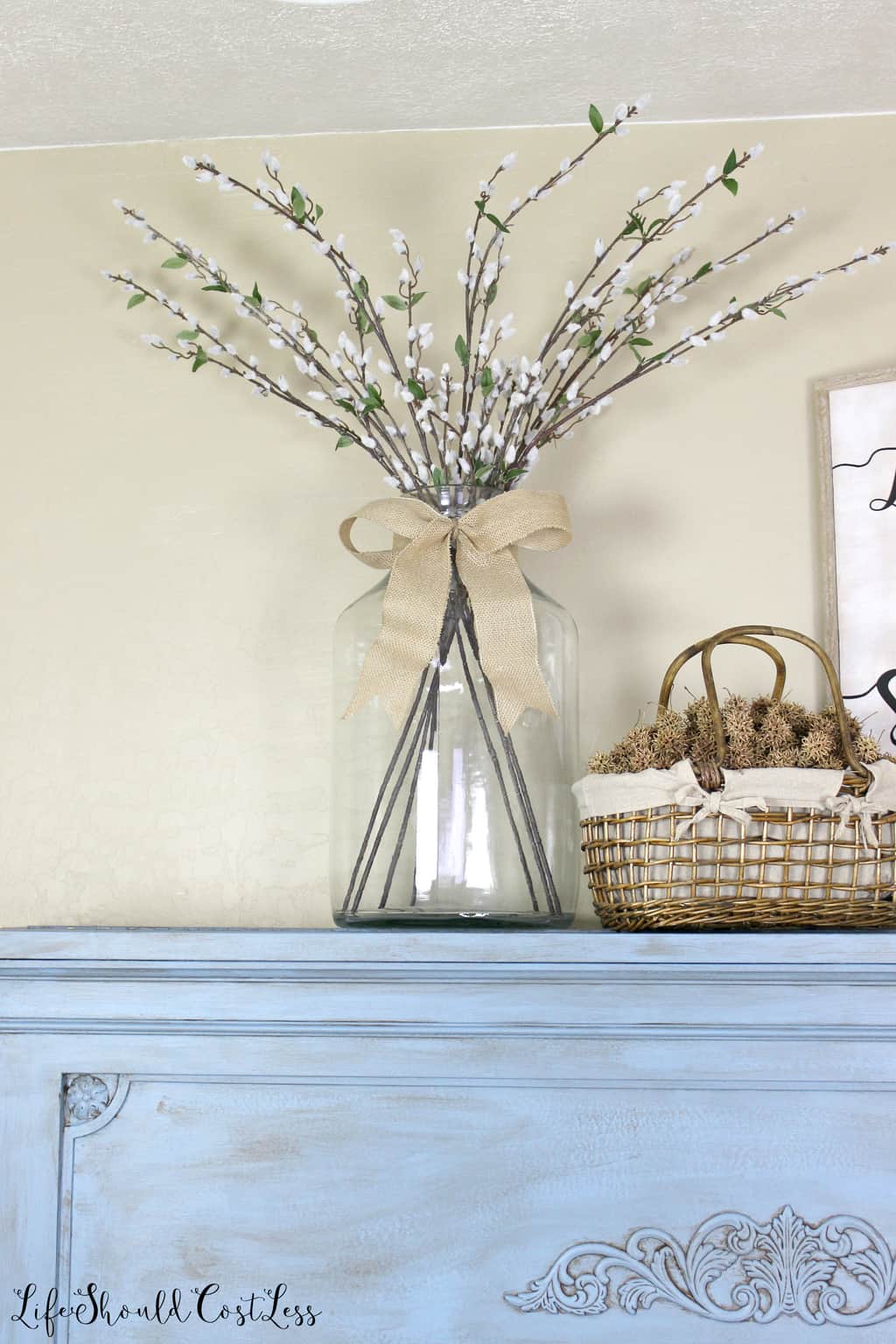 This basket I have re-used over and over for decor for probably around six years. It was originally a gift from someone and came filled with body wash, bath salts, and lotions… you can easily find similar baskets at thrift shops for less than $3. I found some cool looking prickly things that are intended to be part of potpurri, to fill it with and saved money on those by filling the bottom of the basket with pine cones that I already had so that I didn't have to spend even more money on more prickly balls… those were also found in a random booth at the antique store.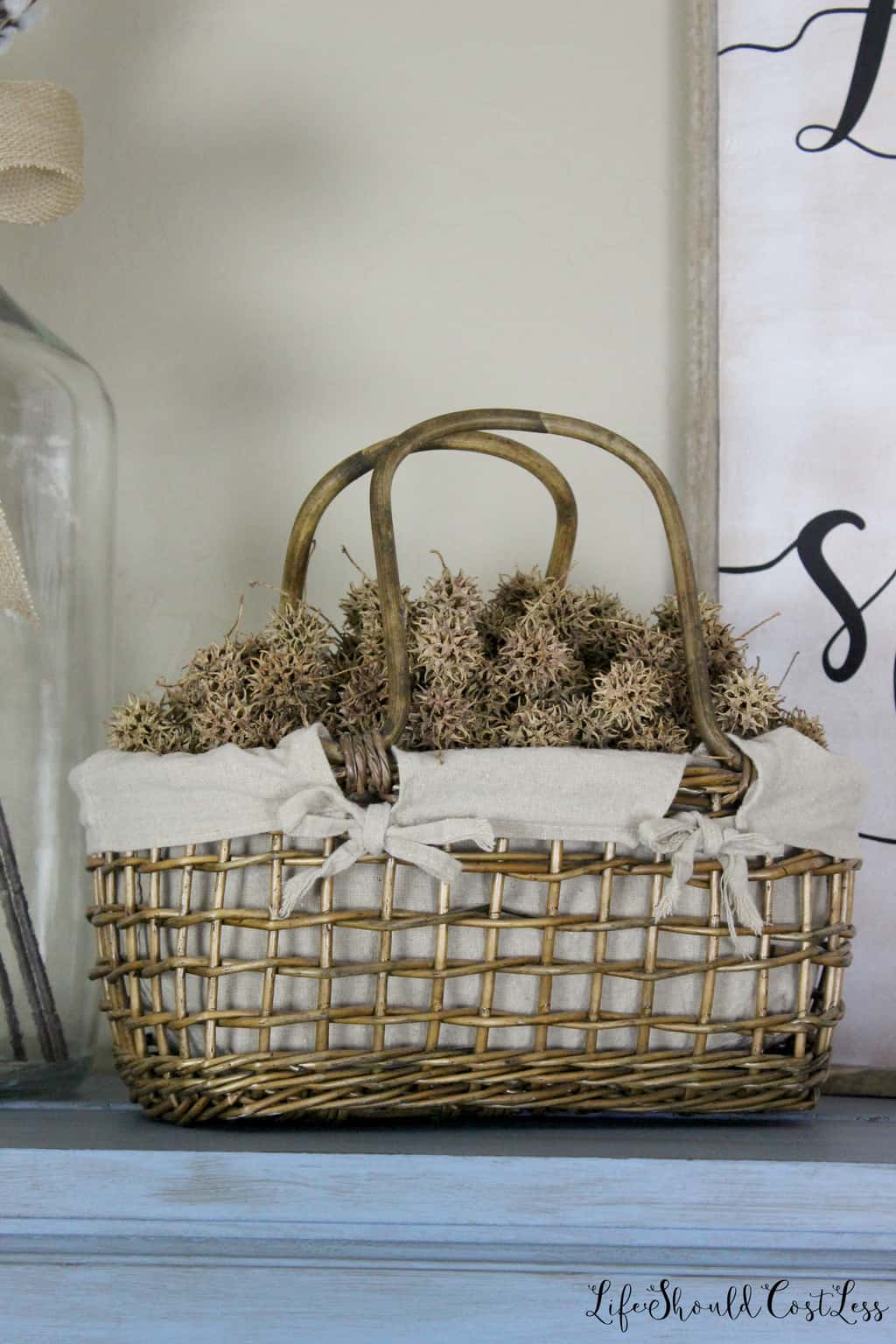 This sign I had custom made back in the fall and used my Birthday money from my parents and grandma to pay for it. The saying is a line from one of my favorite church hymns, and I'm working on making more of a Christ-centered home… albeit I'm not an "in your face" Christian so subtle is my style. It was made by Rusty B Crafts, you can find her on Facebook.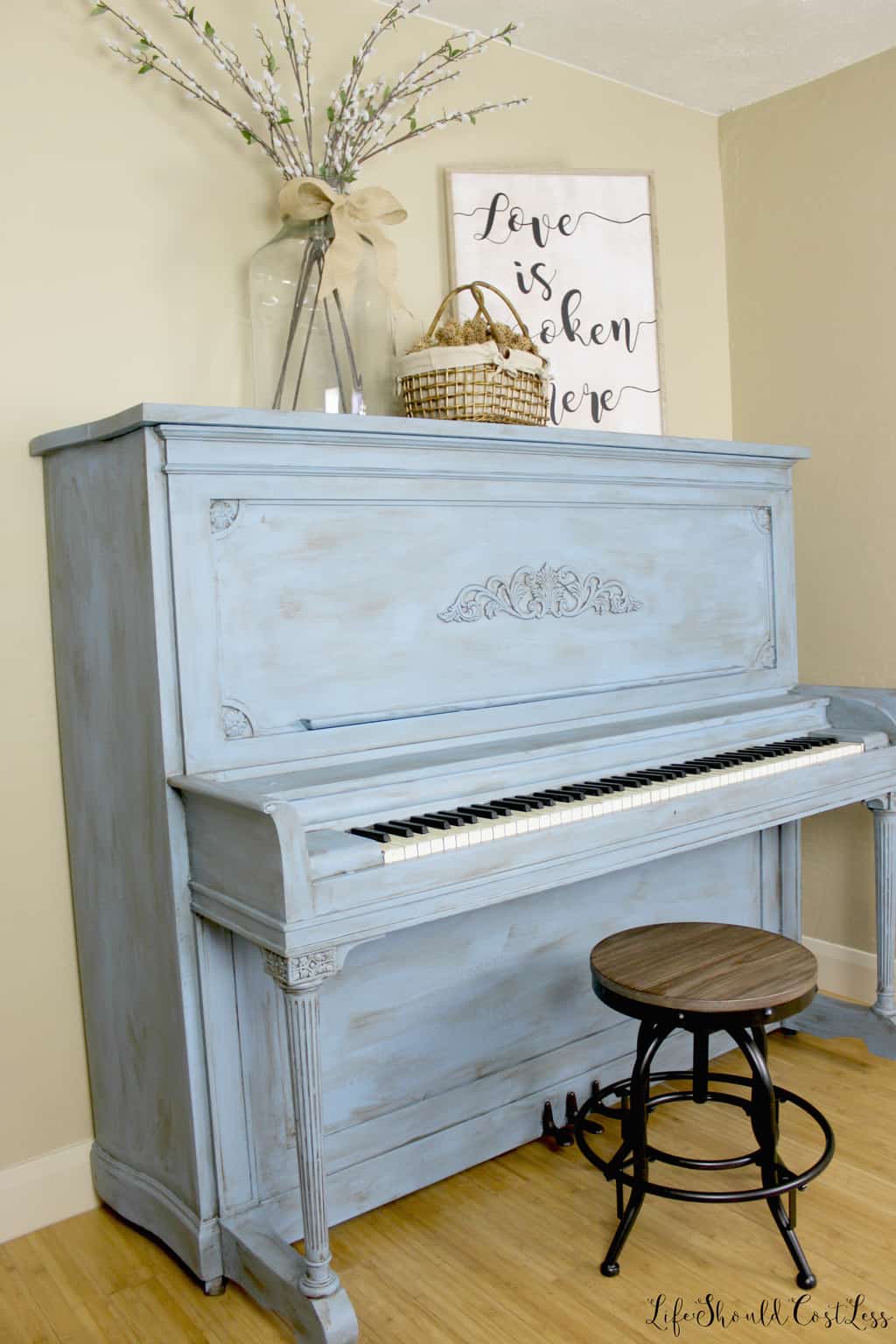 I really wanted one of those antique claw-footed stools to sit in front of the piano…but when I checked online and couldn't find one for less than $100 I decided that I better go a different route and see if there was another solution.
Adjustable farmhouse stools seemed to be the ticket but when I went to purchase one in store (at Ashley Furniture) it was also $100+ and it would take several weeks to ship it to me, so I was starting to get discouraged…until I went on Amazon and found the exact same stool sold by Ashley there, but it was 2 for about $100 and had prime shipping… I was STOKED at this discovery because I wanted another farmhouse stool for a different project I have later on, so this was a cheap way to go. The only down-side was having to assemble them myself and that sucked…hard… but I guess that's where the savings is in having to DIY comes in… but the two-day shipping was way better than having to wait a month. Anyway, you can find those stools here (it's the one that says adjustable counter height).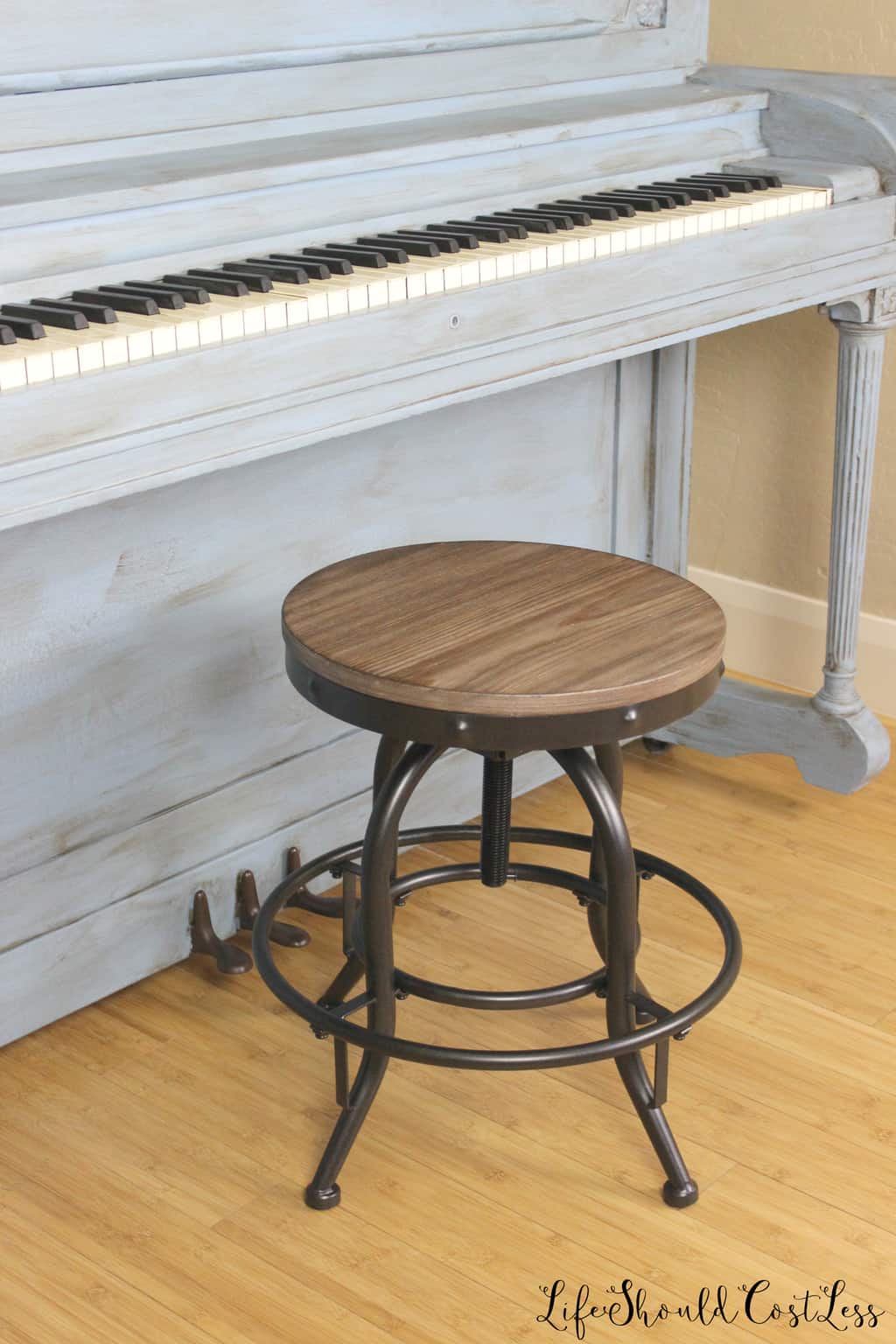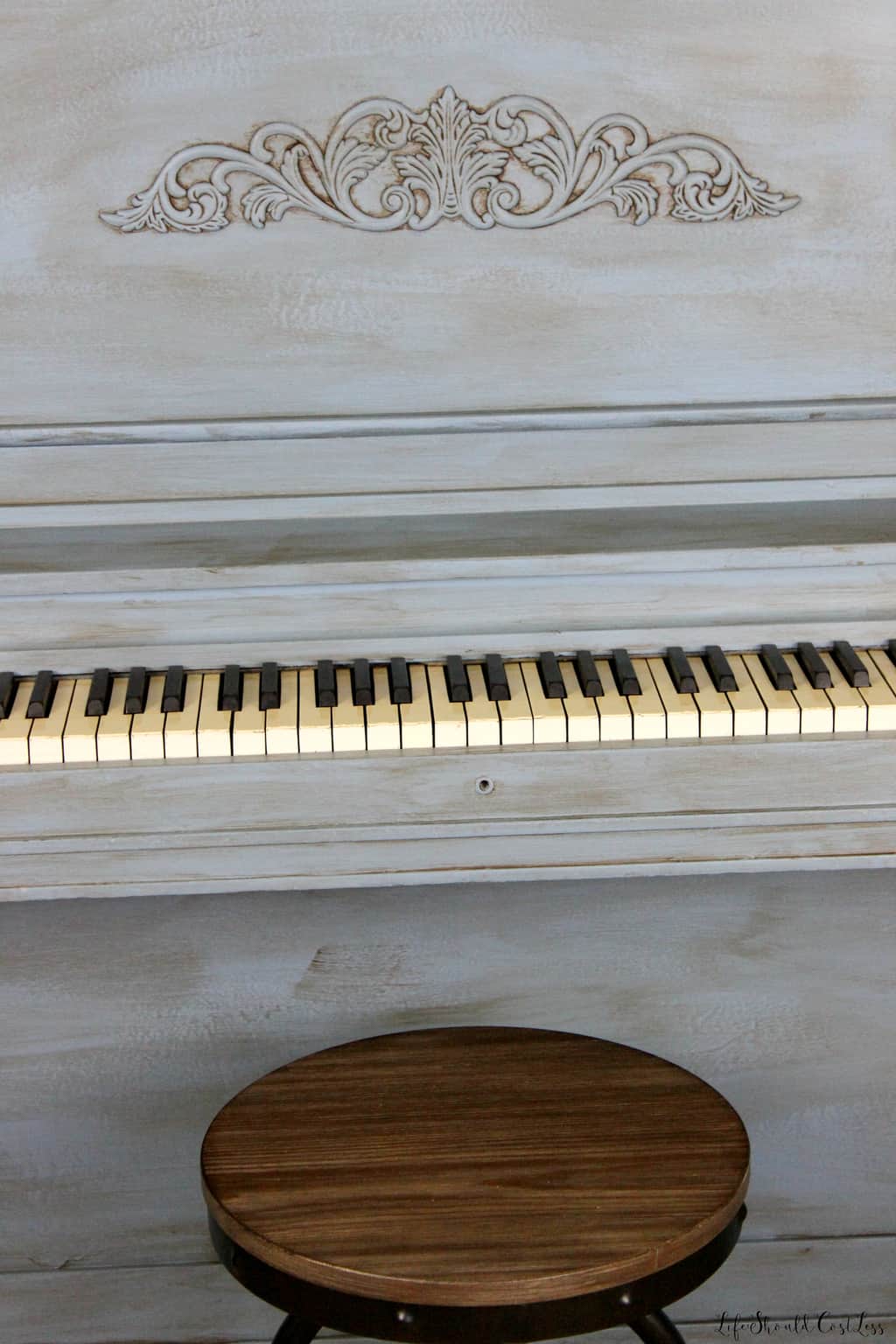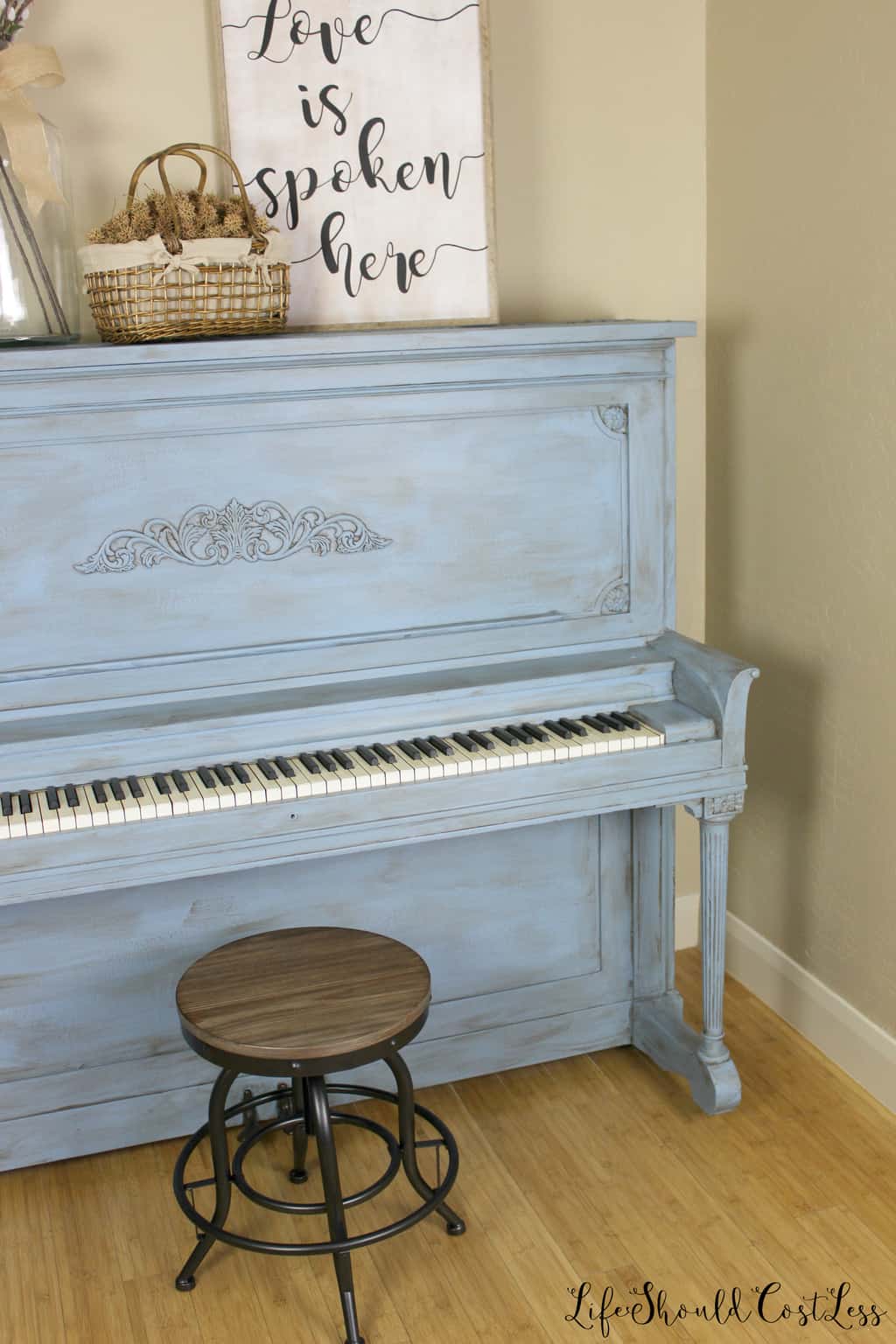 After I took the pictures for this post, the piano got pushed into the corner so that it won't obstruct the walkway as much… the room that it is in is TINY and will soon be turned into a mudroom as soon as I can figure out the cheapest but classiest way to do it. If you say that you can't find room in your home for a piano…look again, there may be a corner somewhere that would work.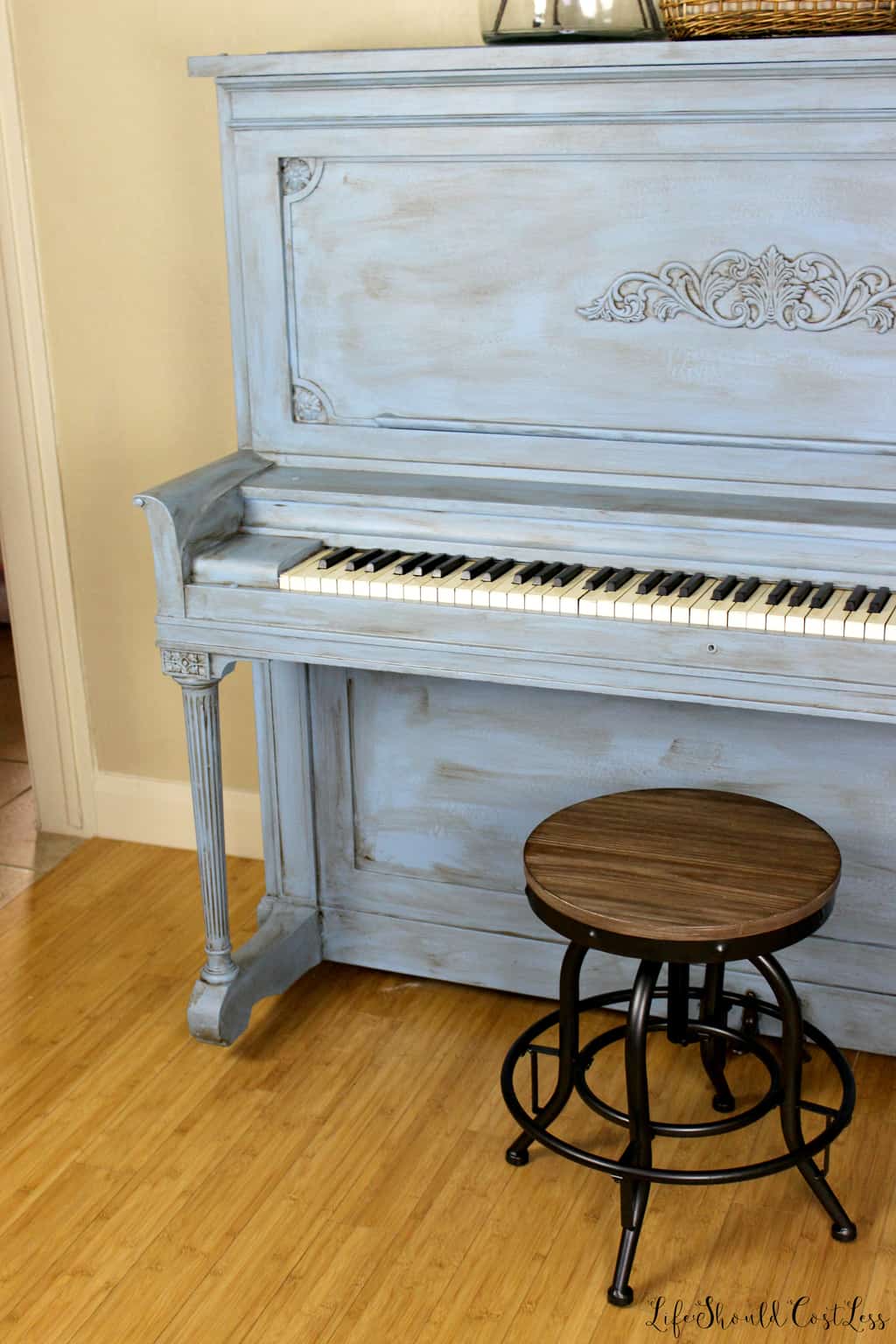 I kind of feel like the best part about spending so little on a piano (yes, I know that $400 is still a chunk of money, but it is nothing into comparison to how expensive piano's can be) is that, as my kids inevitably will be too rough, I will be less likely to want to yell at them for pounding on the piano… because worst case scenario… I could buy another one and start over…but it's very unlikely that I will need to as it's about 100 years old and who knows how many kids have already beat the crap out of it. I don't want my kids to feel like they can never touch it or they are going to get in trouble if they do…I bought it for them, but made it prettier for me, so it's a win/win situation.
That's all I have to share with you all for today. Thank you so much for supporting my blog by stopping by. If you really want to show your support please make sure to like and share it via social media. There is also always the option of donating directly to my PayPal account if you come across anything particularly helpful. Thanks so much for helping me support my kids! ~Sarah
P.S. If you missed it and want to see the before pics of the piano, go here. To see the process that I took to prep the piano for paint, go here. To see all of my DIY projects, go here.