Many of you have probably been wondering why I've been adapting so many recipes to fill specific sizes of jars. The answer is simple, I have been working on a much needed project. In doing this, I wanted to:
Get rid of my spice rack as it is taking up precious counter space.
Be able to buy my herbs and spices in bulk to save money(and it's healthier). This allows me to use the bulk section at

Winco

,

Whole Foods

, or buy them Organic online at

Mountain Rose Herbs

.
Build up a storage of herbs and spices (because I hate grocery shopping).
Make my least favorite cupboard in the kitchen my favorite cupboard.
Make it easy to see what I need to buy more of.
Have a much less chaotic way to organize all the herbs and spices. I wanted to be able to open this cupboard and not have anything fall out.
That being said, here is what I came up with: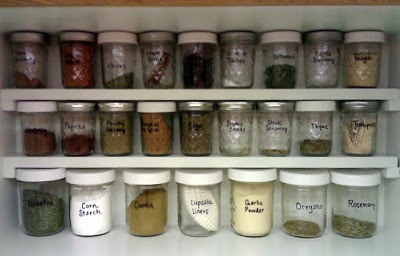 I added shelves to the back of my over the oven/stove cupboard.
Also added a rack to the left-hand side cupboard door.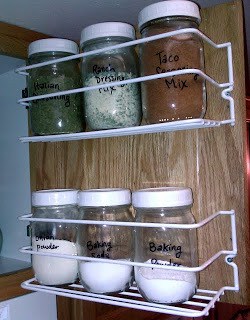 And added these racks to the right-hand side cupboard door.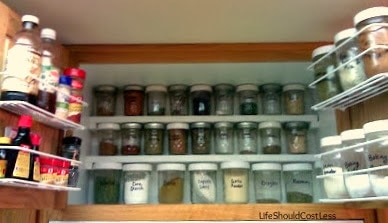 What they they look like together.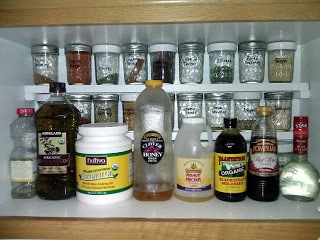 I still have room to put my oils, sweeteners, and vinegars in front of the back shelves.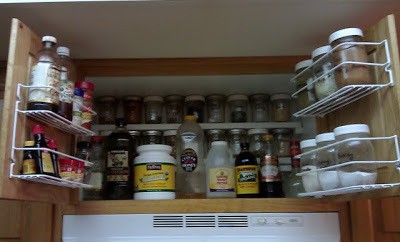 What it all looks like when I open my cupboard.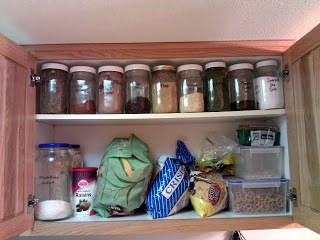 I put the items that I need even more of (in quart jars)above the cereal stuff.
Supplies used :
I use a

Standard Black Sharpie

for writing on my jars (if you use a smaller/ultra fine tip it rubs right off for some reason).
White Paint Leftover from my pantry paint job.
Boards leftover from my pantry shelving project (these were used to make the shelf supports as well).
Saw (thanks for lending it to me Hannah)
My husband… I couldn't have done it without his help.
Finishing nails. Make sure they're not too long or they will go through to your adjoining cupboards.
Wood Glue to secure the shelves to the supports (let dry before painting).
For all my spice mixture recipes, they can be found in
My Recipe Box.
*Please keep in mind that the recipes shouldn't completely fill the jar, I like to leave a little headroom so that all you have to do is put the lid on and just shake to mix).
If you'd still like to be able to use a shaker style top on your (regular mouth) jars you can do this… a Parmesan cheese lid fits perfectly. (I doubt it's bpa free, but at least you have the option)