*This is my "putting lipstick on a pig" post. What we did was not the perfect solution, but it looks a million times better than it did before. Make sure to keep reading 'til the end to see what we ended up doing*
Our family room has been bugging the crap out of me since we moved in. The previous owners had a MASSIVE free-standing pellet stove in the room and it just wasn't working. There wasn't room for us to live the way we need to (it literally took up a good 12 or so square feet of the small room), it had to go. Plus, it required being plugged in, so it wasn't even a secondary source of heat. Otherwise the prepper in me would have probably kept it around. Anyway, we got rid of the stove but were left with several other problems (the wall was painted around the fireplace and mantel, there was a gaping hole from where the chimney access was, the trim had been cut out so the mantel could sit flush with the wall, and the carpet had been replaced after the stove was there so there is a big chunk of the old stuff ). Sorry for so much back story, I just hope that I've conveyed how big of a headache this room has been.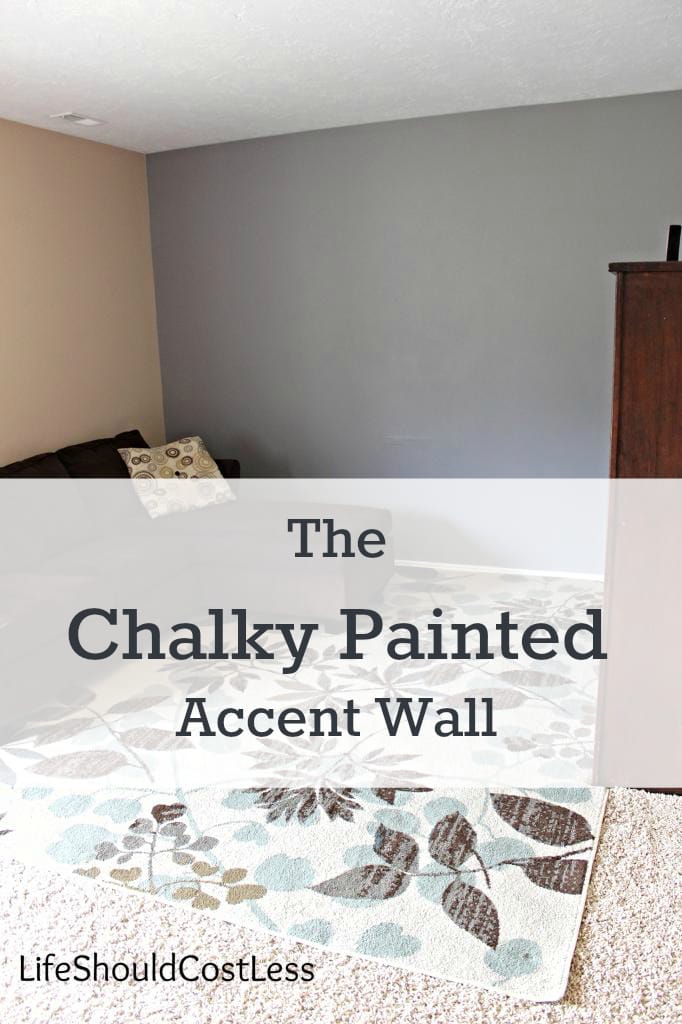 We don't currently have the funds to replace the carpet, trim, and repaint the whole room, so I did the best that I could with our minimal budget and what we have on hand. My before picture was taken after I had tried to at least paint and cover the eye-sore on the wall that had the outline of the mantel. I had just gone to Wal-Mart, a few months back, and got one of those returned gallons of paint so it was like $12. I wonder if the reason that it got returned was because it goes on really weird and shows every single imperfection and brush/roller stroke. Even though this wall was a streaky mess, it was actually an improvement over the way it looked just after we took out the mantel.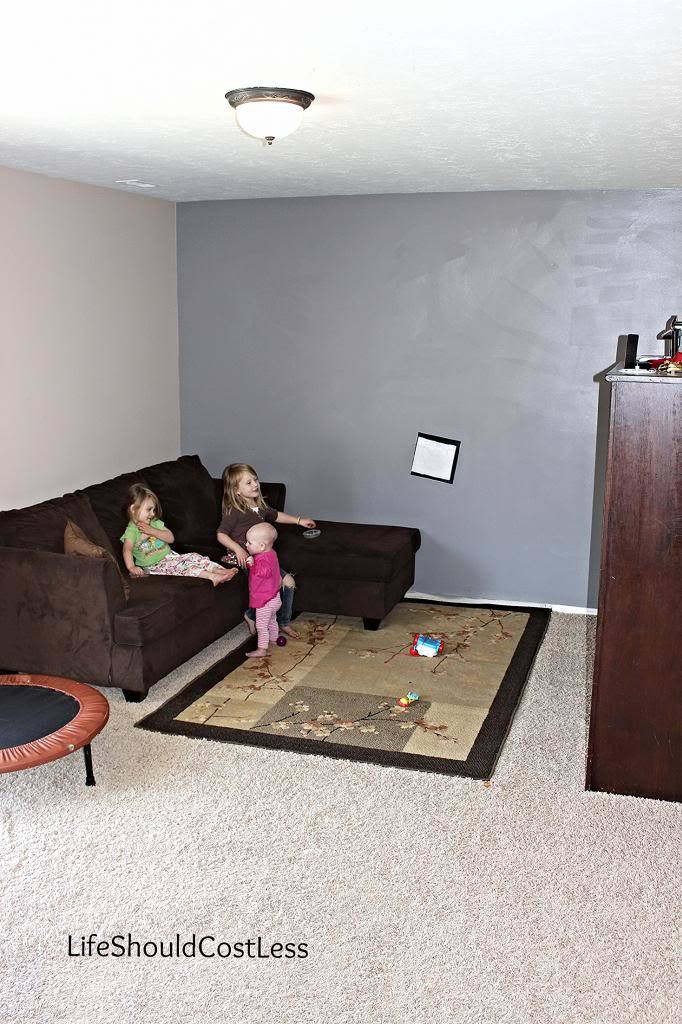 Can you see the lack of trim, the black and white thing covering the hole to the chimney, and the super streaky paint? EYE SORE CITY! The weird rug placement (to hide the awful carpet mess) isn't helping either.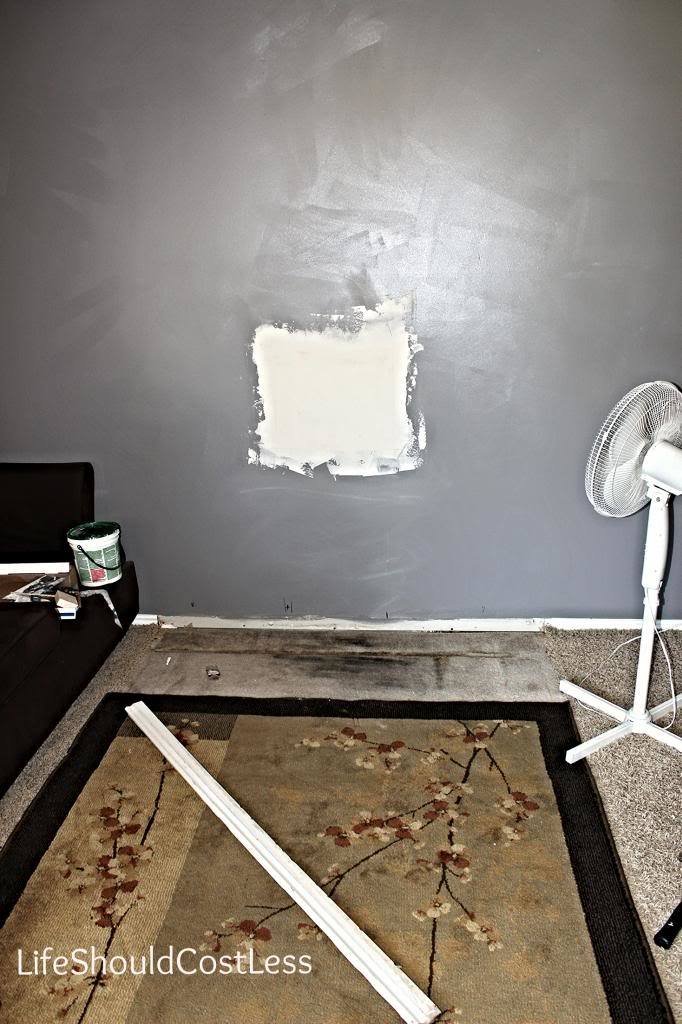 My husband and I both worked on getting the hole patched, though it was a pain in the butt doing it with the kids around. I think I could have made it look just a bit better if I had been able to give it my undivided attention. Oh well, it's a temporary fix until we can afford to put in the pretty (set into the wall, because there is a chimney back there) wood-burning stove that I've always wanted. I'm hoping we can make it work some time in the next two years, but we'll see! The streaky paint looks even worse here, but you can see the nasty old carpet that we've been hiding under a rug. I wasn't even going to try to match the trim that needed to be replaced. Our home is about 15 years old so I knew it would be a long shot to find a perfect match at Home Depot. I decided that I could just rip some out of our master closet and that would work. Plus, there was already a little missing and we'll need to just add new trim in there later on anyway.
To fix the streaky paint, I decided that rather than buying a new bucket of paint, I'd try to turn the existing left-over paint into
chalky finish paint
. What did I have to lose? Other than a few hours of my time painting, and a couple of bucks worth of tape and plaster, it seemed like it may be the inexpensive solution I've been looking for. If you are new to paint with a chalky finish, just know that it is widely popular because it hides many imperfections and is a very versatile product. Using
this tutorial
, along with some basic math, I was able to determine how much water and
Plaster of Paris
I needed to add to my now, nearly half-empty bucket of paint.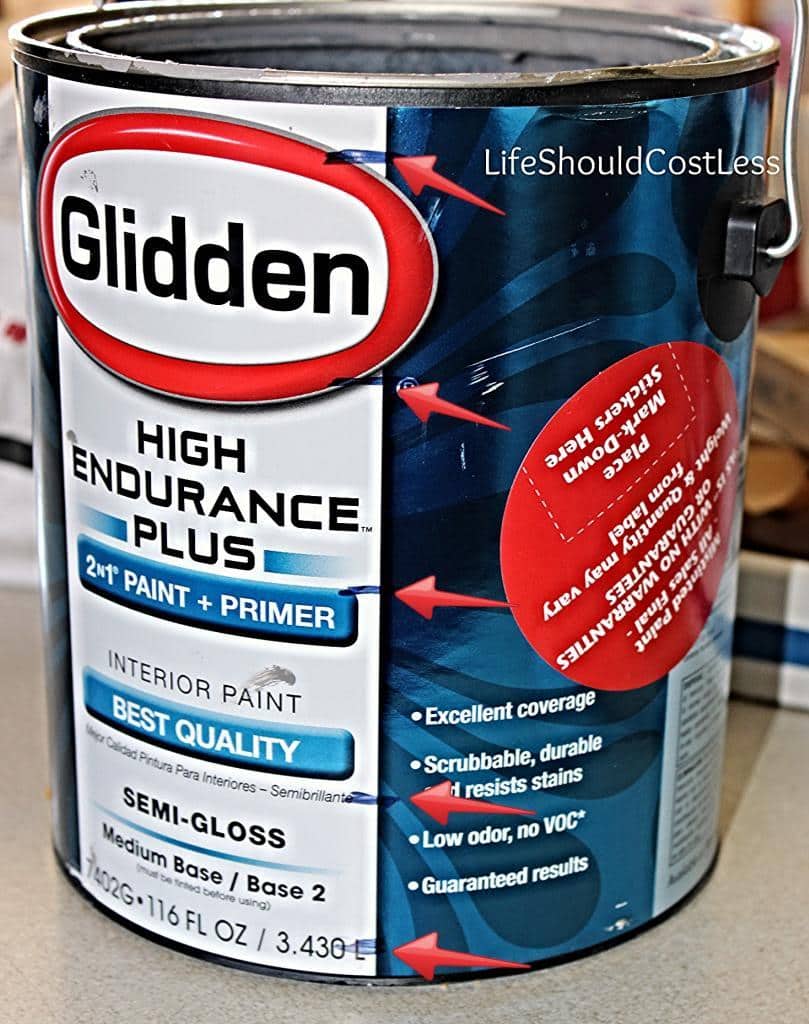 To determine how many cups of paint I had in my bucket , I added some lines. The top line indicates how full the bucket usually is when it is full, the bottom marks about where I guess the bottom of the bucket to actually be. I then put a line directly between those two lines which would mark the half gallon (which is 8 cups). I had just over half a gallon so I estimated that I had 9 cups. This means that my ratios were 3 cups warm water, 3 cups plaster of paris, and once those were mixed well, I mixed them with the remaining paint in the bucket.
I was pleasantly surprised to a lovely, even, finish on the wall. Almost every single imperfection has been covered! The only issue I can see, is the one patch of drywall tape that was giving me problems, which I could have fixed better without the kids around (or if I had the time), but it'll work for now. Especially since we are going to be ripping a huge hole in that part of the wall when it comes time to add our nice fireplace. I'm pretty excited with the results and that is why I'm sharing. As you can see, in this after picture, the trim that I ripped out of our closet matched right up. I also decided that the bigger rug that we have would look better in this room. It hides the carpet issue and looks a bit better…at least I think so.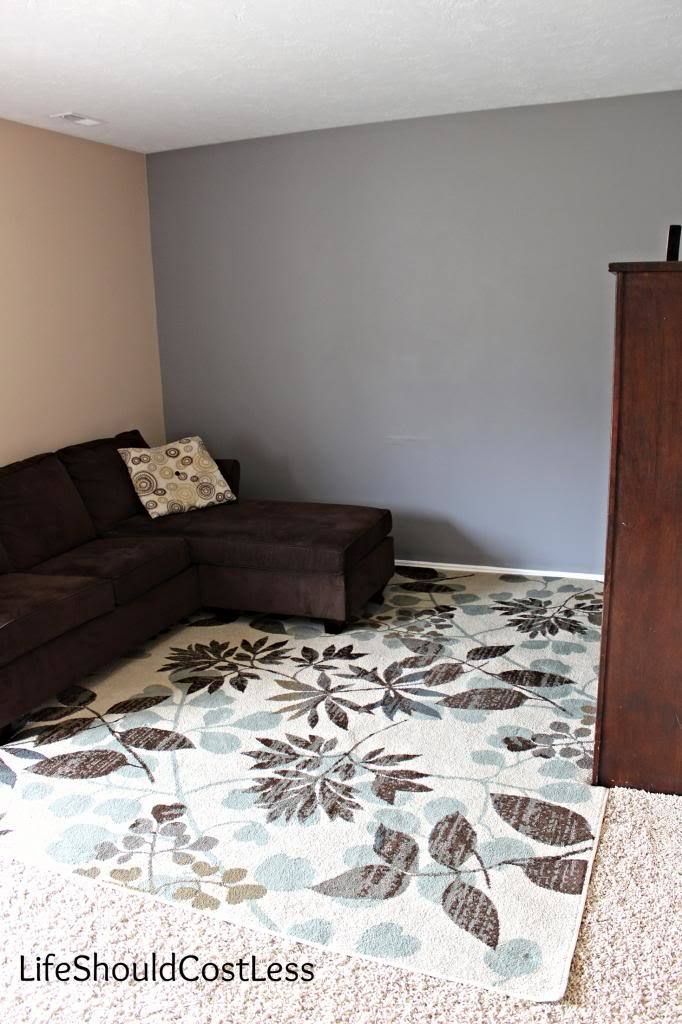 I HIGHLY suggest chalky finish paint if you need to cover some imperfections on a wall. True to what Chalky Finish Paint is famous for, it does an awful good job of hiding the ugliness! Thus, ends my "lipstick on a pig" post. Please make sure to share!