As many of you already know, I am a sucker for antiques. So, it goes without saying how excited I was about getting a "new" treasure from my in-laws a couple of years back. However, I barely had room for it when we lived in the condo, so I didn't have the motivation to repaint it until recently when we got settled in to our new place and the make-over stars aligned (money, time, room for a project, & energy). It's amazing what having room to breathe can do for your motivation!

Anyway, the chest is still very sturdy and really only needed a bit of wood filler and sanding before I could start. I LOVE the country french look, similar to this. That is what I was going for, so I hope that I didn't totally slaughter it. I wasn't even about to do any distressing on it (sanding to rough it up) because it is a family heir-loom, it was my husbands grandmothers…so I am just keeping it safe until I give it to one of my daughters later on. This piece is the first step to my "classy" formal living room and I am so happy with how it turned out (I'm sure it will motivate me to want to get the rest of the projects in the room done, but we're gutting the entire room so it'll take a while;).

On to the project:


I had been wanting to try out chalk paint, but there is some major sticker shock when it comes to the Annie Sloan kind, especially if you have to have it shipped (yikes). I decided to go a little bit cheaper route and used the Americana Decor brand that is available on the Home Depot's website. Had I known how big of a hassle it was going to be using their website (NEVER AGAIN will I be ordering from them online, long story…in-store is great, online not so much) and how long it was going to take for the paint to even get here (Amazon has spoiled me)…I would have just paid a little bit more and bought the stuff that I really wanted. At least now I know for my next project though, right?


Here are some shots of the process.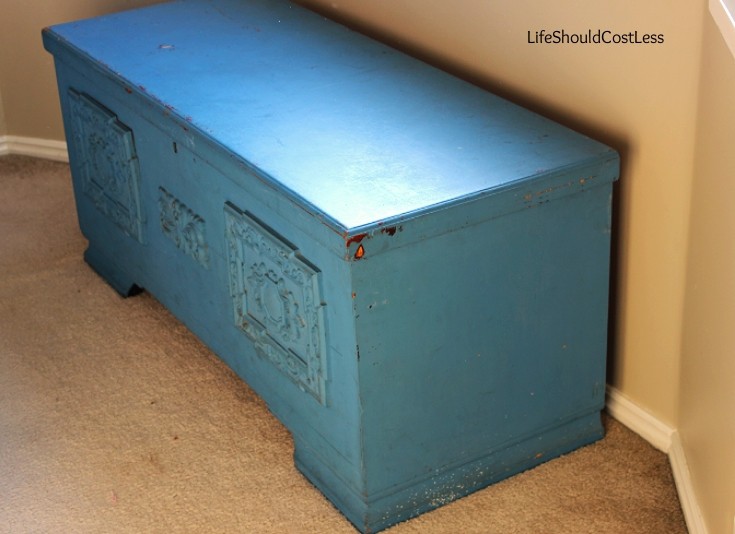 Before. It was clean but looking a little dirty.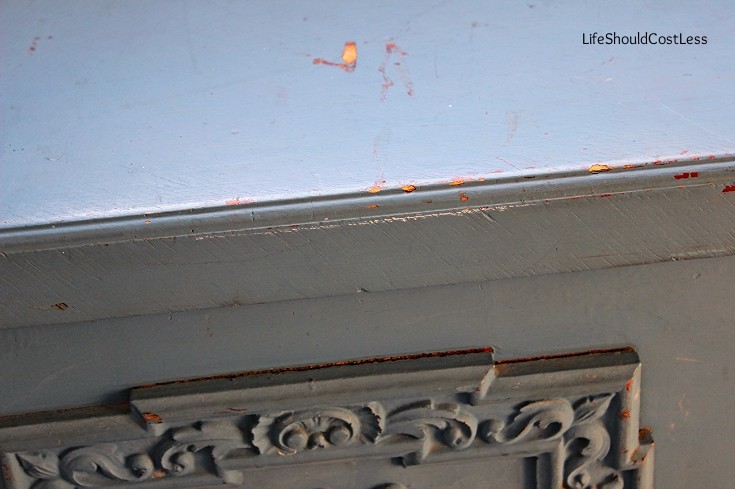 The detail needed a little bit of help because it was starting to separate from the box.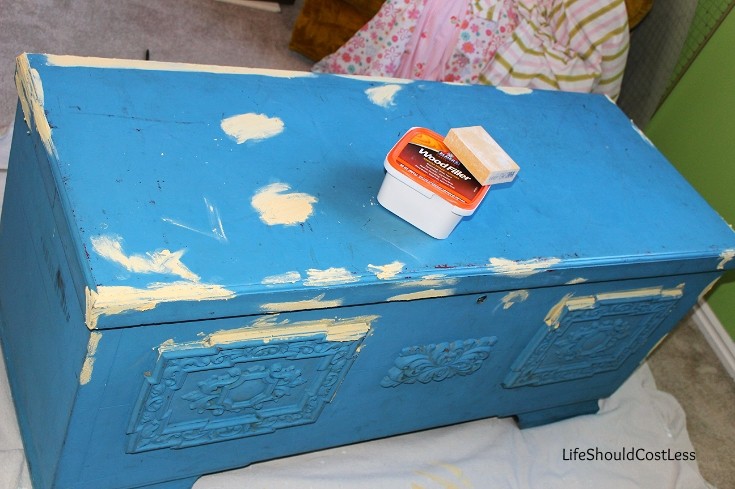 Like I said, it needed a little tlc before I could start. I'm not sure how old it is, but that is to be expected.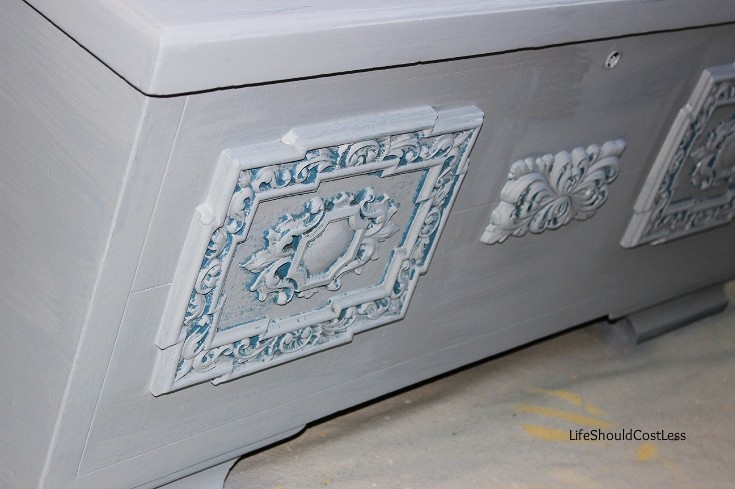 After sanding down the wood-filler, I did two coats of Yesteryear (16 oz container, used up 3/4 of it)leaving some of the old color to be peeking through in the detail-work.
I let the Yesteryear cure for a couple of days and used a very minimal amount of Lace (8 oz container, only used about 1/8th of it) and dry-brushed it over the base coats. This was followed by a Clear Creme Wax (8 oz container only used less than 1/4th of it)coat. Next time I need to do two thinner coats rather than one thick one…it dries in yellow globs if you do it too thick.
Overall, I'm very happy with it. It totally does not match my living room right now, so that makes me a little self-conscious, but at least I'm one step closer to having the room look the way I want it to.
If you'd like to see the next project that I did with the left-over paint make sure to check out my post called "Mirror Make-Over, From Gaudy to Gorgeous".