I love in Cupboard Pot Racks. I can tell you that I don't like how much they cost though. I found a tutorial on Pinterest on how to install one and thought it was a great tutorial. I just don't have the money to spend about $50.00 (total price after it would be installed w/all the hardware and such) on a rack that wouldn't be coming with me when we are finally able to sell this house. The price didn't stop me though. My husband and I figured we could just do what we did when we made our girls play kitchen, and use a rail from Ikea as our pot rack. Here's how it turned out. It's not super fancy, but it's functional.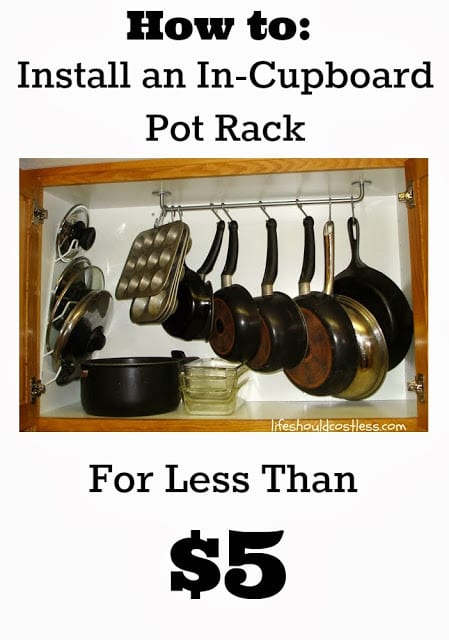 Below are the steps I took to install it… just in case anyone is wondering.


I started by tracing the bars screw holes onto a piece of parchment paper (what I had on hand but any paper should work).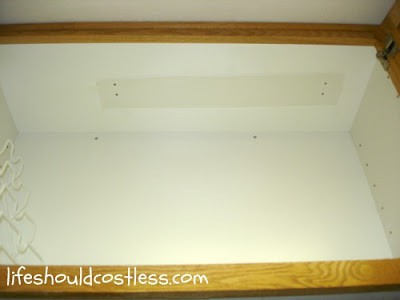 Then decided where I wanted the rack, and taped the paper into place. I used these marks to know where to drill my pilot holes for the anchors.

The anchors pushed right in… I thought I'd need to hammer them in but it just took my thumb.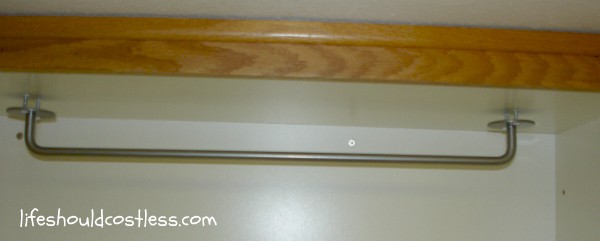 Then I partially screwed in each screw to make sure it was just right and then tightened them all the way. This rack was 2 bucks at Ikea (link here, also available in a longer length) but it does NOT come with screws, so make sure to get some that will anchor to the top of the cabinet. They are going to be bearing a lot of weight so it needs to be anchored…at least I think so.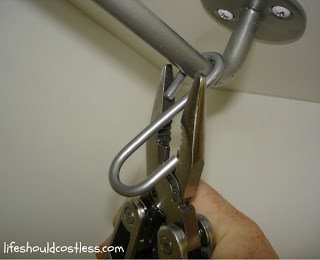 Then I added the hooks, (also purchased at Ikea, they were a buck, here's
the link for them
) I crimped the top part partially shut so that they won't come off when I'm trying to get a pot down. I just made sure that I crimped them loose enough so that they can still move across the bar without any problems.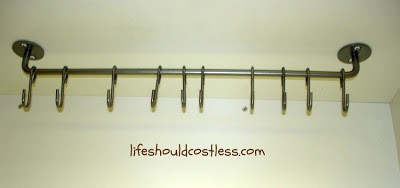 Here they are all crimped on there. The package comes with ten hooks, obviously if you don't need that many, don't put them on, but I figured I'd probably use them all.
Here is the finished product. I'm really excited to not have to dig through a cupboard to get to what I need… it'll be so much less of a hassle. I know it's not quite as nice-looking as the rack that I wanted, but it saved about $45.00 (after hardware and such) so I'll be happy with it.
*I found my lid rack for a buck at a thrift store(it's a little too narrow, but it'll work), there is a better version of it available here.*