I adore antique mirrors, but they can be really expensive! Even a large brand new mirror can sometimes run you anywhere between $100-500+ (depending on how ornate the frame is or what brand it is)…so I decided to see if I could make my own using a huge framed print, behind glass, that I found at a thrift store for $25. Even on its side, it's taller than my couch, so it's pretty huge!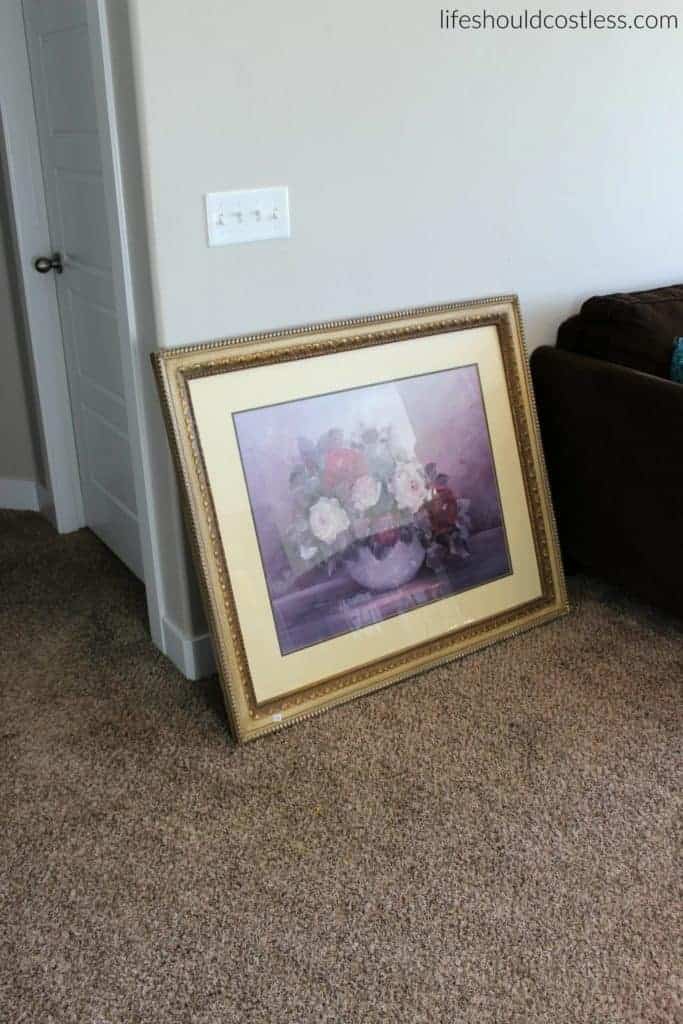 It had a gorgeous frame, and the print was nice…just not something that I would ever put on my wall because I'm not into floral unless it's on a dress or some really pretty lace. Anyway, the paint job on the frame needed some refreshing due to some chipped areas, and I wanted it to match the color scheme of my house a bit better…it was more Tuscan and I'm shooting more for Cottage/Farmhouse.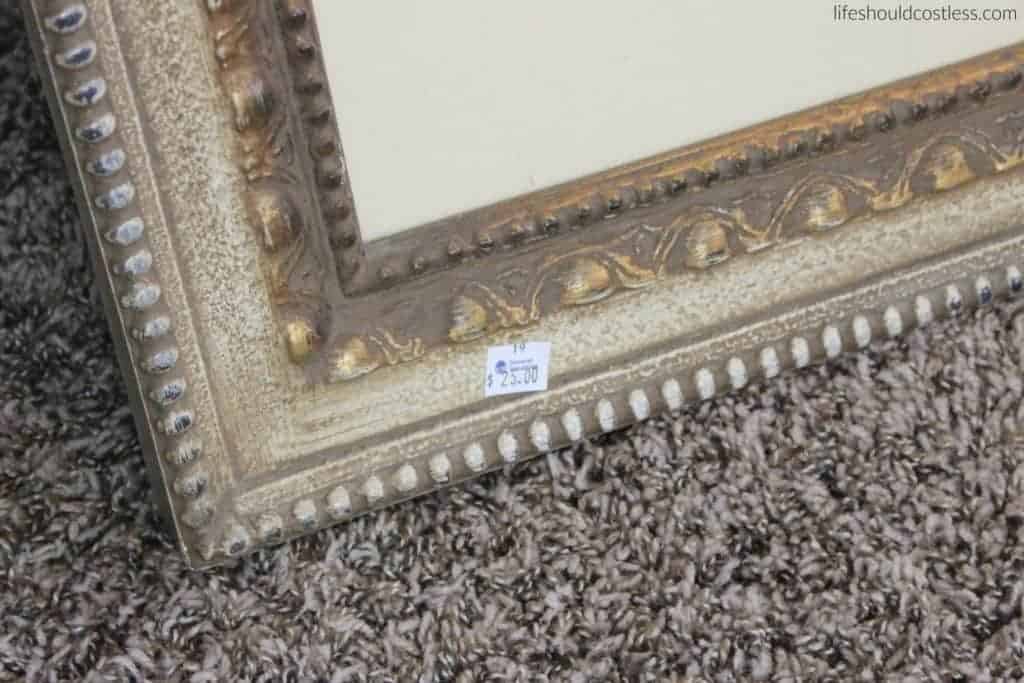 To start the task of getting to the glass, so that I could even turn it into a mirror, I had to remove the hanging hardware (which was saved and reused), all the backing (cardboard) and the matting, and of course the print itself.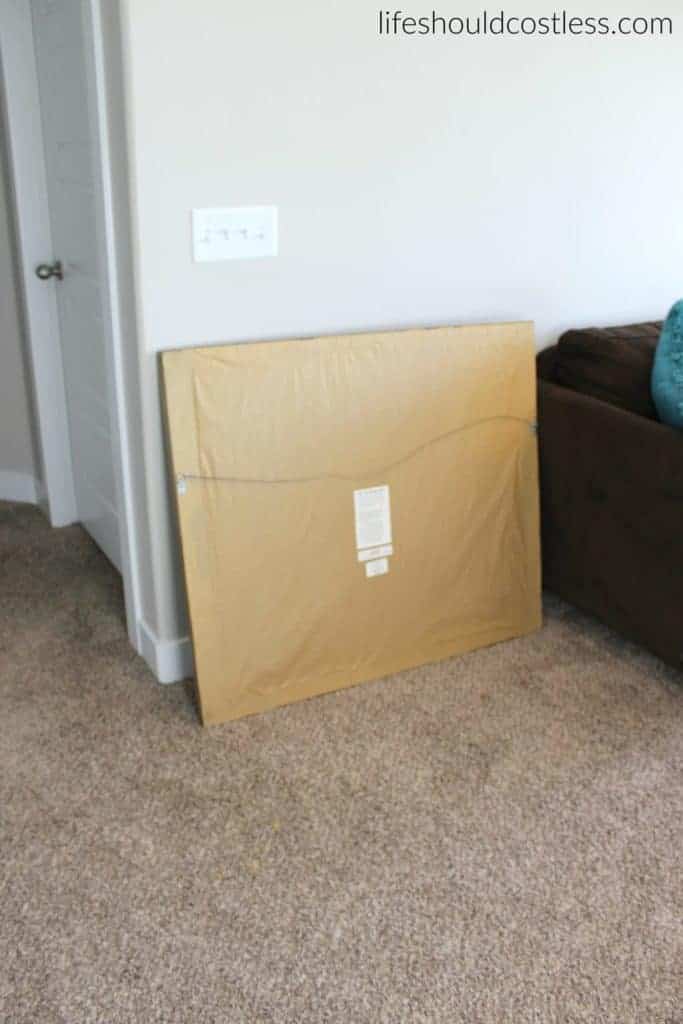 Which finally got me to the plain glass. I was ready to work…though in hind-sight I would have taken it apart on top of my drop cloths that I use for painting because I had to put the cardboard back on just to move it outside because I was nervous of breaking it. Live and learn!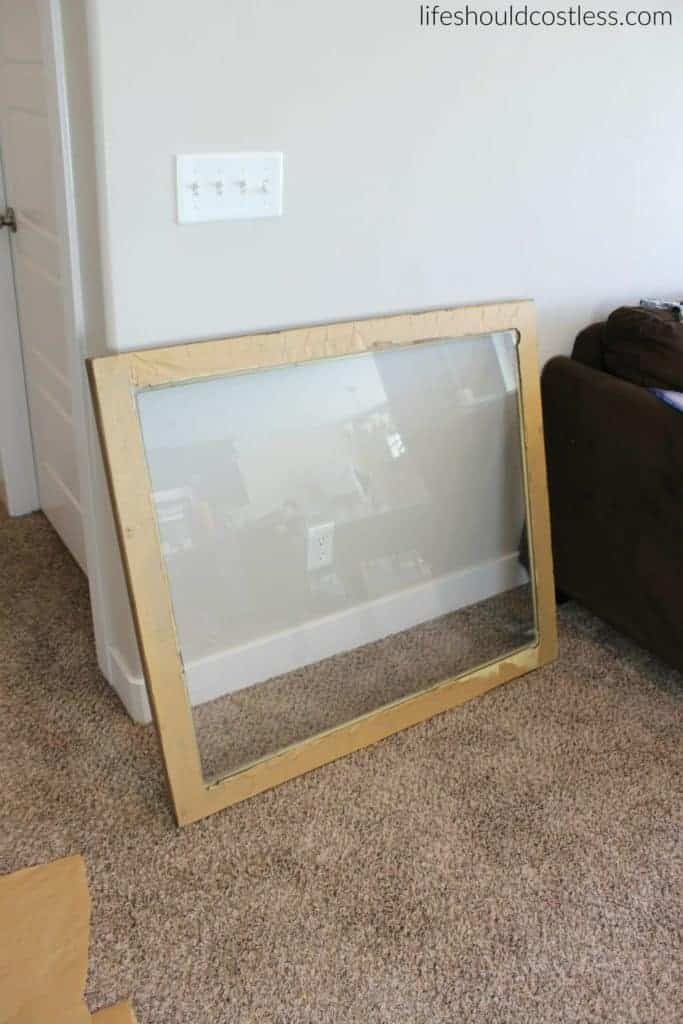 I got it out and laid out on my drop cloths (there was a slight breeze so I had to use rocks to hold the cloth down). Then I washed the glass where I was going to be spraying. I wish I would have washed it several times because the final product looks a little dirty…but I guess it gives it character and makes it look more genuinely antique. If you've never seen this YouTube tutorial before, you need to (not made by me and I am not going to re-explain everything she goes over). It's how I learned to make an antique mirror a couple of years ago, I just haven't made one in a while. I did not use anywhere nearly as much water/vinegar as the woman on the tutorial because I didn't want it to look quite as aged as hers, but I used the same method, minus taking the glass out of the frame…it made me too nervous.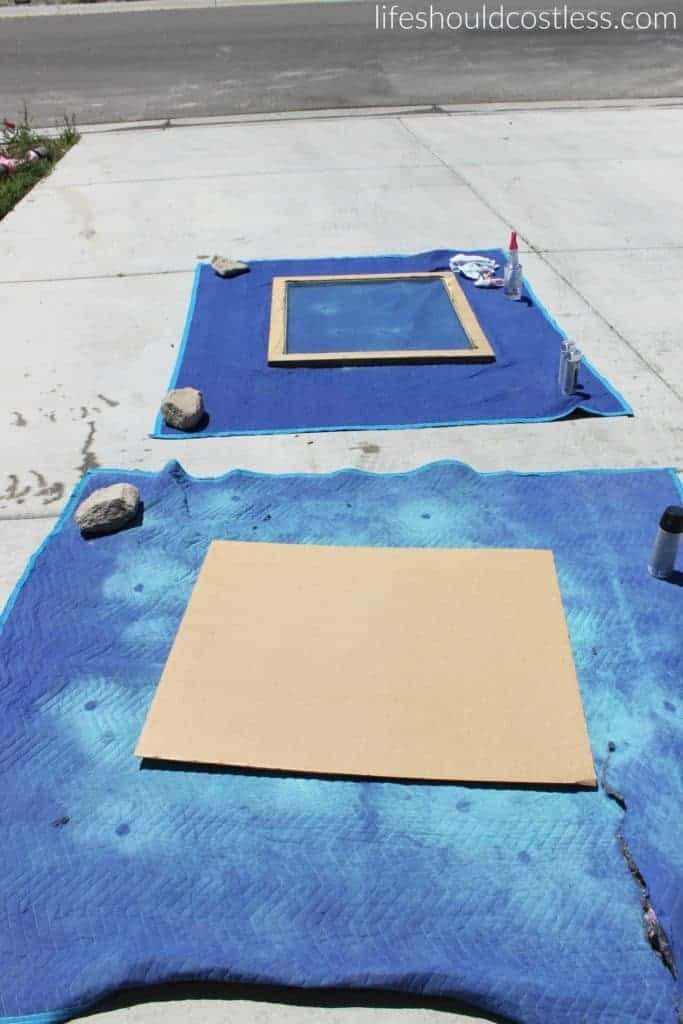 The paint that I used. Krylon Looking Glass and Krylon Color Master Flat Black. Don't mind my nails…I'm not girly and can count on one hand how many manicures I've had in my 30 years of existence… I just don't care to spend the money on it. Anyway, I just kept coating until the cans ran out.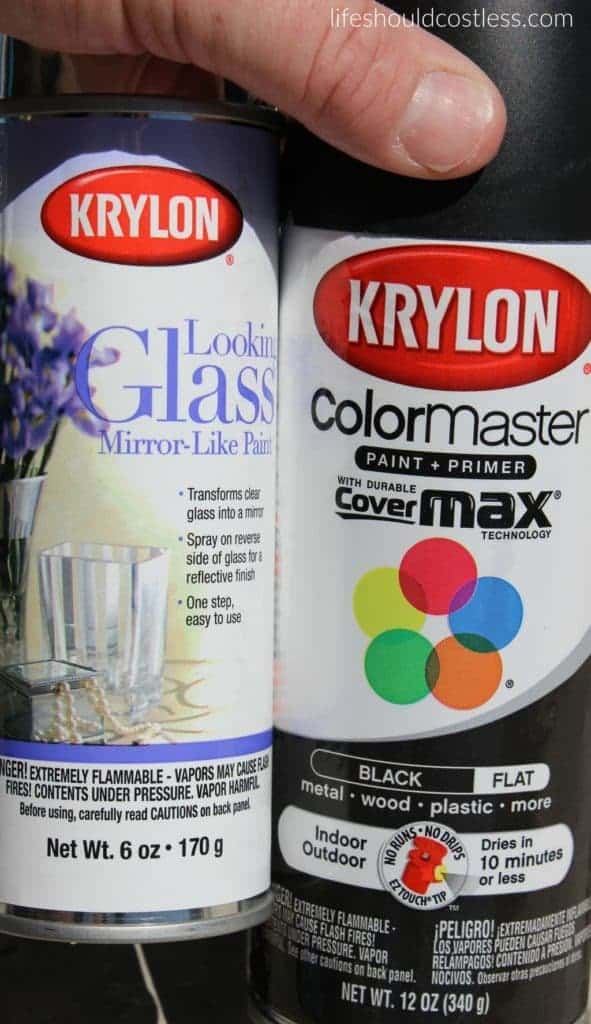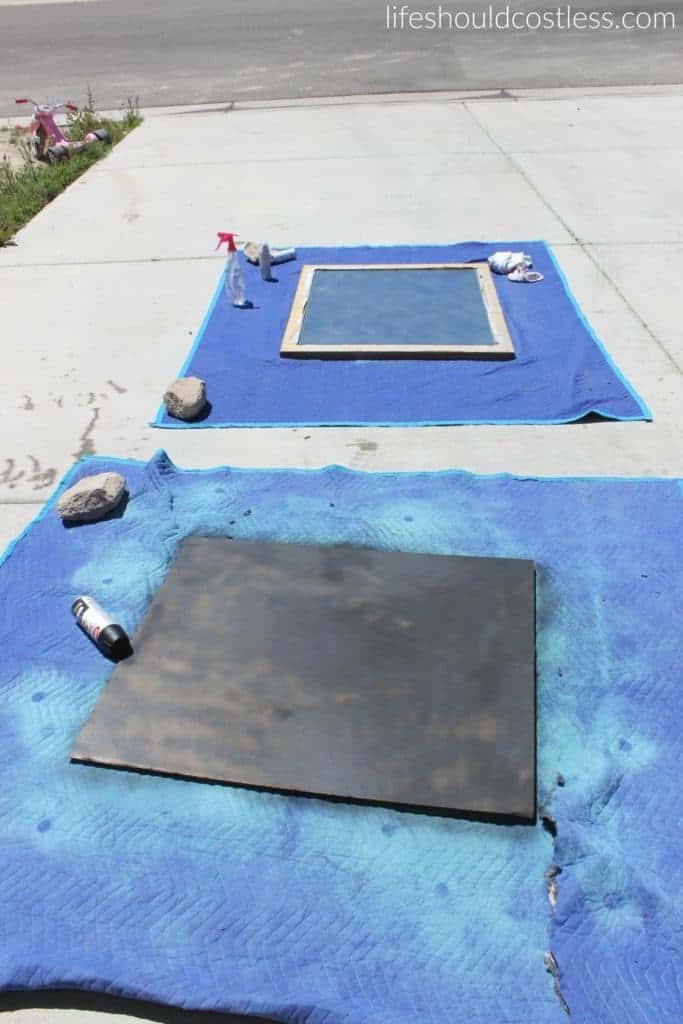 I let the paint dry/cure overnight (in a locked garage so the kids couldn't get into it) and then added the cardboard (now black on one side). I was too nervous to reuse the little nails that were used to hold the print into place because I would have had to hammer right next to the glass, so I went the white trash route and used duct tape (make sure that you don't scratch the silver off the glass when you put the cardboard back on…be gentle) . Do I get minus points in the white trash department for using white duct tape??? Ha ha. I figure it'll hold anything, so it'll work. Plus, it's going to be on the side of the mirror that no one see's, so it'll be fine. Had I been making this for someone else I would have added some brown paper to cover it and make it look more professional, but it's mine for personal use so who do I have to impress???? No one!!!!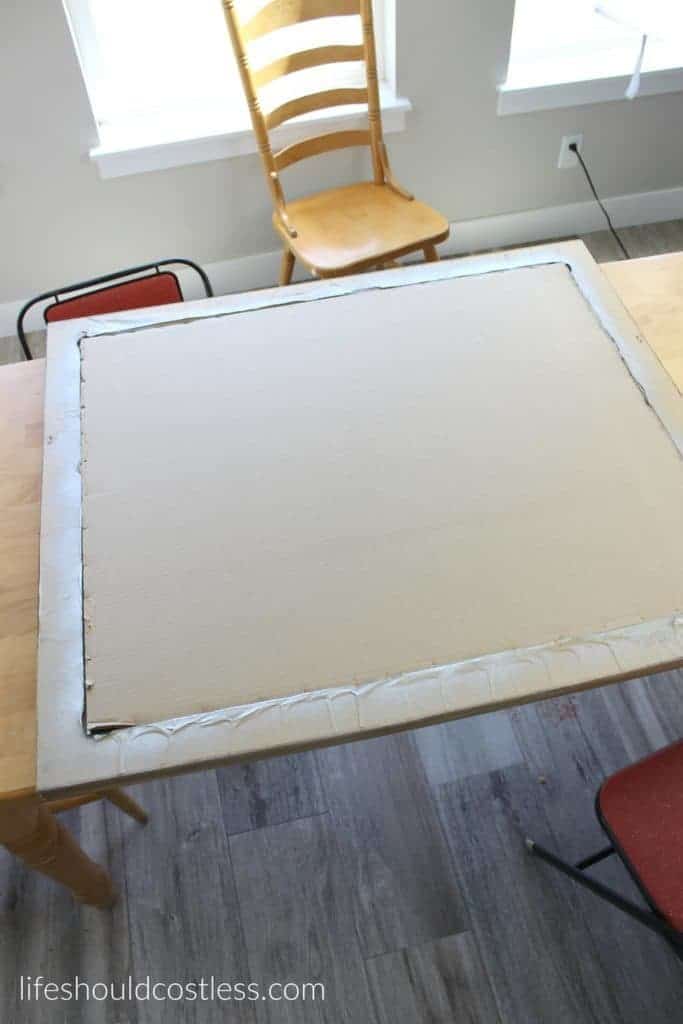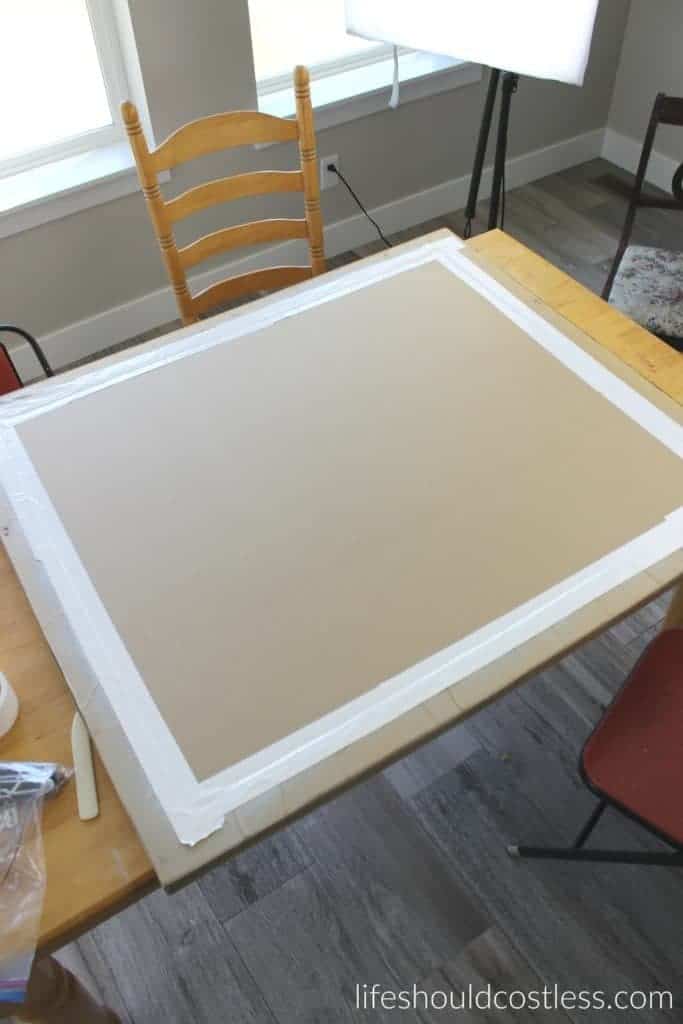 I have an old mirror already that has some of the silver scraped off of it because the hanger poked through and scratched it off, so as a preventive measure for this mirror, I put some extra duct tape right where the nail, or mighty hook in this case, is going to be holding it so that it will not get a hole popped through it and scrape off. Like I mentioned before, I just re-used the old hanging hardware, but put it on going the other direction so that the frame would hang portrait instead of landscape.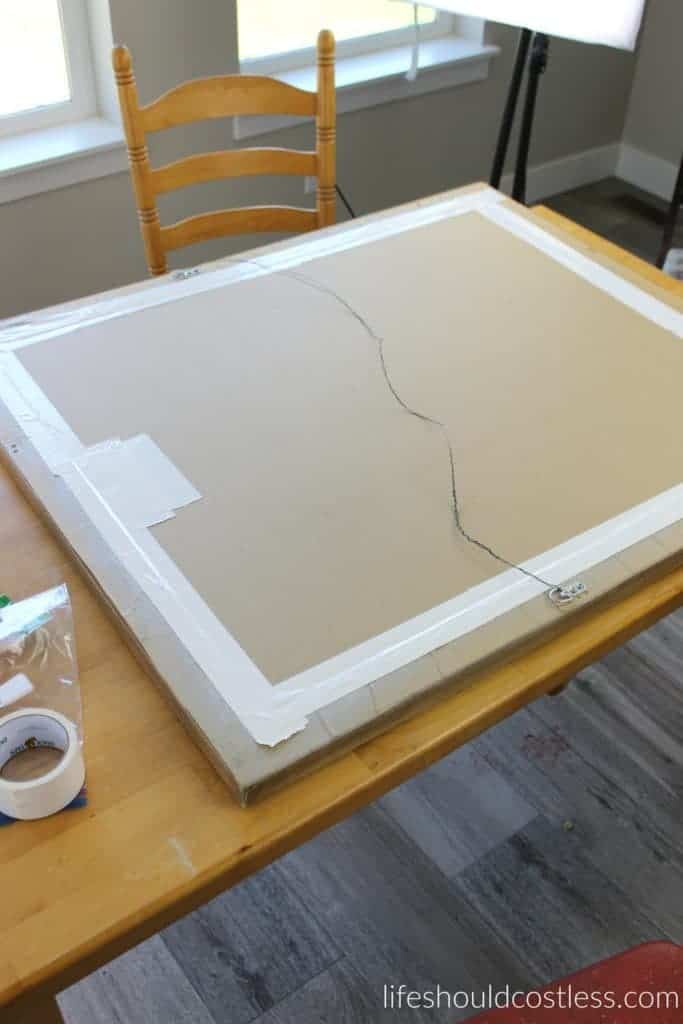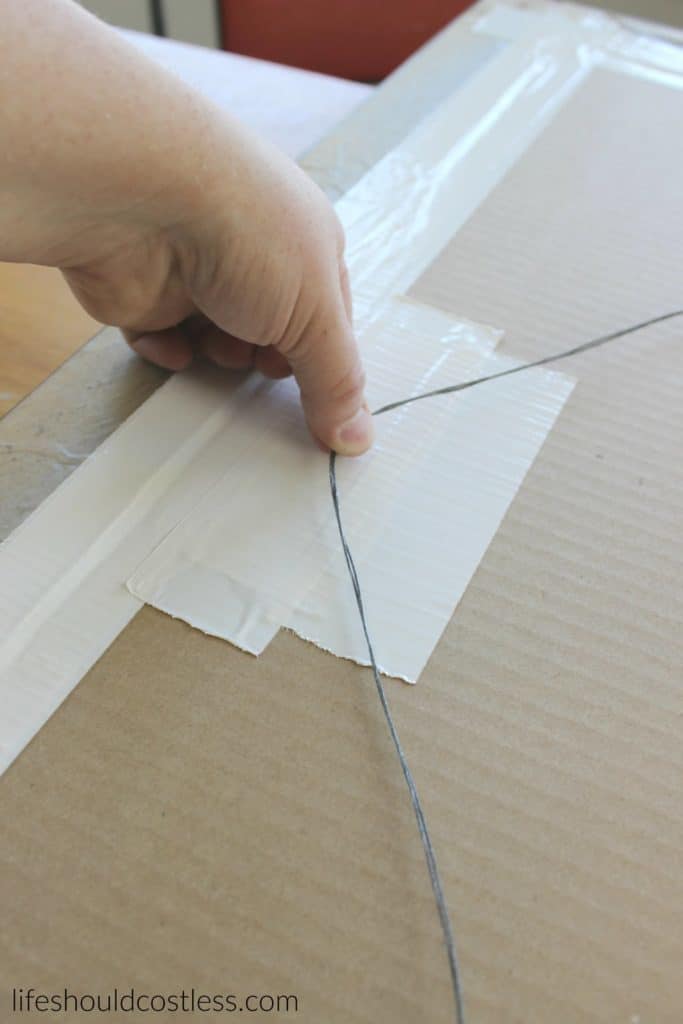 Well, enough of the mirror part…it was time to flip it over and show you what I did to achieve the look I created for the frame. I hadn't washed the front of the mirror at this point, so it's dusty and gross…which is standard for this point in the project.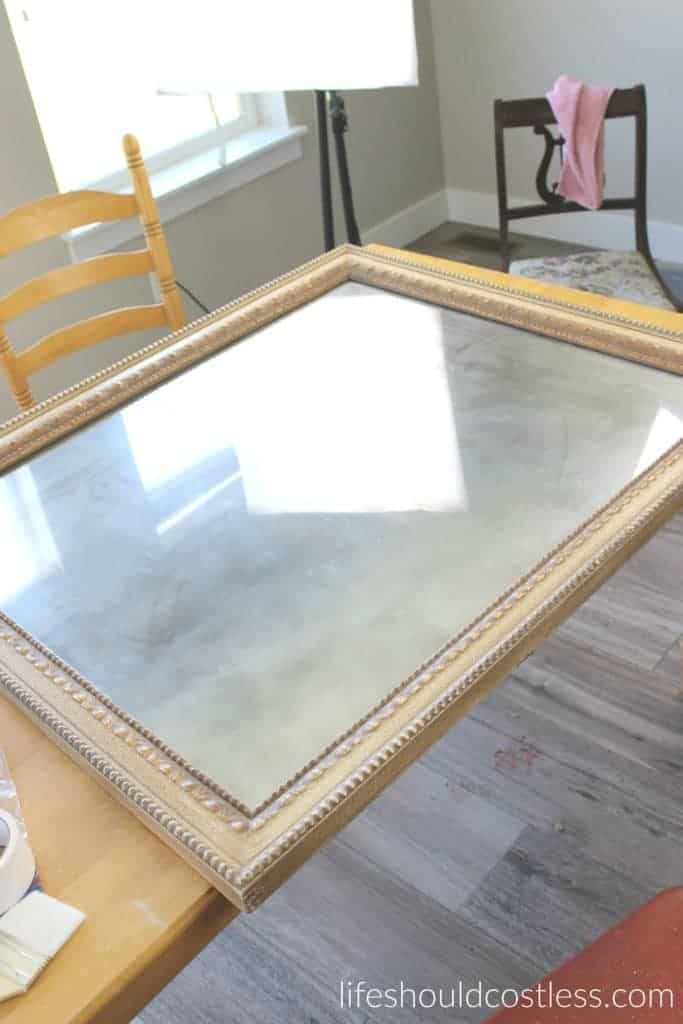 My color of choice was left over from a previous project, which is ideal because I didn't have to spend any money on it. I used Americana Décor brand paints in Primitive, Relic, and then their Clear Wax.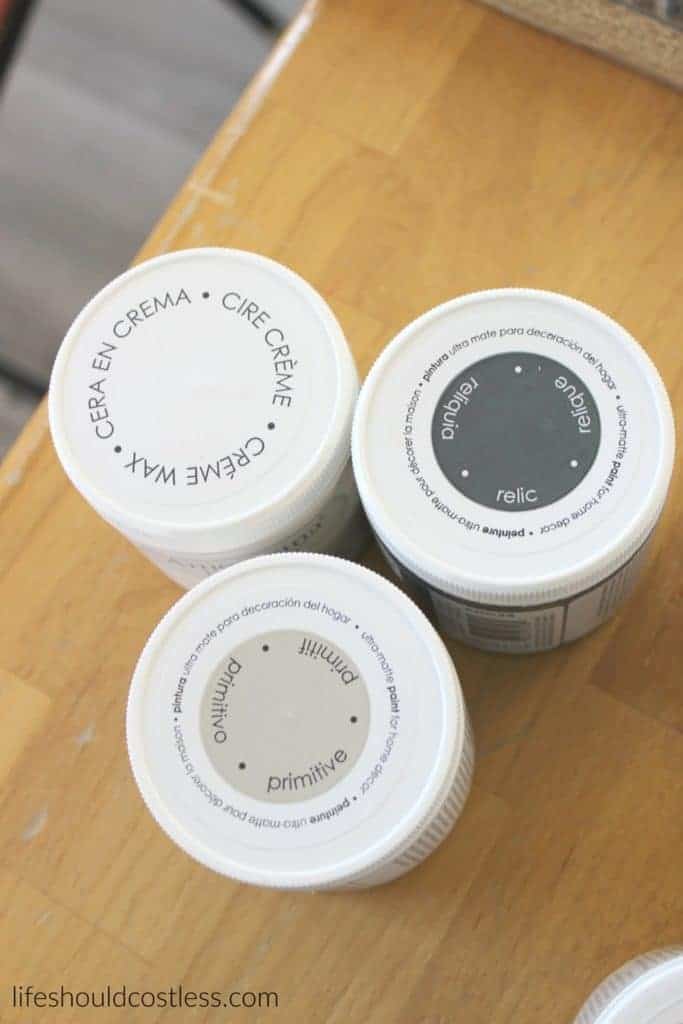 I started out with one coat of Primitive, followed by one coat of clear wax.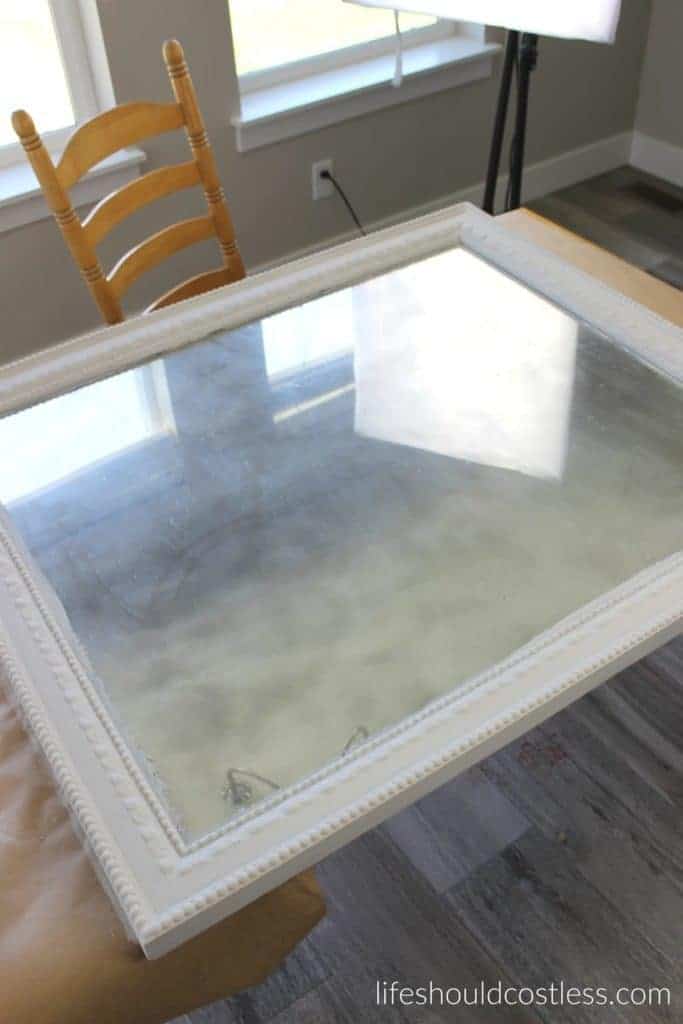 That was followed by some clear wax tinted with Relic. I got it in all the cracks and crevices and then used an old rag to wipe off the excess.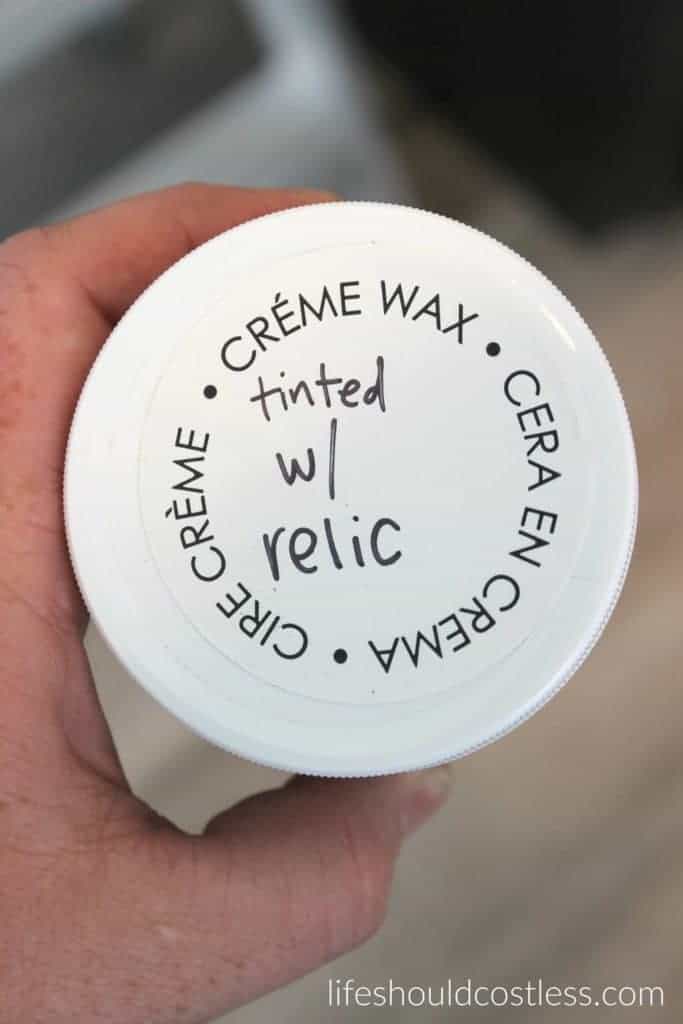 *I always have several pictures with links to previous projects, at the bottom of every post, so make sure to keep on scrolling!*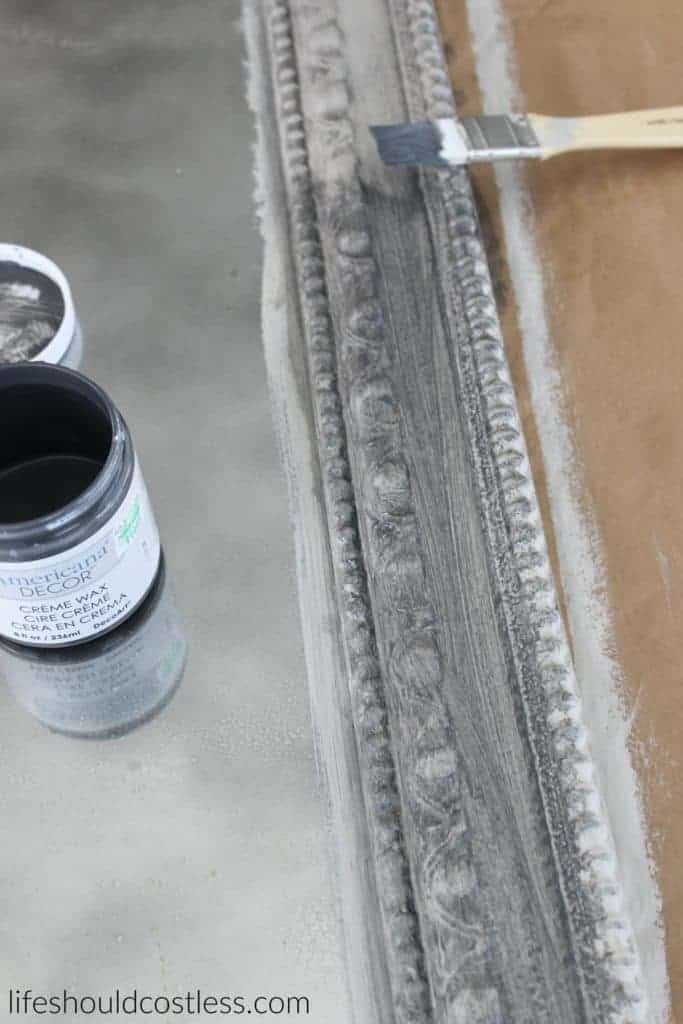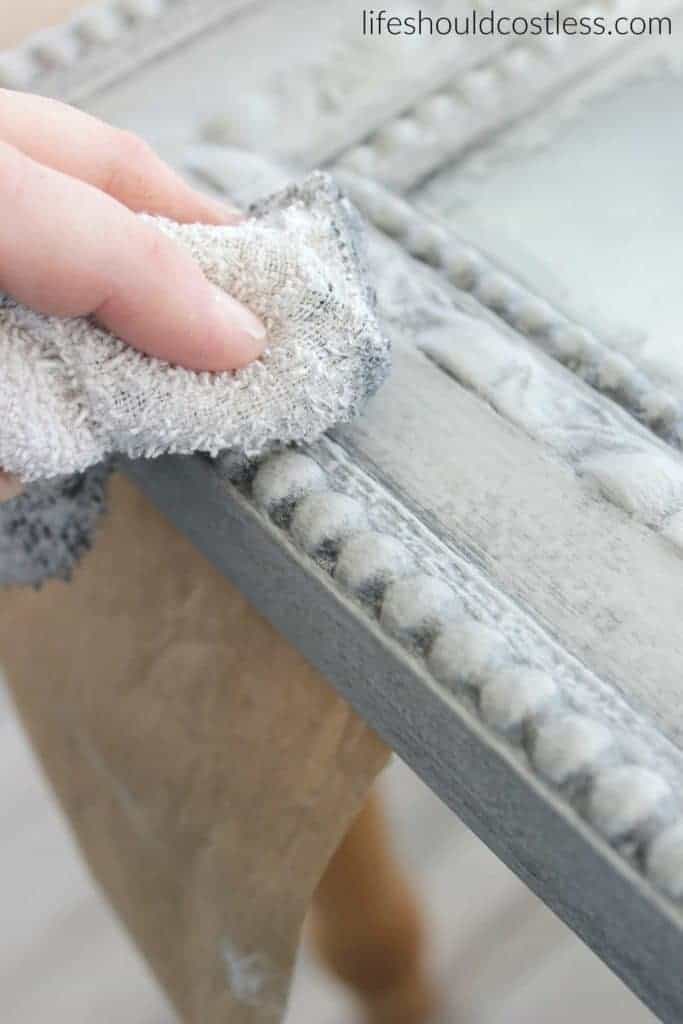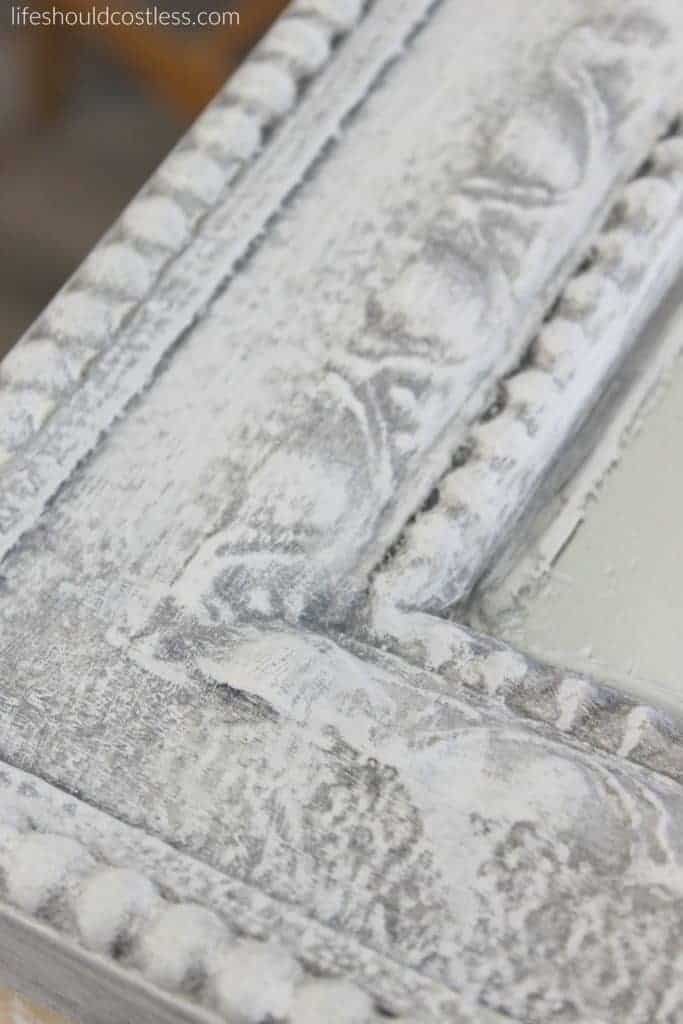 I wanted it to have a little bit more depth to the color so I used a small amount of Primitive and mixed in some Relic and dry brushed it.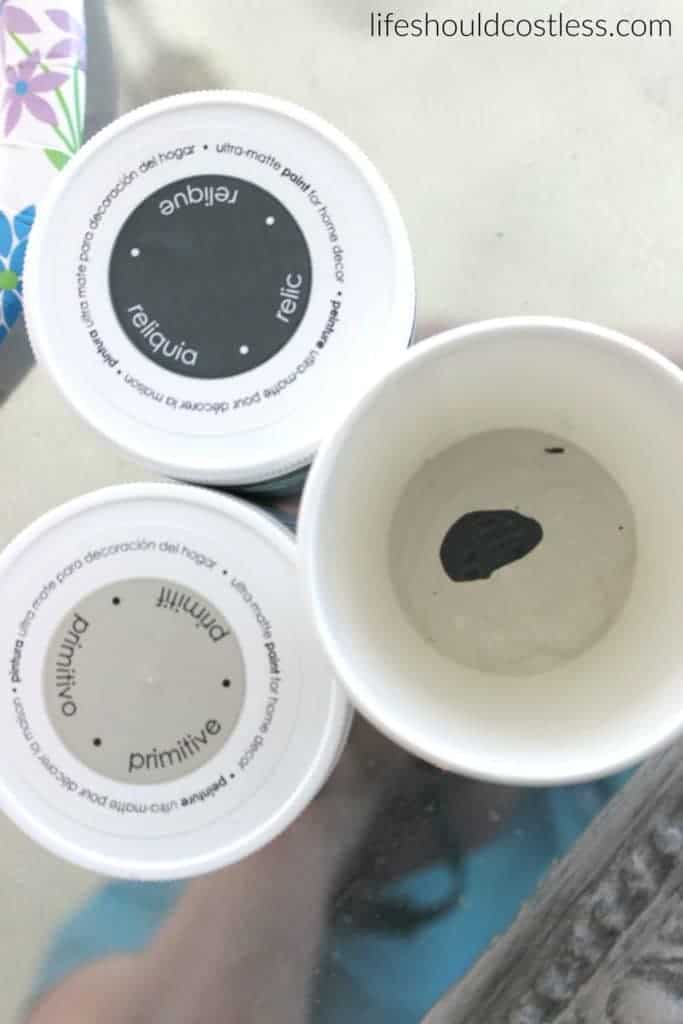 Then I finished up with a coat of clear wax, let it dry, and used a razor blade scraper to clean up the glass(just like how I clean the hard water off of my windows). It was ready to hang and now I'm lovin' it! Though, I have every intention of moving it because eventually we plan on having a big, beautiful built-in book case on that wall, but until then it'll work…and the best part is that the total cost was $50 or less because I had most of the paint on hand and the frame was only $25.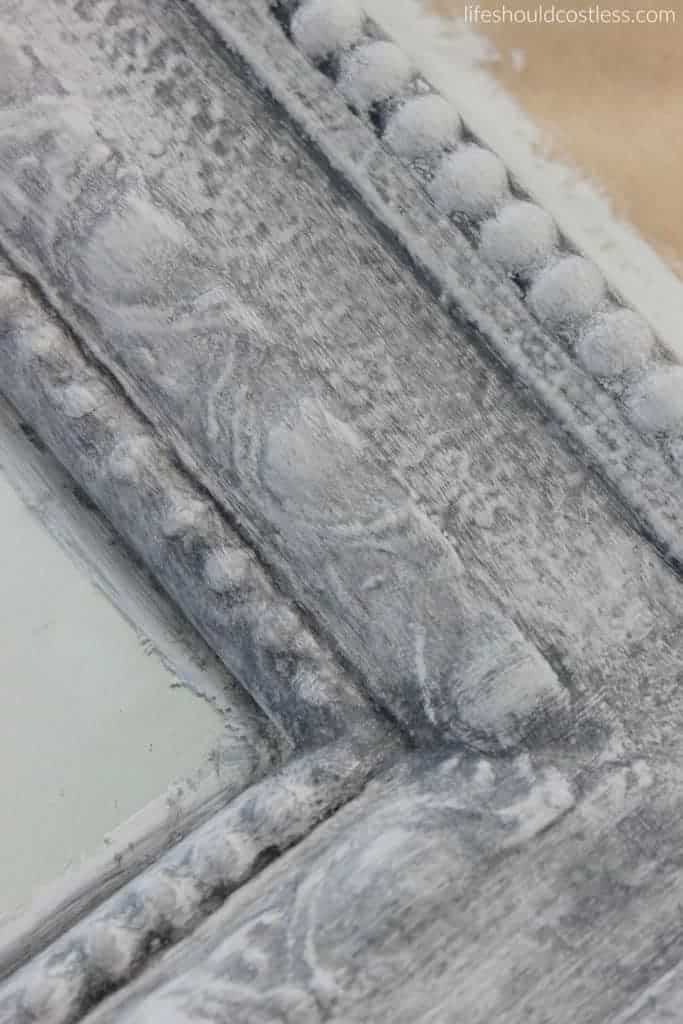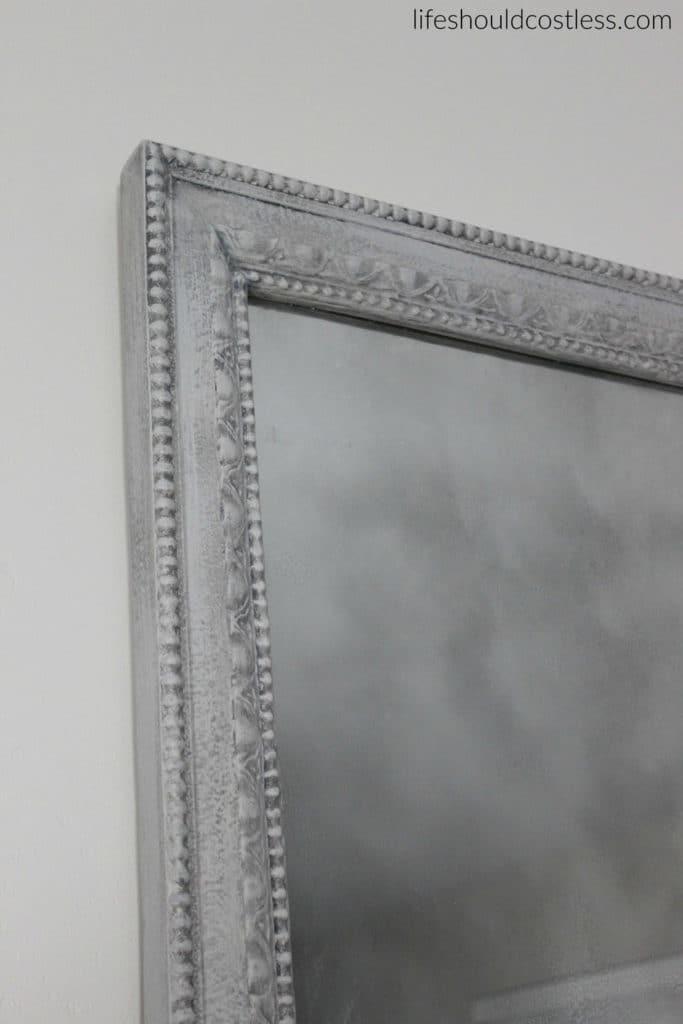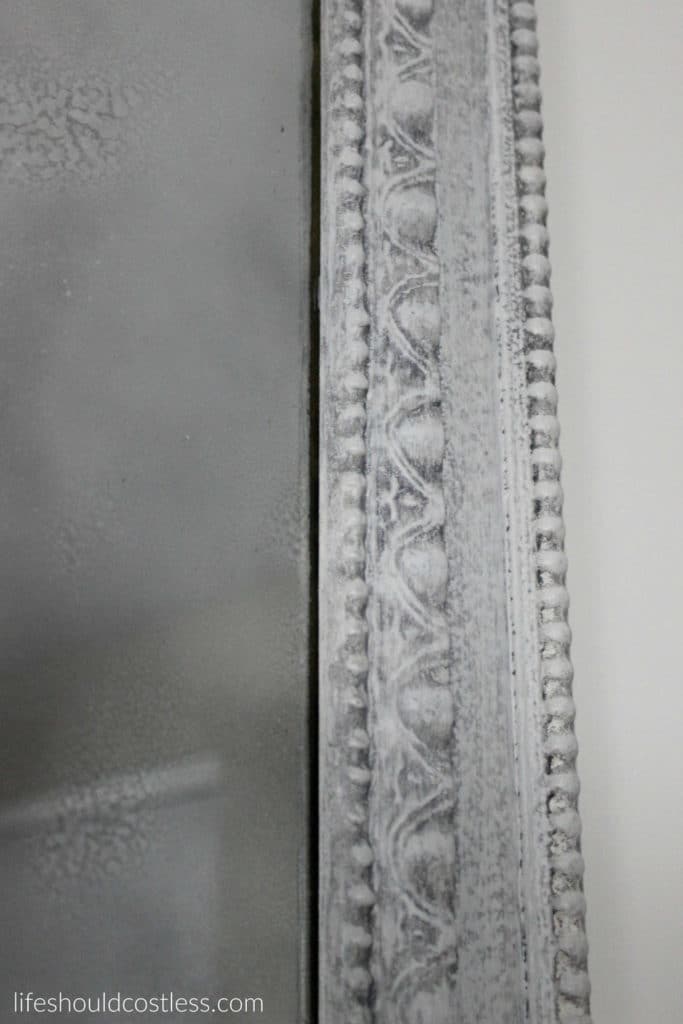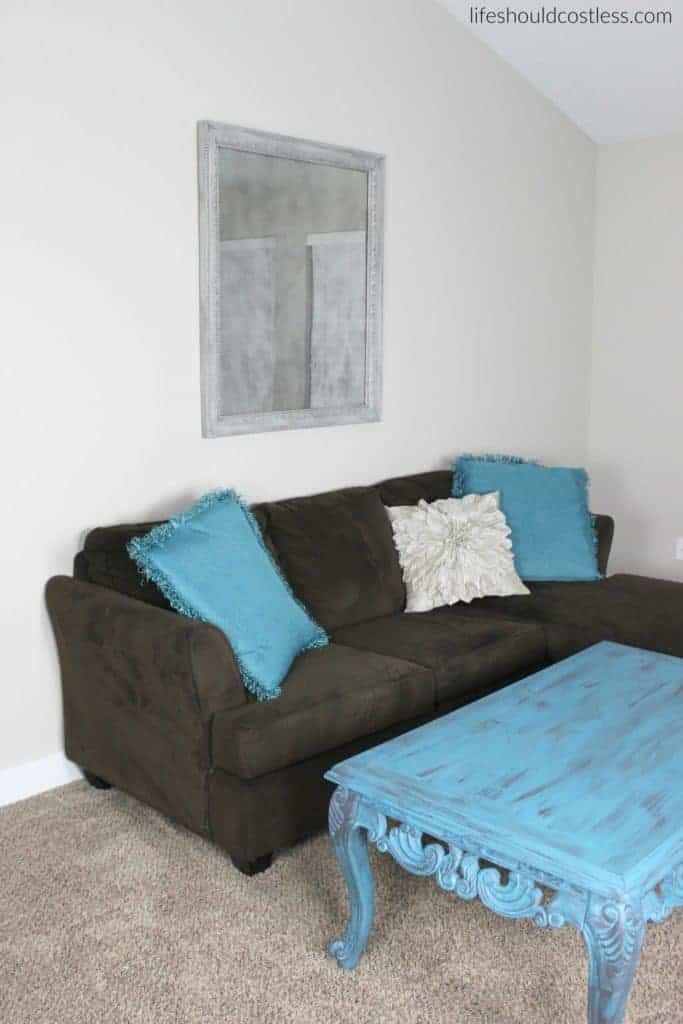 Here it is again! The before and after close together so that you can see the full effect. These two images are also the best images to help me out with when you share it on Pinterest…hint, hint.
I bet that some of you already have a large frame just sitting around waiting to be turned into a mirror…or maybe you can bum one off of a relative. As usual, if you love it, please make sure to send my link to your friends. Thanks! ~Sarah
You may also like (the pictures are links):