I have been dropping the ball like crazy lately… yeah, I'm a single mom of four that is now working two jobs to make ends meet (some blogging months are good and others we scrape by), but I still think it's unacceptable for me to do things like…you know, dropping off my kindergartner to school on a day that she doesn't even have class.
Yeah, that happened a few weeks ago, and after I cried on my way home from picking her up I decided that I needed to get at least part of a command center done and put up so that I could easily see the school schedules and have a little bit more hope of not being a complete failure at this single parent thing.
I have been missing my decorative cork backsplash, the one that I did at my house back when I was married, and so I decided that I wanted to make something using more of those decorative cork tiles…and wouldn't you know that I had several of the tiles left over from that project…which is great because I live NOWHERE near a Hobby Lobby.
Anyway, I decided that since I just don't have the kitchen space for another cork backsplash that I better figure out another way to do it and as I was digging through my stack of stuff that I have bought at thrift shops over the years (things I knew I wanted to turn into something some day), I came across a big frame that someone had once attempted to turn into a chalk board…I guess they thought they failed because they didn't even take the masking tape off of it before sending it to the DI… oh well, it was a good find for me and it was almost perfect for this project.
I'm just going to dive right into the project to show you guys what I did. Keep in mind, that as I am refinishing my home, I will be using gray tones, so yes, I know it doesn't look the greatest on a tan/cream wall…I am thinking long term here, and am not going to repaint this project later when I do get around to painting that wall.
Here we go, here is the big "chalk board I told you about.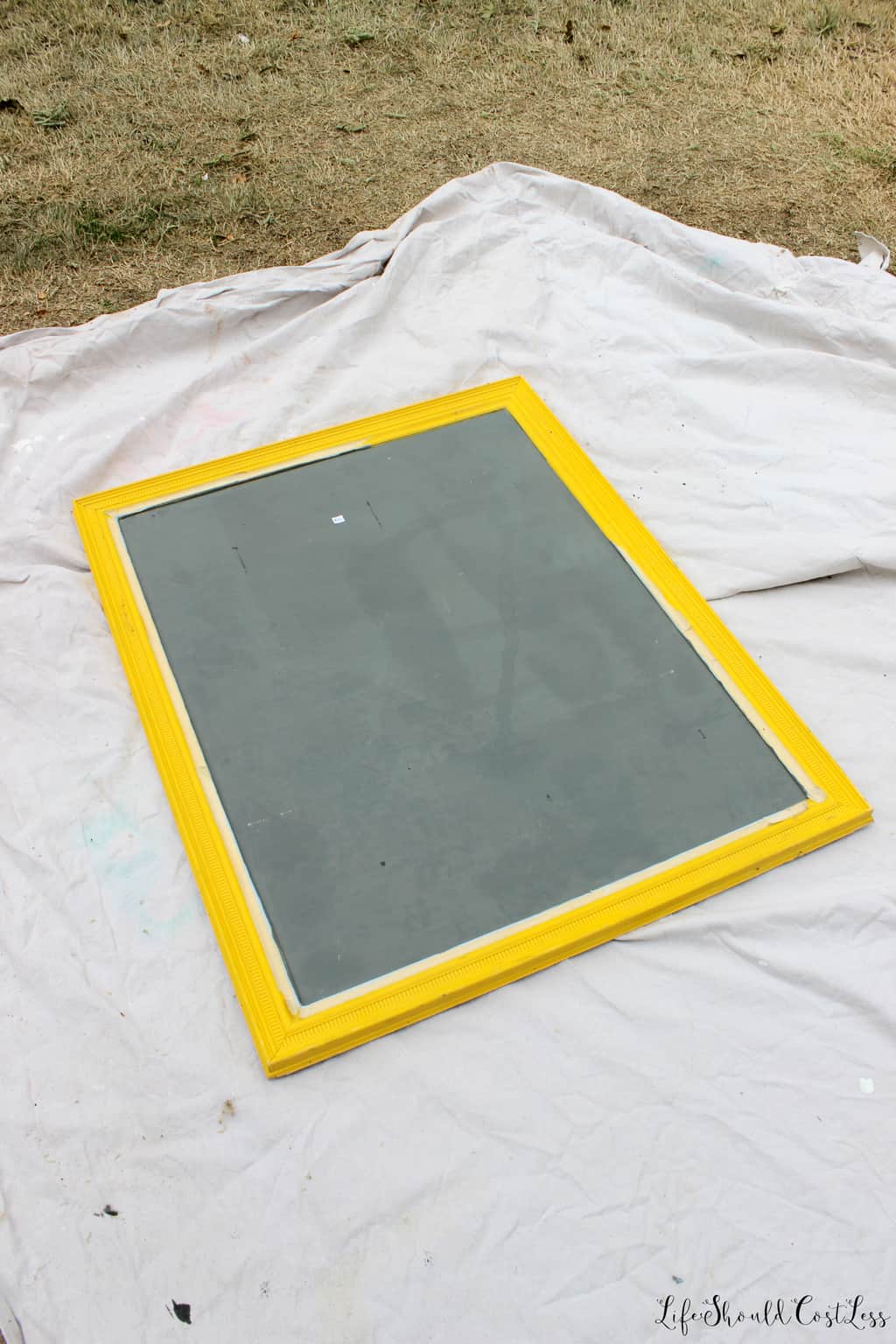 I decided that before I did anything to it, I better add the hanging hardware so that I wouldn't have to flip it over and chip the fresh paint later on… I just picked up a basic wall hanging kit (a little on the heavy duty side because this thing is HEAVY) at Walmart, but you can get a similar one on Amazon, here.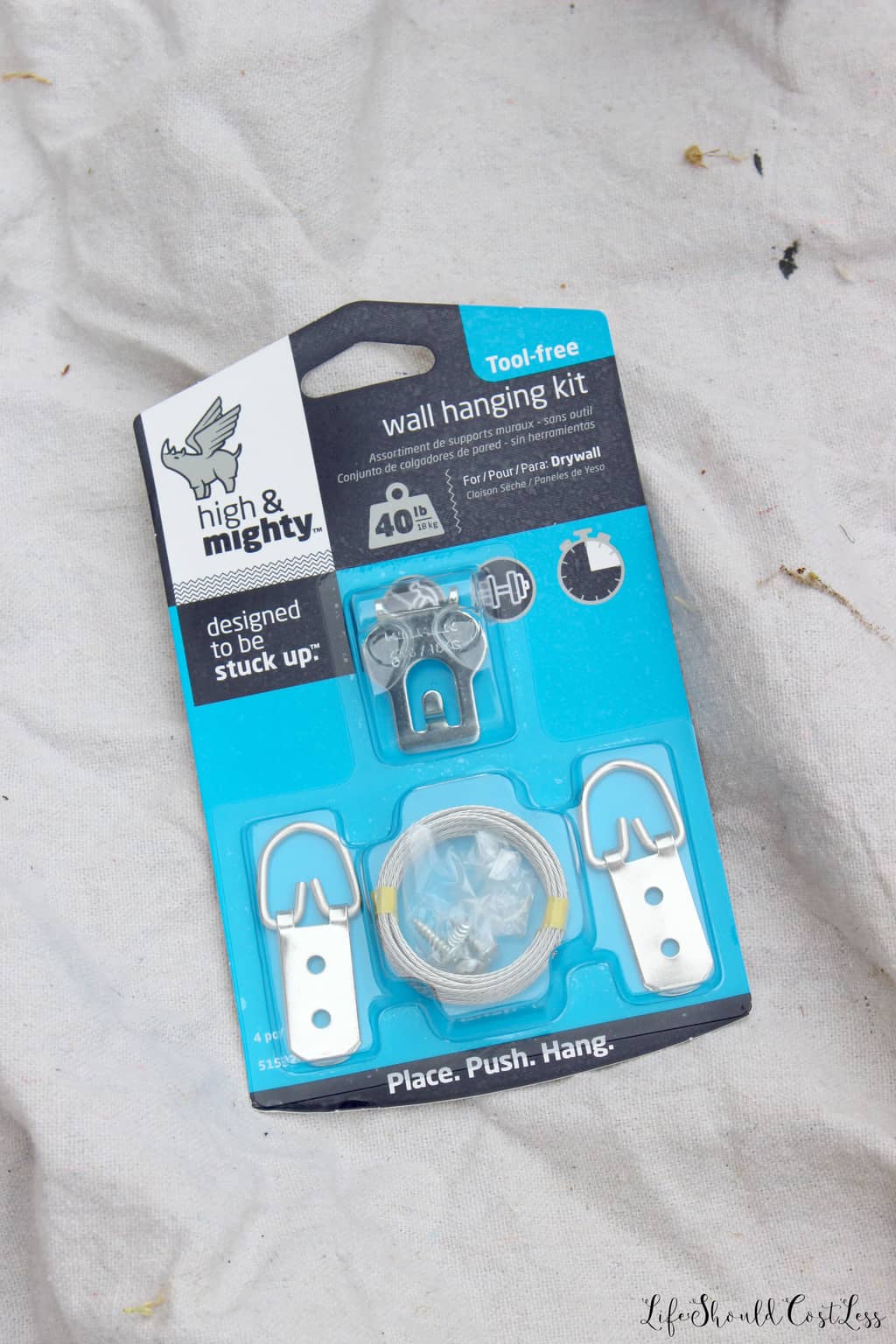 I attached the hooks, and was ready to go with paint prep.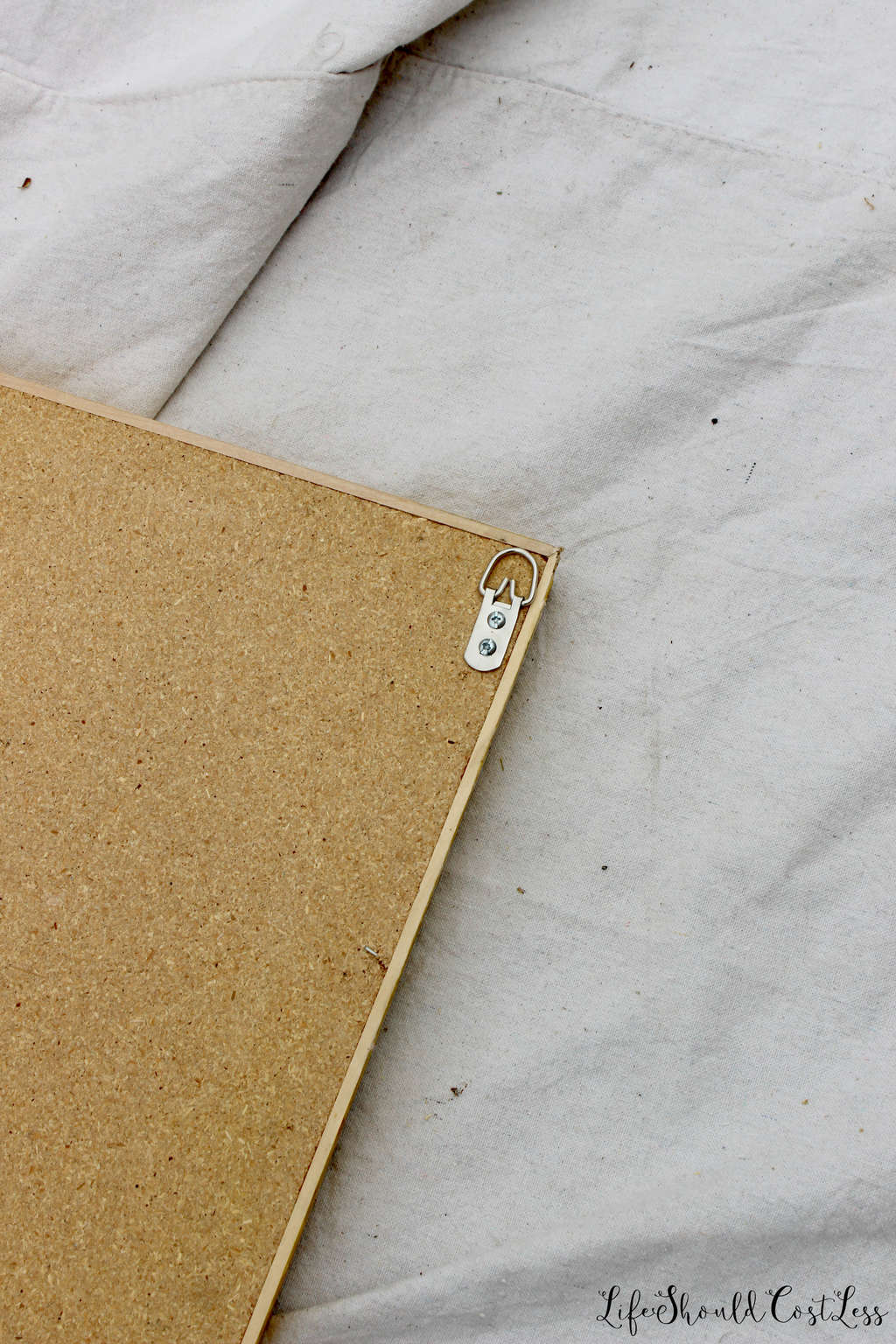 To prep the frame, I removed the masking tape from the around the "chalk board" area. It really didn't need anything else because I knew that chalk paint hides so much!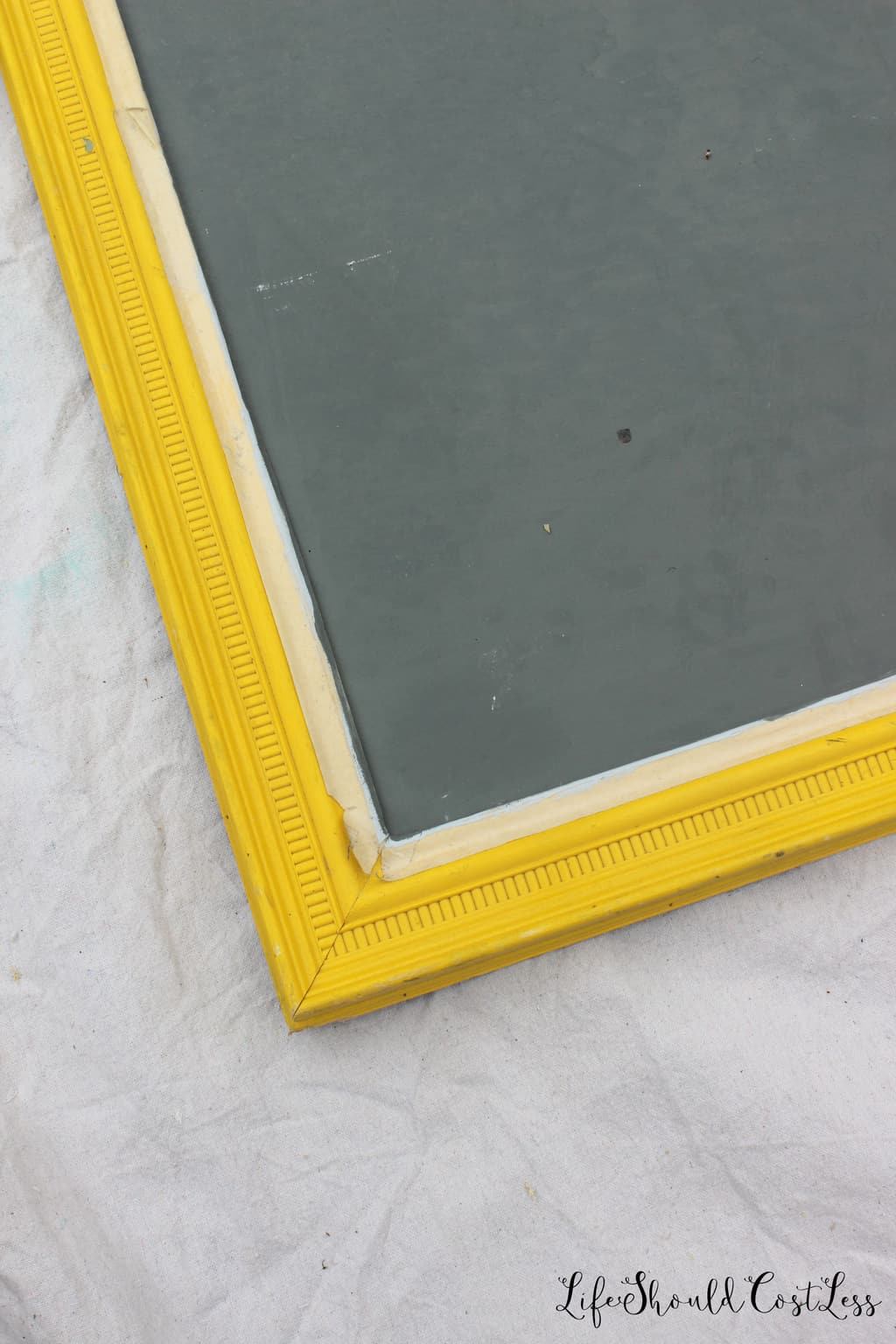 It was ready now ready to add the cork! I wanted to show you guys what the cork tiles looked like. As I said before I got these at Hobby Lobby a couple of years ago… I'm sure they still have something similar if not these exact ones.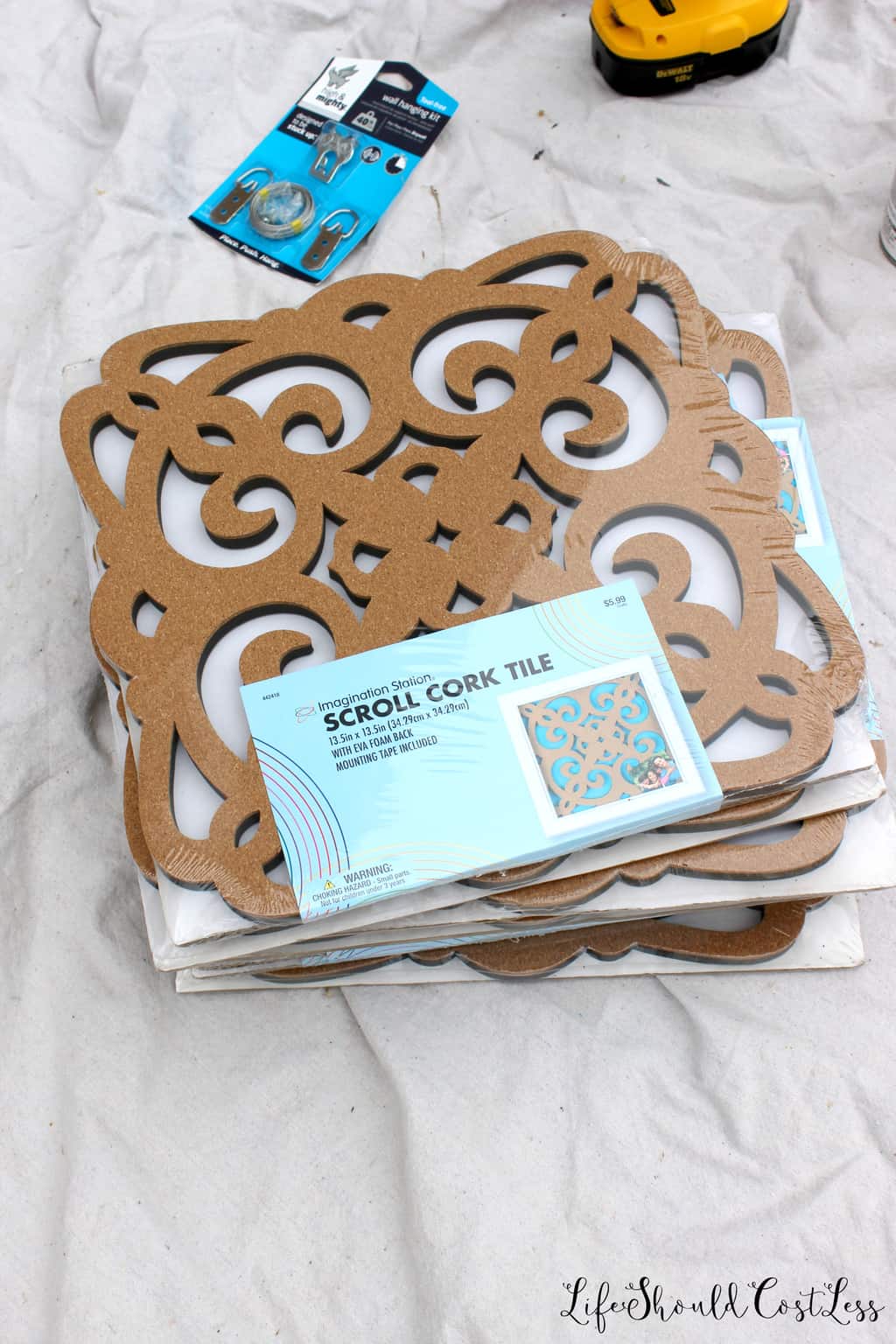 I laid them out on my frame and they certainly didn't fit exactly…so my solution was to cut them down a little bit, but like I had to on the Backsplash project.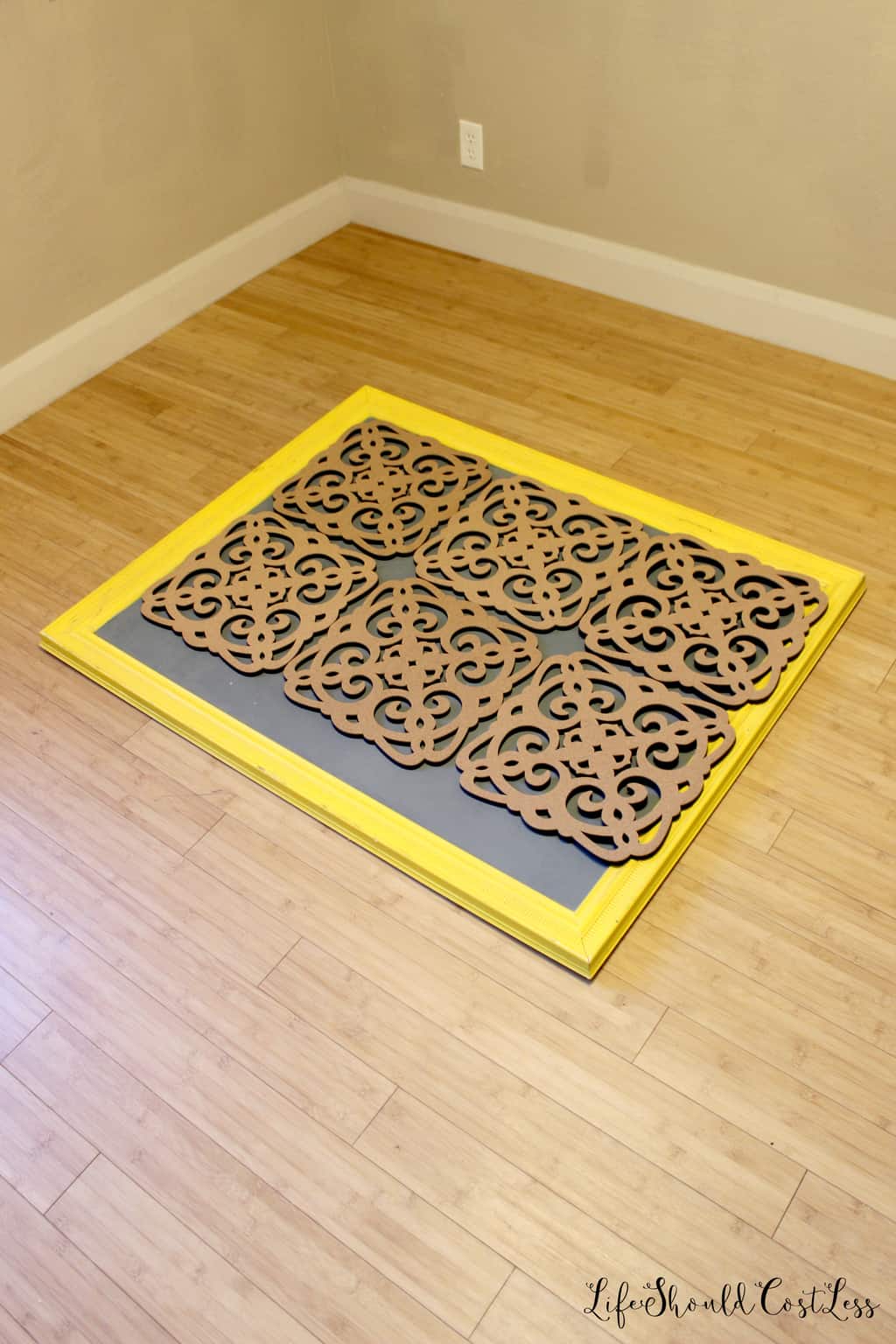 So, I got out my little utility knife and took the long ruler from my quilting stuff, and cut them so be more square.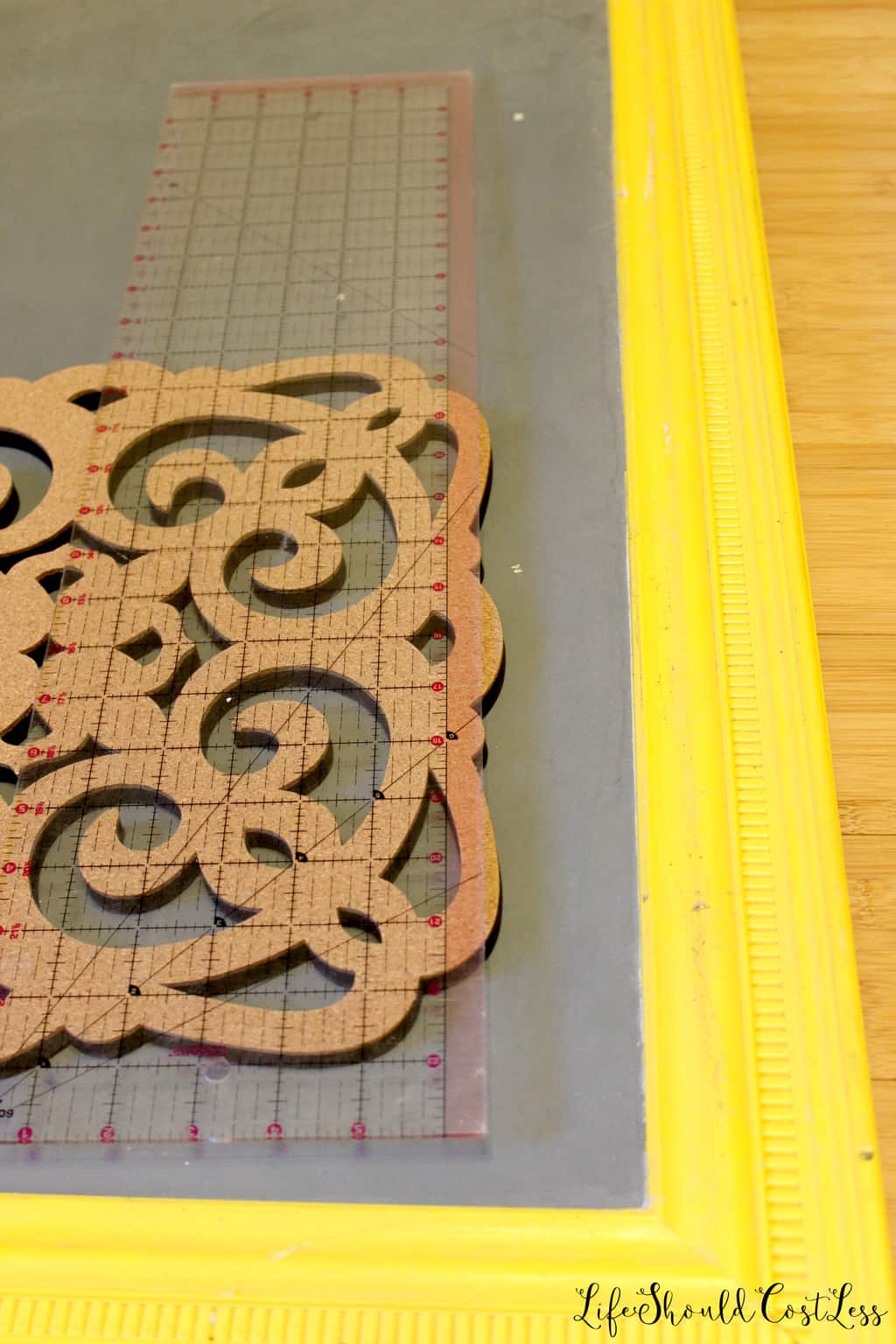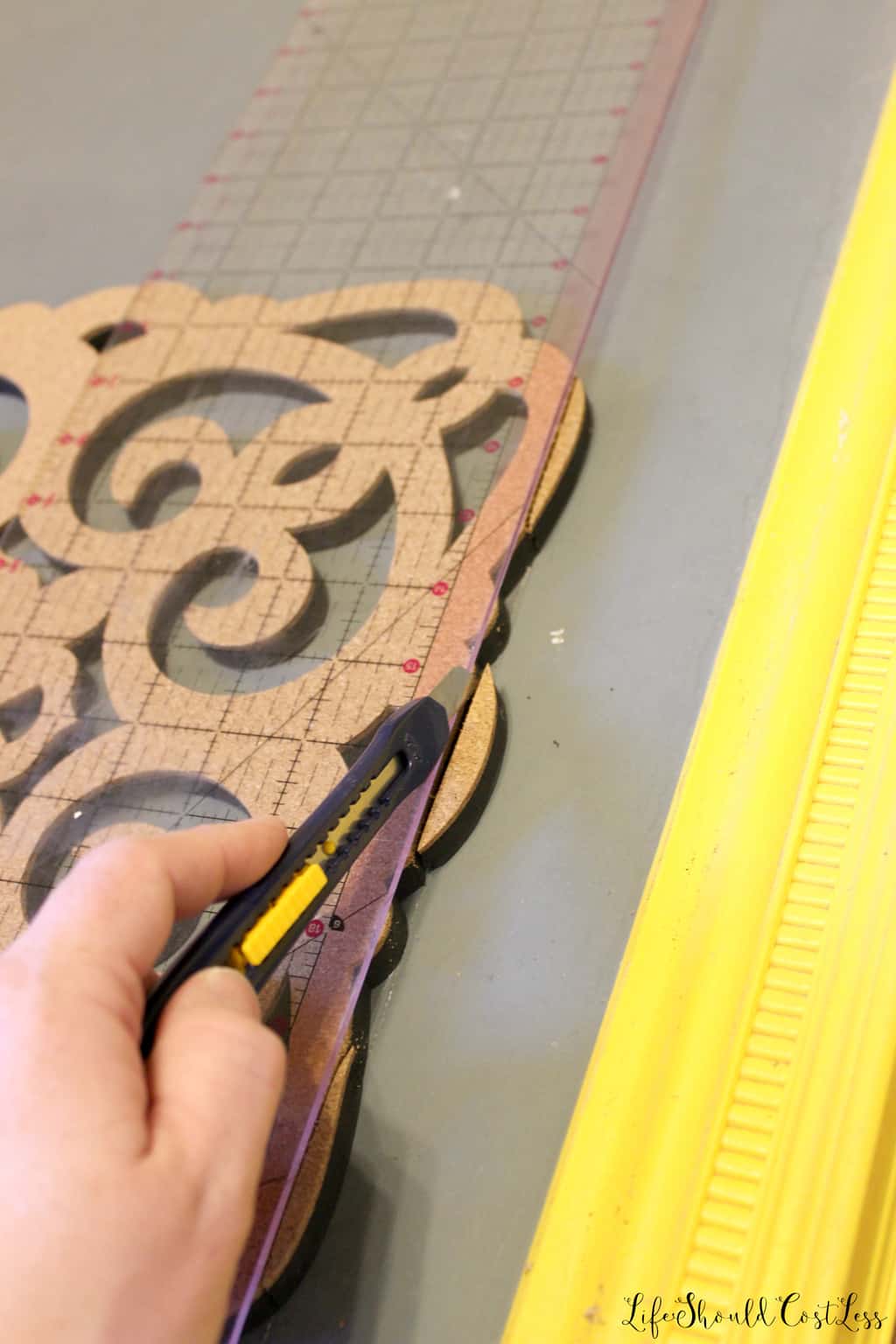 Once I did that, they actually fit on there much better. Yes, I was bummed that there was some open space below the cork, but you'll see what my solution for that was later on.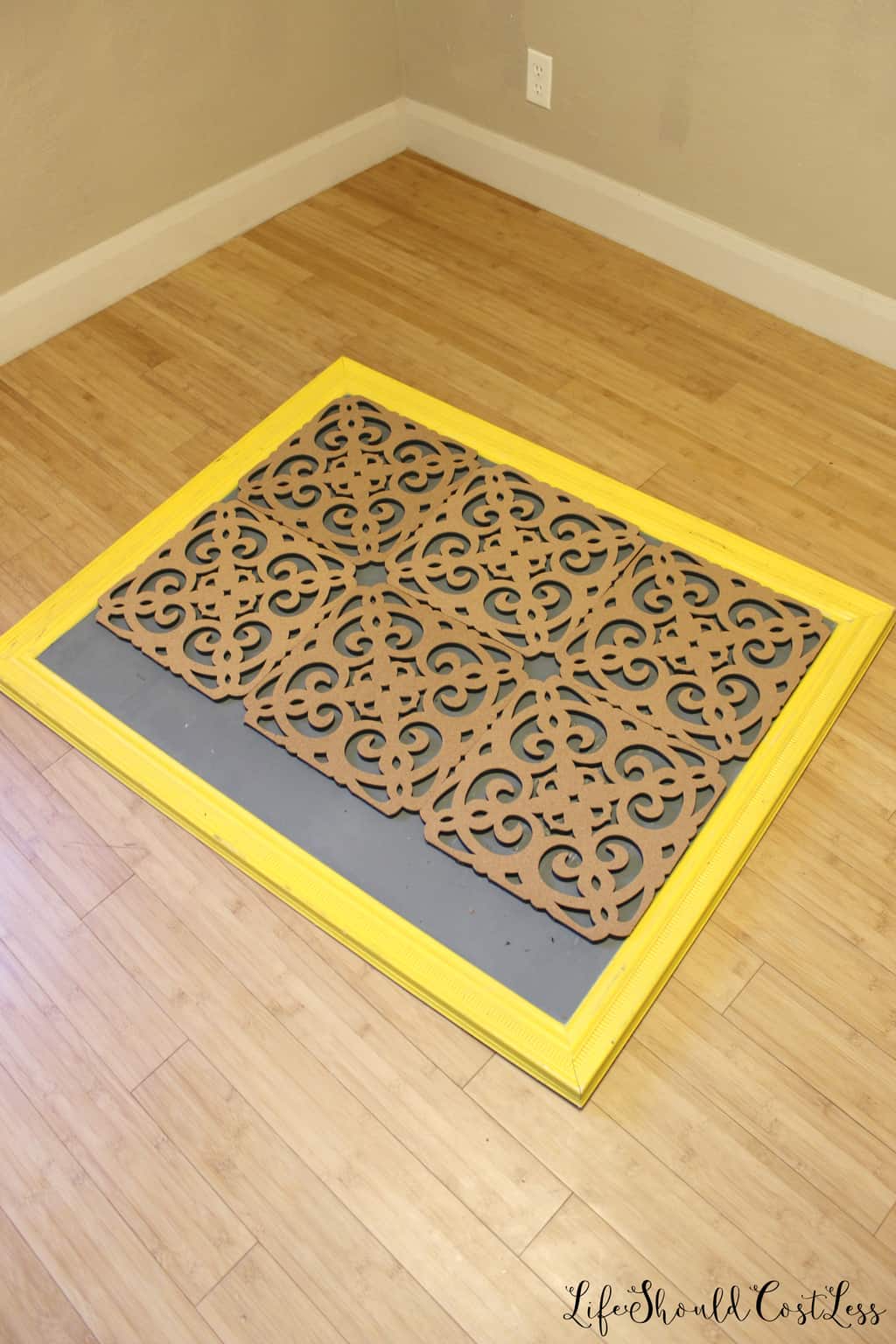 It's time to glue the cork down, so I knew that they would stick better if I used a clean surface, so I got a damp rag and wiped down the entire frame and chalk board area.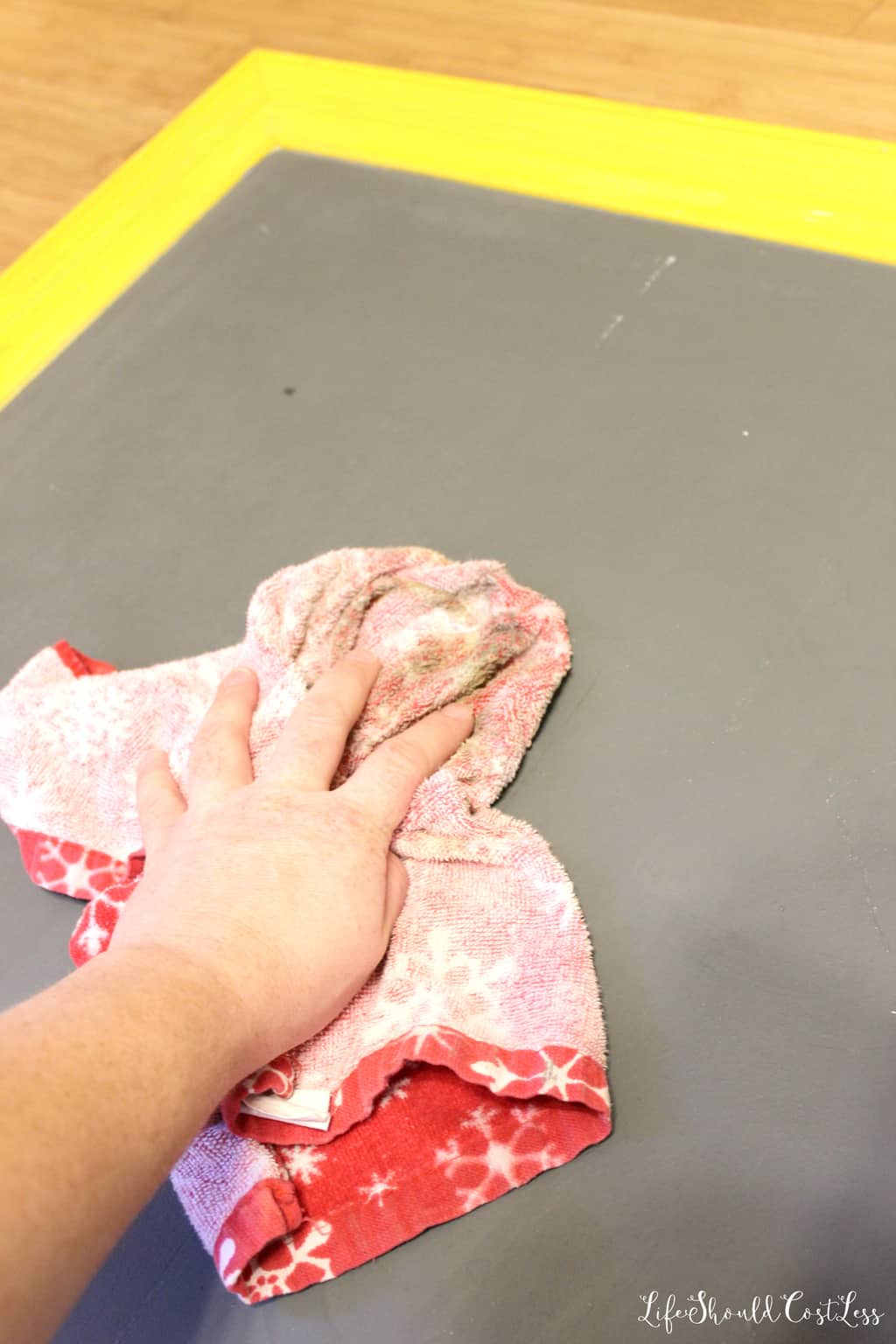 I will not mention the glue that I used… because I don't want to bad-mouth a company…but I was so upset by my results that I almost scrapped the entire project just because of the glue. The glue that I used had said on the back that it will expand, but I thought "how much could it possibly expand" and I went about by project as I normally would.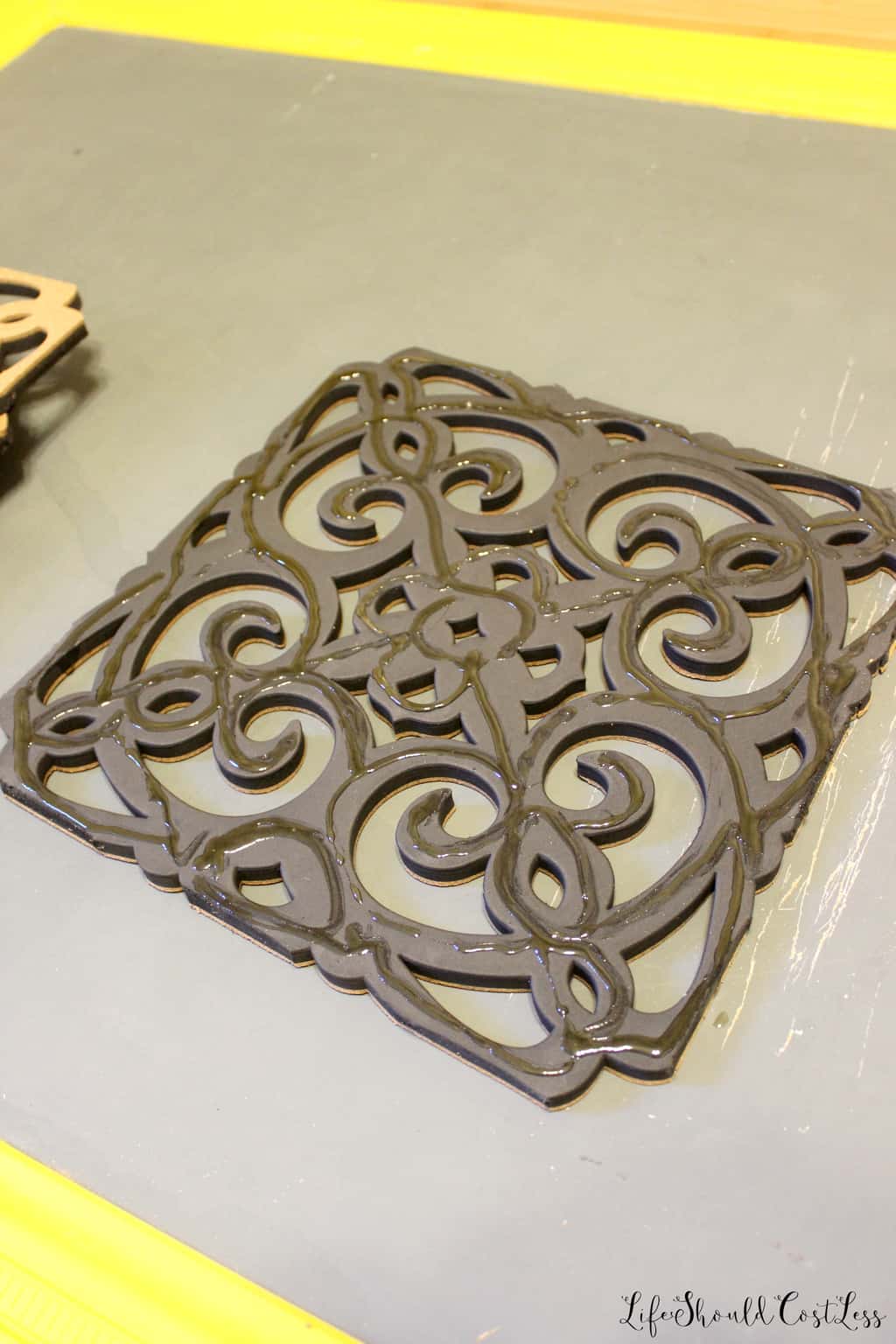 I used a foam poster board and random stuff I had laying around to clamp the cork down until it dried.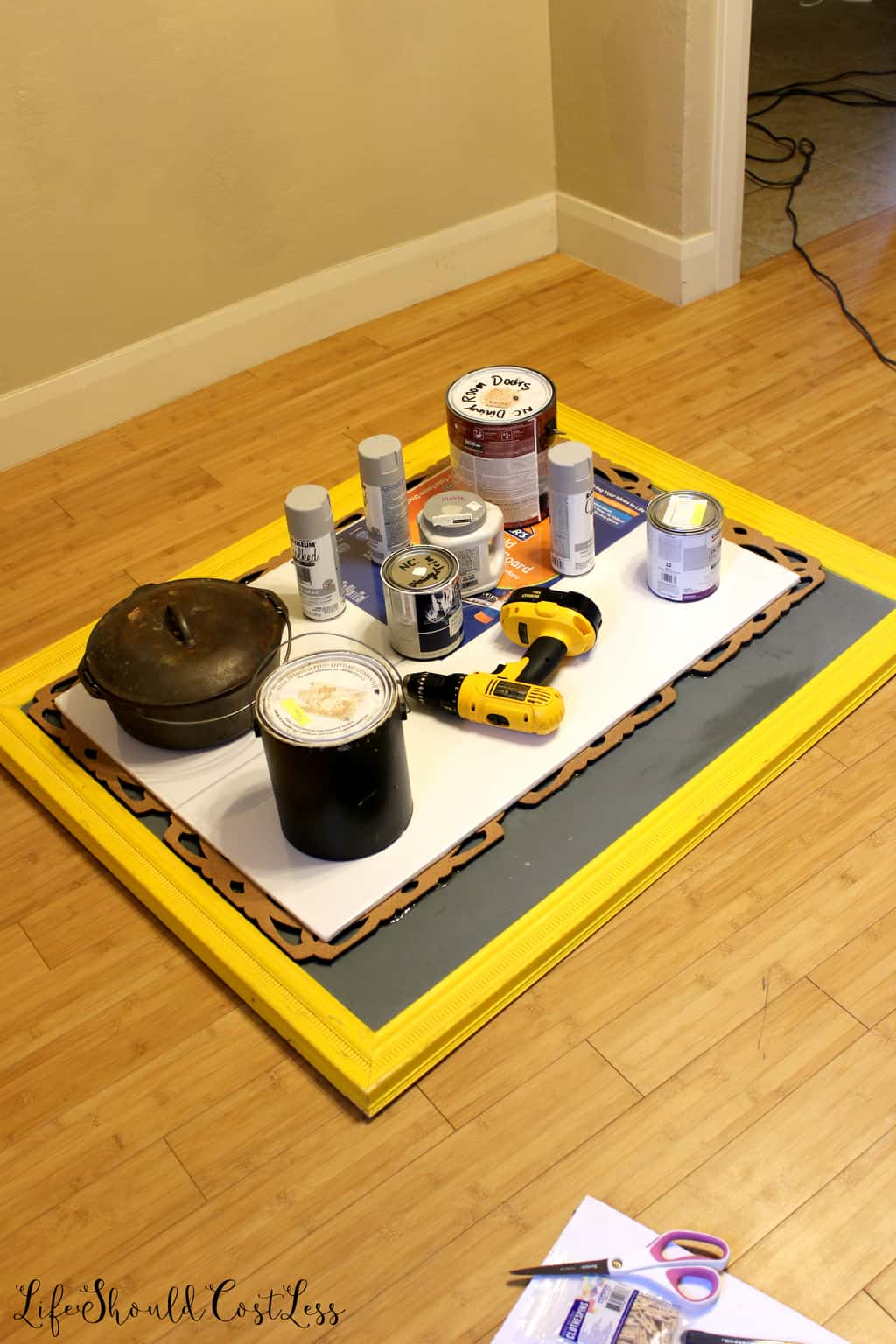 When it had dried, I "unclamped" and discovered that the glue had expanded more like ten times and I was really upset (thinking to myself "why didn't it say on the bottle this stuff is actually spray foam insulation"…I was very unhappy) but I decided to see if I could salvage the project…and I refused to spend hours with a utility knife trying to scrape it out so I just went ahead with my plans.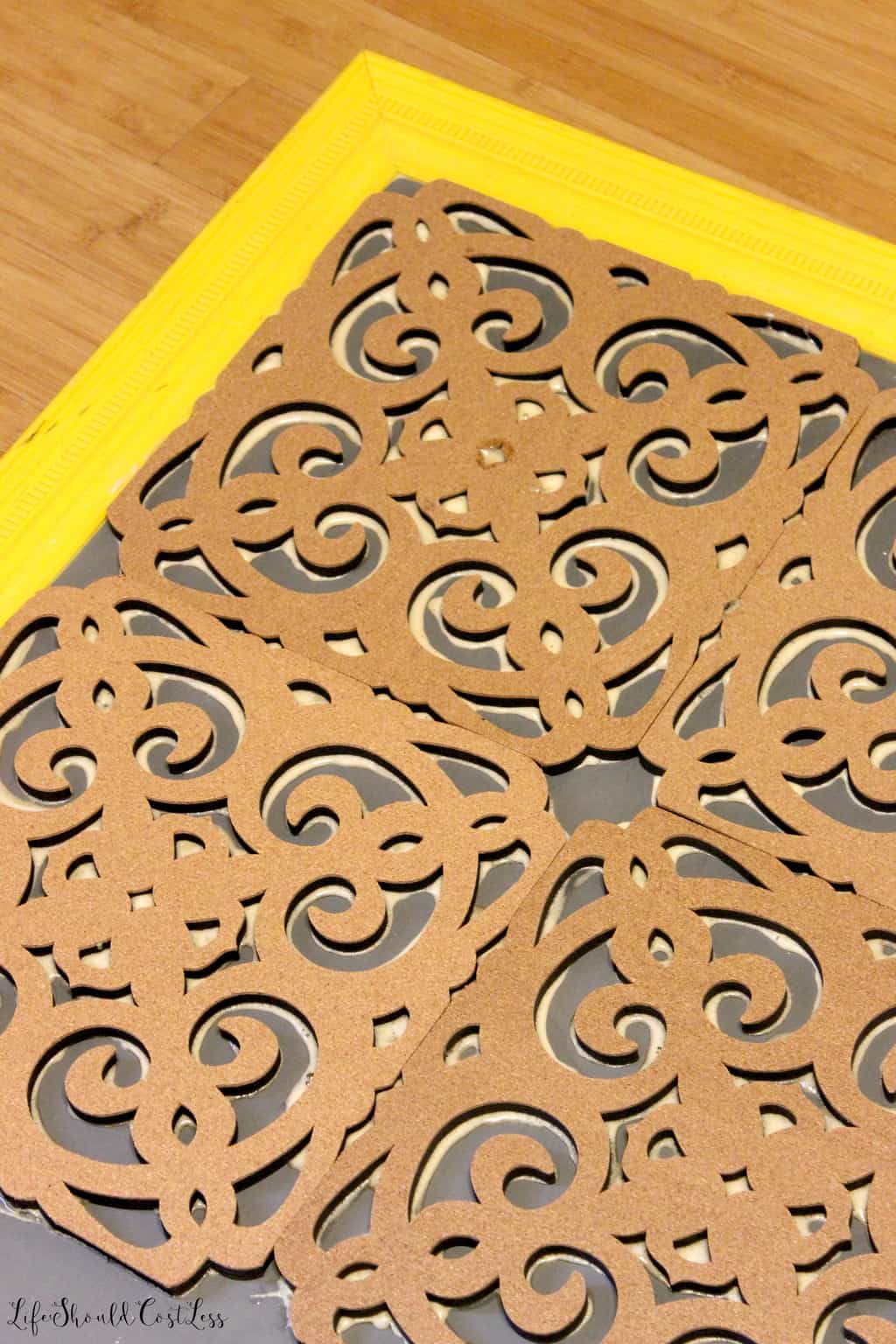 As luck would have it (I'm being sarcastic here), we had a really cold week so I had to bring it inside, my very messy family room, to spray paint it. It's a good thing the kids were at their dads (I try to leave some of their messes for them to clean up because I'm not their slave) so I opened windows and put down a canvas drop cloth, and got to work.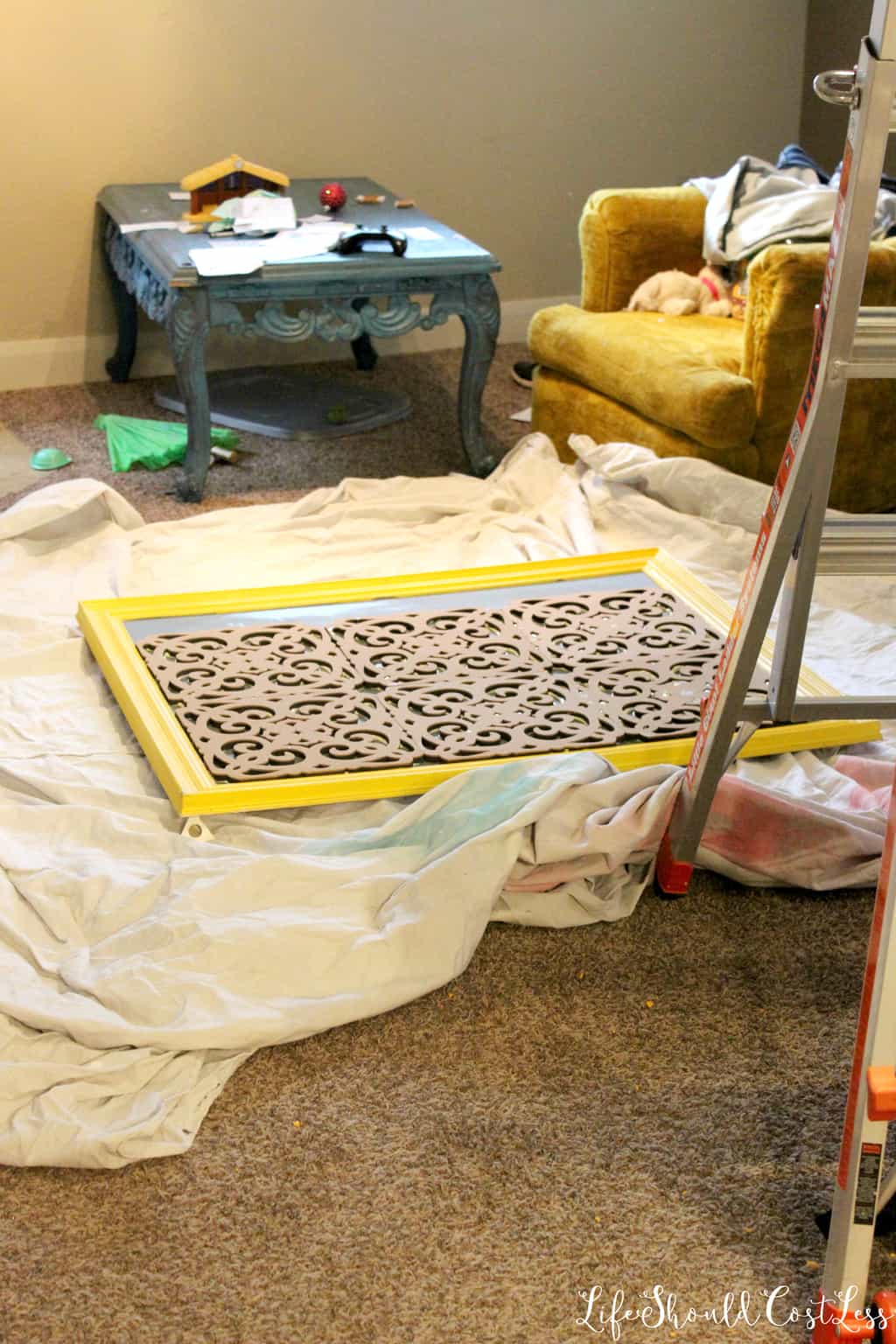 It took three coats of Rustoleum Chalked Ultra Matt Paint in Aged Gray. Each coat I applied from a different angle so that it would get in all of the nooks and crannies in the decorative cork. Oh, and I let it dry for at least an hour between each coat. It took about two cans of spray paint.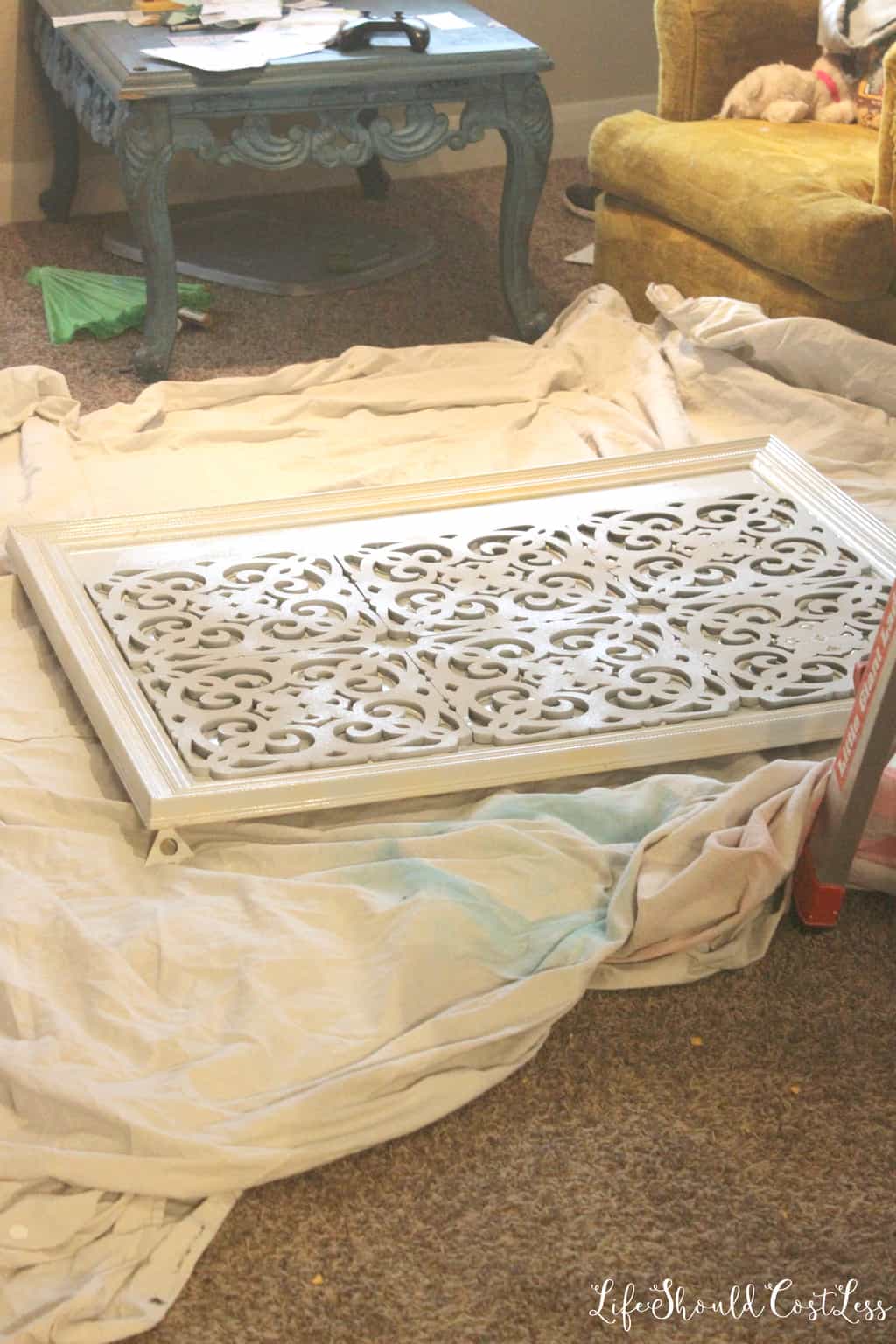 Once it had cured for a couple of days I was ready to start glazing and dry brushing some other colors on there… but the kids were home by then so I had to move my project yet again, so here we are in the dining room.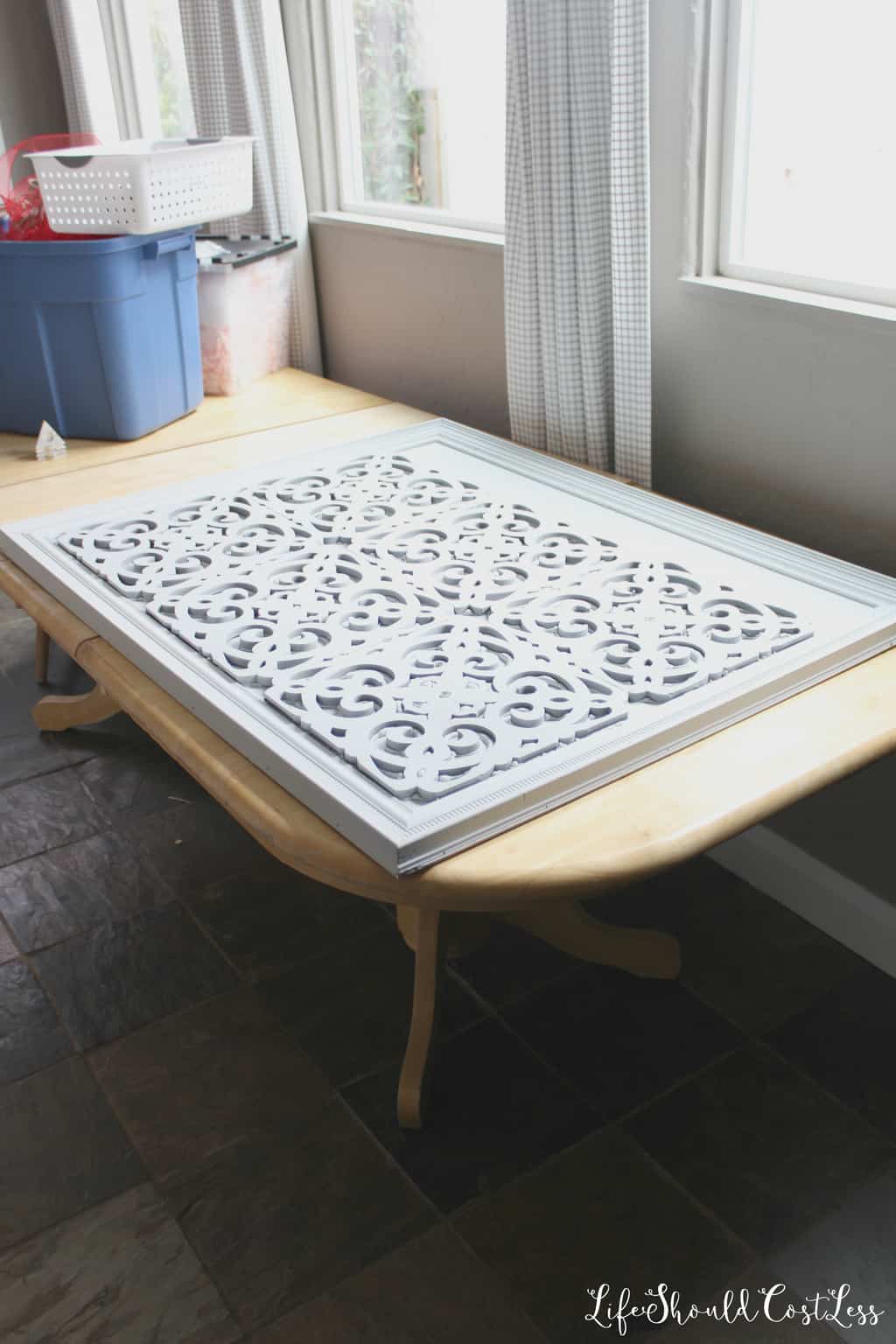 I glazed it using Americana Decor Clear Creme Wax that I had tinted with Americana Decor Chalk Paint in Relic.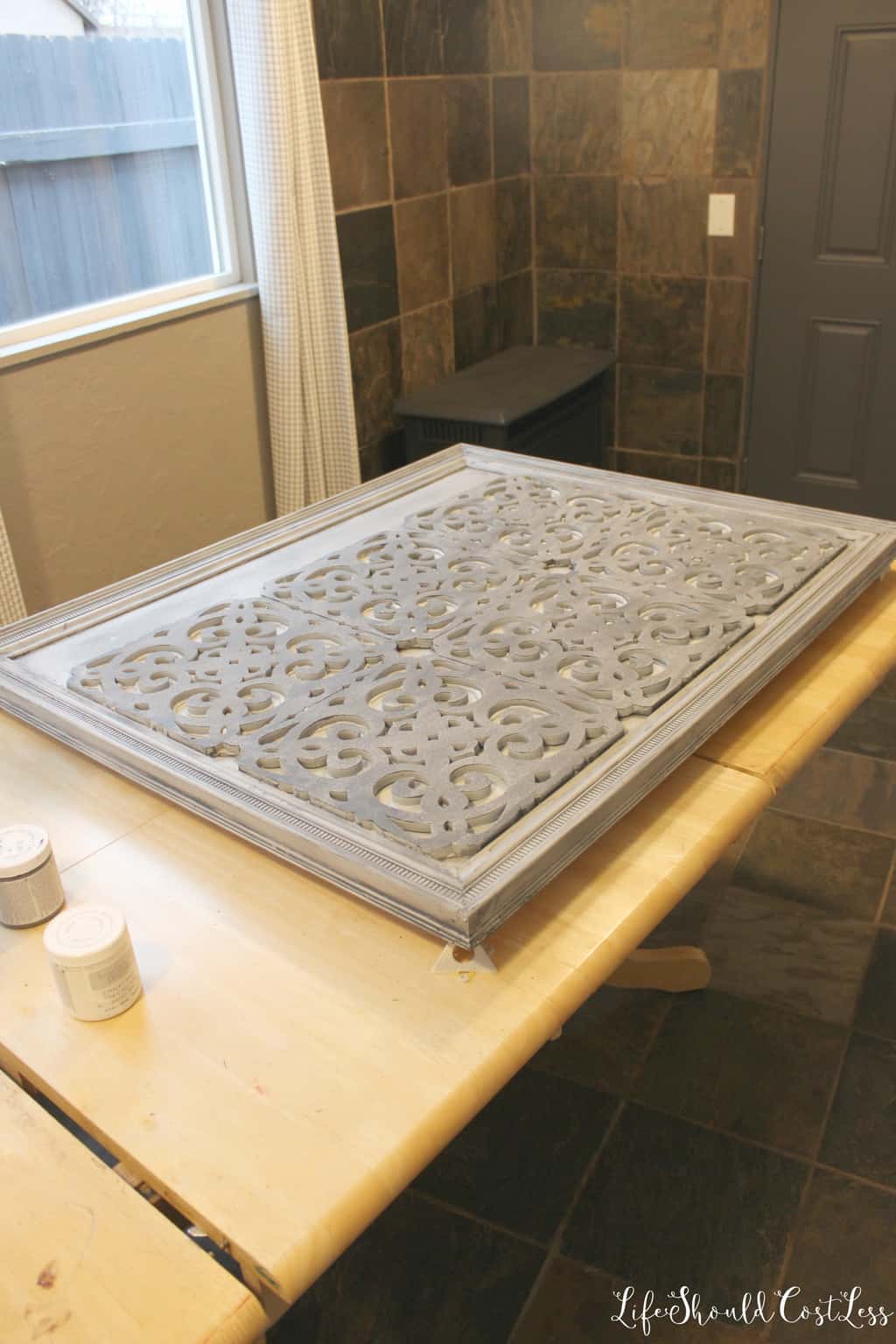 Then dry brushed it with Americana Decor Chalk Paint in Primitive.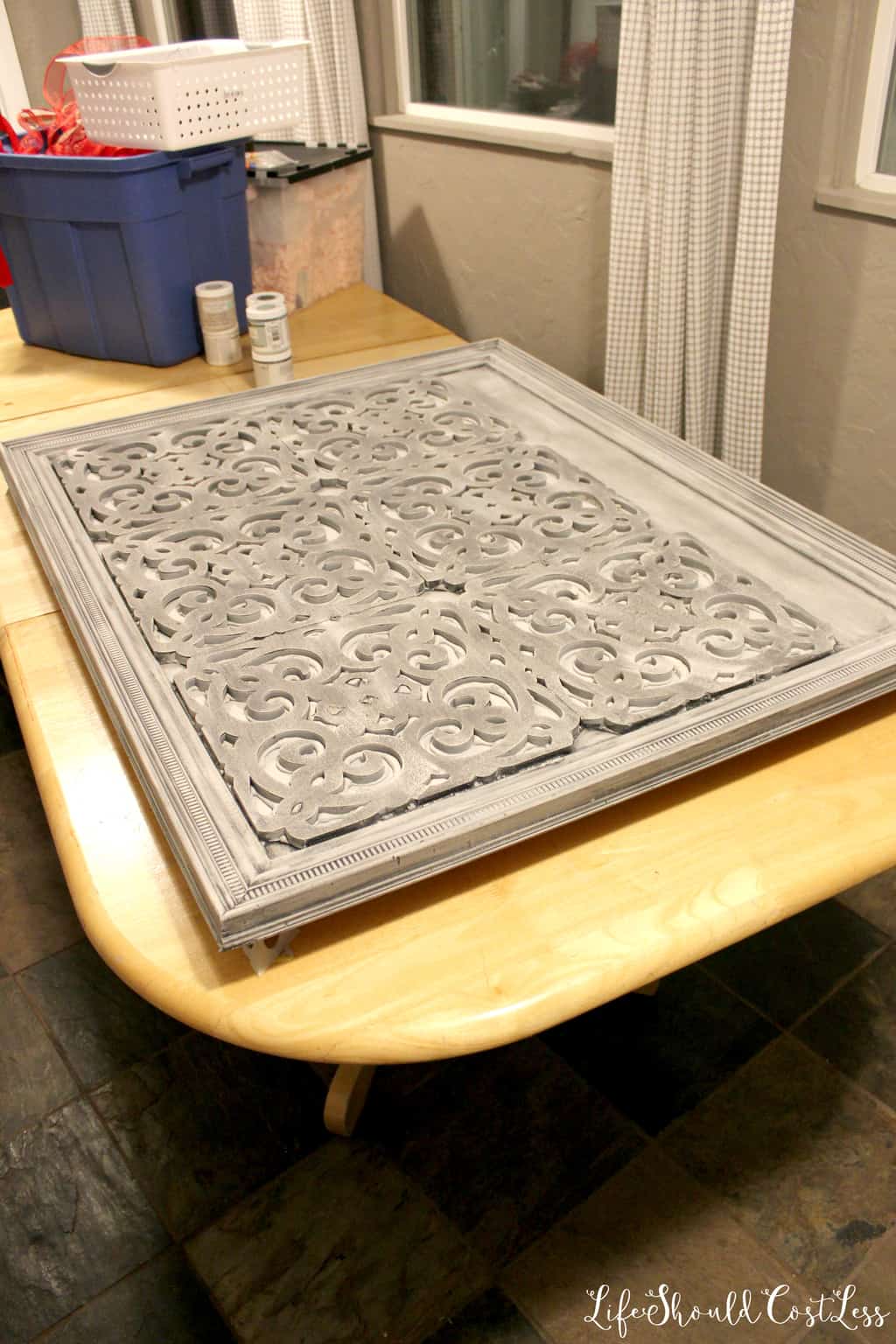 I mentioned earlier about having a solution to that gap of area at the bottom of the frame, where the cork wasn't big enough to cover… and my solution was to at a few eyelet hooks and run some wire between them. Now we have an area at the bottom for the girls to use those tiny clothes pins and hang their art work or anything that they need me to see.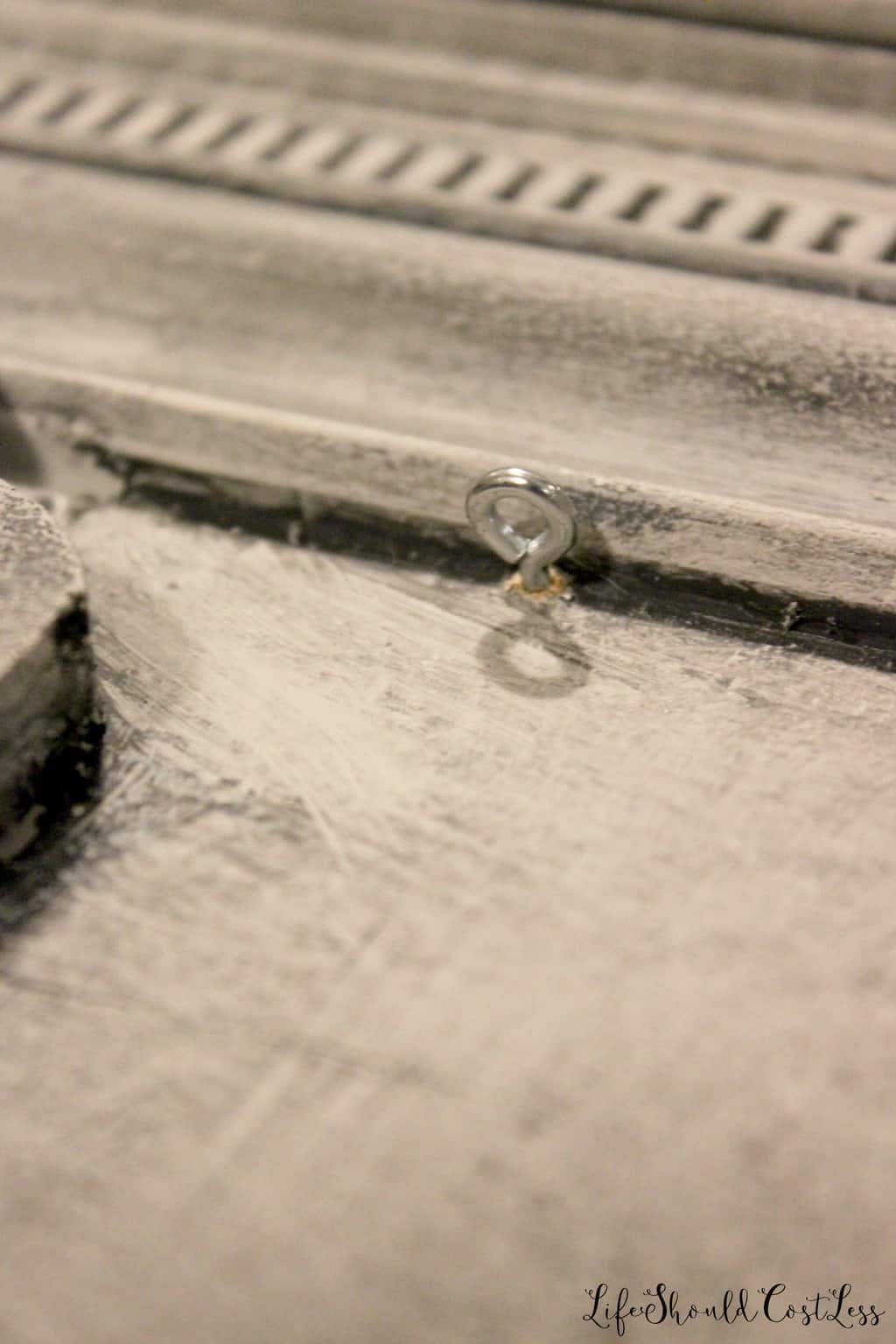 Anyway, here are the after shots. Even with the glue fiasco, the paint covered it pretty well…and I keep telling myself that with all of our stuff hanging on the cork it will cover even more of the imperfections. Plus, it's dark down that hallway so that helps too ( I used my lighting kit for these after pics…that hallway needs a light something fierce).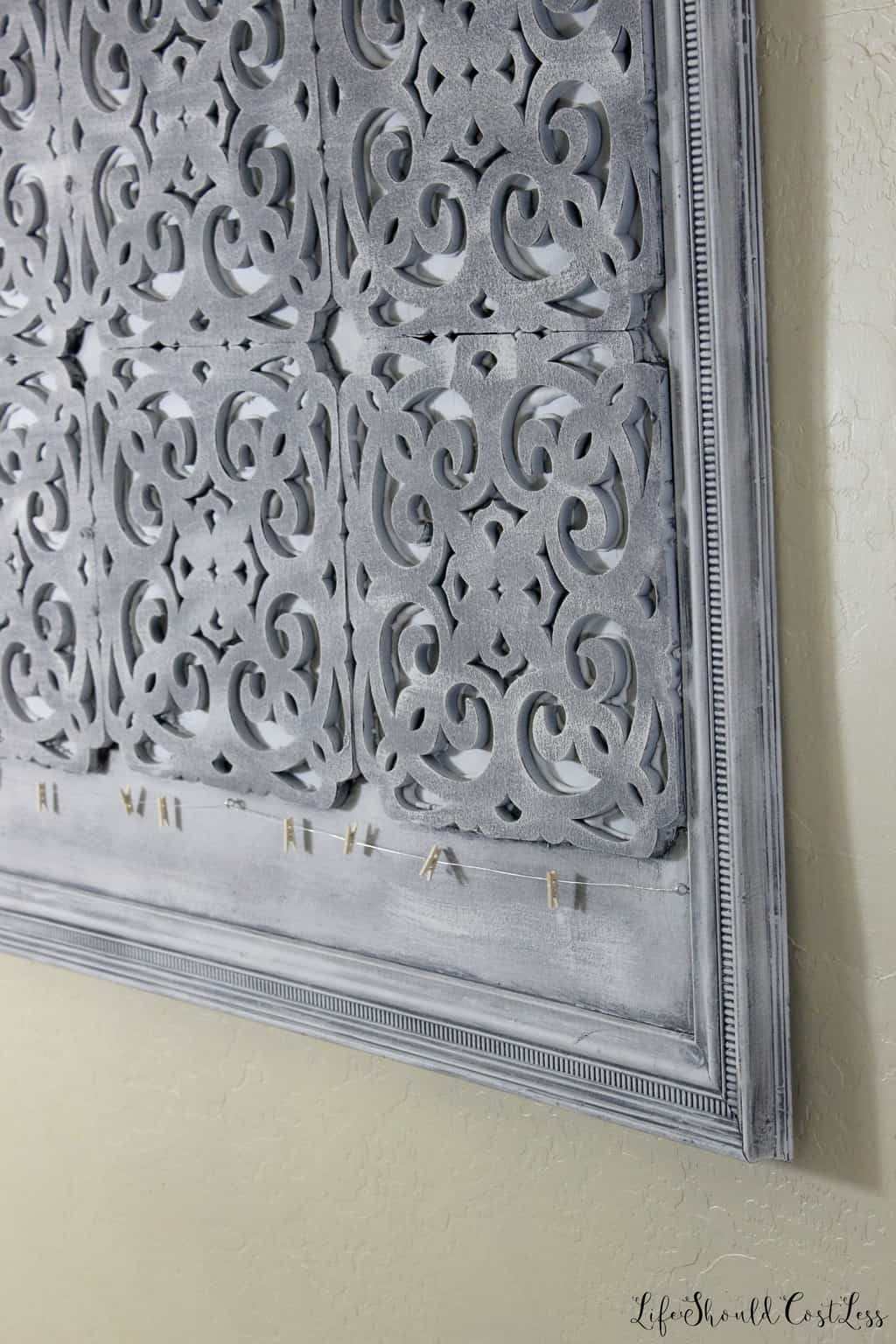 I couldn't show you what it looks like while it is in use because that would be a safety issue…but just use your imagination and I'm sure you get the gist.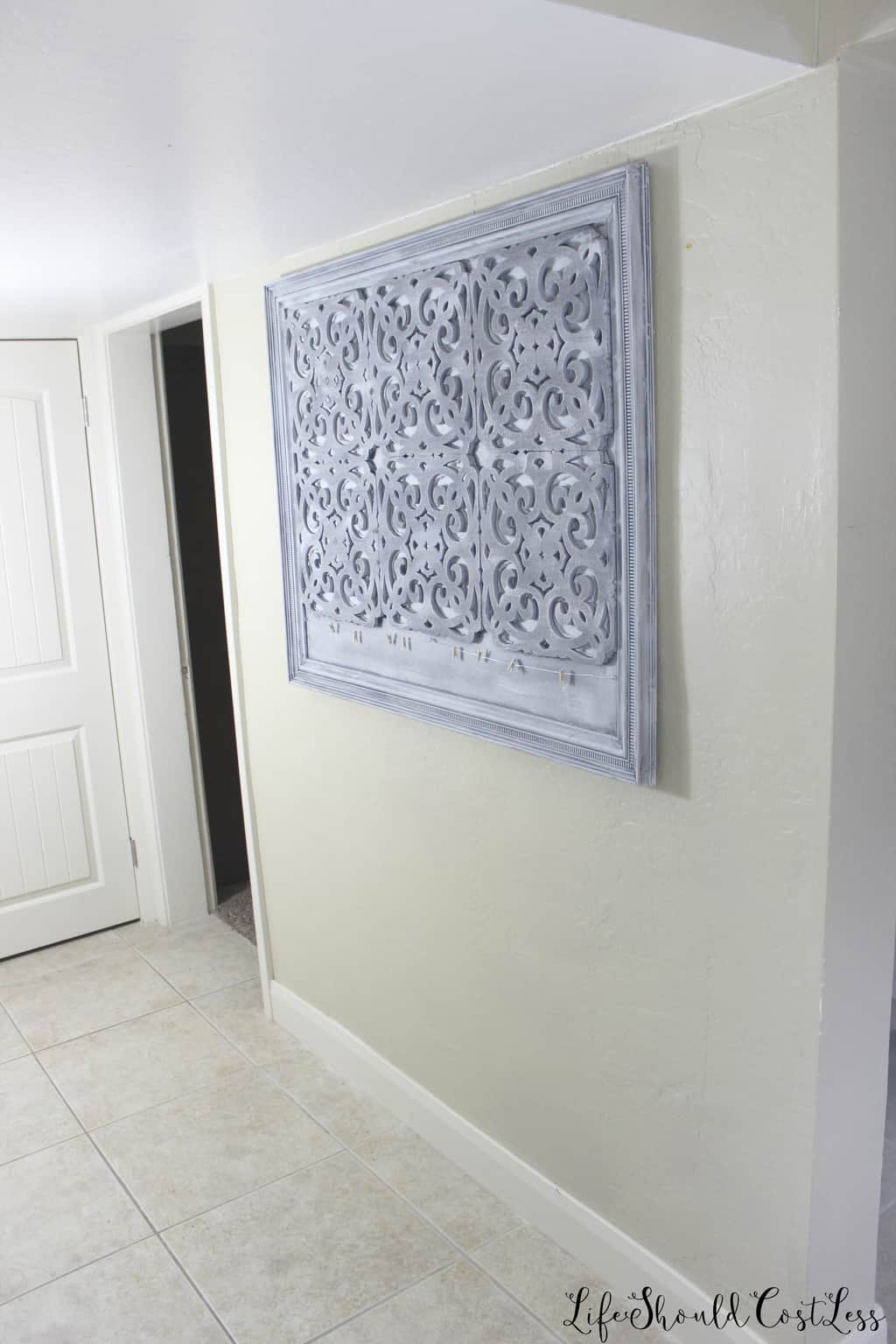 We have been using it for over a week now and it has been wonderfully helpful because there just plain isn't room to fit all of our papers and reminders on the fridge.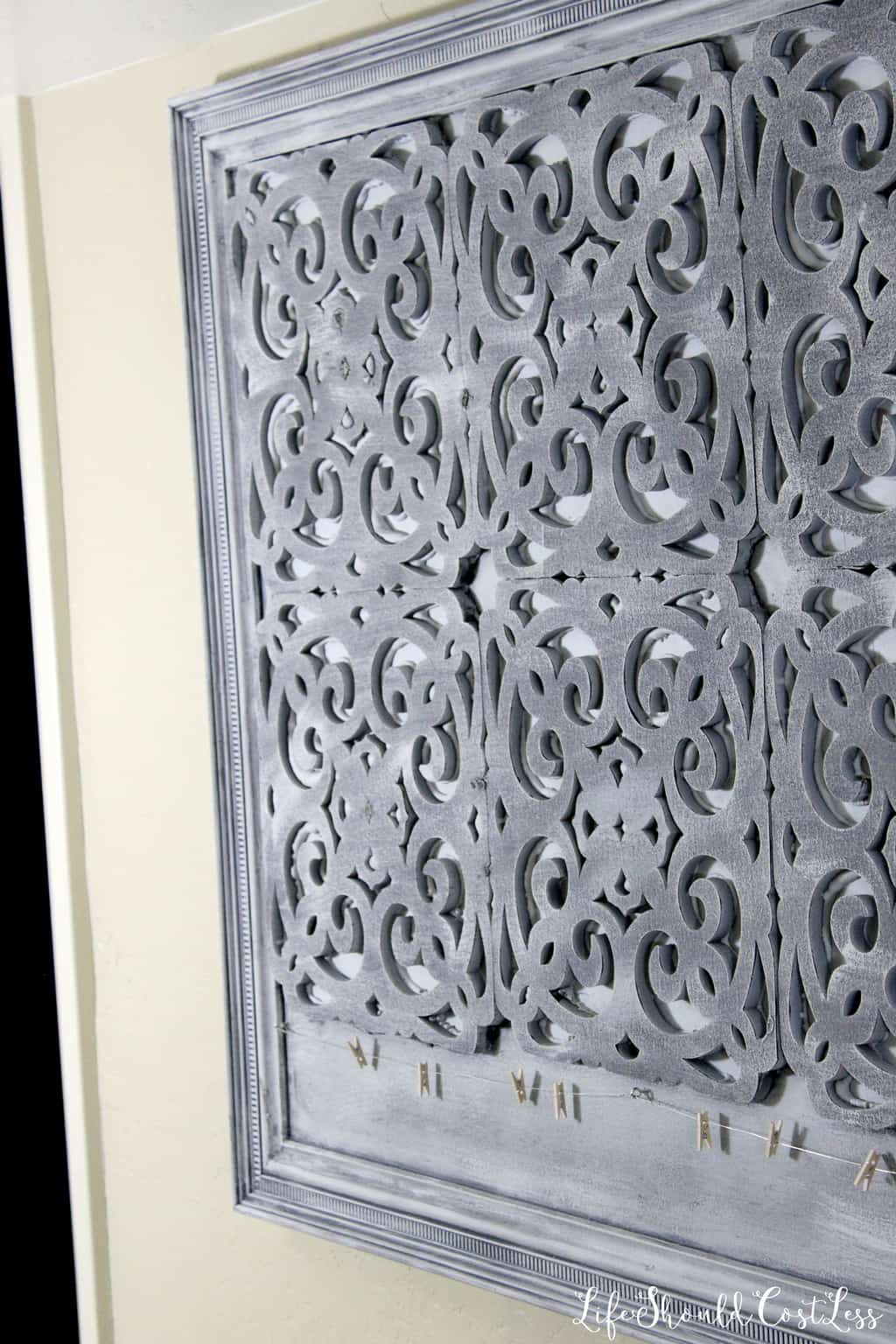 Oh, and here is an easily shareable square image if you need it.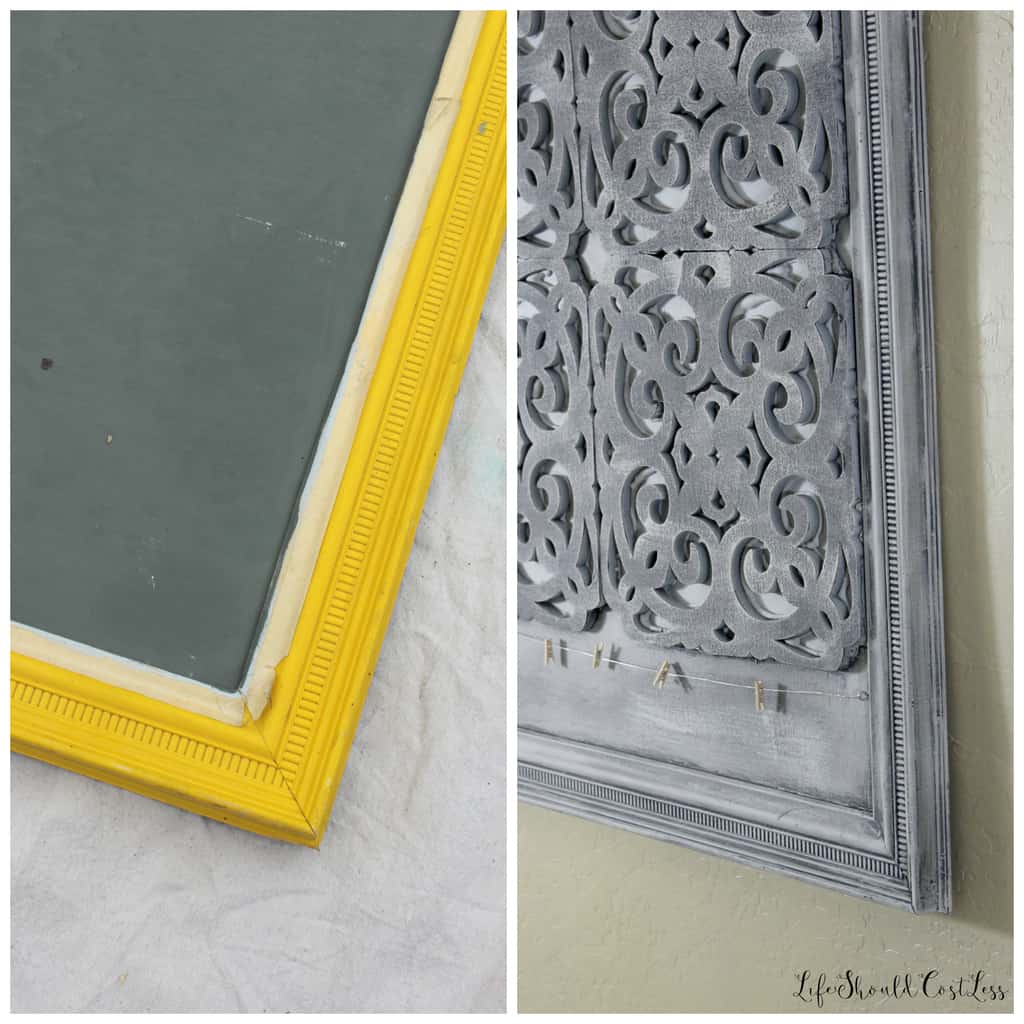 I seriously almost didn't blog this because of the glue issue… but then I remembered that it's healthy to show you all that things don't always go according to plan and sometimes we just need to do our best to roll with it. My plan for the hallway where the new cork board is, is to add a little dresser below it and stage it really pretty…but that too will take some time to budget and make it happen, but little by little I'm building my nest.
Thank you so much for stopping by my blog! Please make sure to share this post via social media if you are able, and if you really found something I shared extra helpful you also have the option of supporting the site directly through my Paypal account. It really helps me support my kids so thank you so much! ~Sarah
P.S. I have done many random projects over the years so make sure to check out my making this house our home section. Also, if you wanted to check out the decorative cork backsplash that I did, and was the inspiration for this post, you can find that here.