I'm pretty sure that this is the girliest thing that I have ever made. Not joking! I've always been a bit of a tom-boy. For example, as a child, when most girls my age were playing with their barbies, my friend Katie and I were out building a toilet to go in our fort. For some reason, around the time I turned 27 I decided that I needed to start embracing femininity and try to be a bit more girly! So here is my attempt at just that…trying to do something feminine.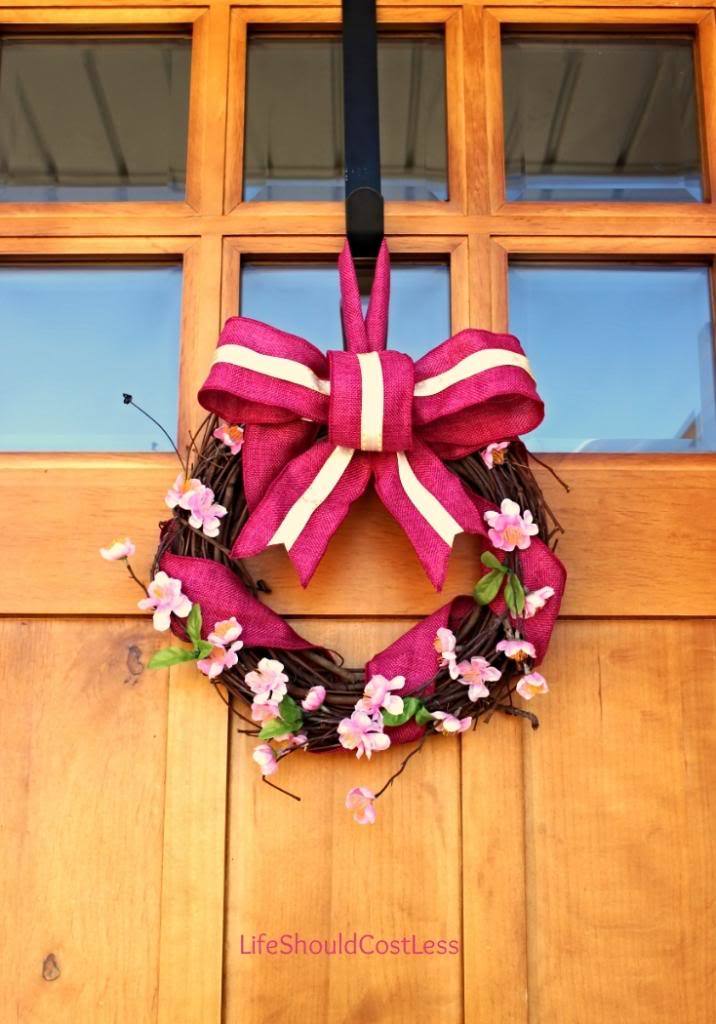 I rarely like pre-made decorations that I find in stores unless they are high-end, which means that they also come with a high-end price tag and also means that they are not an option (one income family). So, I decided to see if I could make something that I like but that would cost considerably less. This project cost me less than $20 since I had all of the tools already and used a coupon at Joann's.

*Please note* I had to use the flash because there wasn't enough natural light in the house…the main wreath picture shows how dark pink the burlap is. I actually wish it had been just slightly lighter to match the cherry blossoms a little better. Anyway, on to some basic directions:
Tools used:
Wire Cutter

Basic Crafting Wire
Fishing Line
Large Needle (for fishing line)
12″ Grapevine Wreath
1 bunch of fake Cherry Blossoms (there is enough left over for two more wreaths)
5.5 Yards of 2.5″ Fuschia Offray Wired Burlap Ribbon (I found it at Joann's and it was a new product)
5/8″ x 9 feet yellow ribbon
Crappy Scissors (for cutting the wired ribbon)
Fray Check

Sewing Machine
and your choice of thread, I used white.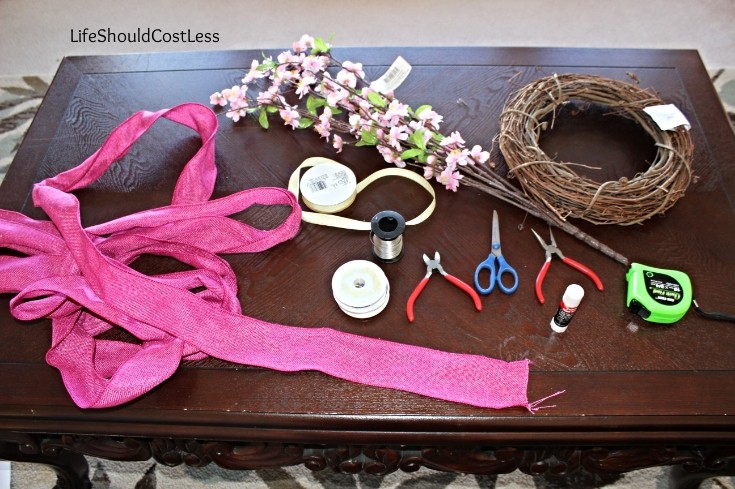 I got out a little more stuff than I ended up needing, minus the fray check, I had to go get it later. Anyway, here it is all laid out.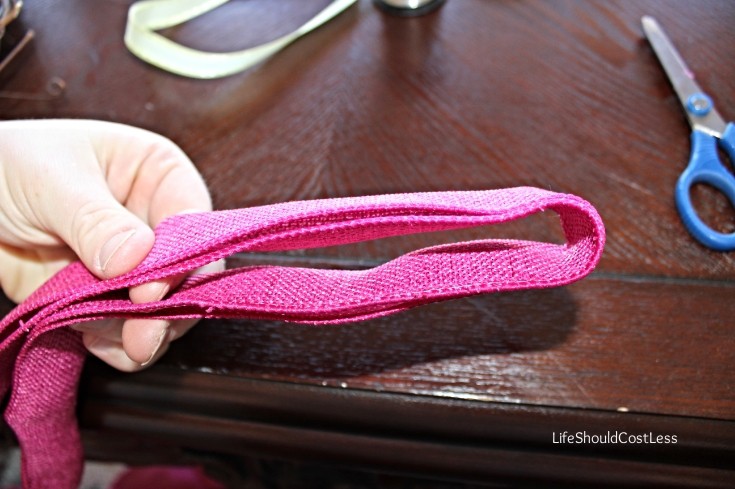 I decided that rather than just putting the wreath directly on the door hanger , which would damage the wreath, that I should just use some of the burlap ribbon. I folded it in half and then attached it to the wreath with crafting wire.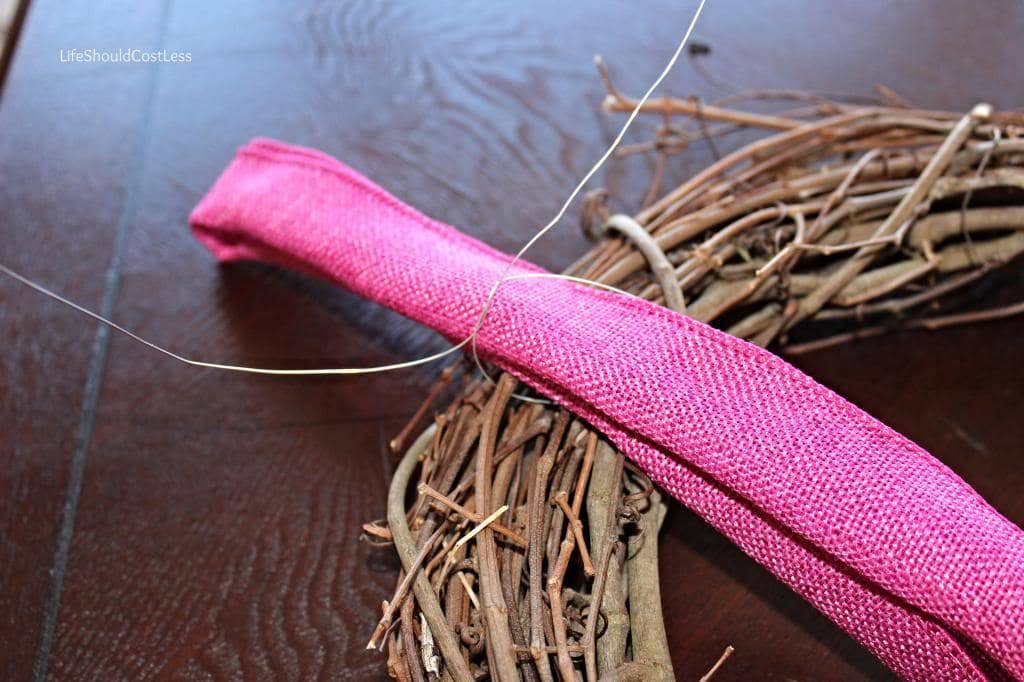 Like so.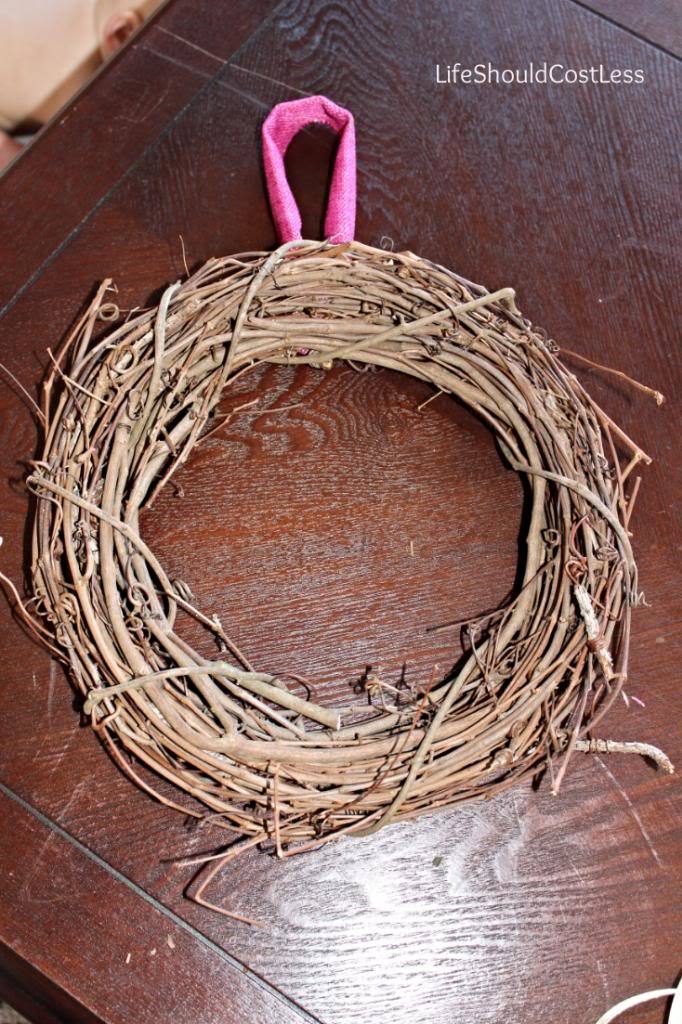 What it looks like with only the hanger portion attached.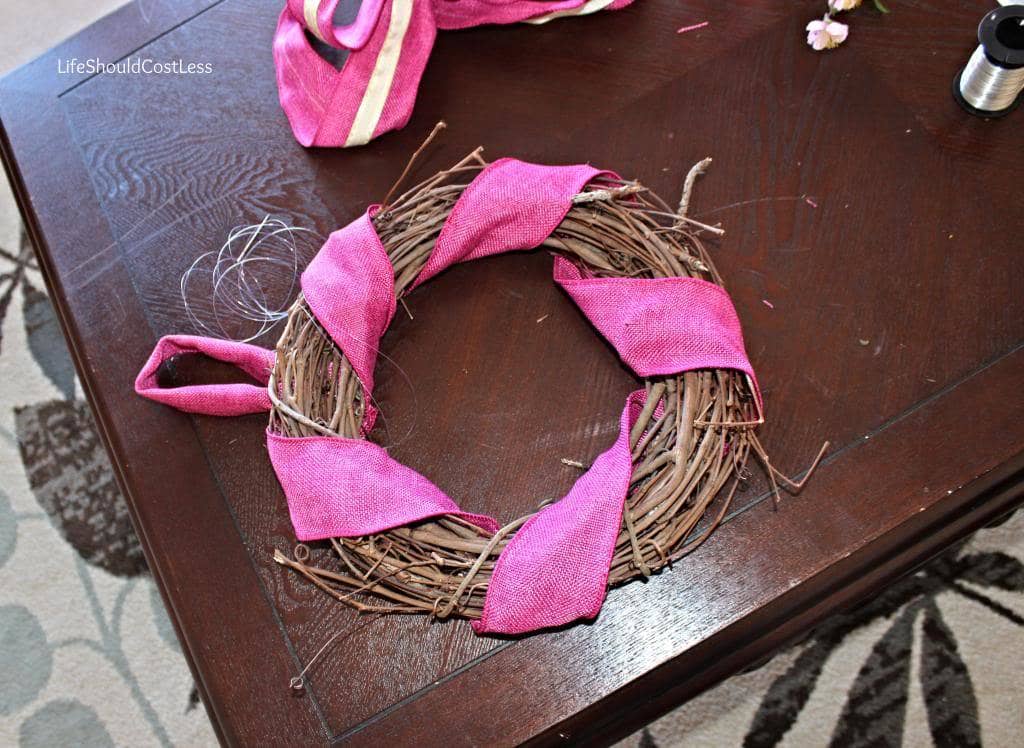 Next I wrapped the wreath several times with the burlap ribbon.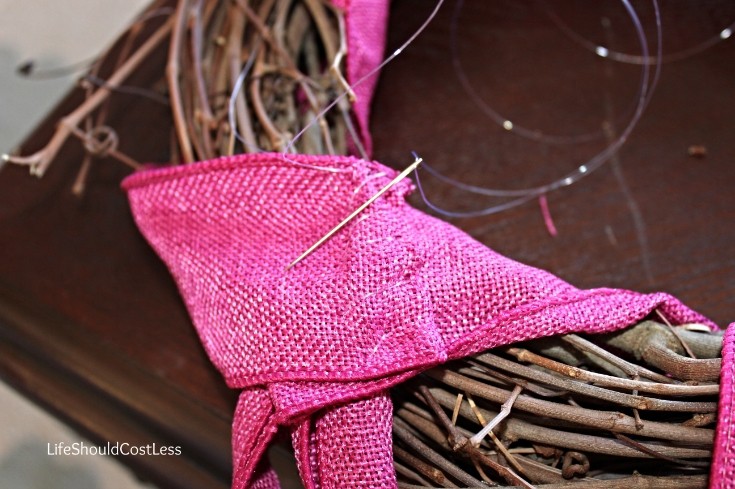 I decided to fasten the ribbon with fishing line because it is not going to be load bearing and it also makes it look just a little better.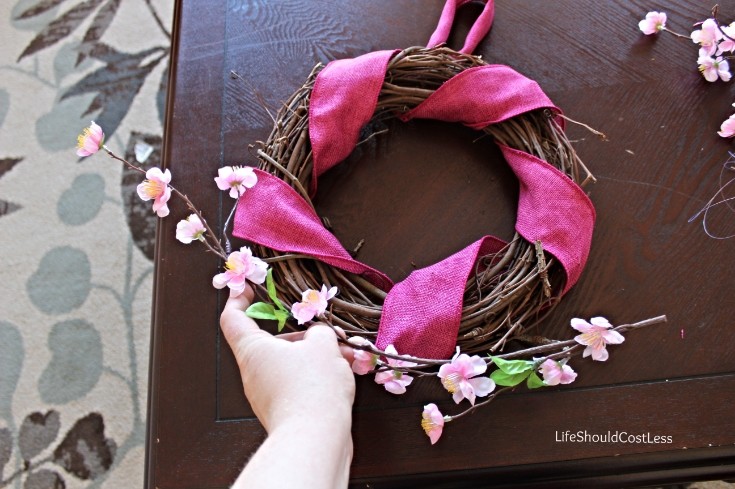 Next I decided which direction to add the cherry blossoms. I went with a clockwise flow.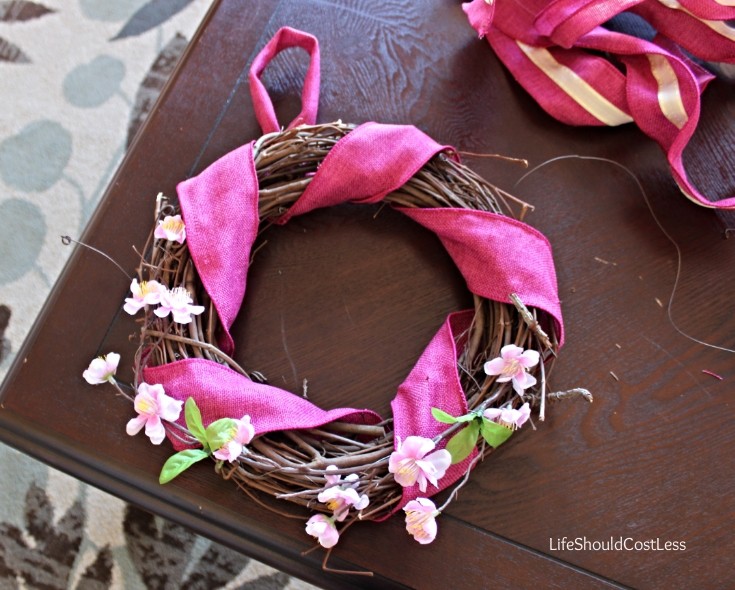 This I attached with crafting wire. The fishing line was a little too hard to work with the grape wines.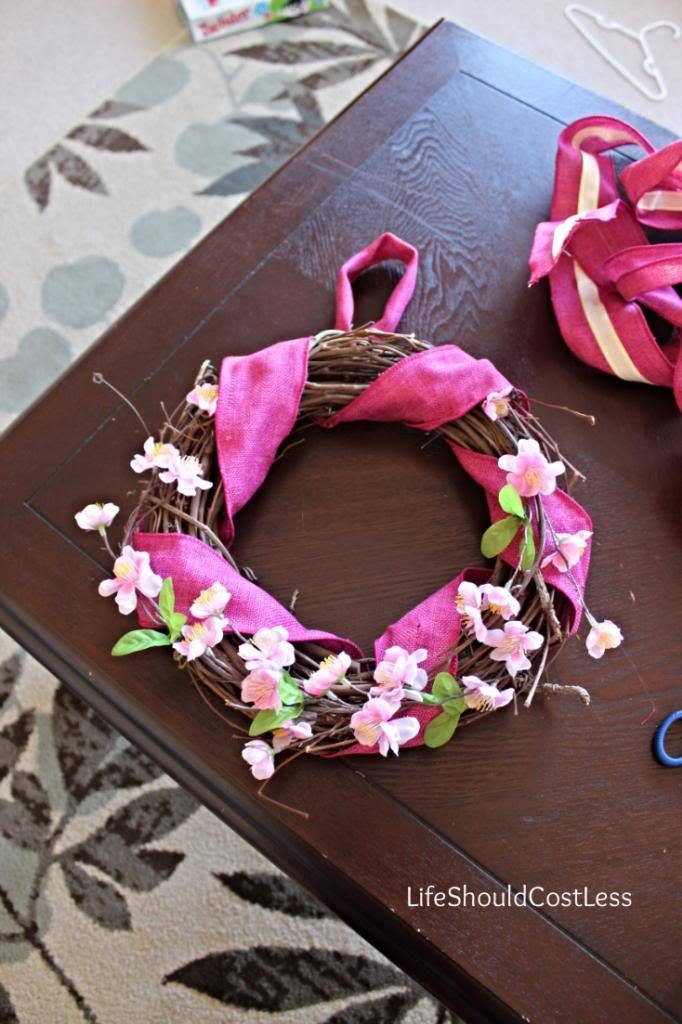 This was with two pieces of the cherry blossoms attached. I left the top portion free of blossoms because I knew that is where I was going to be adding a bow.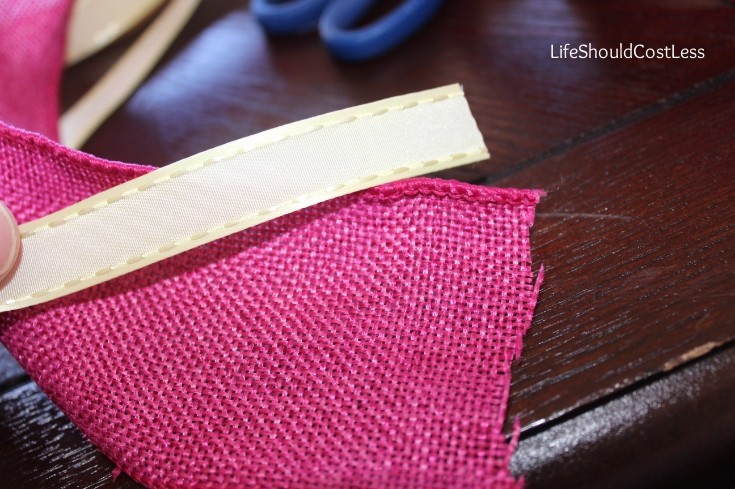 For the bow I wanted to use the same Fuschia burlap wired ribbon, but I wanted it to have an extra pop of color. This was achieved by sewing yellow ribbon down the center of the burlap ribbon. I made sure to use a really long, fairly loose stitch in case I didn't like it so it would be easy to remove.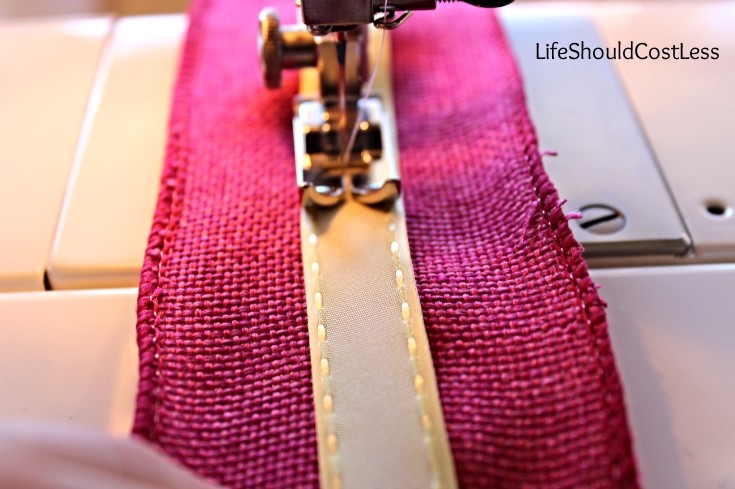 It was pretty easy to center it on the burlap ribbon. The yellow was the same width as my presser foot and there was about an inch of pink ribbon on each side…just eyeball it.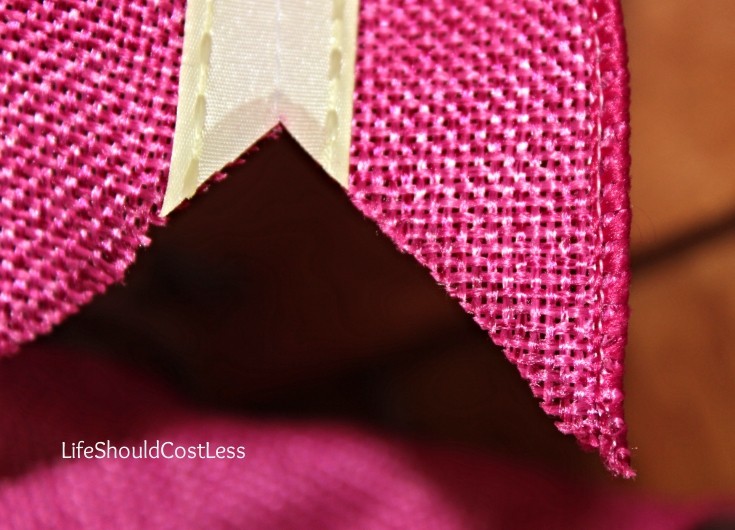 I just played around with the ribbon and some crafting wire to make the bow… my bow tying skills are pretty lacking so this is about as good as it gets. Anyway, I attached my bow to the top of the wreath with crafting wire and then decided how long I wanted to cut the streaming pieces of the bow. When I cut them I made sure to use fray check all along the edges of the places that I cut so that it will keep the "crisp" edge and look better longer.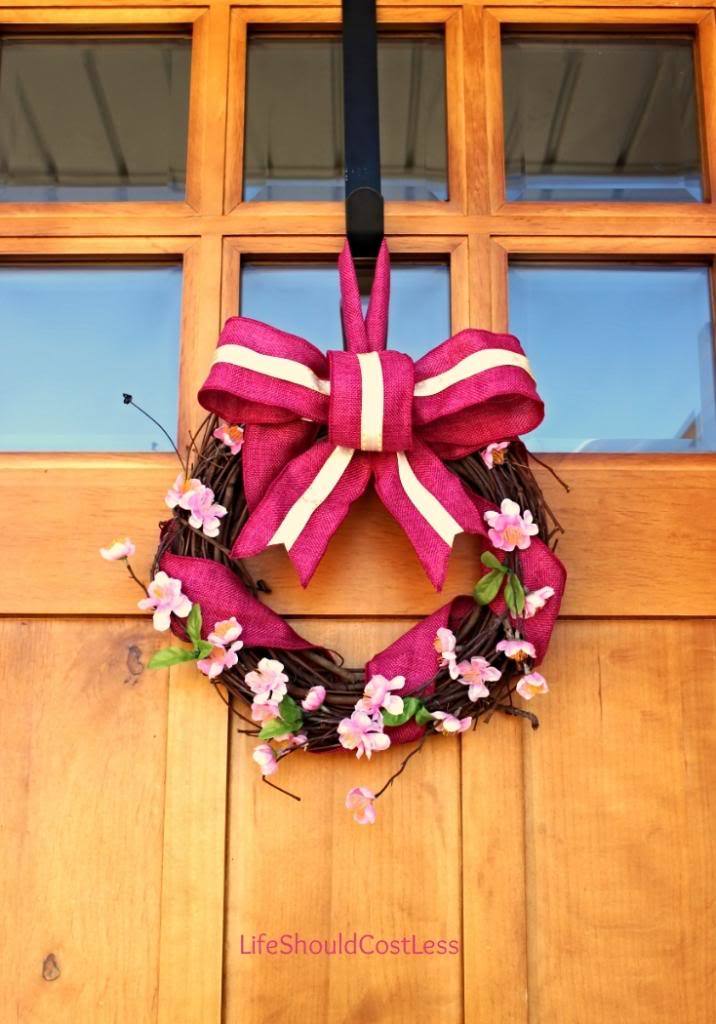 In case you forgot, here it is again. My super girly spring wreath!
There you have it! An inexpensive spring wreath. Happy crafting everyone!