Caramel Apple is by far my favorite combination of flavors this time of year…like possibly even more than chocolate and peanut butter (gasp).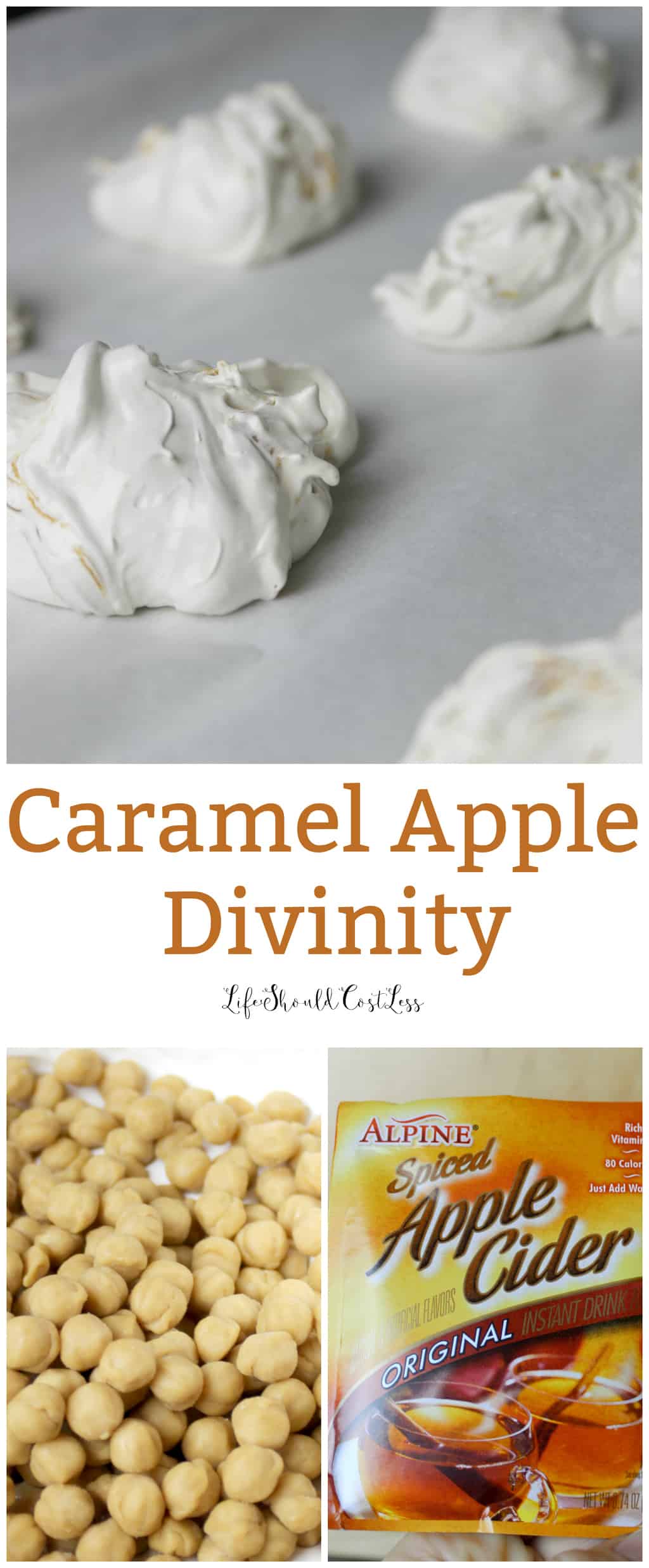 But really, it's such a delicious flavor combo that I have tried to use it many times…see my posts on Caramel Apple Cider, Caramel Apple Rice Crispy Treats, Caramel Apple Popcorn, and I was thinking about making a fudge recipe for it too, but found a recipe that is pretty dang close to what I would have developed in my own kitchen, so if you're looking for a good Caramel Apple Fudge recipe make sure to go here.
Anyway, let's jump right into how to make these delicious bad boys, but I do need to give you a huge helpful tip right here and tell you that you must not make divinity on a humid day. It will ruin your end result, like no joke, it will not set up. Candy making is a science, so even if there was a storm the previous day, I would still air out my house with the dry air for a couple of hours before attempting to make divinity.
Here we go, here are the ingredients all laid out: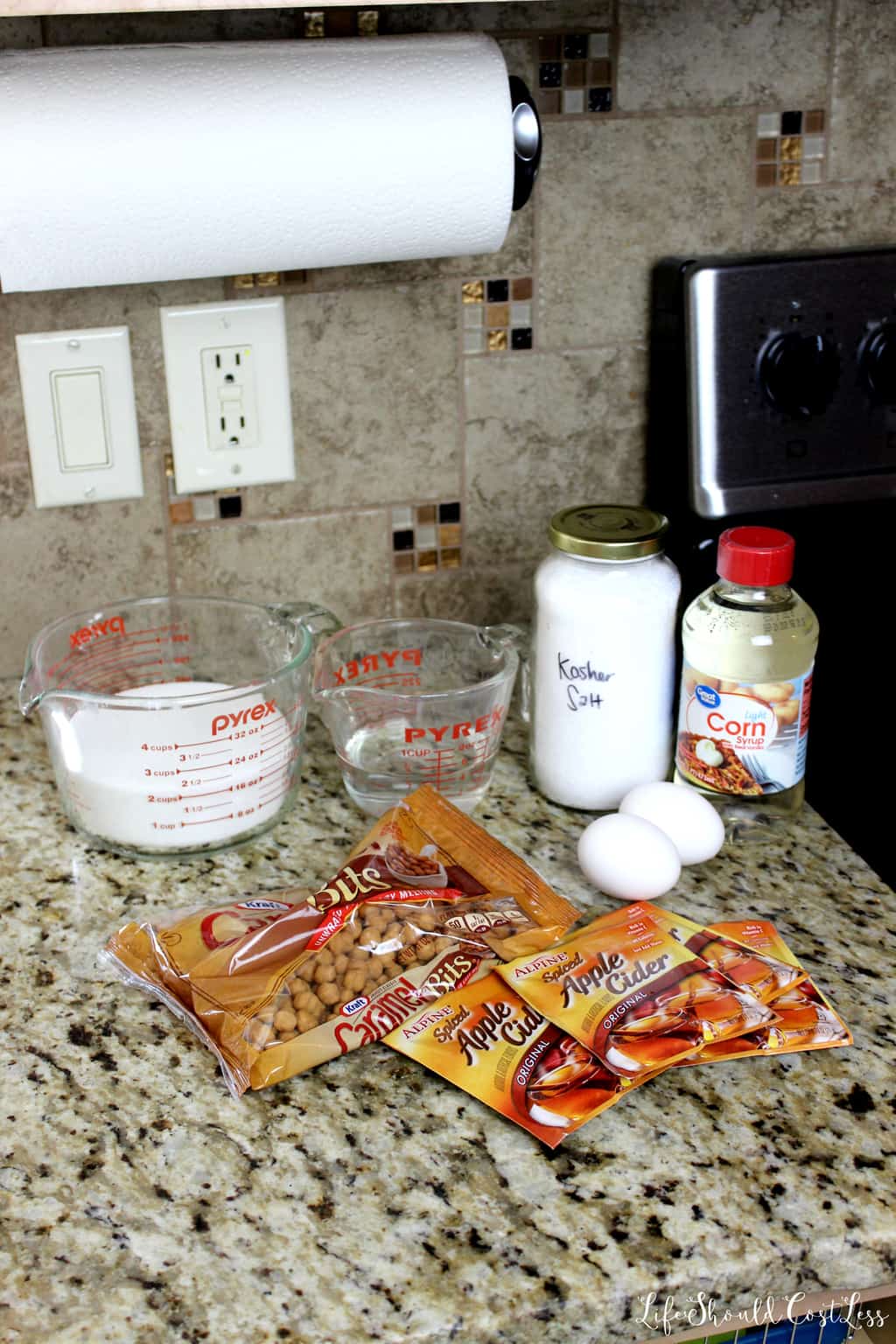 Here's a close up of the cider packets so you know exactly what I mean when the recipe calls for packets of cider (dry).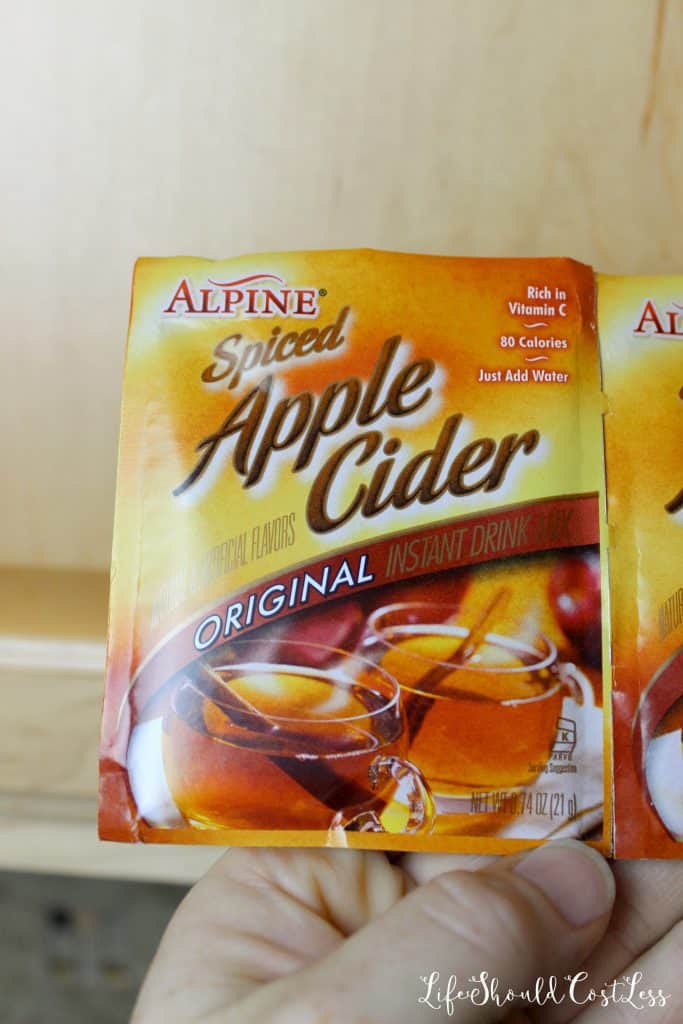 In a large stock pot, with a thick bottom (this is the one that I have and LOVE), I added the corn syrup and water. Then the dry ingredients.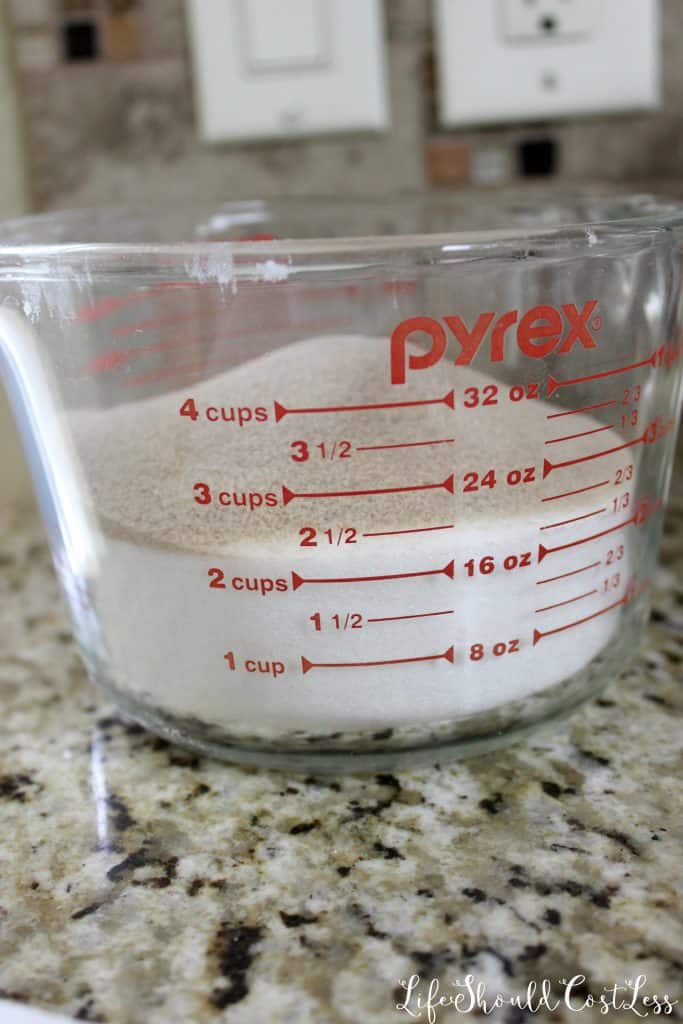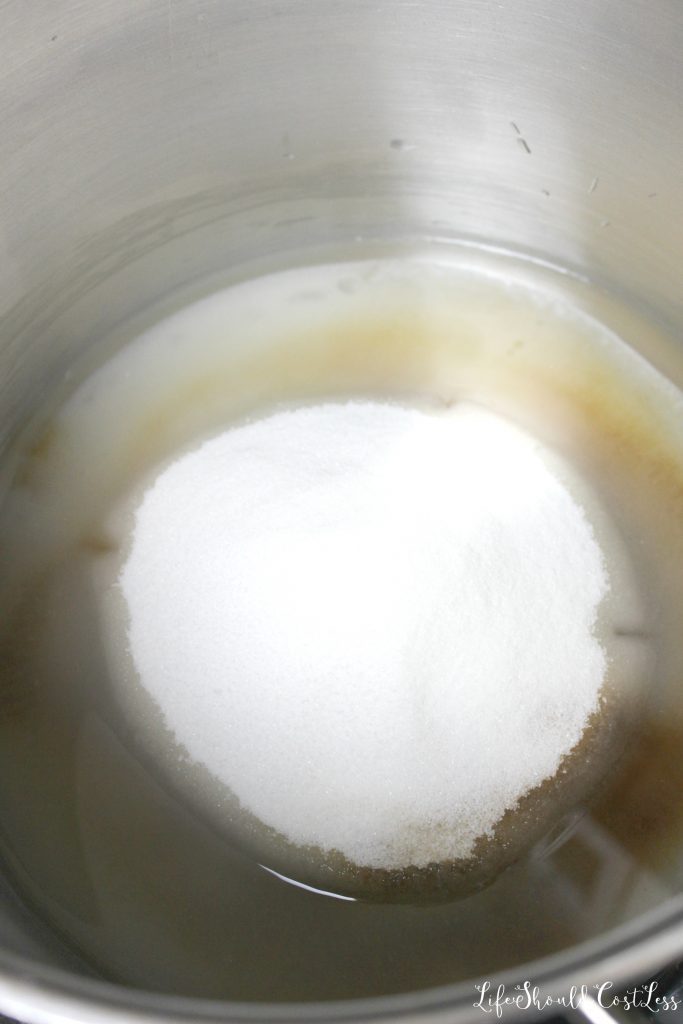 I swirled the mixture around just a little to help it mix a bit. DO NOT STIR!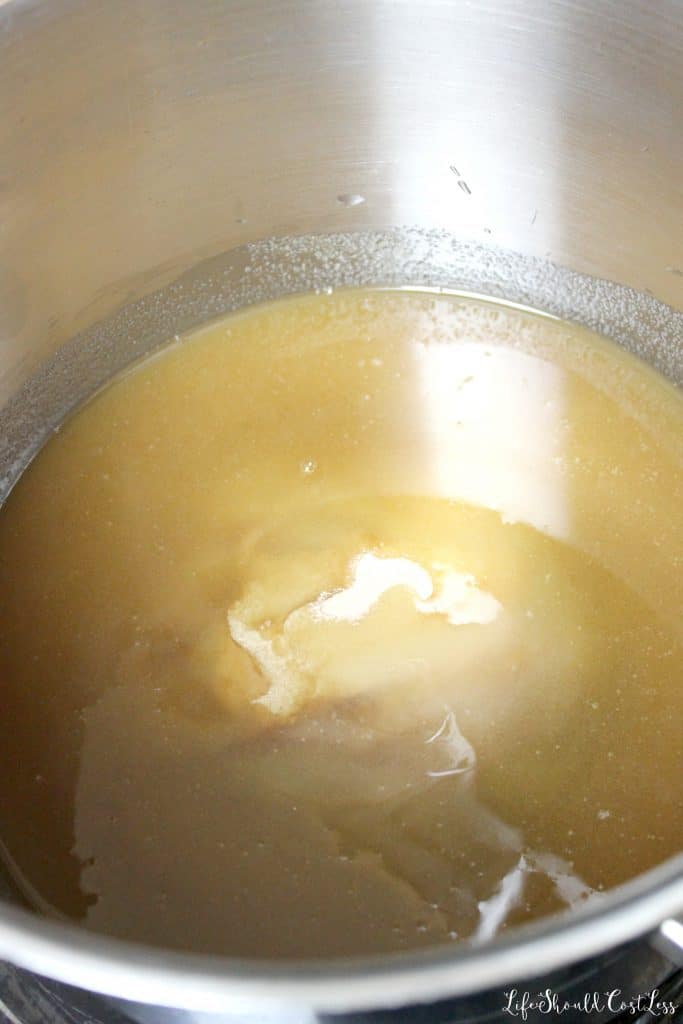 Next, I clipped a candy thermometer to the pot…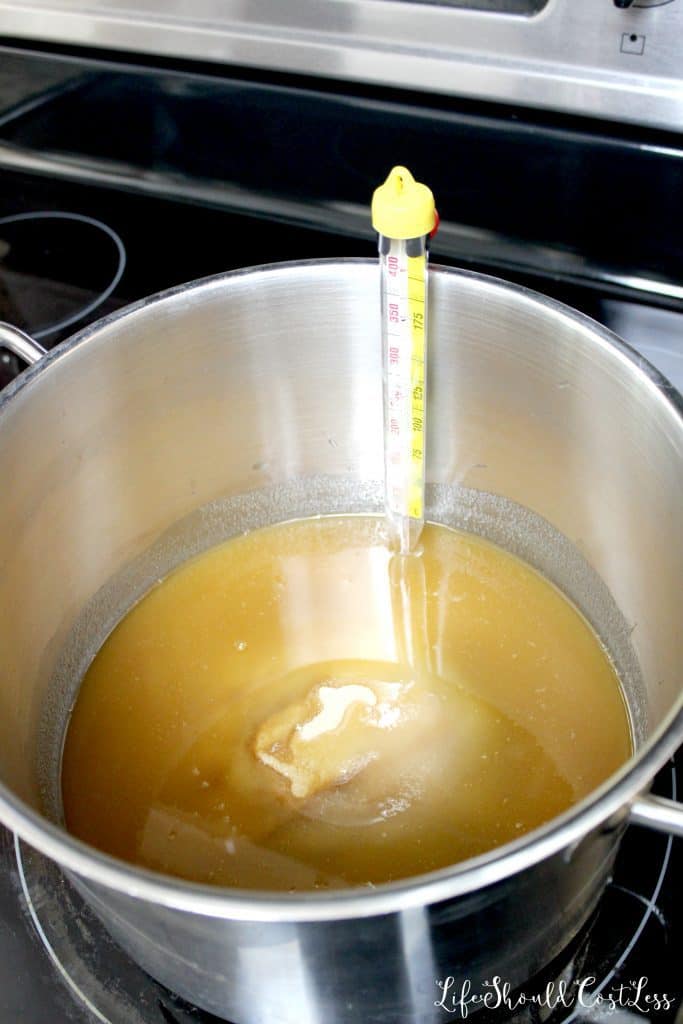 Brought it to a boil,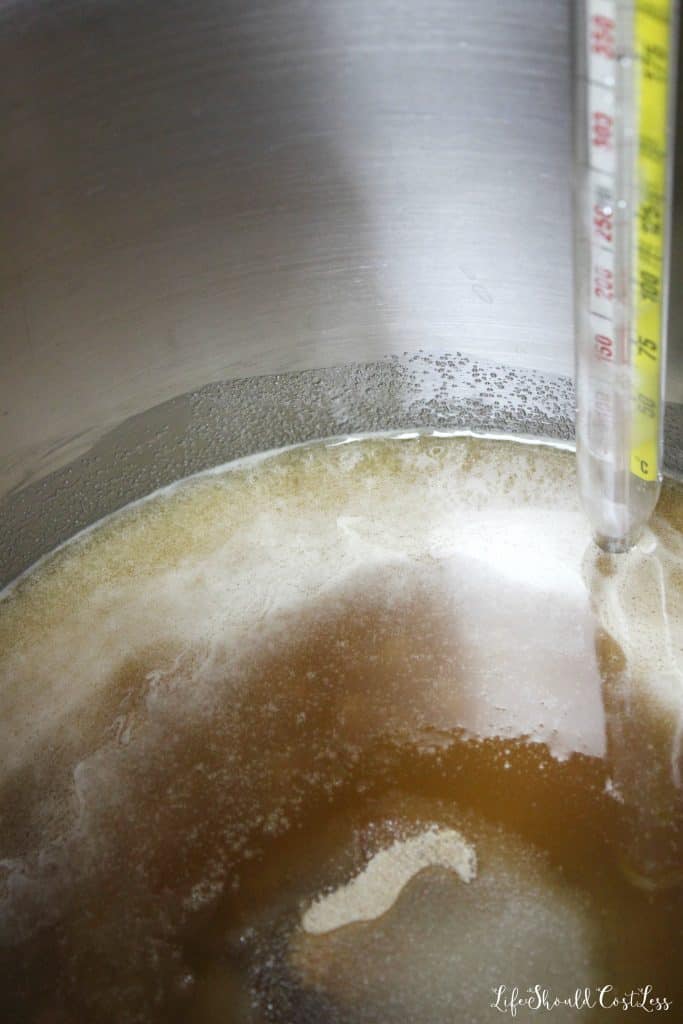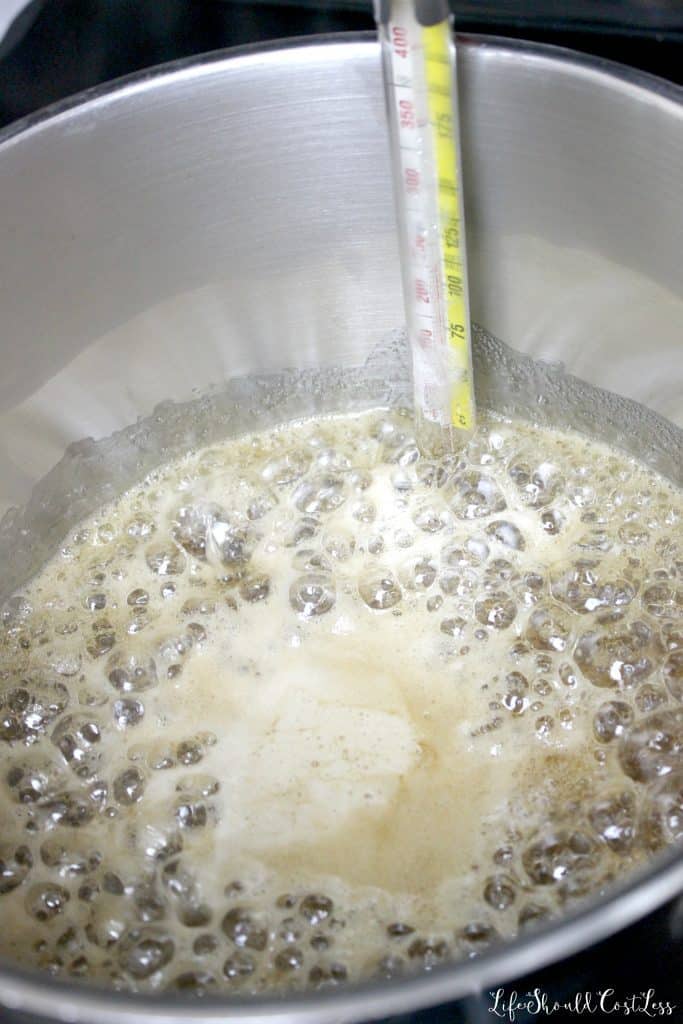 Then let it cook, without stirring, until it had reached the hard ball stage.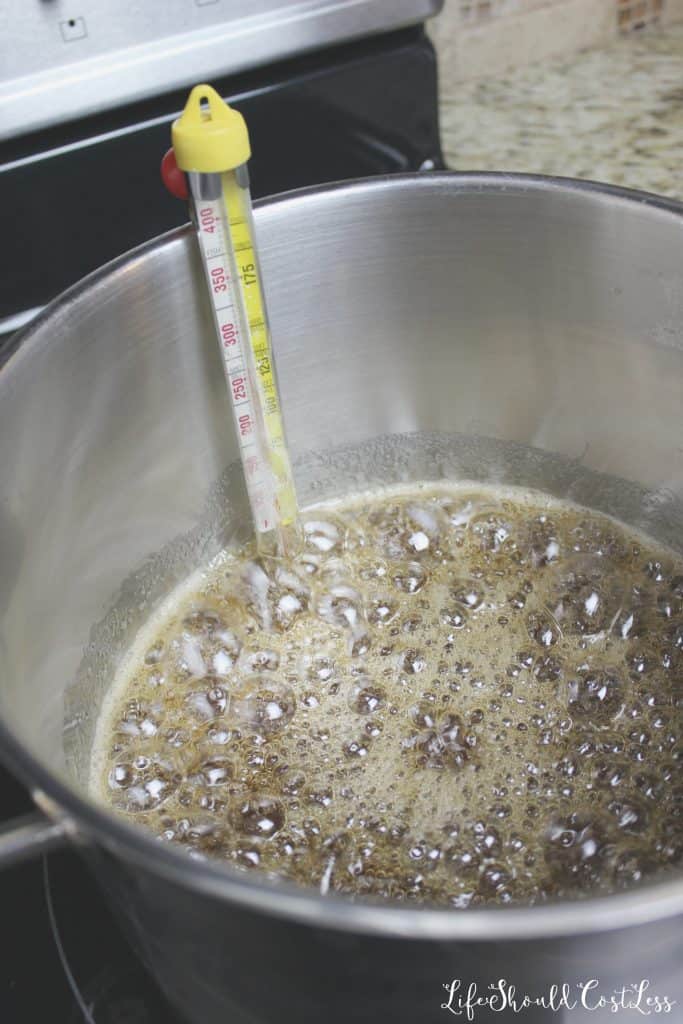 While the candy mixture was boiling I took out the two eggs, separated the whites from them, and whipped them until they formed a stiff peak when trying to remove the beater.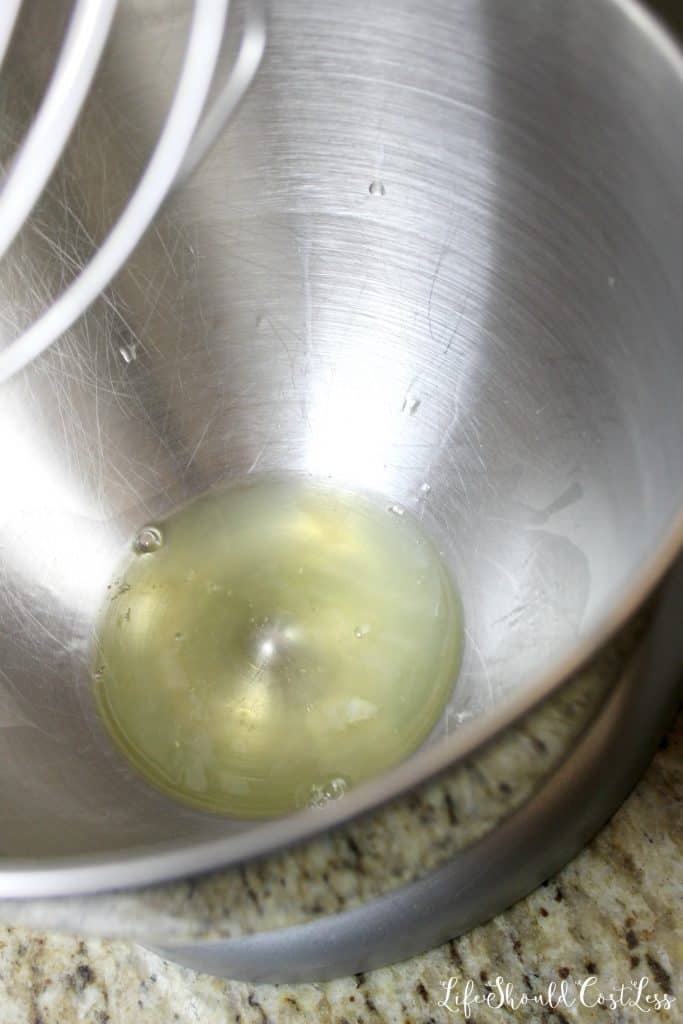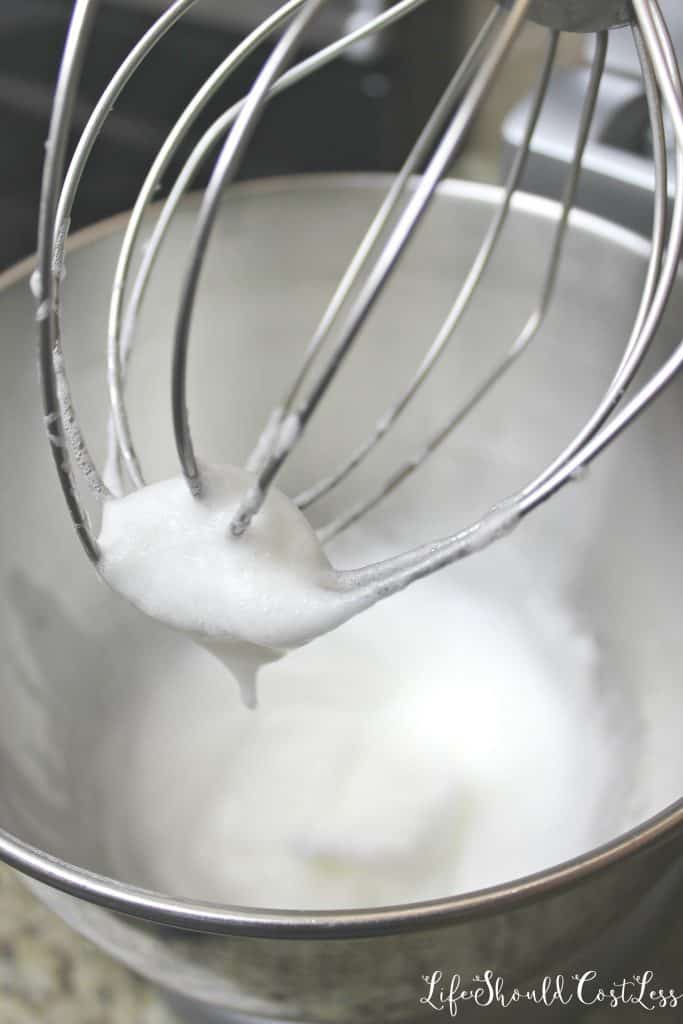 When the candy had reached the hard ball stage, it was ready to add it to the foamy eggs. The key to do this part right is to add it very slowly while the machine is mixing. This part should take about two minutes so don't rush it or it will ruin your divinity.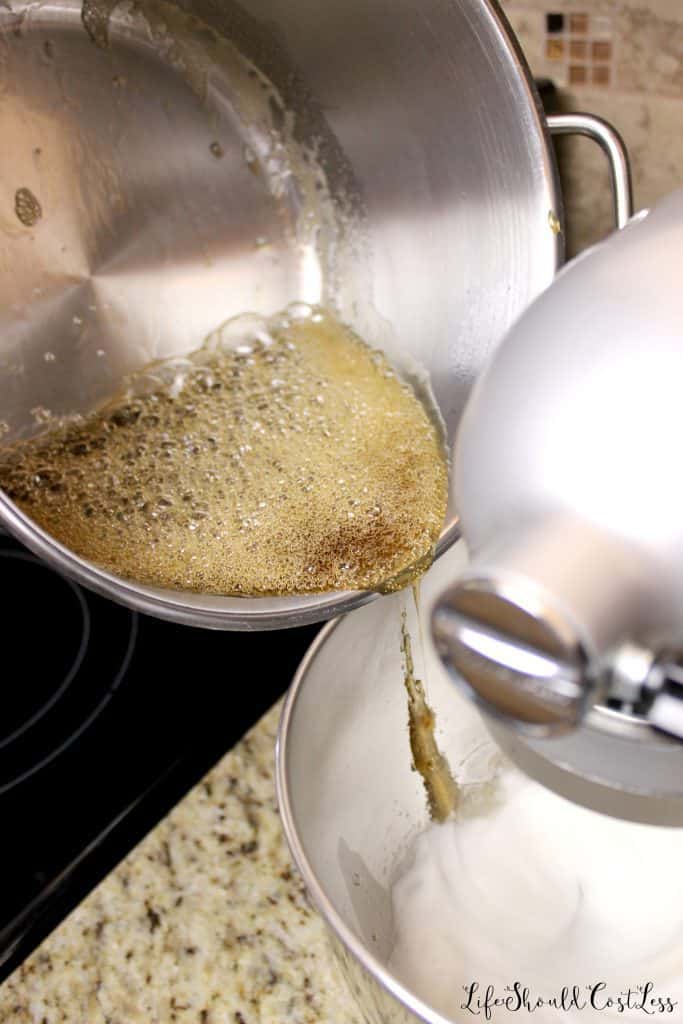 Once all the hot candy mixture had been added to the fluffy egg whites, it was time to mix it hard until it is the right texture. This part should take at least 7 or so minutes, depending on the temperature in your house and other varying factors. This next shot was what it looked like a couple of minutes before it was done…lift the beater to check it. But it should be thick and wanting to stick to the beater not soupy and all falling into the bowl.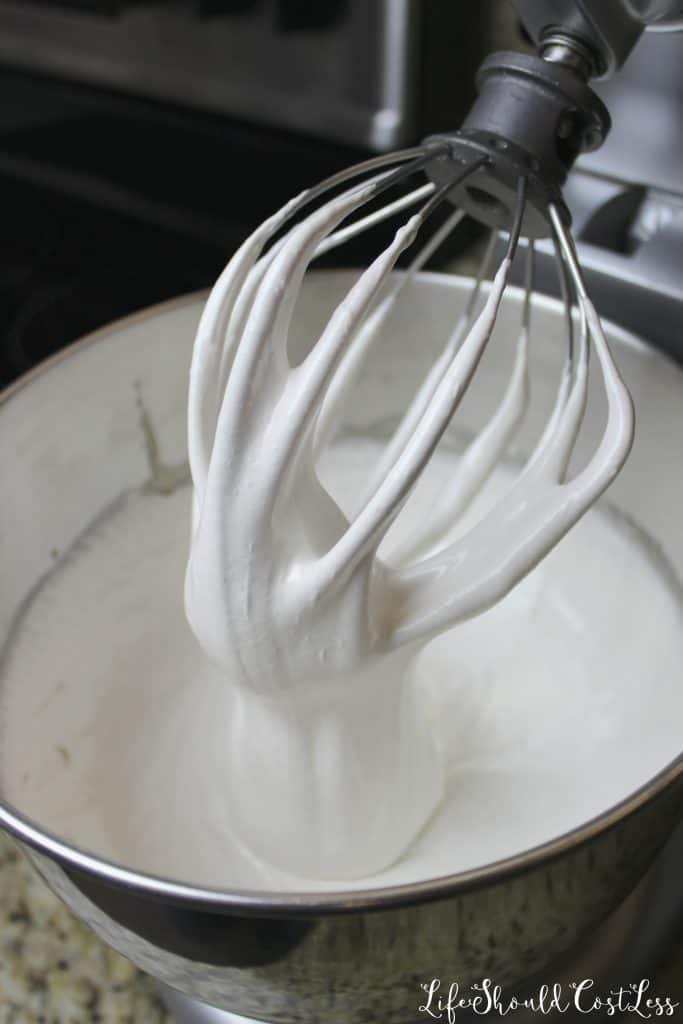 Once it has mixed to your desired level of done ( I always get scared that I'm going to over-mix it and ruin it so I usually err on the side of caution and just stick them in the freezer to set up faster and hold their shape), then you can add the Kraft Caramel Bits and gently fold them in. I use a high heat rubbermaid commercial scraper for this part, which I strongly recommend, but any stirring tool will work.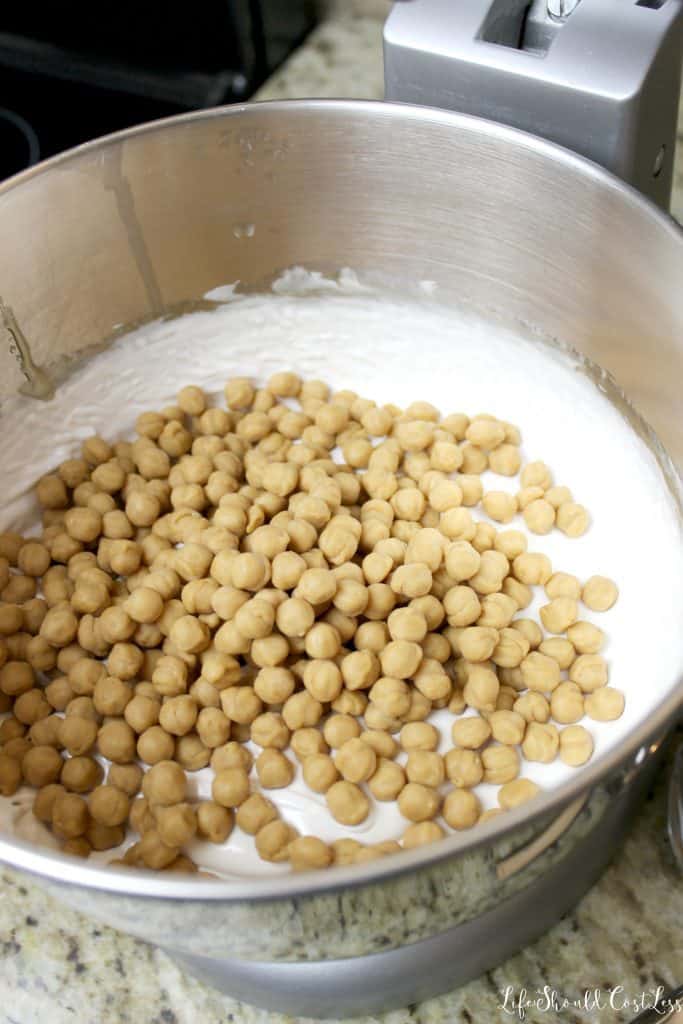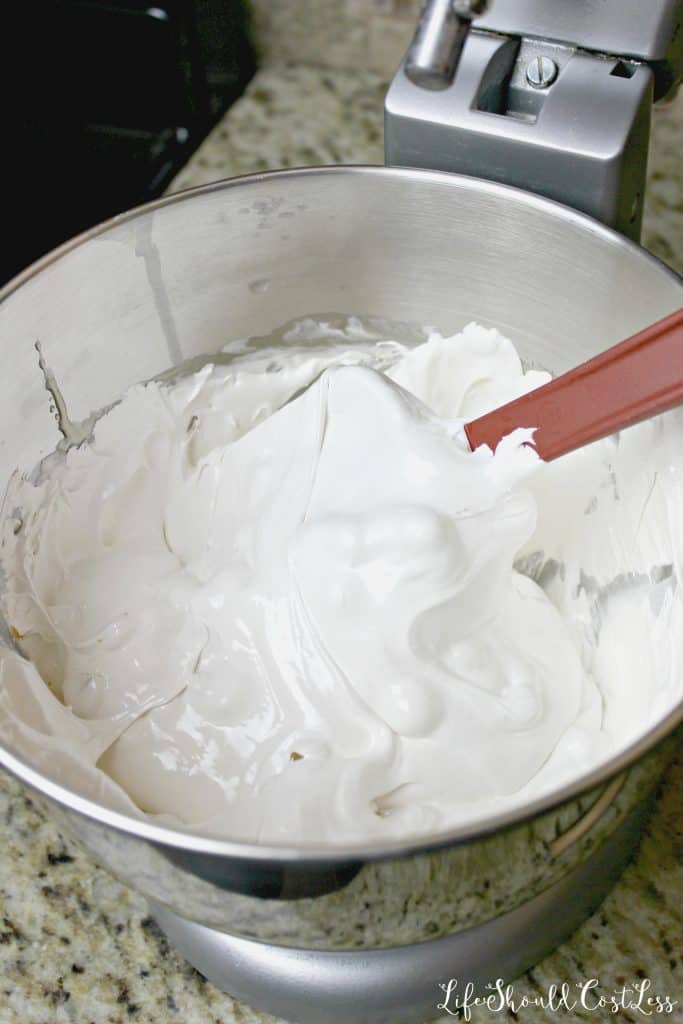 At this point it is done and I plop them out on a parchment paper lined baking sheet using two spoons.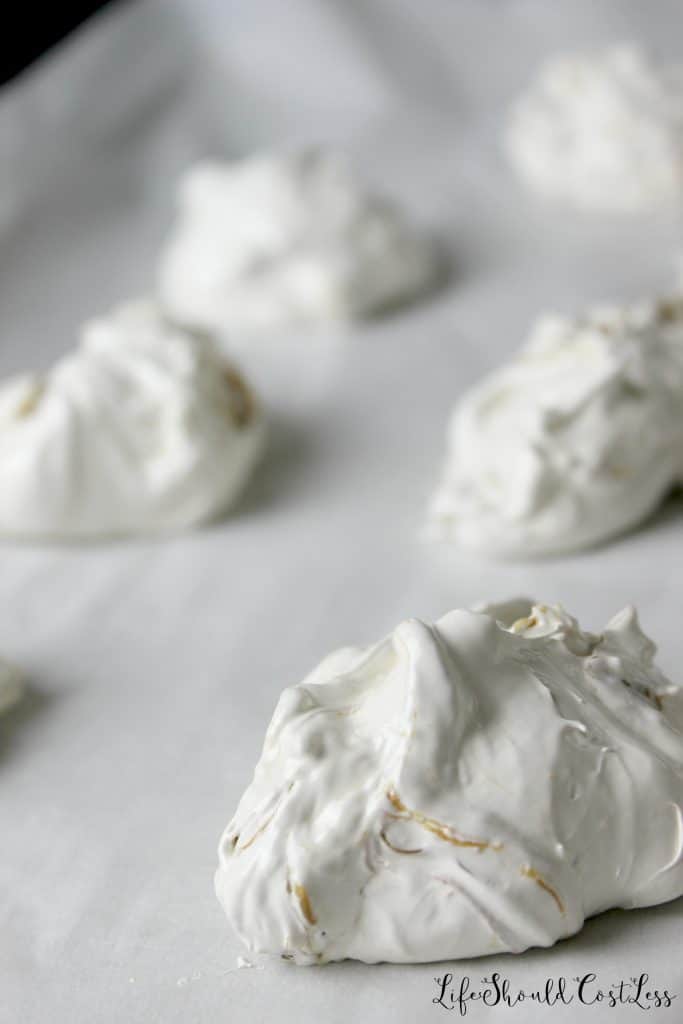 You can either let them set up on the counter or stick them in the fridge or freezer to speed it up a bit.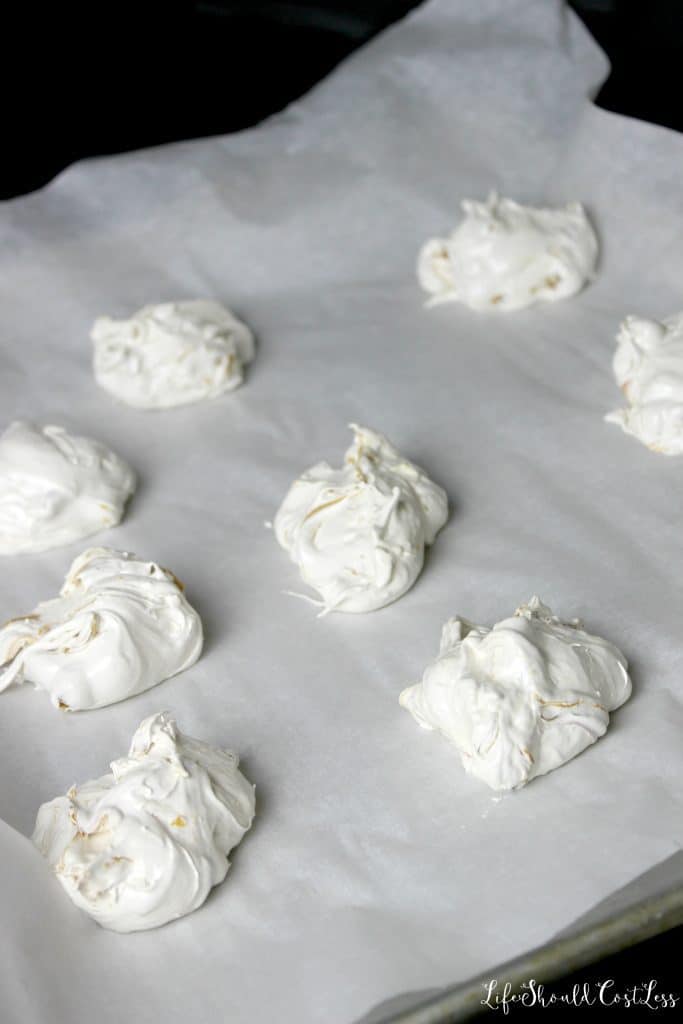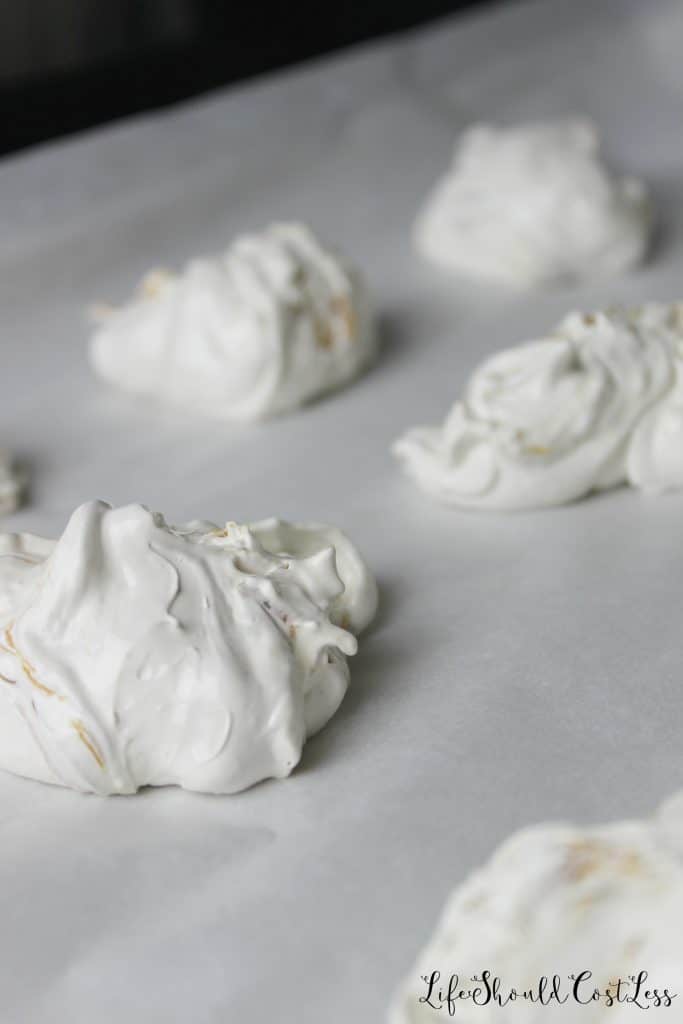 Here is a square image to help you guys share this post on insta, facebook, twitter, or anywhere that prefers a square image.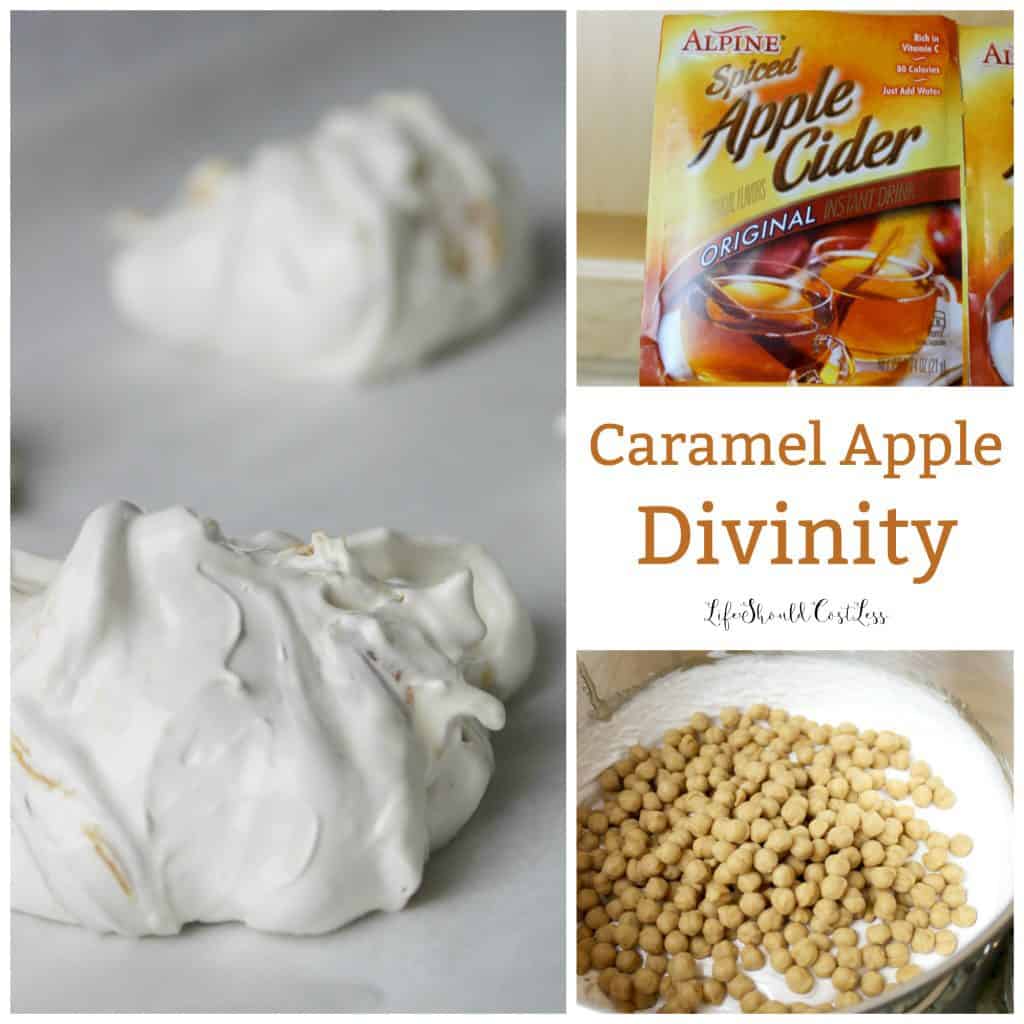 Oh my goodness, I forgot to tell you that when I did a google search for Caramel Apple Divinity not a single thing came up, so you better believe that I was totally pumped to come up with a recipe that is actually original…like I don't know if one even exists out there (at least it's not on the internet yet if there it does) before this one and in the age of technology that is a huge accomplishment , definitely a first for this seasoned blogger. Anyway, just had to share my excitement especially since it took me so long to get this recipe right.
Caramel Apple Divinity
Author:
LifeShouldCostLess.com
Ingredients
½ Cup Light Corn Syrup
½ C Water
Pinch Of Kosher Salt
2&1/3 Cups Pure Cane Sugar
5 Packets Apple Cider Drink Mix (dry)
2 Egg Whites
1 Full Bag of Kraft Caramel Bits
Instructions
Add the first five ingredients to a large heavy pot. Do not stir and make sure not to let the dry ingredients touch up the sides of the pot. Swirl the pot slightly to mix it a little.
Turn heat to medium/high and attach a candy thermometer.
Let the mixture reach the hard ball stage without stirring it.
While the mixture is heating on the stove, add two egg whites to your mixer and beat on medium to high until they are fluffy and form a peak when you pull out the mixer.
Once the candy has reached the hard ball stage, remove it from heat and very gently and slowly, while the mixer is running on medium/high, add the candy mixture to the fluffy egg whites. This process should take about two minutes.
Once you are done adding the entire mixture, continue to beat until it just barely goes from a glossy sheen to a matte sheen (which can take anywhere for 7 to 12 minutes depending on the temperature in your home, the speed you are beating it, and the humidity in the air so watch it closely).
Once you are done beating it. Remove the beater and gently fold in the caramel bits.
Drop by spoonfuls onto parchment paper and let cool to room temperature. You can speed this up by putting them in the fridge if you choose to.
Store in an airtight container. These freeze really well so you can make them ahead if you need to.
Notes
FOR BEST RESULTS *Divinity will not get the right texture if you are making it on a humid day. Make sure that it's not stormy out and you have aired out your home if there was recently a humid day.*
Thoughts? I personally had a hard time not digging them out of the freezer to munch on throughout the month while I was making batch after batch and tweaking the recipe…I'm pretty sure I gained five pounds in the process, but I'm just plain too scared to hop on the scale and find out. It was totally worth it though.
If you liked this recipe, please make sure to share this post via social media! You also have the option of making a direct donation to the website by means of my PayPal account, if you feel so inclined. Either way, thanks so much for helping me support my kids! Oh, and don't forget to make sure that you are subscribed to my email list so that you never miss a post. Thanks again! ~Sarah
P.S. If you liked this recipe stick around and browse through my Sweet Tooth section.