Last year I did my first solo garden and it was a joke. Don't get me wrong… Things grew, but since my pregnant belly was also growing and I had all day morning sickness until I was about 30 weeks along, it was more like a weed patch with some veggies thrown in. The worst part is that since it was such a cold year the growing season was really short and I got about 1/3rd the yield that I could have had the plants had enough time to reach full maturity without the frost getting to them first.
I am determined to have a high-yield garden this year, so I decided that I needed to start the seeds early indoors to give them the best chance to grow. Our garage is way too dark and cold for this and I am too cheap to go buy lights (and power them) for a garage setup so I decided to see if we had anywhere else in the house that would work. As luck would have it, since we haven't fully furnished the master bedroom yet, there is a handy spot in the bay window that I am trying out this year and so far so good. I set it up a week ago and there are several plants popping up already. Yay!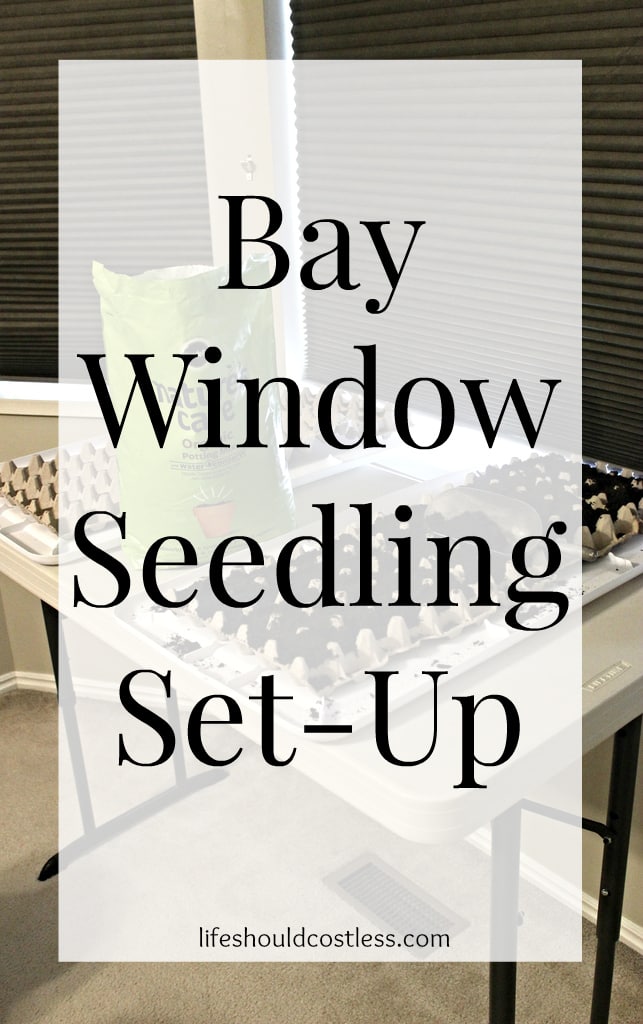 Last year, I had read the tip (thank you random pinterest source that I can't remember) that if you soak your seeds a few days prior to planting, it increases their viability. I'd say that about 90% or so of the seeds I direct sewed last year popped up and produced, so I made sure to soak them first again this year.
*The pics in this post are with me NOT staging them and cleaning like a mad-woman before taking pics. I'm trying to simplify (because it is way too rough trying to work from home with four little ones) and if that means showing you all how we actually live sometimes…then so be it. *
I never thought I'd like a corner sink because they don't look as nice, but they are sure functional! I have plenty of room to soak my seeds, keep a basket to toss in dirty wash rags (which I go through like 10 a day), and my compost scrap bucket.
Back to the bay window. Like I said before, we haven't furnished the master bedroom yet so we had room to put our seedling set-up… that is, if I work around the ever flowing laundry baskets (it's always clean though ;)) that need to be stored there until we gut and re-do both the master closet and the tiny laundry room.
Since the egg cartons don't provide much room in the way of labeling, I just went with some popsicle sticks(They were purchased at the DI in a huge bag of craft odds and ends for like $2 for the whole thing…even more savings). The stars on the sticks signify which were organic.
I decided that it was going to be a little hard to keep track of how many of each plants there should be so I just wrote how many there should be in that row on the back of each popsicle stick. See the beautiful growth already! I'm so excited about it!
I had actually over-estimated how many containers I would need and ended up only needing one…so far. As soon as the seeds come in the mail I'm going to be starting up a bunch of lemon grass to help combat the mosquito's. I bought 3,000 seeds. I hope that's enough ;). Anyway, my yard isn't big enough for all these wonderful plants and luckily a friend and I are doing a bit of a co-op garden at her house this year where she has a bunch of property just waiting to be used.
I'm sure my husband isn't too thrilled about it, but even with my seedlings going, there is still plenty of room for all the laundry that we are behind on.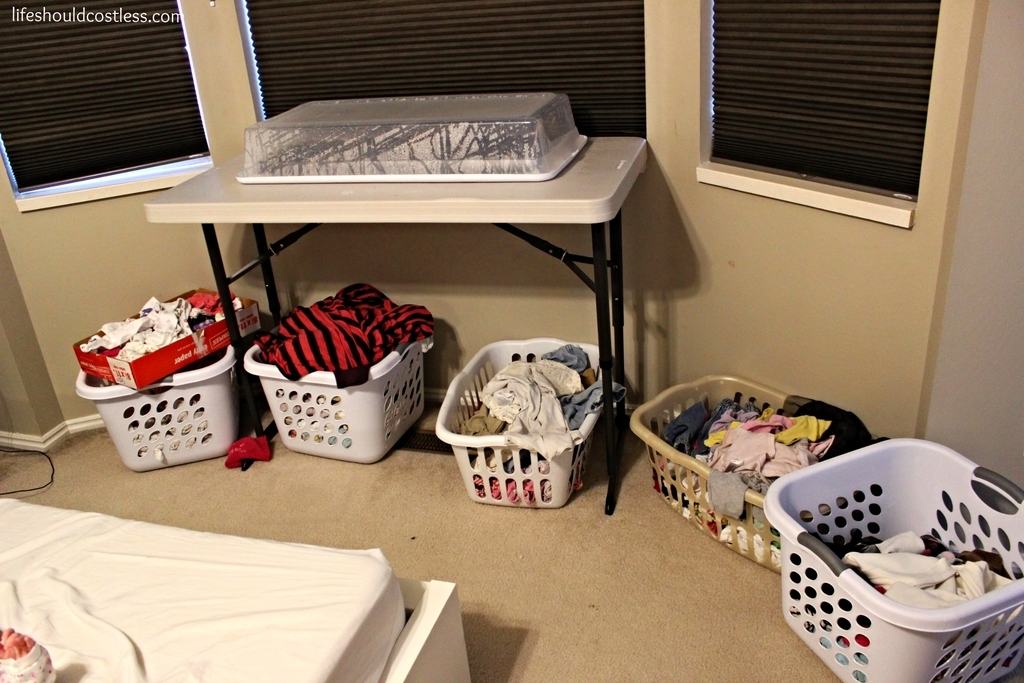 Working around these crappy, broken-shut blinds has been a challenge. I was able to just slide the box into the window seal a bit and it works great. There is tons of light there! Hopefully by next year I have the blinds replaced so there is even more light coming in, but this works for now.
I think I'm kind of in love with starting the seeds indoors first. It's a fun little experiment for the kids to see and my little "green-house" isn't taking up any more floor space than my laundry baskets were before. Plus, you don't have to water as often because the moisture is trapped in there. One less thing to have to worry about! Did I mention that I need about ten more hours each day? Then I'd be able to keep up with everything. Such is the life of a modern-day mother of several children trying to balance working (to create original content and my cousin and I are starting up another website this summer) and family. I hope you enjoyed this post! Make sure to stop by again soon. ~Sarah
You may also like: