Thanks to our recent move, my husband now has a bit more of a commute to work. I've been pretty worried, thinking ahead, about this coming winter and making sure that he'd be ok if he ever broke down on the way home. This new commute is not only longer, but the roads along the way are much less populated, so if he needed to walk somewhere for help he may have a couple or more miles to cover and I don't want him to freeze. Anyway, I've been slowly gathering some supplies these last couple of months and I figure that it's worth sharing so that others can prepare too.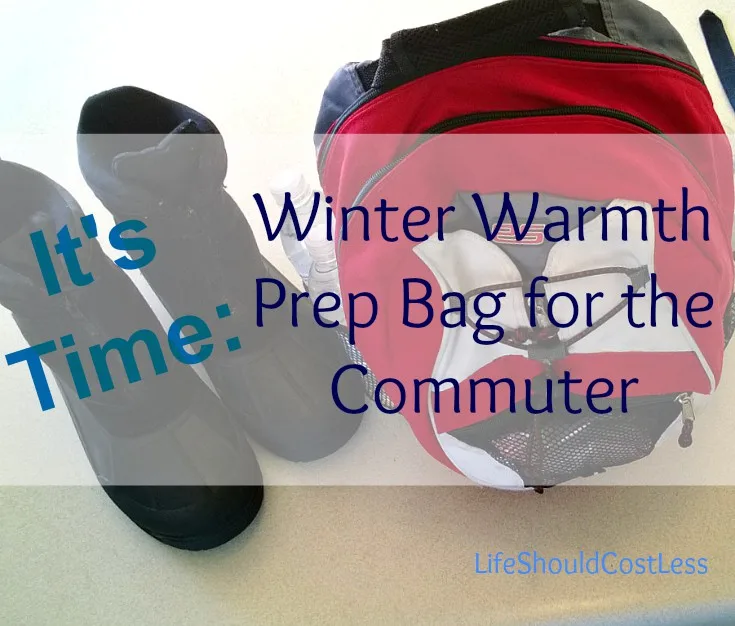 The very first thing that I decided we would need is a Sturdy Bag or Backpack to hold all of your stuff, plus it's good to have to carry supplies with them if they need to do any walking. I found mine at the DI for $3. If you're buying second hand, make sure to check all the zippers, and examine the bag and straps for holes or anything broken.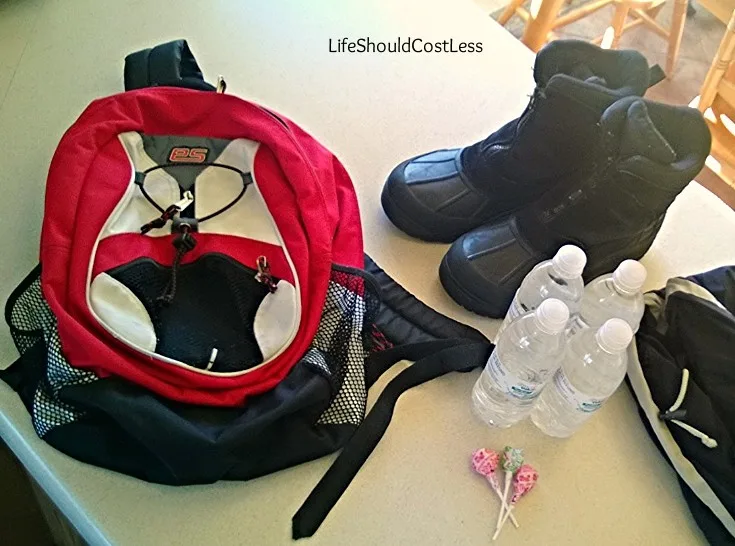 Next, find some Good Winter Boots. These don't quite fit in this bag, but he has them sitting in the trunk next to it…just as long as they are in the car he'll be ok. We also found these winter boots at the DI for $6.
Then, I made sure that he has the following clothing items:
Warm Wool Socks

(got at Costco in a 3pk)

Gloves

(just packed what we had on hand…no pun intended:)

A

Beanie/Hat

(also got at the DI for a buck)

The Warmest

Jacket/Coat

that we had on hand.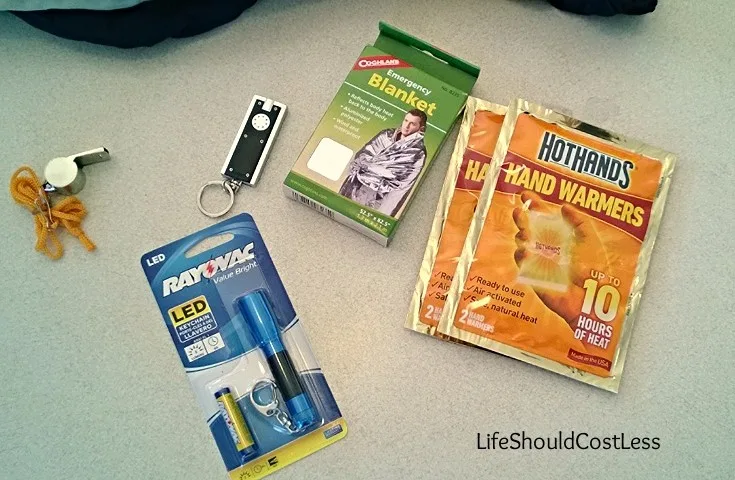 Later I bought him a Whistle because it should be easier to find him if there is a snow storm going on.
I got him a Mylar Thermal Blanket
as well as some
Hot Hands Hand Warmers
to give him a little more warmth. There are already a couple of blankets in the trunk, but I wanted to make sure he had one more way to keep warm. I also got him two sources of light, a decent brand little
LED flashlight with Battery
and a
Key Light
as a backup.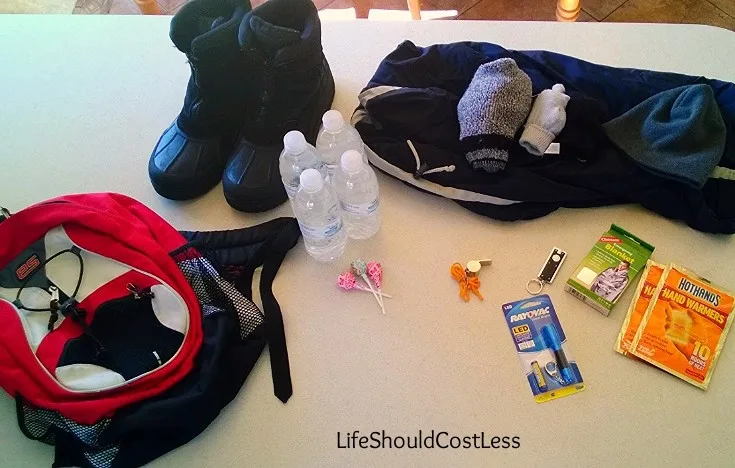 Next step is to work on Water, you just never know how long you could be stranded. I grabbed him 4 extra bottles of water (as many as would fit in the side pockets), he already has his 3 day supply in the car if he needs it so I figure he's covered there. I also grabbed whatever Hard Candy that we had, which just happened to be dum dums.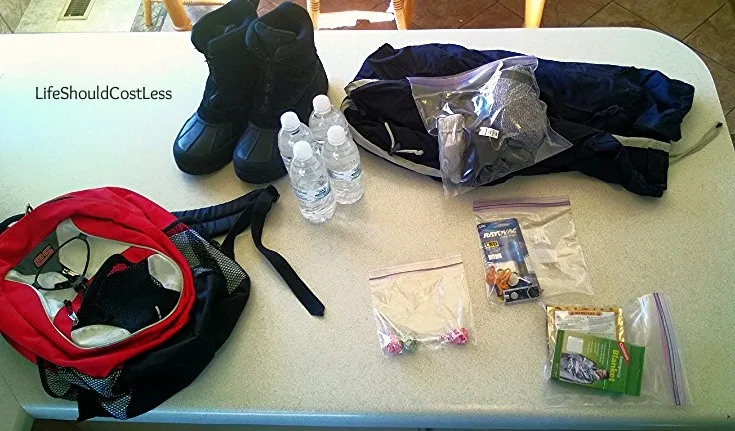 Now, I know that I don't have everything that he could possibly need yet, but I've got a good start. I put whatever fits in Ziploc Bags to make sure that it stays water/snow-proof.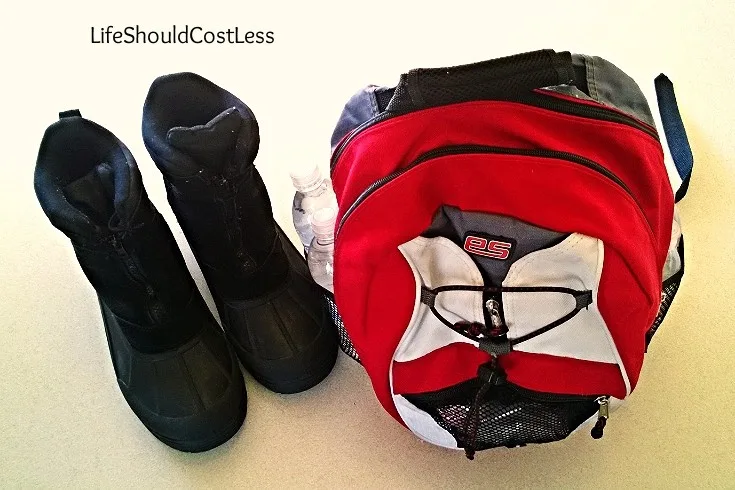 Then, I talked about it with my husband, loaded it all in the bag, and had him put it in the trunk of his car. He also knows that if he ever needs to use it, once he has his winter clothes on, he can
fill the backpack with anything he may need out of BOB, which is also sitting in the trunk.
My next step is to write out a list, of items that he may still need, that I need budget in and get in the bag as soon as I can. This list looks like this:
Map

(In Plastic)

and Compass
$30 in both Cash/Coins

(I say this amount because gas cans at a gas station can be $18 or $20, plus he may need enough money to fill that gas can)
As always, just get together what you have and get working on it. Get it in the trunk and you'll be just a little more prepared than you were yesterday.
Also check out: