I'm so excited to share this post with you all today!!! I have literally had this idea rolling around in my head for the last couple of years and I finally found the time to get it out in real time.
When I first saw that people were using washable shower curtains to let their kids color on, I thought that sounded like a whole lot of fun…but it seemed to just scratch the surface of what it could be used for. The idea immediately sparked my imagination and the wheels have been churning ever since. I thought to myself, why not use it as a backdrop for a PVC theater for the kids to use (Heck, I could even use it myself)? That way, they can draw to their little hearts content, do a play using it as a prop, and then wash it and do it all over again. I knew this had the potential to provide hours upon hours of creativity and if I did it right, it could be one of the most versatile "toys" I will ever give my kids. Plus, I'm hoping that if I got this post up soon enough that any of you parents out there that love the idea, will have plenty of time to make this as a surprise for your kids for Christmas!

*Hey there, thanks for stopping by my website. This article is super old, so it has been archived as I no longer update it…so proceed if you wish…but it is definitely not my best work. Please stop by my home page, here, and see some of my better content. Thanks! ~Sarah*
You are all going to think I'm a total dork, but I consider this Multi-Use PVC Theater the "THNEED" of PVC theaters because it can do so many things…I guess you could paint the PVC to look like Truffula Tree trunks and then it really could be :).
So far, I've decided that it can be used as the following:
Making Plays with washable backdrops. I can't draw to save my life, but I used my overhead projector (found at a thrift-store) and a coloring page that I found online and outlined the tower scene from Rapunzel/Tangled (as an example). I used a white shower curtain and Crayola washable markers. Believe it or not it only took me about 30 minutes to outline this one and that was even with how much detail there is on the tower. My kids and I had a blast coloring it for you. *If I were a drama or special ed teacher I would be jumping for joy right now! This could be a really fun thing to have in a classroom. Plus, if you wanted to trace the backdrops with a permanent marker then only the coloring portion would be washable but it would still be lots of fun. Then just keep building on your backdrop collection.

Use it as a puppet theater. I explain more further down the page, but I wanted the kids to be able to use those same washable backdrops to use for hand and finger puppets so I made it an option to use a removable puppet theater. My favorite brand of puppets are by Melissa and Doug. Everything I've ever bought in that brand has just lasted for years so I think it's worth the investment rather than needing to buy puppets over and over.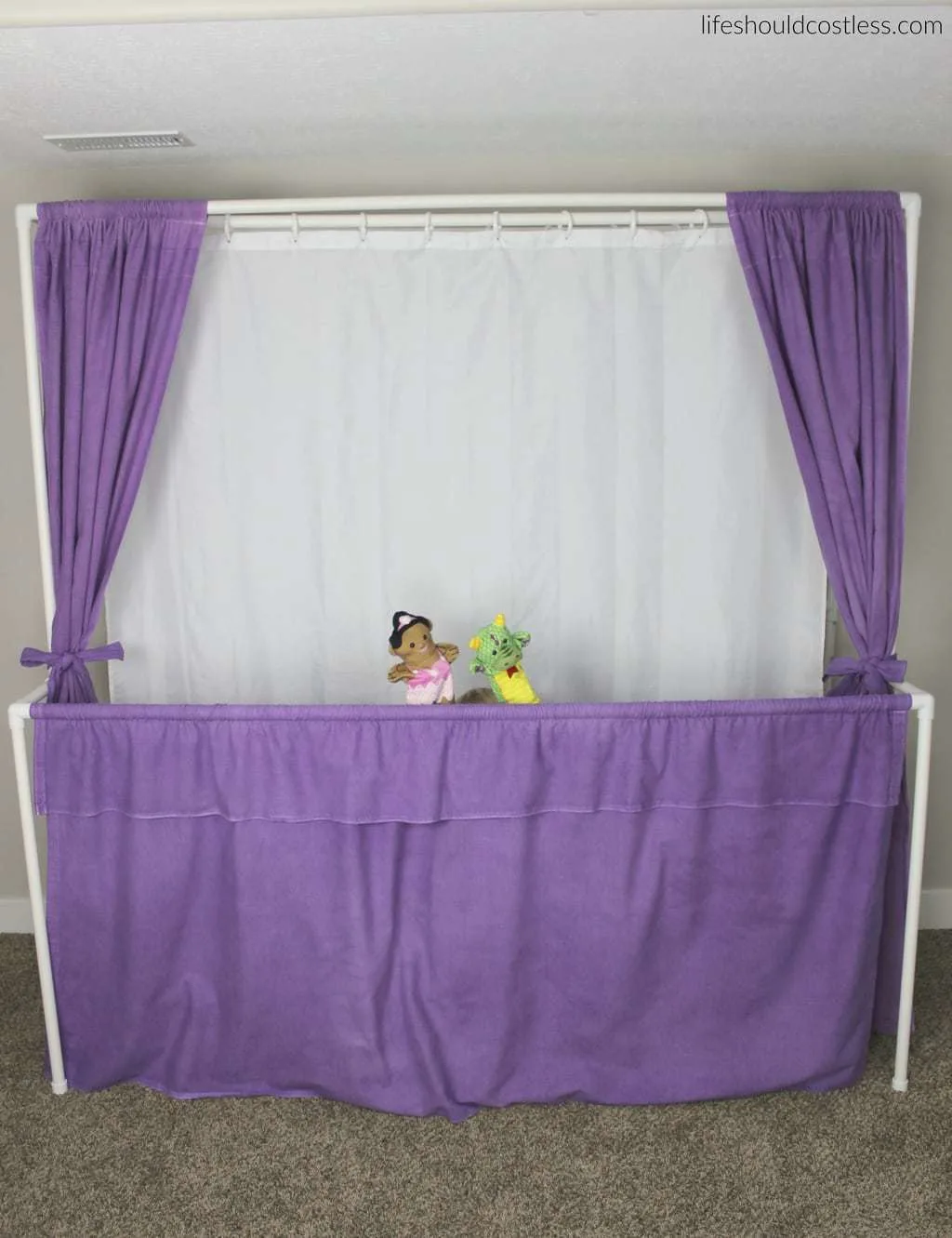 Use it as a stage backdrop and pretend to be your favorite band and put on a show…in the dark…just for fun. The example I used is the symbol for my favorite band Brothers Osborne…ha ha, I don't even let my kids listen to half of their songs. I did this one for me. I was so bummed that they were playing in my state last night and I couldn't go. However, they are headlining their first tour this fall for their album Pawn Shop and I really hope that I can make it to one of their shows…even if I have to fly there. Anyway, I found this washable glow-in-the-dark paint and used it, along with a black shower curtain, to create this fun effect. I sure wish they would come out with some more glow in the dark colors…I have so many more ideas!!! Yes, I free-handed the lettering. Sorry…like I said. I cannot draw to save my life. Hindsight=should have used the projector. Next time……

Use it as a backdrop for a photo booth at a party or wedding. My example was comic book themed and boy…those dots were killer!!! It took me so long to add them all…even with the help of my five-year-old little artist. Anyway, I projected the symbols (found here), traced them with Crayola washable markers, colored the inside, and then used Crayola washable paint to outline everything. If I had to do it again I would have only used markers. The paint does flake off a little. You could paint the PVC and even use burlap for the draperies…if you're doing a rustic themed wedding…it would totally work.
Draw a banner or someone's favorite thing and FaceTime or Skype them with this behind you! My niece's birthday is this week so I thought it may be a fun surprise for her to see her name used as the example on my blog…not that she can read yet. Love you, Jadis!

Use it as a green screen. I haven't had the need for the green screen sheet that I have, so I wasn't going to buy a green shower curtain just to use as an example to show you all, but this theater could easily be a great tool for the wanna-be/rising YouTube star or producer/director.
Use it as an art piece in your home. This would be a really cool headboard or massive "painting" on the wall…maybe just build it one shower curtain deep or even just hang the shower curtain from a regular curtain rod. It could be fun to have in a man-cave/she shed/ or play room!

Cast the news/ sports/ or weather. This would be a perfect idea for the budding news anchor, meteorologist, or future sports caster. They could draw the news, or weather conditions, or the symbols for their favorite sports teams.
Use it as a screen if you have a projector. It could be used both indoors and out…but bring it in when you're done.
Use it to make a fun backdrop to shoot your Christmas card.
Use YOUR imagination…and comment your ideas down below!
What I wouldn't have given to have one of these when I was younger. It has been way fun for us to use so far, even though I think that it is a more suitable toy for ages 8 and up. Given that adult coloring books are very in right now, I can totally see many adults that don't even have kids making themselves one of these.
Building tips:
I'm not going to give you guys exact measurements… I just winged it myself (I can do another post with exact dimensions and add a YouTube tutorial if there is enough interest…comment below if you want me to do that). Otherwise, here is a bit of direction on the build.
I decided that the very first thing that I should do is to lay out one of the shower curtains for the backdrop to see how big I needed to make it. Don't mind the mess. I do have four kids and had to work on this here and there the last three weeks. After I laid out the curtain I cut the PVC with about two inches of overlap on each end of the shower curtain. This created both the width and the height of the theater. All the long pieces were the same size. The depth was determined by how many backdrops I wanted to put on and then I added a few inches in between each one. I thought that three backdrops was a good number. Not too deep, not too shallow, but still with enough options to make the theater fun. *I bought a contractor pack of 3/4″ PVC and used most of it. It's cheaper to buy it like that because you get a little discount. You can get many of the connecting pieces in contractor packs as well.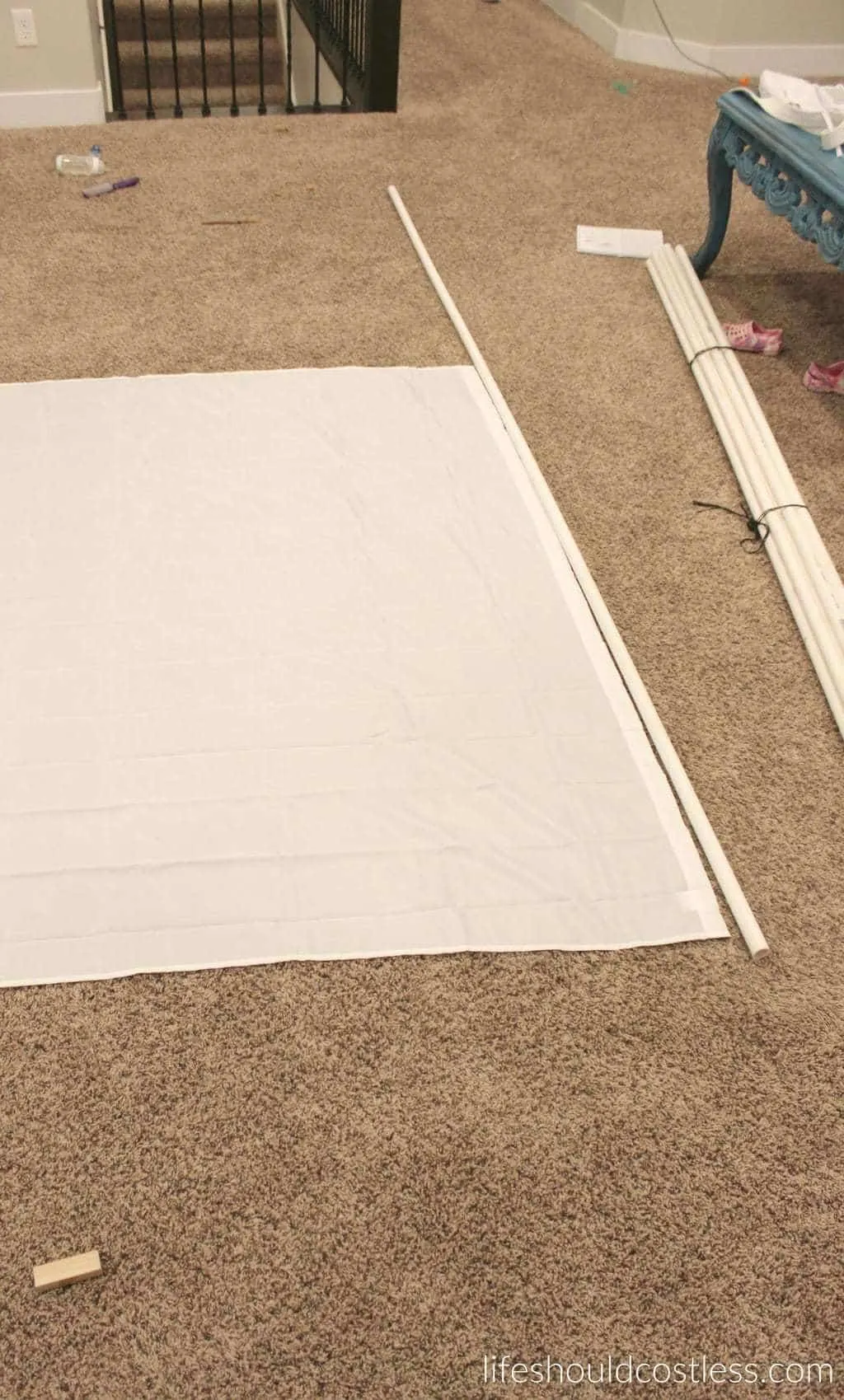 So that was the skeleton, here it is with the backdrops and puppet theater on so that you can see where everything goes. The shower curtains were attached by regular shower curtain hangers… I got mine at Wal-Mart for a buck each package (so I needed three of them since I hung three curtains).

If I hadn't added the puppet theater option, I could have gone without this next part, but I wanted the kids to have the option so I knew I needed to support the front bottom part of the theater without using a pipe across (so they wouldn't be kneeling on it), so I decide to do this on the sides of the front to support the weight of the theater and so that it wouldn't fall forward.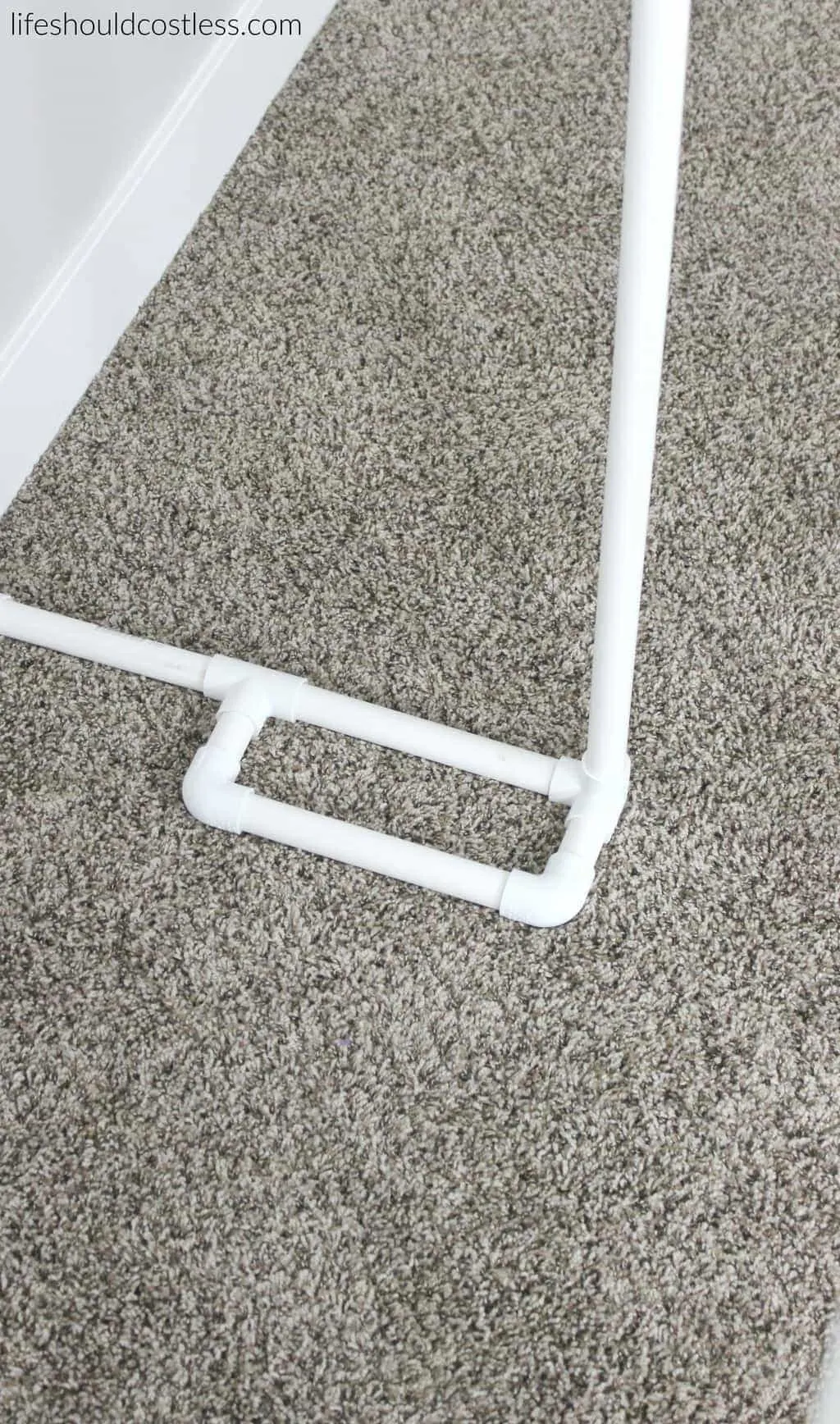 The puppet theater needed to extend off the front a bit for the kids to be able to have room to fit in front of the backdrops but behind the puppet curtain, so I made this little support that connects the puppet theater bar and provides extra support…because of course the kids are going to try to hang on it…there's a reason I recommend this for ages 8 and up unless being supervised. This part flips around when ready to use.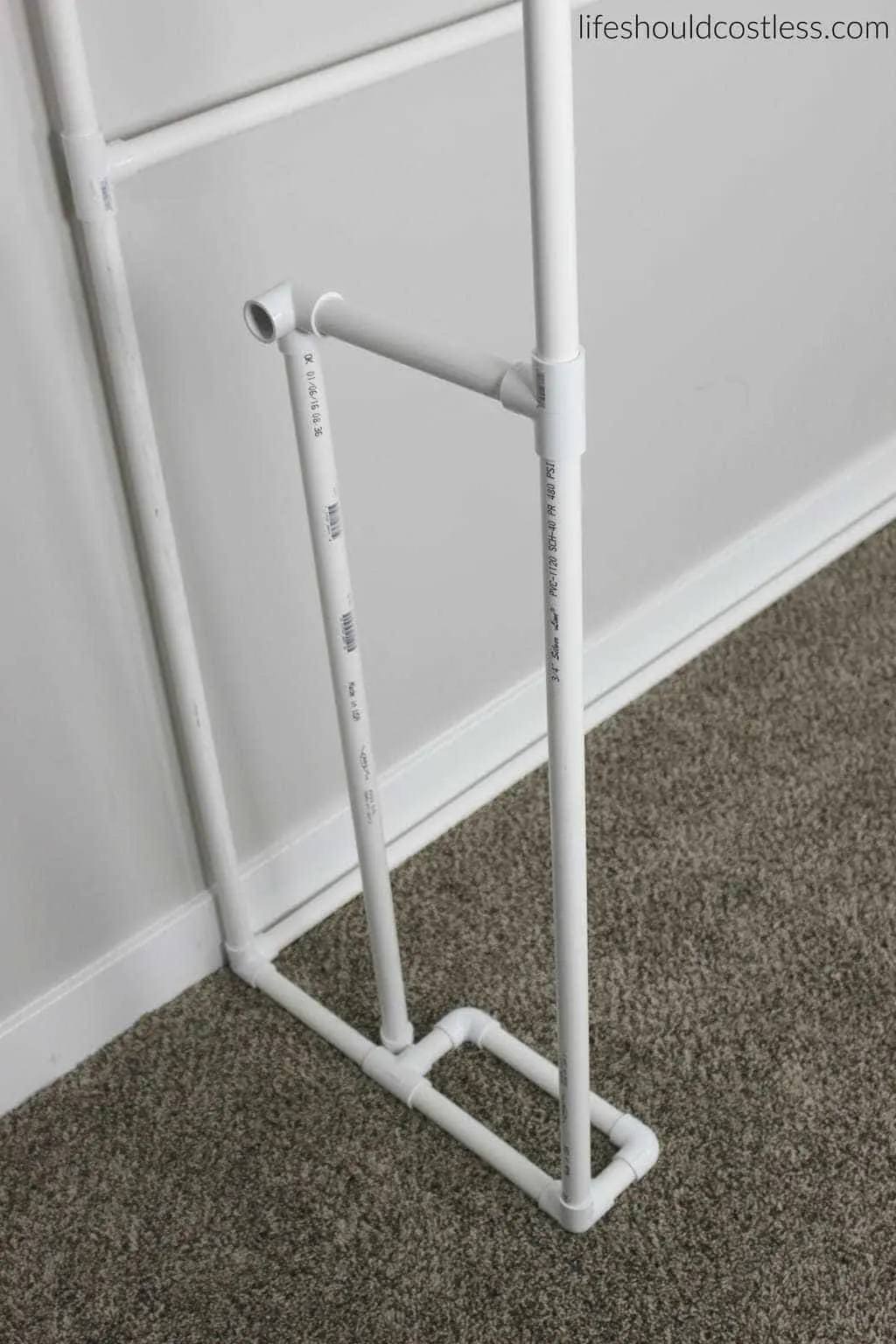 Anyway, for the purple drapes I used some fabric that I had on hand…I had bought a whole roll of white flannel one day, a few years ago, when I was being overly ambitious of my cloth diaper making skills…but diapers are hard to make so after about 20 of them I was done. That fabric finally got a use, so I cut about 13 or 14 yards and dyed it with Rit using the same method as on my How To Dye Burlap Any Color post. Yes, the theater would have looked better with some real velvet theater style curtains, but I just couldn't justify the expense knowing that I had some fabric that could work. Anyway, if you do need to buy some fabric make sure to buy one long piece and use a coupon at your favorite fabric store. You can cut it at home and it will save you quite a bit of money on material.
Minus the puppets and markers and fabric for the drapes, the whole project cost me around $100…not too bad and that would be an ideal budget for a family Christmas gift if things are kinda tight. Hint, hint. Nudge, nudge…you'd also be the coolest grandma ever if you had this at your house for the grandkids to play with.
Tips and tricks:
The curtain should be the only thing in the washer.
For the black shower curtain, I wash on cold and just use a heavy wash setting with an extra rinse. It comes out perfectly clean and had no residual glow…I even turned the lights off to check. Fill detergent cup all the way and use one full scoop of oxiclean.
For the white shower curtains, I launder them in a cold wash on the bulky items setting so that it uses more water (they had a ton of marker and paint on them so I found it necessary). I filled my detergent cup all the way up and added a full scoop of oxiclean. They come out of the wash perfectly white again so I thought I'd share that info.
The shower curtains come with little magnets in the bottom corner little pouches. I used my stitch ripper to remove those so the backdrops won't stick together.


If you don't push too hard, the marker won't seep through. The glow-in-the-dark paint does seep through a little. If you're worried about that you can always put down a canvas drop cloth first though… I didn't bother to use one and the washable marker and paint came right off within a minute of clean-up using my most popular cleaning tip The Painless Way To Wash Walls…I did it to both the wall and the floor where we did the coloring and tracing.
I did not cement any of the pieces on my theater because I want the option of taking it apart and storing it easier if the kids tire of it. If you don't cement it make sure to take the curtains off of the shower curtain hooks. Don't try to take the whole curtain off with the pvc..it may fall on you.
Misc. stuff and wrap up:
Yes, it's a prototype so it's a little rough…but all prototypes are. I may be interested in working with a LARGE toy manufacturing company to make a better looking pre-cut and packaged version of this to sell in-store, so make sure to hit up my contact page if you are with one of said big companies and we may be able to work something out.
I went through about one standard package (12 pk)of washable markers per coloring three back drops. The glow in the dark paint for the BROS backdrop took about 1/3rd of the bottle and it could have used one more coat…just so you know how much of stuff you need to buy.
How long should this take you to build? If two adults are working on it, you could bust it out in one day…even with sewing the drapes for the front and the puppet theater. For me, it took about 30 hours, but I was also shooting pictures, dying fabric, and worrying about lighting so it should not take you that long…I did the hard part so now you have a guide for reference.
If you made it to the end…congratulations! I think this is probably my wordiest post yet in my five + years of blogging. Thanks for stopping by and please share this post with anyone that might love it. ~Sarah
P.S. I recently decided that I was going to stop holding myself back so this is just one of many big ideas I'd like to post in the future.
Other popular posts that you may like (the pictures are links):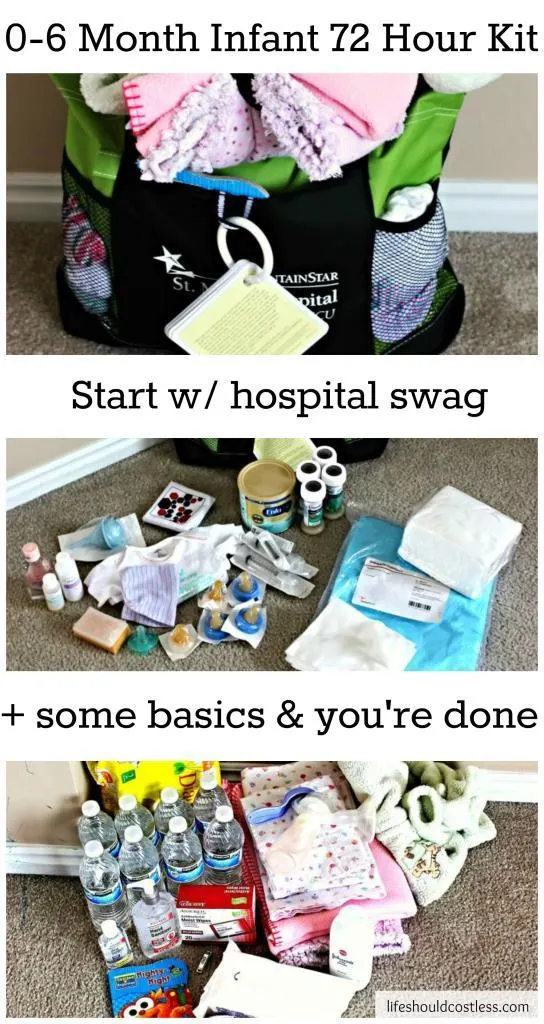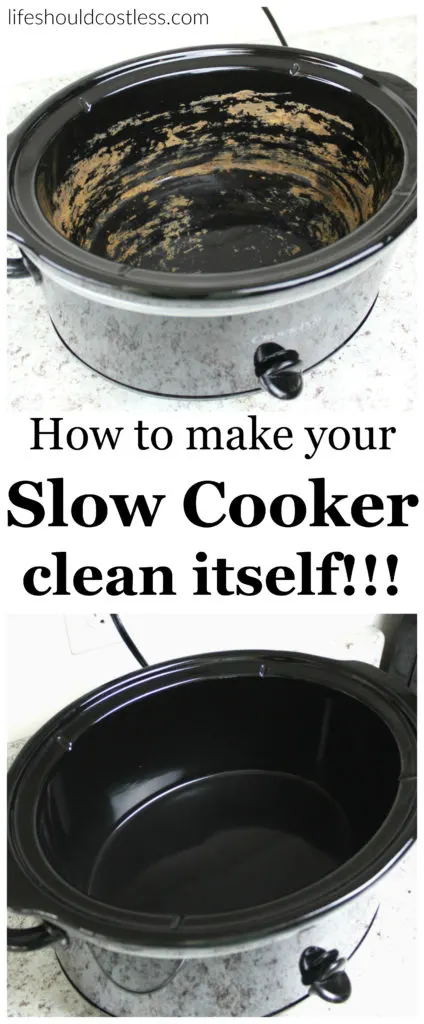 *Please note that this post was originally published to this site on August 13, 2016 and has since been updated to improve user experience.