I don't know what it is about food made with Lemon, but lately I just can't seem to get enough of them (it's so bad I've been buying those big bags of lemons from Costco about once a month…for lemon water too). Anyway, I recently came across this recipe for Lemon Cheesecake Bars and I knew I had to make some ASAP! However, knowing that I'd probably go a little over-board on them, I decided that I needed to reduce the fat, increase the protein, and basically just make them a little bit healthier to help curb the massive sugar overload.
It took me a few tries to get this just right, plus I wanted to use fresh lemon and vanilla bean, and now the Greek Yogurt layer is just the right texture too! Here it is in all it's glory, enjoy!: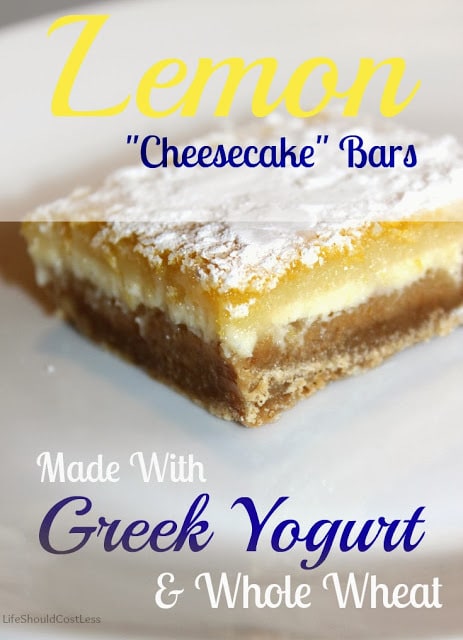 1) Crust:
¾ C Salted Butter
2 C Whole Grain White Flour
½ C Sugar
½ T Black Strap Molasses
2 T Flax Meal
2 T Water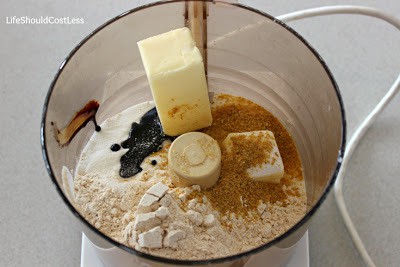 Combine all ingredients in a food processor(if you haven't bought one yet, you need one, especially if you cook from scratch…it saves me so much time! I will be buying a bigger 9 or 11 cup capacity processor
when my current one dies). Process until mixture becomes tiny/fine pieces (similar to a graham cracker crust).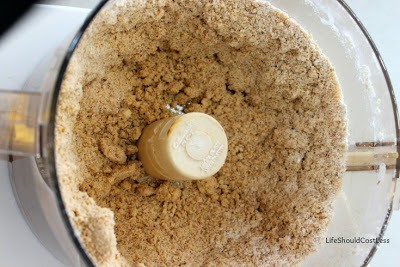 This is what it looks like after about a minute or so…keep going!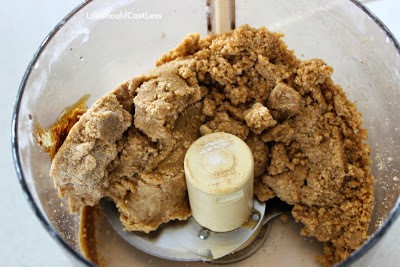 This is how it should look when it's done/about done…quite clumpy, but it's perfect! Does this remind anyone else of graham cracker crust or is it just me?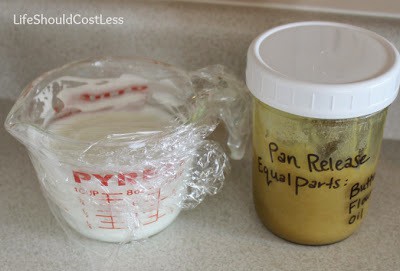 I got out my Greek Yogurt and Healthy Pan Release a couple of hours before I started so they would both be the right temp.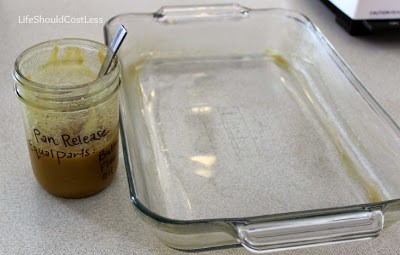 The original recipe doesn't say anything about greasing the pan…I'm sure because there is so much butter in the crust. However, I find that they come out so much easier if I take my Healthy Pan Release and just grease the sides to help get the cheesecake and lemon layer out better. It is completely unnecessary to grease the bottom.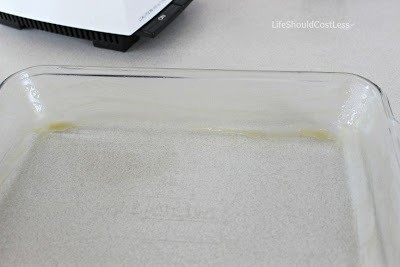 See, just the sides and it works great!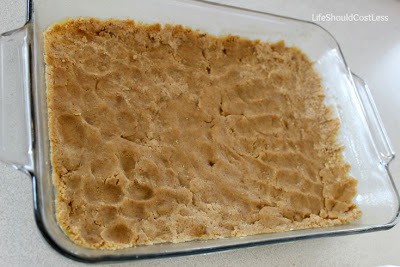 Press mixture evenly into the bottom of a 9×13 baking dish.
Bake for 12 minutes and remove from oven.
While that is baking, work on the next layer:
2) "Cheesecake":
1 C Non-Fat Plain Greek Yogurt (room temperature)
½ C Sugar
1 Egg
1 T Corn Starch
1 T Lemon Juice
One Vanilla Bean
(scraped) or 2 tsp Vanilla Extract
***Make sure that you have given the Greek Yogurt plenty of time to reach room temperature, otherwise it will curdle when baking…this is the most important step.***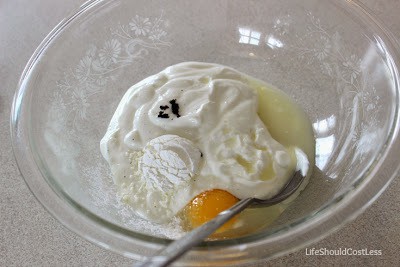 Add all the ingredients into a medium mixing bowl.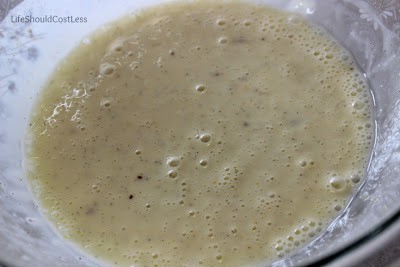 Mix until well blended.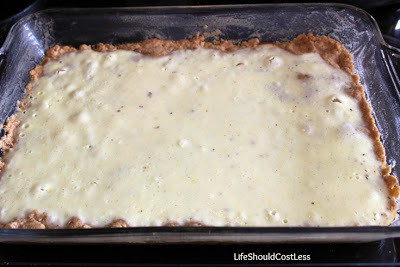 Pour evenly over the hot crust. Place baking dish back into the oven and bake for 15 minutes. This photo is how it looks after it has been baked.
While that is baking, work on the next step:
3) Lemon Layer:
4 Large Eggs (I use 5 if they are small)
1 & ½ C Sugar
½ C Lemon Juice
Zest of 1 Lemon (you can omit this if you think it's too lemony)
1/3 C Whole Grain White Flour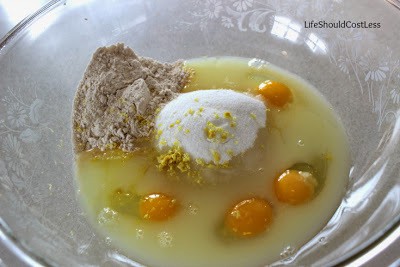 In a medium sized bowl whisk all the ingredients together until well blended together. I totally forgot to take a picture of it all mixed together…oops! 😉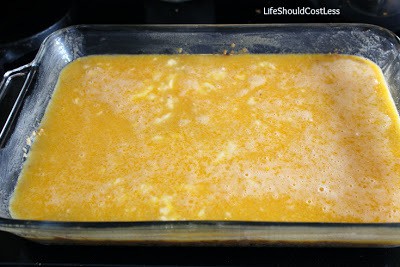 Pour over the partially baked cheesecake layer.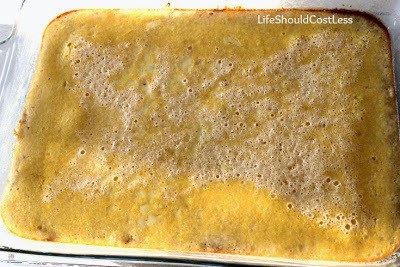 Bake for another 25-30 minutes. (please note that the original recipe says to lower the temp here to 300°F, but I haven't found it necessary) Remove from oven and sprinkle with powdered sugar.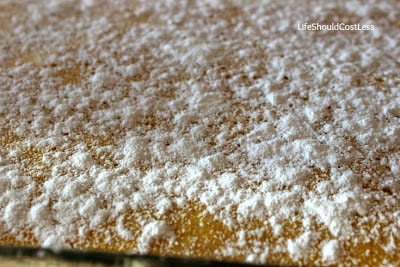 Place on a cooling rack for one hour, then cover and refrigerate. The original recipe said to sit it out of the fridge for 20-30 minutes before serving. Make sure to store refrigerated!
My directions are to dump and mix (lazy, I know). I haven't noticed a difference in the end result, (mine vs. the original recipe) so why not do it the easy way? I figure that the more you can simplify something, the more likely people are to do it. Anyway, I hope you love these as much as i do! They are so yummy!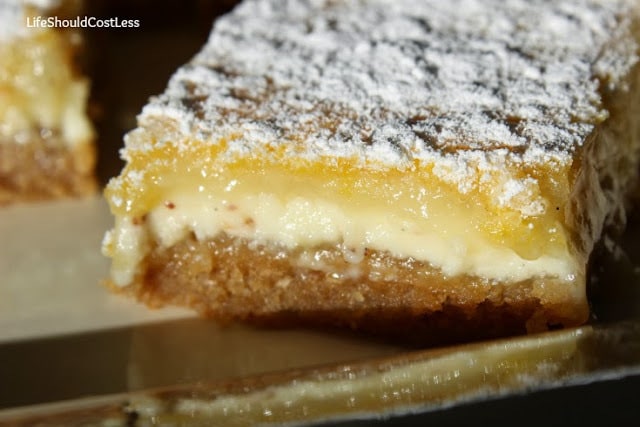 This is how yummy gooey it looks after it has cooled for about an hour… I couldn't wait for it to be refrigerated too before cutting into it!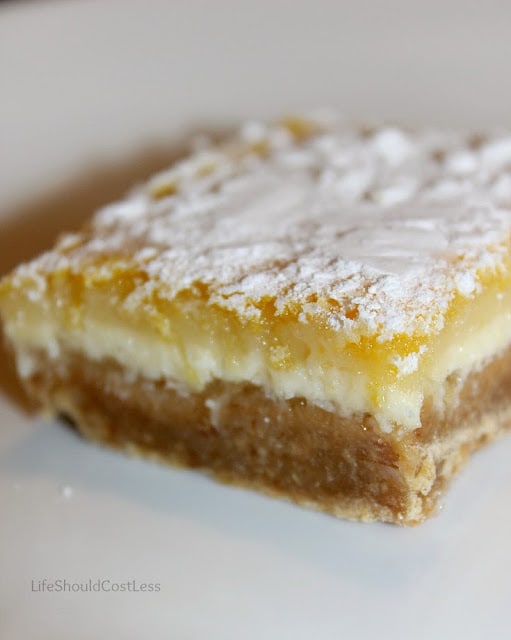 This is when it has had time to chill properly…a bit less gooey but still oh so GOOD!