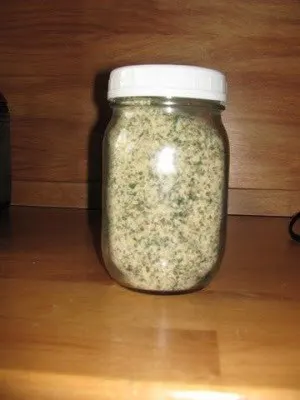 *Hey there, thanks for stopping by my website. This article is super old, so it has been archived as I no longer update it…so proceed if you wish…but it is definitely not my best work. Please stop by my home page, here, and see some of my better content. Thanks! ~Sarah*


The girls from Our Best Bites have a great Garlic Bread Seasoning Recipe in their cookbook
that I thought I'd share. I've adapted it to fill a pint jar so that I can use my Plastic Jar Lids (I recommend using a wide mouth jar so it's easier to scoop out with a spoon)
. Here it is:
1 C Powdered Parmesan Cheese
1 T. +1 t. kosher salt
1/4 C Garlic Powder
1T.+1 t. Oregano
1T.+1 t. Basil
1T.+1 t. Marjoram
1T.+1 t. Parsley
Shake ingredients together in an airtight container. You can store this mixture in the refrigerator for up to 3 months. This is great on this Easy French Bread with butter.
The Our Best Bites Cookbook
is filled with tons of baking tips from how to properly choose and cut a watermelon to tips on how to make perfectly textured sugar cookies. If you don't own it already, it's a great book to have on hand.
Permission to Share Recipes from the girls at Our Best Bites is as follows. Q: I'd like to post one of your recipes on my blog, is that okay? Can I use your photographs?
A: We're always thrilled when people like our recipes enough to share them! If possible, we prefer that you take your own photographs, but if needed, you are welcome to use ours as long as our site is clearly linked and your blog post states that the photograph came from our site. We don't mind if you share our recipes, but we do require that you clearly link back to us.