Have you ever tried a banana cake before? If not, then I am here to tell you that you are definitely missing out. It has a taste like banana bread, a texture more like carrot cake, and has a deliciously creamy frosting. It is heavenly to say the least and one of my favorites.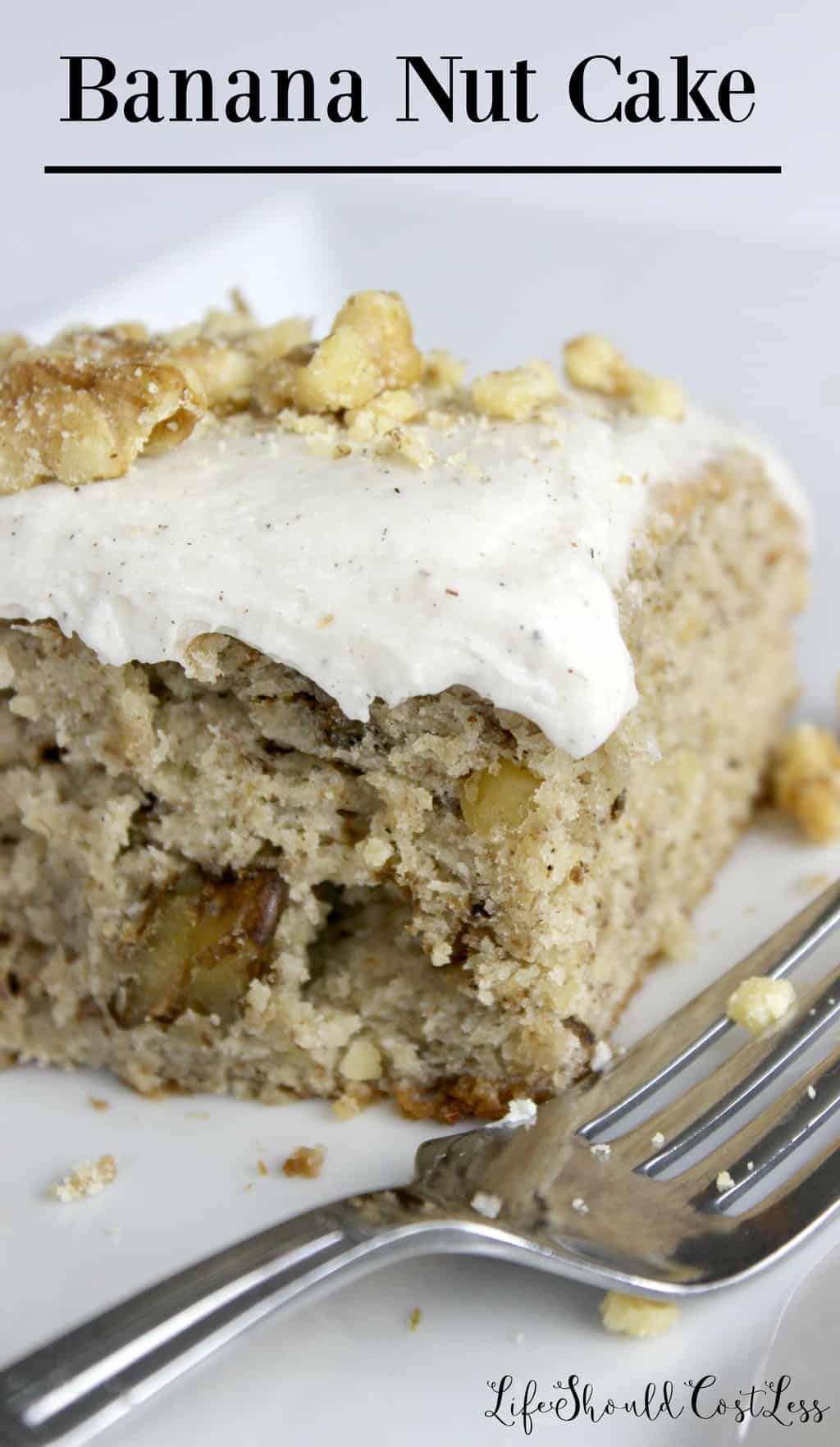 My mom has been making this for a while now, I think that she got the original recipe out of some old ward (church) cookbook and maybe changed up one or two things on it.
Anyway, It's a super simple recipe, and it makes an entire cookie sheet (which is a half sheet pan) which means that it's enough to feed a crowd, but you could also probably easily half it and bake a halved recipe in a tall 9×13″ pan/casserole dish.
My mom says that any time she has bananas that are getting over-ripened she tosses them into a freezer safe bag and puts them in the freezer and just keeps adding to it until she has ten or eleven of them.
Then she will defrost them, and make a batch of this delicious cake when the family gets together for Sunday dinner. I'm going to keep it simple and jump right into the directions and pictures.
We start out with the ingredients for the cake all laid out.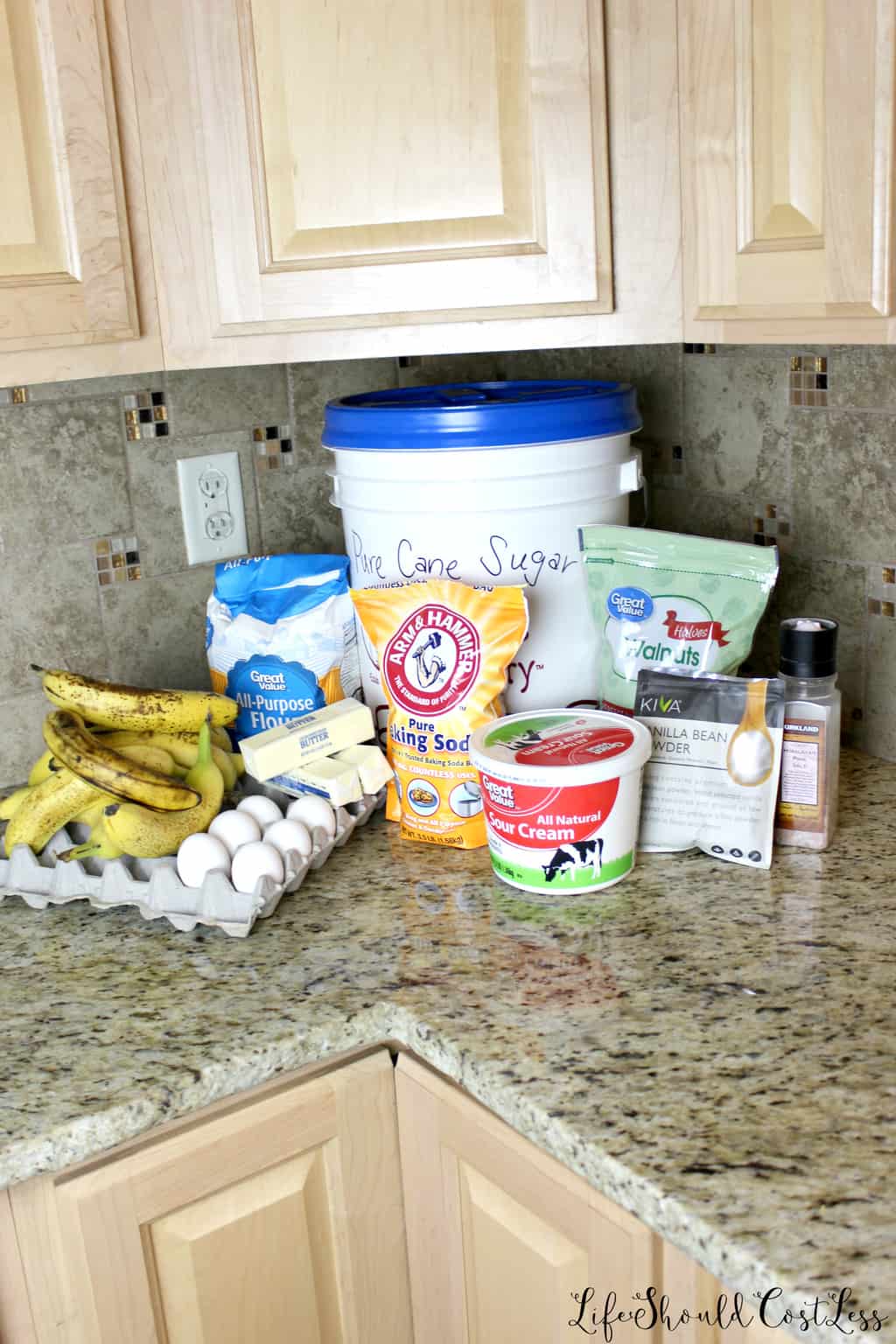 A bit of a closer up view.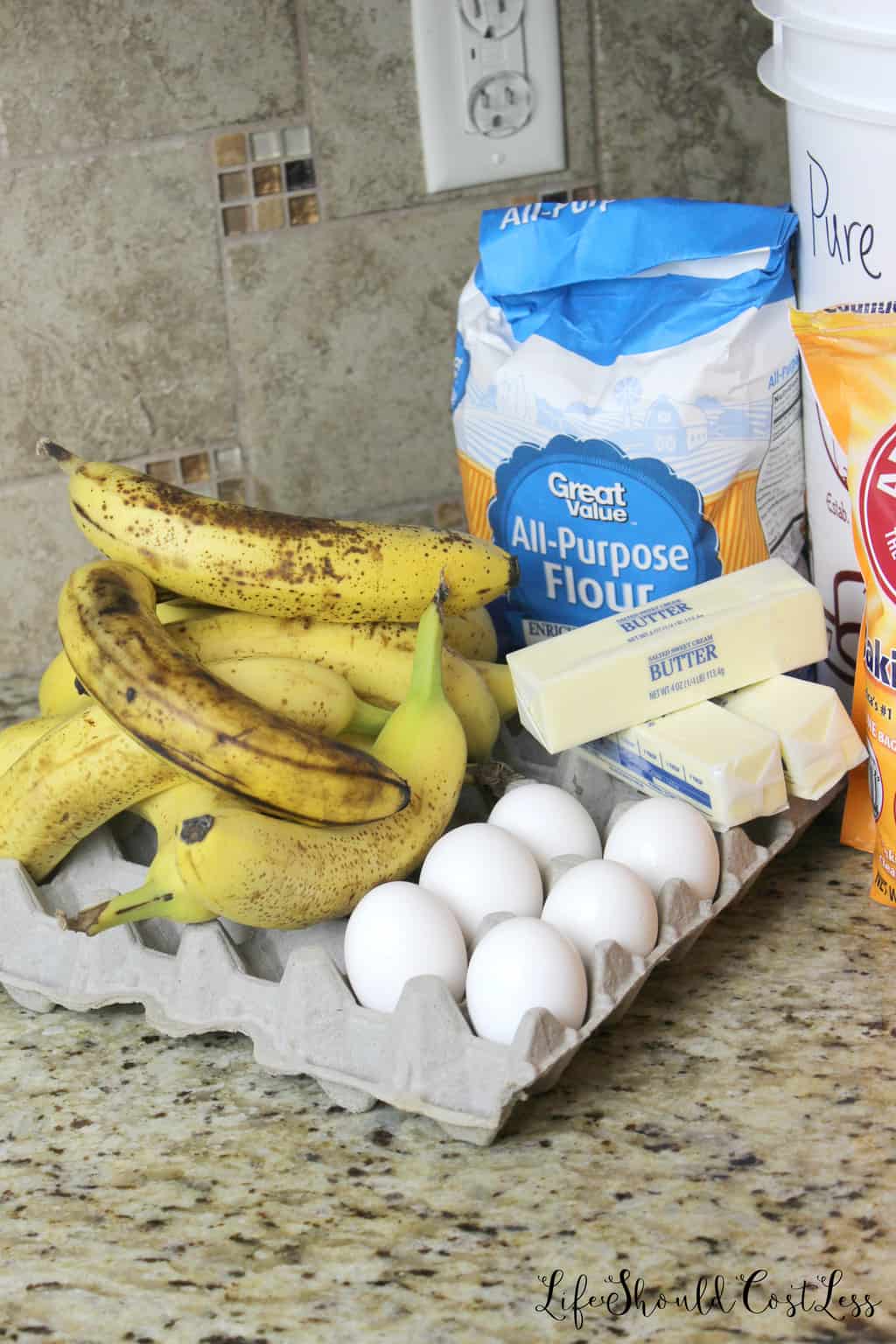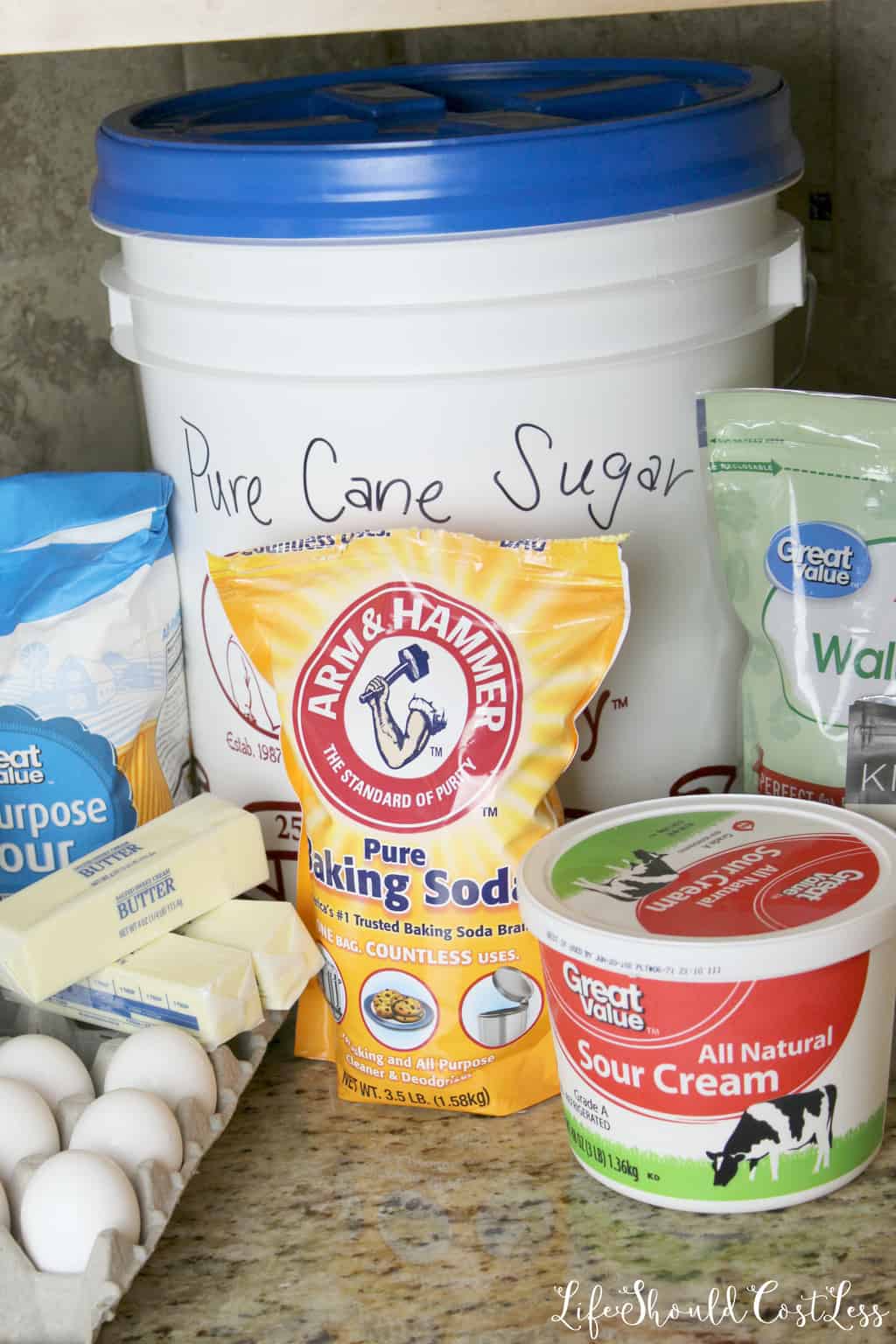 Start out with an XL mixing bowl. Mine is a 4 quart bowl and it was just barely big enough to handle this recipe. I made it using a hand mixer(This recipe would work with a Bosch Mixer, or a Kitchenaid with a six quart bowl). Put the bananas in your bowl and mix until as smooth as you can get it.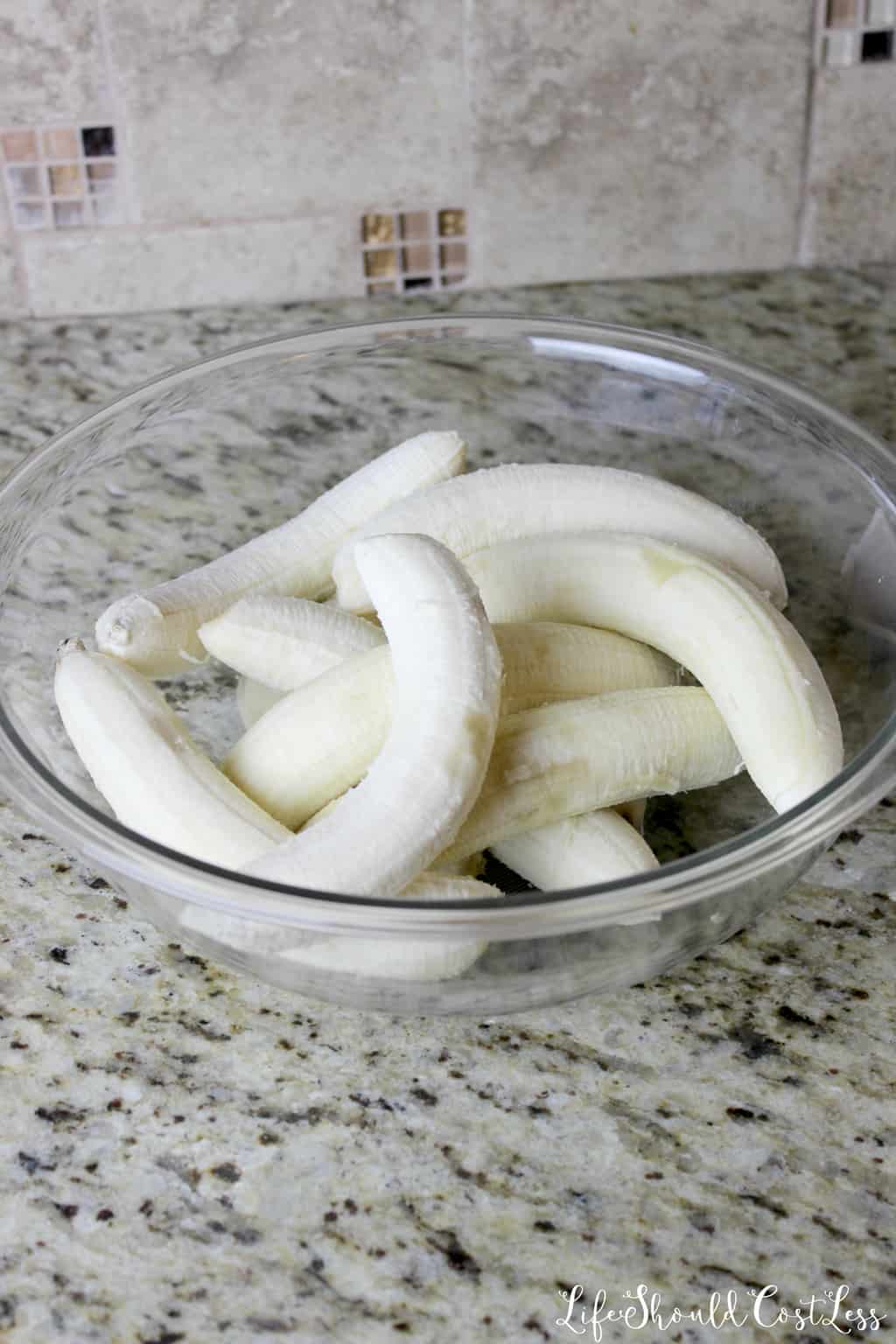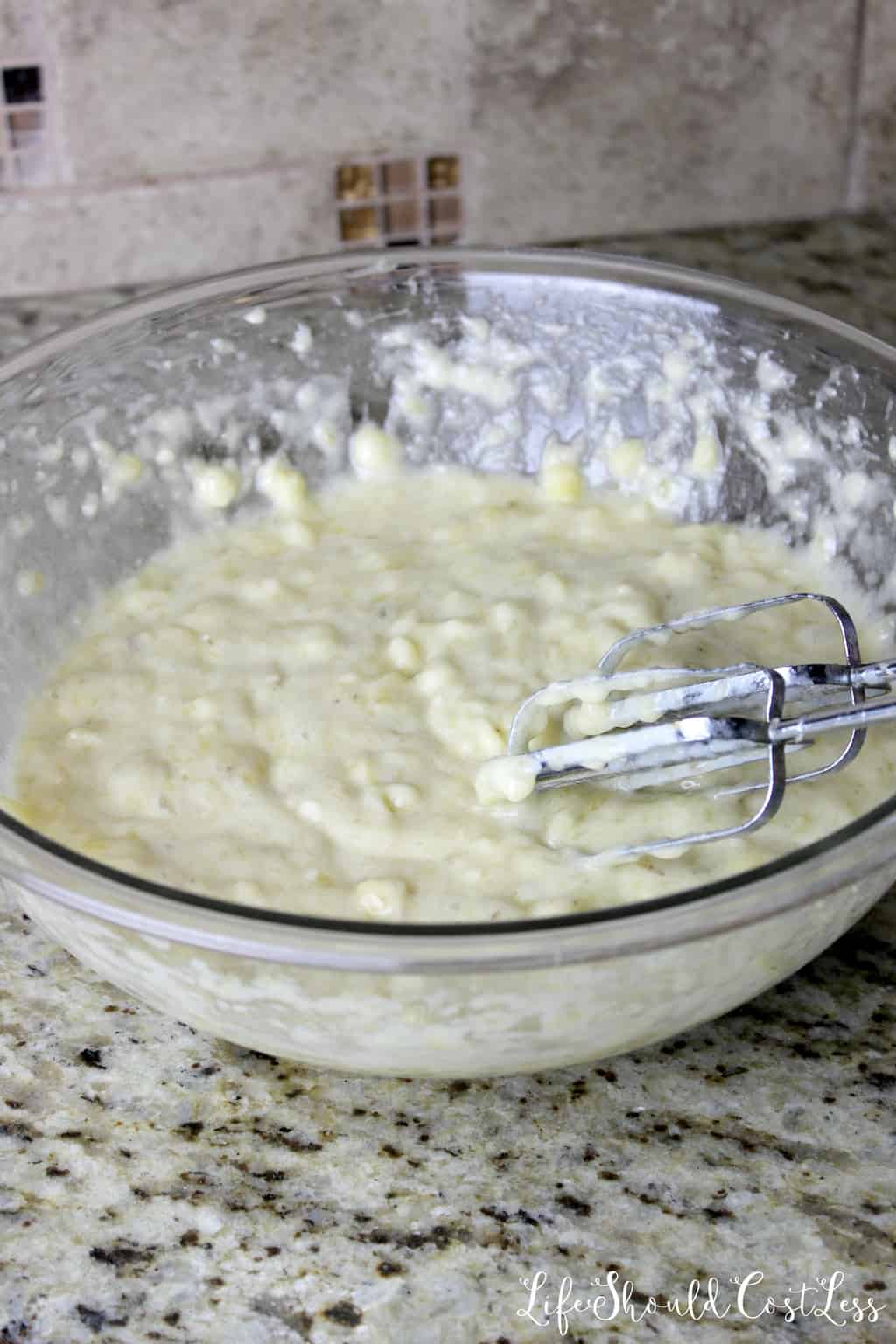 Then add the remaining wet ingredients.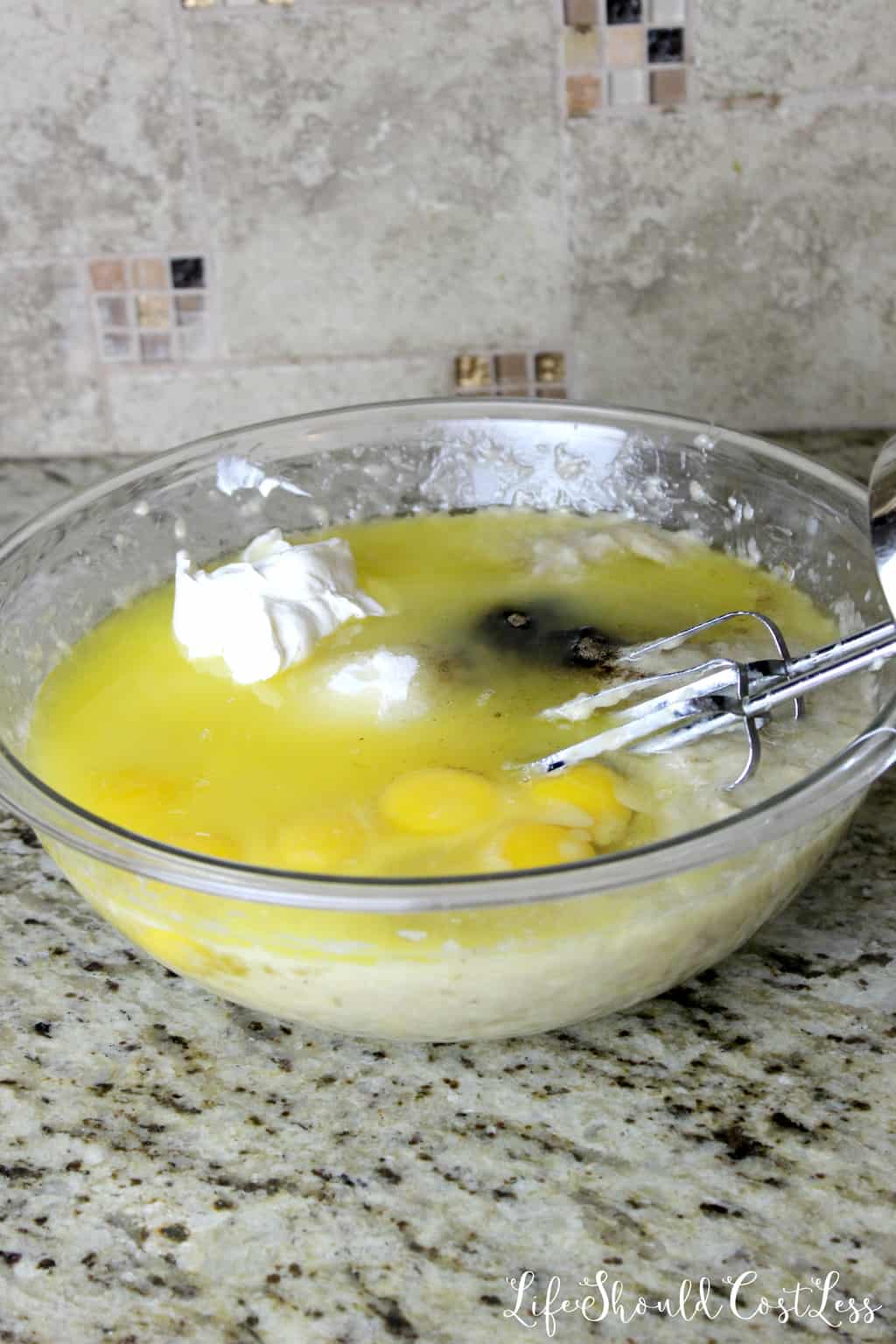 And mix well.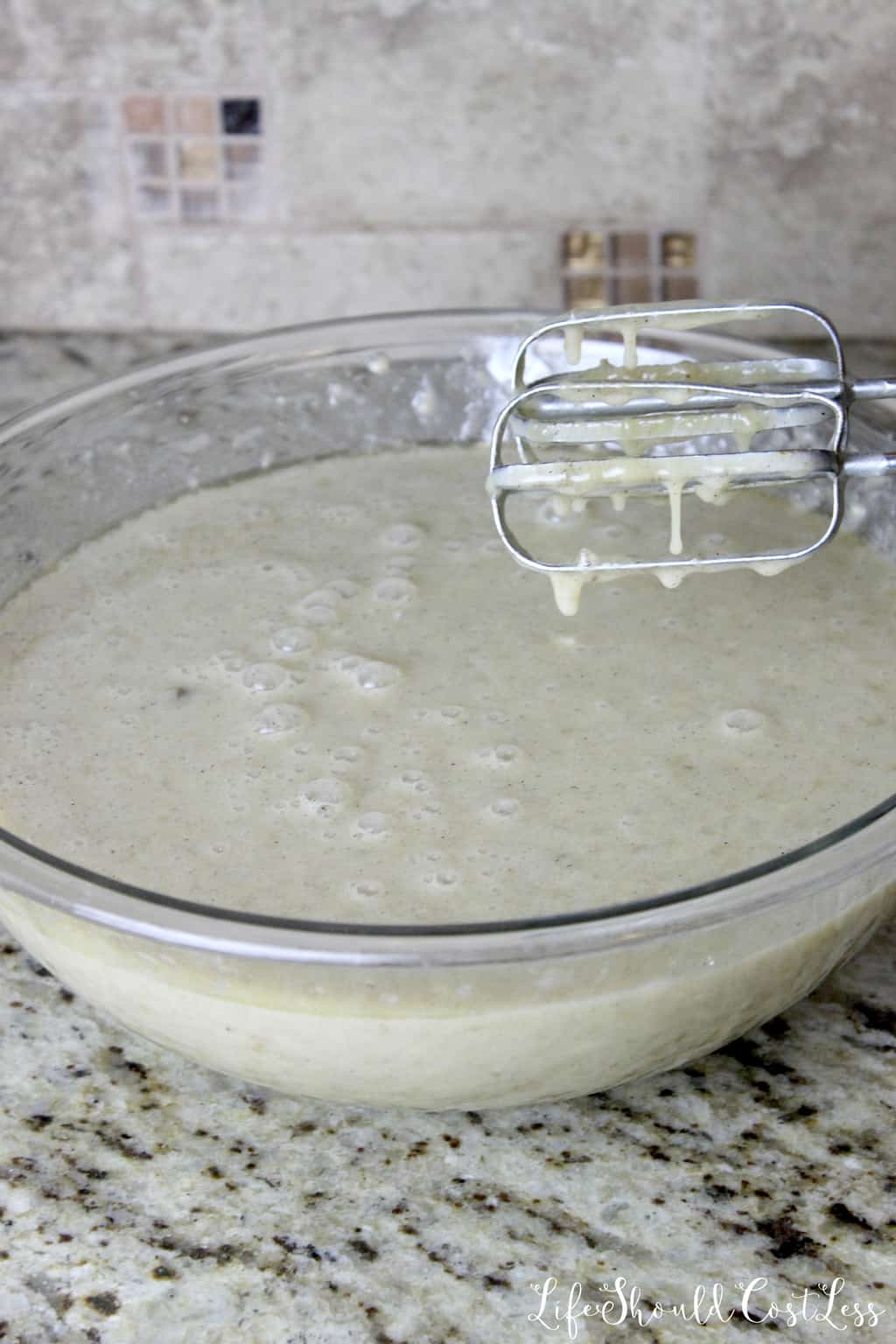 In a separate, medium sized bowl, add the dry ingredients minus the nuts.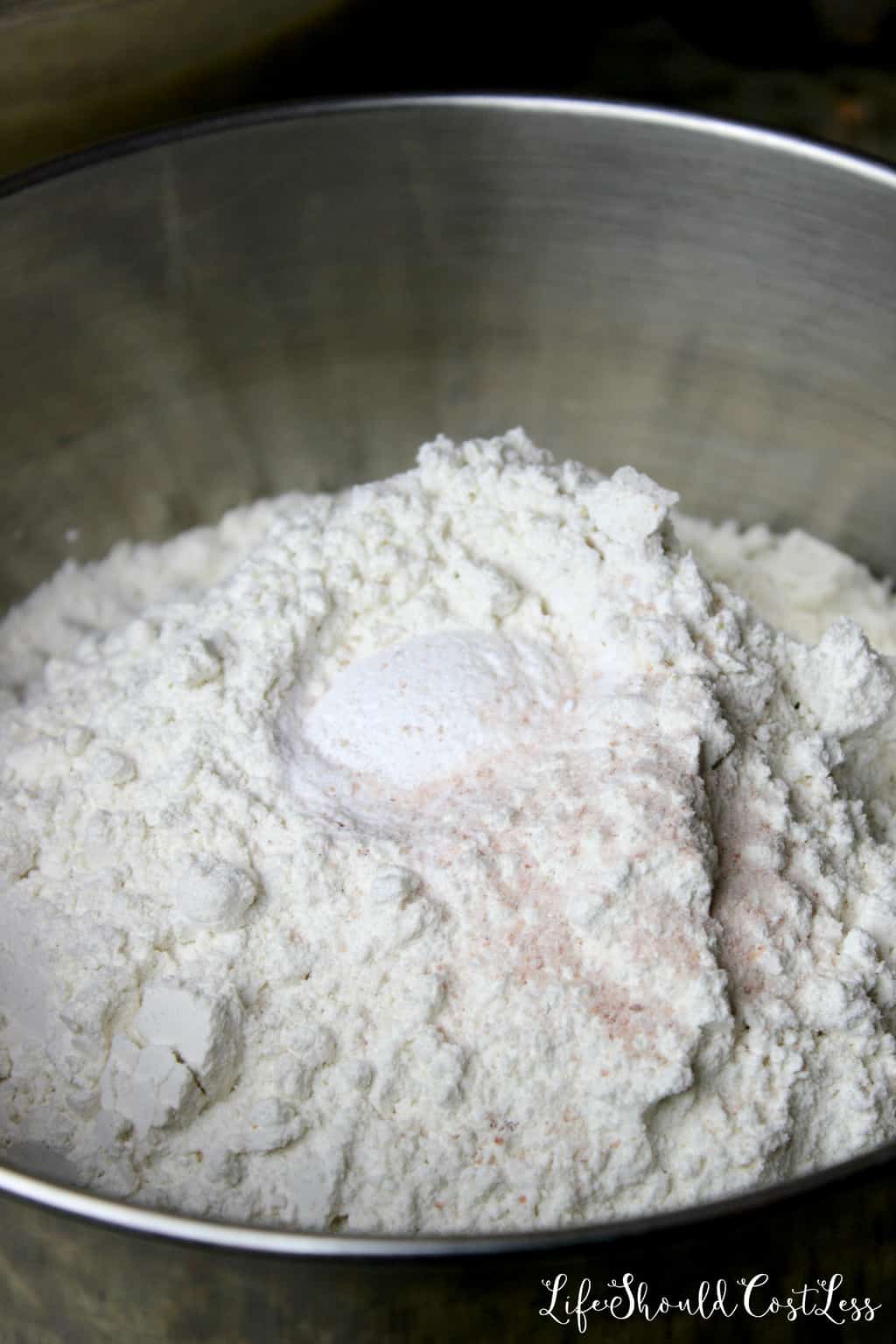 Whisk the ingredients together really well.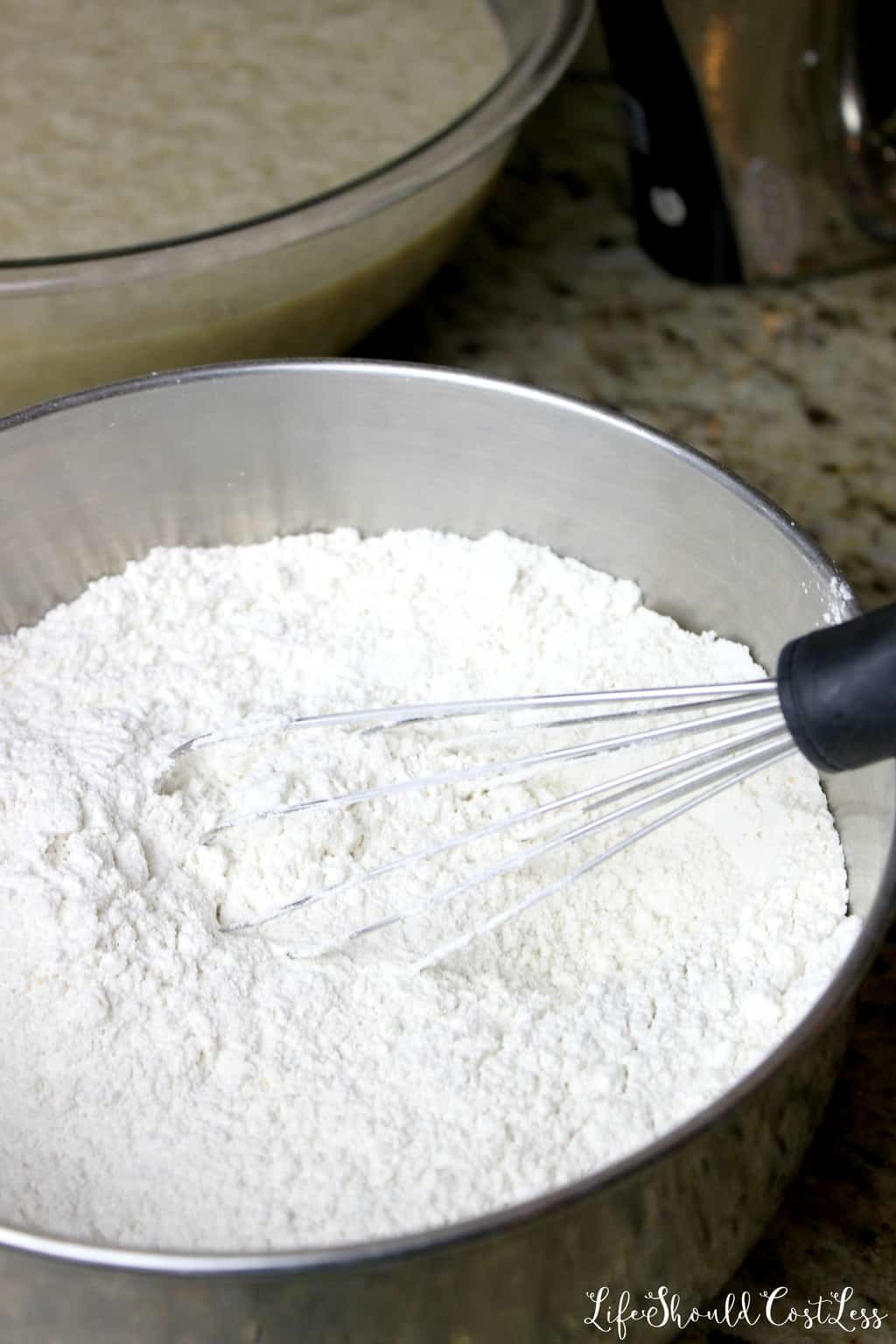 Then gradually mix the dry mixture into the liquid mixture.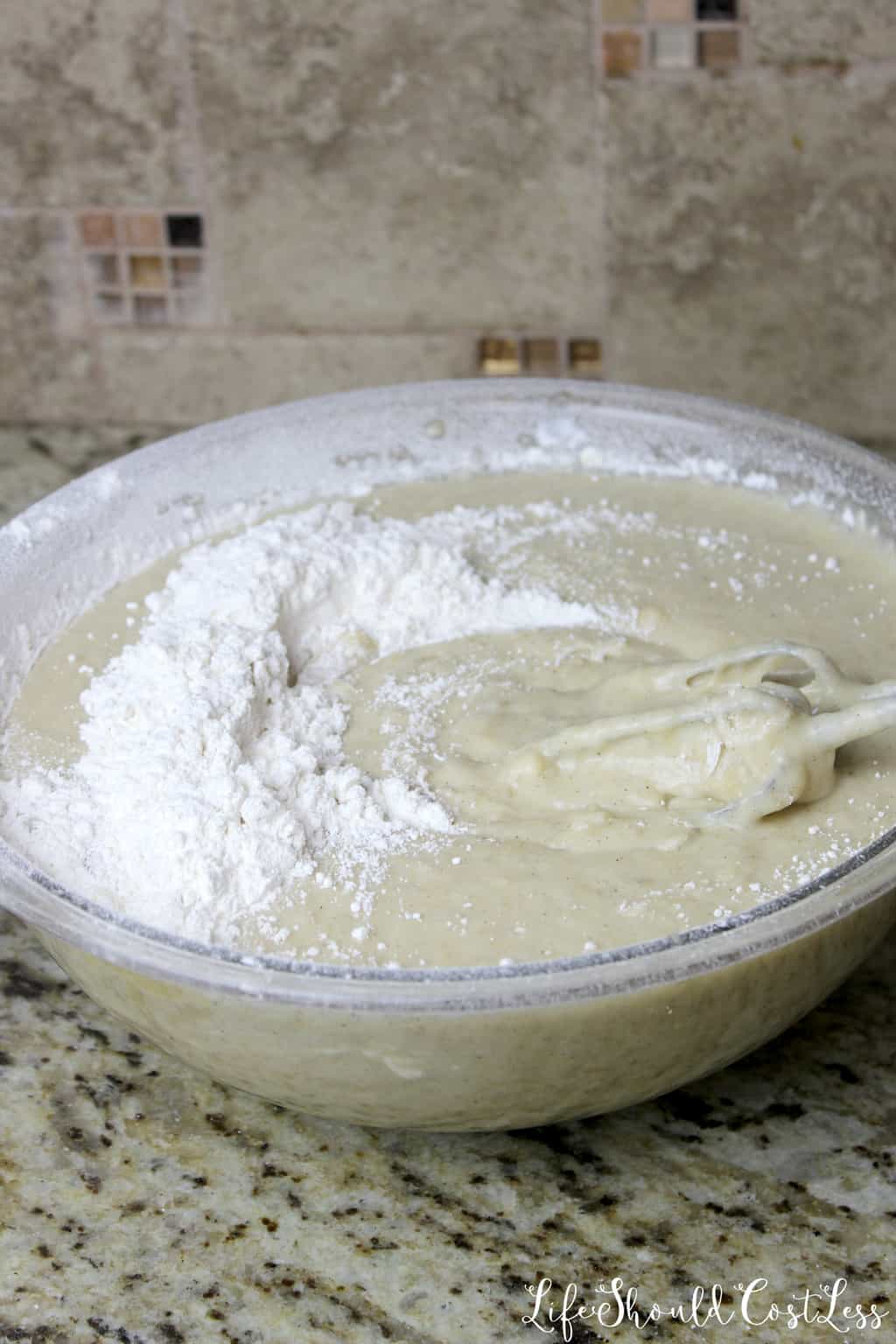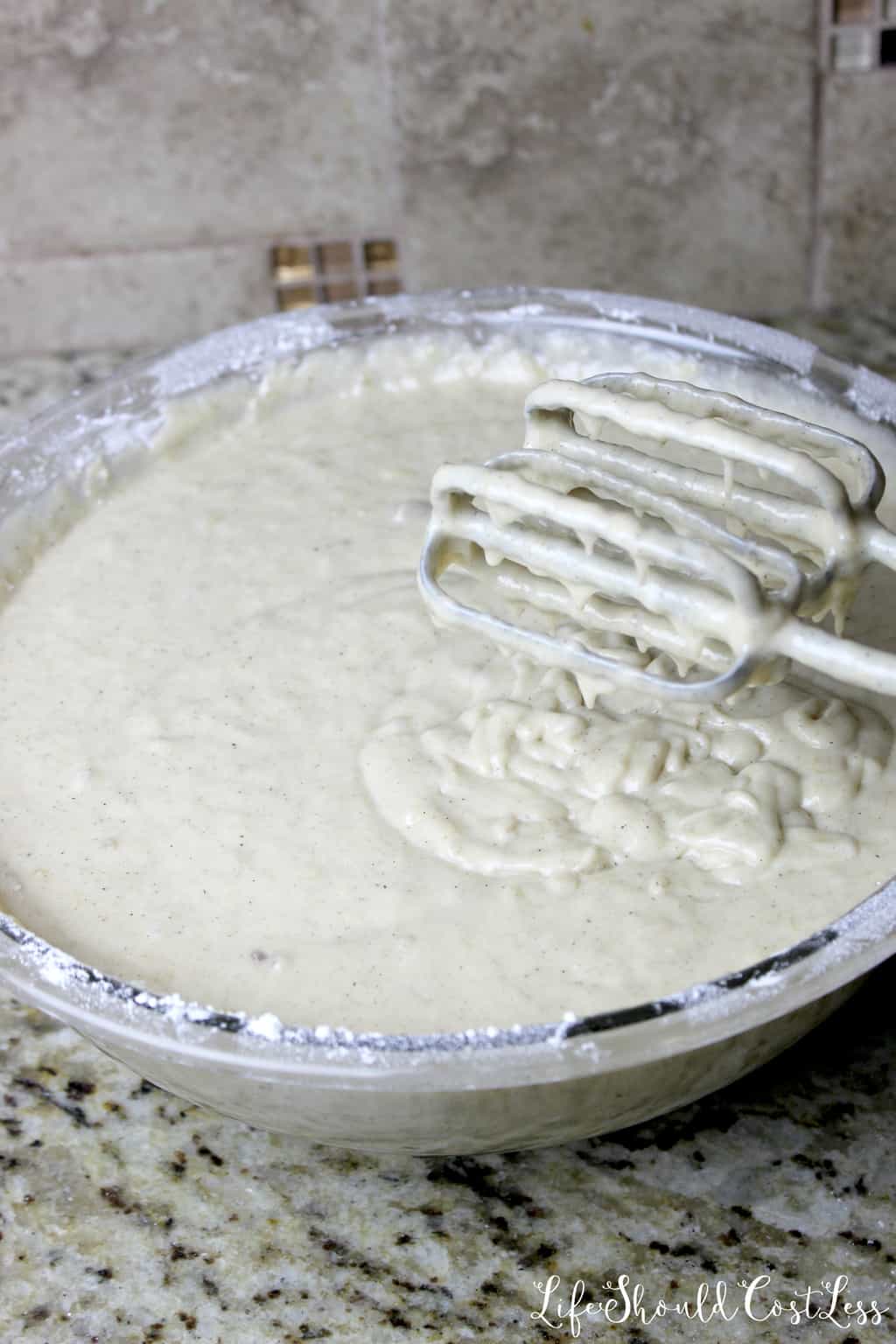 Add crushed nuts, and mix well.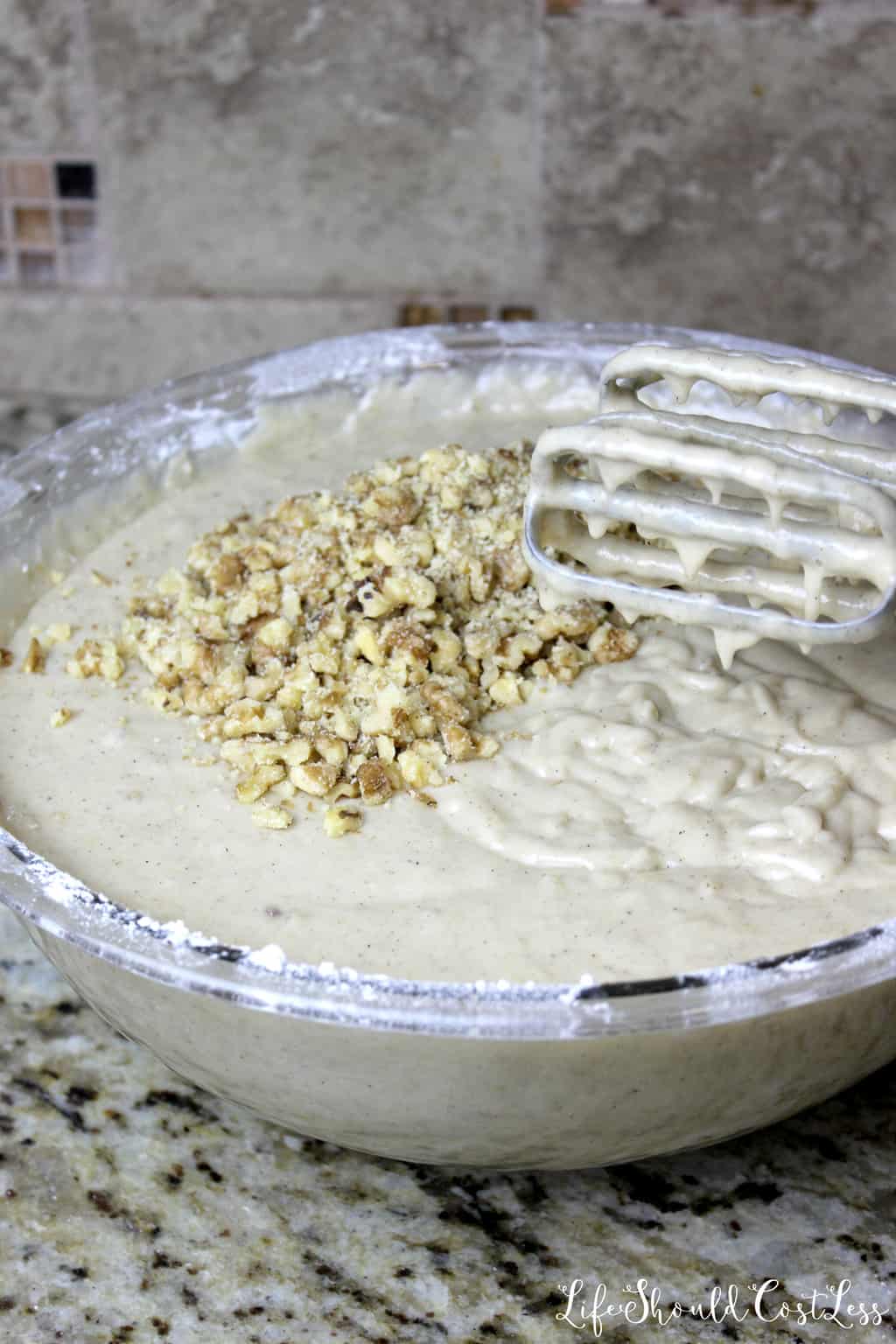 Then spoon the entire thing into a prepared cookie sheet (half sheet pan). I used a ladle to spoon in the mixture because it was HEAVY in my glass bowl.
*I prepared my cookie sheet by wrapping it with regular foil, and then spraying it with cooking spray. Non-stick Foil works great too, or using some kind of a Miracle Pan release (see my recipe for Miracle Pan Release, the healthier version, here).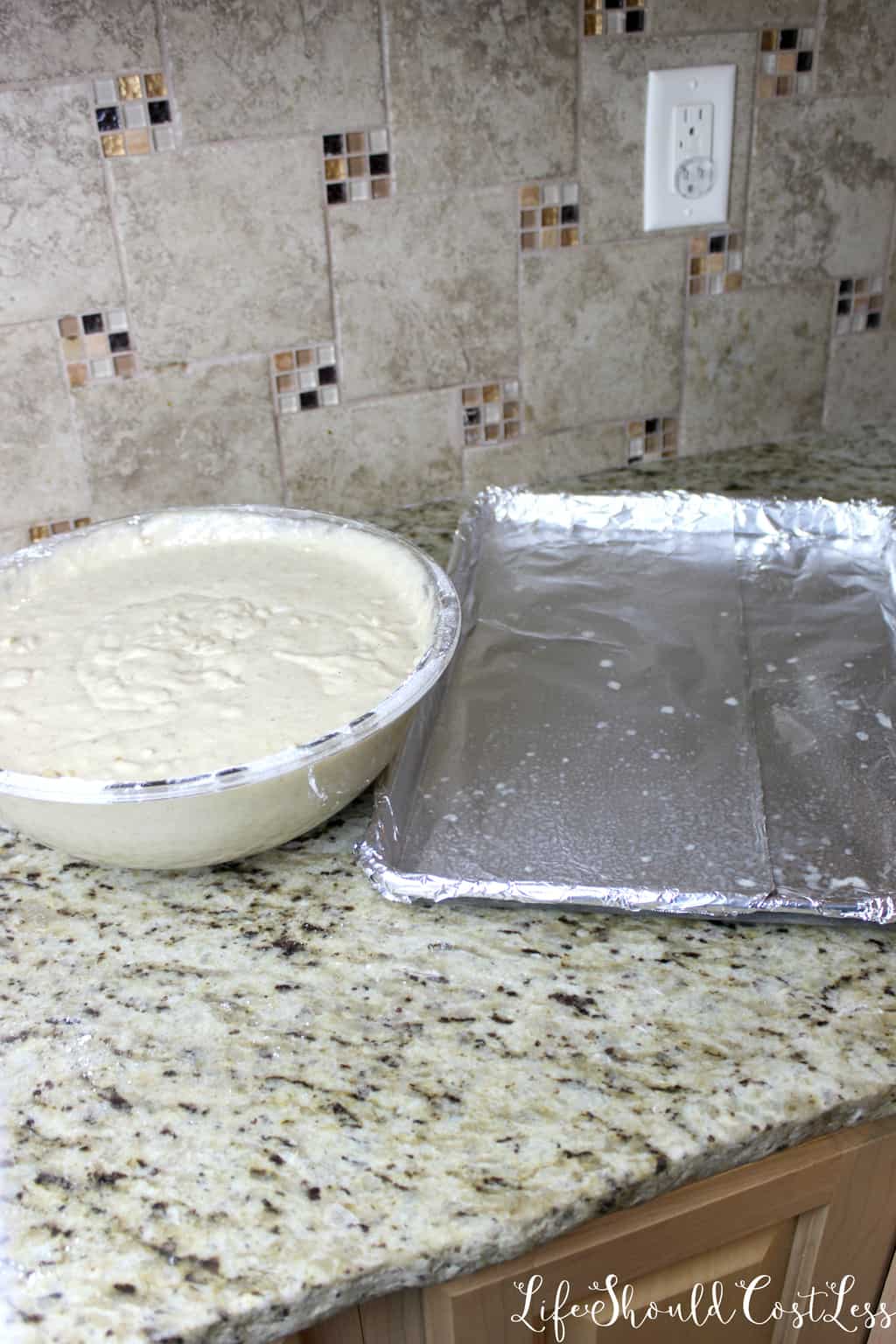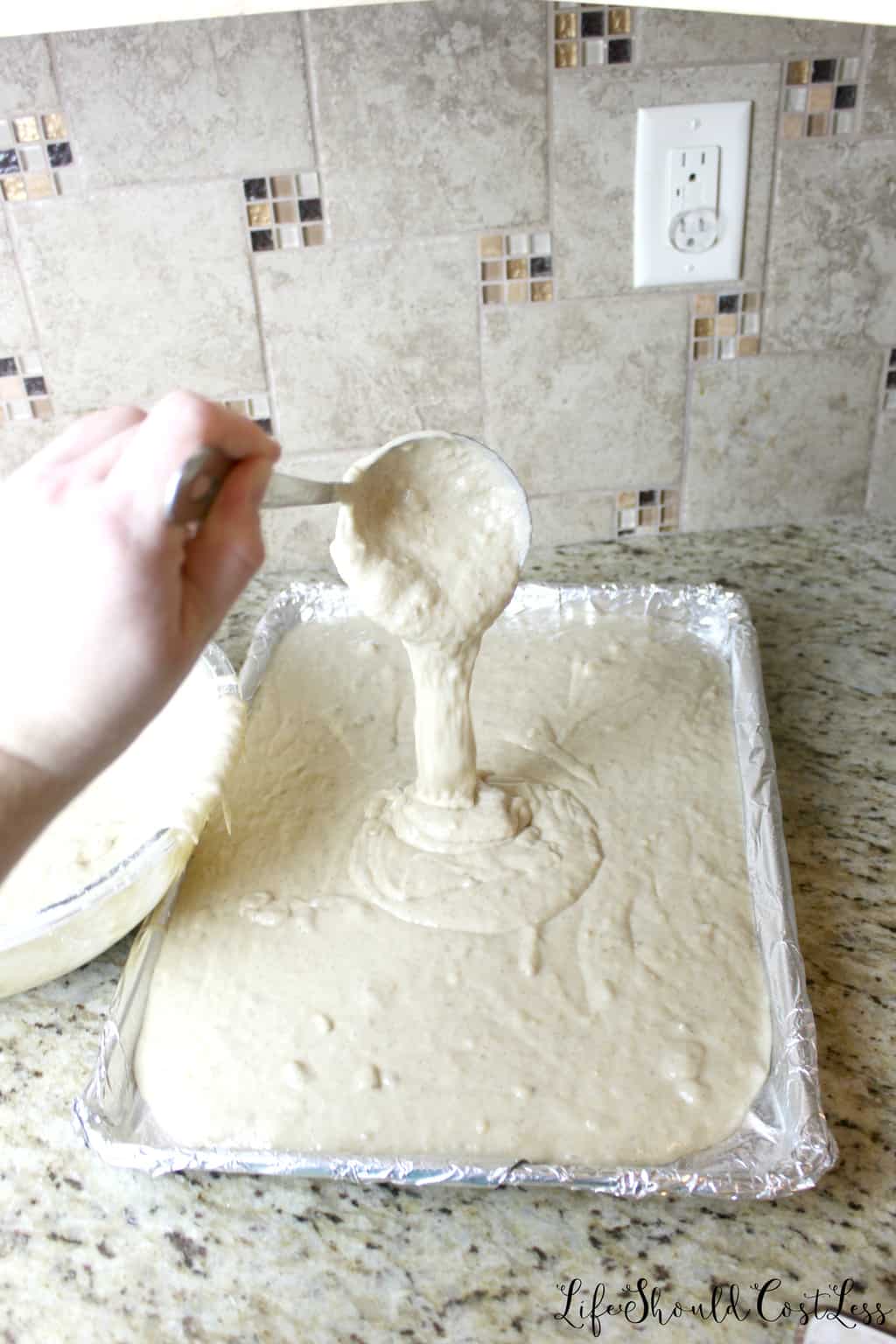 It fills the pan up pretty full. I was a little worried that it was going to spill out and over the sides when baking, but then I remembered that Banana Bread doesn't rise very much so I popped it in the oven and it was just fine.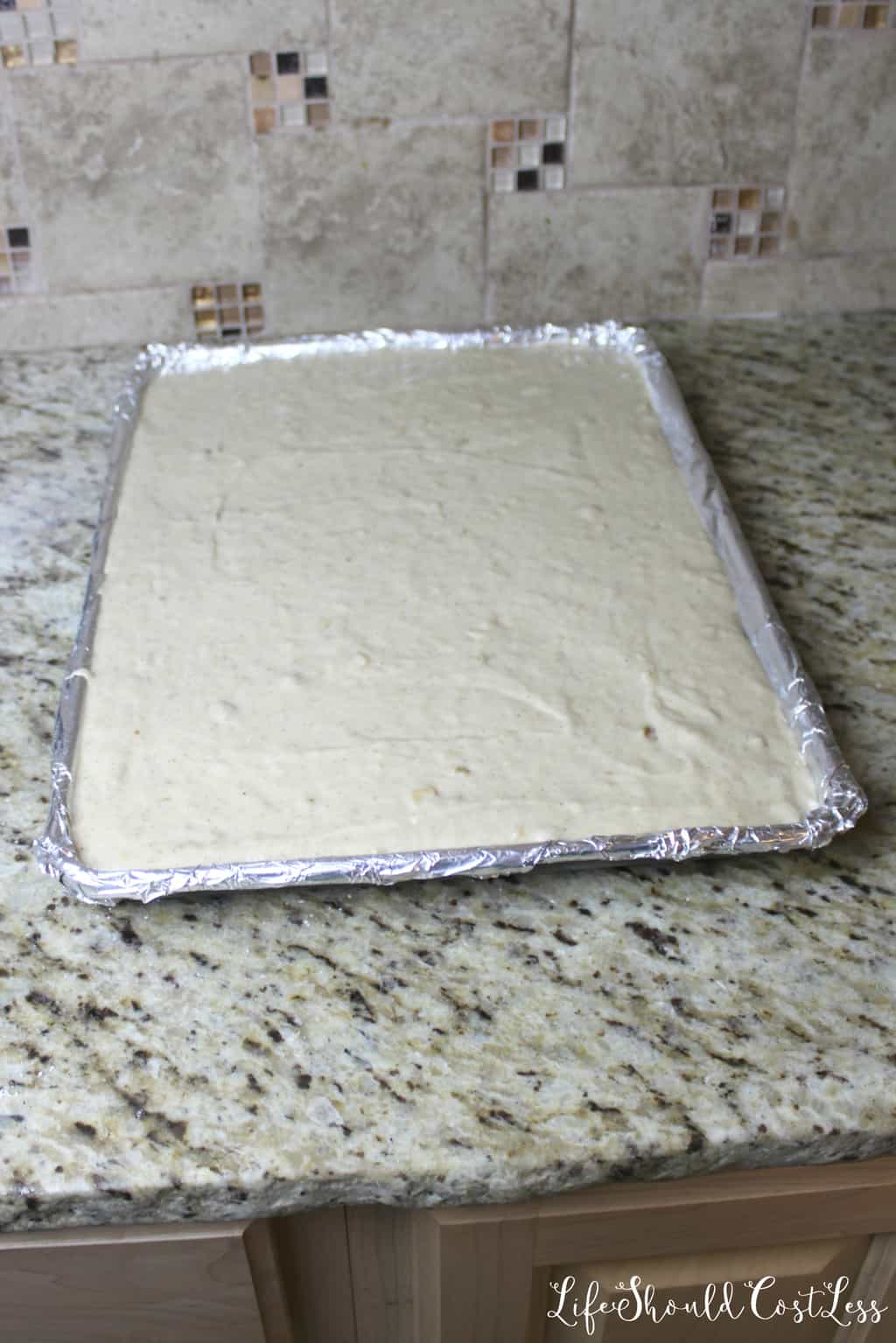 While it was baking, I started working on the frosting…
Anyway, here are the frosting ingredients laid out.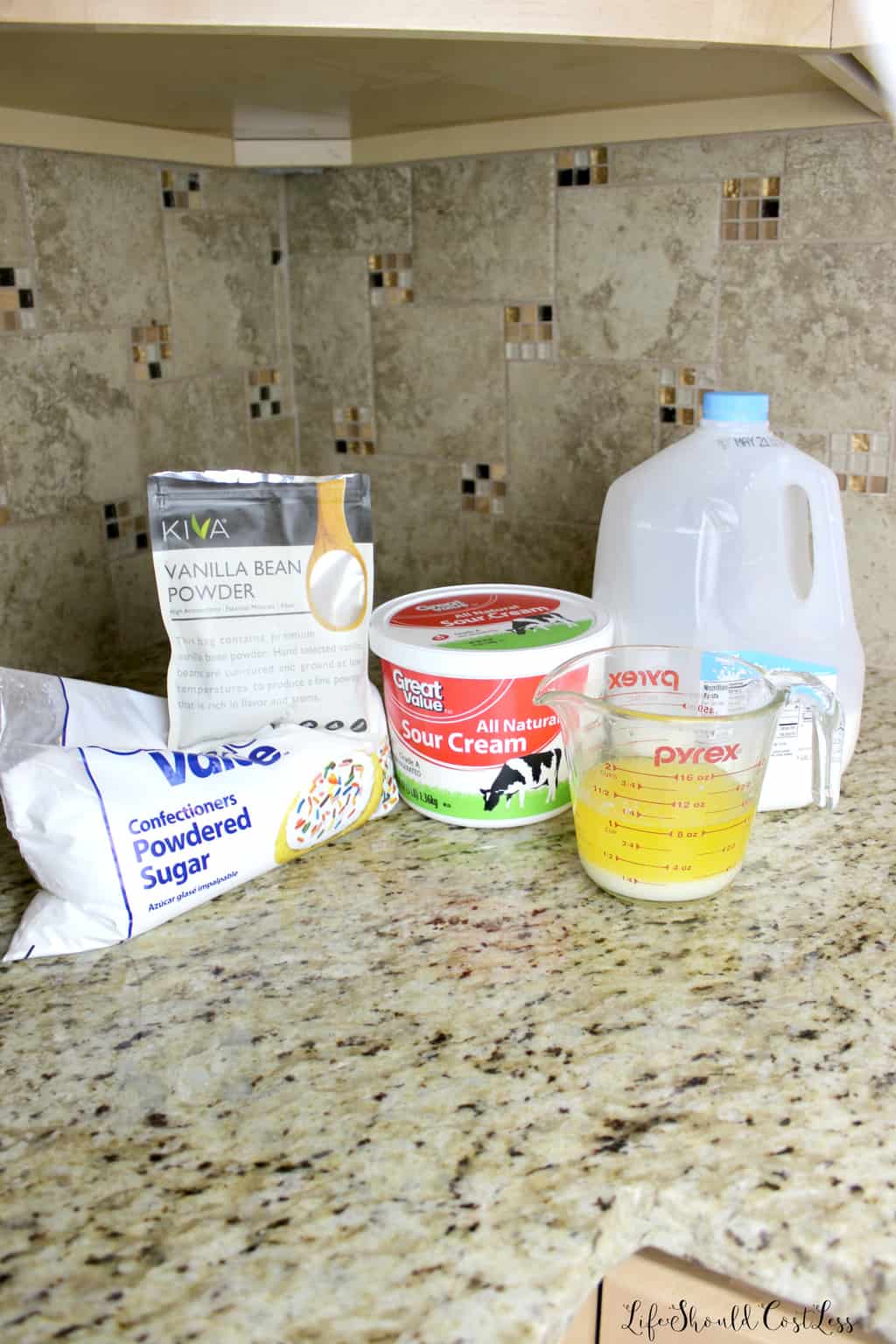 All you do is put all the frosting ingredients in your bowl at the same time.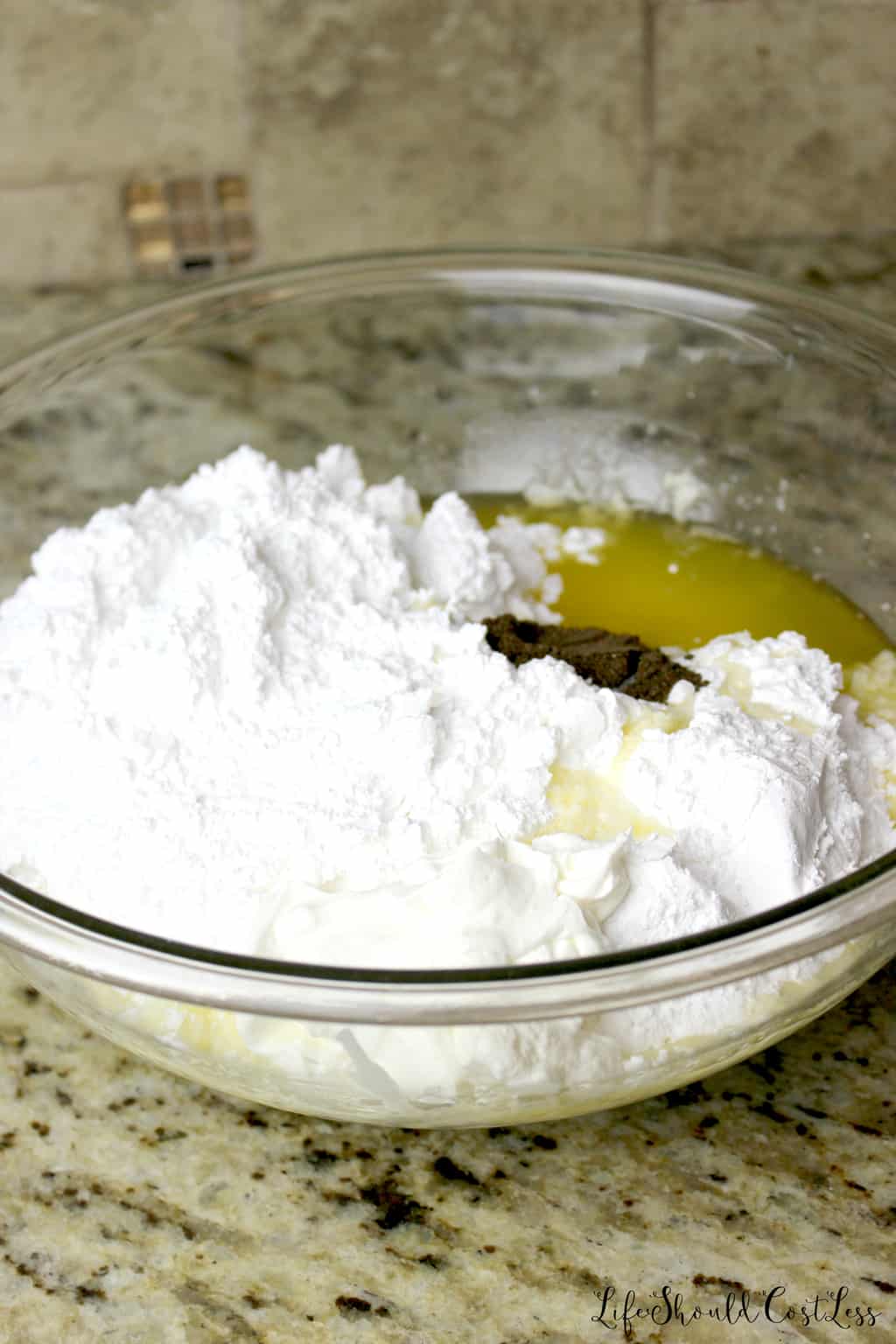 Then mix it on low until all the powdered sugar is mixed in, and then just mix until it's creamy.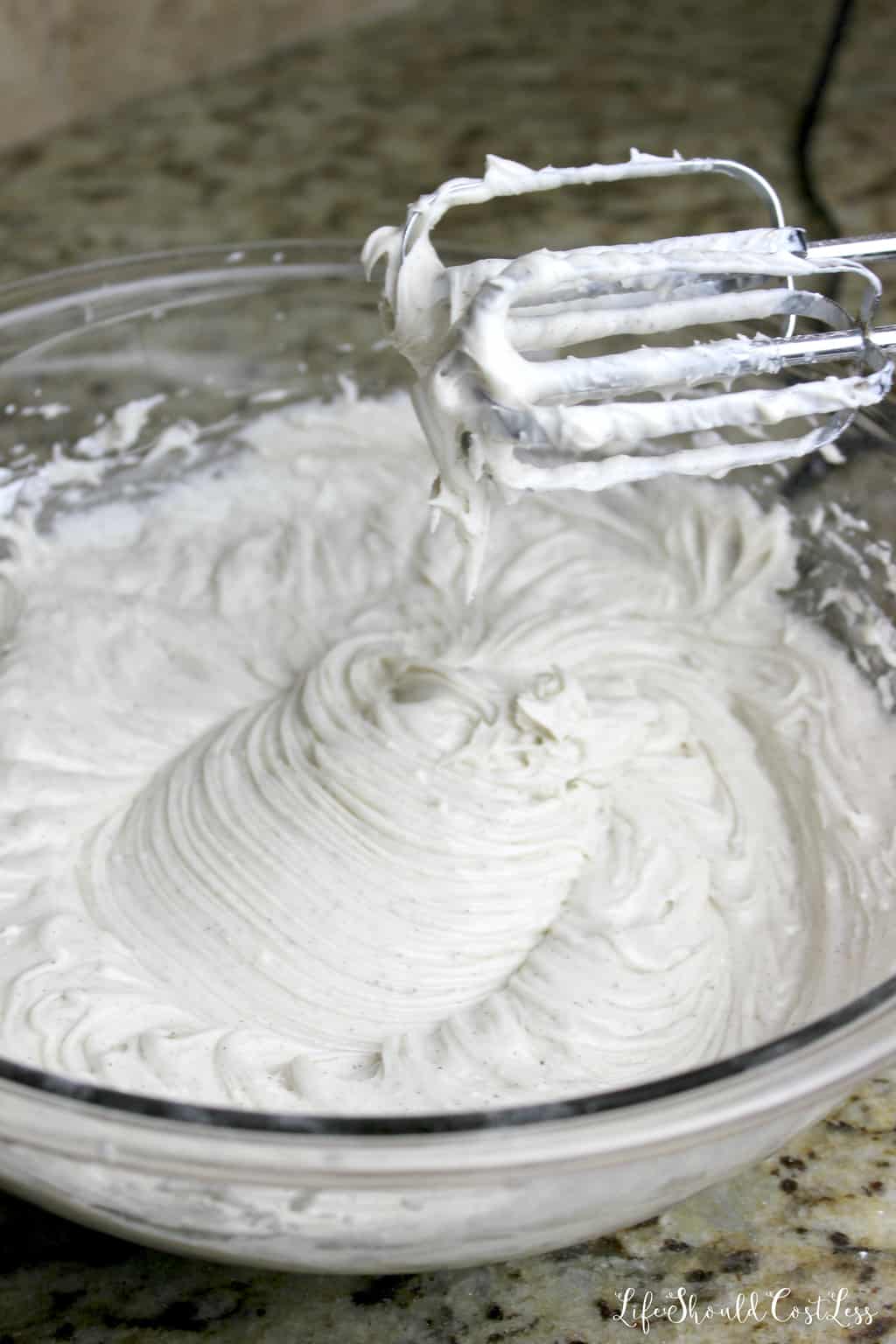 When I was done making the frosting, I covered it with a clear wrap and put it in the corner since I wasn't going to need it until the cake was done and had cooled considerably. The pan was on a cooling rack.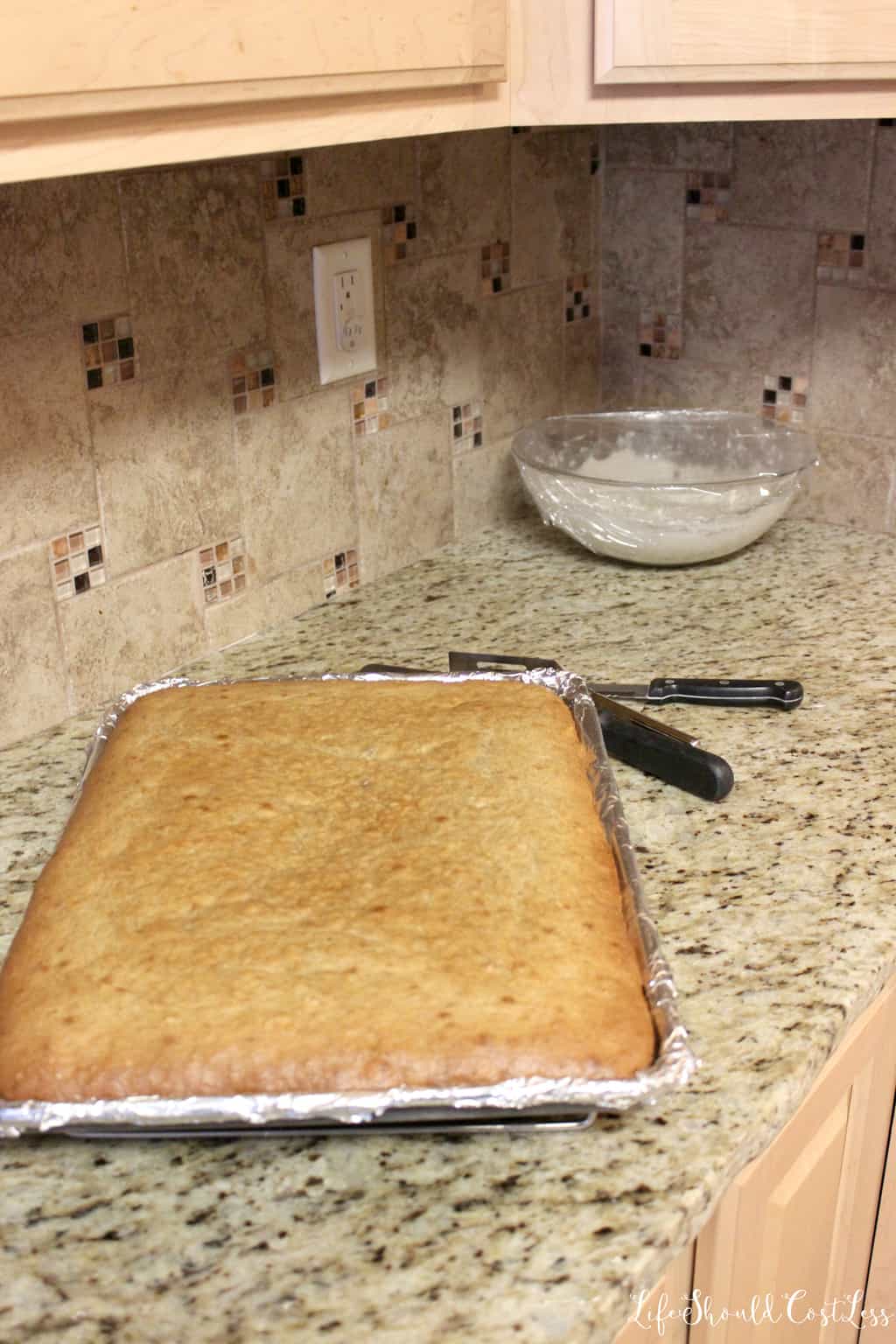 Once it had cooled, I used the entire bowl of frosting, and frosted it good.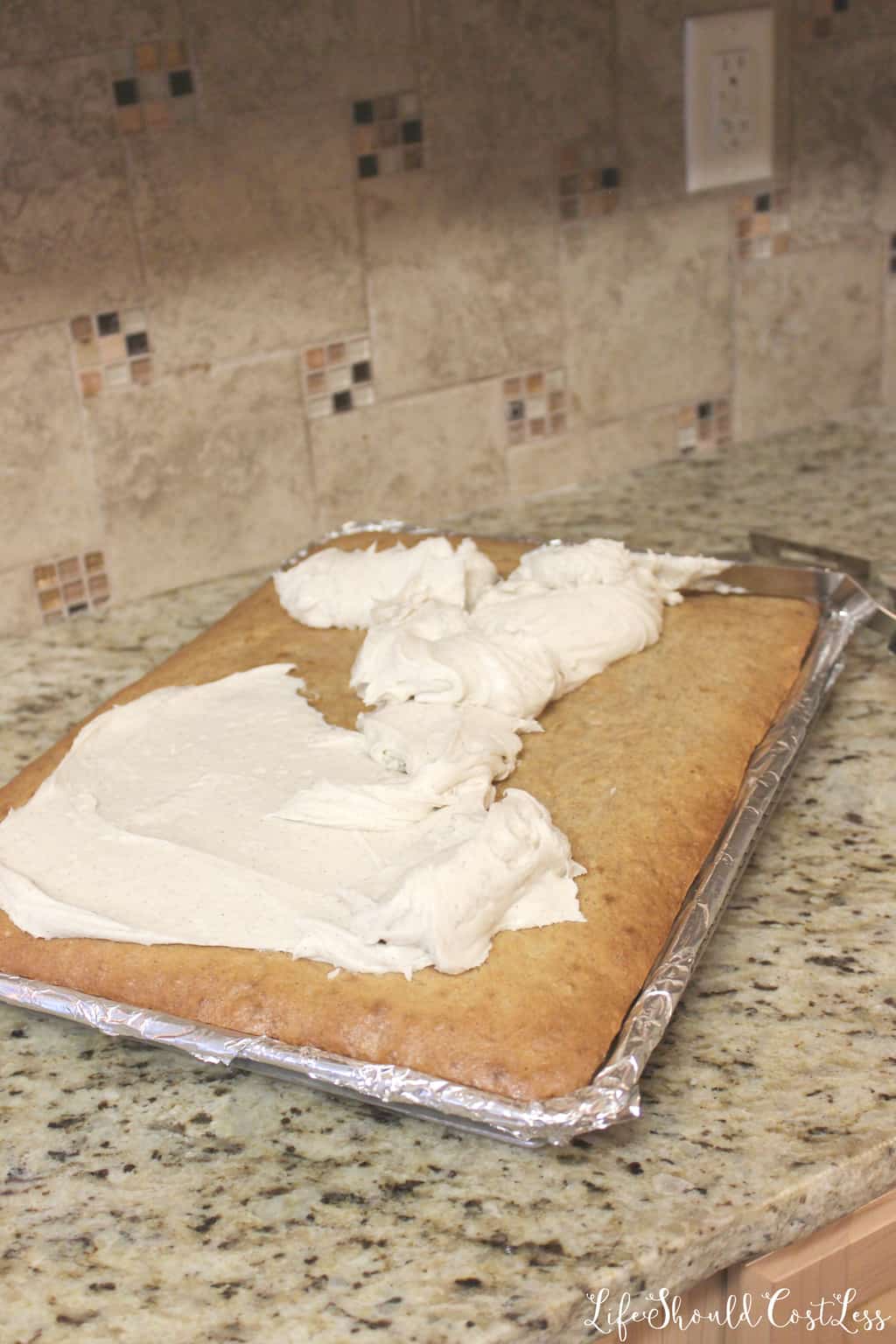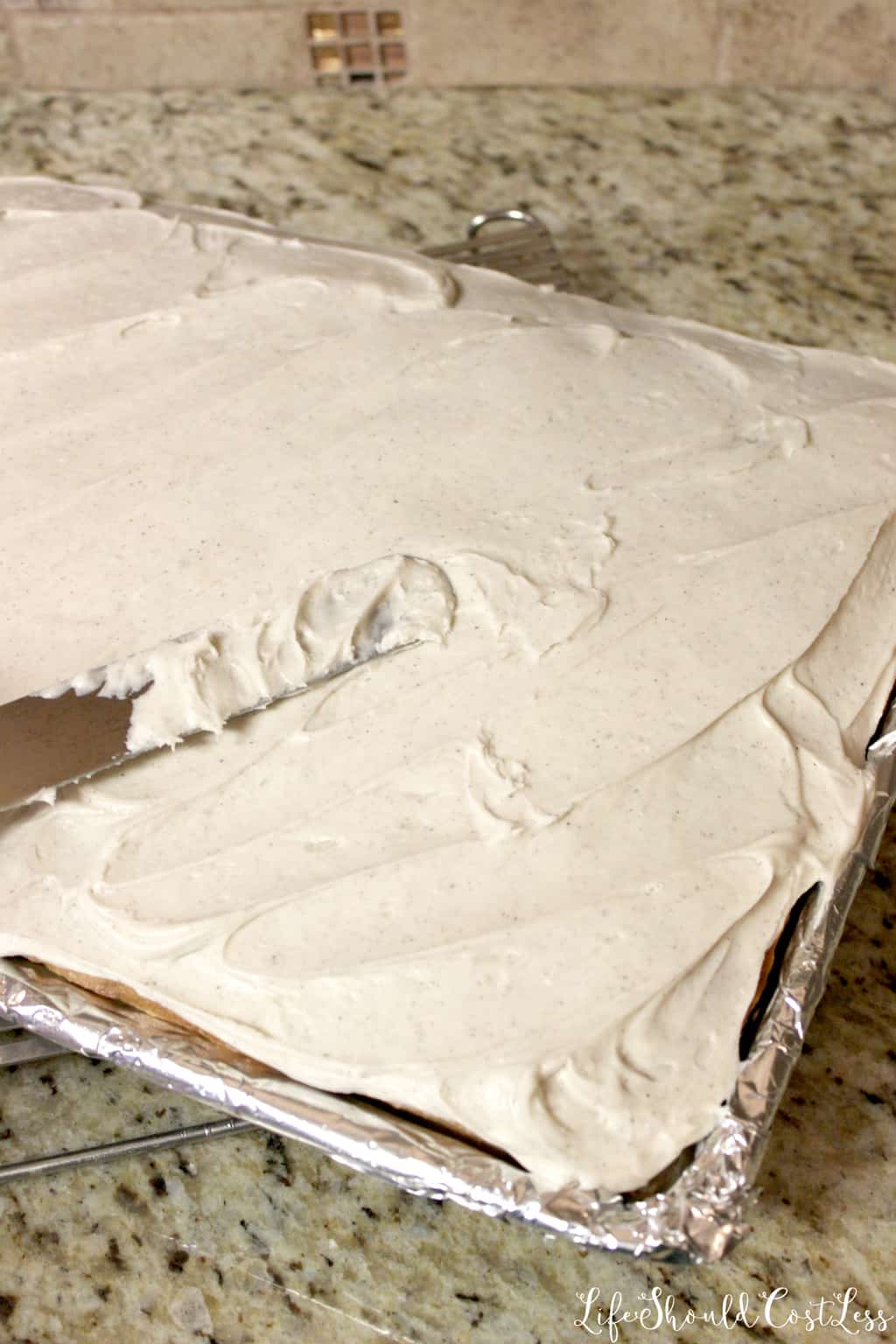 I'm sneaking in a few links to some of my other posts that you may like: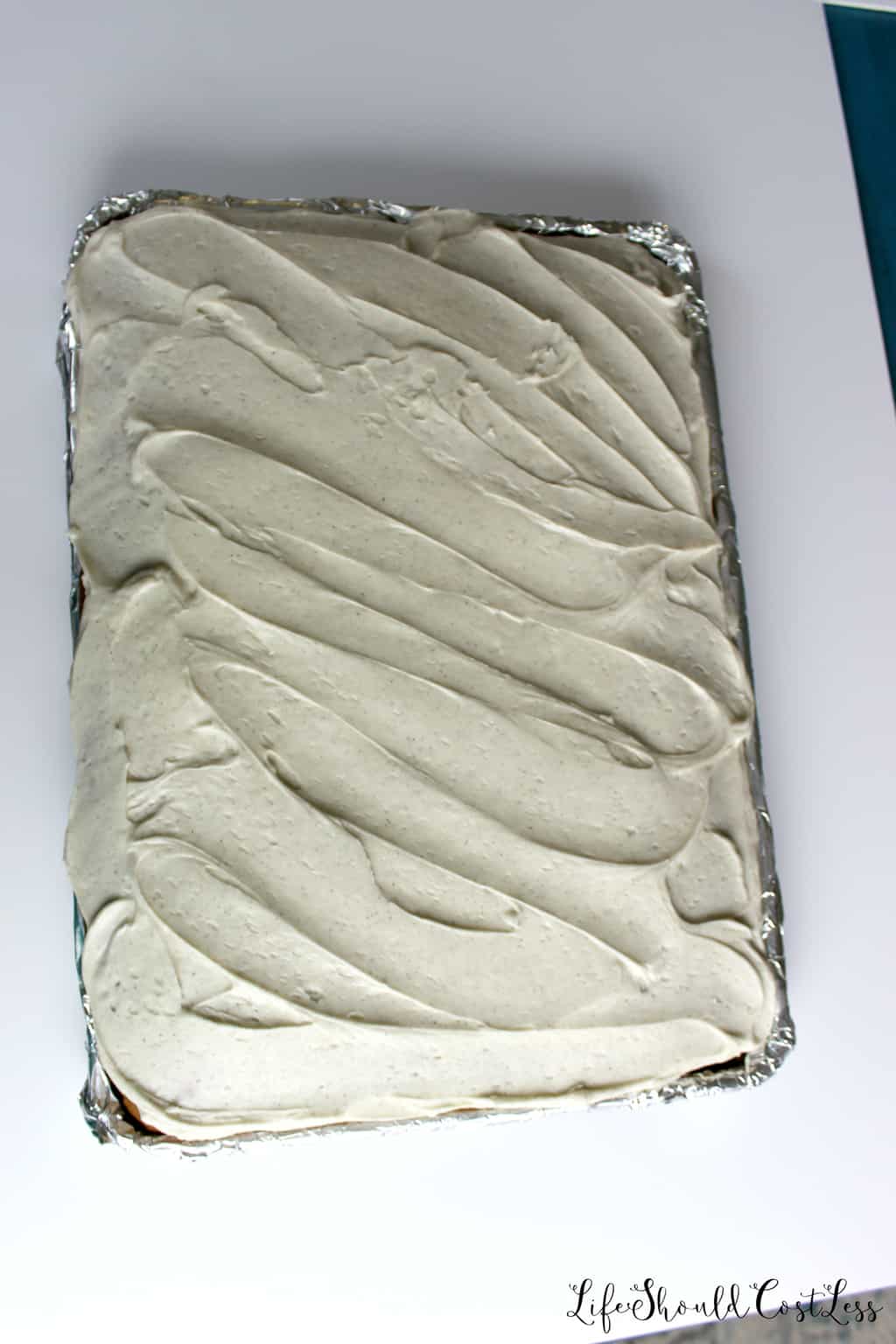 Lastly, all you do is to cut it to desired size pieces…
If you don't get at least 36 servings out of this cake you probably need to reconsider your portion sizes…just sayin' (I'm working on slimming down so portion size is constantly at the front of my brain right now and I'm usually on the chunky side so I can say that, lol.)
Next all I did was sprinkle with a few walnut pieces for staging and it's ready to eat.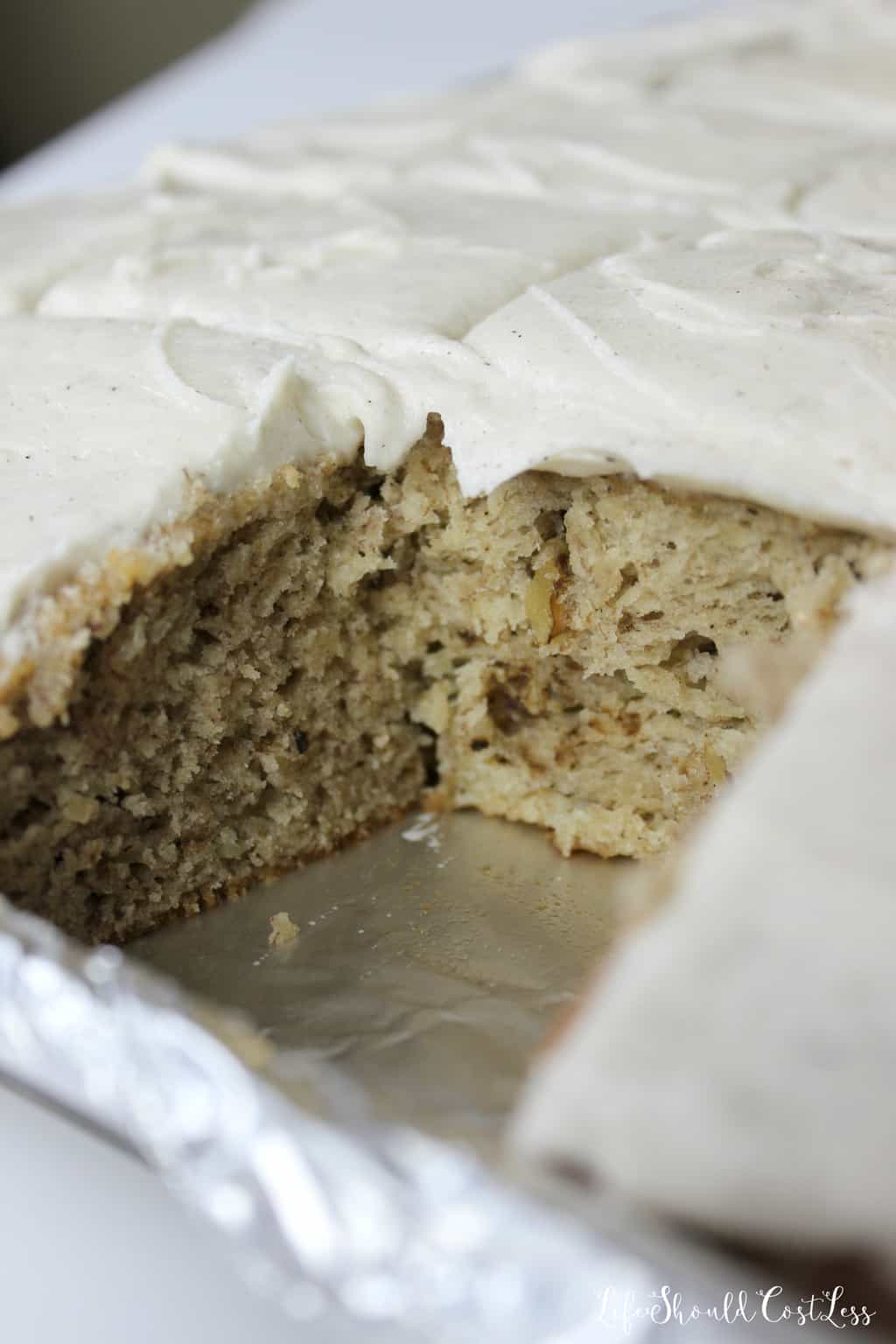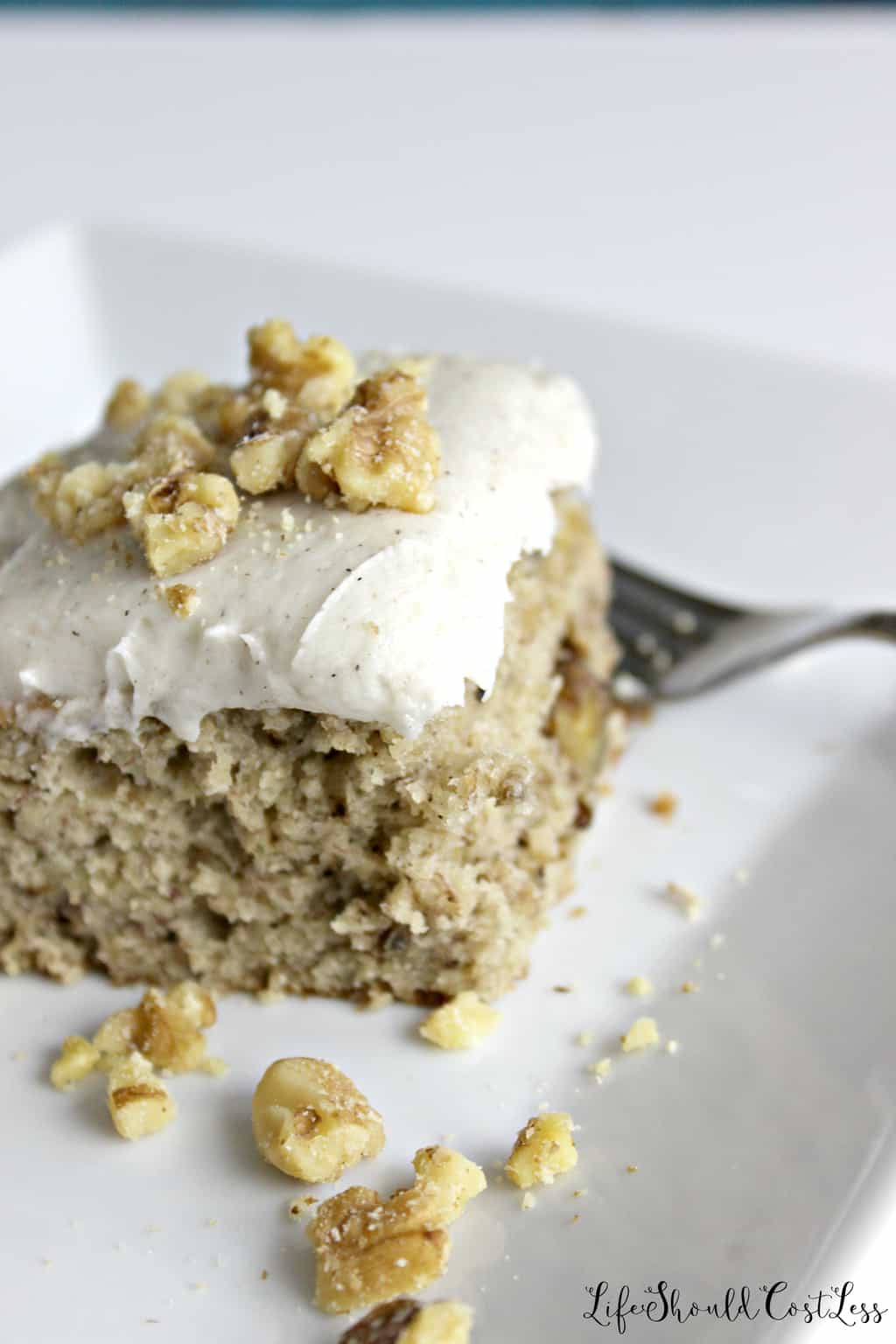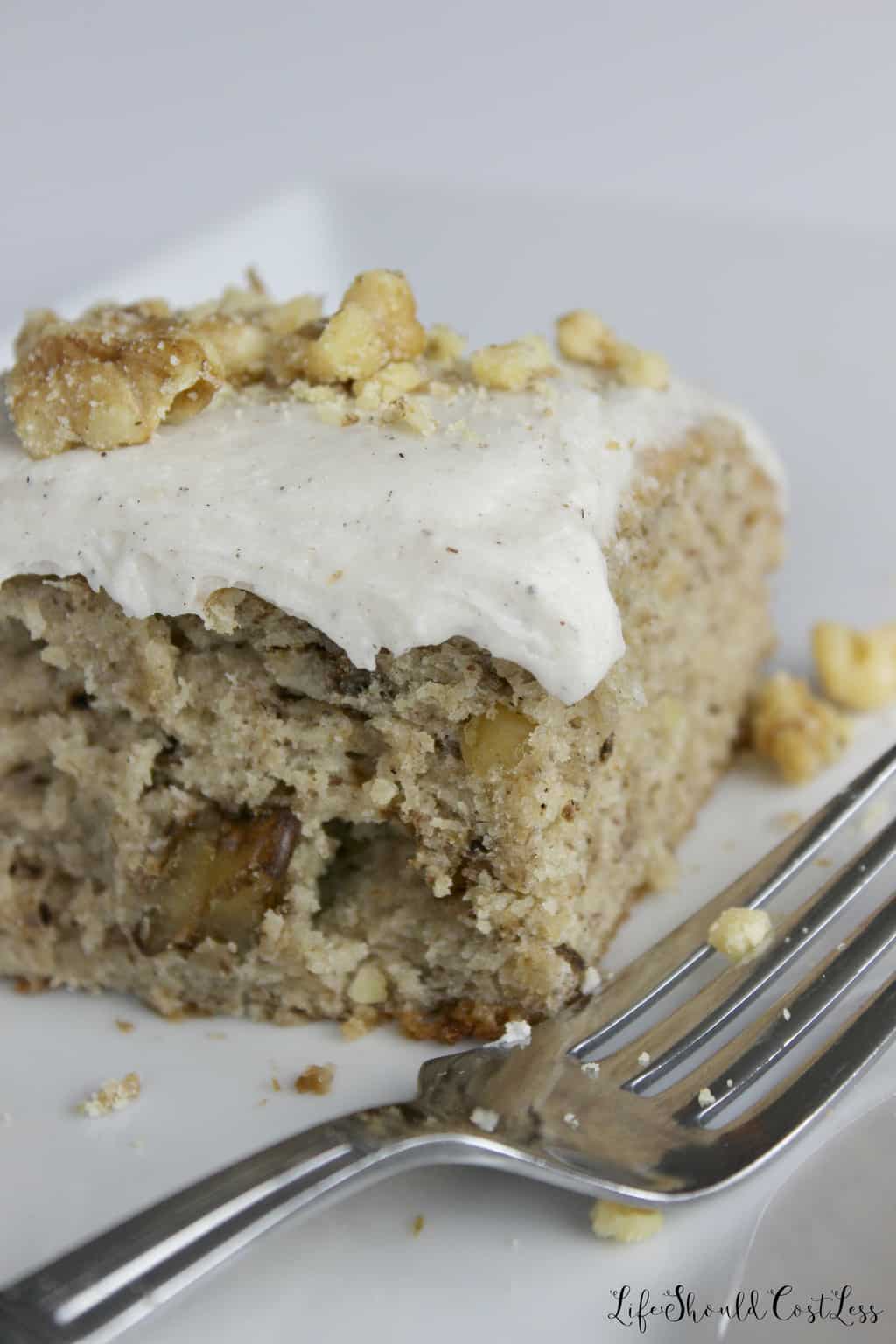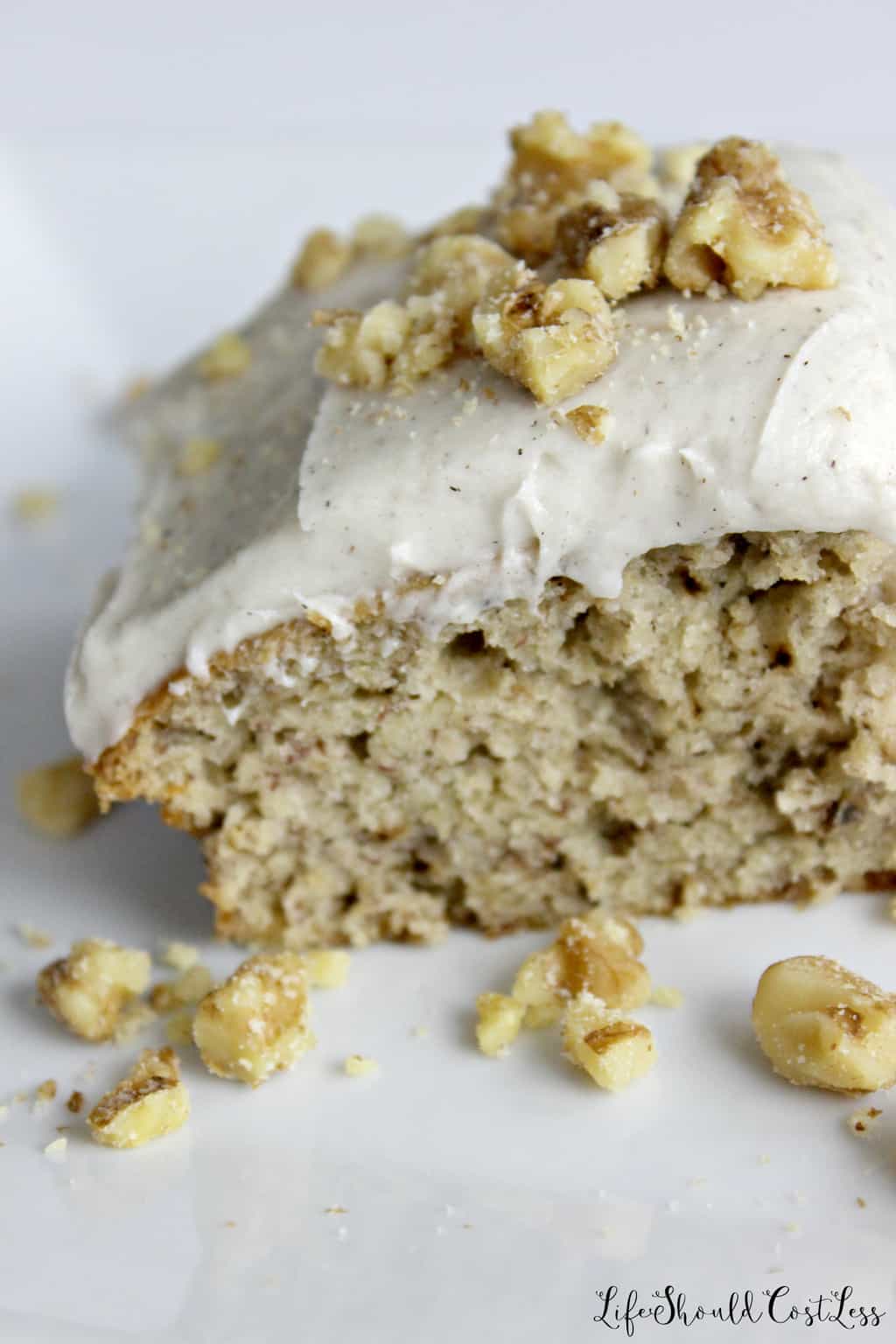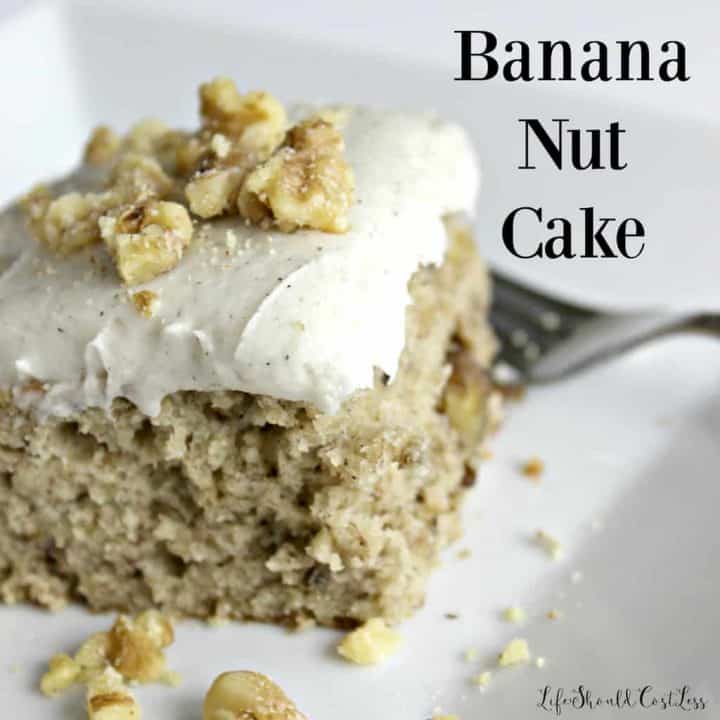 Banana Nut Cake
Moist & delicious cake to feed a crowd.
Ingredients
3 C Sugar
6 Eggs
1&1/2 C Butter (melted)
10-11 Overripe Bananas (medium sized)
2 T Vanilla
¼ C Sour Cream
6 C Flour
1 T Baking Soda
¾ tsp Salt
1 C Walnuts Or Pecans (chopped, plus extra for garnishment)
Instructions
In a large bowl, at least four quarts, add your bananas and mash well.
Add Sugar, Butter, Eggs, Vanilla, and Sour Cream. Mix well.
In a separate, medium sized bowl, whisk together the Flour, Baking Soda, And Salt.
Gradually add and mix the dry mixture into the wet mixture stir well.
Then add the chopped nuts and mix well.
Spoon into a prepared (greased and floured or covered with non-stick foil or spray foil with cooking spray) half sheet pan or extra large cake pan.
Bake at 375 degrees for forty minutes to one hour or until toothpick in center of cake comes out clean.
Let cool then frost with Sour Cream Frosting (recipe below in original post).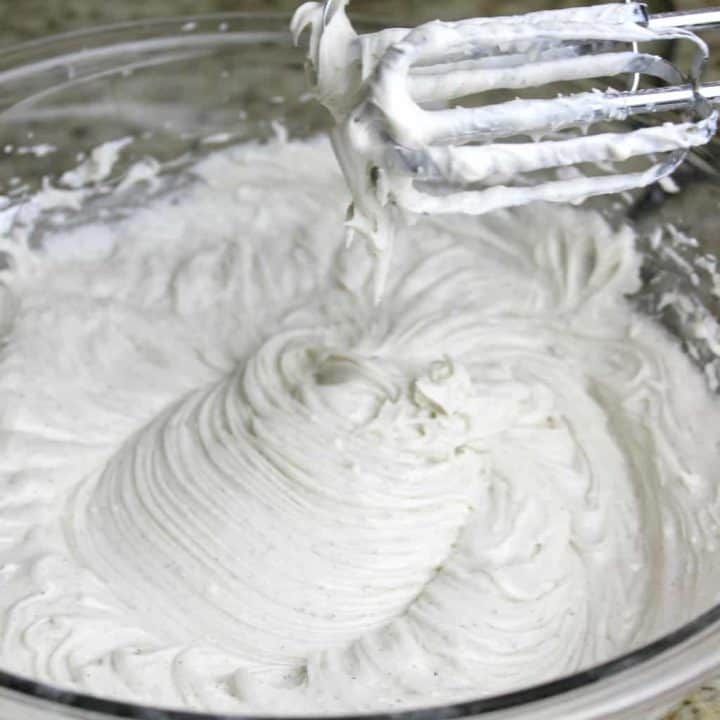 Sour Cream Frosting
Vanilla Sour Cream Frosting is great on Cinnamon Rolls, Banana Cake, or Carrot Cake. Makes enough to generously frost a half sheet pan cake or cinnamon rolls.
Ingredients
2 lbs Powdered Sugar
1 C Butter (melted)
4 tsp Vanilla Extract
¼ C Milk
¼ C Sour Cream
Instructions
Place all ingredients in a large mixing bowl and stir on low until the powdered sugar is mixed in.
Then beat on medium to high, with a hand mixer, until it is creamy.
Notes
I make my frosting in a Four Quart mixing bowl.
So there you have it…a delicious and giant cake to take to any party or pot luck, or just a large gathering. Just make sure to label it that it has nuts and you should be good to go.
Thanks so much for stopping by my blog! If you liked what you saw, please make sure to share it via social media!
Other ways to show your support are to follow and/or interact with me on Pinterest, Instagram, Facebook, YouTube, or by Subscribing To My Email List. If you purchase suggested products through Amazon, the cost to you remains the same, but I make a small commission on everything in your cart.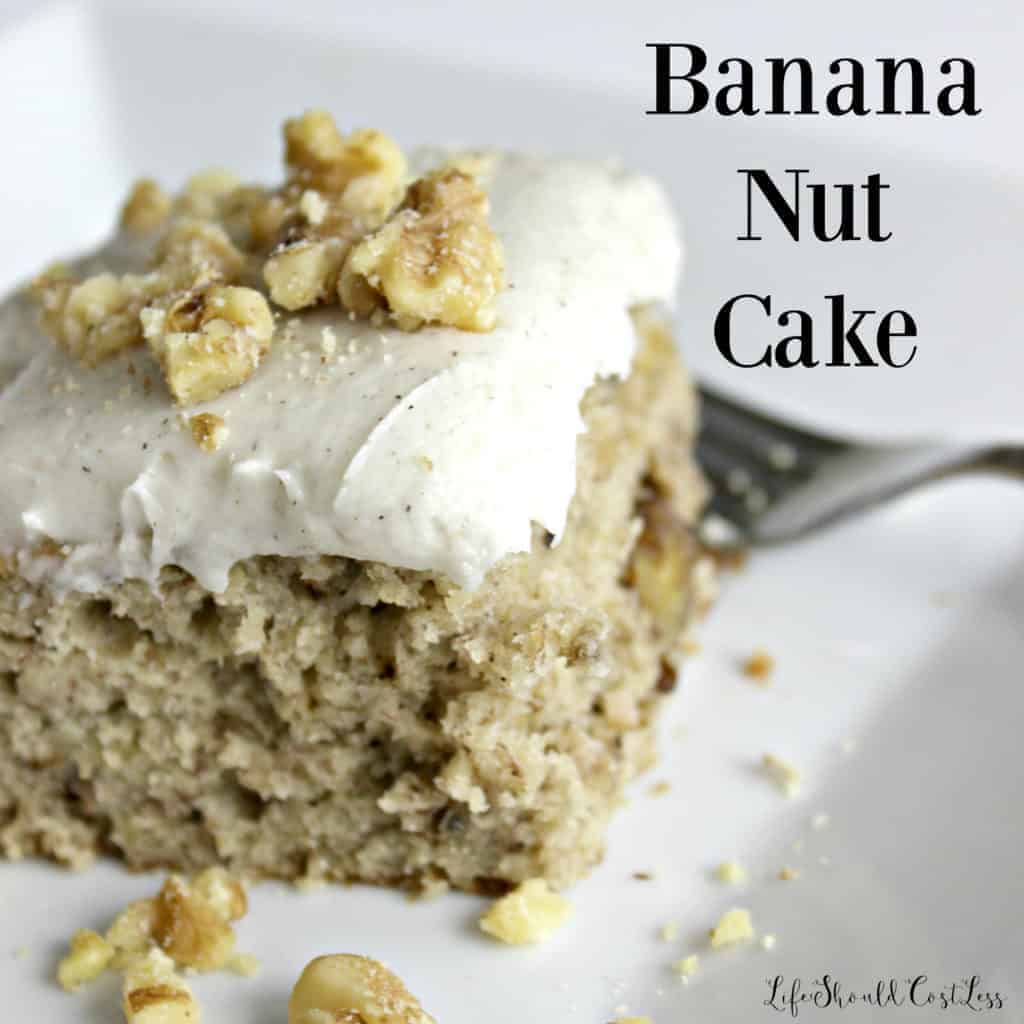 If something was particularly helpful and you would like to donate directly to the blog, you can do so via PayPal, here. I'm a single mom of four, so every little bit helps. Thanks so much! ~Sarah
P.S. You may also like my entire Sweet Tooth section as well as my entire recipe section.
Here are a few linked pics to check out too!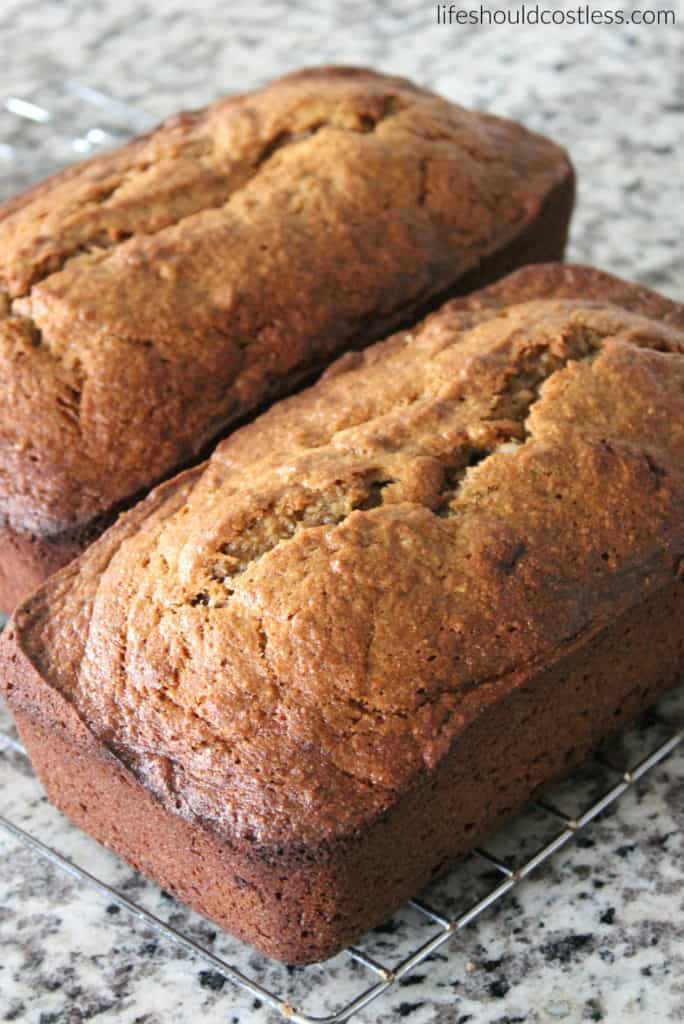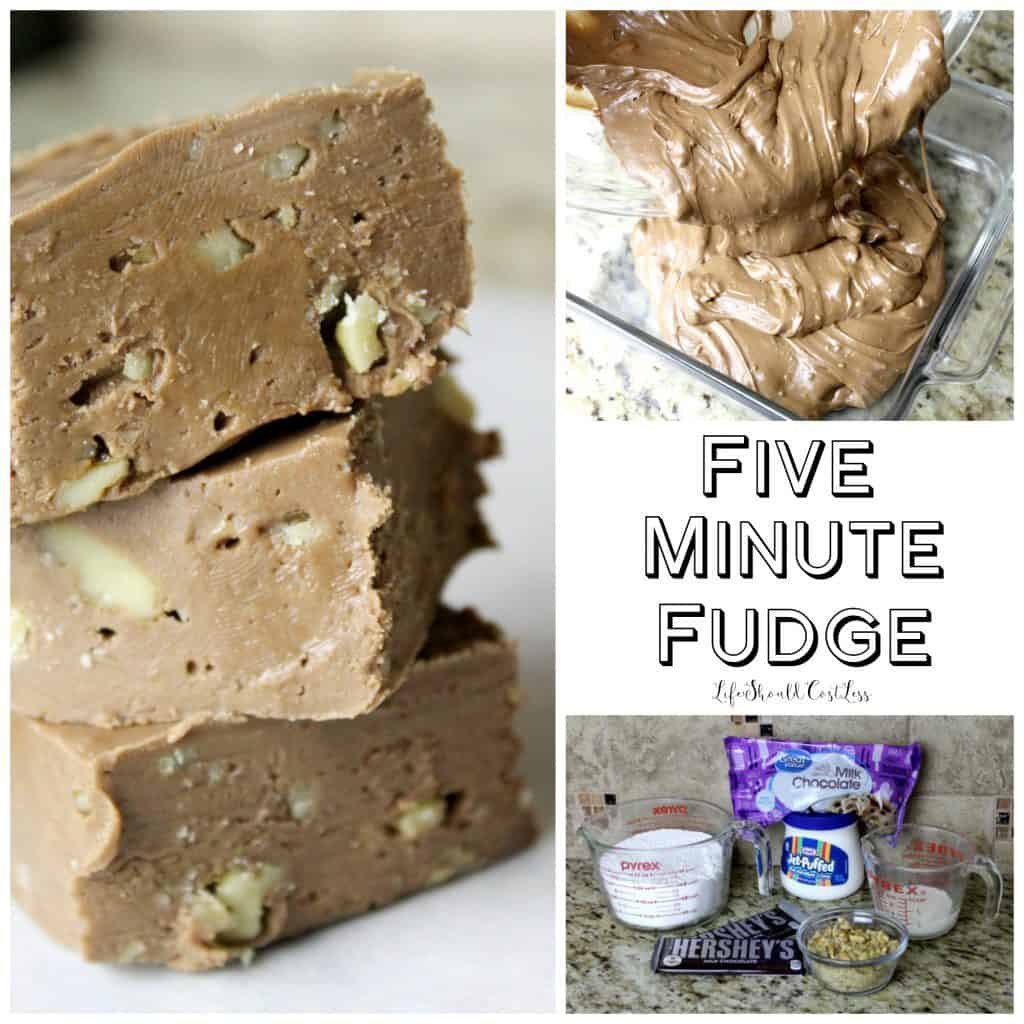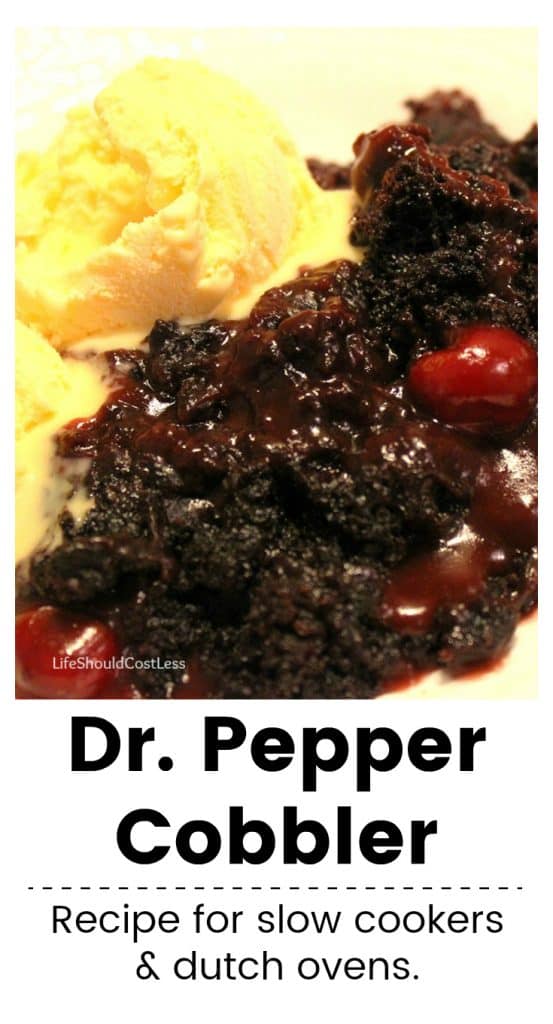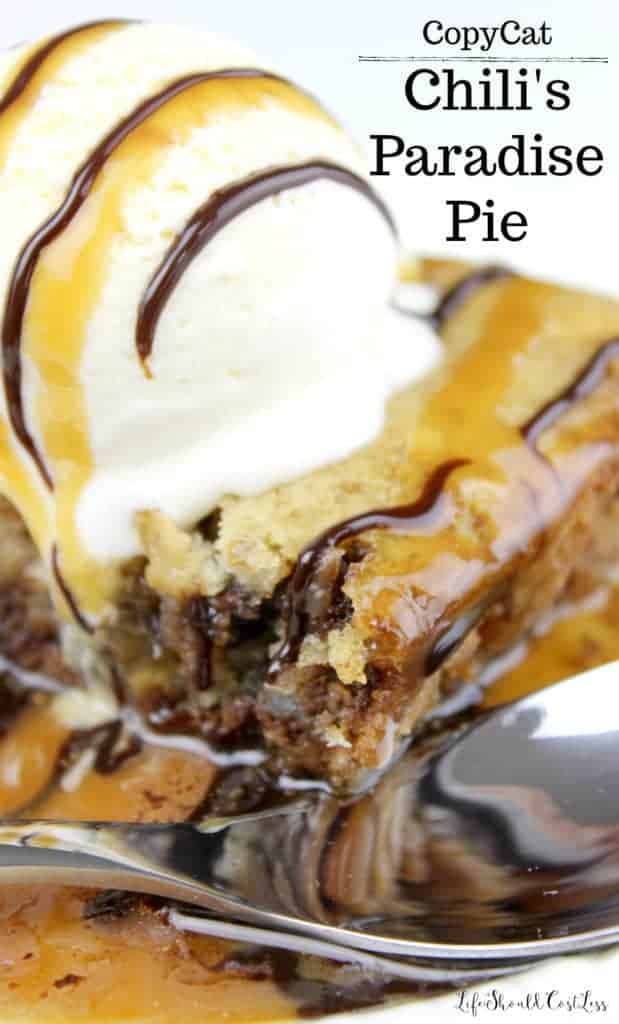 *Reposts: Please note that this idea/post was originally posted to this website on 05/02/2018 but it was in great need of a refresh so it now is more user friendly/has a recipe card.