I'm a bit of a 1950's romantic when it comes to Heirloom Recipes (family recipes that have been passed down). The whole time I am preparing the recipe I daydream about the house-dresses that would have been worn, the retro kitchen gadgets that would have been used, the darling aprons, and the smells that would have been welcoming the kids home from school. I know, totally nerdy, but I really think that I was born in the wrong era. Even so, working on this particular post was pretty fun because of the many daydreams I have.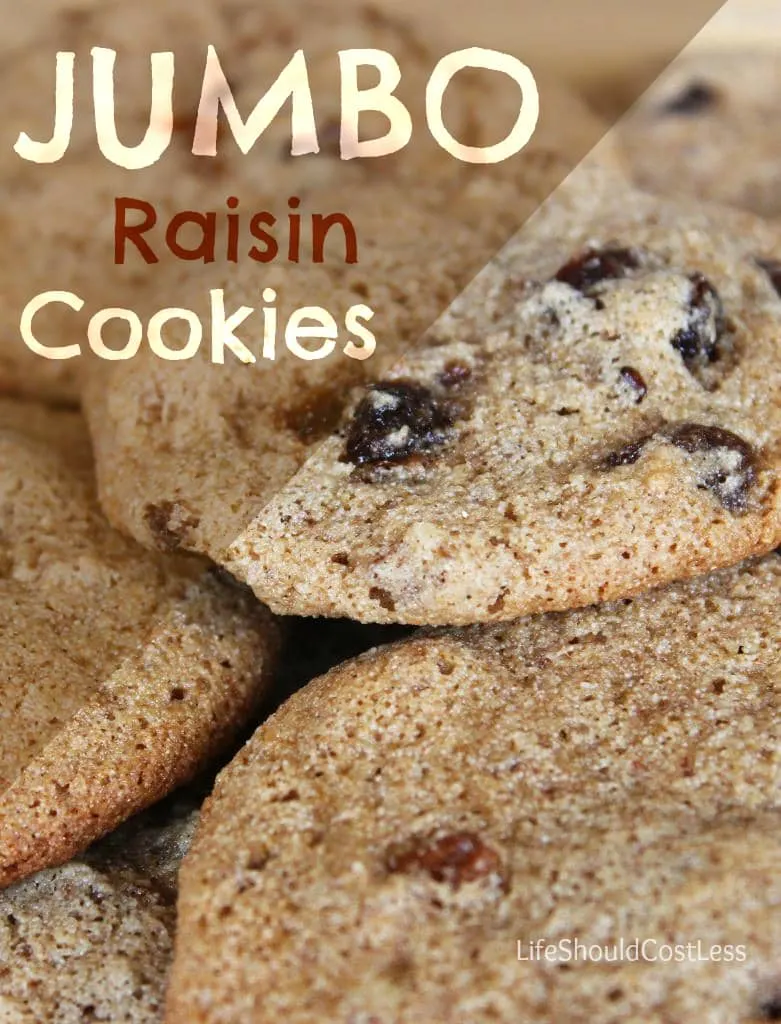 *Hey there, thanks for stopping by my website. This article is super old, so it has been archived as I no longer update it…so proceed if you wish…but it is definitely not my best work. Please stop by my home page, here, and see some of my better content. Thanks! ~Sarah*
This recipe is laced with nostalgia for my husband. He was really excited when I told him that I was going to be sharing it. He always says "Grandma was famous for these cookies" and after having made them, I can totally see why. They have the perfect blend of spices and just the right amount of chewiness. When I pulled the first batch out of the oven, I sent one of my kids downstairs to give my husband one and within a minute he was in the kitchen giving me literally the biggest smooch of my life…the kids were pretty grossed out, so it was extra funny!


Even if you're not normally a fan of raisin cookies (like me), I say that you should at least try these once. You won't be disappointed! I ate well more than my fair share of them. Plus, one batch makes several dozen cookies, so they would be perfect for a bake sale!


Printable Version


Preheat Oven to 350° F

Step 1

Simmer in a pan for five minutes:

1 C Water
2 C Raisins

When the five minutes is through, remove from heat and let cool.

Step 2

In a medium bowl add:

4 C Flour
1 t Baking Powder
1 t Baking Soda
2 t Salt
2 t Cinnamon
½ t Nutmeg

Sift together until well mixed (I just use a whisk and mix for a few minutes).

Step 3

In a large bowl, cream together:

1 C Cooking Oil (I use Safflower)
2 C Sugar

Once those are creamed then add (one at a time):

3 Eggs

Beat well, then add:

1 t Vanilla
1 C Chopped Nuts (Optional, I used Walnuts)
Cooled Raisins (from step 1)

Mix well, then gradually add while mixing:

The flour/spice mixture from step 2 and mix well. Drop by teaspoonful on a greased pan. Bake for 10-12 minutes. Chopped dates can be substituted for raisins. Grandma also recommends only using 2 cups of whole wheat flour and using standard flour for the rest…I just haven't bought standard flour to bake with in years, so I used all whole white wheat and they still turned out good, just a little less fluffy (or so I'm told).

*When I made them I found it easiest to use a parchment paper lined cookie sheet. When removed from the oven I let them sit for two minutes before placing them on a cooling rack. For some reason they stick a little less when you use a metal spatula. I used a 2 Tablespoon Cookie Scoop
instead of doing teaspoonfuls and it still made nearly 4 dozen cookies.


For some photo's of the process and a couple more tips, keep reading:
Enjoy! I know I did! Oh, and please make sure to share…this post, as well as your cookies…otherwise you'll gain ten pounds eating four dozen cookies ;).