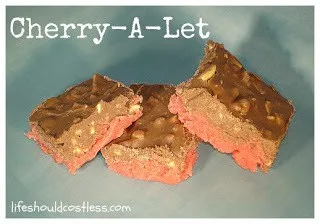 Make sure to let it cool completely before cutting. I didn't let it set quite long enough, but it will cut much cleaner if you're patient.
*Hey there, thanks for stopping by my website. This article is super old, so it has been archived as I no longer update it…so proceed if you wish…but it is definitely not my best work. Please stop by my home page, here, and see some of my better content. Thanks! ~Sarah*
This recipe is a family one from my great-great Aunt Alice Lewis who lived in Iowa. Some of the local ladies from my hometown have been claiming it to be their own, but it's not. Just to clarify.


1st Layer
Boil Together 5 minutes stirring occasionally (make sure to use a large pot as this bubbles up quite a bit and you won't want it to boil over):
Remove from heat. Then add:
6 oz of
Cherry Chips
(or Vanilla Bark w/Almond Flavoring to taste. I used cherry chips and still added about 1/2 tsp of Almond flavoring)
1 tsp Vanilla
Stir and Pour into a 9×13 pan. Let cool completely before adding the second layer.
2nd Layer
Mix together:
12 ounces of MILK Chocolate Chips
(Melted)
¾ C Peanut Butter
1 T Butter

(Melted)
10 oz Chopped peanuts

(I just threw mine in a bag and crushed them a bit)
Spread the chocolate layer over 1st Layer, Chill. Cut. Serve. Enjoy;) I personally think this is similar to those Cherry Mash
candies, but even better.