Hey guys! I just made another batch of my favorite dry laundry detergent recipe and thought that I would share it with all of you. If you don't make your own detergent yet, maybe you should give it a try sometime…if you end up not liking it, at least it's a good skill to have in case there is ever an emergency and you either need to cut costs or for all you Doomsday Preppers out there, if SHTF…
This recipe should be fairly easy to cut down into a smaller batch if you just want to try it out (because I list how many cups for the ingredients). The versatility doesn't end there! This recipe is so easy to make, but it's also easy to double, triple, quadruple, or however many times you need to… which means that if you know how many loads of laundry you do on average per year, you could easily buy the stuff and make enough detergent to last you a full year and only have to make it annually.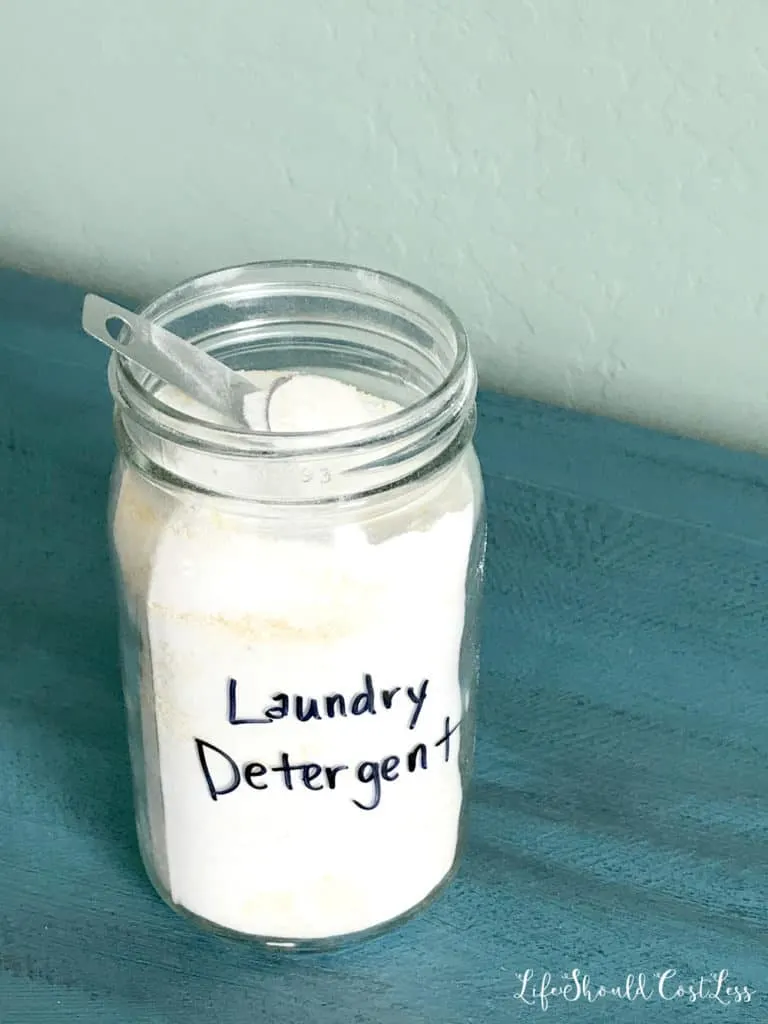 *Hey there, thanks for stopping by my website. This article is super old, so it has been archived as I no longer update it…so proceed if you wish…but it is definitely not my best work. Please stop by my home page, here, and see some of my better content. Thanks! ~Sarah*
Anyway, I got my base recipe here. But, of course I went ahead and simplified it a little more. I don't do fancy labels, or scents, or anything super girly because no one goes in my laundry room so who cares what it looks like. The whole recipe took me about 15 minutes to throw together and that was including the time that it took me to stop and take pictures of everything, so it really should only take you ten minutes tops, unless you're grating your Fels Naptha (get it at Wal-Mart for less than a buck per bar) by hand, but even then, it's so soft it doesn't take long to grate.
On to the tutorial:
Here are the ingredients laid out. The only thing that you don't use the whole package of is the Oxyclean. I got it in bulk on sale at Costco and just couldn't bring myself to buy a smaller, more expensive, package just to show you guys the exact amount…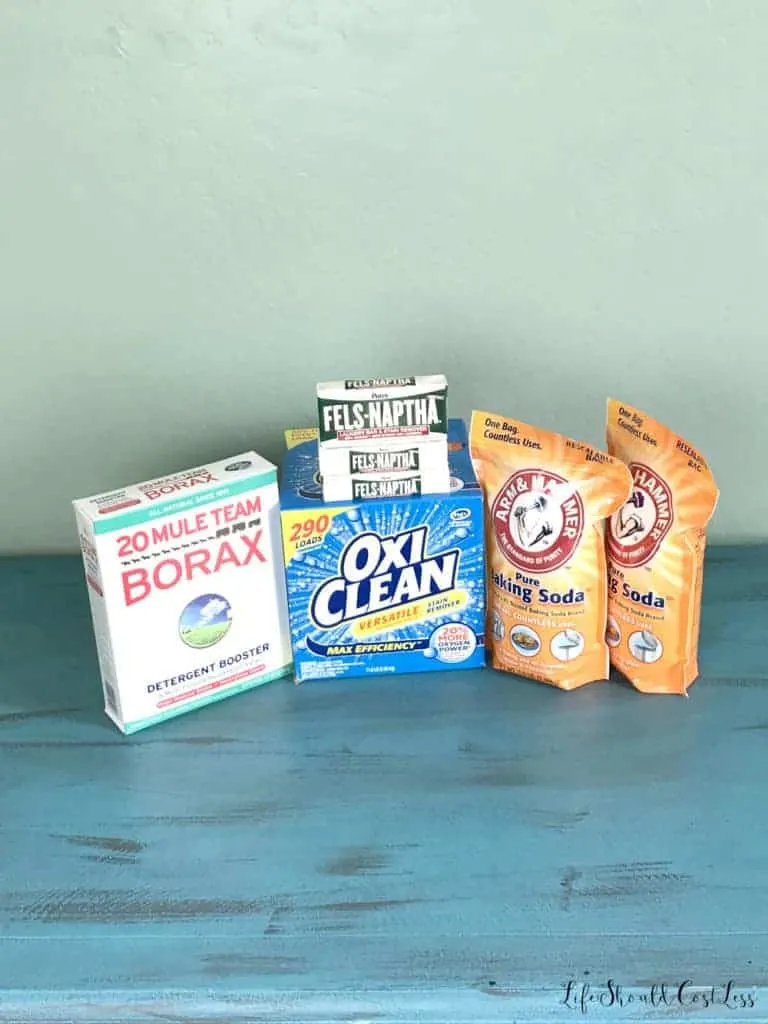 Also, please forgive some of the pictures. When I went to shoot the post I could not find the charger or spare battery pack for my camera so I had to use my Iphone…they look semi-decent considering that but I apologize. I started out with an empty bucket that has a lid. Mine was much too big for the job, but it worked.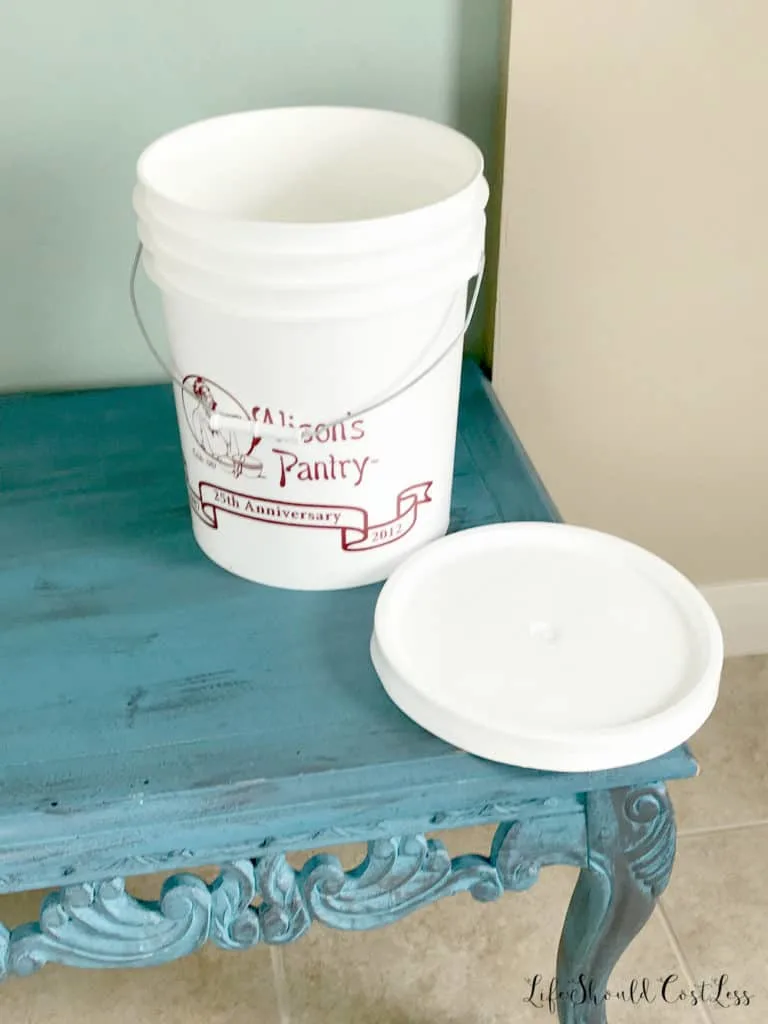 I don't like grating by hand if I don't have to, so I used my 14 Cup Food Processor to do the job for me.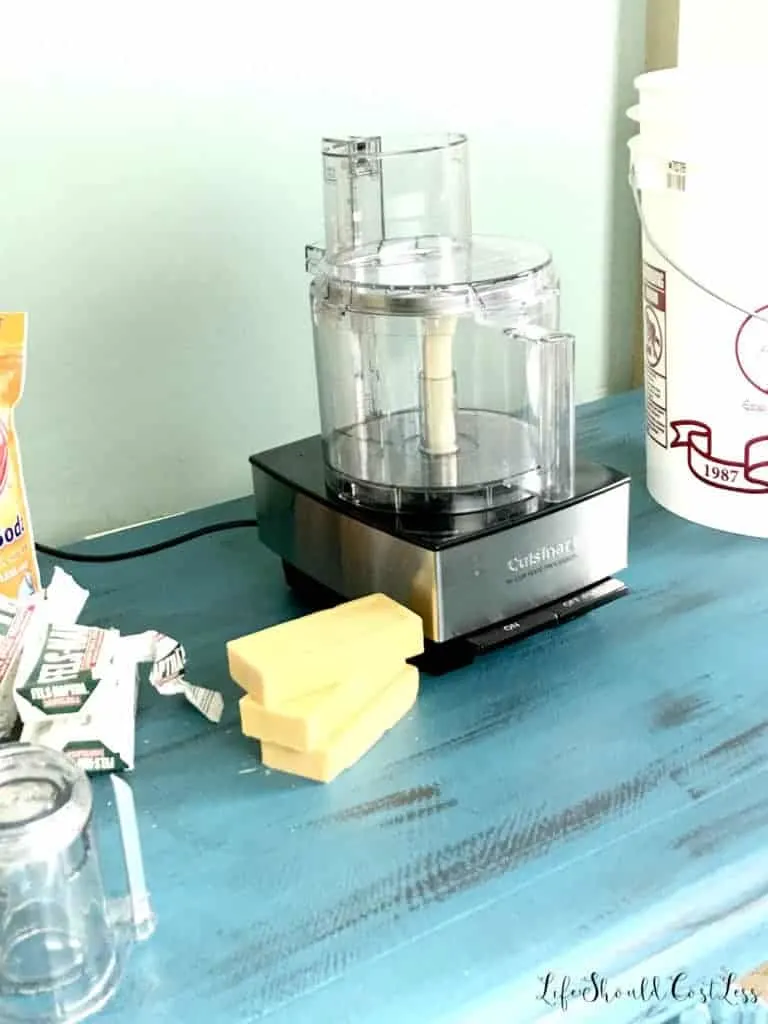 Cut the bars down a little so they would fit into the food processor.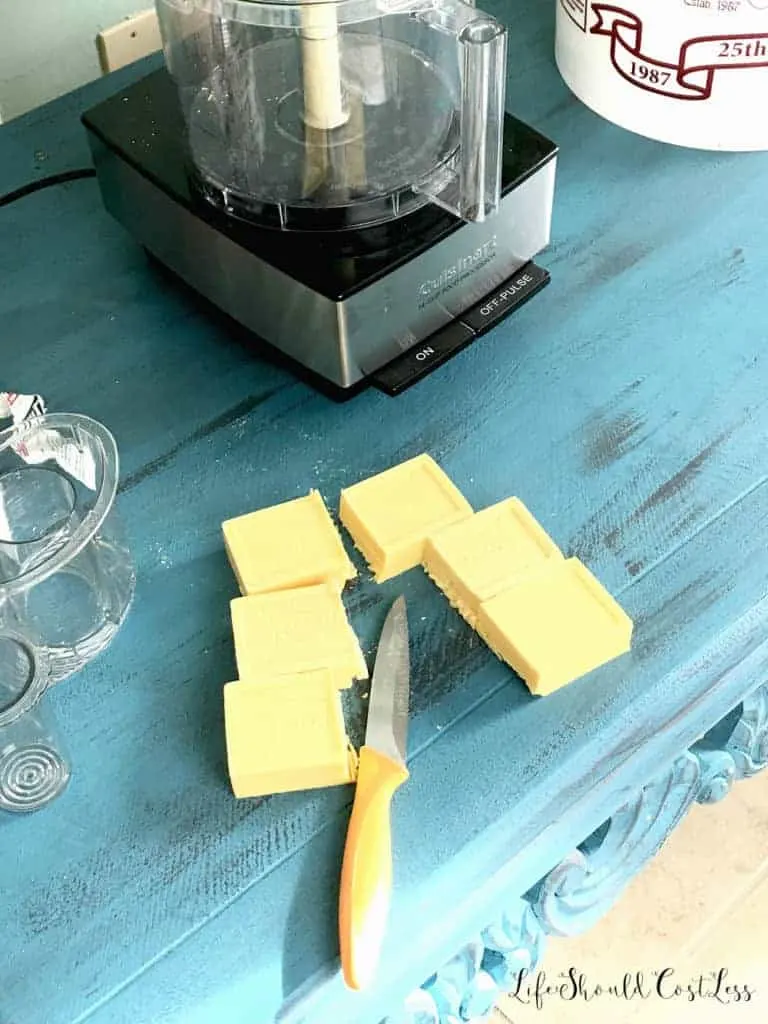 Then grated all three bars. My food processor is new and has only been used a few times, otherwise I would have just stuck the bars, halved, in with the chopping blade and processed until it was the size that I wanted…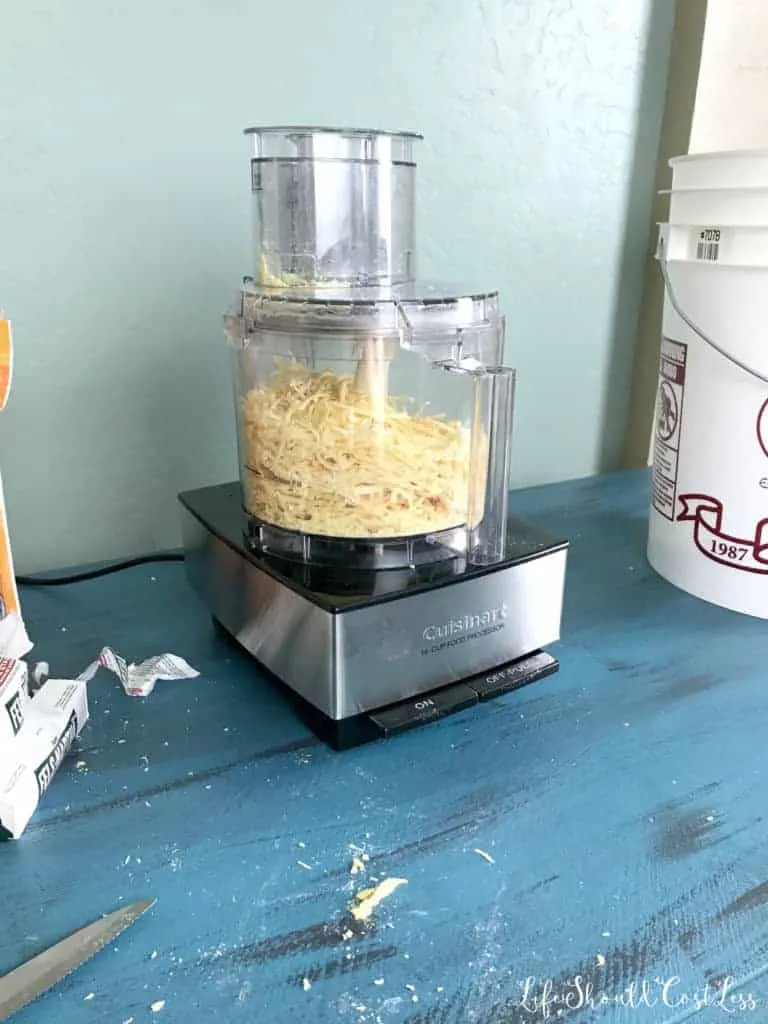 So, after I grated it, I processed it for a couple of minutes. I try to get it as small as possible so that it will break down better in the washer, even if I'm washing in cold water, but it's not totally necessary so you can get by with just using a cheese grater on the small grating side.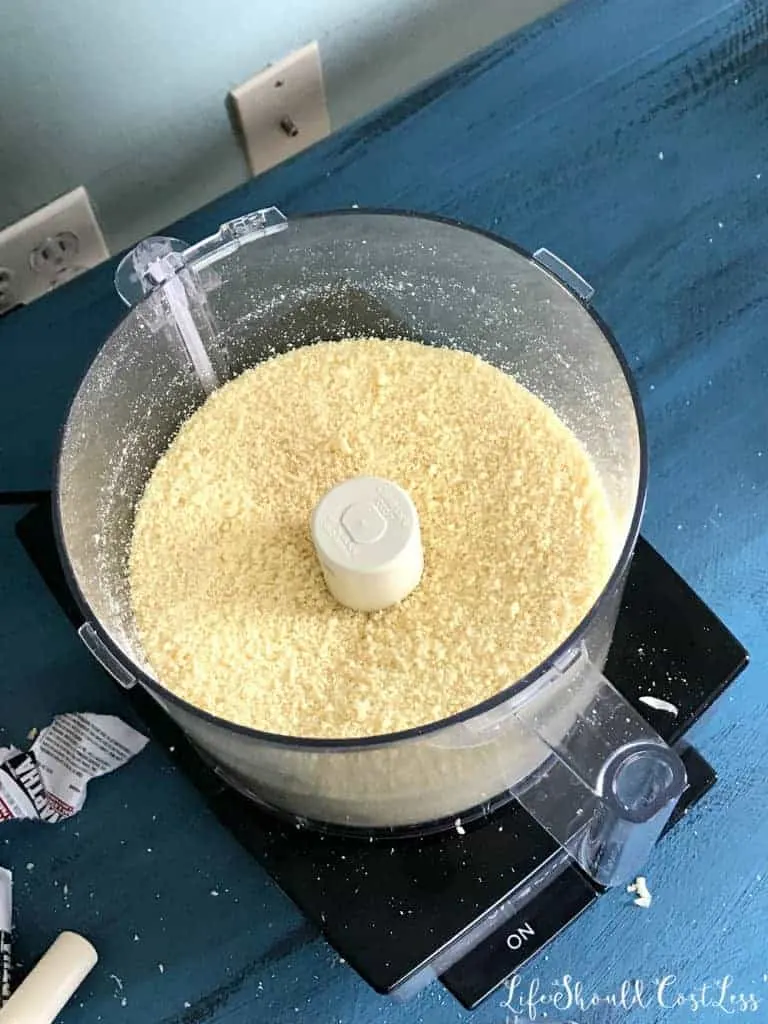 Once I got that Fels Naptha processed I was able to quickly add the other dry ingredients.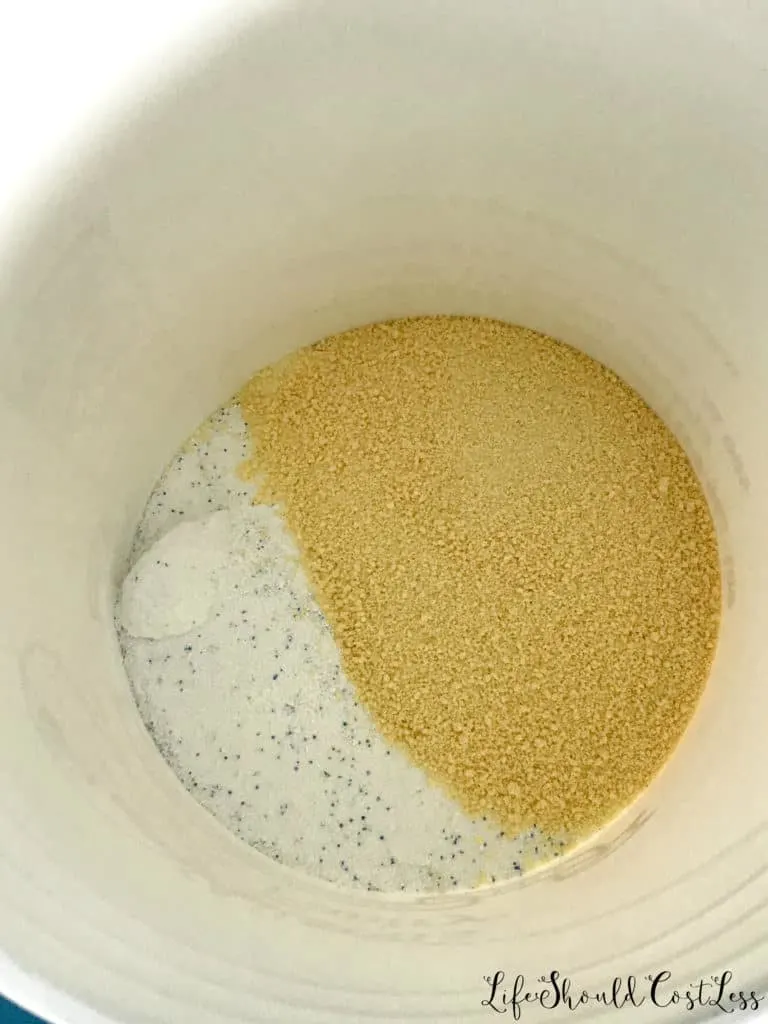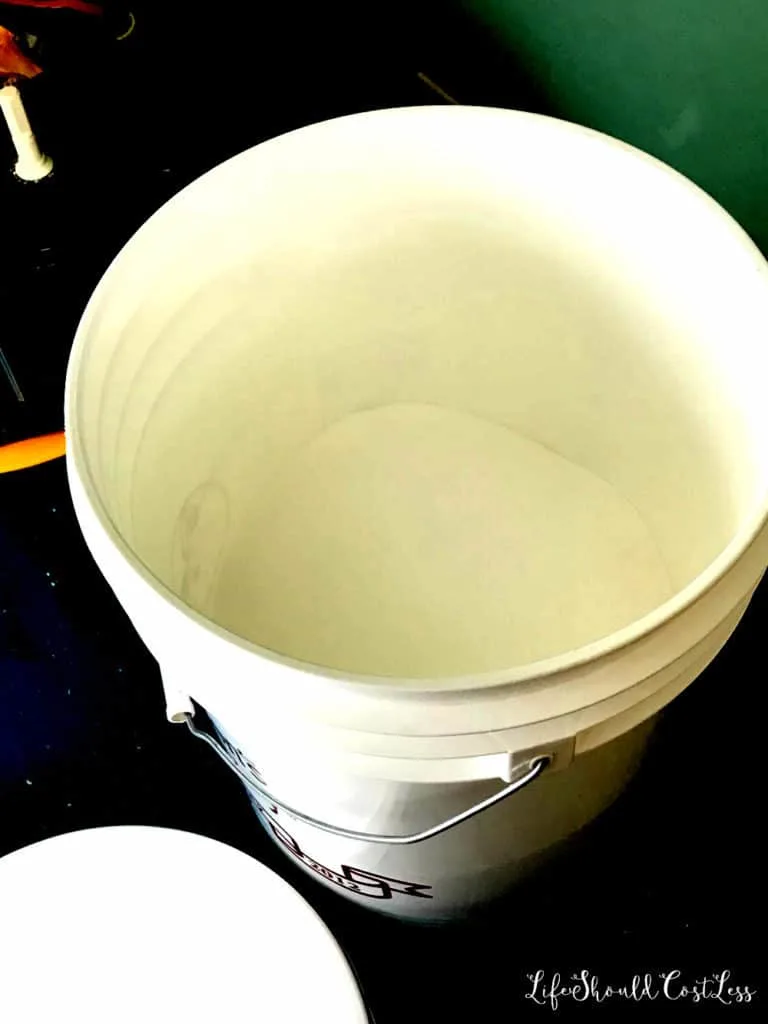 Then put the lid on the bucket and gave it a good shake for a couple of minutes.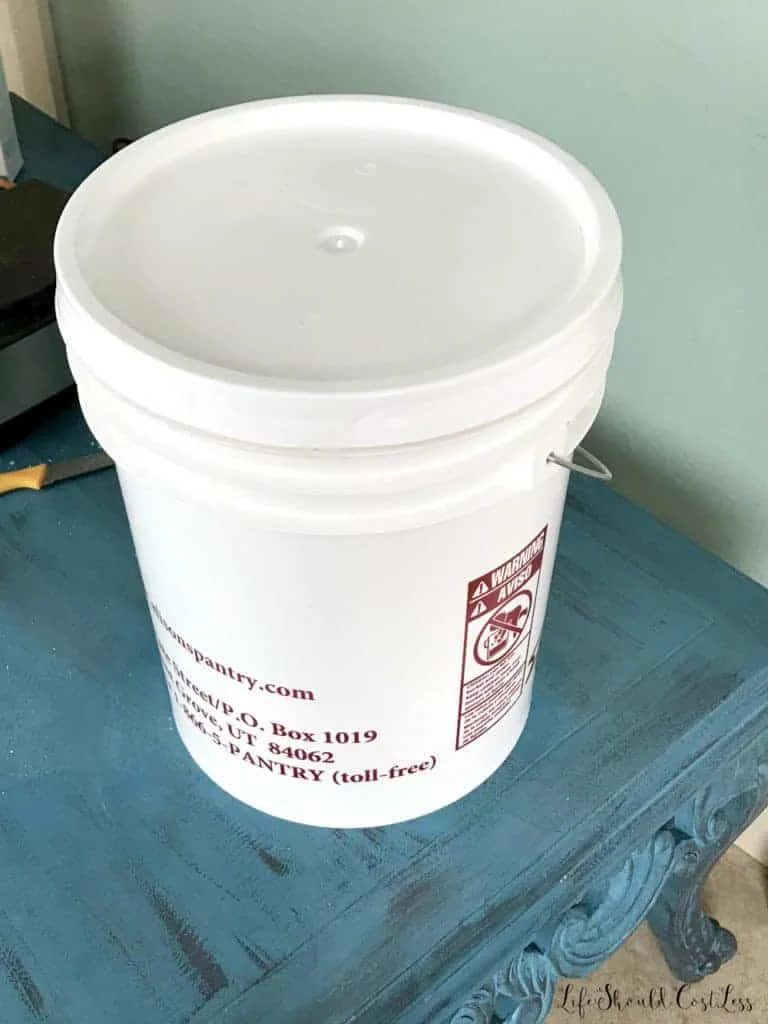 Now it was ready to add to my smaller containers that I wanted to transfer it into.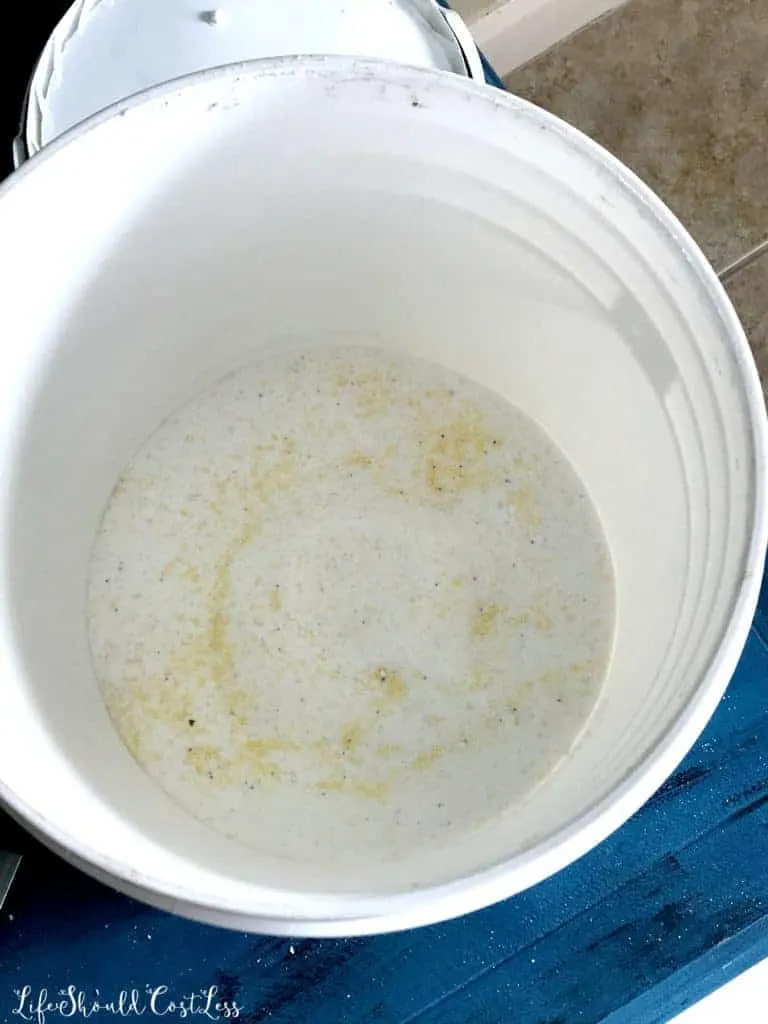 I like to use Half-Gallon Wide mouth jars, with plastic lids, and this recipe fills three of them plus a Quart Jar. I prefer to do it this way because the jars have cup markings on the side and it makes it easy to do the math to see how many more loads I have left per jar. (One Cup is equal to 8 loads).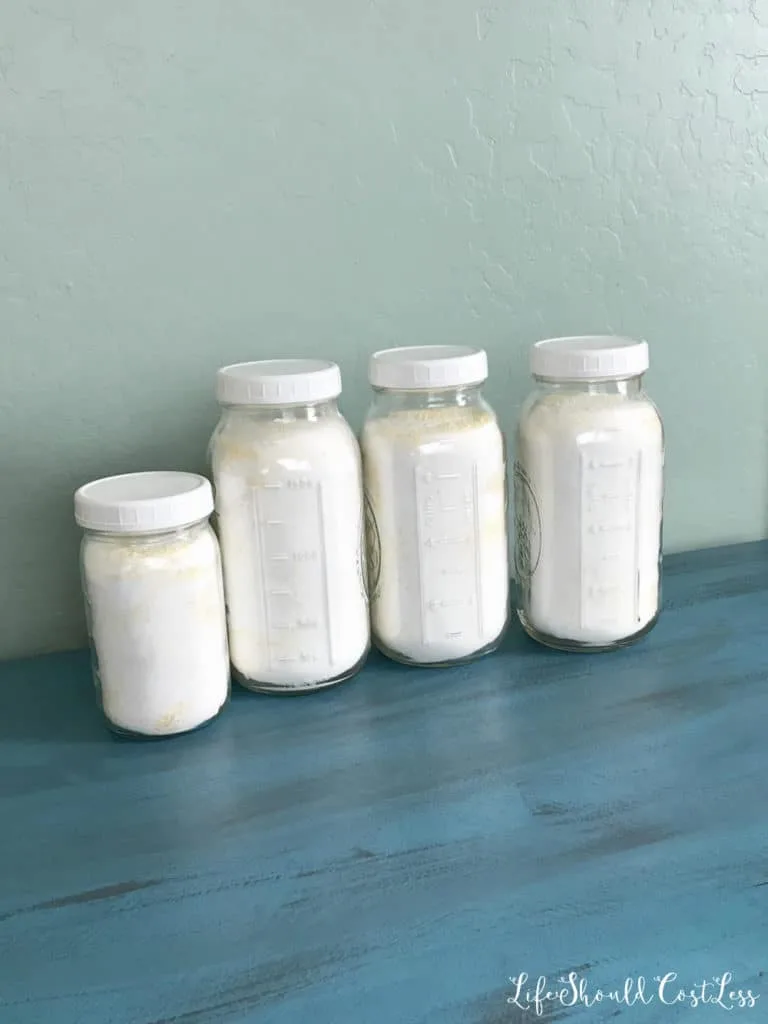 Now it's ready to use. I like to have a scoop that is the exact amount, so I was excited when I was at Walmart and discovered that this coffee scoop is two Tablespoons…aka, exactly what I need. Or you can get a similar one here, on Amazon.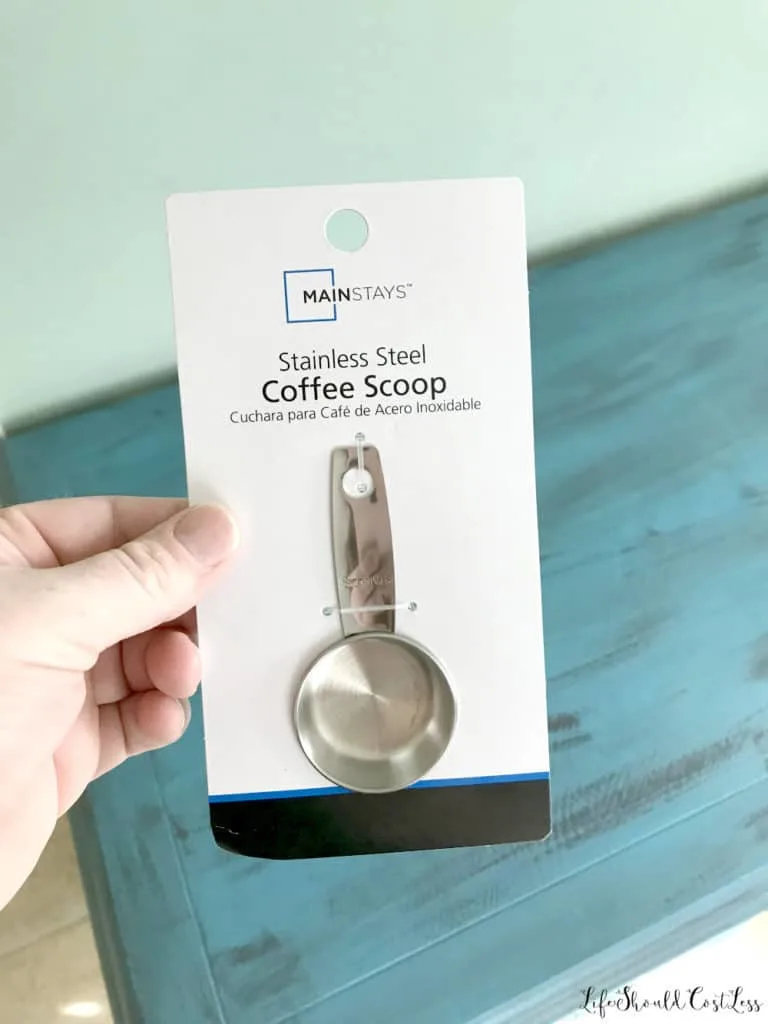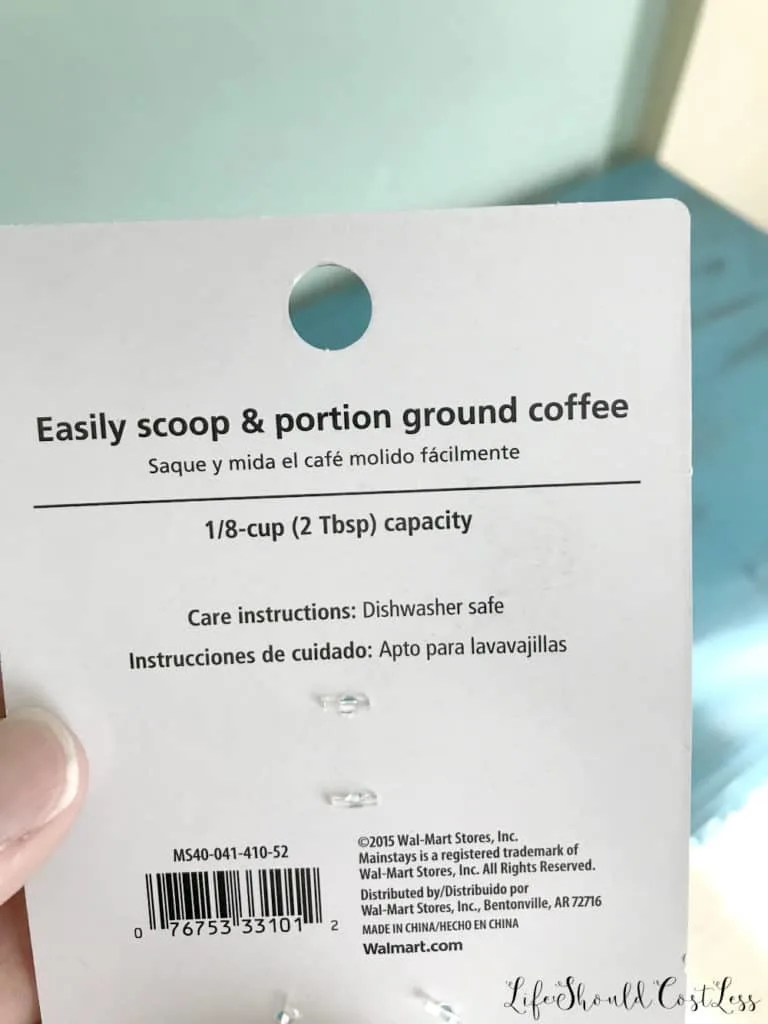 The scoop fits nicely in the wide-mouth jars, I just have to wiggle it down in if the jar is full and I want to put a lid on it.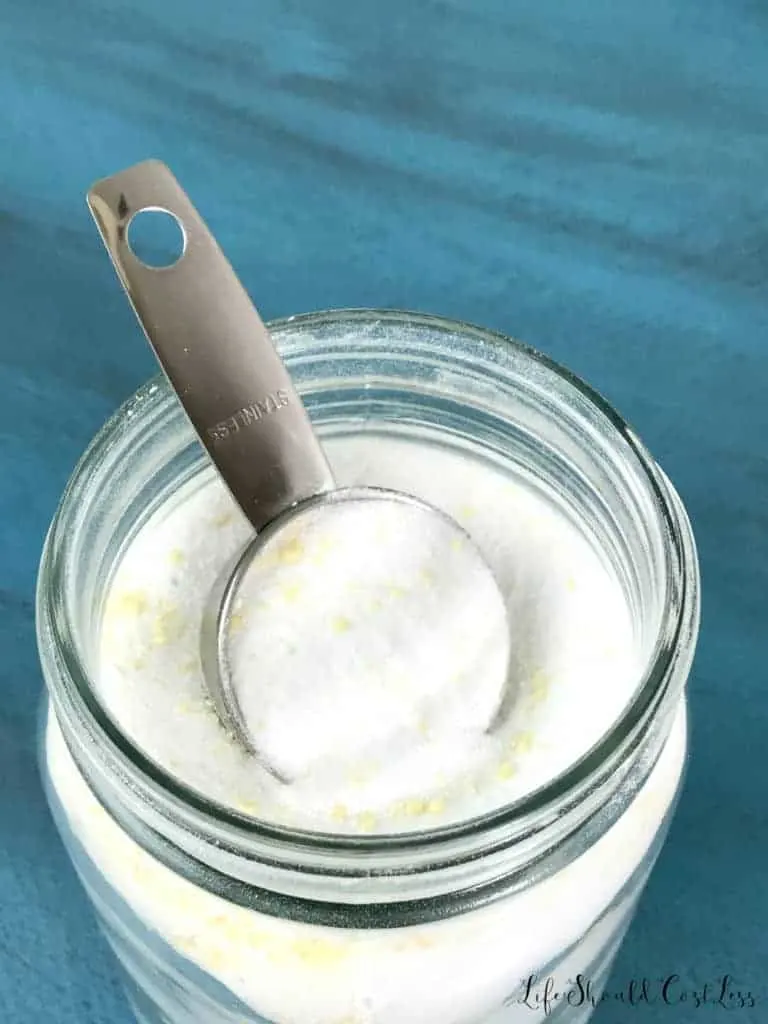 Then, of course, I'm ghetto and just write on it with a Sharpie.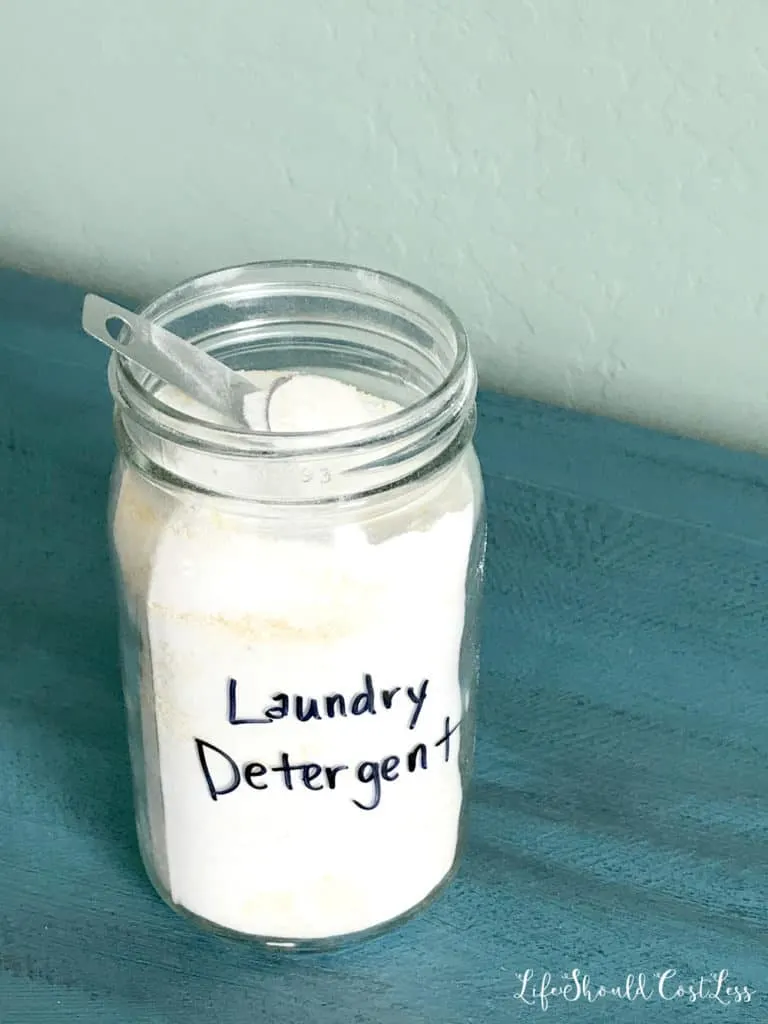 And then add the "dosage" later because I forgot to before.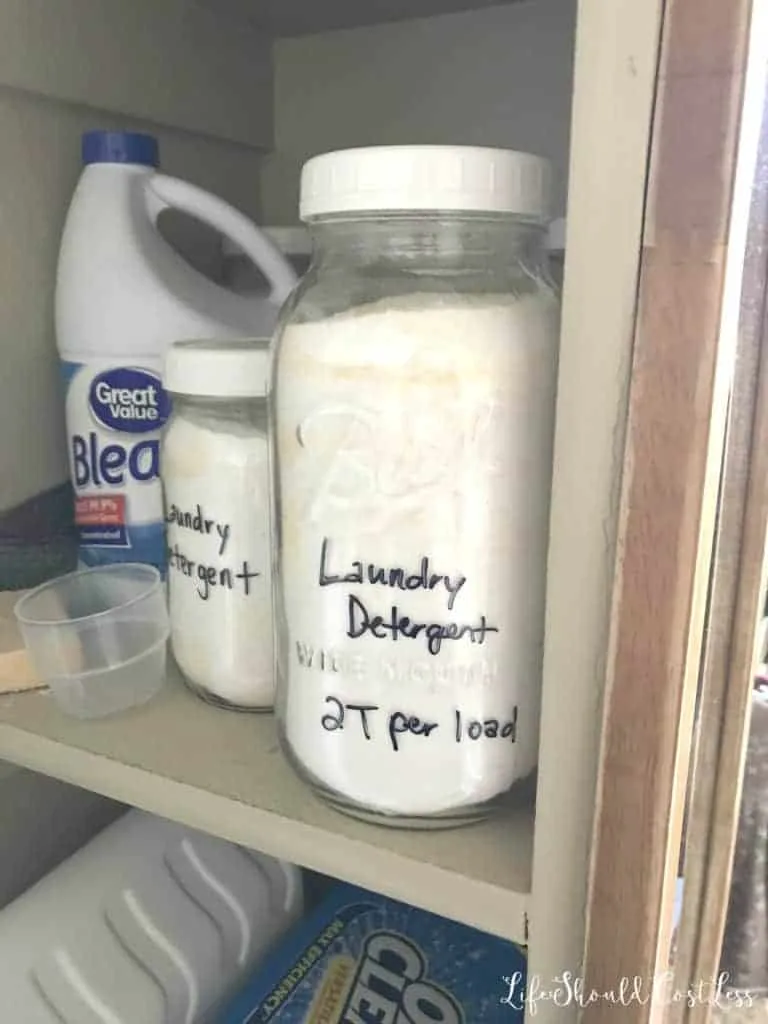 Like I said, this recipe is crazy simple and only takes mere minutes to make. You really should try it ;).
Best Dry Laundry Detergent Recipe
Not to be consumed! It's to wash your clothing with.
Author:
LifeShouldCostLess.com
Recipe type:
Laundry Detergent
Ingredients
1 (65 oz) Box Borax (approx. 8 cups)
2 (3.5 lb) Bags Baking Soda (approx. 14 Cups)
3 (5 oz) Bars Fels Naptha (Grated)
1 (3 lb) Package Oxyclean (approx. 6 Cups)
Instructions
Grate the Fels Naptha with a fine grater, (can use food processor and make it much smaller) and add to a 3 gallon (or larger) bucket.
Add the other dry ingredients, cover tightly, and shake well.
Use the bucket as a container or transfer to other containers.
Use 2 Tablespoons per load.
This recipe make enough for approximately 230+ loads of laundry.
Notes
I gave you the measurements in cups so that you can buy in the highest bulk amount possible and you will know how many cups to measure out to make this recipe as inexpensively as possible.
This batch cost me about $20, for approximately 230+ loads, but it can cost significantly less if I am looking for good deals and buying ingredients when they're on sale or when I can find them in a super bulk sizes. So make sure that you're shopping around for ingredients. It really doesn't hurt to buy them throughout the year on sale and then just have ingredients stored for when you need them.
I've been using this recipe for a while, and even though I have sensitive skin, I have been able to use it without breaking out into a rash…which is why I don't add any scents to it, like there were in the original recipe. Anyway, as usual, if you found this post helpful please make sure to share it via social media. I appreciate the support. ~Sarah
P.S. I'm sure this works in HE machines, you may just want to play around with how much detergent to use. I'd start with one Tablespoon and go from there. Sorry I don't have an HE machine right now or I would be able to tell you the difference.