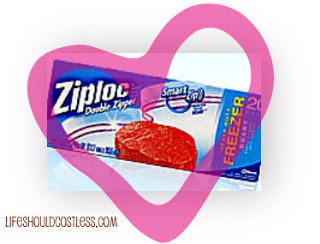 This year I was totally spoiled for Mother's Day! Our budget is usually $30, so it was quite a shock to get a
Kindle Fire HD
. Since this is my first brand spanking new, we usually buy electronics second hand, electronic in many years, I know that I have to do what it takes to make it last. The only issue I've had with my Kindle Fire is that I like to read in the bath and I wasn't about to take it in there with me. Thankfully, I trust Ziploc bags enough, the freezer ones, to try sticking it in a bag to see if it would fit and also be operational.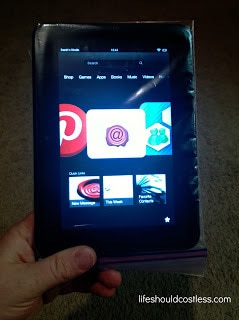 (My camera's still on the fritz, but my husbands cell took a fairly decent pic;)

I stuck my kindle in a quart sized Ziploc bag and zipped it right up. You do have to press a little harder, but that's the only problem I've had with using it while in the tub. I've even tried watching a movie in there

(AMAZON PRIME is the BOMB…by the way, that's how I watch movies and shows on it and get to borrow one book a month for free)

, the movie works great, the sound is just a little muffled which doesn't bother me since I usually wait until the kids are asleep and the house is totally quiet before I start a bath anyway. Try it out if you haven't yet!
*Make sure to keep your bag somewhere so you can reuse it over and over…no need to be wasteful.*
Here's a helpful link if you haven't tried Prime yet,
In case you missed my last post on Why I Love Ziploc bags, you can check it out here.