Hey Everybody, sorry I've been a total slacker the last few weeks with posting.
Another blogger
gave me some advice about not posting if it is feeling like a job/chore…which it was. So, my little break seems like it has helped

(having a camera will help too, thank you Randy and Diane. Now I don't have to wait for my husband to get home from work so I can use his phone camera to do a post)

. From now on I'll try to post when I can, but you're most likely not going to get 3 or more posts out of me in one week like I used to. I've got to enjoy all the time I have with my sweet little girls, now that I'm an "at home" mom.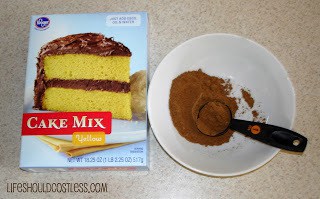 Anyway, just thought I'd share what I came up with when a recipe calls for a spice cake mix and I don't have one. I do the following:
There you go. I've tried this a few times now and really like it. It seems like it's just the right amount of spice, but you can always adjust it to your taste. Hopefully someone out there will find this handy
. I don't think that I'll even buy spice cake mixes anymore because now,yellow is more versatile.
You may also find these helpful:
(for when you only have one mix and need another layer or another dozen cupcakes)