When we did the walk through on our house, before our purchase, the fridge was still in place so we never thought to look behind it to see if it had a water line attached because we thought that the fridge would be included in the purchase. Boy were we wrong, so we ended up needing to buy a new fridge. We both had wanted at least an ice-maker, but we ended up hitting an appliance sale and finding a fridge with the water in the door for the same amount we were planning on spending. Anyway, we've been meaning to run the water line to the fridge since we moved in in July, but I was thinking that it was going to cost a considerable amount of money and take a lot of time, so I've been putting it off. I recently did a little research and discovered that they make kits to run the water line (for cheap, like less than ten bucks…such as this), so we decided that we were going to do that today. It ended up costing us about $33.00 because of a couple of little snags that we ran into so I thought I'd post about our experience installing the line ourselves to save someone else out there some headache and money.
Keep in mind, this isn't a complete step by step tutorial, but it does go through most of the steps. I'll also try to include some helpful resources in case I don't cover it as well as you need me to.
We started out with a basic Ice Maker installation kit which came in this packaging (the hubs was a little too excited about getting it done so I didn't get a chance to take a picture of it all in package).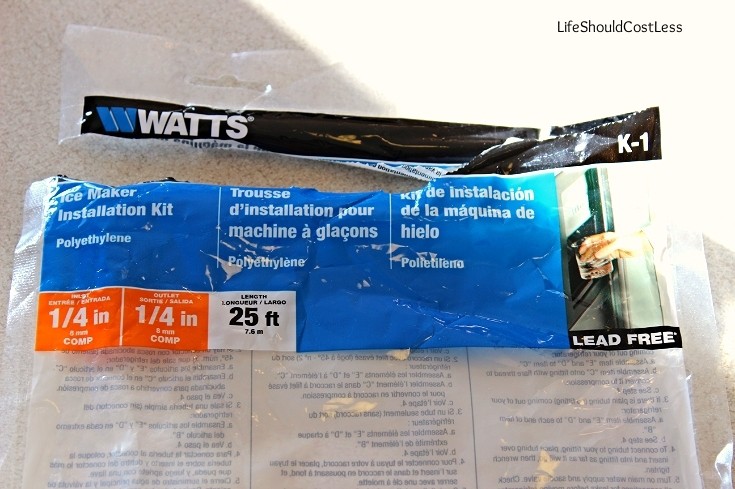 My husband drilled the holes in the back of the cabinets.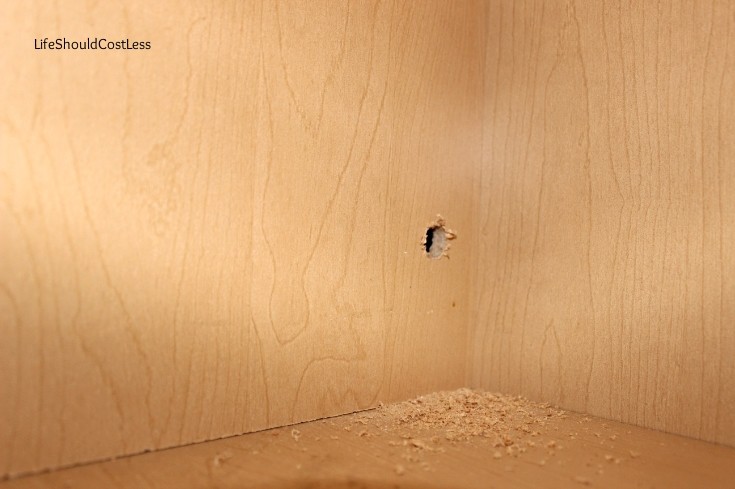 Then threaded the tubing through.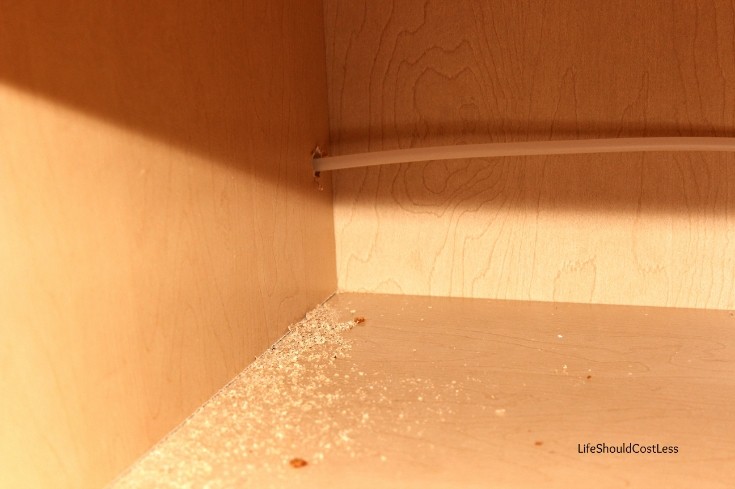 We didn't want the tubing to be dangling around (especially because that would be too tempting for the kids to want to mess with it), so we bought some white coax Staples to hold the line in place.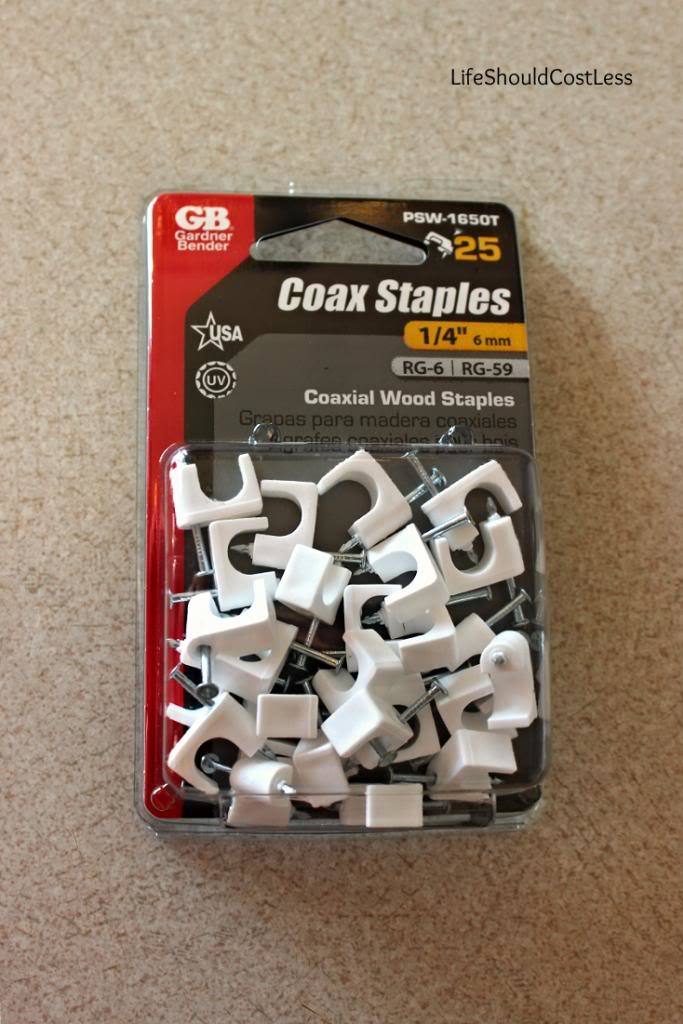 See, the Coax Staples held it just above the tiled trim in the pantry and it worked out great. I wanted to go with the white ones because when we re-do the pantry shelving and paint I just want it a crisp white… it's dingy and dirty looking even though I've scrubbed and scrubbed those walls.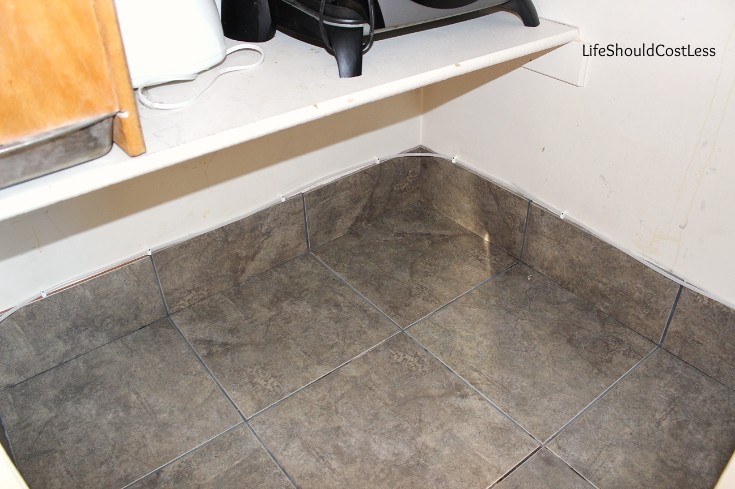 Now that all my buckets are back into place, you can't even see it…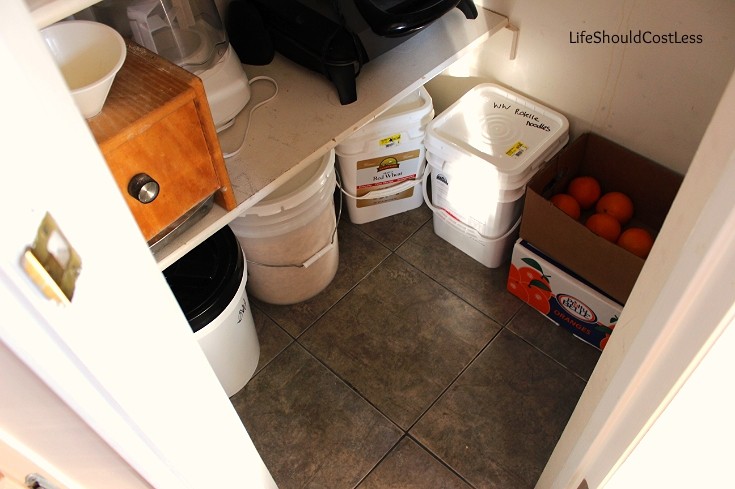 Except for a tiny bit of the tubing right there (next to the nasty looking "clean" wall). I doubt that my girls will even notice it though.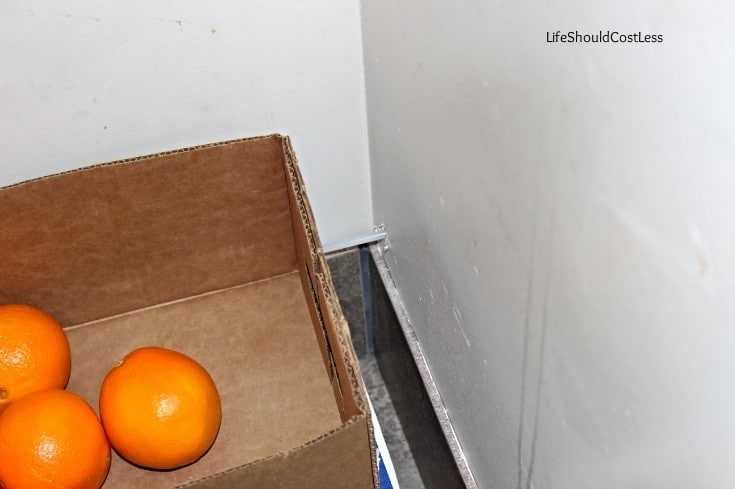 After drilling the holes and feeding the tubing it was time to hook up the ends. This is where we ended up having an issue. The kit that we bought had this saddle back type of hooking up to the water line, but it couldn't get tight enough with the type of hose that we had so all it did was drip like crazy. It also didn't have enough pressure since the puncture valve wasn't able to create a big enough hole. Since the valve punctured a hole in the tube/pipe, we ended up having to replace it and go another route.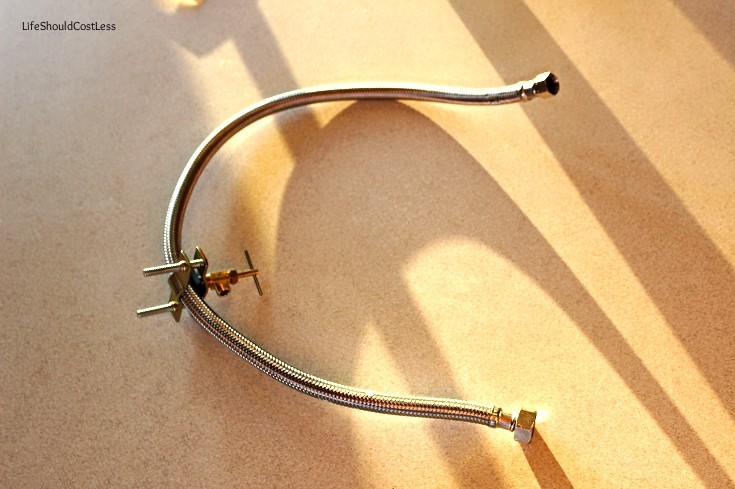 My husband went back to Home Depot and was able to find This Quick Connect shut-off valve and it did the trick (after he replaced the now punctured and leaking tubing from the above picture.)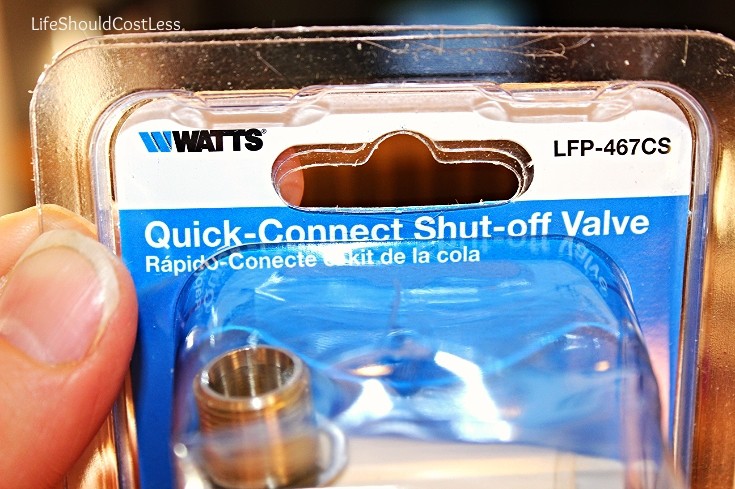 It looks like this when it is installed.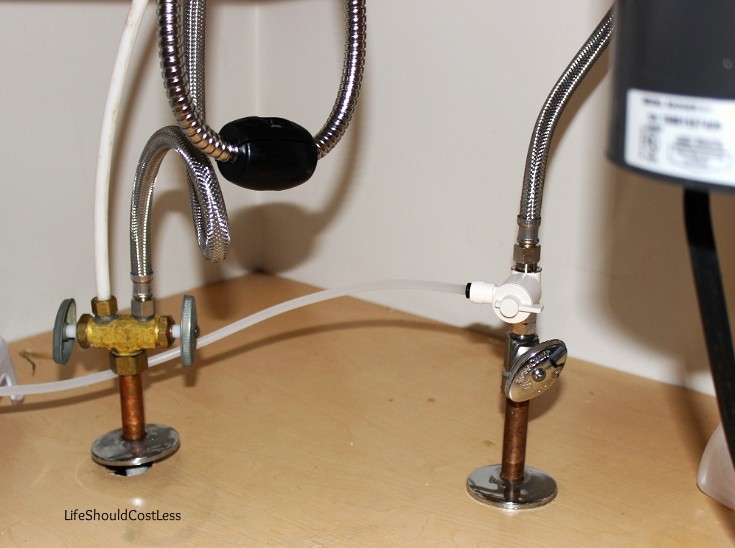 Beyond the tubing, we ended up only using two little pieces of the entire Ice maker kit which were the fittings that connected the tube to the fridge…so it ended up being very wasteful having all of these spare parts all over. It was a universal kit to begin with, but the fact that we weren't even able to successfully use the saddle valve meant that we wasted the bulk majority of the kit contents… I HATE being wasteful so hopefully this will save someone else the guesswork we had to do. When we originally bought our fridge, the salesperson had told us that it would take twenty minutes to run a line to the fridge and I think it would have been that quick if we had had the right pieces to begin with. However, even with all the problems that we ran into and the hubs having to go back to the store, it was still under a two hour project.
The part that makes it all worth it… We have our first fridge with water in the door!!!! Yay!!! This is the first time I've ever had one so I'm pretty thrilled about it.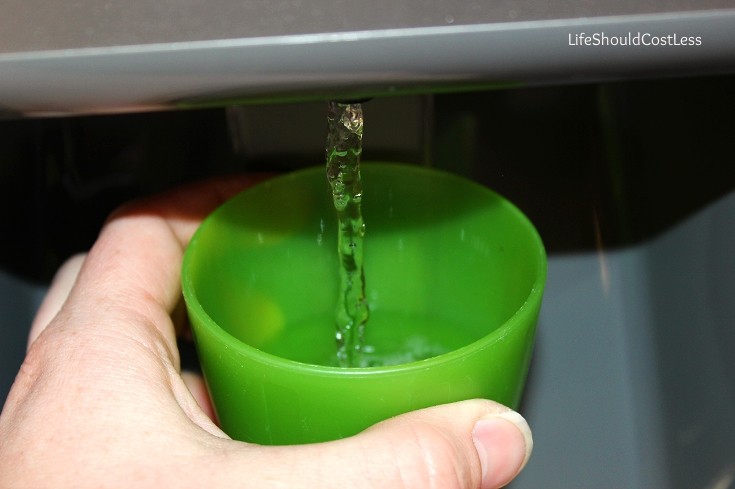 A few notes:
*If I had to do this again, I'd just buy this kit that comes with a quick connect shut off valve and not deal with a kit that includes a saddle valve
…but hind sight is 20/20 right?
*Here is a pretty good 3 part tutorial I found on Youtube (in case you don't quite understand the basics…) Part 1, Part 2 , & Part 3. It goes over the basic concept and explains why you do certain things. He uses a saddle valve and taps into a copper pipe, where as we had to use the quick connect shut-off valve for our particular type of hoses.