If you haven't been washing your hair with baking soda, you're missing out. I started using baking soda, instead of shampoo, last June and this is the first winter that my hair hasn't been a brittle mess. My friend, Candace, gave me the idea, but I wasn't sold on it until I was reading "Curly Girl: The Handbook
" and it mentions using baking soda as a shampoo or clarifier. I now had two reliable sources, so I was willing to give it a try. I love it! I've only used actual shampoo once or twice since I started, but prefer the clean tingle that it gives my scalp. The only problem that I ran into is that if it gets in your eyes it burns. Taking a cup in the shower with you, if you're as uncoordinated as I am, is a pretty big (painful) hassle. So, I did a fair amount of thinking and decided that I just needed to put the mixture into something with some sort of a smaller opening. I decided to:
Use an empty condiment bottle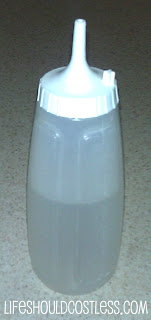 Using a condiment bottle is the easiest way I've found to wash your hair with baking soda.

This allows me to keep it out of my eyes, unless I'm being special. It also allows me to apply it right to my scalp. Washing your hair with baking soda is not only healthier than shampoo, but it is MUCH less expensive. If you're interested in giving it a try, just mix about a tablespoon of baking soda with about a cup of really warm water and you're good to go. Many people think you need to let it cool before use, but I just make sure that I use water that is the warmest that I can stand and it works great. I hope that this can make life a little easier for you, because it sure did for me.
**
I got my condiment bottle at Winco, but you should be able to pick one up at pretty much any grocery store.**