I bought an old, and well-loved, piano a couple of months ago. I have always felt like music belongs in the home so I sacrificed a bit in the budget so that I could make it happen (totally couldn't have even gotten it if some nice men from my church hadn't have helped me move it, so extra thanks to them!)… as luck would have it, I was able to find one for about two hundred dollars on the Facebook Classifieds and it is very nearly the exact style that I have always wanted. Score!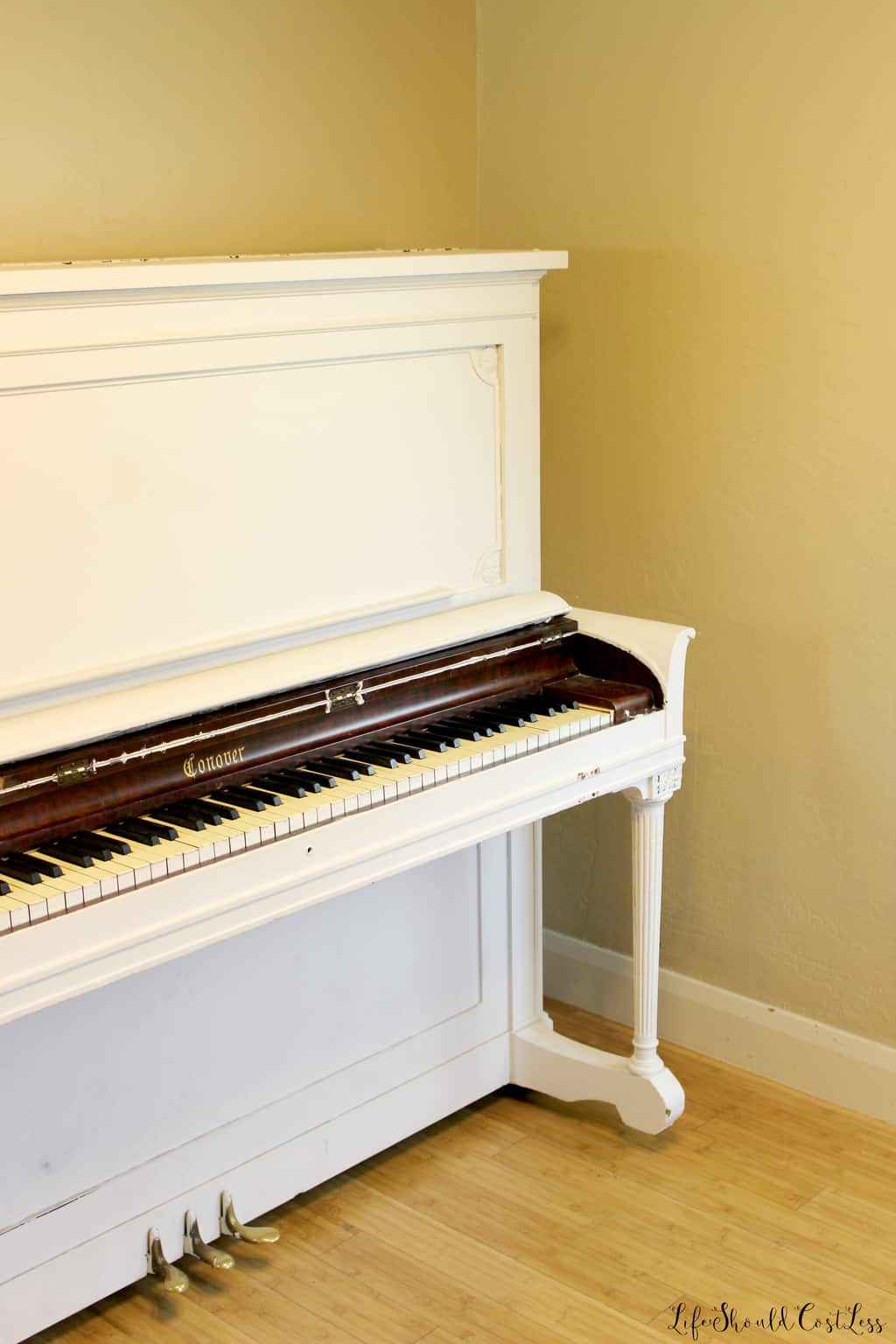 I have decided that I want to do some of my writing a little bit more of "journal style" because I am always spending like a month on a certain project and then when I am finally ready to show you all the entire process, and the before and after, then I haven't blogged in a couple of weeks sometimes and I feel like I'm kinda just leaving you all hanging.
Anyway, I'm showing you the BEFORE's of this piano as well as going to tell you what I want to do with it this week. The current paint, the paint it had when I bought it, is a light gray. Yes, my home is going to be refinished in gray hue's (as the budget allows) but after a couple of months of the kids getting finger prints all over the piano and it constantly looking dirty because of that, I decided that it's time for me to tackle the piano and make it my own.
First I am going to remove the paint from the pedals (using the method that I used in my old post How To Make Window Frames Look New Again). I'm thinking that I will probably paint the pedals black.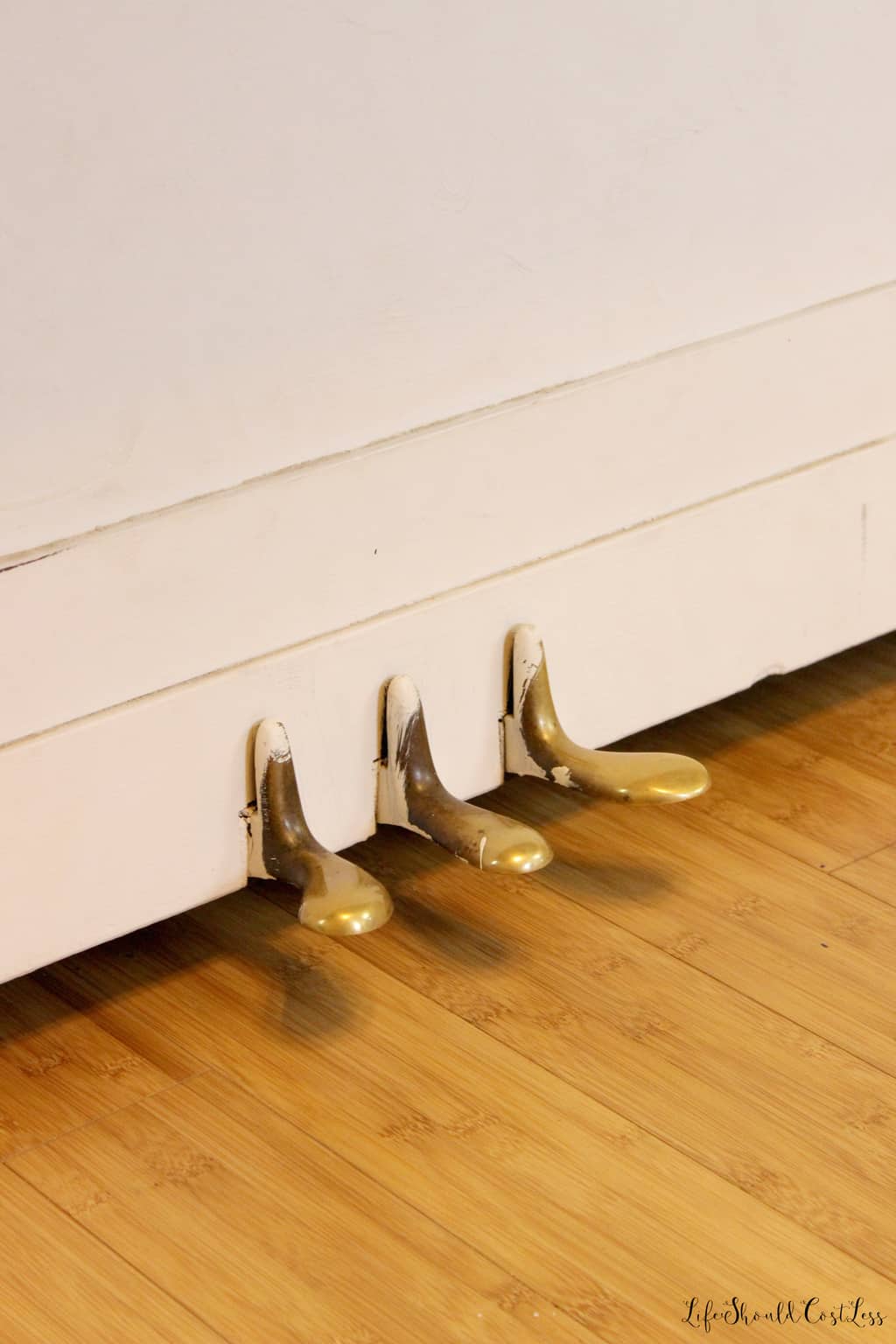 I am also going to be removing the key cover, wood filling the void, sanding it and painting all the parts that you can see that are still wood colored. My kids like to slam the cover shut and it drives this mama crazy…so I figured that while I was at it I am going to remove it to give me less of a headache later on.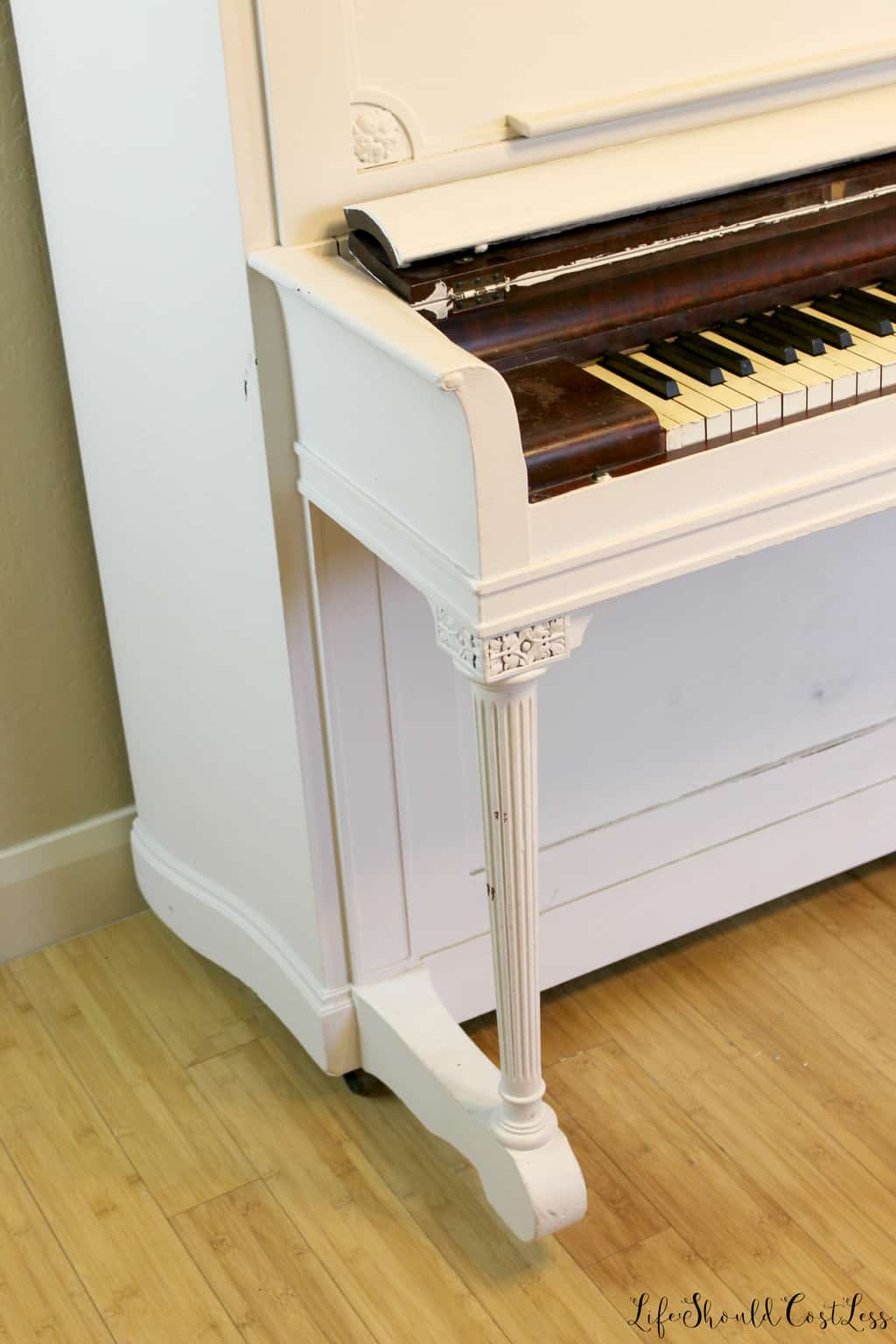 I'm trying to show you the piano from as many angles as possible so that you will get the full effect when I post the during and after shots.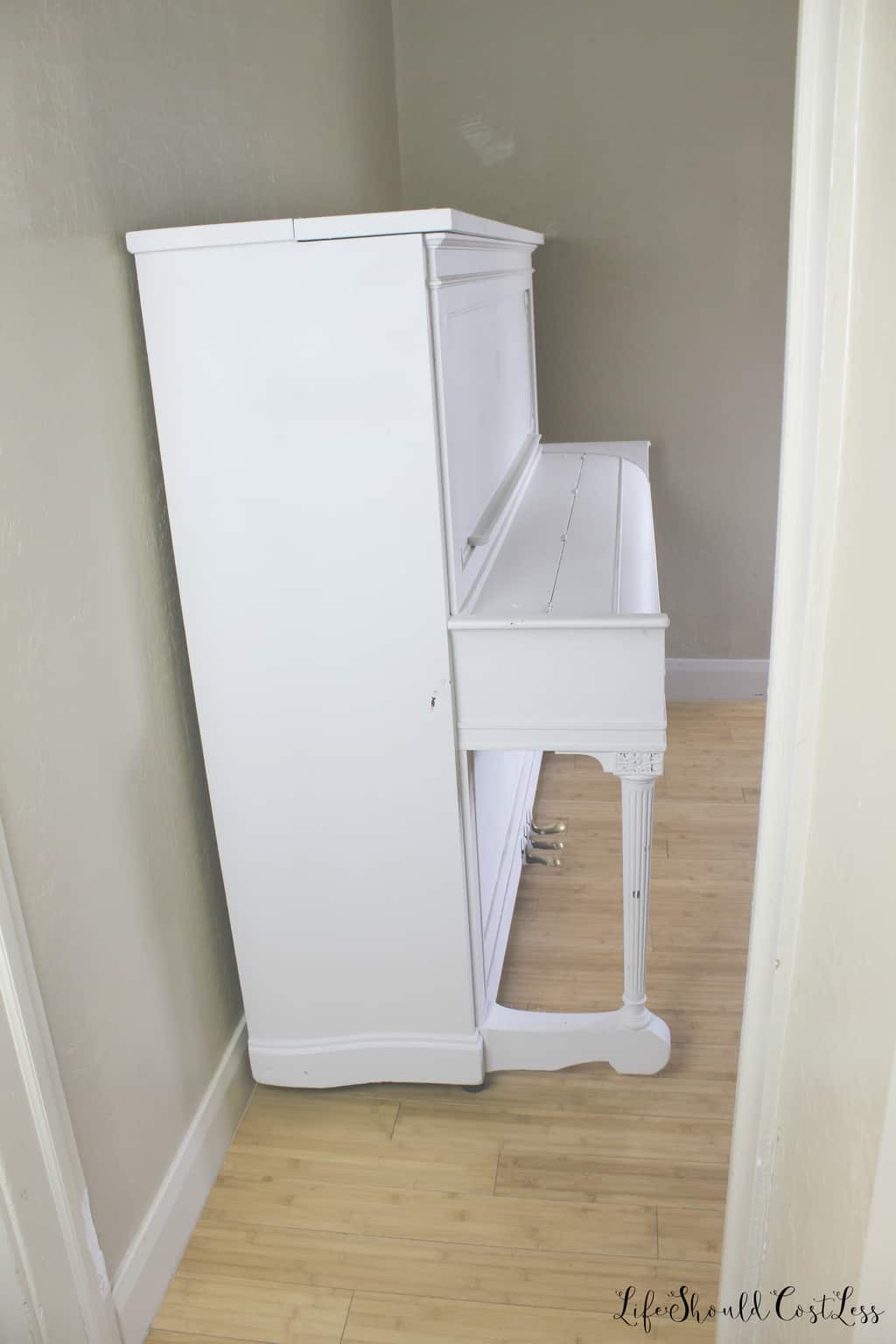 Front view, cover down.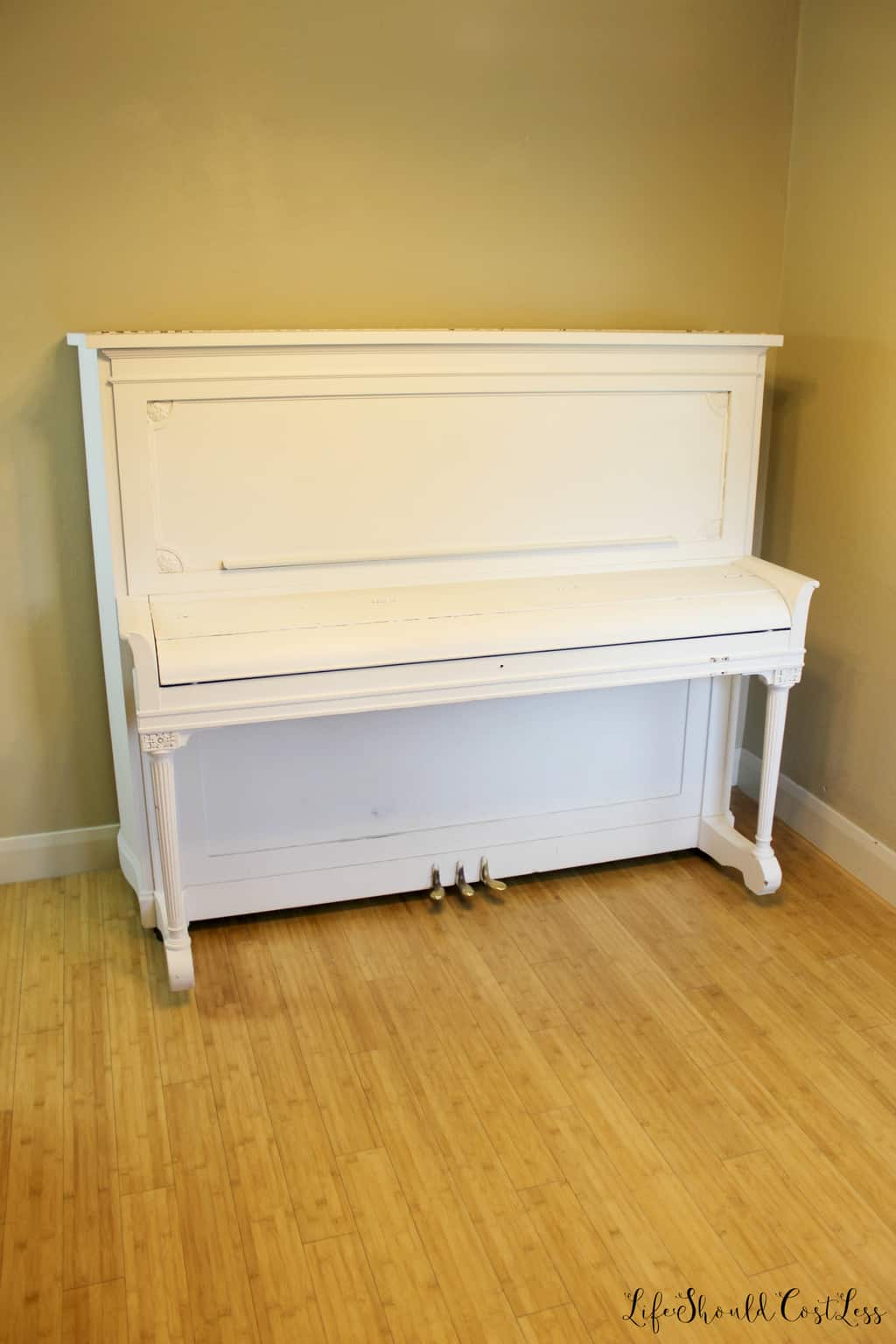 I love the detail work with the flowers, but am actually going to be adding a wood applique that I picked up at Home Depot, for cheap and adding even more character…it will be centered above the music holder.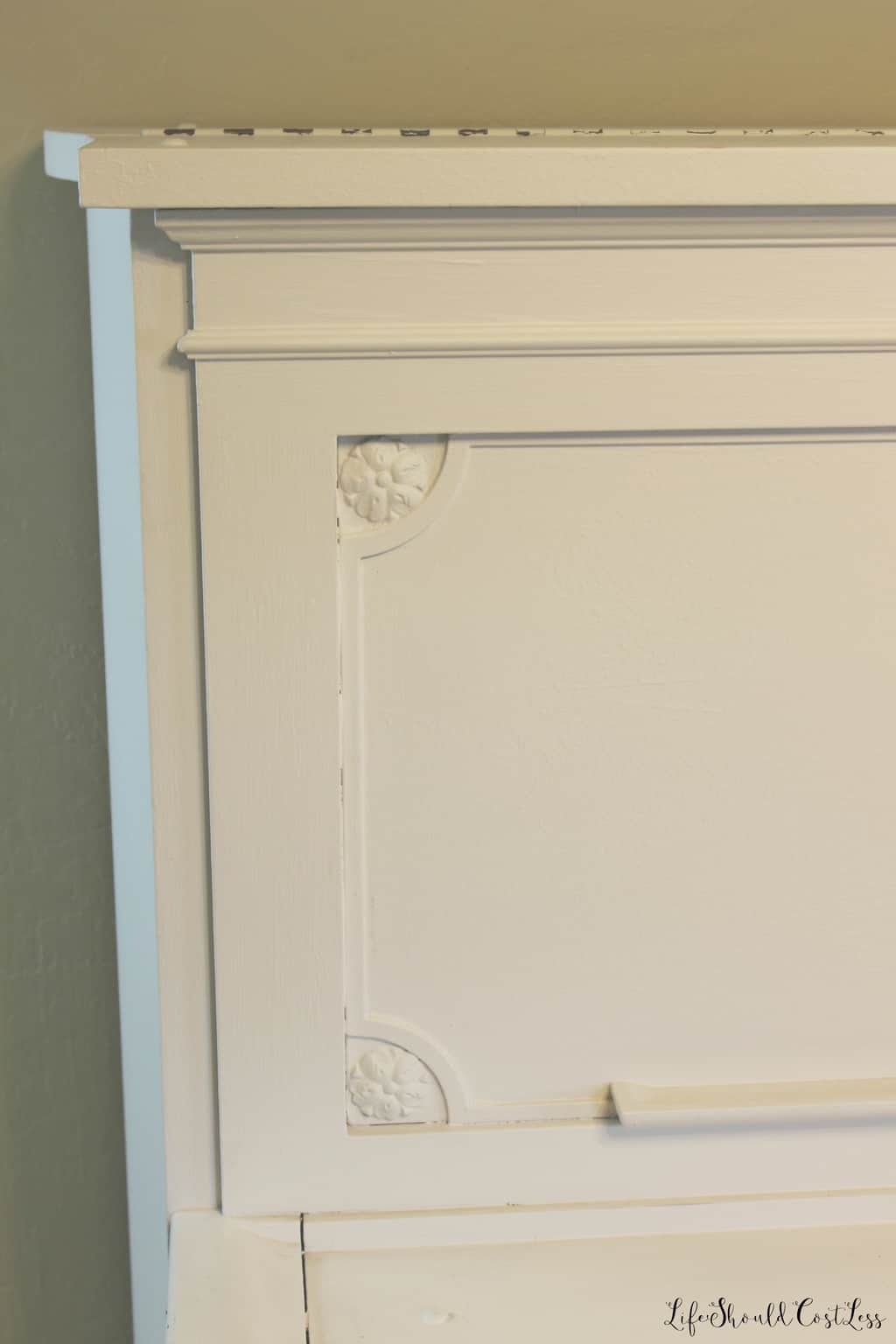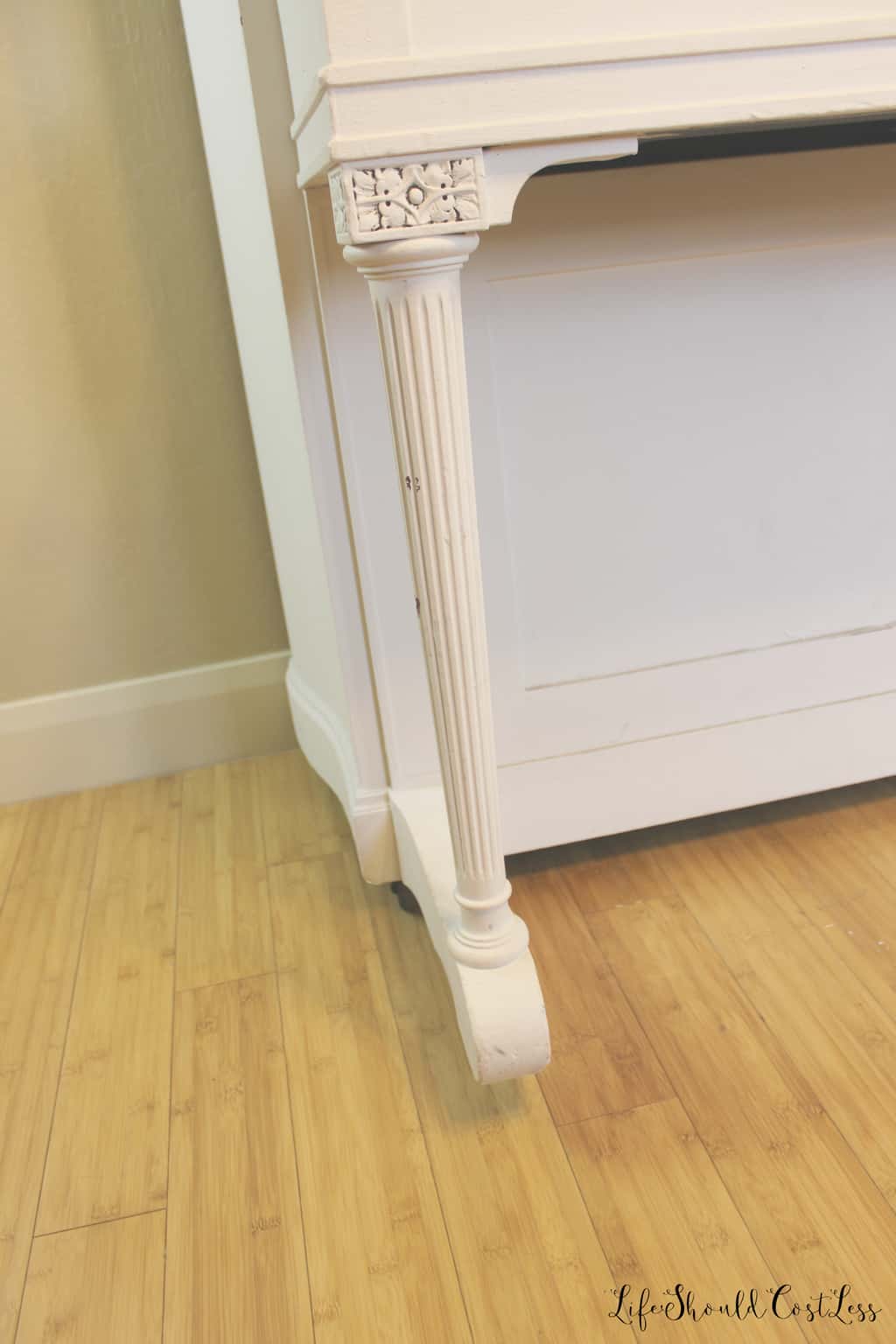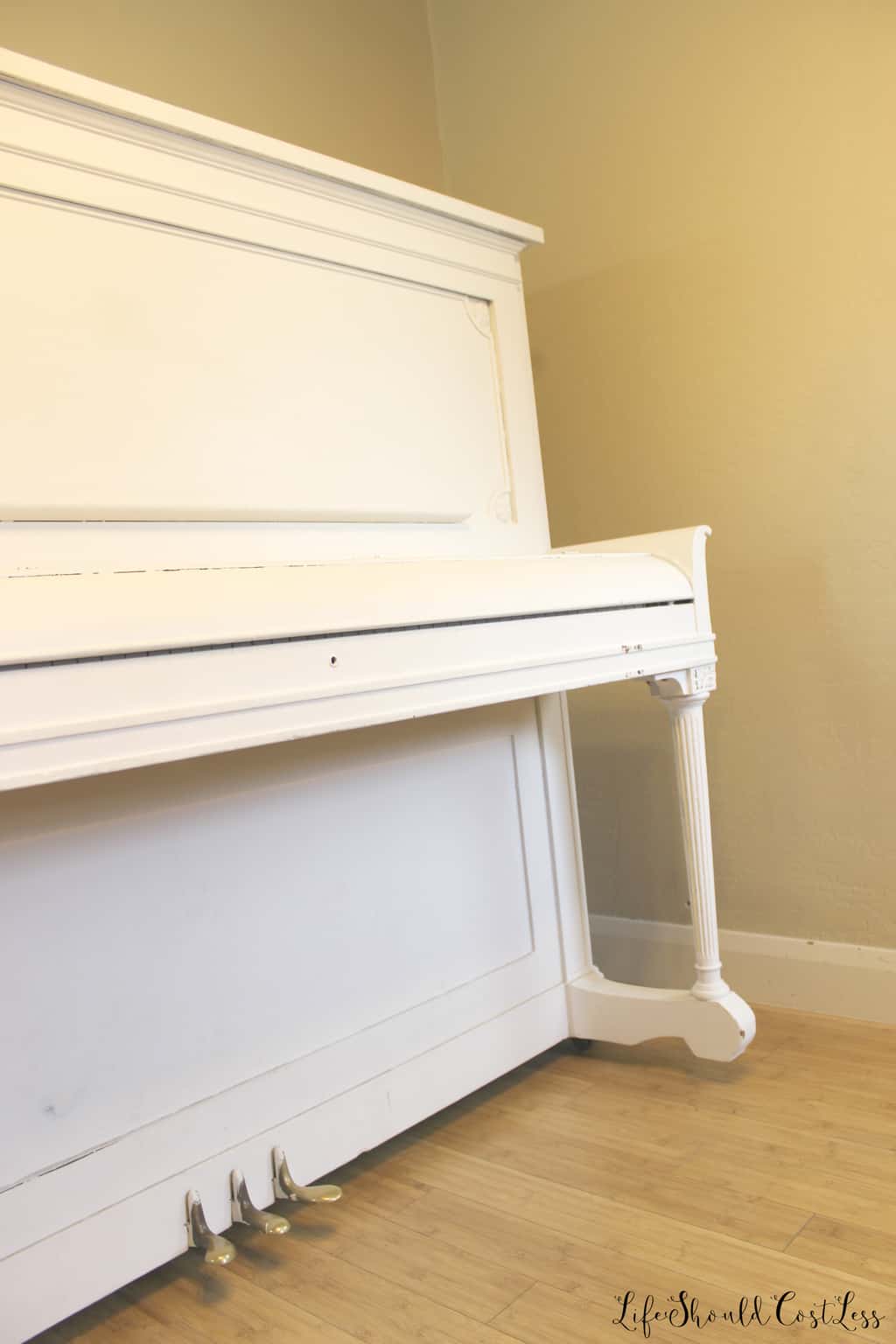 It needs sanded down in a few spots and some wood filler as well…and that I get to start working on today.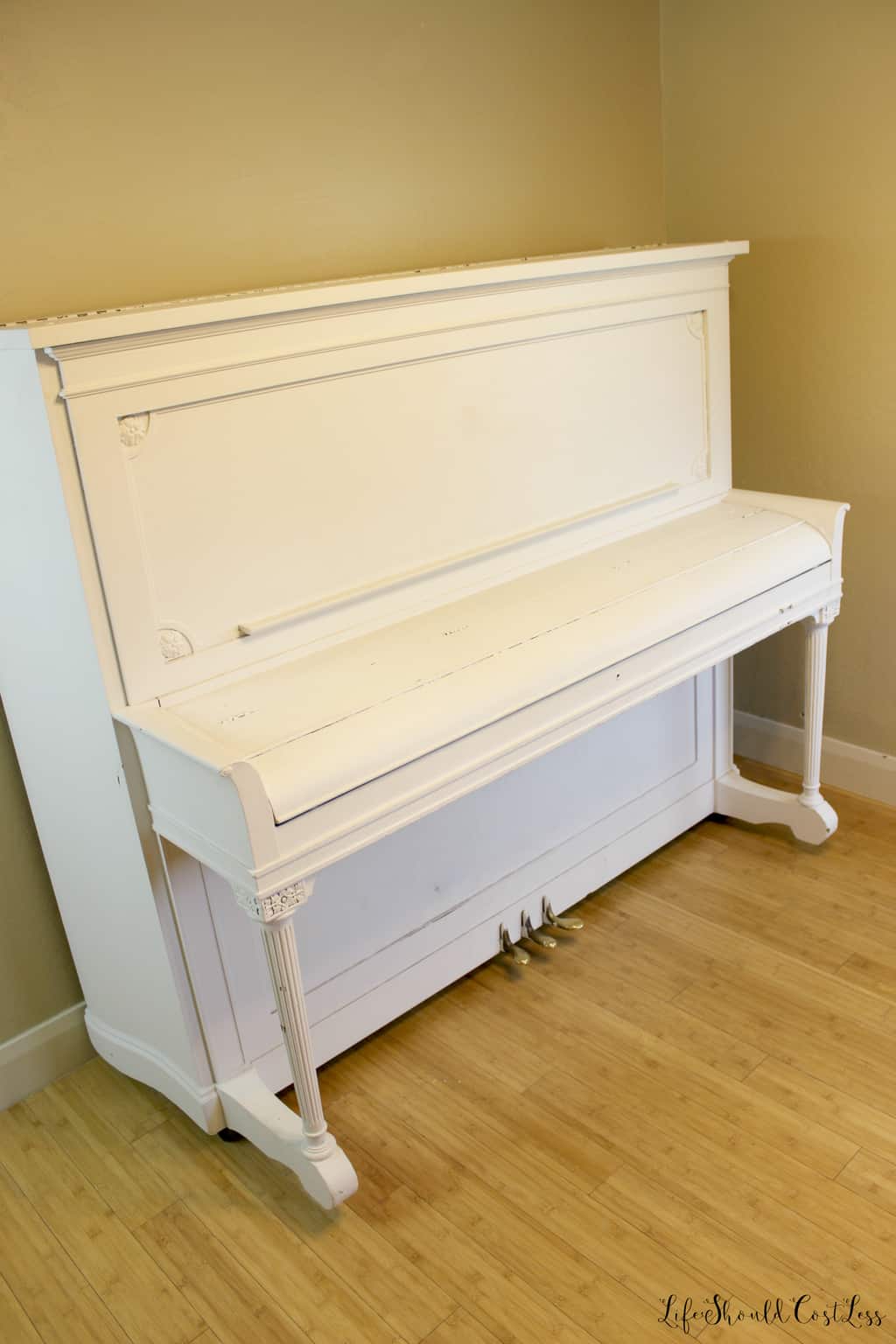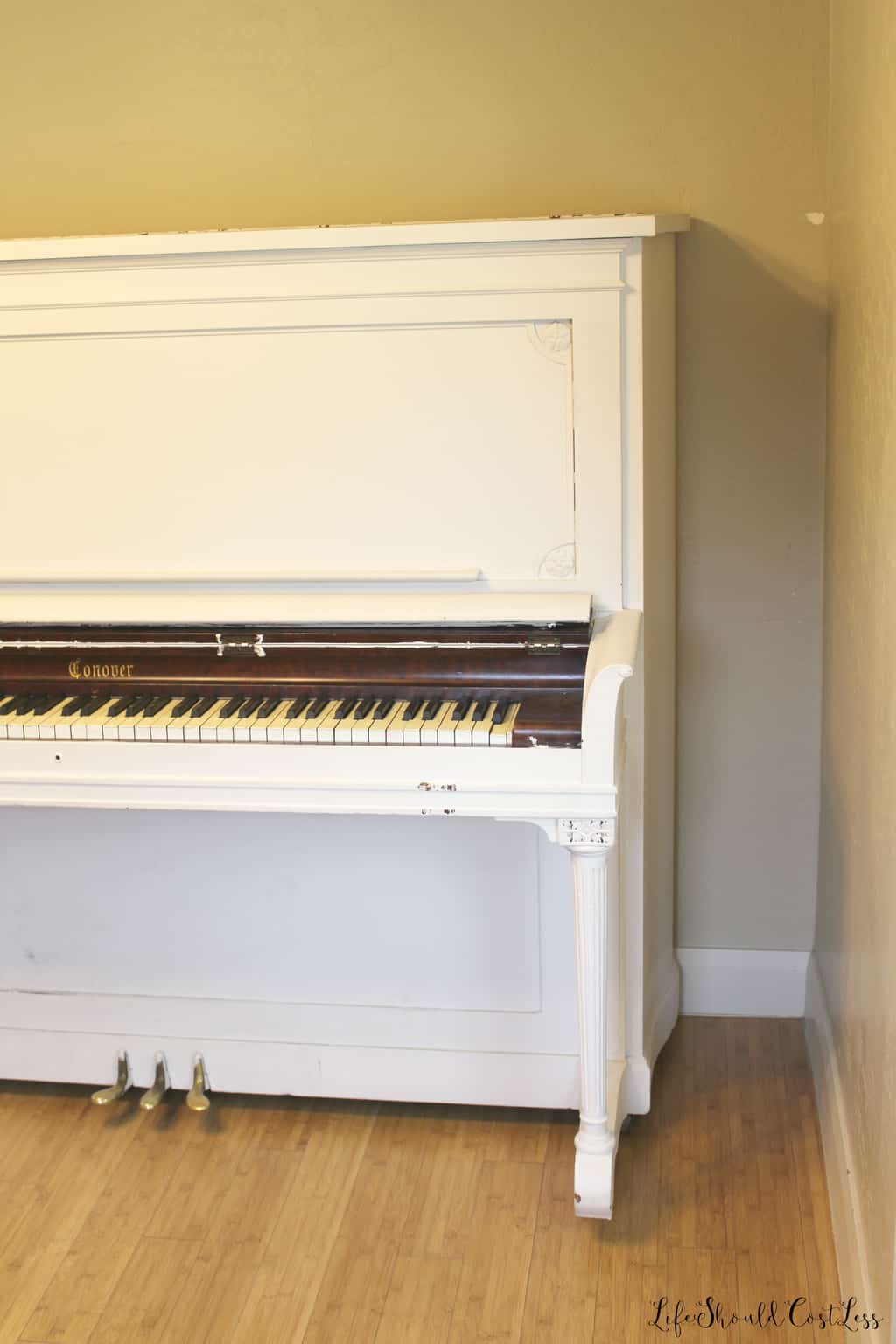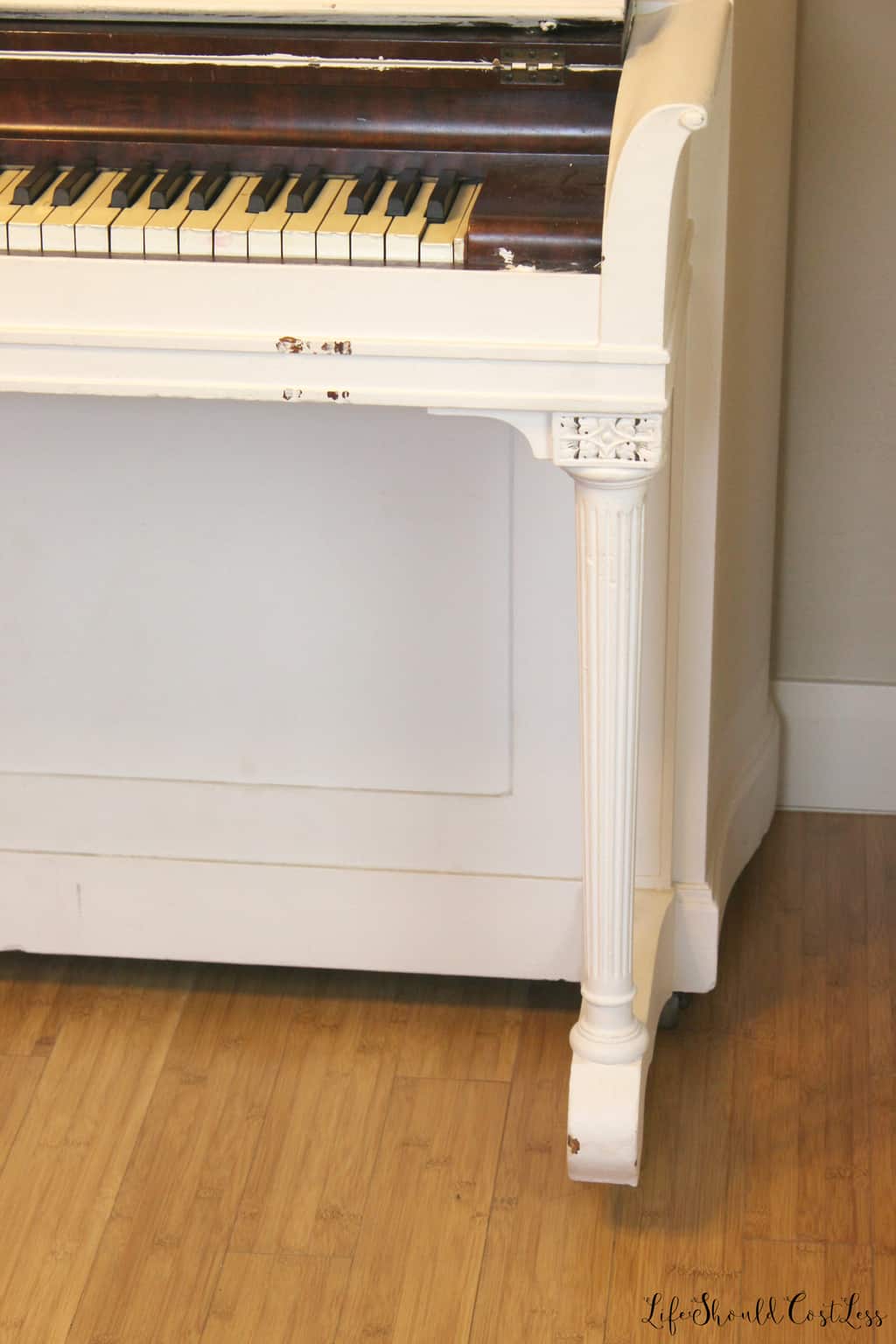 I'm going to have the piano be a pop of color for my home. I found a beautiful shade of colonial blue that I am going to paint it with.
Then I will use a black glaze to make the detail work really come out and be noticeable.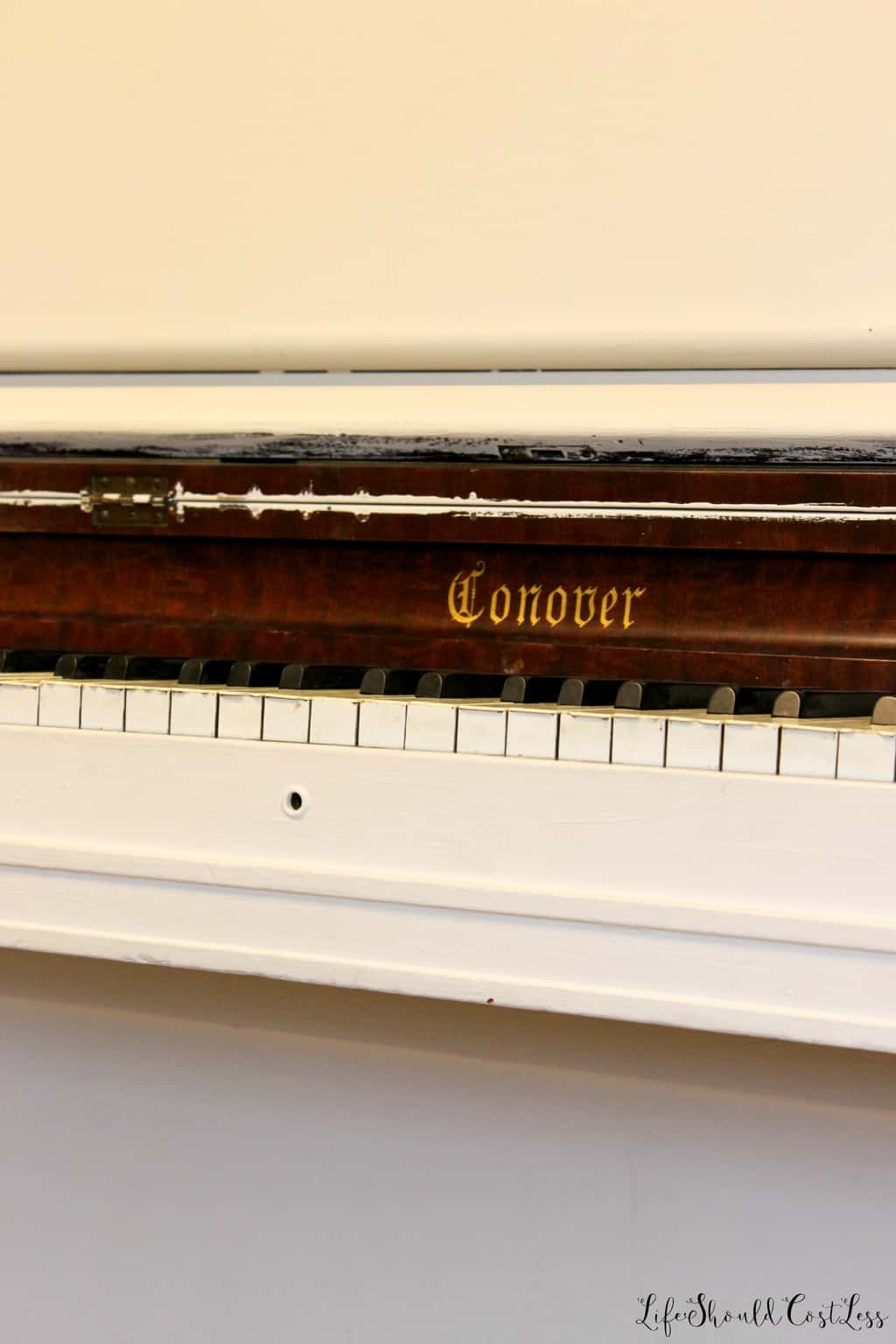 Then I will either follow it up with dry brushing a third, lighter color, or I will leave it as is and it will be ready for wax.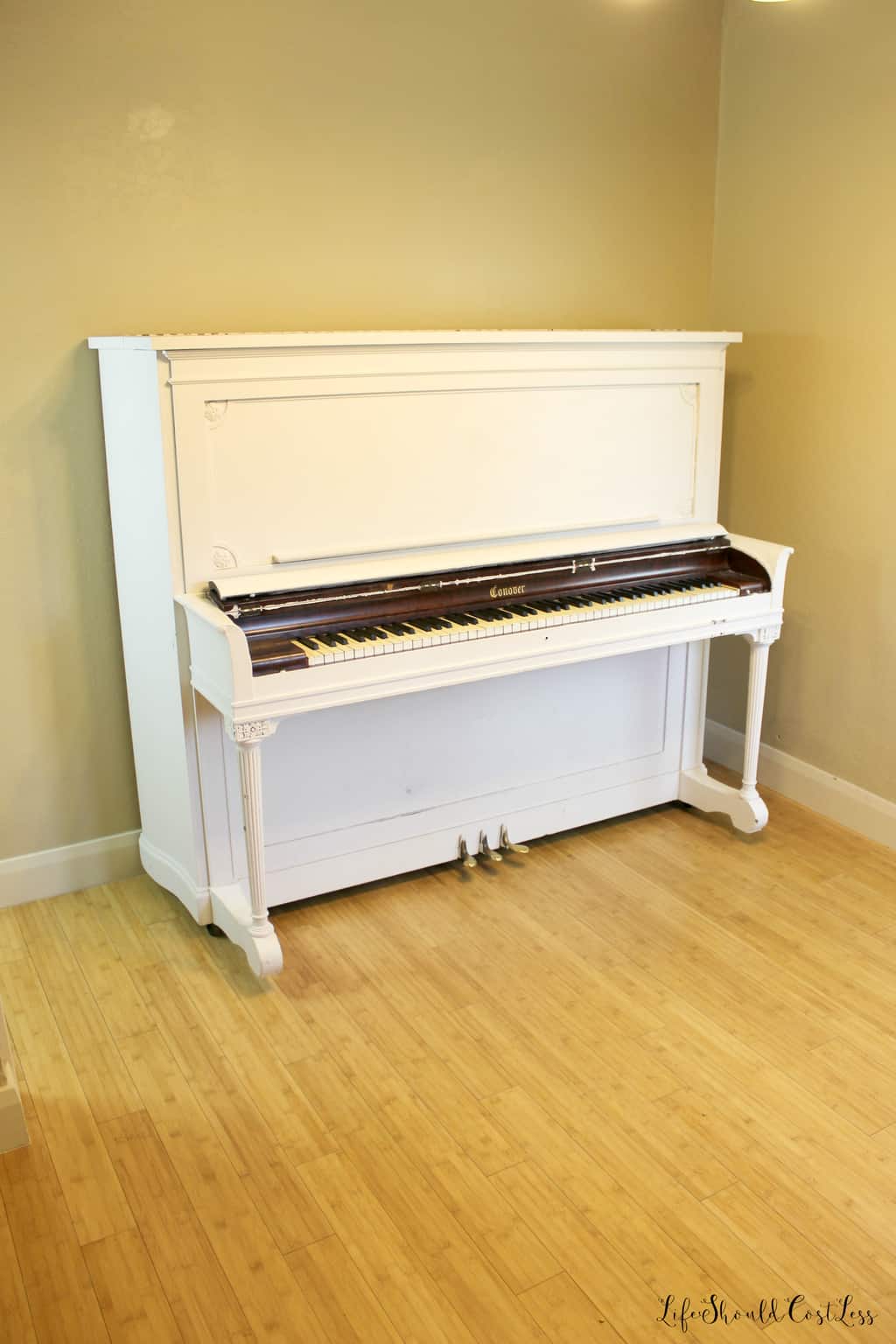 I'm really excited to see how it turns out… as well as a little bit scared that it's going to look awful and I get to show you all how big of a flop it was… lol. I just have to keep reminding myself that it's healthy and good for me to show you what I do when things don't go according to plan. Which happens quite frequently, unfortunately (if you've been following along you saw how creative I had to get when I refinished the overhang on my cottage and had to use a lazy susan as a solution to a structural issue so that I could even install the new light fixture. If you don't know what I'm talking about but would like to see that post, go here).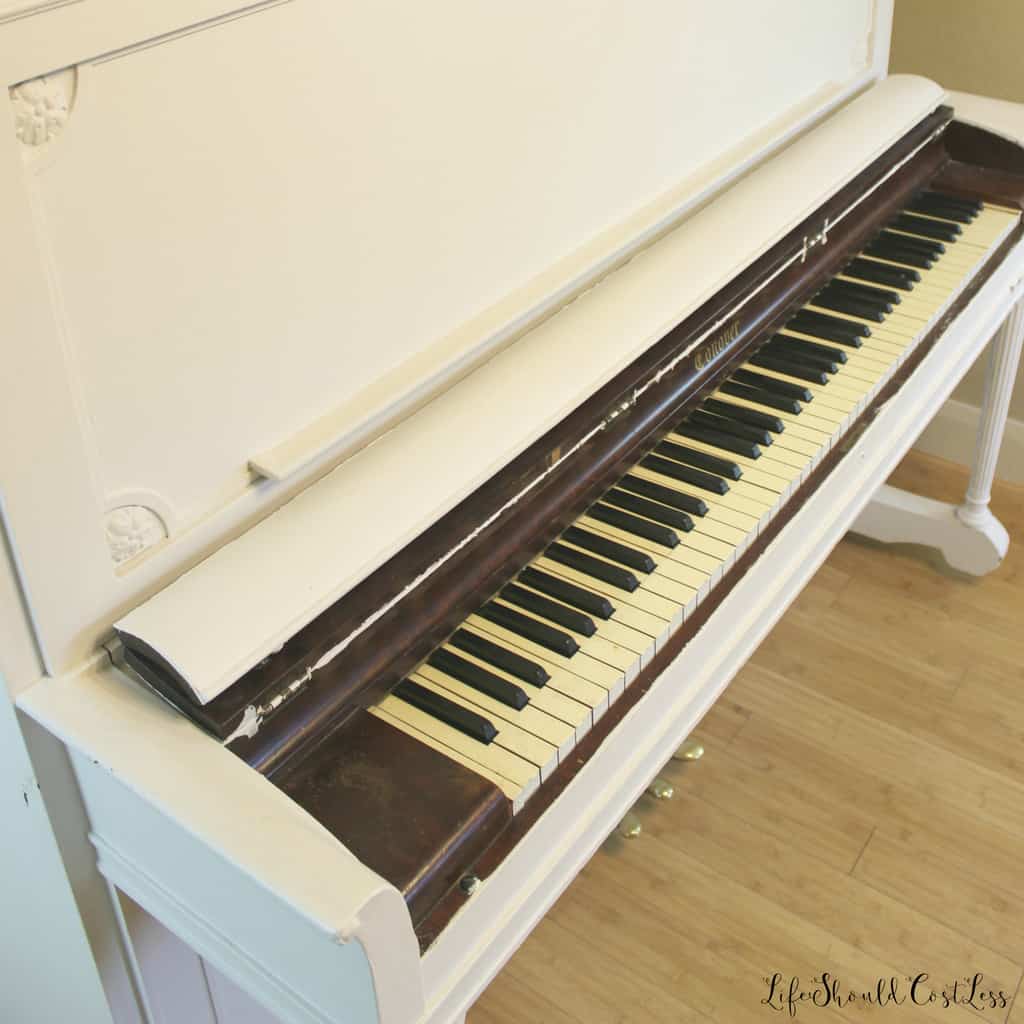 I will try to get the whole process posted within the next two weeks(if you're reading this long after I have written it, type Piano in my search bar and you should be able to easily pull up all the posts that I mention the piano in). It's a big project because I have to wait hours or a day between coats of paint, as well as the wood filler takes time to cure, get sanded down, and also sometimes needs a second coat… so fingers crossed I can get it all done while my kids are at their dads for winter break.
In the meantime, make sure to check out my entire DIY section. I'm sure I have an old project that you might like to see while you wait for me to finish the piano…which I say kinda jokingly because I doubt that anyone really reads this blog, holding their breath, in anticipation of my next post…but I could be wrong, you just never know.
Stay tuned for more!~Sarah
Oh, and if you are loving what you see and want to help me out, you can either share my posts via social media or email, or if you want to donate to the site directly, which helps me support my kids btw, single mom here… you can do that through Paypal, found here. Thanks so much for your support either way!