I have to tell you, the window in our playroom was so disgusting! The previous owners had the sprinklers set so that they hit this window directly every time. My husband has since adjusted the sprinklers so it's not hitting the window anymore…at least not as much anyway, so that left me with the dilemma of having a window that was not really a window because there was no hope of seeing out of it.
I'm a big fan of having as much natural light in a room as possible, so I just had to take care of it so today I am sharing with all of you the solution to the problem. Anyway, look how crazy dirty it was?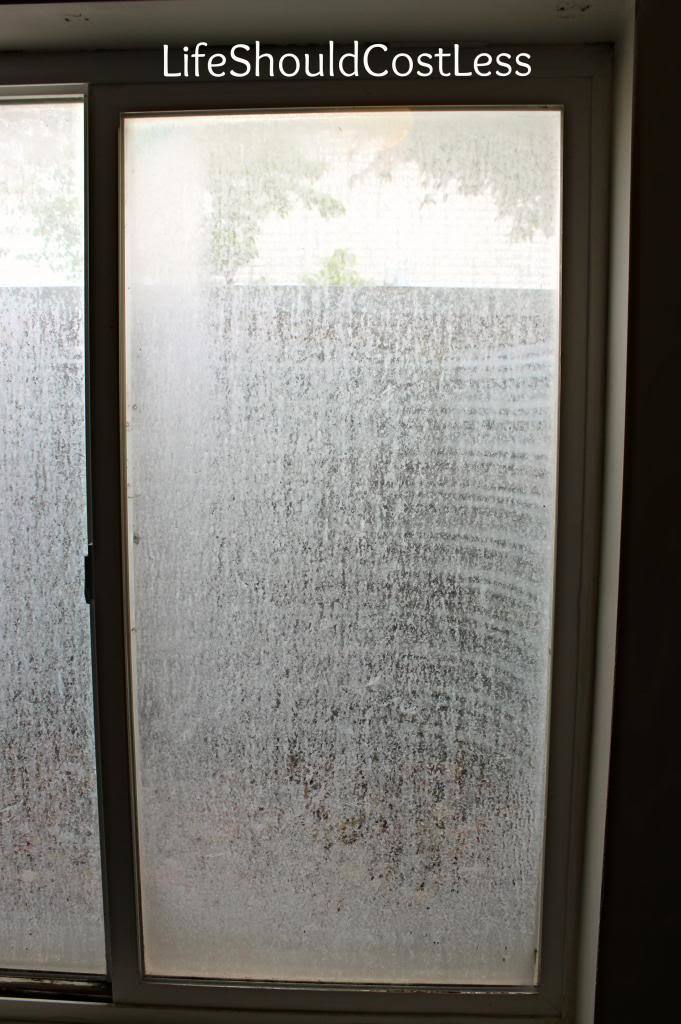 My husband has been talking about buying some CLR or other chemical to clean the window, and if you know anything about me, you know that I cringed every time he mentioned it. I really strive to have as few harsh chemicals in the house as possible, so I wasn't about to go and buy another one when I knew a better way to take care of it.
My mom always did this to our windows, when I was a kid. The water where I lived is just as hard as it is where I am now, so I figured I'd give it a shot (and soon, before my husband picked up some chemicals).What is the Non-Toxic solution to the problem?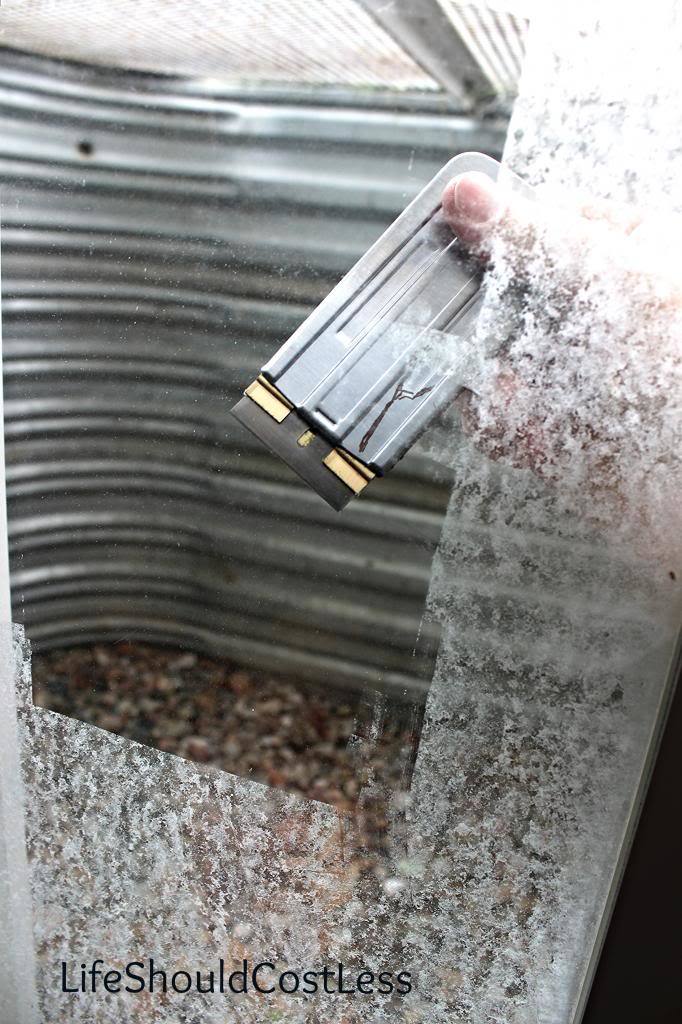 All it takes is a
Razor Blade Scraper,
the kind in a protective handle thingy, and some elbow grease scraping it off. See? I had only been at it for about 2 minutes and there was already some awesome progress.
* I've got links to several other great cleaning tips at the bottom of this post, so make sure to keep on scrolling!*
The key to not scratching up your windows (which I only suggest doing this on older windows that you're not going to be heart-broken about if you accidentally scratch it a little) is to apply even pressure and hold the blade at a slight angle. I'm sorry I can't show you exactly what I mean with a picture, I needed an extra arm at the time and my husband was on call that day getting calls non-stop. However, it may be helpful for you to read through these tips I have for you:
I say start with a fresh razor blade, if it's a large window you may need to swap the blade out (for a new one)half way through.
Use a rag and gently (and carefully) wipe off the blade any time it gets too much gunk on it.
Apply even pressure. I think that working in 4 to 6 inch strips is the best way to apply even pressure. Otherwise the higher your arm goes up the harder it gets to press as hard as you need to.
Start somewhere in the center and work your way outwards. When working my way outward, I tried to get about ¼" or so away from the edge of the window and then went around and cleaned up the edges.
I sat on a step stool in the window well…crouching for that long is too rough…plus it took me months to give myself a pep-talk to climb into spider country, so the stool was helpful in making sure I didn't have a creepy crawly climb on me.
This does kick up a fair amount of powder, which is just the mineral deposits you're scraping off, but you may not want to get in your eyes or breathe it in. I didn't use a mask or goggles, but I'm just letting you know that you may want to use them…as a precaution.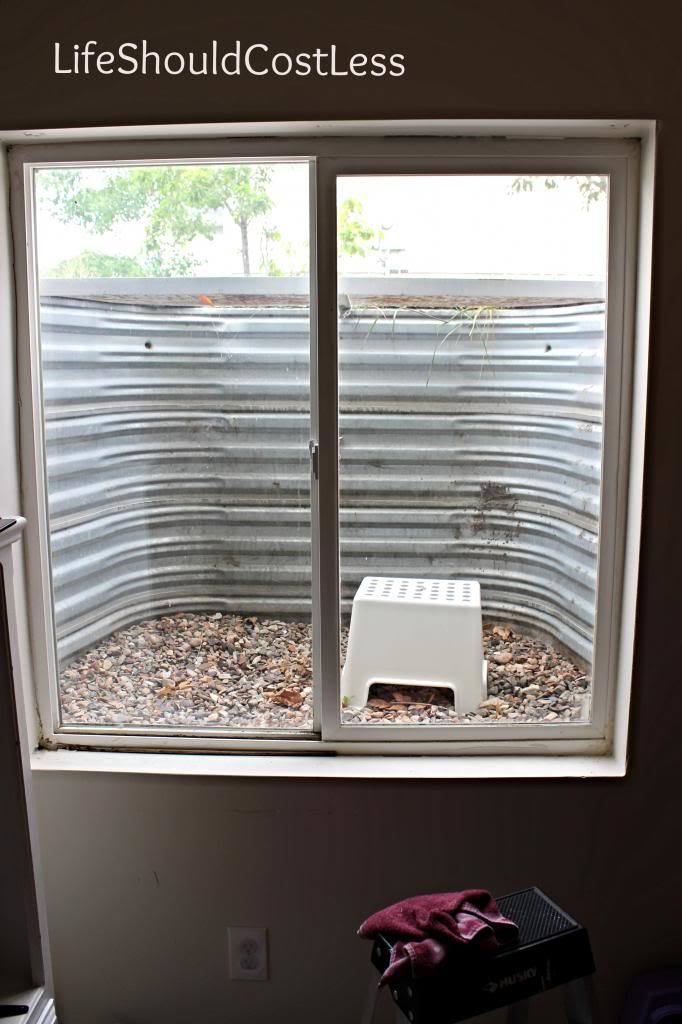 Here is the window after I was done with the razor blade. WOW! What a difference! I didn't even know that our window well was so wide until I did this. Plus, finally having some natural light in the playroom is WONDERFUL! It was definitely worth the 30 or so minutes that it took me to do this…and risking life and limb near all the nasty spiders ;).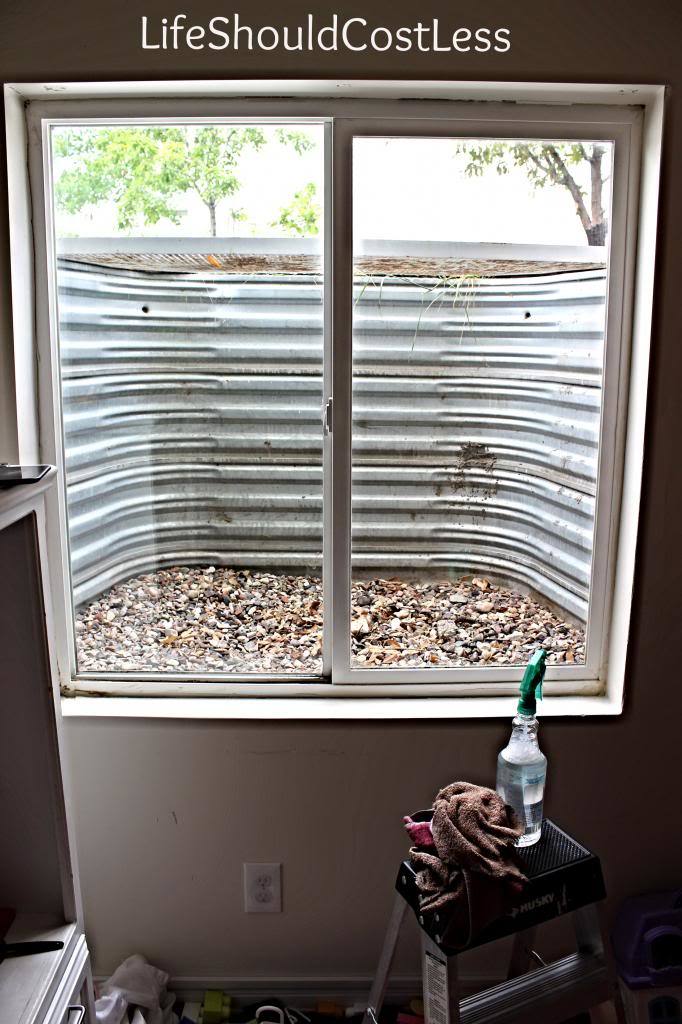 I made sure to follow up with washing the window both inside and out, with my much healthier than most cleaning products,
Sal Suds spray bottle
.
Here are the before and afters together… Yay! One more thing crossed off on the ever-growing list of things to do.