Buying herbs and spices in bulk can be a bit of a hassle sometimes. It's even worse if you end up having to store them in bags all over the place. I used to have a shelf in my pantry that was almost entirely filled with all of these silly bags.
That's one of the big reasons I started to use jars to store all of these ingredients
. However, if you've ever wanted to start using jars to store all of your herbs, spices, and other baking supplies it also can be a pain. How much do I buy, I don't want to buy way too much, but how do you know how much is too much? No one wants to fill up a jar and
still
have little baggies all over. I've poured hours into this project to make it possible for not only myself, but for everyone to start buying in bulk so that we won't be buying too much of each item. Bulk buying not only saves money, but it is usually healthier as there won't be preservatives and miscellaneous junk added.
That is why I've been making all of my own mixes
. Here is my chart that I want to share: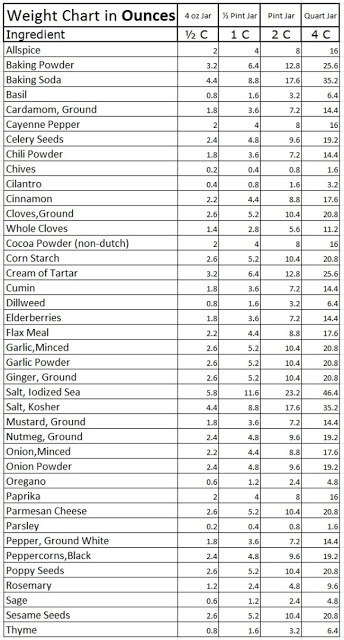 This chart should be pretty close to how much you'll need of each item to fill a particular jar size. However, there is always going to be a bit of a difference in how course something has been ground, or how large the seed is. This is meant to be an estimate so that you don't buy way too much.Just remember that if in doubt, get slightly less than the chart says. I did go through and measure all of these ingredients out, so it should be quite accurate

(I am human though, so please let me know if you notice a large discrepancy)

. I used this awesome kitchen scale
for all of my measurements

(it really is a five star item, the reviews don't lie)

. I strongly recommend getting one if you don't have one already. Enjoy!