Once again it is "Elf On The Shelf" time and our family friend Skippy has come to join us. He is a tricky little devil that has brought so much joy into our home, surprisingly even I have been quite happy that he is around…even if my little stinkers don't generally give a crap whether he's watching or not. As usual, I still try to keep it pretty simple with the Elf on the Shelf stuff and only do something super fun like this once or twice each Christmas season (I don't like to overdo it or totally lose the meaning of the celebrating). This year has been especially fun with it since my almost two-year-old has caught on and every morning she runs around the house searching for him only to giggle, point, and say "Sippy" every time she sees him.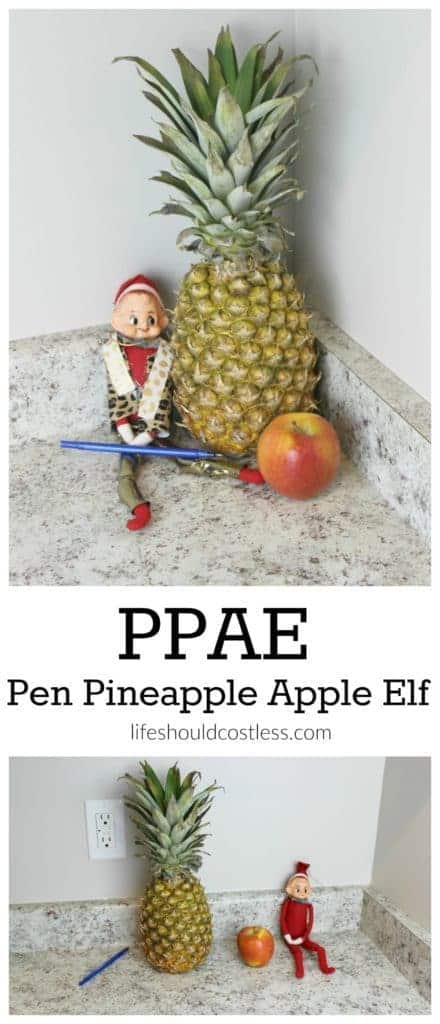 If you have yet to see the PPAP Pen Pineapple Apple Pen video on Youtube, you are probably really confused by the pictures you have seen so far, so… I'm going to embed the video into this post for any of those of you that have been living under a rock for the past couple of months ;). Give it a watch and then read on…and then you will probably also have the song stuck in your head and want to kick me in the shins…You're welcome!
My kids beg me to play this silly video over
and over
and over again
to see the silly man dance…which is probably why the dang thing has 178 Million views so far a mere two months after being published. I am sure that most everyone watches it at the same frequency as us so I thought I would show you all a couple of ideas on how I incorporated this silly fad into our elf on the shelf fun.
I decided to show you two different ways to do it, one that is super cheap and oh so easy to throw together, and then the other only took me about twenty minutes to put together. Of course I wish that I could have spent more time on it, maybe even enough time to find a doll pattern and make him a little jump suit, but honestly, I could not bring myself to spend that much time on something that is going to last for one stinkin' day…plus, I'm a bit more short on time these days… I am doing the single parent, soon to be divorced (sorry to tell you all this way, but I wasn't going to do a whole post about it), thing so I just had to wing it in the very short amount of time that I had when I had both enough energy to bang it out and everyone was asleep. Oh 6 am, I wish we didn't see each other so often…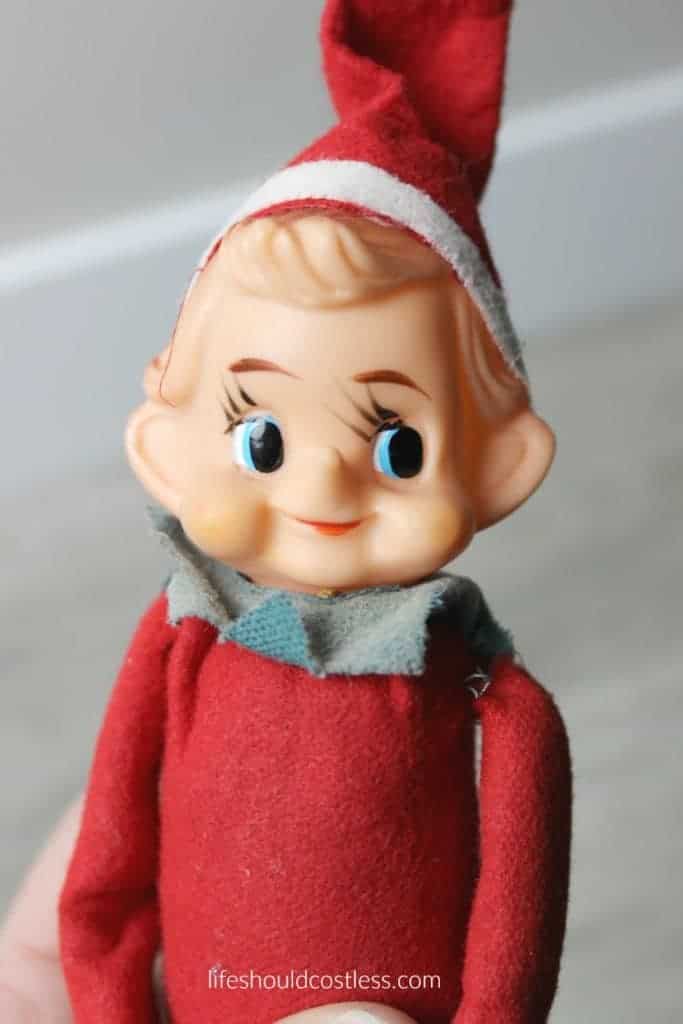 We start out with our fresh-faced antique family elf and I decided that it would be fun to give him a little thin mustache that was just like the one that the guy on the video has. Since Skippy is kind of a family heirloom I made sure to use a fine tip washable marker to draw it on. BTW, it came right off, with a some gentle scrubbing and a baby wipe, when we were done with our fun.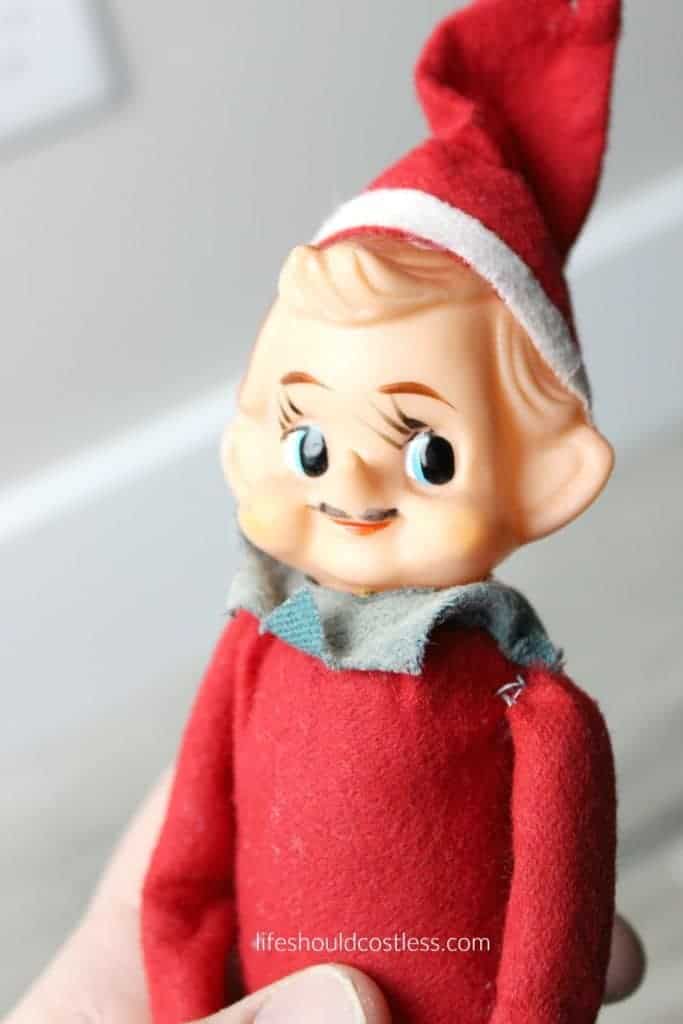 Next, he needed some bling! If you look closely on the video, the man is wearing a gold necklace under his crazy outfit so I just picked up some some Gold cord at Hobby Lobby and tied him a little necklace.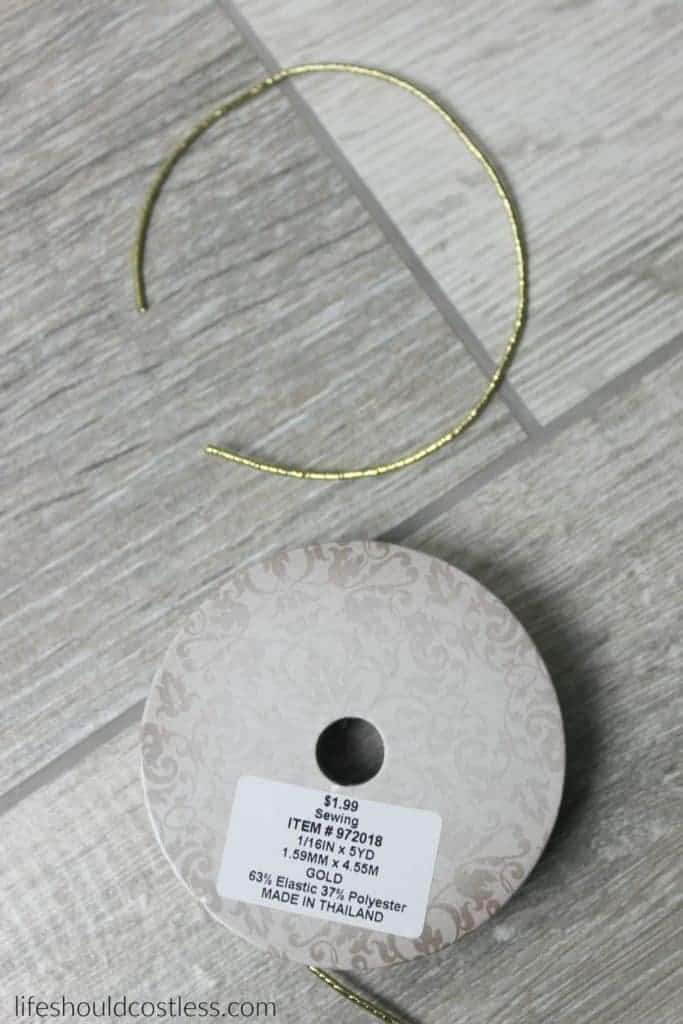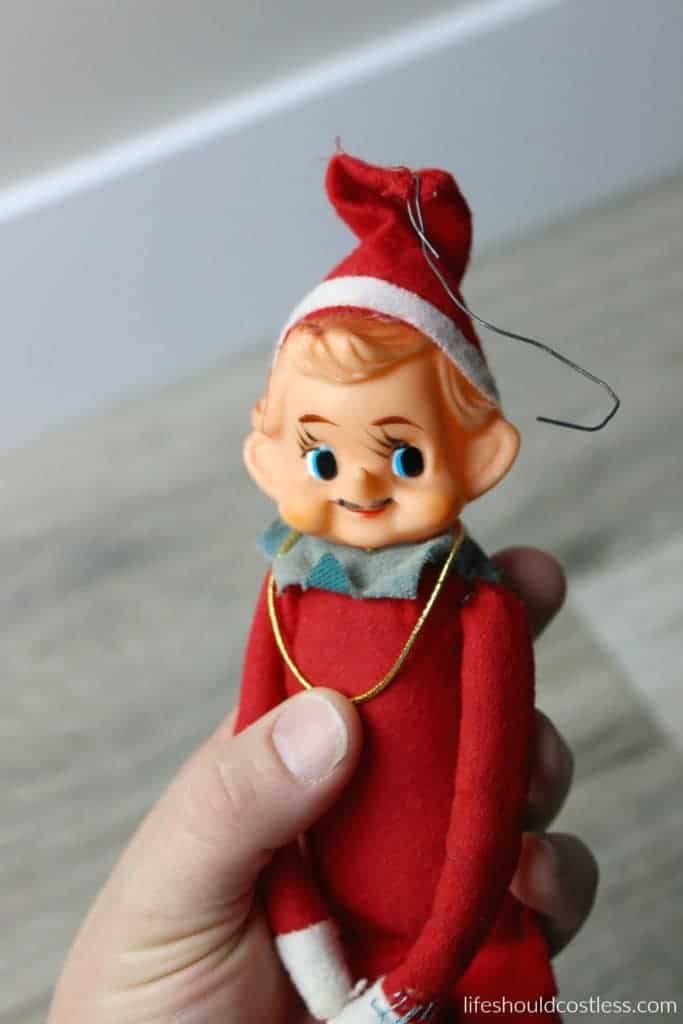 Pardon the language, but next it was time for the pimp outfit. I'm not sure how else to describe that style of fashion…come on, you know that is what you were thinking too when you watched the clip;).
I found a couple of different animal prints and some gold shimmery fabric, also at Hobby Lobby (this is not a paid ad for them, I just LOVE that place so I frequent it and you should too). I ended up buying way more than I needed, honestly I think that I could have bought less than six inches of material in each print and still would have had gobs left over. Anyway, I cut out a rectangle that was, when folded in half, the length between the top of Skippy's Shoulder to the bottom of his torso.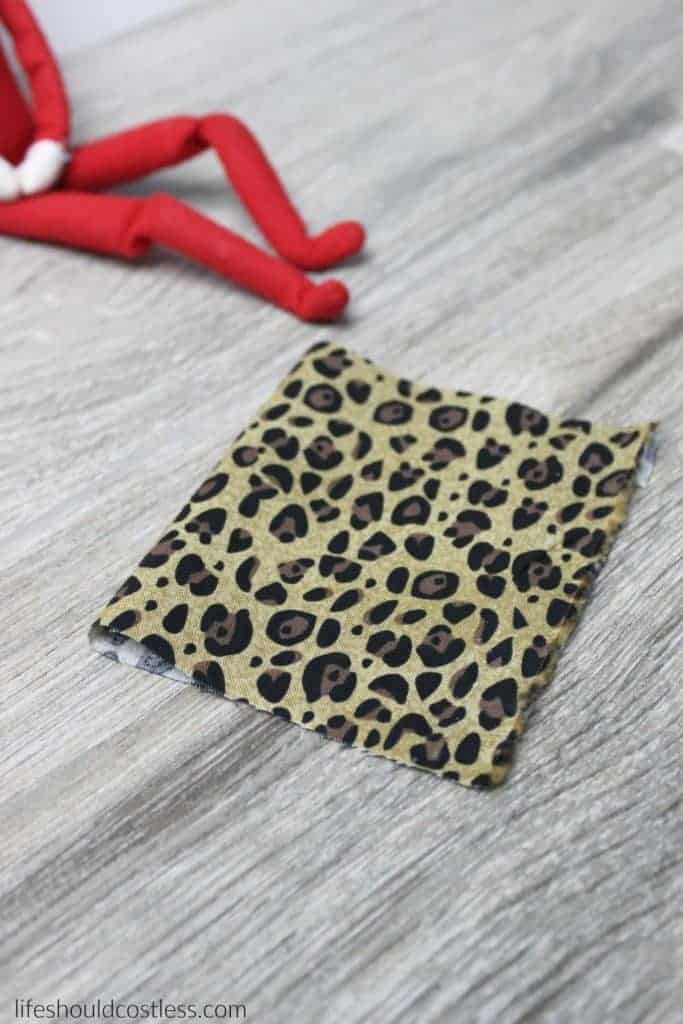 Then I cut out a little head hole.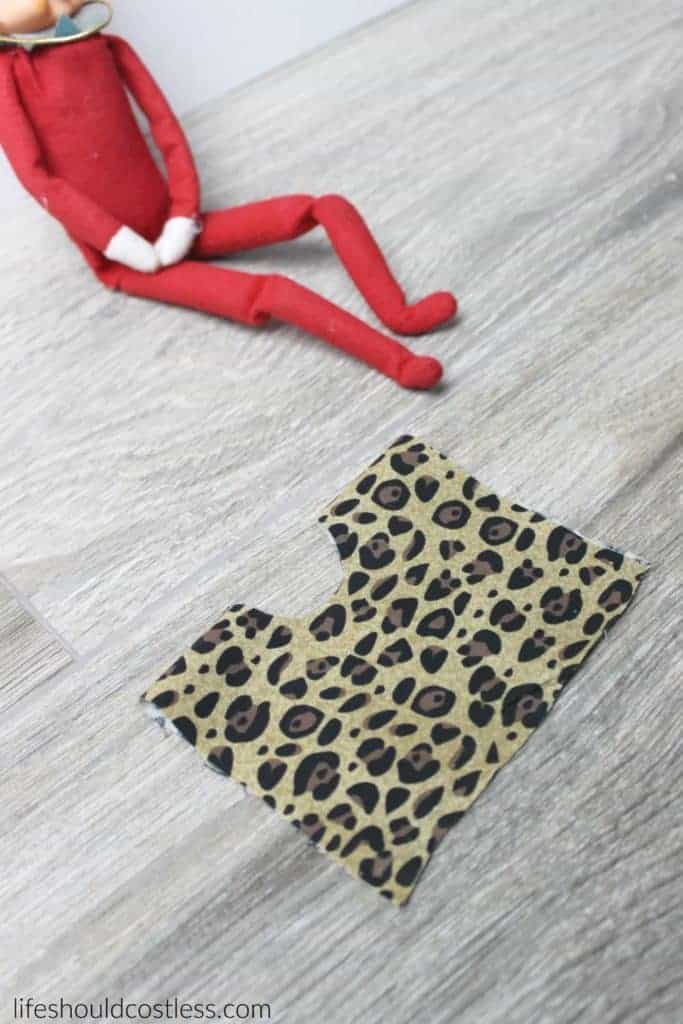 Slipped his head through it. Just like you would put on a hideous animal print poncho.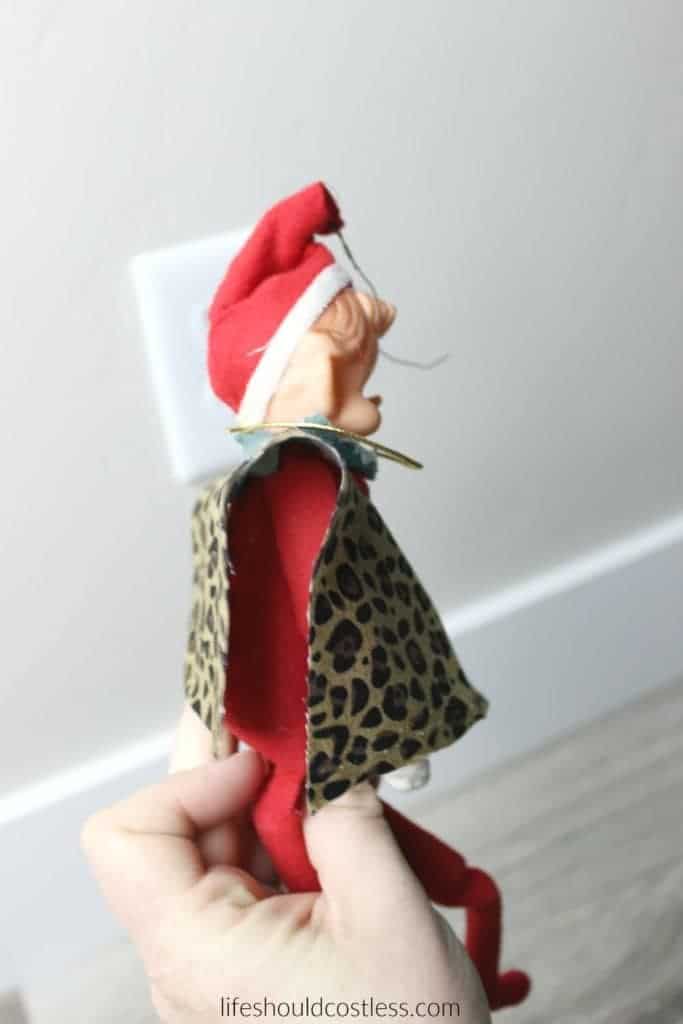 I put a little tape on his back-side to hold the fabric in place.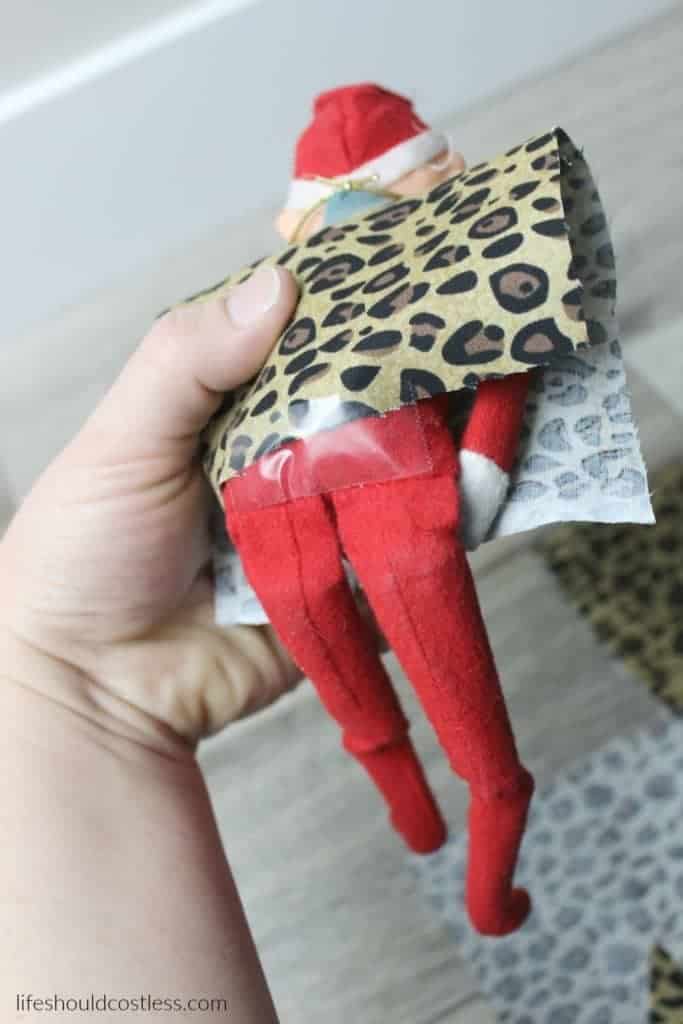 Cut a slit down the center in the front because the guys shirt is quite open so I wanted to mimic that a little and show off his bling.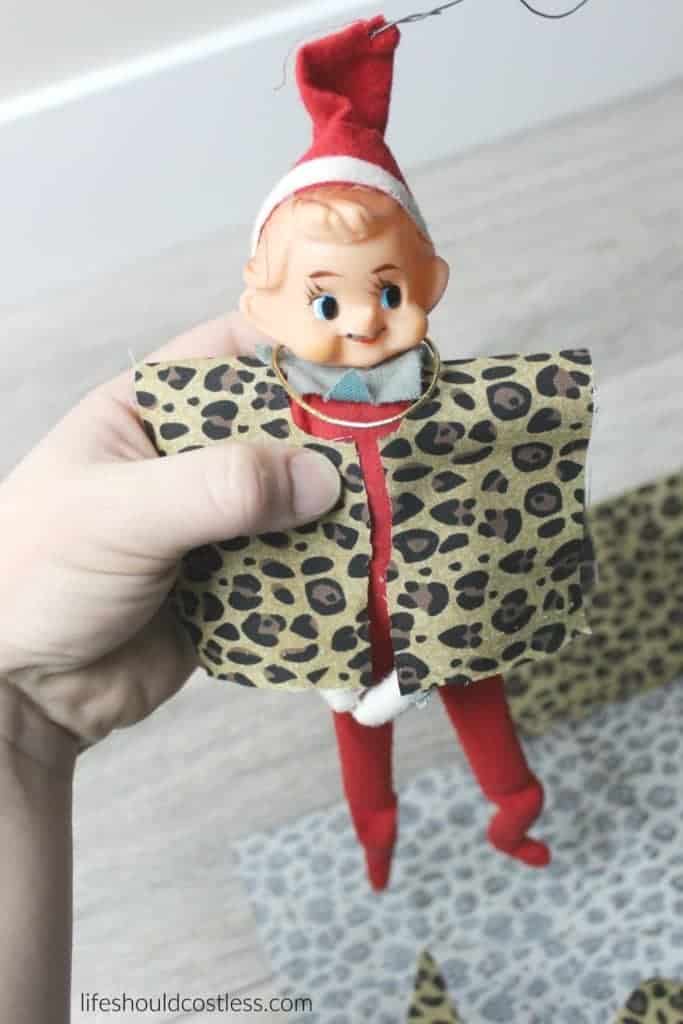 I took the excess fabric and wrapped it around towards his back and then taped it into place. I know it looks ghetto, but like I said before, I was not about to spend a ton of time of making him a little outfit that would last a day…plus no one could see his back once he was put into place.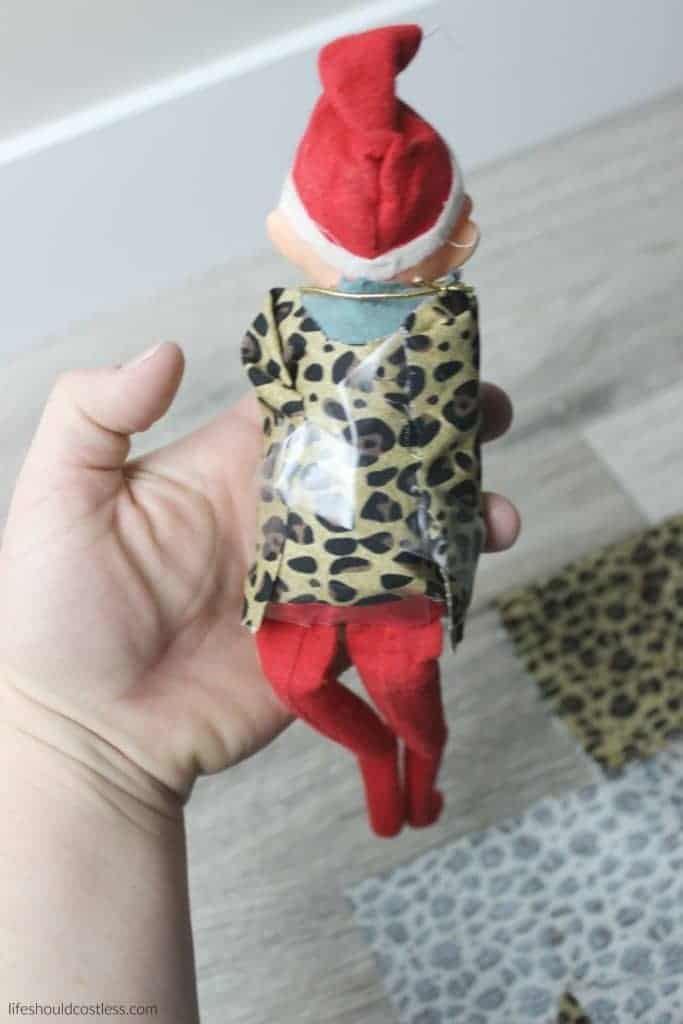 I ended up taping the front "vest" looking portion to him too, I just made sure to hide the tape between the fabric and him.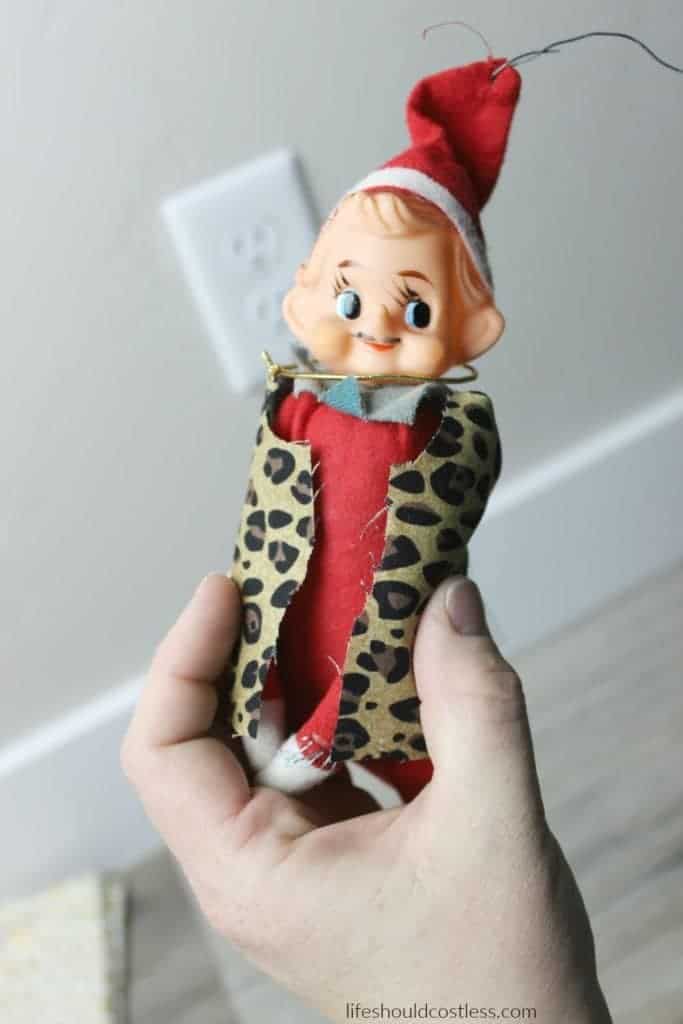 If you'll notice, the man in the video is wearing a scarf, so I cut out a little strip of a similarly looking fabric and just wrapped it around his shoulders…these elves are so small it is really hard to work with their clothes or add very much detail. I guess it really doesn't matter much anyway because my older kids saw him and knew who Skippy was trying to be.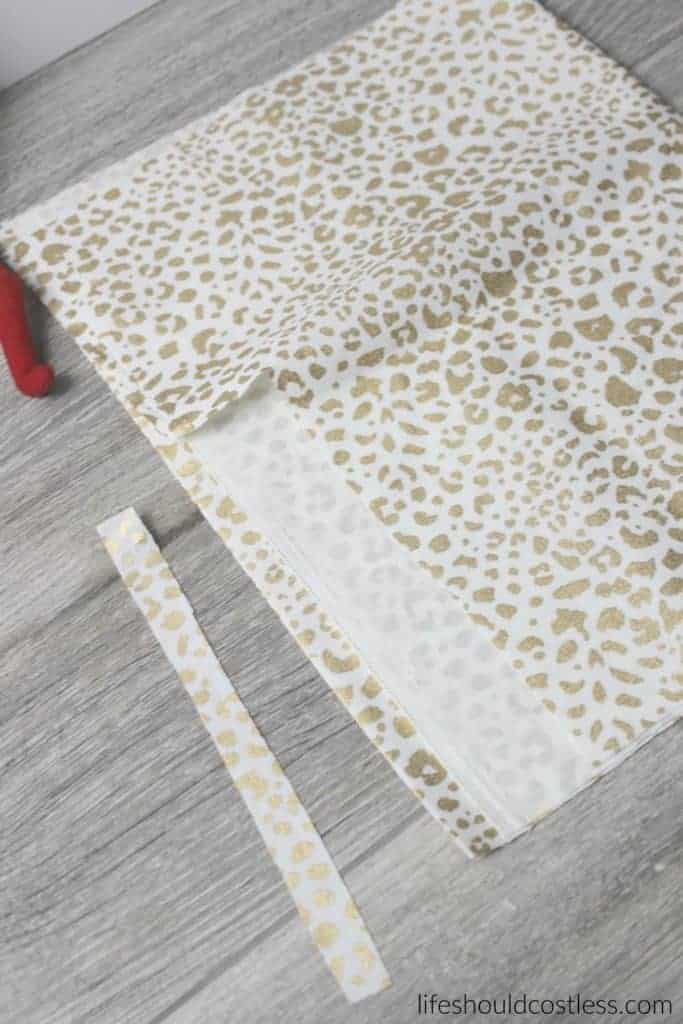 Here he is before I added his pants. I know, it looks like a five year old put it together, but you get the gist.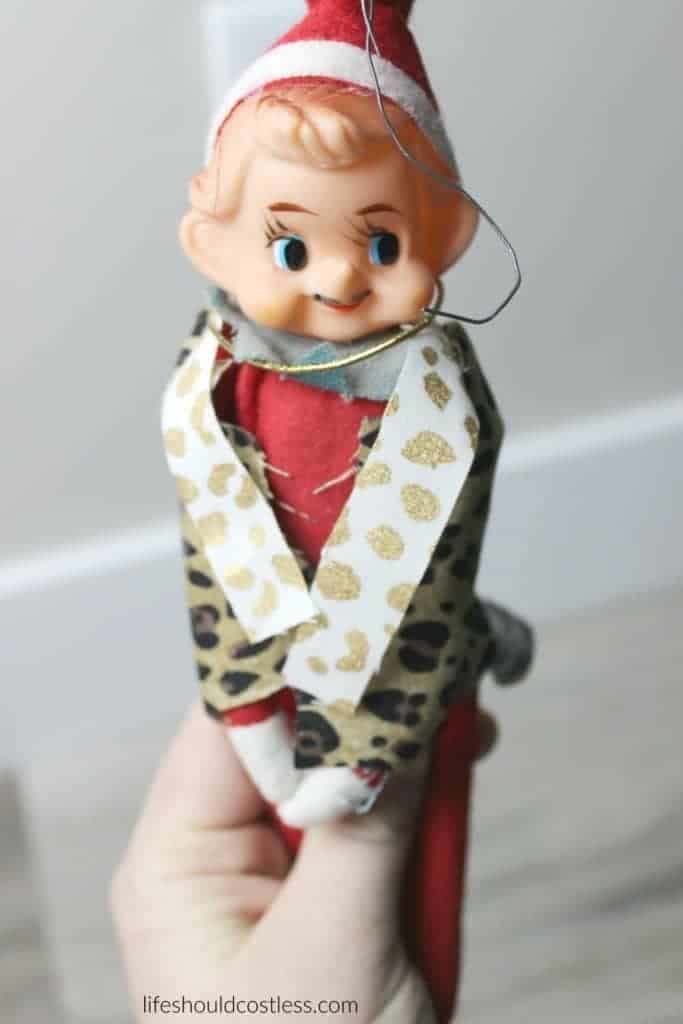 His pants were pretty easy to make. I just cut out a rectangle of the shimmery gold fabric that was the length between Skippy's imaginary belly button and his ankles, and then cut out a little more so that it was shaped more like pants. I know, these directions are SO technical and precise that it's not even funny ;).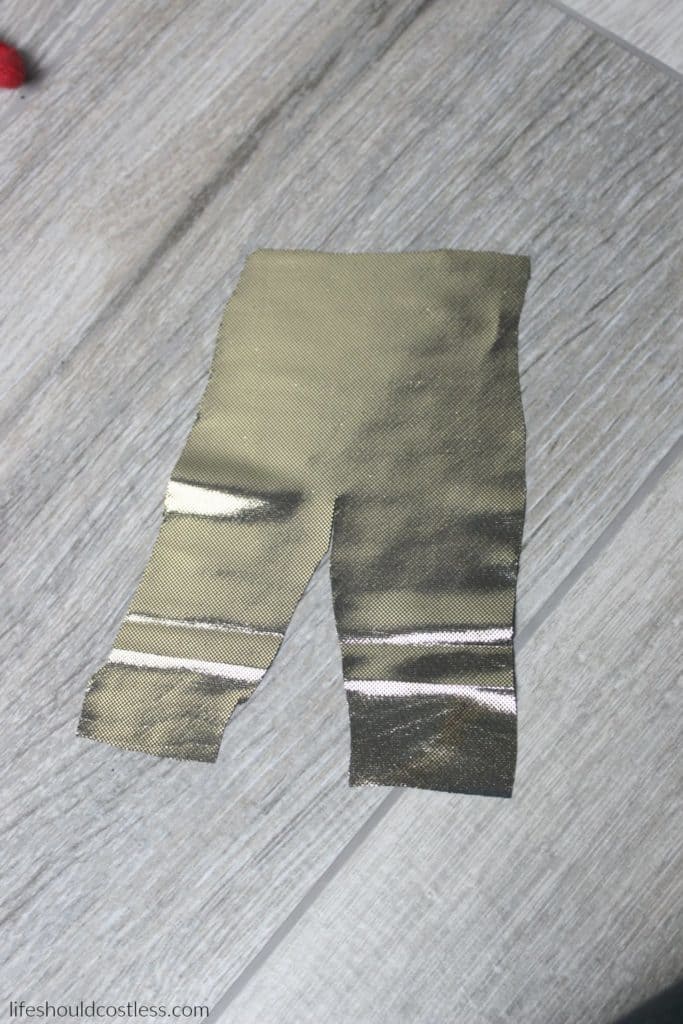 Then I held it in place where I wanted it to go, in the front, and then flipped him over, and taped the fabric together around his twiggy little legs.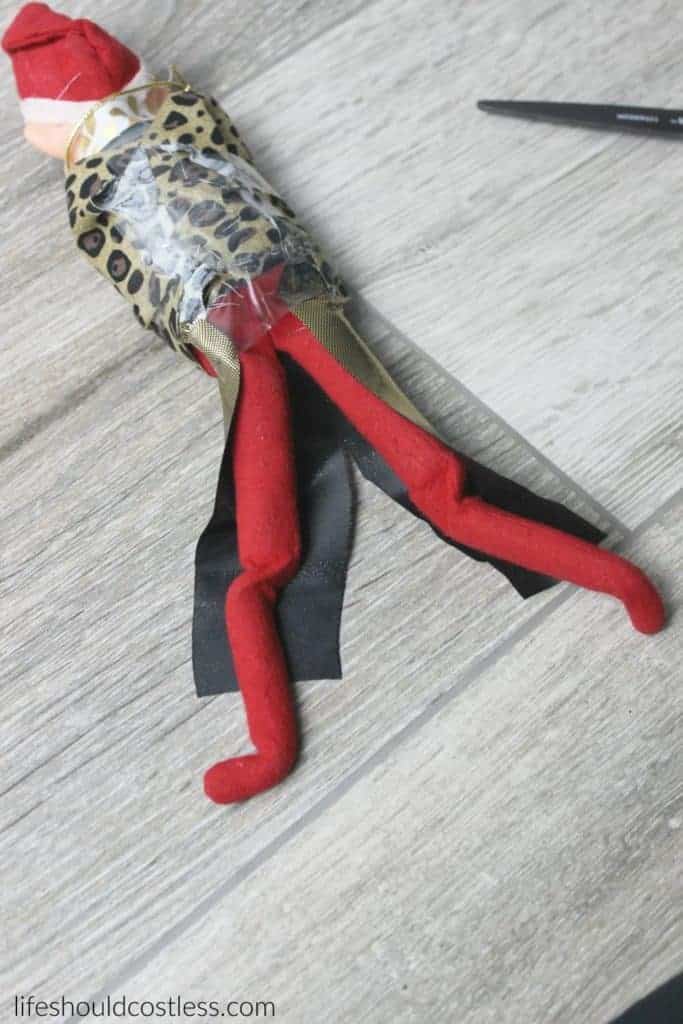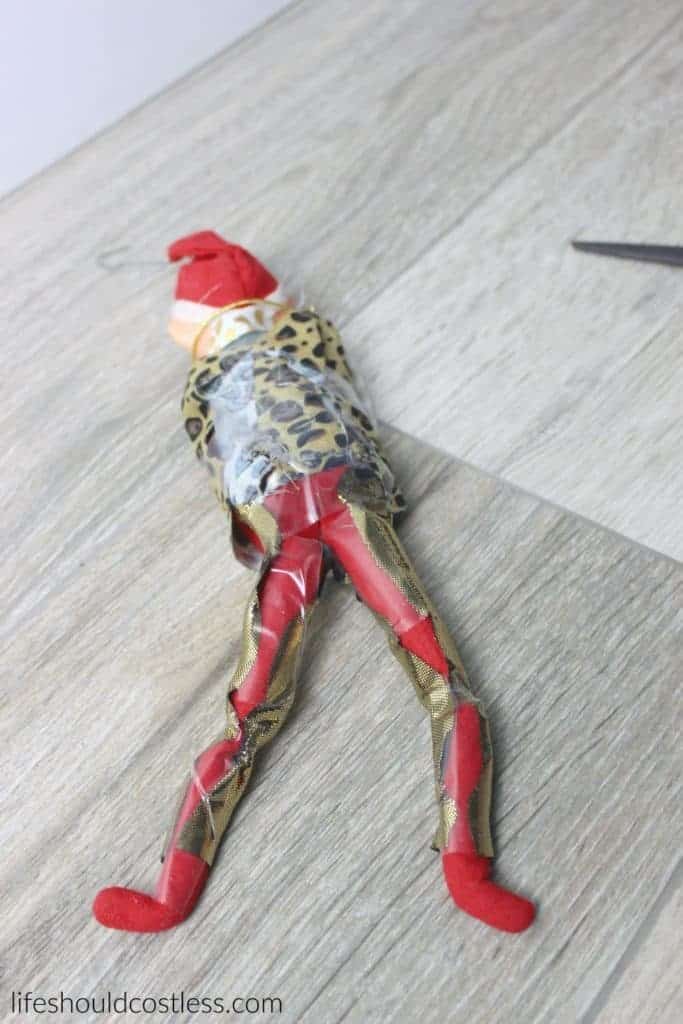 I think that his pants turned out to be the best looking part of his outfit. I'm guessing that is only because that shimmery fabric had much more give and was a little stretchy so it was quite a bit easier to work with.
*I have got more great Christmas-geared posts linked at the bottom, so make sure to keep on scrolling to the end.*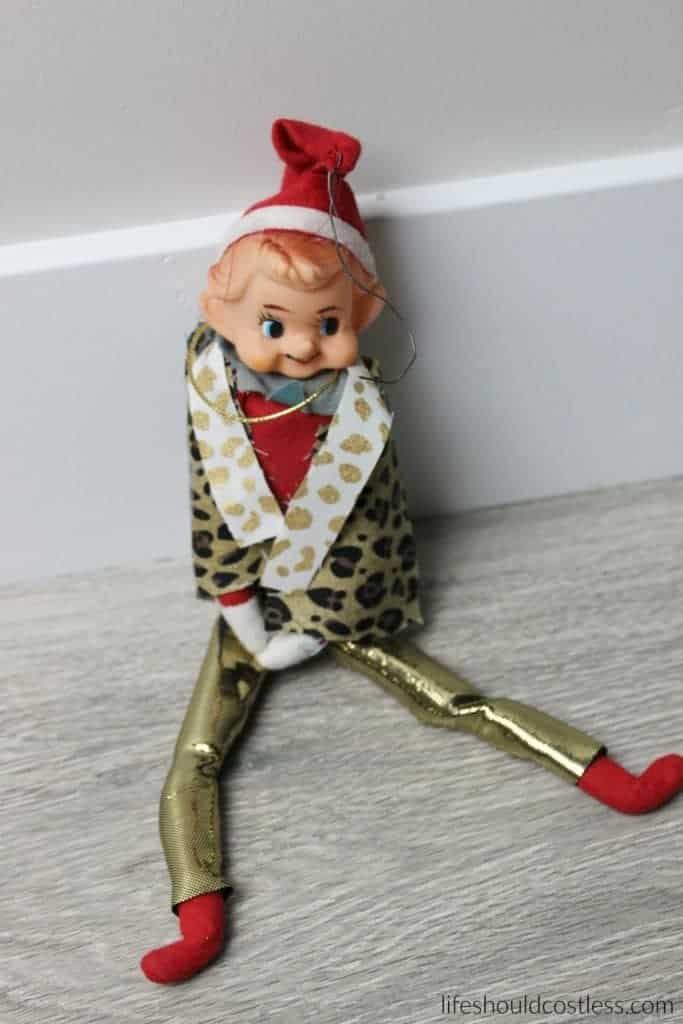 I also just had to show you guys how funny he looked in this pose. His hands have always been sewn together, but the way that he is holding them over those ugly pants kind of reminded me of something Michael Jackson would have worn. Lol, I know, I'm tired, it is midnight after all. Let's get back on topic.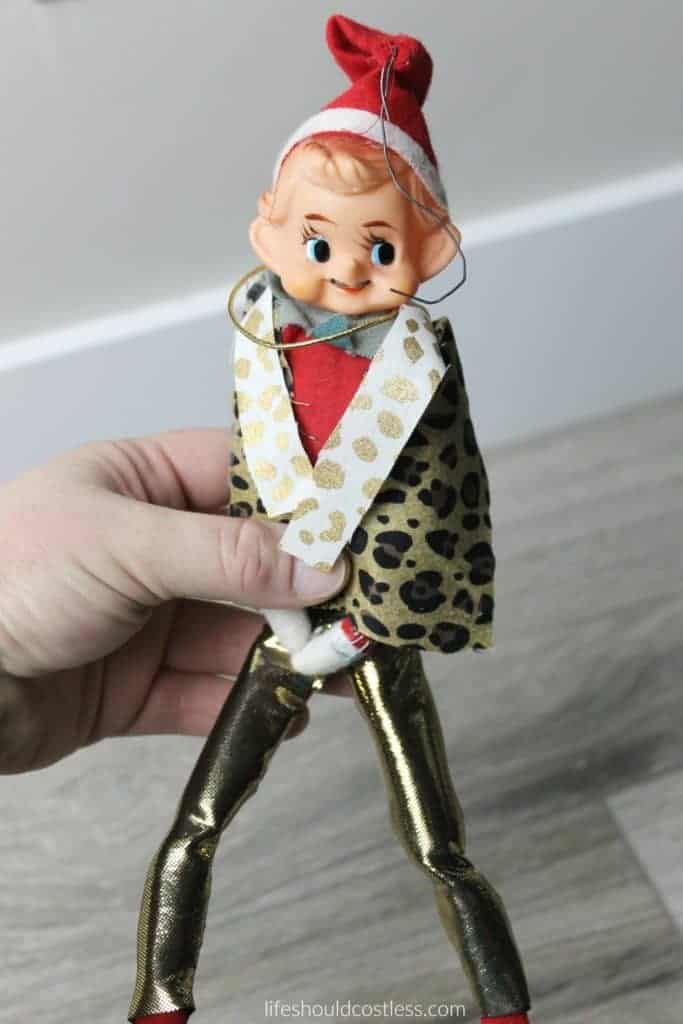 Well, his "pimp" outfit was done and it was just time to put everything together in a place that the kids couldn't all reach…Which ended up being the least used corner on my kitchen counter top.
As luck would have it, I had everything else that I needed on hand already…Pineapple has been so cheap these last few months that I have been buying it much more often than I used to, now I just need to get around to cutting it before it goes bad…
Now we have our Pen, Pineapple, Apple, Elf!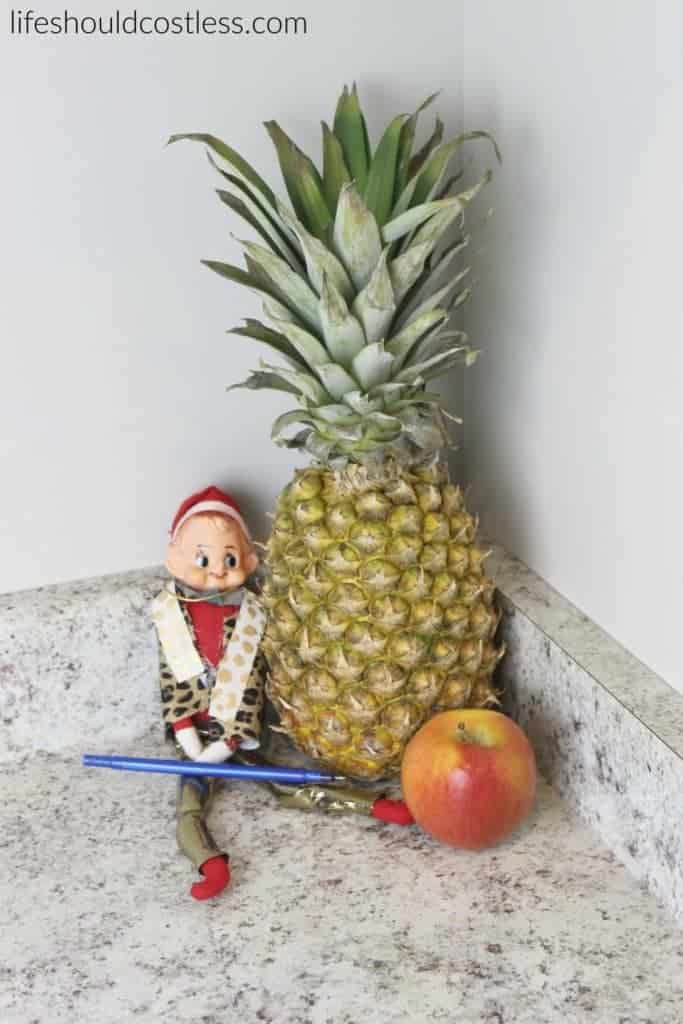 Here is a bit more of a close-up of Skippy.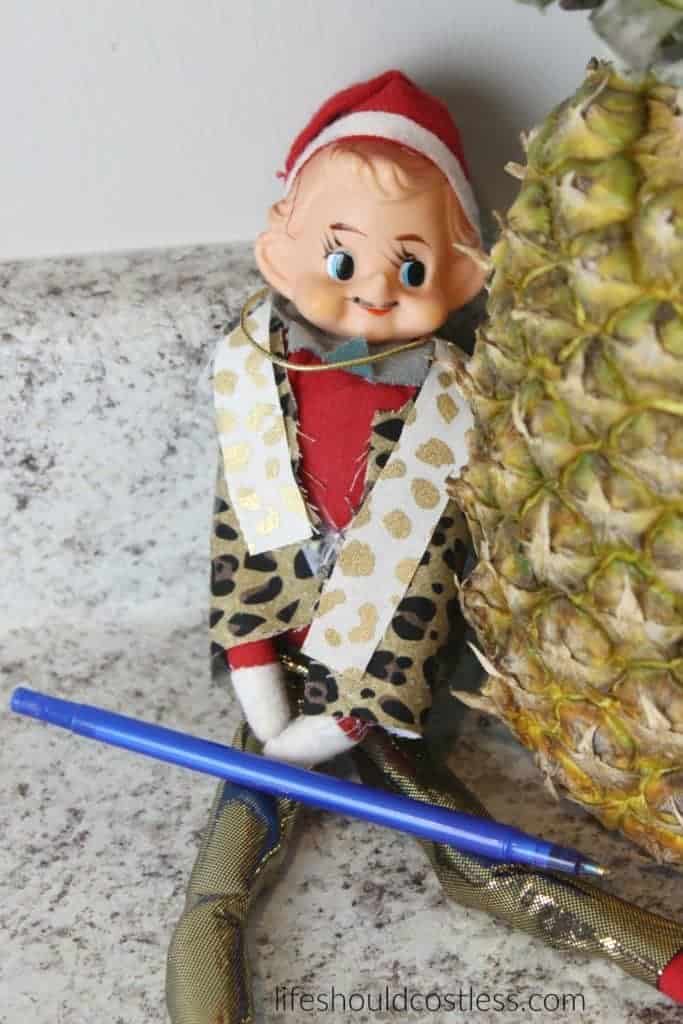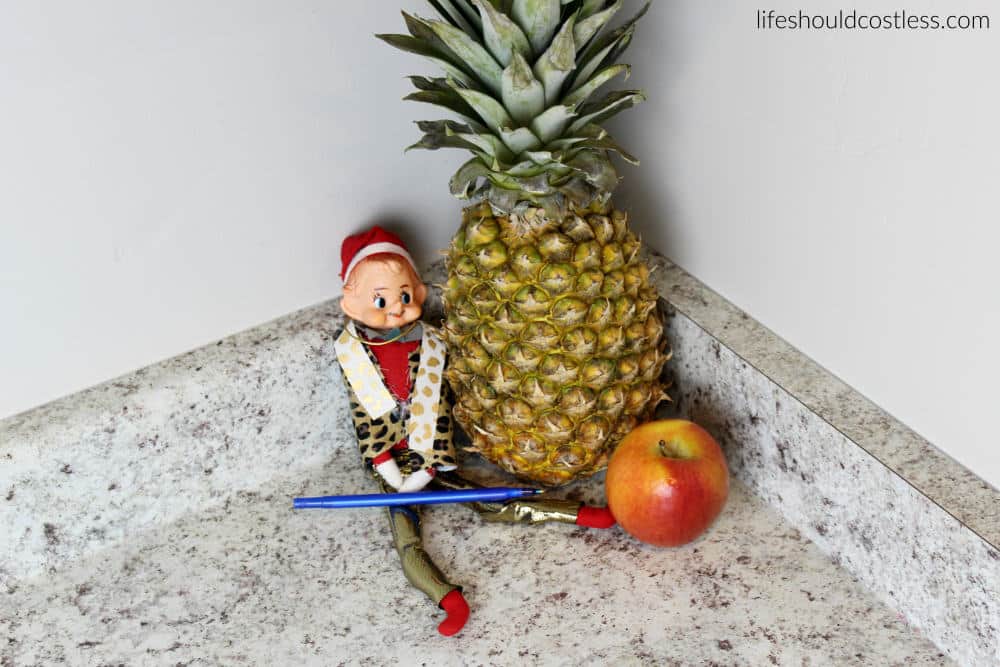 Another idea that I had, for those of you that may not want to go to a fabric store or play with a doll for twenty minutes putting it together, just do it simple and lay all the pieces out on the counter. Your elf doesn't necessarily need to be dressed up like the man from the video. Any older kids that you have will still get what it means and will probably even start singing it before the younger ones catch on.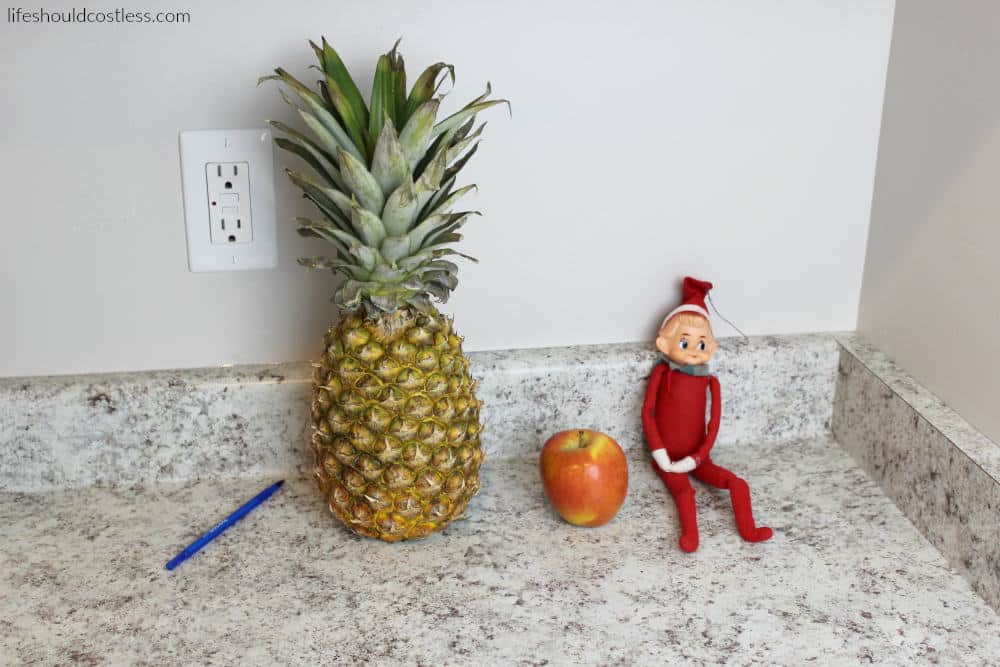 If you are pressed for space, you could even sit your elf on top of the pineapple and put the pen and apple near them. Both are super easy and really inexpensive ways of doing it. If you are thinking that a Pineapple might not be in the budget, then maybe you could meal plan something that requires a pineapple to justify the expense. Like I said earlier, they have been pretty cheap the past few months so it shouldn't totally break the bank. You could even improvise a bit and grab a can of pineapple out of your cupboard if you have one on hand. Now say it with me "PPAE, Pen Pineapple Apple Elf."
This idea is meant to just be something silly and fun that I did with my kids so I thought that some of you might want to do it too. My youngest was so cute as she kept looking at him all day today. I frequently heard her saying "apple pen" any time that she walked into the kitchen…which made me giggle every time. That kid melts my heart she's so cute!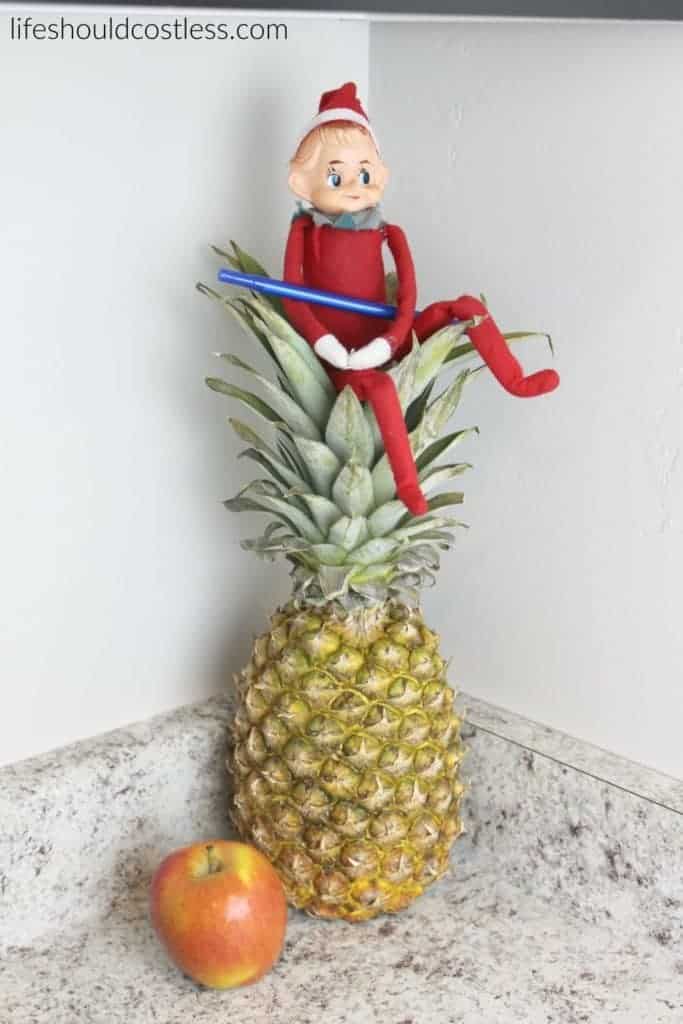 What do you all think? I would love for you to comment with some other fun ways of sharing the Pineapple Pen idea with your family. You could even share some of your favorite Elf on the shelf resources if you want or share pictures of anything that you thought was a fun or original idea.
My cousin has been doing a different fun elf thing with her kids. She bought them each their own little "good deed" elf and has the kids use their elf to help them do one good deed each day…I really like this idea too. It's a good alternative option to doing the elf on the shelf.
As always, if you liked this post, please make sure to share it via social media and help spread the word. My posts are now easily shareable on Facebook, Twitter, Pinterest, and a few other avenues just look at the top or bottom of this post for the share buttons and it will be a snap! Thanks so much for stopping by!~Sarah
P.S. Just so you are all aware, and hopefully will be excited about it, since I am now going to be relying pretty heavily on my blogging income from here on out (you know, to help support me and my kids), I am going to try to be posting as often as possible! Yikes! After I move and get settled a bit of course. My plan is to publish between two and three posts per week. Which is kind of overwhelming right now, but a girls gotta do what a girls gotta do. I am hoping to get into a good groove in a short amount of time, but of course, nothing ever really goes according to plan so I am going to do my best but be patient with myself as this new season of life is about to begin.
P.S.S. Wish me luck! It is sure to be an adventure and I hope that you will join me for the ride…hint, hint, if you haven't already subscribed to get my posts sent straight to your inbox, make sure to do that here and you won't be sorry. Of course no one is going to love every single post that a blogger puts out, but just keep in mind that I have so many ideas cooked up in my head that as soon as I have time to get them out there will surely be something that will keep you waiting for more.
Some other Christmas posts that you may also like (the pictures are links):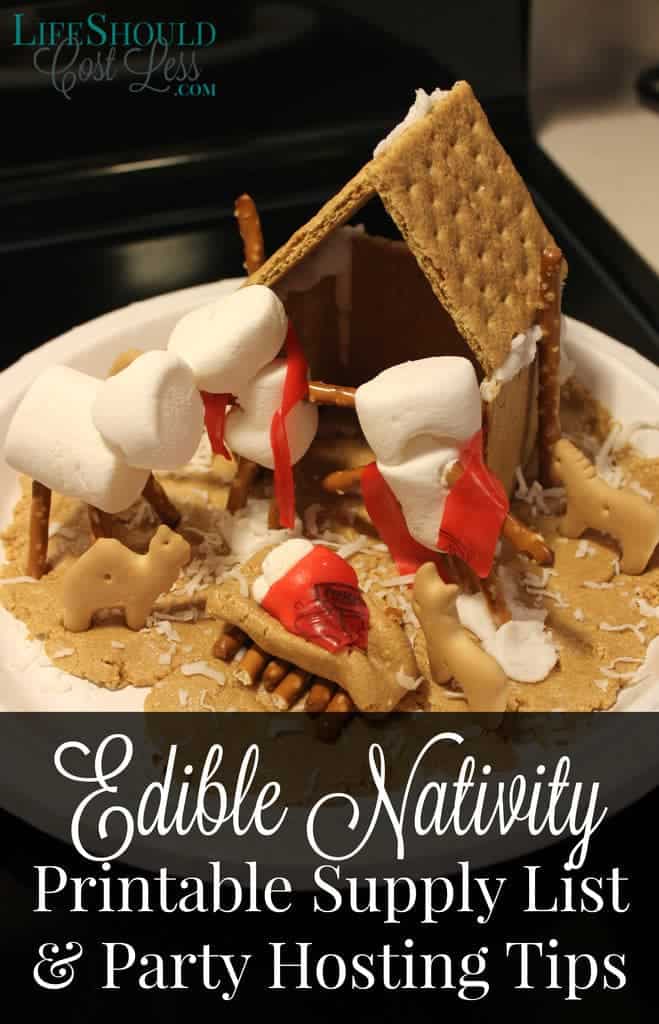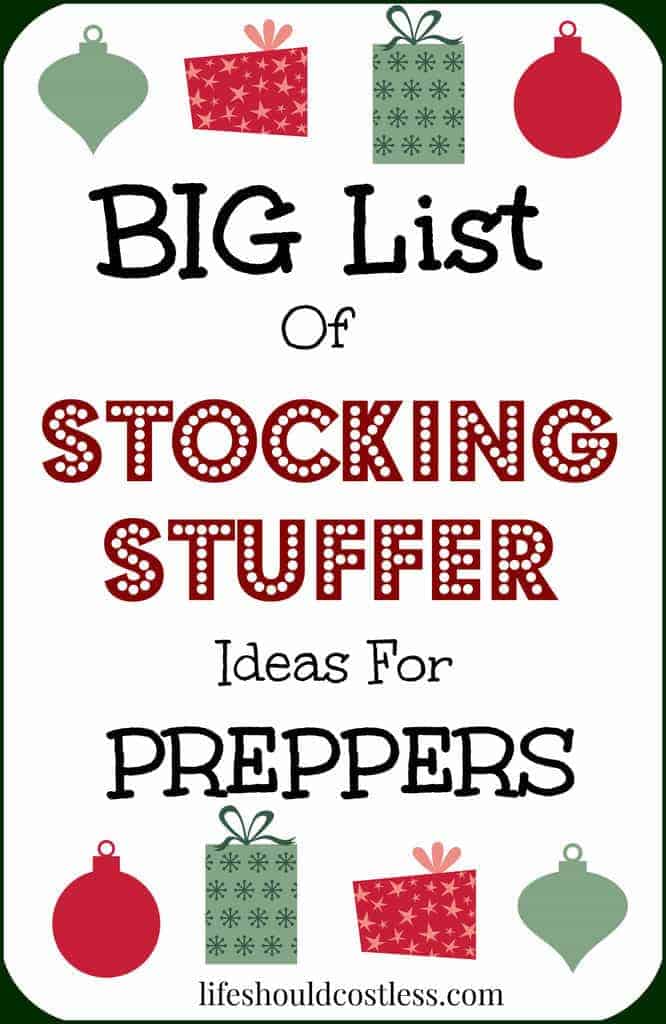 Want to see all of my Christmas posts? Go here.