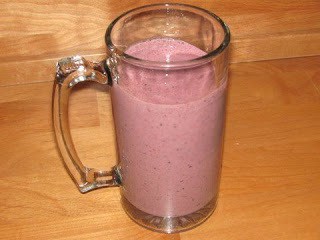 I love having a kefir smoothie a few mornings a week. I started drinking it a few months ago and it has completely cured my insomnia and my mind no longer races thinking about 50 things at once. Below I've listed a couple of links that explain some of the reasons why it may be a good choice to introduce it to your diet. Anyway, here is my recipe:
2 T Flax Meal
A handful of baby carrots
A handful of spinach
1 to 2 T Extra Virgin Coconut Oil

1 to 2 handful's of berries
¼ C or so of a natural sweetener (honey and maple syrup are a good choice)
3 to 4 cups of milk kefir (amount depends on how runny you want it to be)
Blend all ingredients until smooth and enjoy. I find that when I'm breastfeeding I have to omit the coconut oil since it gives the baby a sour belly.
Kefir, what is it and why drink it.