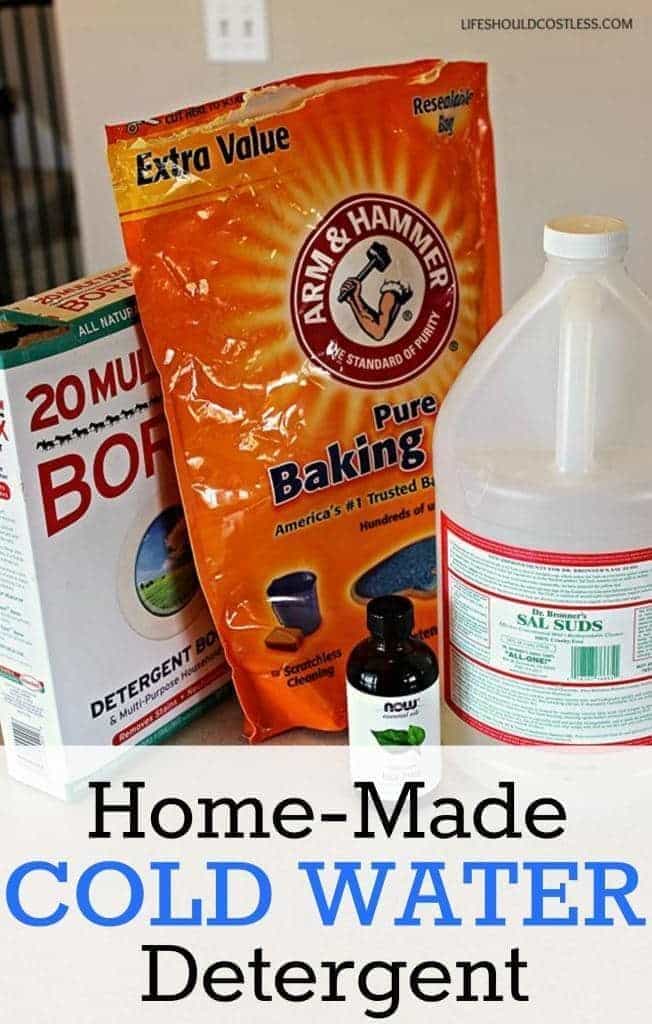 I love the concept of making your own detergent, but I am not too crazy about grating a bar of soap and taking 20 minutes or so to make a detergent that will only work for clothing (plus you have to wash the pot afterwards and I wanted to cut out that step). I'm all about versatility and simplifying…if you haven't noticed yet. I've been experimenting with this recipe for about a year now and I'm pretty happy with it, so I decided that it's finally time to share it. It's great because it takes less than 5 minutes to make, works in Cold Water, and I use it for both Laundry and Dishes.

Printable Version

Add these first four ingredients in a 5 Gallon Jug:

2/3 C Borax
2/3 C Baking Soda
1 Tablespoon Tea Tree Oil
, Lemon, Or Orange Essential Oil
Just under 5 Gallons of HOT WATER
(leave enough head room for a bit of mixing and for the final ingredient too)
It may seem odd to add hot water to a cold water detergent, but in order for it to work well, the borax and baking soda both need dissolve which is why the hot water is necessary at this part.

Close Container, Mix Well, & Then add:

2 C Sal Suds Liquid Cleanser


Close the container and gently shake to mix it a bit. I like to leave it overnight (or until it's completely cooled) before use. Pour it into a smaller container w/a pour spout
to make it easy to dispense.
*Make sure to gently shake it before you pour into a smaller container.*
Directions For Laundry:
I use about 1/2 cup for a small load, and ¾ to 1 cup for a large load. I never use more than 1 &½ cups and that's only for nasty diapers or really dirty clothes. This detergent works in the clothes washer on

COLD

just as well as it does on warm. I thought it was too good to be true when I started washing with it, but it says right on the Sal Suds bottle that it works the same in hot or cold water…extra savings now that I don't have to pay to heat all that water.* For extra dirty clothes just let them soak in the detergent for a while, I usually do ½ to a full hour.
Directions For Dishes:
I just fill the pre-wash and main-wash cups completely. The only thing that I don't like about this recipe is that I usually have to scrub the cheese grater and really dirty utensils a bit, but other than that I've been pretty happy with the results (I am notorious for leaving the dishes overnight though, I'm always too pooped by the end of the day to get to that last load of dishes, I'm sure that is the majority of the problem). **If you decide you don't like it for your dishes you can also use it just to stretch your favorite dish detergent by filling the main-wash cup w/this detergent and then using your regular kind for the pre-wash cup.** Make sure to use Vinegar as your rinse aide for even more savings (plus it's healthier than traditional rinse aides).
For some photos of the process and a little more instruction, scroll down.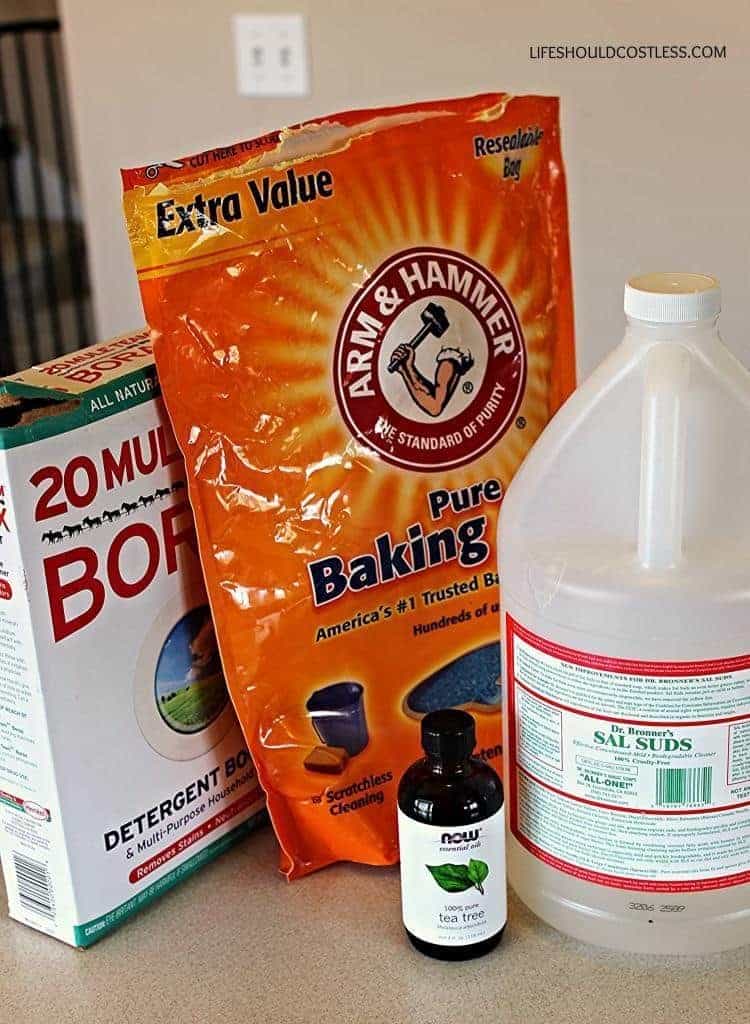 Here are all the ingredients.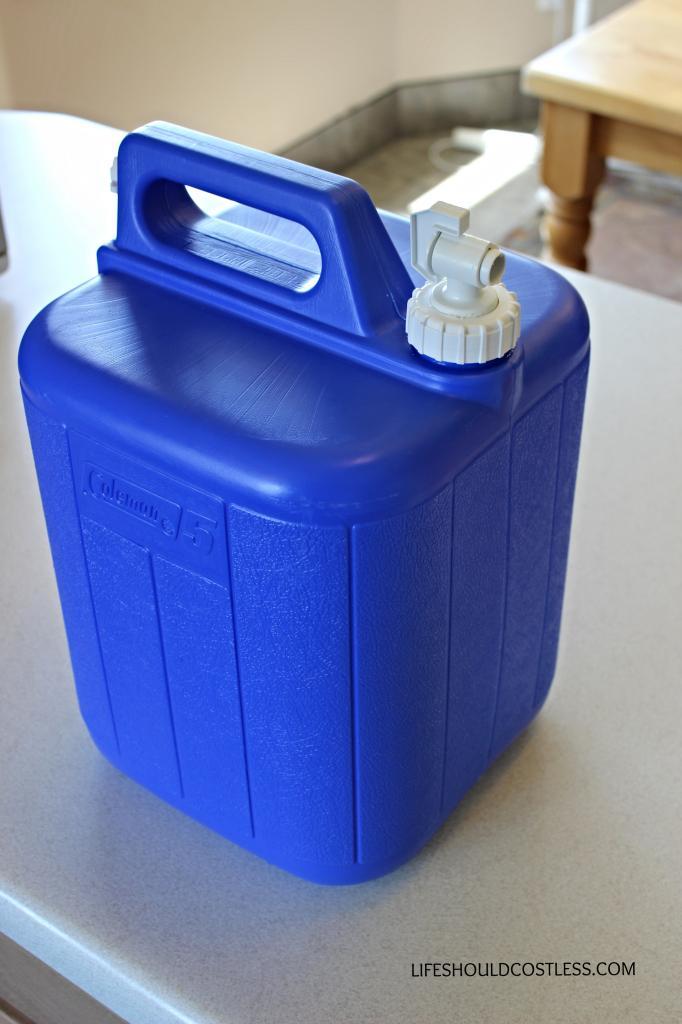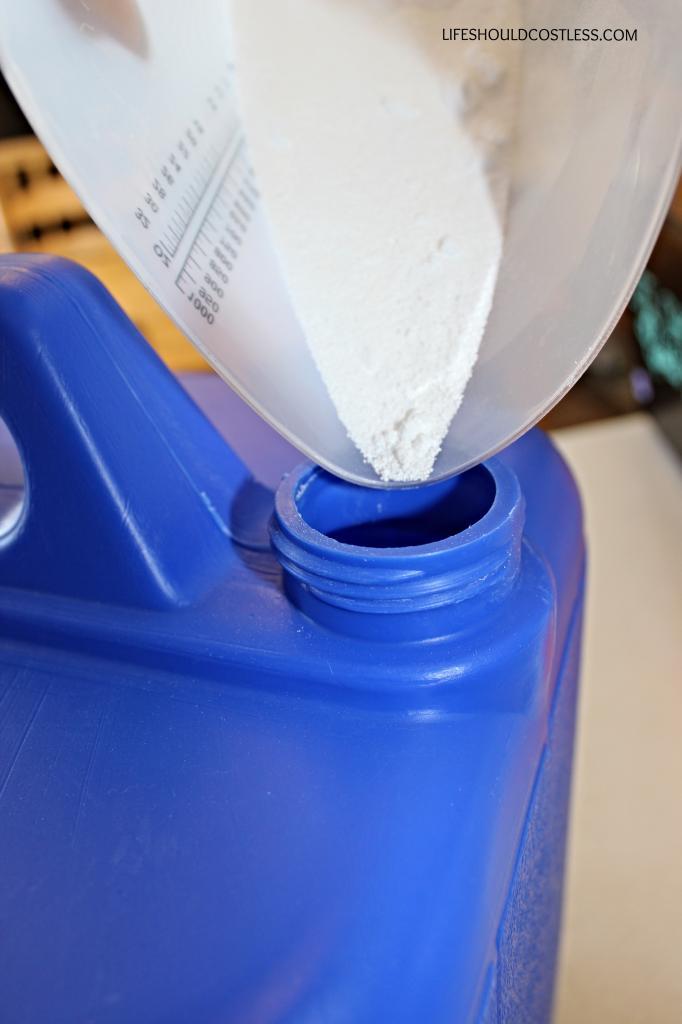 I use a triangular cup, that I got from the hospital when I had my last baby to pour in the dry ingredients. Though a funnel would work just fine too!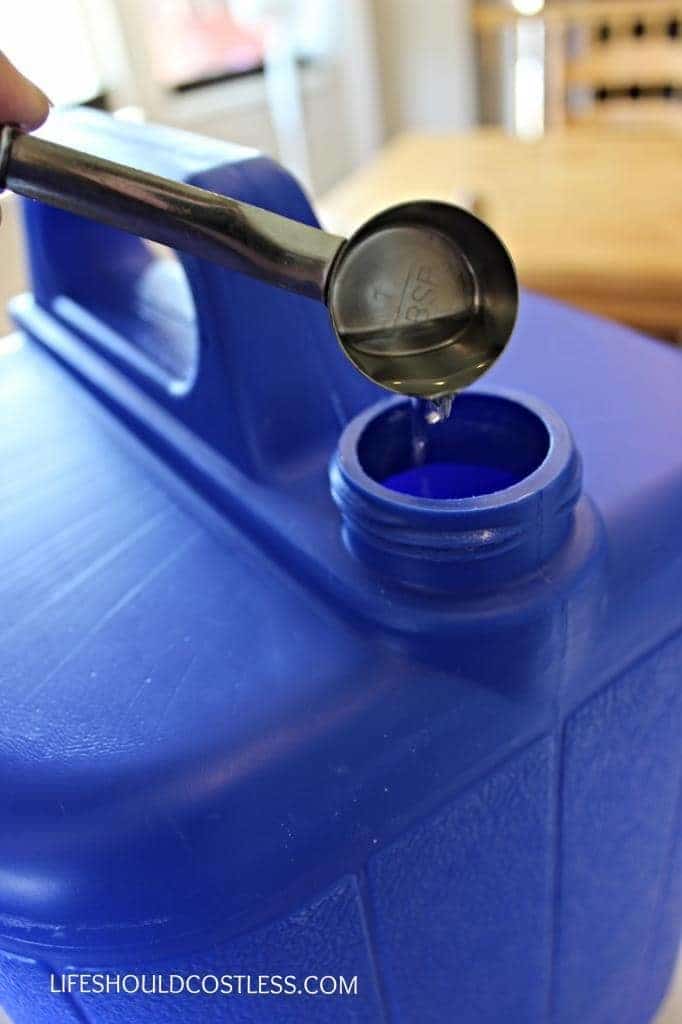 Adding in the Tea Tree Oil.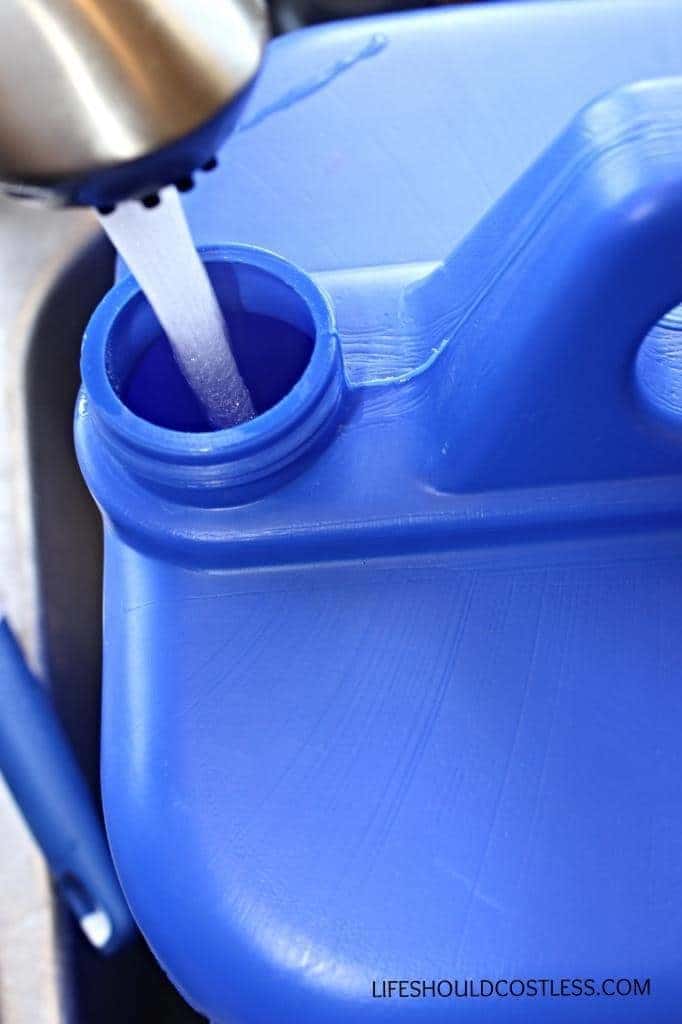 Filling the jug. I fill it up almost all the way, just leaving enough room for the Sal Suds and a little bit of room to ensure it gets mixed well when I shake it.
Adding the Sal Suds.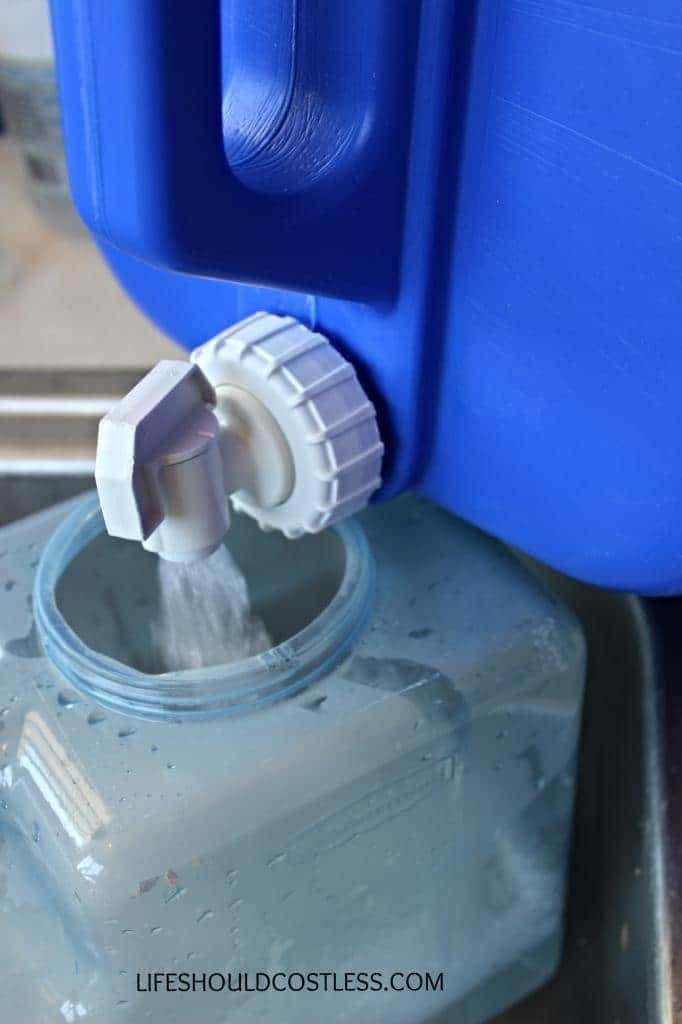 Pouring it into a smaller container to make it a little bit more manageable for daily use. This container just gets refilled a couple/few times each batch.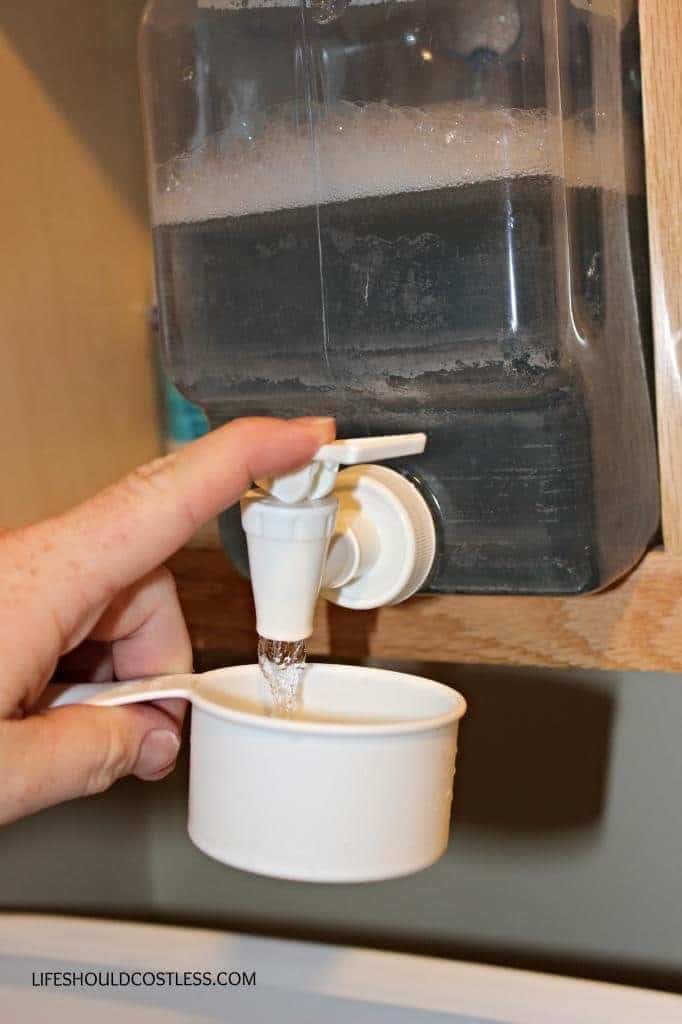 I keep mine right above the washing machine. Boy was it awkward being right-handed and trying to take a picture while showing you how I dispense it with my left-hand.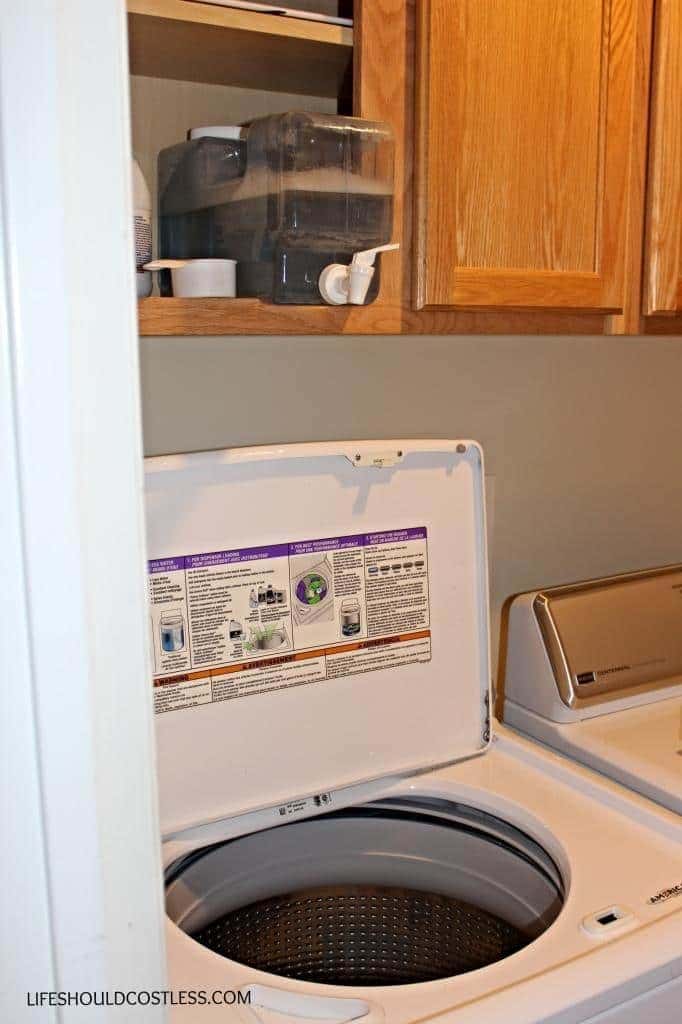 This is just a shot of how it looks in my laundry room. I'll class it up a bit more when we get around to gutting and re-doing our laundry room.
Buying all the ingredients in bulk saves a lot of money and is much cheaper than buying a standard store-bought cold water detergent. I buy my Sal Suds by the gallon and it lasts me around a year. It is the only multi-purpose cleaner that I use for my entire house. If you haven't seen my post about why I love Sal Suds so much, you may want to check it out here.
* Please note that I am not a chemist, nor claiming to be one. I've seen all of these ingredients in other dish and laundry detergent recipes, I've just combined them and determined which ratio's to use. If you're nervous about using it, don't use it. This is just an example of what I do to save even more money. I've been using this recipe for about 4 years now with no problems (as of 10/29/14)*
This post got a make-over today, 10/29/2014!