Making your own baby wipes looked pretty easy. However, I was a bit turned off on making them due to thinking that I'd have to dig inside a big plastic container to find the end of the paper towels (wipes), and that just seemed like it would be a giant pain in the butt. Let's face it, I'm a bit spoiled in this area. I only like to buy the baby wipes that are the pop-up kind because I don't like searching for the next wipe. Anyway, I did a fair amount of thinking about how to make home-made wipes a bit easier and thought to myself "Don't they already make wipes in a large cylinder-shaped container that would work for this?" After several trips to various grocery stores, I found that yes, they do still make these.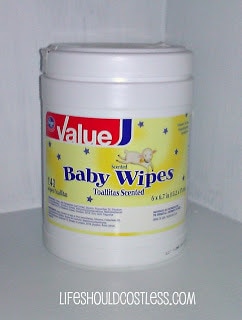 Here is the container type that you would need.


I found this container at Smith's (the Kroger generic brand). After using up all of these wipes I was able to start making my own. So far so good, I'm on our 4th batch of them and think that the effort is actually worth the savings.
Anyway, you can find the original wipes recipe here. The only suggestions that I make are to use plain Mineral Oil
instead of baby oil (due to the added fragrance in baby oil) and a mild babywash if your child has sensitive skin. Also, make sure to use a high-quality paper-towel so that they feed through the container without breaking in between. I like to use Bounty Basic Paper Towels
.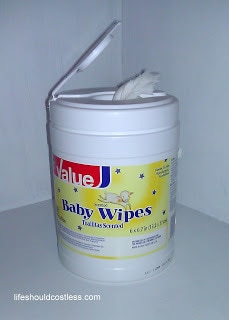 Just thread the center paper towel through the hole(make sure not to put your finger through that hole as it won't work as well if you stretch it out)
This container will last a lot longer if you make sure to reinforce the hinge with White Duct Tape(make sure to use white…just because we're trying to save some money does NOT mean we need to look like total HillBilly's;).


The green arrows below show you where to reinforce it.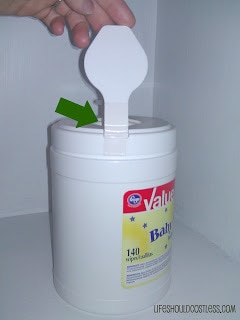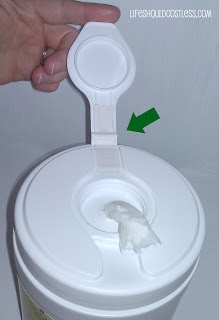 *I tried contacting Kroger to ask if these containers are bpa free and the guy that responded just told me what was on the label of the wipes package…not helpful at all, and he wouldn't answer my request to give me the contact info for the manufacturer. I'm not too worried about there being BPA in these containers as BPA is pretty much a thing of the past in baby products. Anyway, that is my thought on that.
**It may be a good idea to reinforce the hinge on all of your wipes containers so they last longer as well.