Sorry I have been missing in action for a little bit, I just bought a cute little cottage and having been packing, moving, settling in, and without internet for weeks. Things are finally settling down enough that I'm going to attempt to jump back in with blogging and may even have a set work schedule…we'll see. Raising four littles by myself makes it hard to commit to a schedule, because their needs come first, but I will do my best.
Anyway, I need YOUR help with my cottage!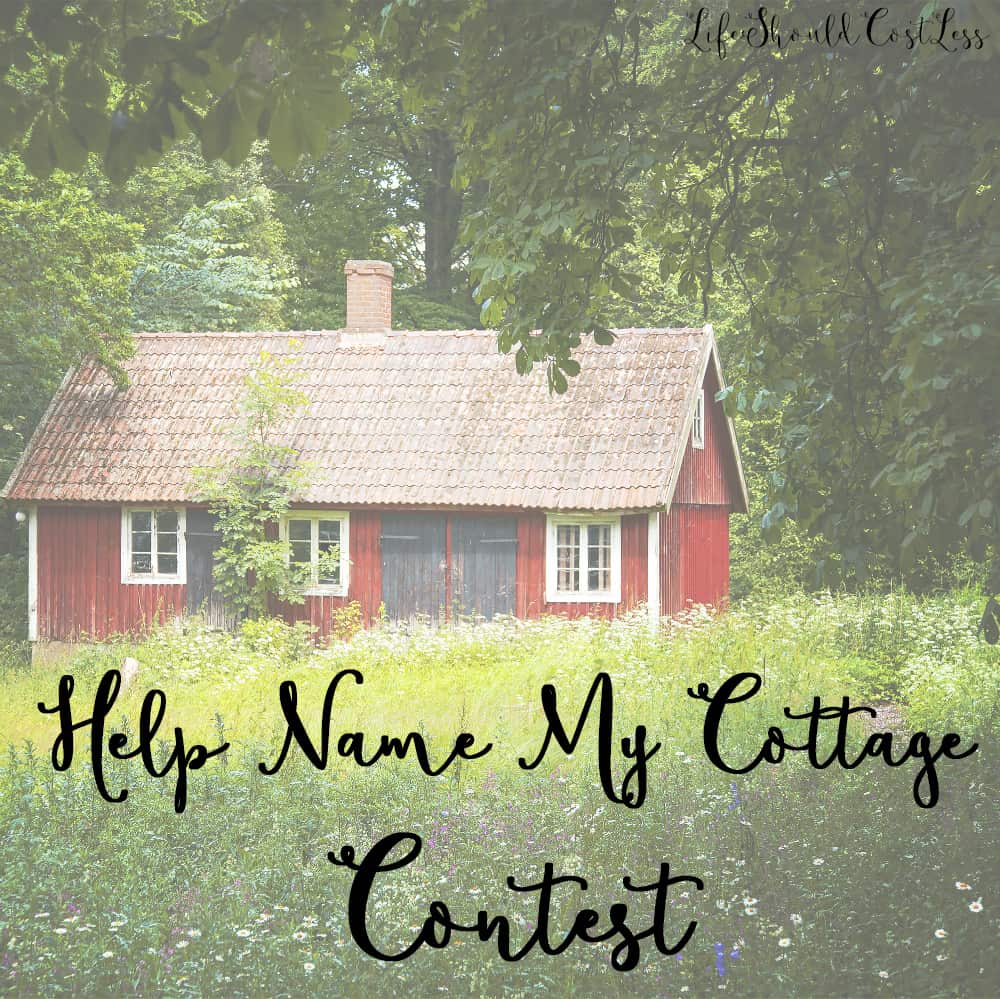 I want you guys to help me name it. So here's the video that I created to share via social media to announce the contest. As usual, I'm still deathly afraid of being on that side of the camera, but here I am in all my dorky glory…
There will be three (nearly identical) ways to enter.
You can enter through my website. All you need to do is subscribe to my email list by going to this link and entering in your email address, and then all you do after that is email me the name that you want to enter. It will help if you title your email COTTAGE NAME or something to that effect so that I don't have to open every single email that I get. Send those emails to lifeshouldcostless(at)outlook.com (obviously replace the (at) with @, just doing that so I don't get hit by spam bots…anyway, that's all you have to do.
You can enter through Instagram. All you need to do to enter through Instagram is to follow me on Insta and I can be found here, and then you can direct message me your cottage name entry.
You can enter through Facebook. All you need to do to enter through Facebook is to like my page, found here, and then send me a personal message with your entry.
You are more than welcome to submit more than one entry or enter in every way that you can…it gives me more followers and support so I surely won't tell you no ;).
I realize that there will probably be duplicate entries and if I choose a name that had duplicate entries I will look at the time stamps and whoever submitted that name first will be the winner. I don't care if you're related to me, or know me, I will not be biased about choosing a winner because I just want the best idea for a name for my cottage and if the person that has the best name happens to be a friend or something, oh well.
Things that may help you when choosing a name: I need to find a name that isn't used a lot already all over the internet. I want people to be able to just type in my cottage's name and any search engine will send them straight to my site. I love names like Rose Hill or Sweet Brier so something that sounds classy but not too corny would go over well with me.
Winner to be announced December 23, 2017.
As usual, please share this post with anyone that may want to join in the fun. May the odds be ever in your favor! Thanks so much for your support everyone! ~Sarah