I realize it's been a little while since I shared something truly organizational, so I am showing you something handy that I discovered a couple of months ago. But first, a little back-story.
I give birth to BALD babies…all three of my girls have been little Q-balls, which makes wearing a head band with a bow pretty much a necessity when I want to dress them up a bit. However, in the past I haven't been able to buy very many of them because my kids would find them and then play with them and pull them apart within minutes. It has felt like I was throwing money away when I would buy them (considering they would get broken almost immediately)… and I'm not a money waster, so I gave up on even trying to have nice bows and headbands a while ago. That was until I found some handy little storage boxes at a cute little thrift shop here in my new town. Anyway, let me show you what they look like.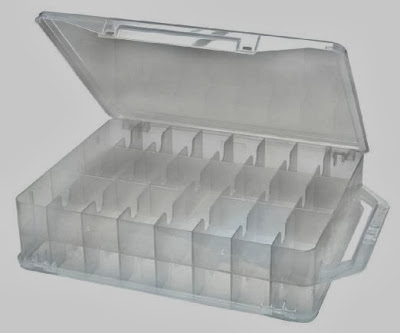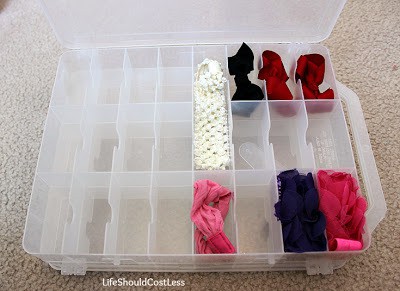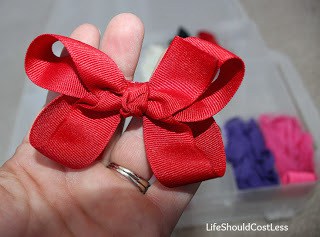 `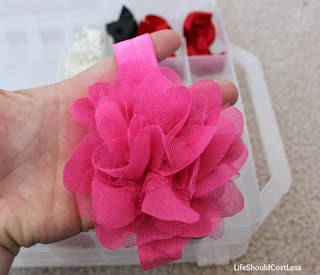 I just wanted to show you how big of a flower/bow will fit inside these compartments. Here's my model, little miss (bald) Caroline! She's just as hairless as the day she was born and she was my hairiest baby…can you believe it?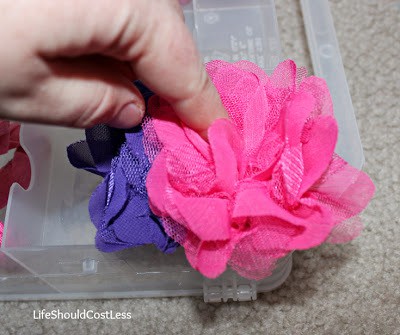 They look like they aren't going to fit…
But they do…nice and snug. Just make sure to push them down to the bottom. Then I make sure to put them up high in a closet (the master closet with the higher shelves) and the kids never mess with them…which is a miracle! The old saying "out of sight, out of mind" is 100% true in this case.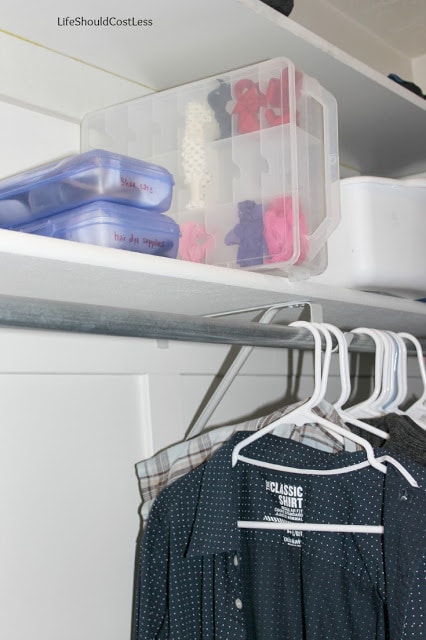 Anyway, I was able to find these second-hand for $2/each, but I haven't seen any since(I will look for something used for a good year or so, if it's not urgent, before I buy new so I'll be on the lookout). If you can't find any second-hand, I was able to track them down here on Amazon
if you need to buy new. I think I'm going to buy at least 3 or 4 more of them because they are also just the right size for: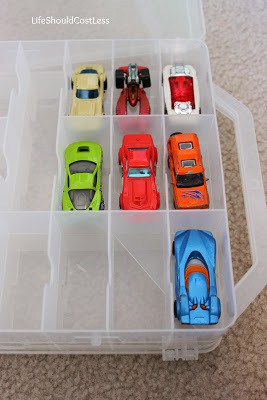 (this is only a fraction of the hotwheels that we have…my girls LOVE them)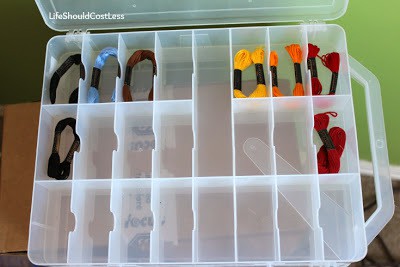 Embroidery Floss
Most Nail Polishes (the sally hansen ones are a little too tall)
& of course, their intended purpose which is for standard spools of thread.
I'm SUPER EXCITED to be able to build our bow and headband collection without them being torn to shreds within days of purchase. I can't wait for them to get the new ones that I got to go with their Christmas dresses! That's all for today folks. Please make sure to share with others if you found it helpful!
~Sarah