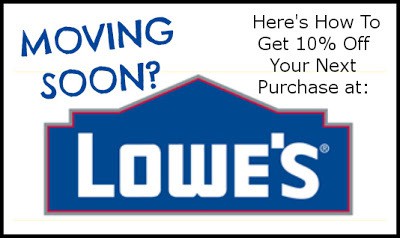 Lately I've been in the habit of doing a google search, before I buy anything, to see if I can find a coupon to print or a discount code to use online. It usually pays off a little, but I was pleasantly surprised to come across this handy feature that Lowes.com has. If you are moving, they offer a 10% off coupon for your entire next purchase up to $5,000.00. Which means, that you could save up to $500 bucks. With the financial stress of a move, saving 10% can be a lifesaver!
This is totally legitimate!
I used my coupon last Saturday to replace the interior doors that we've been meaning to get to for a while…at least the next owner of the house can enjoy them ;). Here's what you need to do if you'd like to save too.
Go to the following link:

(this link was taken directly from the source)
Fill in your information and submit…that's it!
It took a couple of days for mine to show up in my email inbox, (they do note that there is a processing time) but there it was and it worked perfectly!
Please m
ake sure to share this info w/anyone that is moving soon. Happy Saving!