I have this nasty little habbit of getting discouraged from doing something if I don't have absolutely every possible item that I need to make it. That's a good thing if you're doing a craft or something, but when it comes to emergency preparedness that is not a good attitude to have. I've wanted to make our bug out boxes for a while, but never feel like we'll have the money to finish them up (one for home and one for each vehicle). Anyway, it must be the pregnancy hormones kicking in, or maybe just the thought of having one more child to provide for (especially in an emergency situation) but I've decided that I need to get ready the items that I already have and not just wait until we have every possible item that we could ever need. If I waited 'til then, the kids might be grown and out of the house.
So, first I gathered the containers that I wanted to use. Which was two empty foodstorage buckets to be used in our cars. The smaller one will be used for my husbands car and the larger one for the family car. For the home box I just used one of the large plastic containers that we have on hand, though in the future I'd like to get a really heavy duty box to store these items. But, you've gotta use what you have.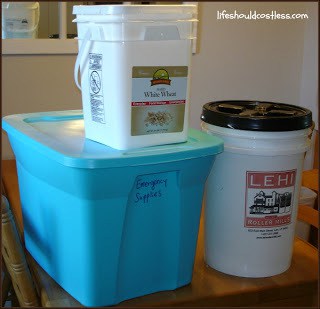 Next, I gathered all the items that I had on hand that I thought would be good to have on hand for emergencies.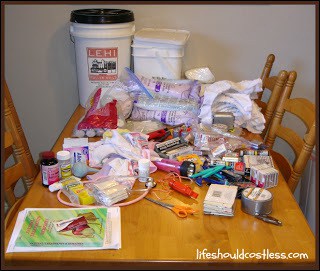 Then, I divided the items up, put 'like' items into ziploc baggies, sealed them up and then put them into their containers. For the items that I only had one of, I decided which box it was most crucial to have it in and then added that item to the list of what i need to buy. If I had any extra items, most ended up in the house box.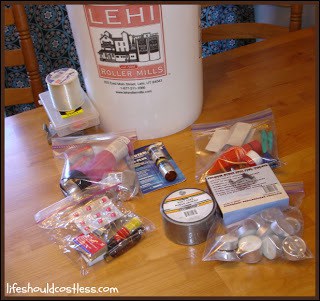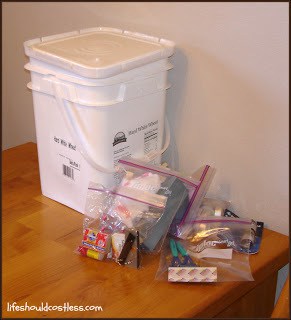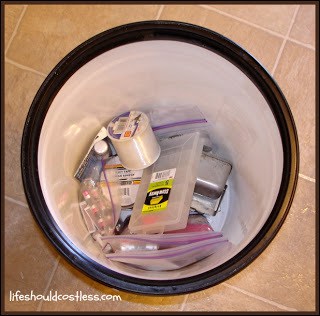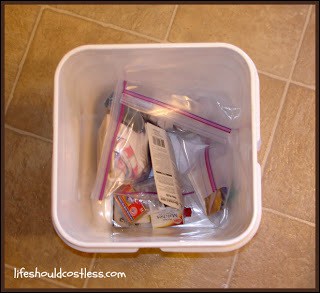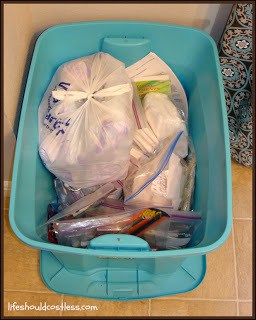 When I was finished I labeled each box with BOB for Bug Out Box. This way, we can just grab BOB and go if we have an emergency. Each Box was placed where it needs to go (In each car trunk and the designated spot in the house).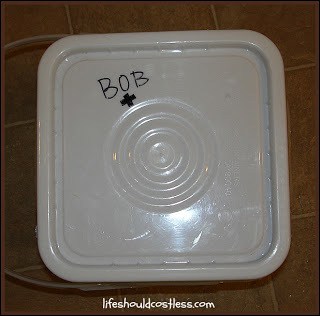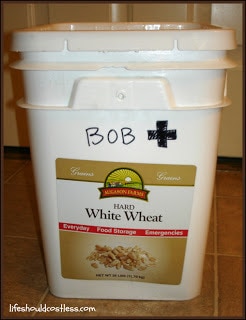 I know we're not nearly as prepared as we need to be, but hey, we're 20-30 items more prepared than we were before I did this. Now, I need to finish writing out my shopping lists of what we will need. Here is my list of suggested items to put in your box (in no particular order)
: