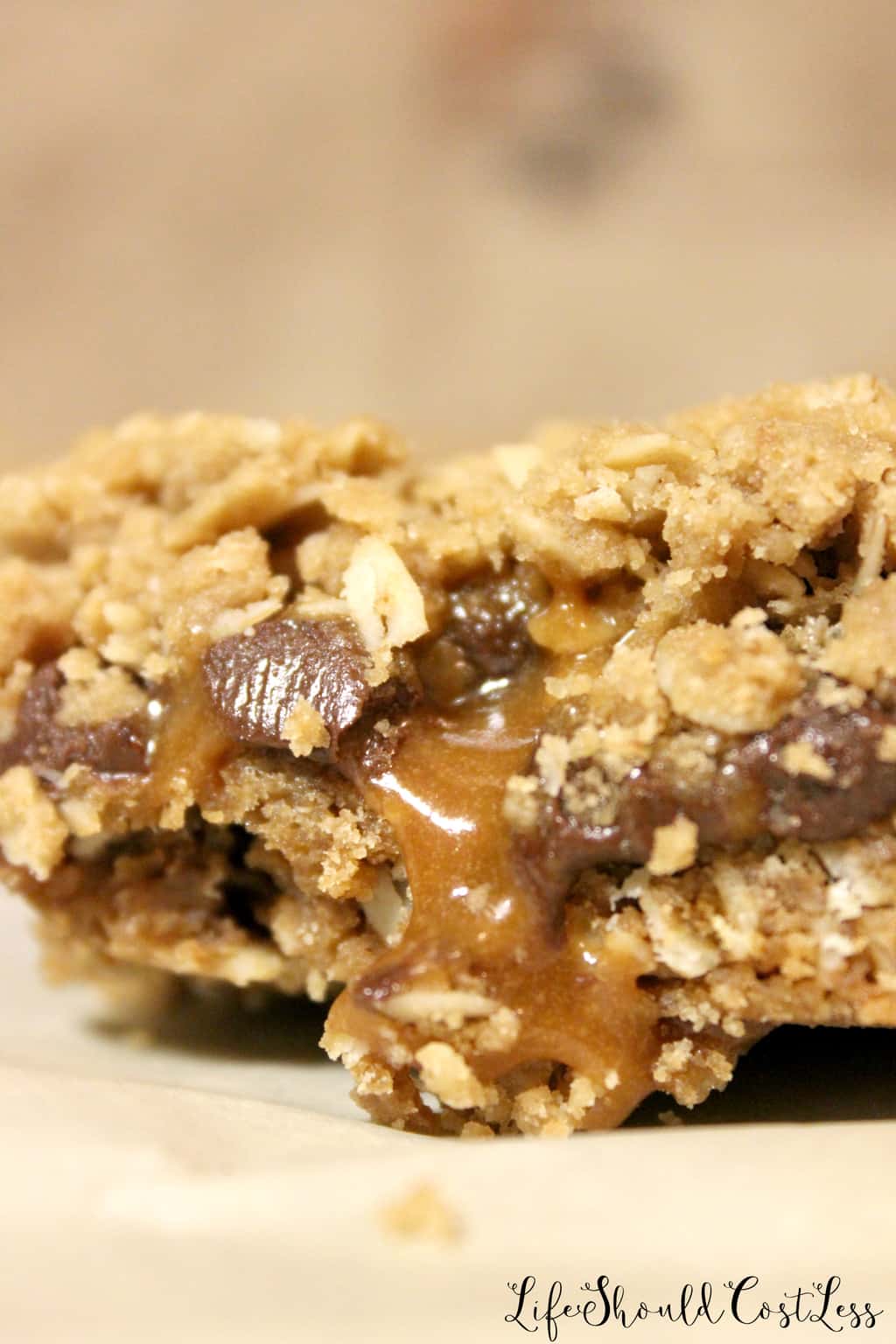 The Best Carmelito's Recipe
Author: LifeShouldCostLess.com
Prep time: 10 mins
Cook time: 25 mins
Total time: 35 mins
2 Cups Flour
2 Cups Oats
1 &1/2 C Brown Sugar
1 tsp Baking Soda
1&1/4 C Salted Butter (room temp, not margarine)
1 Jar Mrs Richardson's Butterscotch Caramel
1 Bag Chocolate Chips (approximately two cups)
Preheat oven to 375 degrees Fahrenheit.
In a large bowl, or a mixer, add the first five ingredients and mix until well combined.
Press half of this oatmeal mixture into the bottom of a 9x13" pan to create a crust. I use a parchment paper lined pan to make it easier to pull them out and cut into bars later.
Bake for 17 minutes. Remove from oven.
Remove lid from caramel sauce and microwave it for one minute. Spread evenly over the crust.
Sprinkle the chocolate chips evenly over the caramel.
Crumble and evenly sprinkle the remaining oatmeal mixture. Gently press it down evenly to combine it.
Bake an additional 8 minutes or until the top is slightly starting to brown around the edges.
Remove from oven, place on a cooling rack and let cool.
Once cooled cut into bars and serve!
As a variation you can change the chocolate chips to white chocolate and/or add a half a cup of chopped walnuts before you add the oatmeal topping.
Recipe by
Life Should Cost Less
at https://lifeshouldcostless.com/best-caramelitas-recipe/