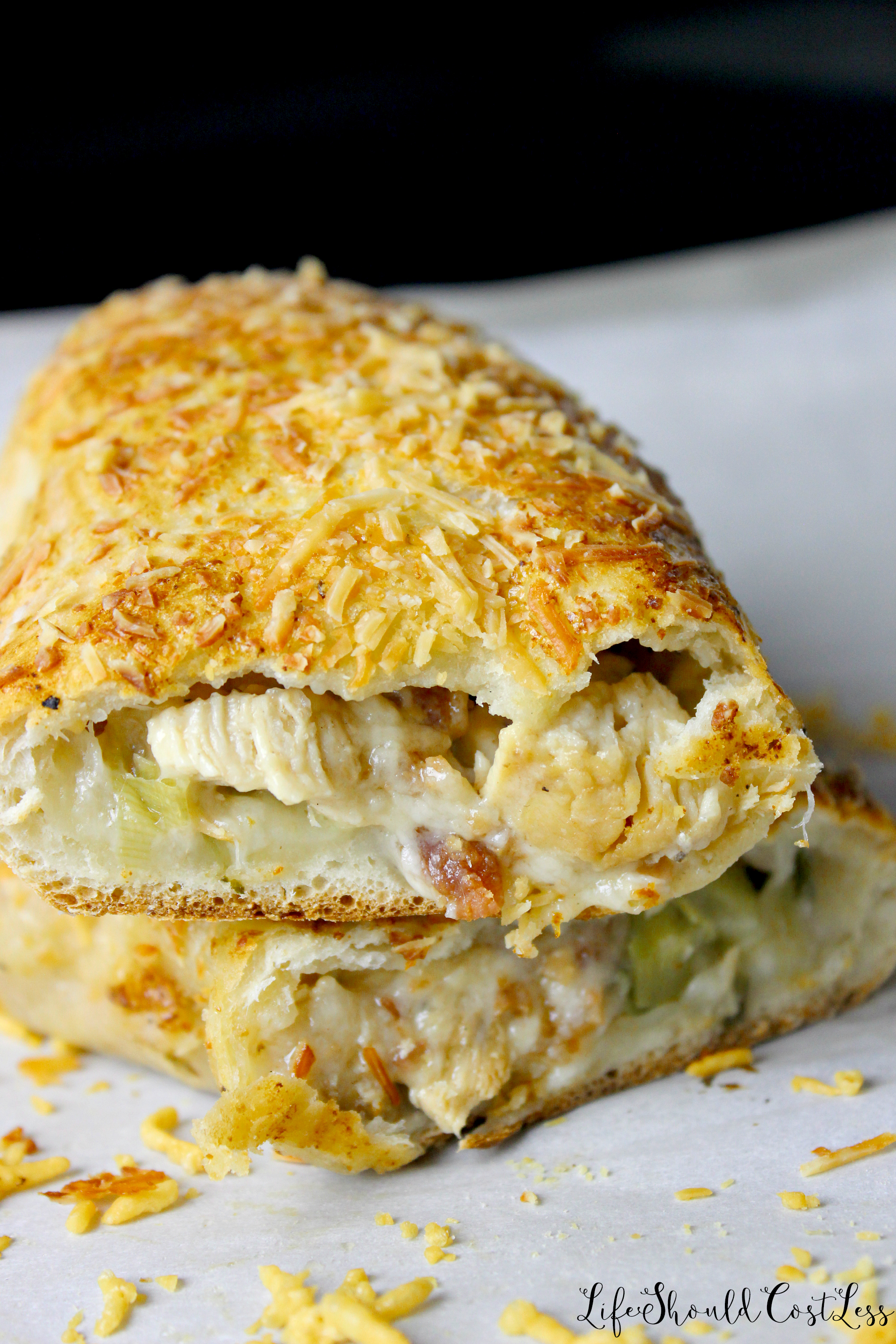 Costco Chicken Bake Recipe (simplified)
Author: LifeShouldCostLess.com
Prep time: 15 mins
Cook time: 15 mins
Total time: 30 mins
This is the amount needed per chicken bake.
½ Cup Pizza Dough (or the dough for 4.5 Rhodes Rolls)
¾ Cups Grilled, Seasoned, & Chopped Boneless Chicken Breast
⅓ Cup Mozzarella/Provolone Blend Shredded Cheese
2 Tablespoons + 1 teaspoon Bacon Crumbles
¼ Cup Green Onion
2 Tablespoons Caesar Dressing (plus a little more for marinating chicken)
2 & ½ Tablespoons Grated Parmesan Cheese
If using frozen dough, set out of freezer one hour prior to assembling chicken bakes.
Pre-marinate the grilled and sliced chicken breast in a small amount of Caesar dressing prior to assembly.
Preheat oven to 400 Degrees Fahrenheit.
Use a floured surface and roll out or press dough into a 7 x 5-inch rectangle, or as close as you can get. It will be easier to stretch it out once it has heavy ingredients on top of it..
Spread Caesar dressing on dough piece.
Add marinated chicken to dough piece, along the 5-inch border.
Cover chicken with mozzarella, green onion and chopped bacon.
Pull the 5-inch border over the ingredients and roll tightly. Do not fold the ends in. The bake will continue to grow in length as you roll it out.
Finished bake should be approximately 11 x 2 inches.
Brush top of bake with Caesar dressing, and dredge in shredded Parmesan.
Bake for 15-18 minutes or until golden brown.
I like to bake these on a parchment paper lined cookie sheet. Which fits two bakes per sheet when placed on a slant on the pan.
Recipe by
Life Should Cost Less
at https://lifeshouldcostless.com/costco-chicken-bake-recipe/